I don't think I'd ever seen orange and pecan cookies before I came across these Kirkland Signature Orange Pecan Cookies in the bakery section at my local Costco. I was very excited to try them, because I think Costco makes the best grocery store cookies out there (see below for a list of all my Costco cookie reviews!). Could this be your new favorite Costco cookie, or will it struggle to compete with the classics?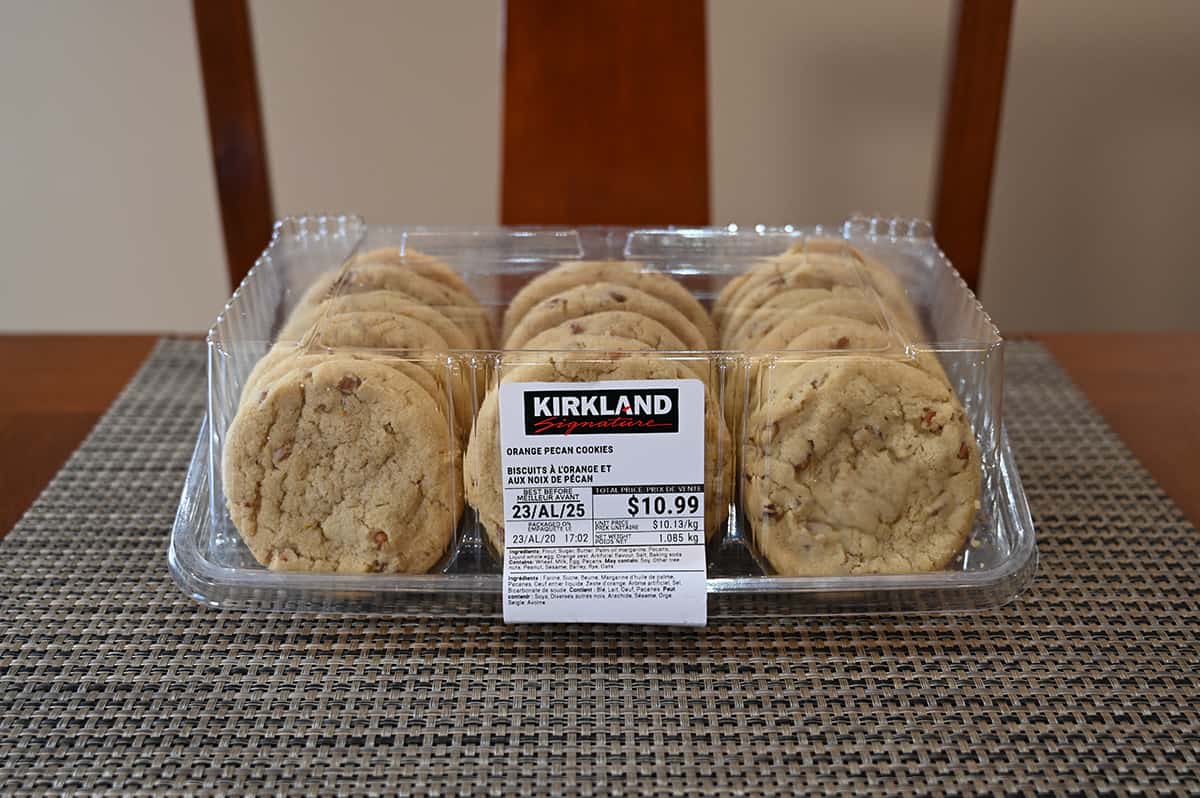 Sean went to Costco last week to get our tires switched and picked up a few products to review while he was there. He said when he saw these Kirkland Signature Orange Pecan Cookies from across the bakery department he immediately picked them up. The Costco bakery makes a pretty decent cookie but they don't come out with new cookie varieties often.
Other Costco bakery cookies I've reviewed are the Kirkland Signature Raspberry Crumble Cookies, Kirkland Signature Peanut Butter Cookies, Kirkland Signature Ginger Cookies, Kirkland Signature Cranberry Orange Bisconie, Kirkland Signature Chocolate Lover's Cookie Pack and the Kirkland Signature Shortbread Cookies.
Location in Store
You can find these cookies in the bakery section at Costco. The item number is 1735223.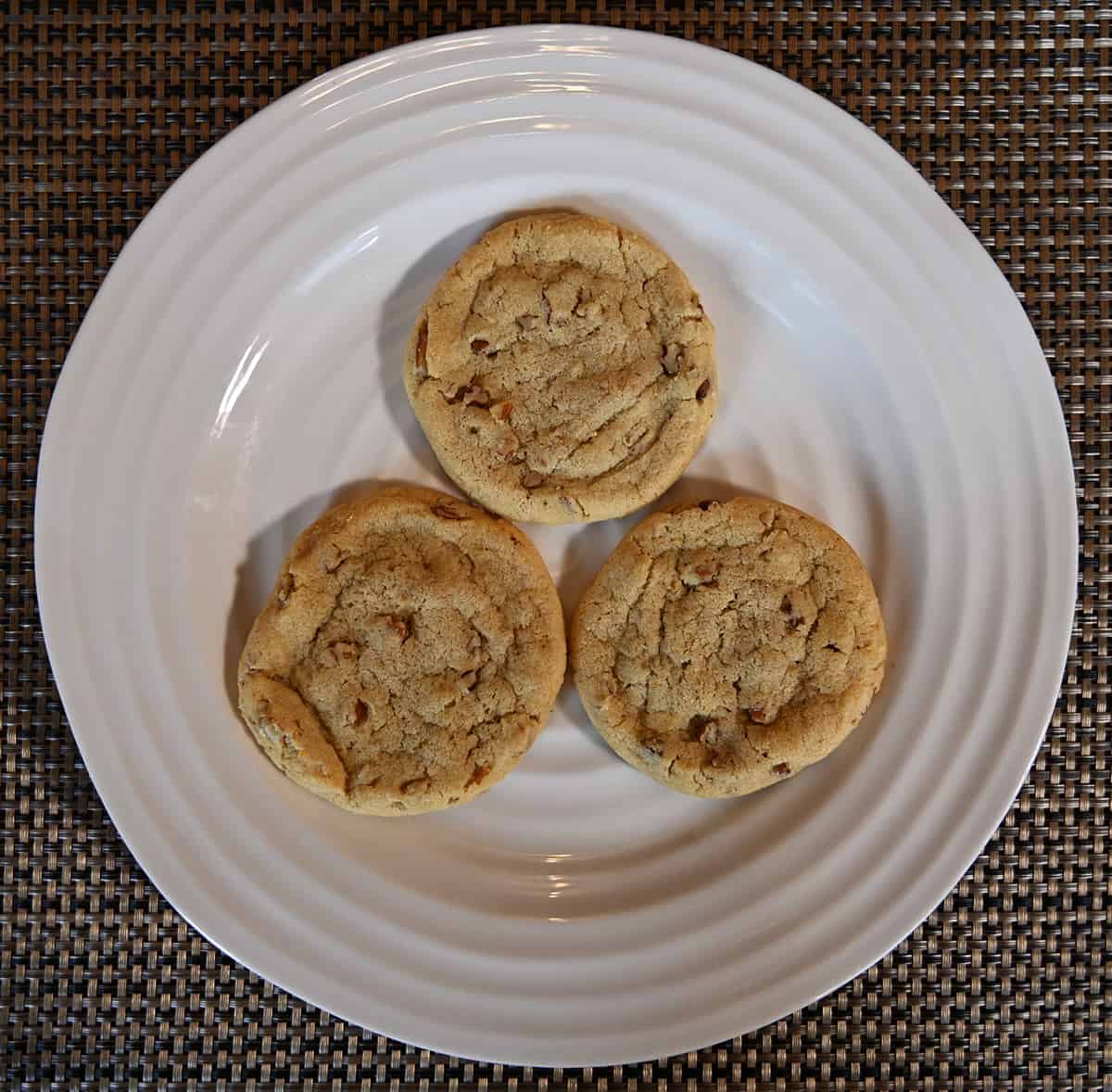 Taste
I didn't know what to expect from these cookies, but I had high hopes. I love the Kirkland Signature Chocolate Lovers Cookie Pack – I think they're my favorite grocery store cookies. The main thing that threw me off about these Orange Pecan Cookies is that they look like chocolate chip cookies even though they don't have any chocolate in them.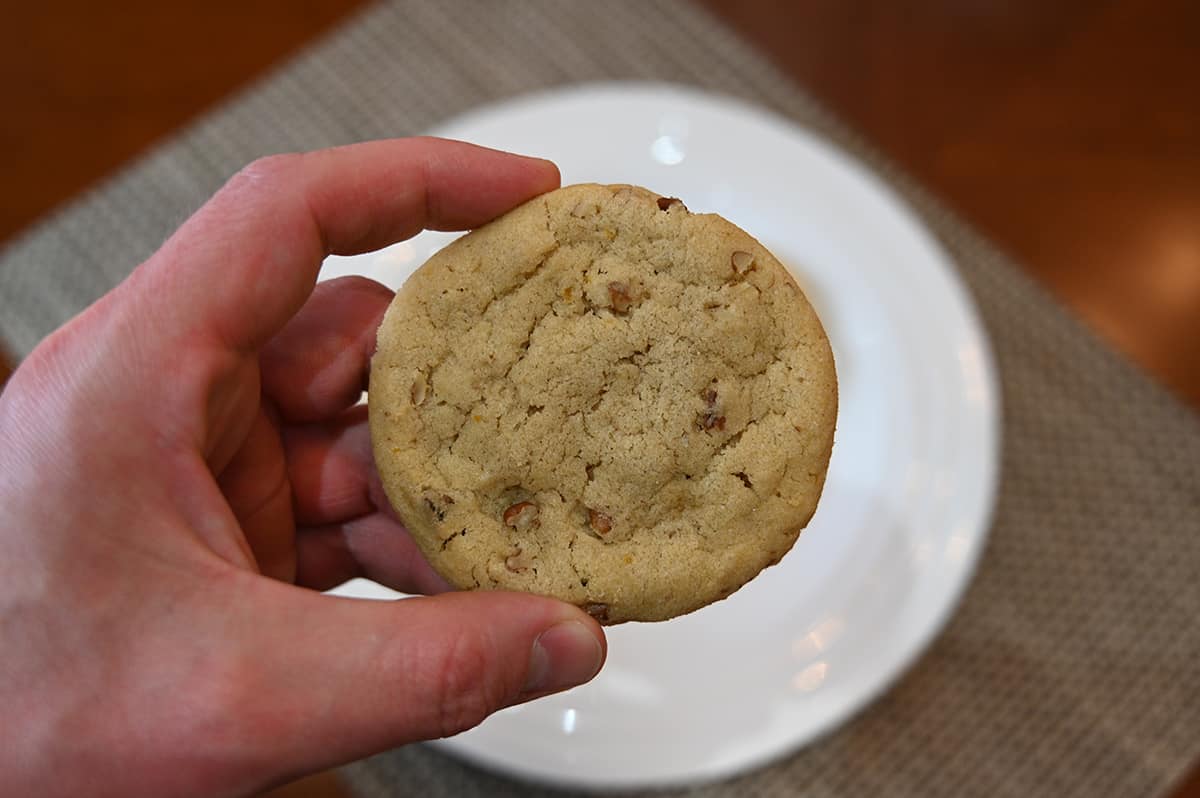 I was relieved when I had my first taste and realized that these cookies are just as good as any other Costco cookie, but completely different! They're actually a fairly plain cookie as the orange and pecan flavors aren't overly strong. You definitely taste the orange flavor, but it's in the background. That's not a bad thing though. The cookies are perfectly chewy and satisfying. They also have the perfect amount of sweetness. The orange flavor tastes very natural, which I like.
Pecan fans might be disappointed as there aren't a lot of pecans in the cookies. The pieces are small and fairly spread out. I do think the pecans complement the other flavors well. Personally, I don't like a ton of nuts in my cookies, so I think the amount of pecans is perfect.
Cost
The plastic package containing 24 cookies costs $10.99 Canadian which isn't bad at all for pretty tasty cookies! You'd be spending triple that at a local bakery.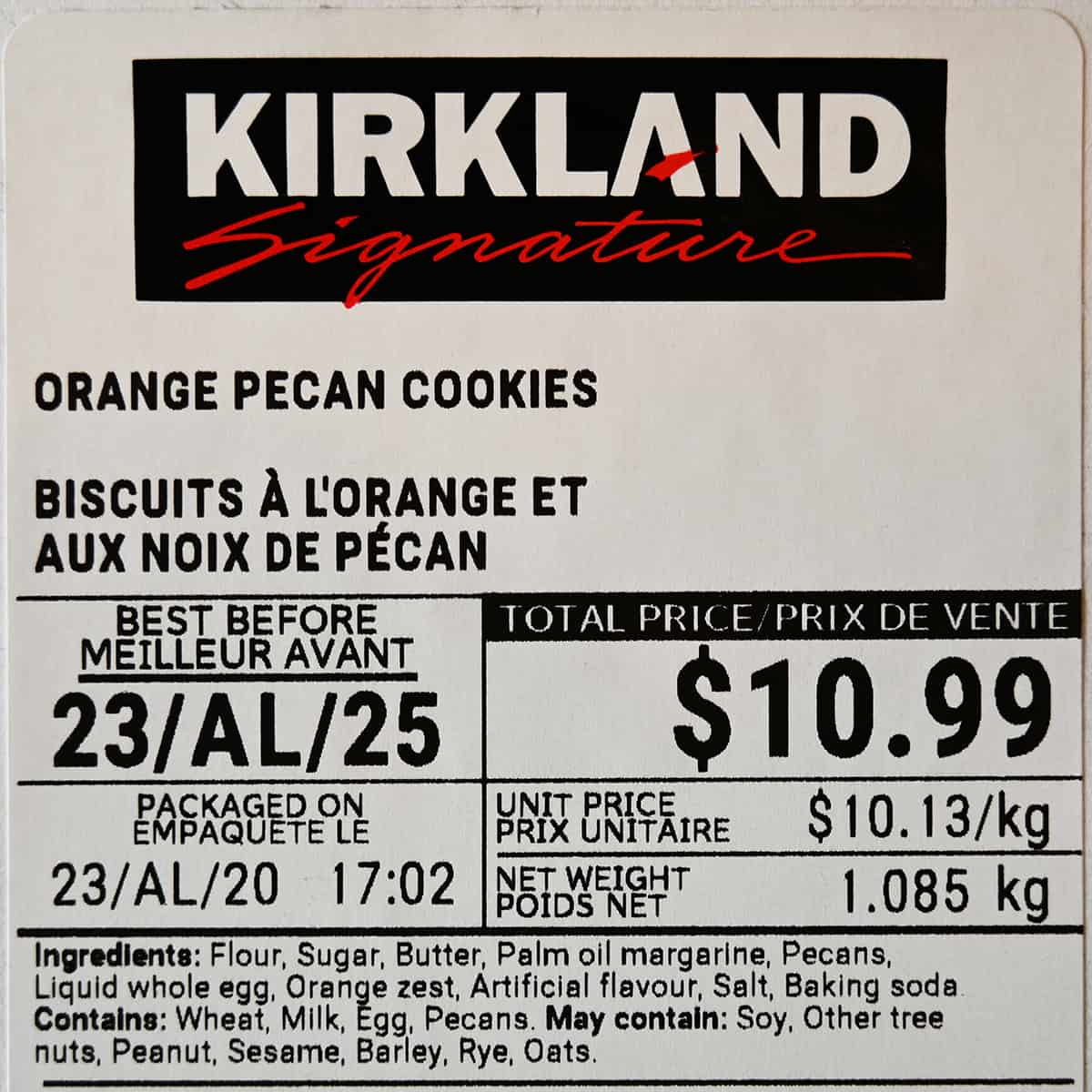 Convenience
The cookies come in a resealable plastic container and the best-before date is five days from the date it was packaged. If you're not going to eat them by the best-before date they freeze very well either in the container they come in or a separate container or Ziploc bag.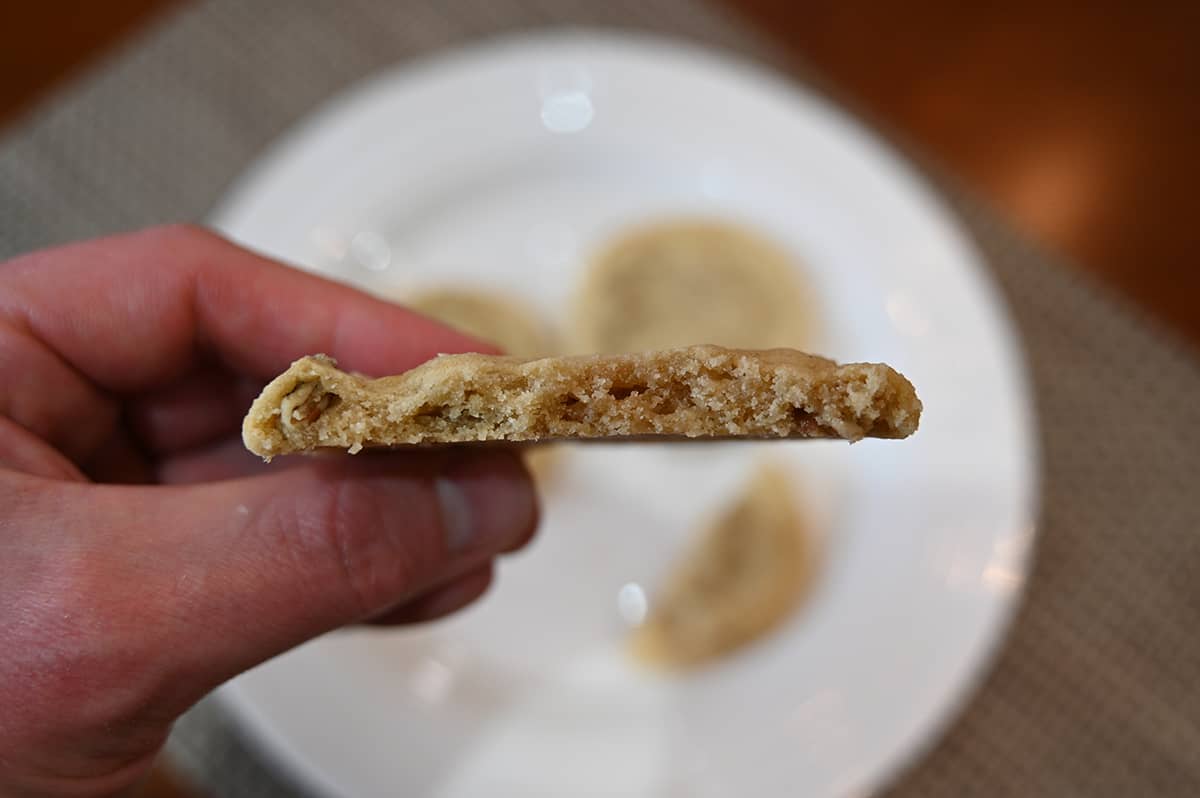 I think both adults and kids will enjoy these despite there not being any chocolate in them! My husband automatically usually doesn't like cookies that don't contain some form of chocolate but he really enjoyed these.
Nutrition
Calories
One cookie contains 220 calories, 11 grams of fat, 28 grams of carbohydrates, one gram of fibre, 16 grams of sugar, three grams of protein and 125 milligrams of sodium. I suspected the calories and fat to be around this much.
Ingredients
Obviously, these aren't healthy and have a good amount of sugar in them but it's not a ton! There are a lot of cookies that contain a lot more sugar in them. I don't love the palm oil margarine and artificial flavor, those are things I wouldn't use in baking at home.
The cookies contain wheat, milk, egg and pecans and may contain soy, other tree nuts, peanut, sesame, barley, rye and oats.

Scoring
Taste: 9/10
Cost: 8/10
Convenience: 10/10
Nutrition: 0/10
Overall
Must buy!
Some might find these cookies a bit plain, but I think they're dangerously addictive!
Have you seen these at Costco? Would you buy them?
---
Please note that this review was not paid for or sponsored by any third party. This product was purchased by Costcuisine for the purpose of producing this review. The opinions in this review are strictly those of Costcuisine. Costcuisine is not affiliated with Costco or any of its suppliers. In the event that Costcuisine receives compensation for a post from the manufacturer of a product or some other third party, the arrangement will be clearly disclosed (including where the manufacturer of a product provides Costcuisine with a free sample of the product).