Costco is famous for not offering shoppers a ton of different options for a given product – for the most part, there are one or two options for each item. Chocolate chip cookies are an exception to that rule – there are the Chocolate Chunk Cookies in the Kirkland Signature Chocolate Lover's Cookie Pack, the packaged Kirkland Signature Mini Chocolate Chip Cookies and these Kirkland Signature Mini Chocolate Chip Cookies! Are three different types of chocolate chip cookies really necessary? I don't think you can ever have too much of a good thing, but if you're wondering which one to buy, you've come to the right place.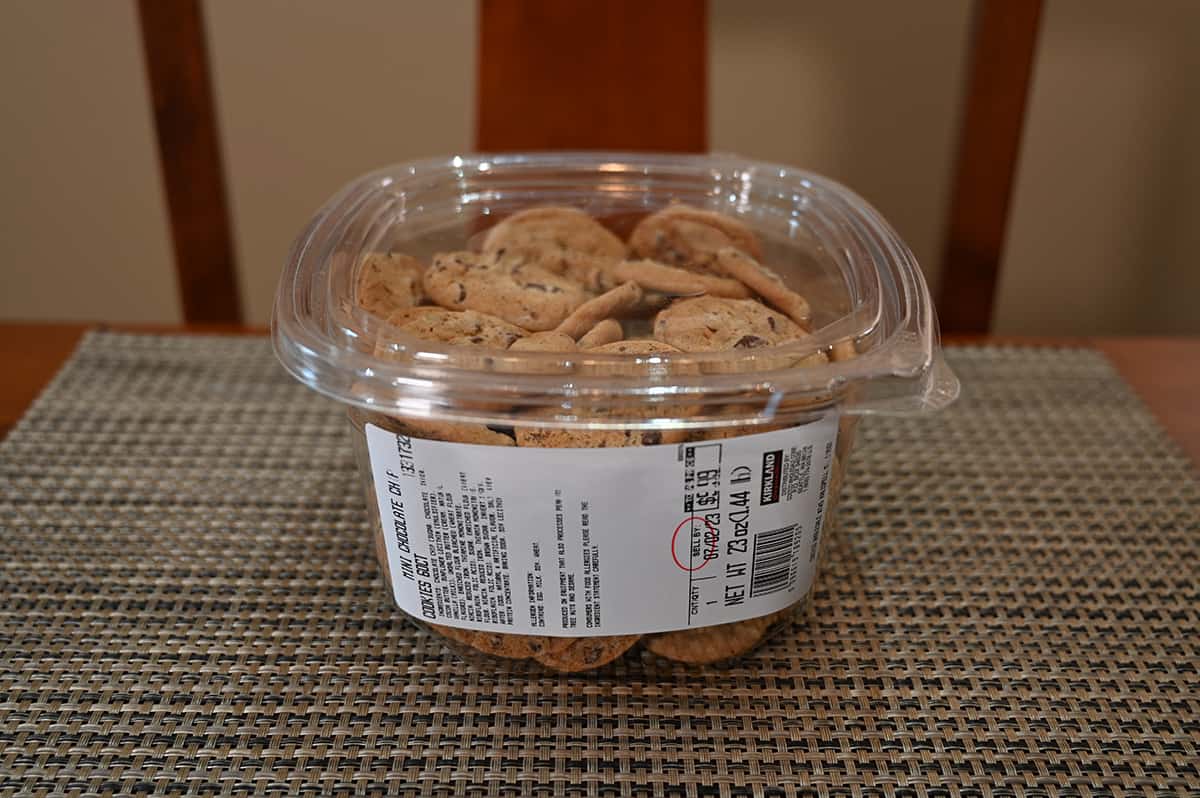 If chocolate chip cookies aren't for you, check out my reviews for some other Costco cookies like the Kirkland Signature Confetti Cookies, the Kirkland Signature Raspberry Crumble Cookies, the Kirkland Signature European Cookies, the Kirkland Signature Orange Pecan Cookies, the Kirkland Signature Toffee Chocolate Chip Cookies and the Kirkland Signature Ginger Cookies.
Location in Store
The chocolate chip cookies are located in the bakery department and the item number is 1331732 and I bought them at the Kalispell, Montana Costco.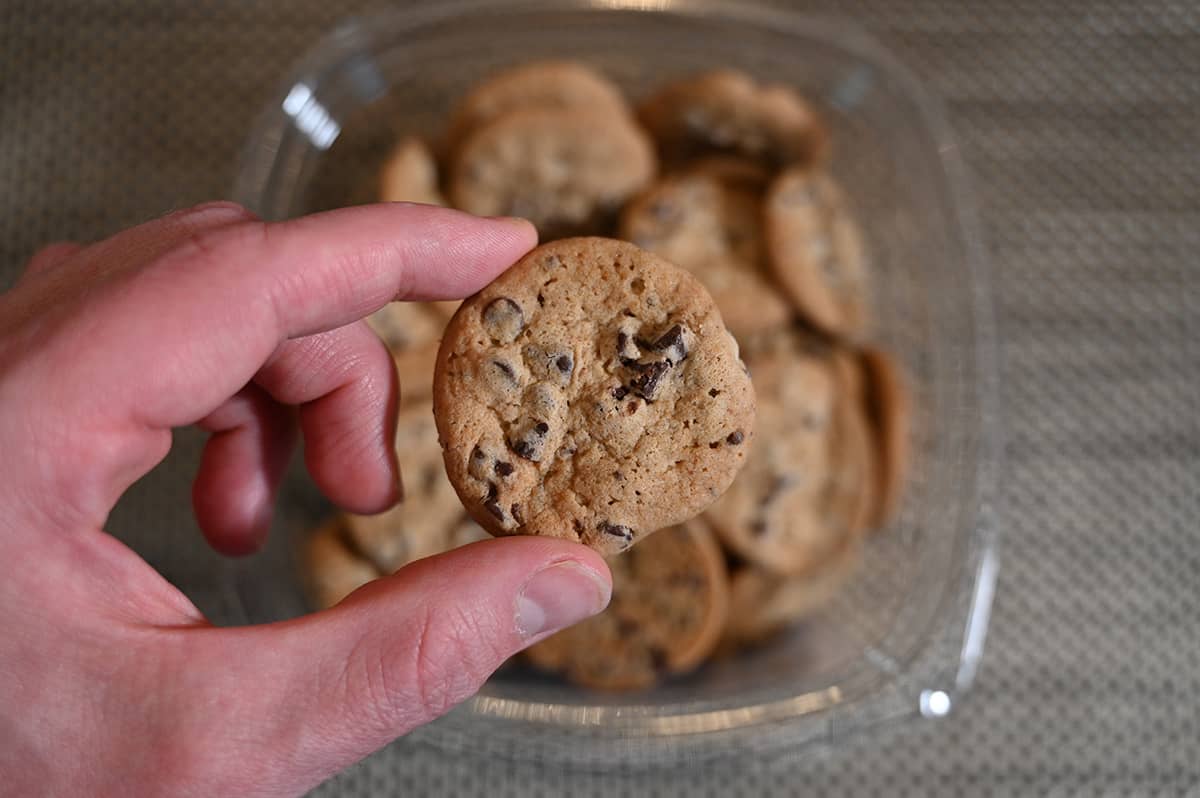 Taste
I really like these cookies, the texture is nice and chewy while still being soft. The outer edges have a bit of crispness to them that I find pleasant. They're a bit sweeter than the Canadian and American large chocolate chunk cookies but also less rich.
The chocolate chips taste like good quality chocolate and I have zero complaints about them, there's a nice amount of chocolate in each cookie.
These mini chocolate chip cookies don't contain palm oil, margarine or molasses-like the larger chocolate chunk cookies from both Costco Canada and America do. They also have brown sugar which the large ones do not.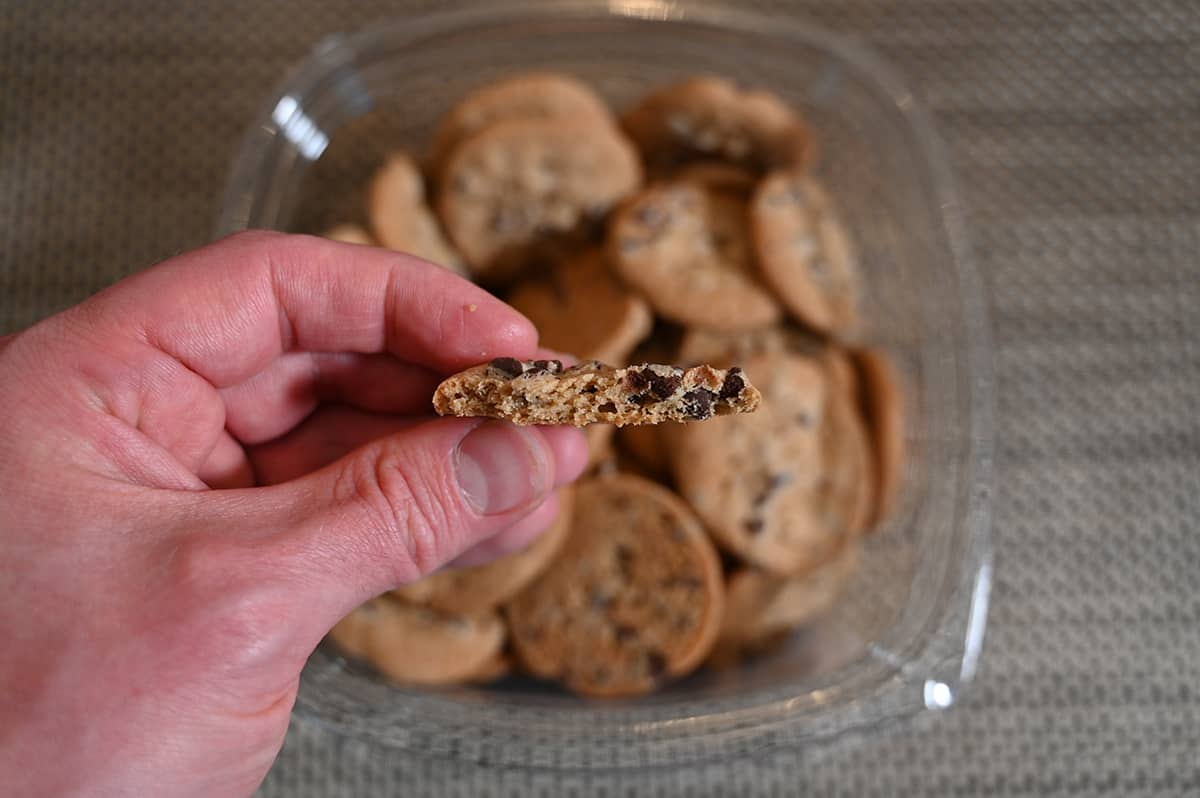 Even though you'd think these mini chocolate chip cookies are just a smaller version of the Chocolate Chunk Cookies in the Kirkland Signature Chocolate Lover's Cookie Pack, they're not. I actually think I prefer the taste of these smaller ones. Maybe because they use butter and have brown sugar.
Compared to the packaged Kirkland Signature Mini Chocolate Chip Cookies, these are soft and chewy while the packaged cookies are quite crispy. The ingredients lists for both are similar though. Both cookies are called Mini Chocolate Chip Cookies, but the packaged cookies are tiny (bite-sized). These ones are closer to the size of Chips Ahoy and cookies like that.
Cost
There are 60 cookies in the plastic container and it costs $9.99 USD. I wouldn't really say these are that "mini". They're around the same size as the cookies I bake at home. They're mini compared to Costco's larger cookies. I think for 60 tasty cookies the price is reasonable.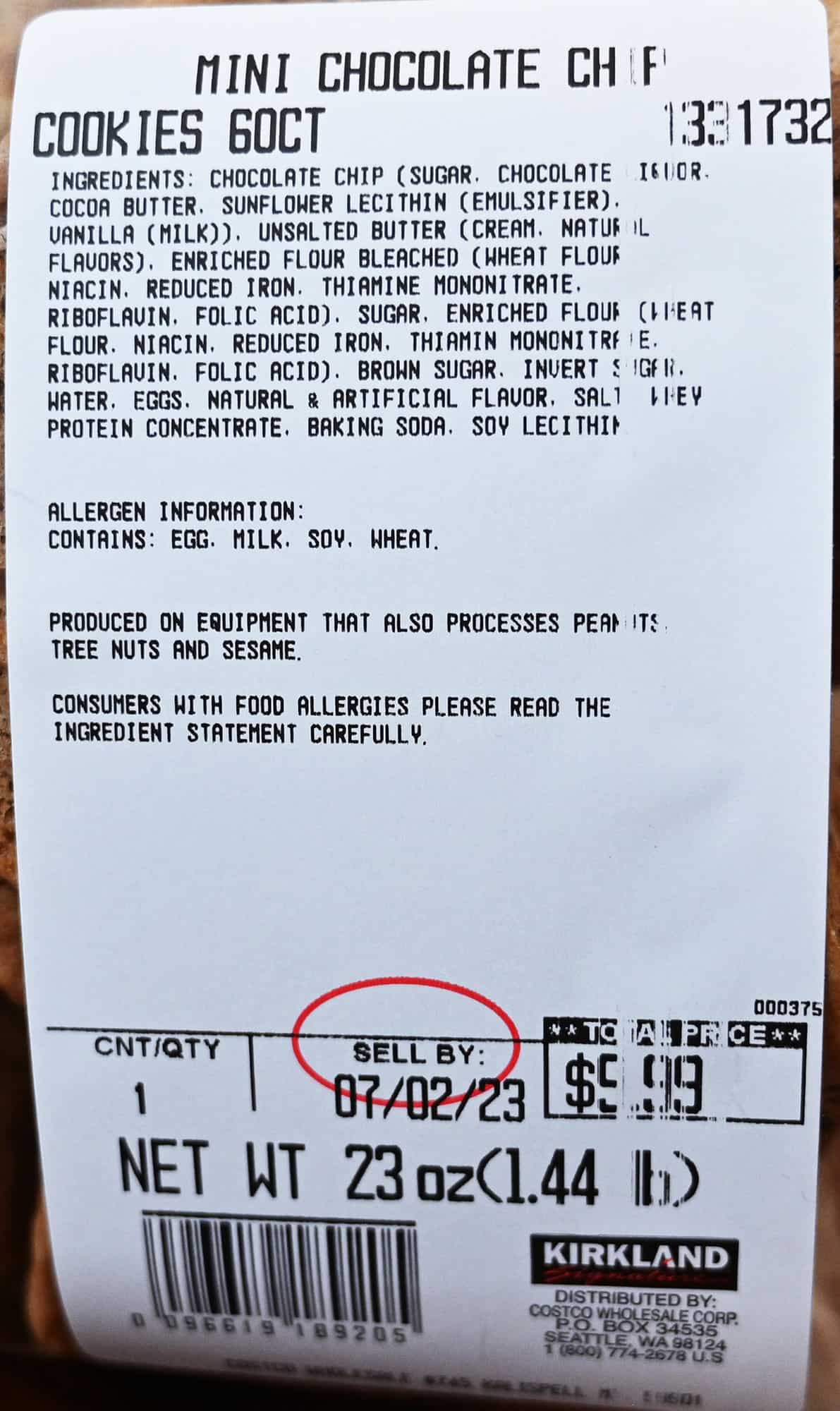 Convenience
The plastic container reseals and the best-before date is three days from when I purchased them. If you're not going to eat them by the sell-by date the container can be easily popped into the freezer and a few cookies can be taken out at a time to defrost.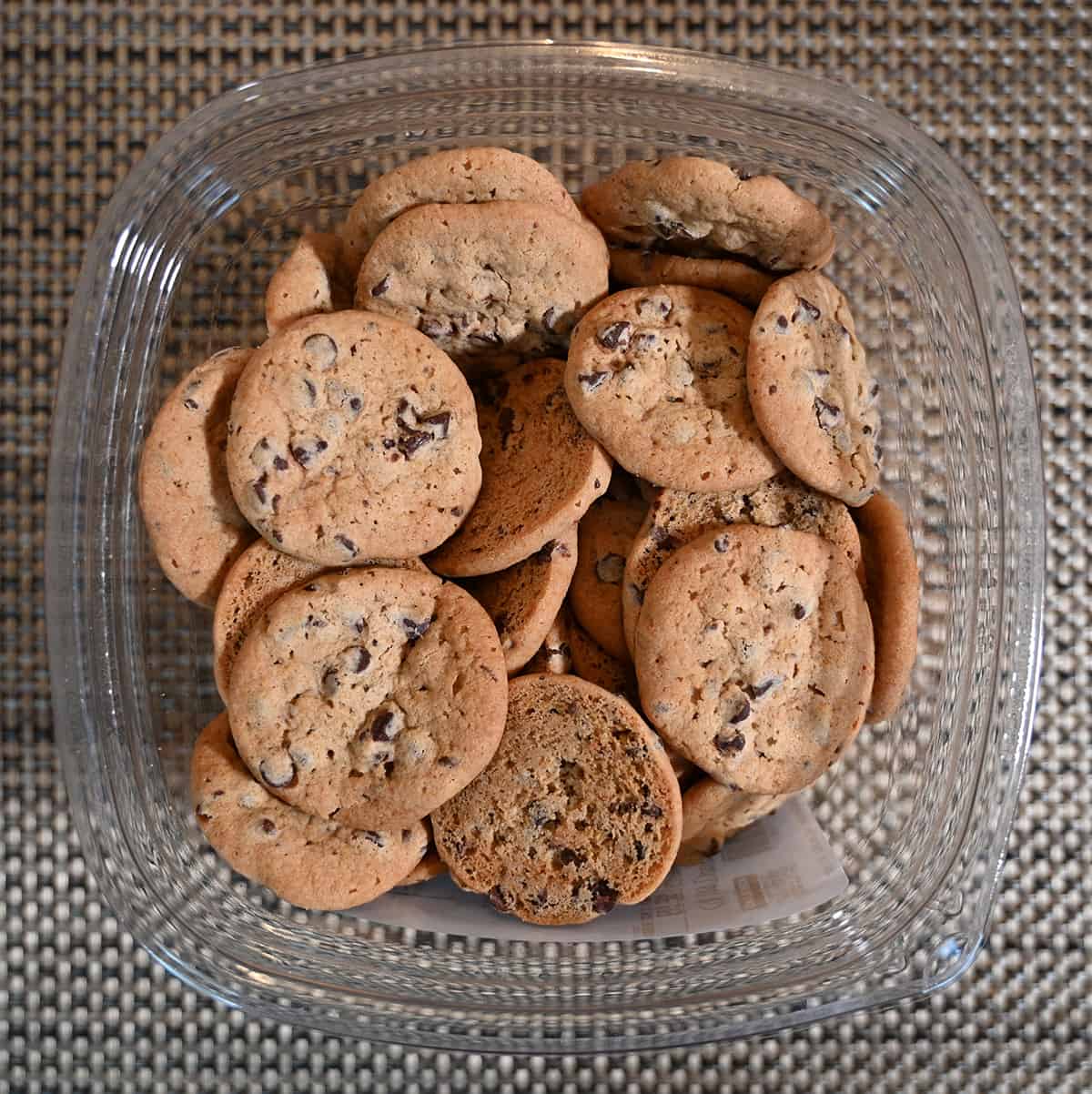 I think these cookies are perfect for camping, road trips, a potluck, beach day or barbecue! They're also nice just to have around the house. Whenever I want something sweet I can venture to my freezer and take one out, they're actually really yummy cold too!
Nutrition
Calories
Three cookies contain 170 calories, eight grams of fat, 85 milligrams of sodium, 24 grams of carbohydrates, one gram of fiber, 15 grams of sugar and two grams of protein. Two cookies is actually enough to make me happy so I don't think the nutrition facts are that bad.
Obviously, these aren't healthy but for two or three cookies it's not like you're eating tons of calories, fat or sugar.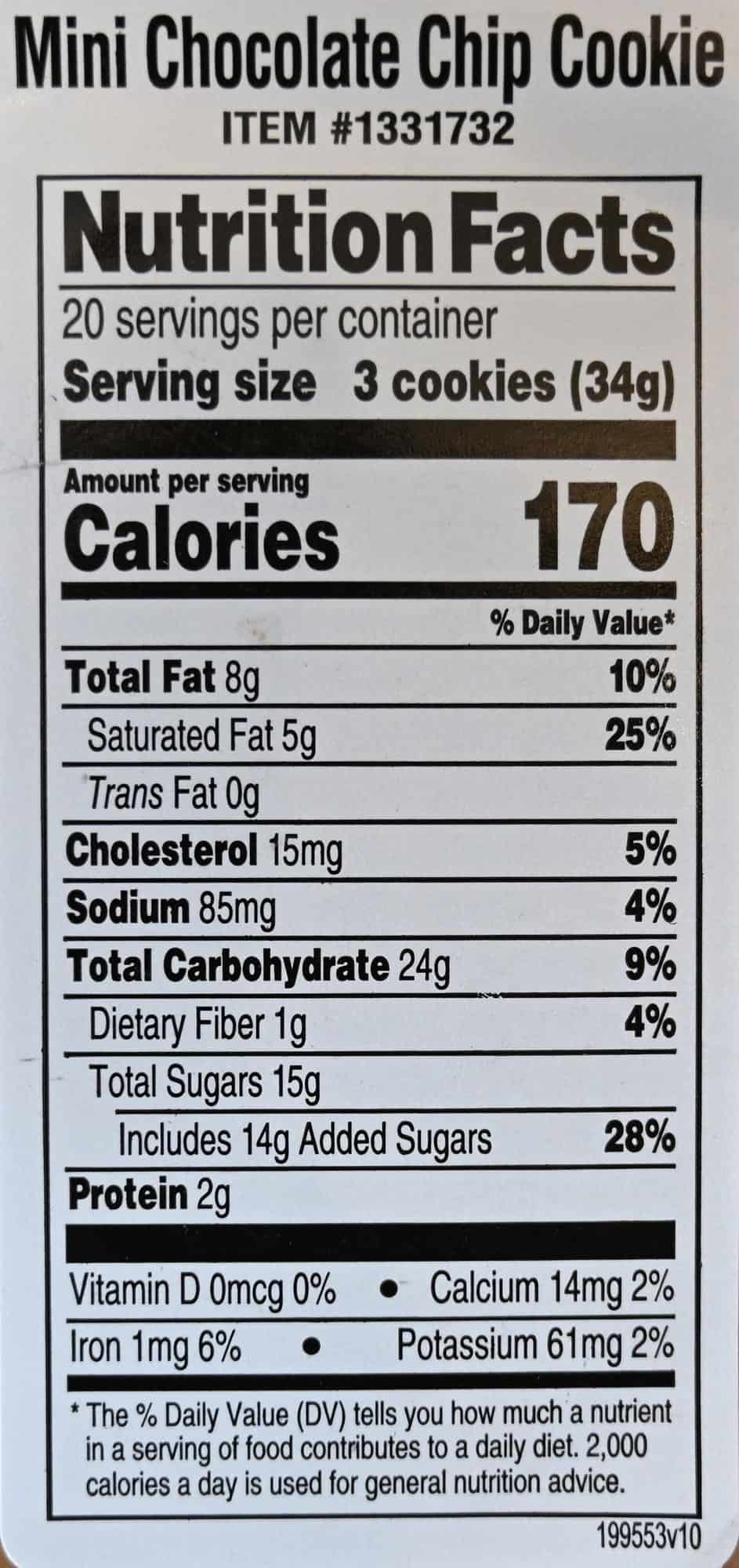 Ingredients
I love that there's real butter in the cookies but there's a lot of ingredients I wouldn't put in my cookies if I were baking at home. These are ingredients like artificial flavor, whey protein and soy lecithin.
The cookies contain egg, milk, soy and wheat and may contain peanuts, tree nuts and sesame.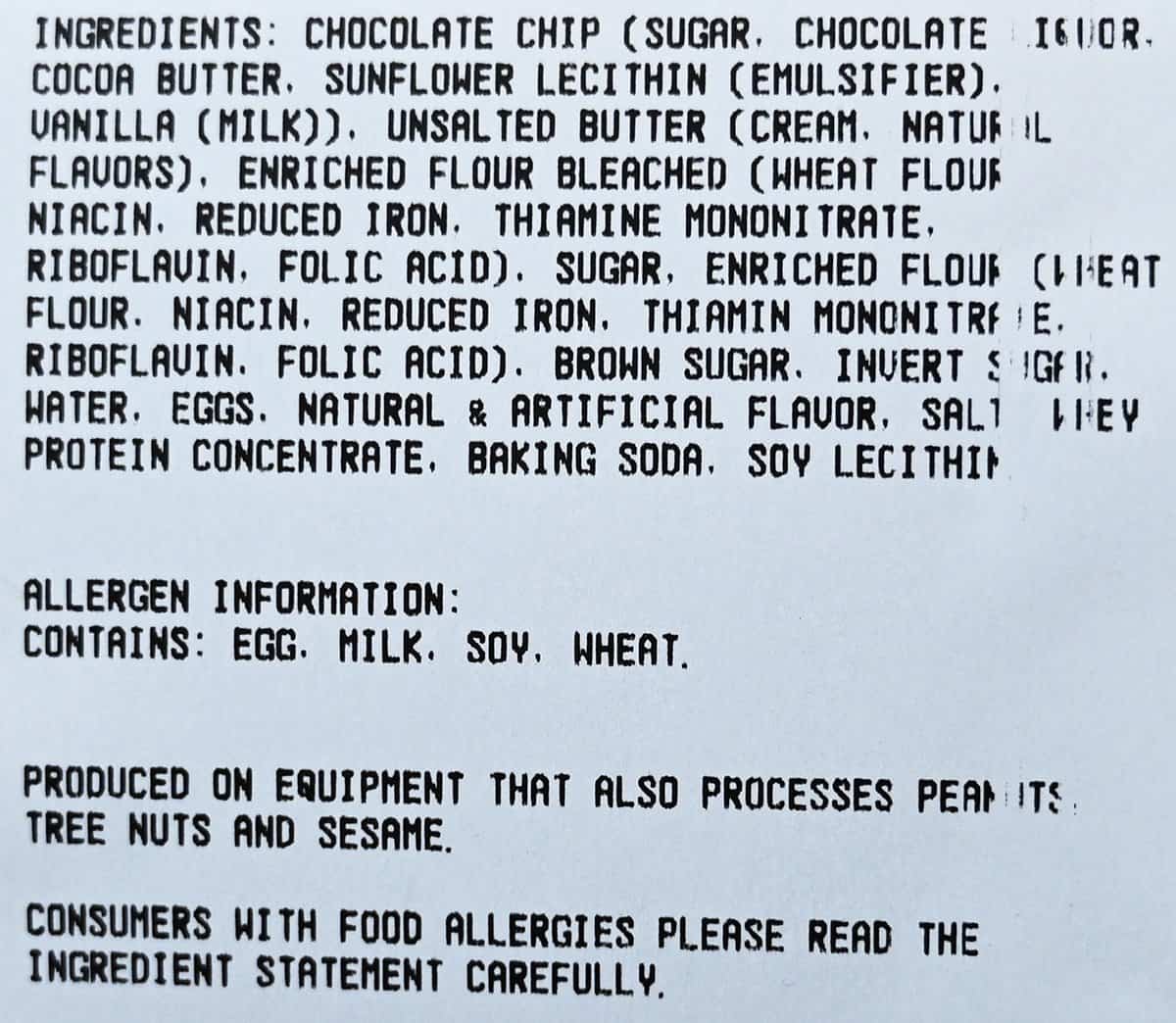 Scoring
Taste: 8/10
Cost: 7/10
Convenience: 10/10
Nutrition: 0/10
Overall
Give them a try!
If you like chocolate chip cookies, I think you'll enjoy these! I prefer them over the larger chocolate chunk ones. I also like the smaller size.
Have you tried these chocolate chip cookies from Costco? What did you think of them?
---
Please note that this review was not paid for or sponsored by any third party. This product was purchased by Costcuisine for the purpose of producing this review. The opinions in this review are strictly those of Costcuisine. Costcuisine is not affiliated with Costco or any of its suppliers. In the event that Costcuisine receives compensation for a post from the manufacturer of a product or some other third party, the arrangement will be clearly disclosed (including where the manufacturer of a product provides Costcuisine with a free sample of the product).