After what felt like years of mostly the same items, my local Costco's bakery has been pumping out new item after new item – the Kirkland Signature Raspberry Cheesecake, the Kirkland Signature Pistachio Cake and the Kirkland Signature Maple Pecan Coffee Cake are the ones I've reviewed most recently. This Kirkland Signature Apple Fritter Loaf Cake is another brand-new item. It reminded me of the Kirkland Signature Banana Pecan Loaf when I saw it. An apple version of banana bread seems like an interesting idea, but the words "fritter" and "cake" made me wonder if this is more of a pure dessert item.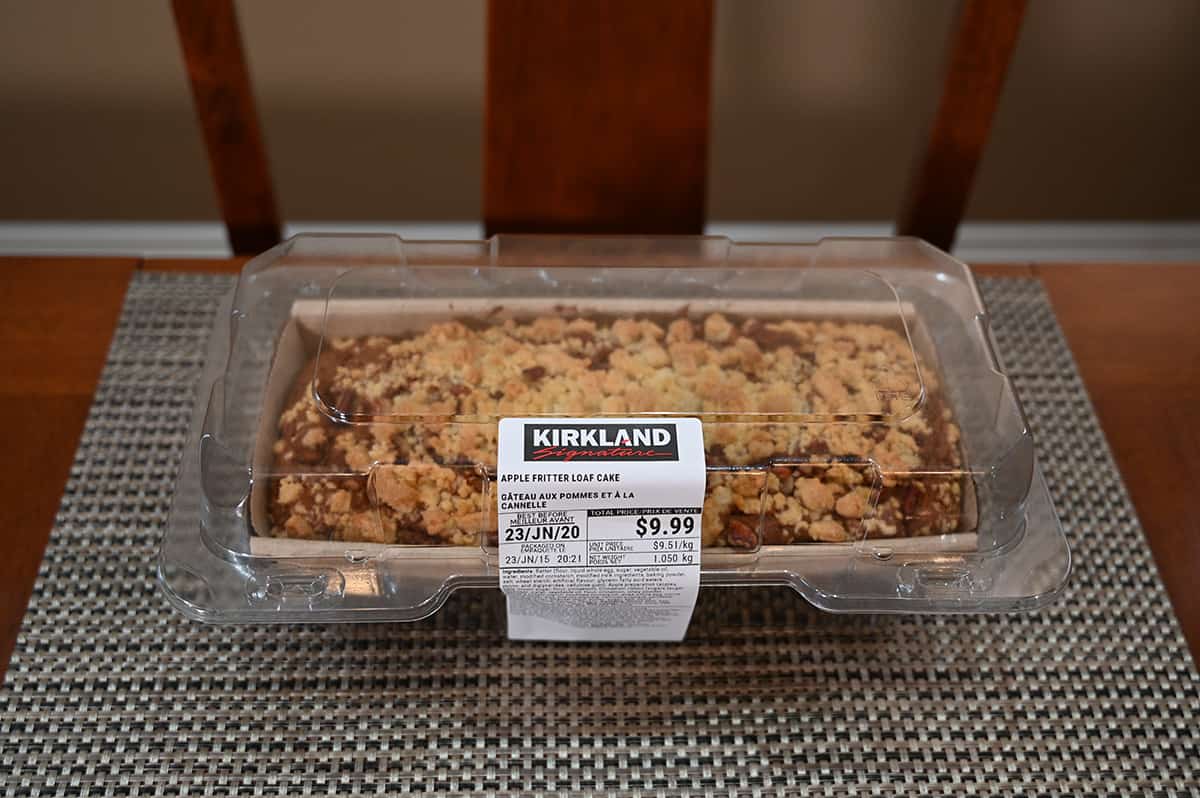 Other Costco bakery items that I absolutely love are the Kirkland Signature Pumpkin Pie, the Kirkland Signature Tuxedo Cake, the Kirkland Signature Ciabatta Buns, the Kirkland Signature Chocolate Lover's Cookie Pack and the Kirkland Signature Almond Danishes.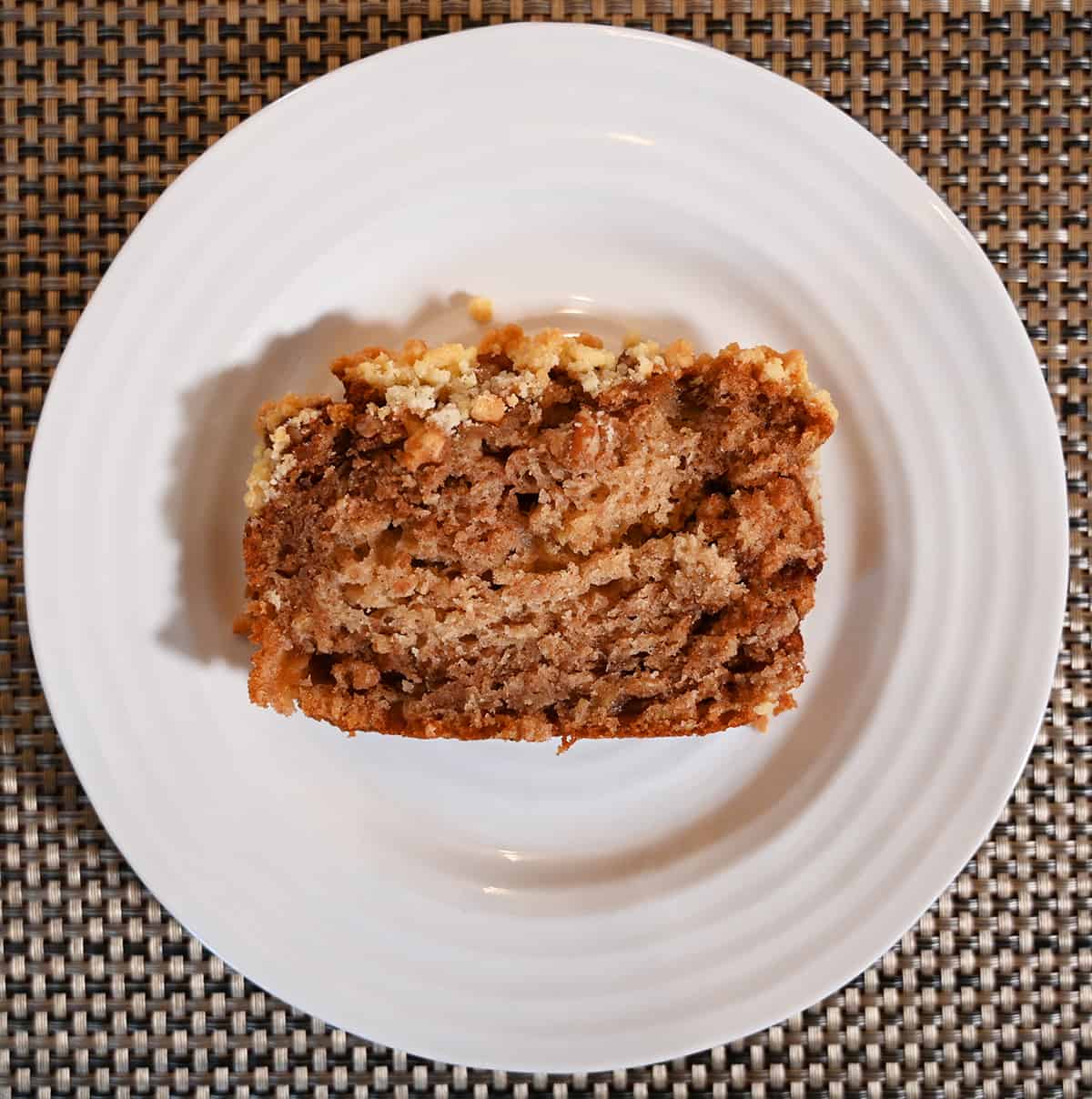 Location in Store
You can find this loaf in the Costco bakery and the item number is 1712639.
Taste
Before I tasted the loaf, I noticed it felt very dense and seemed almost under-baked/soggy. After cutting into it, it was definitely very soft and moist, but seemed fully baked.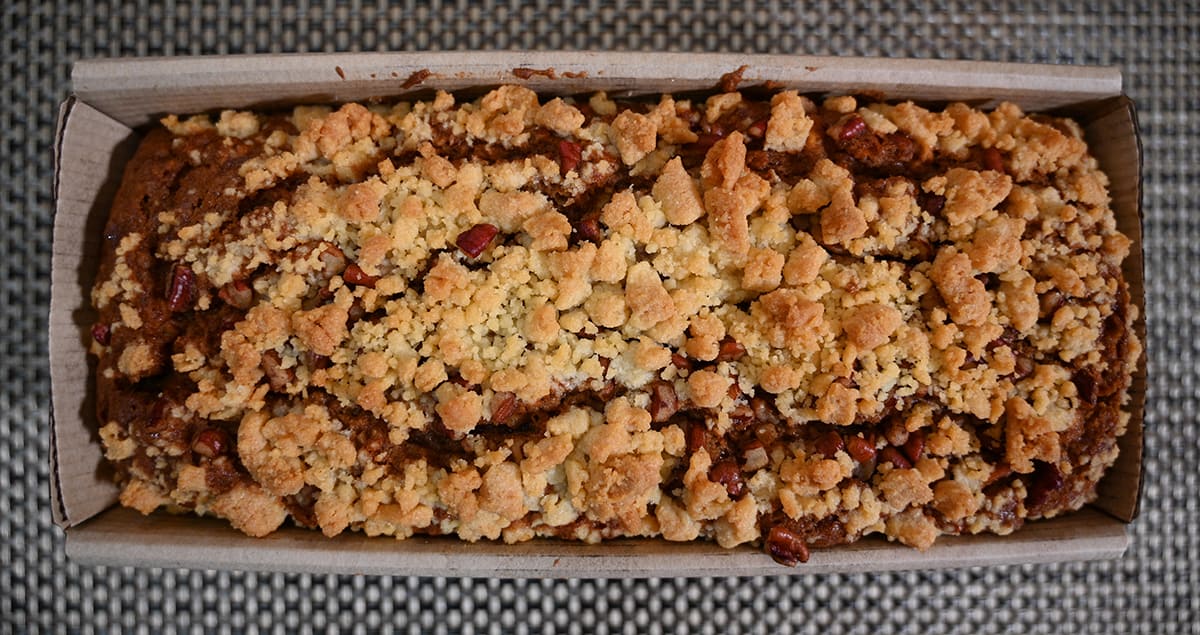 The flavor is good, but it's a somewhat artificial apple cinnamon flavor. As I said, the cake is very soft/moist. I liked it, but I think a lot of people would find it under-baked. The streusel and pecans on top add a bit of texture and complementary flavors. Oh, and for the record, I would say it's more cake than loaf – it's quite sweet.
This loaf cake is pretty good, but I can see some people being turned off by the somewhat under-baked cake and the somewhat artificial taste. I think I'd recommend the coffee cake over this.
Cost
The loaf costs $9.99 Canadian which isn't really cheap but also isn't super expensive for such a large loaf.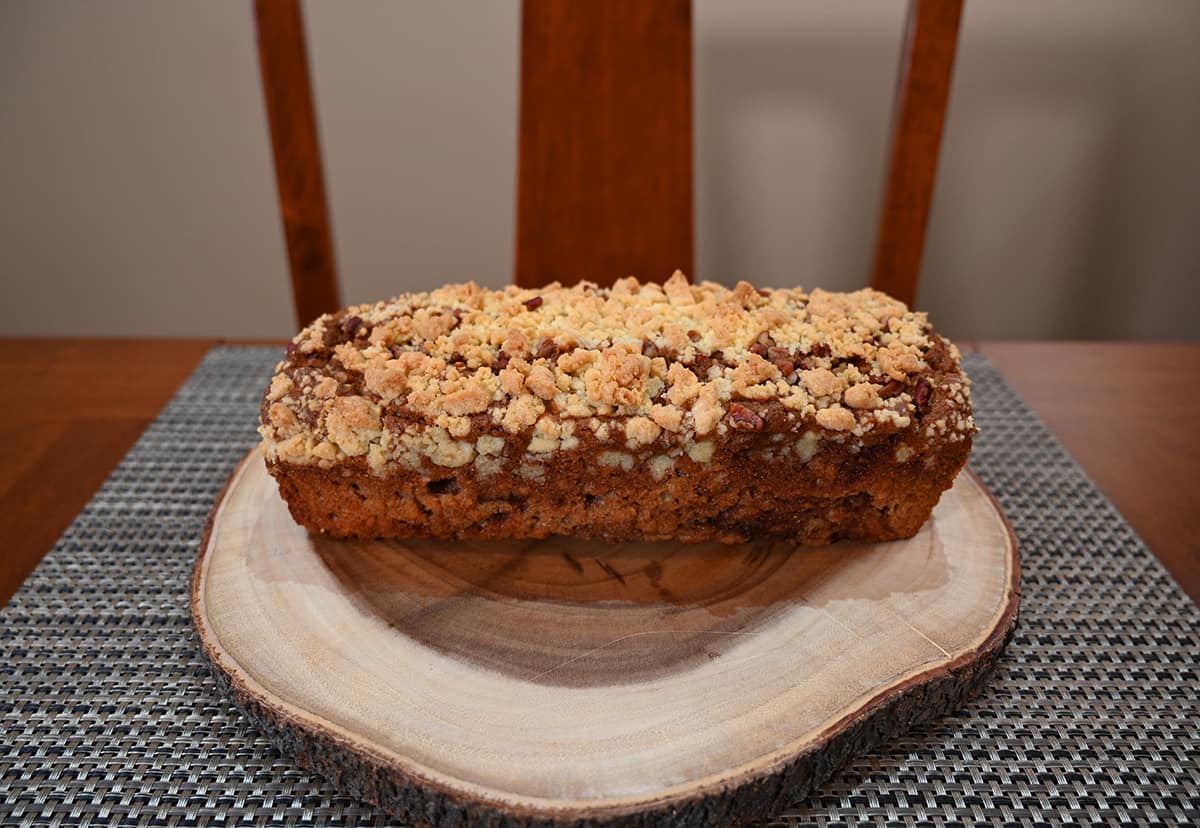 Convenience
The loaf has a best-before date of five days from the time it was packaged. It can be easily sliced and frozen in the container it comes in. The loaf is versatile, you could have it for breakfast, a snack or even dessert. I think as a dessert it might pair well heated a bit with a dollop of vanilla ice cream.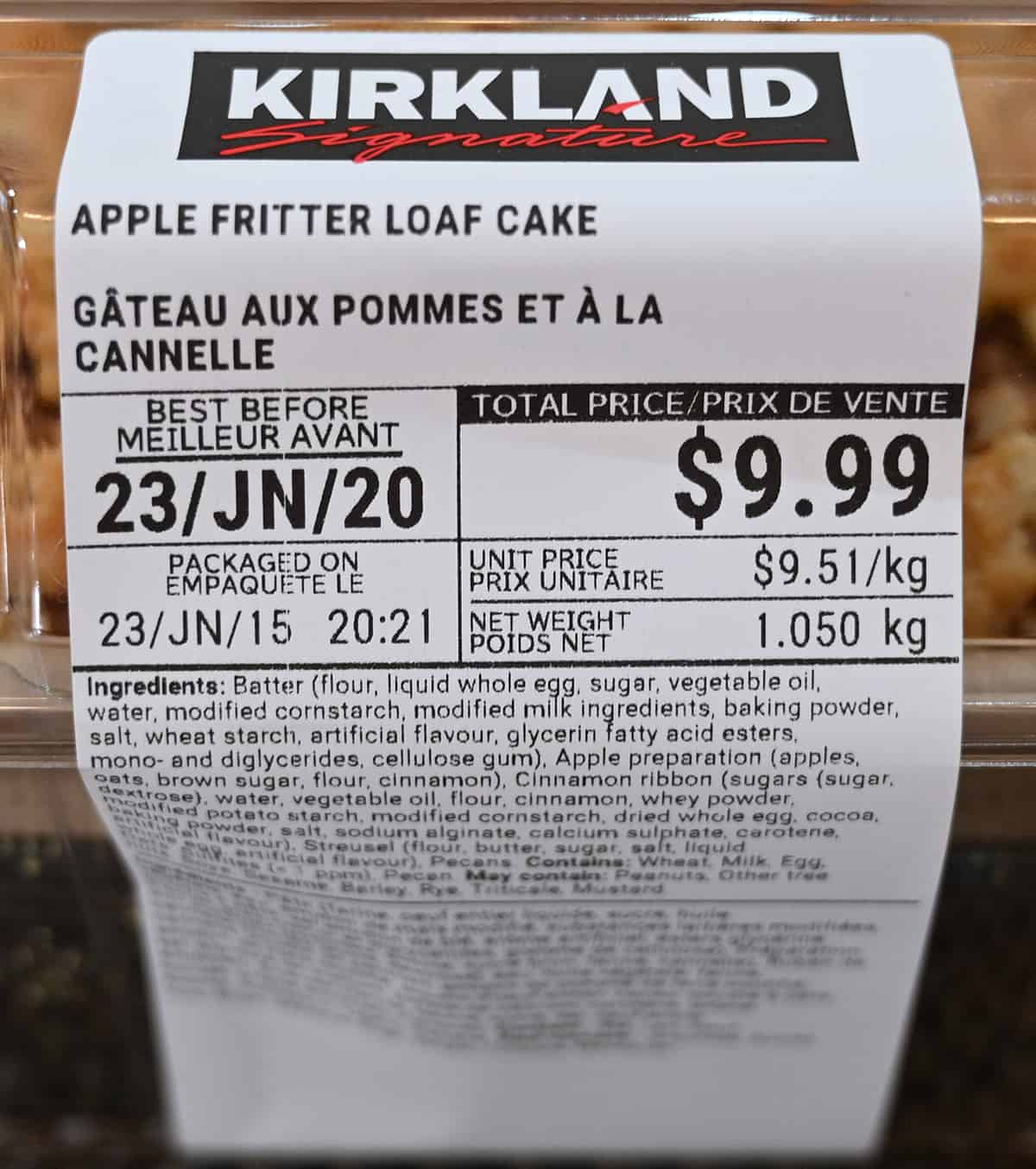 Kids and adults will both enjoy this, I don't think kids will mind the underbaked texture as much as adults do.
Nutrition
Calories
1/20th of the loaf contains 220 calories, 12 grams of fat, 26 grams of carbohydrates, one gram of fibre, 14 grams of sugar, three grams of protein and 170 milligrams of sodium. I bet there are very few people who eat a serving of loaf cake that's only 1/20th. I think most people, including myself, enjoy a piece that's twice the size.
Ingredients
The ingredients list actually doesn't seem that bad to me. I don't love the artificial color but all the other ingredients seem pretty typical for a loaf bought from a grocery store bakery. I also appreciate that there's real apple in the loaf and a decent amount of it.
The loaf contains wheat, milk, egg, oats, sulfites and pecan and may contain peanuts, other tree nuts, soya, sesame, barley, rye, triticale and mustard.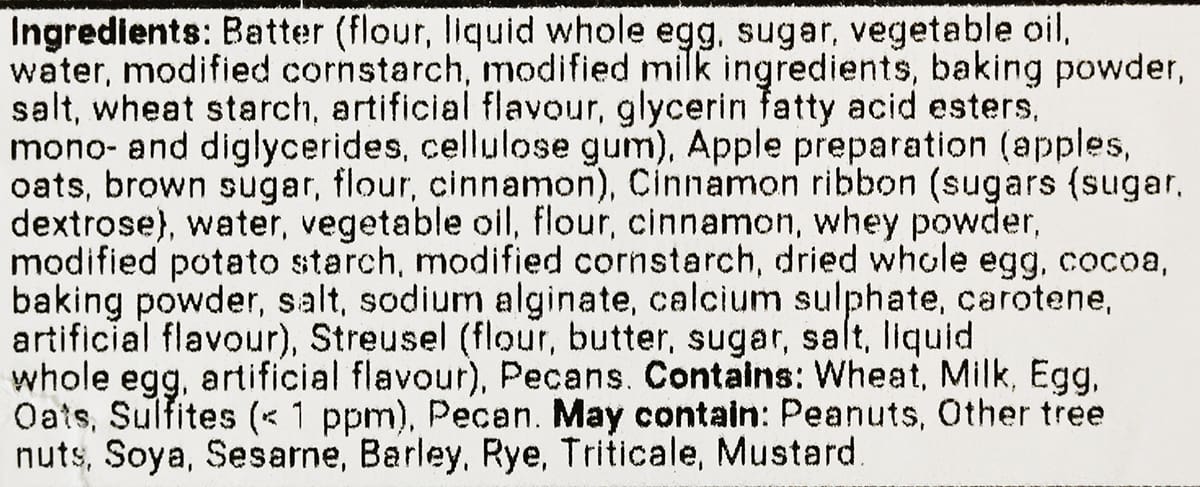 Scoring
Taste: 7/10
Cost: 7/10
Convenience: 10/10
Nutrition: 0/10
Overall
Give it a try!
I think there are better options in the Costco bakery but if you're an apple fritter fan this is something you might want to try and see for yourself if you like it or not.
Have you tried this new Kirkland Signature Apple Fritter Loaf? What did you think of it?
---
Please note that this review was not paid for or sponsored by any third party. This product was purchased by Costcuisine for the purpose of producing this review. The opinions in this review are strictly those of Costcuisine. Costcuisine is not affiliated with Costco or any of its suppliers. In the event that Costcuisine receives compensation for a post from the manufacturer of a product or some other third party, the arrangement will be clearly disclosed (including where the manufacturer of a product provides Costcuisine with a free sample of the product).