Sean got a little carried away in the bakery department last week when he made a solo Costco run! This beautiful-looking Kirkland Signature Raspberry Cheesecake was one of the items he came home with. The cheesecake, raspberry glaze and chocolate shavings and straws on top all look very appetizing. Unfortunately the price tag isn't quite as appealing! Costco's cakes aren't as inexpensive as they used to be, so I'm finding myself looking at them with a more critical eye. Does this cheesecake offer enough taste per dollar to be worth buying for your next gathering?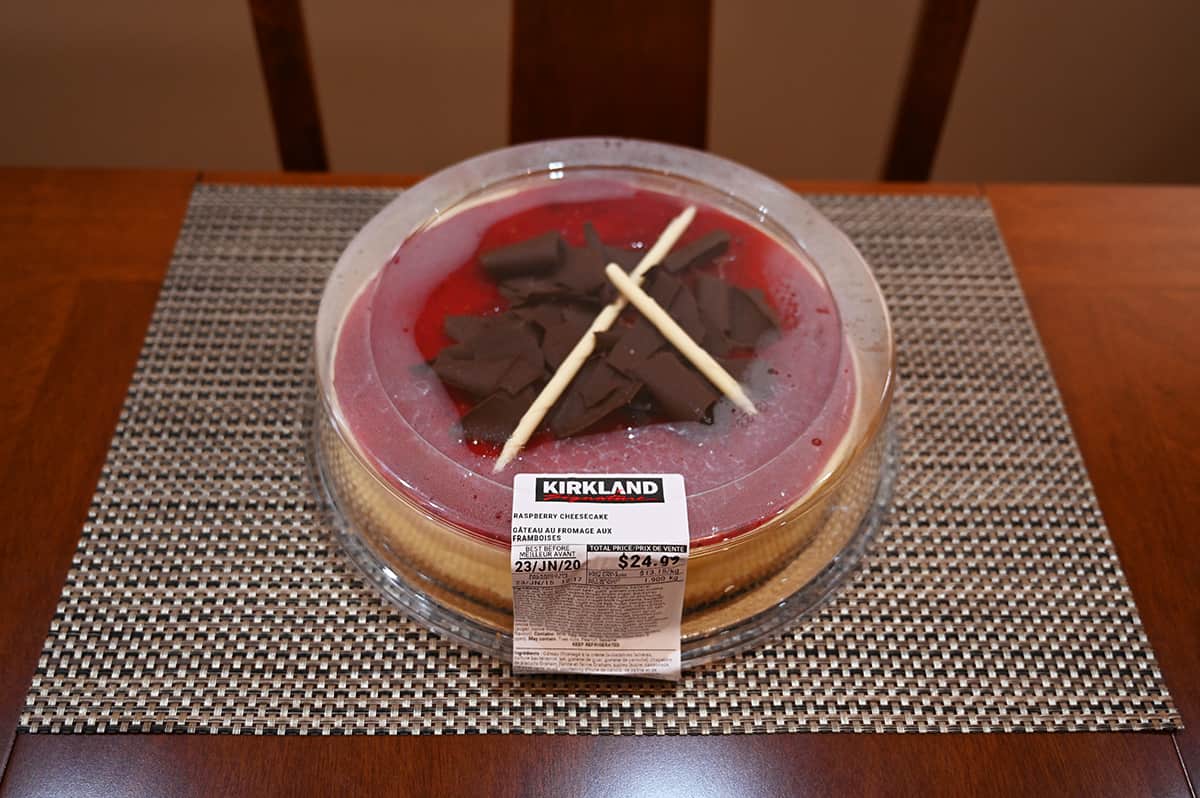 Costco used to carry the NAME, but I haven't seen it lately, so it seems like this cheesecake might have replaced it? Other Costco bakery items I enjoy include the Kirkland Signature Tuxedo Cake, Kirkland Signature Coffee Cake, Kirkland Signature Tiramisu Cake, Kirkland Signature Strawberry Shortcake, Kirkland Signature Raspberry Crumble Cookies and the Kirkland Signature Banana Pecan Loaf.
Location in Store
You can find this in the refrigerated bakery section near all the other cakes. The item number is 1741163.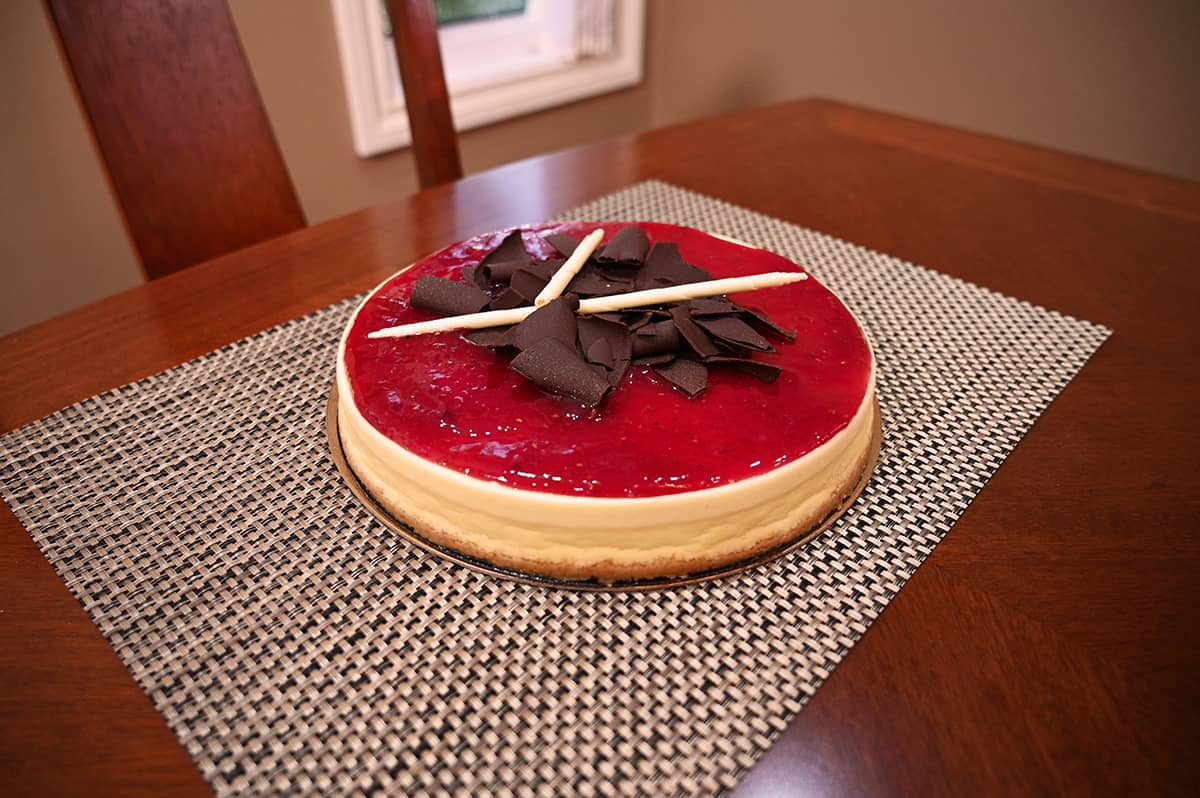 Taste
The cake is decorated very nicely, but it's a fairly basic cheesecake. The cheesecake itself is just plain – the only raspberry in the cake is in the glaze on top. I find this cheesecake is less tangy/flavorful than some I've had, but it's still good.
One thing I like is that it's not too sweet. The graham crumb base is tasty too; it has a nice flavor with a hint of sweetness. The base of my cake is a bit on the soft/soggy side, but not unpleasantly so.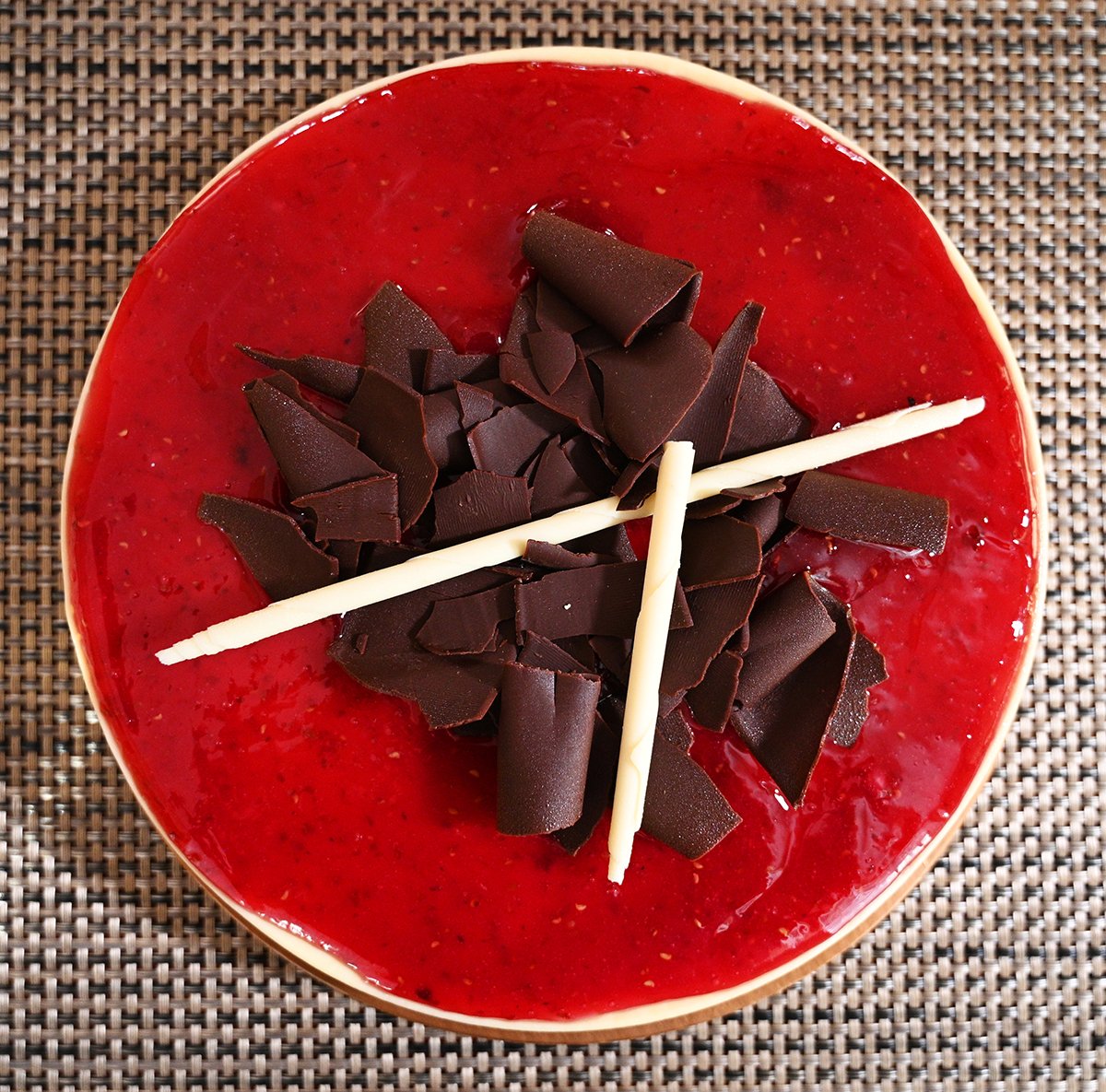 The main distinguishing component of this cheesecake is the raspberry glaze on top. It's quite sweet and a bit artificial tasting, but I still really like it! It goes really well with the cheesecake. Even though it doesn't taste entirely natural, it must use real raspberries because the seeds are noticeable. The layer of glaze is fairly thin, but there's enough of it to add plenty of sweetness and raspberry flavor to every bite.
On top of the glaze, there are a bunch of flake-like pieces of chocolate (not sure if dark or milk?) and rolled white chocolate straws. Both kinds of chocolate are a tad dry, but taste great. When I took bites of cake with the chocolate though, the flavors of the chocolates were kind of overpowered.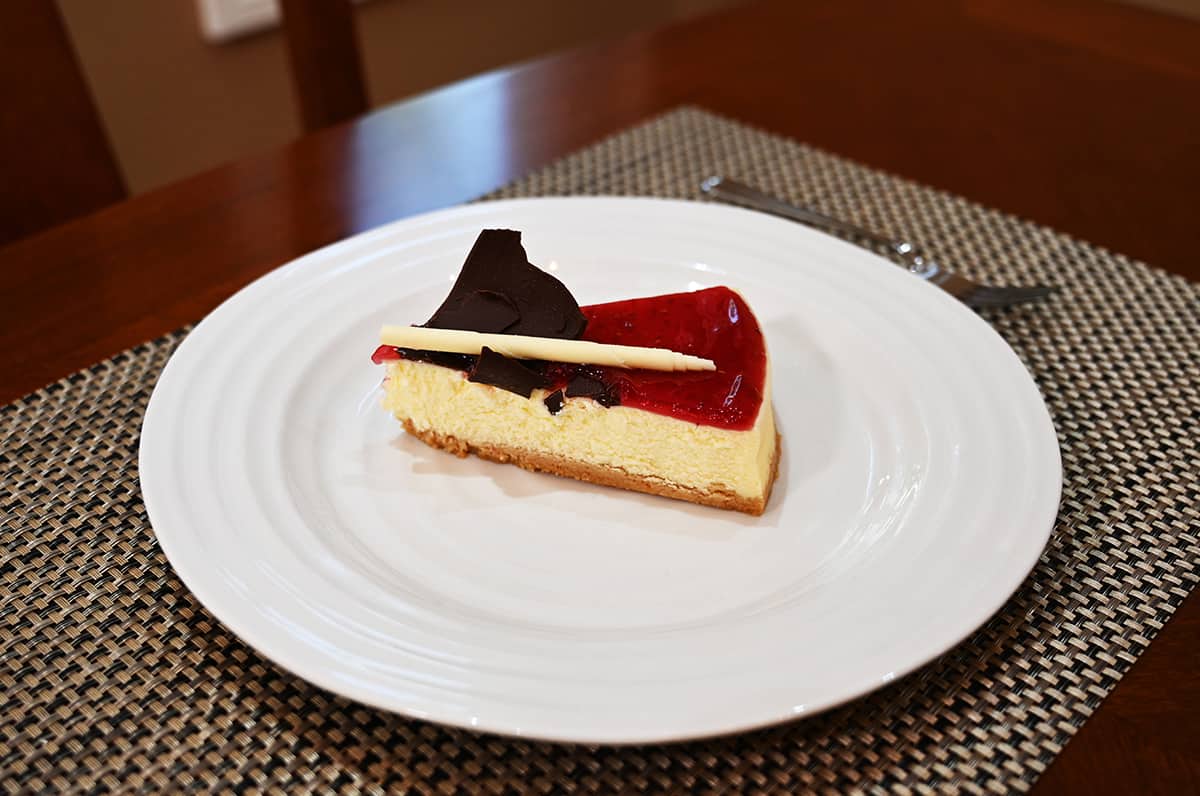 Cost
The raspberry cheesecake from Costco costs $24.99 Canadian which isn't cheap for a grocery store-bought cake! Generally, I find the bakery items from Costco higher quality than other grocery store bakery products but I feel like $24.99 is approaching the prices you would see in a stand-alone bakery! Granted the prices of everything have gone up a lot in the last couple of years.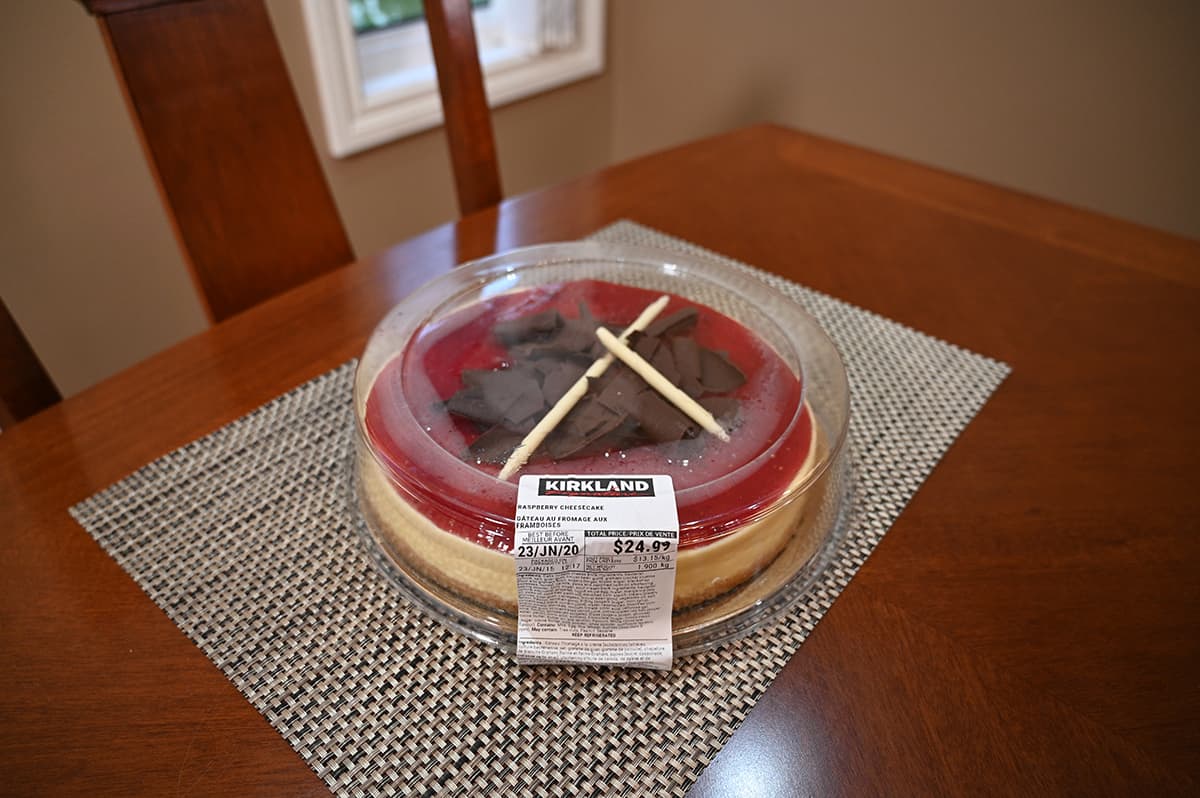 Convenience
The cheesecake needs to be kept refrigerated and the best-before date is five days from the day the cake was packaged. I have to say the cake is very pretty looking and doesn't exactly look like it came from Costco so I think it would be fine to serve for a birthday, anniversary, graduation or at any other celebration.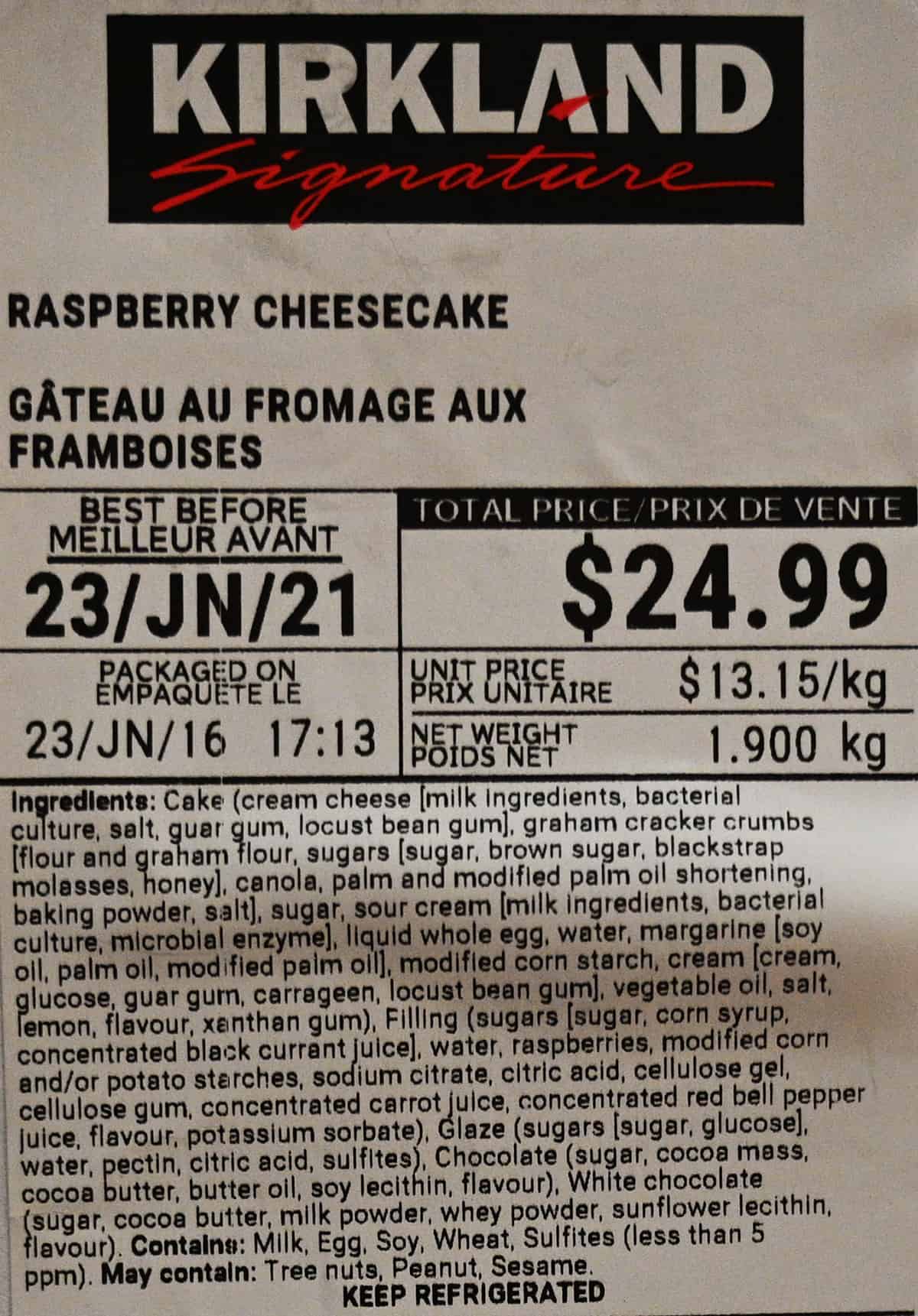 The cake is really big so if you cut small slices I think the cake could serve about 16 people and if it's for a smaller gathering that's fine, it freezes well! We had to freeze more than half the cheesecake even after giving some away.
Nutrition
Calories
1/16th of the Kirkland Signature Raspberry Cheesecake contains 400 calories, 23 grams of fat, 42 grams of carbohydrates, one gram of fibre, 30 grams of sugar. seven grams of protein and 380 milligrams of sodium.
I think a lot of people will eat a serving size a tad bit bigger than 1/16th so if you're watching your calories, sugar, fat and carbohydrates you may want to have a very small piece!
Ingredients
Nobody eats cheesecake thinking it's healthy but there are a ton of unhealthy ingredients in this. Some of the ingredients I don't like seeing are palm and modified palm oil, soy oil and corn syrup. The cheesecake contains milk, egg, soy, wheat, sulfites and may contain tree nuts, peanut and sesame.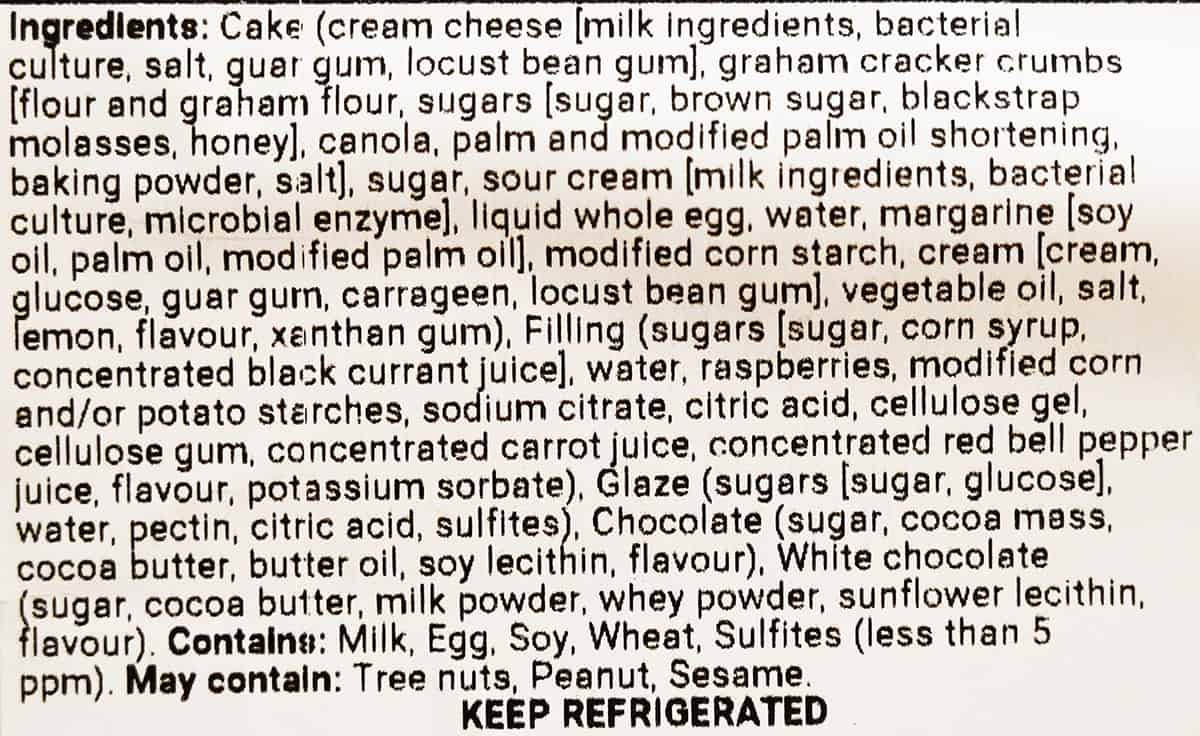 Scoring
Taste: 8/10
Cost: 6/10
Convenience: 10/10
Nutrition: 0/10
Overall
Give it a try!
This is a really solid cheesecake. Some people might find it a little sweet and the cheesecake itself lacking some flavor, but I liked it.
Have you tried this new Kirkland Signature Raspberry Cheesecake? What did you think of it?
---
Please note that this review was not paid for or sponsored by any third party. This product was purchased by Costcuisine for the purpose of producing this review. The opinions in this review are strictly those of Costcuisine. Costcuisine is not affiliated with Costco or any of its suppliers. In the event that Costcuisine receives compensation for a post from the manufacturer of a product or some other third party, the arrangement will be clearly disclosed (including where the manufacturer of a product provides Costcuisine with a free sample of the product).