Along with giant muffins, the three kinds of chocolate chip cookies and a few other things, banana loaf is a Costco bakery staple. Maybe they bake the Banana Pecan Loaf to use up any bananas from the produce section that get over ripe? As with most Costco bakery items, you get a huge portion at a very reasonable price. I also have to give Costco some credit for the presentation – the loaves look pretty appealing as they appear to burst with banana and pecan goodness.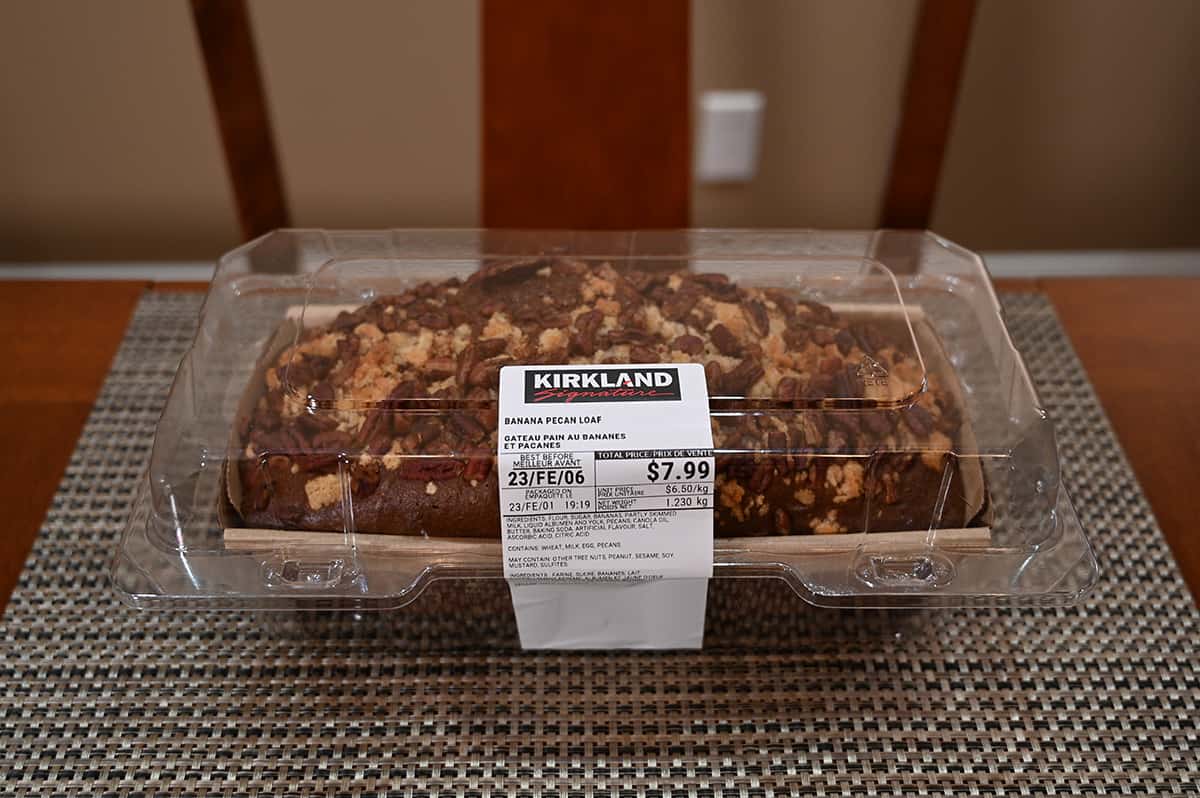 I never think of myself as a big banana bread fan until I'm actually eating it and then I'm like "this is so good I need to eat this more" but because I don't bake banana bread myself I don't have it often. I prefer homemade baking but I bought this Costco Banana Pecan Loaf during my last Costco trip to review and use to make banana french toast for Sean.
Other Costco Kirkland Signature bakery items I love are the Kirkland Signature Cranberry Orange Bisconie, Kirkland Signature Raspberry Crumble Cookies, Kirkland Signature Cherry Danish, Kirkland Signature Almond Danishes, Kirkland Signature Tuxedo Cake, Kirkland Signature Cheese Buns and the Costco Kirkland Signature Ciabatta Buns.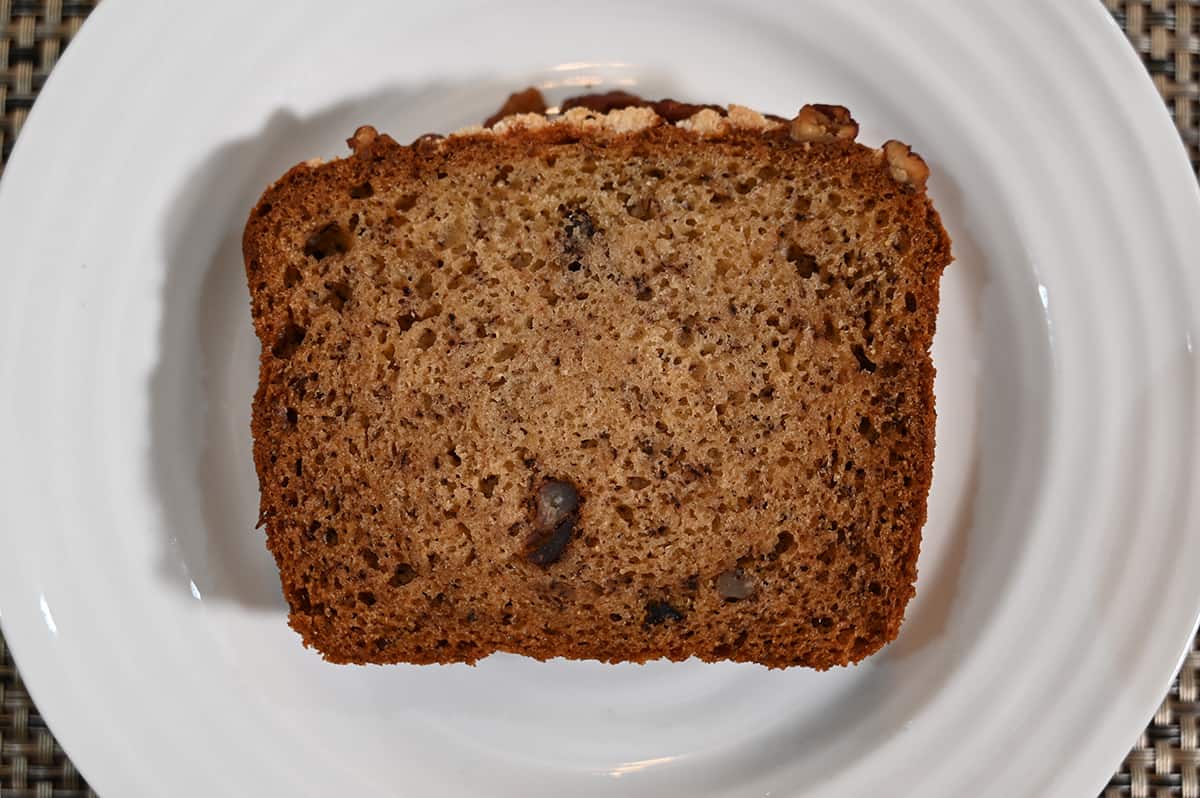 Location in Store
You can find this in the bakery section and the item number is 1399503.
Taste
The Costco Kirkland Signature Banana Pecan Loaf tastes almost as good as homemade banana bread. Not quite as good, but close! It's moist, dense, sweet, nutty and delicious.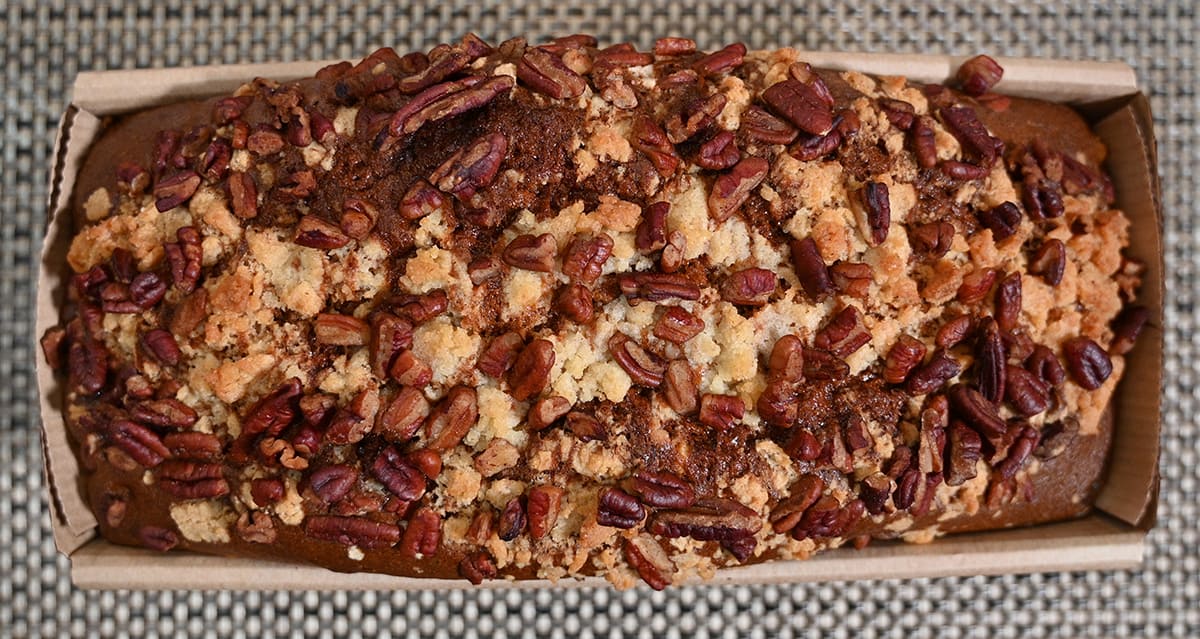 I really appreciate that Costco doesn't skimp on the pecans. There are a lot of pecans in the loaf as well as sprinkled all over top. The pecans balance out the sweetness of the bananas and the two flavors complement one another.
It's pretty heavy, dense banana bread, not light and fluffy. It's very moist and tasty. But after eating a giant piece I kind of feel like I have a brick sitting in my stomach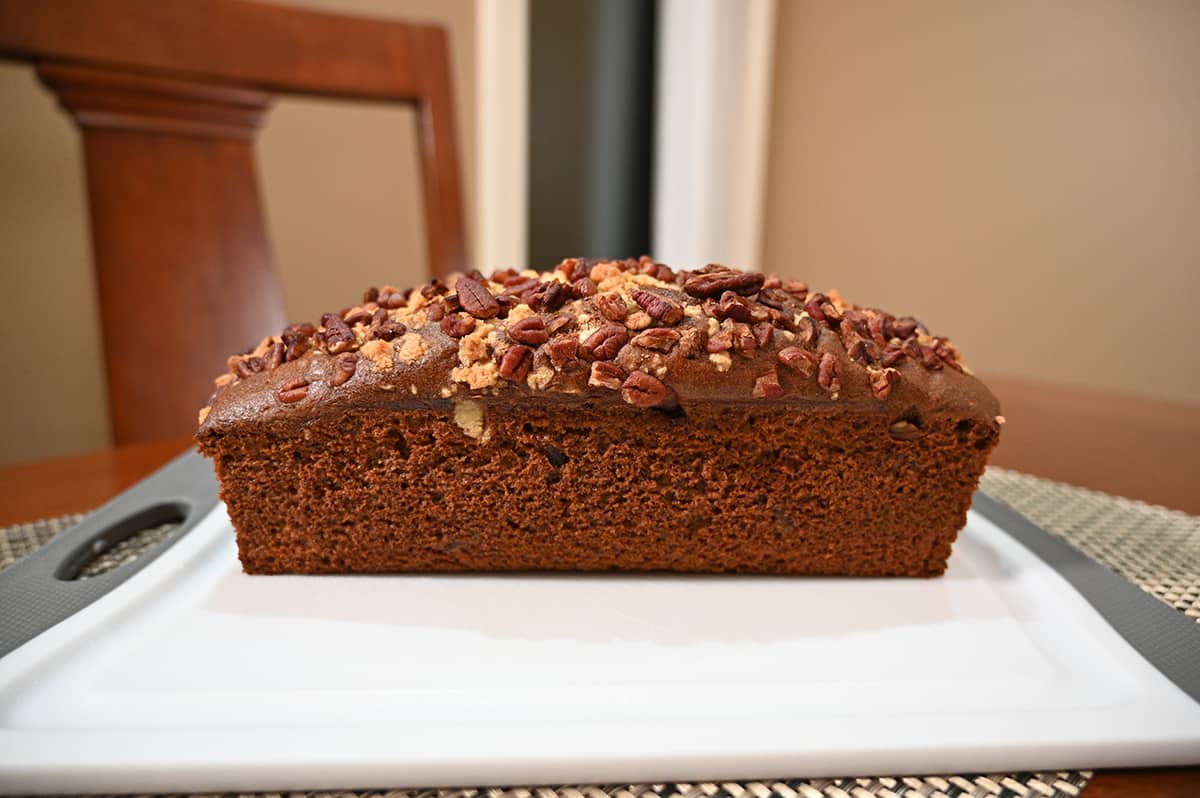 Cost
This massive loaf costs $7.99 Canadian which is a dollar more than it was in 2020 but it's still a really good deal. The banana bread is massive.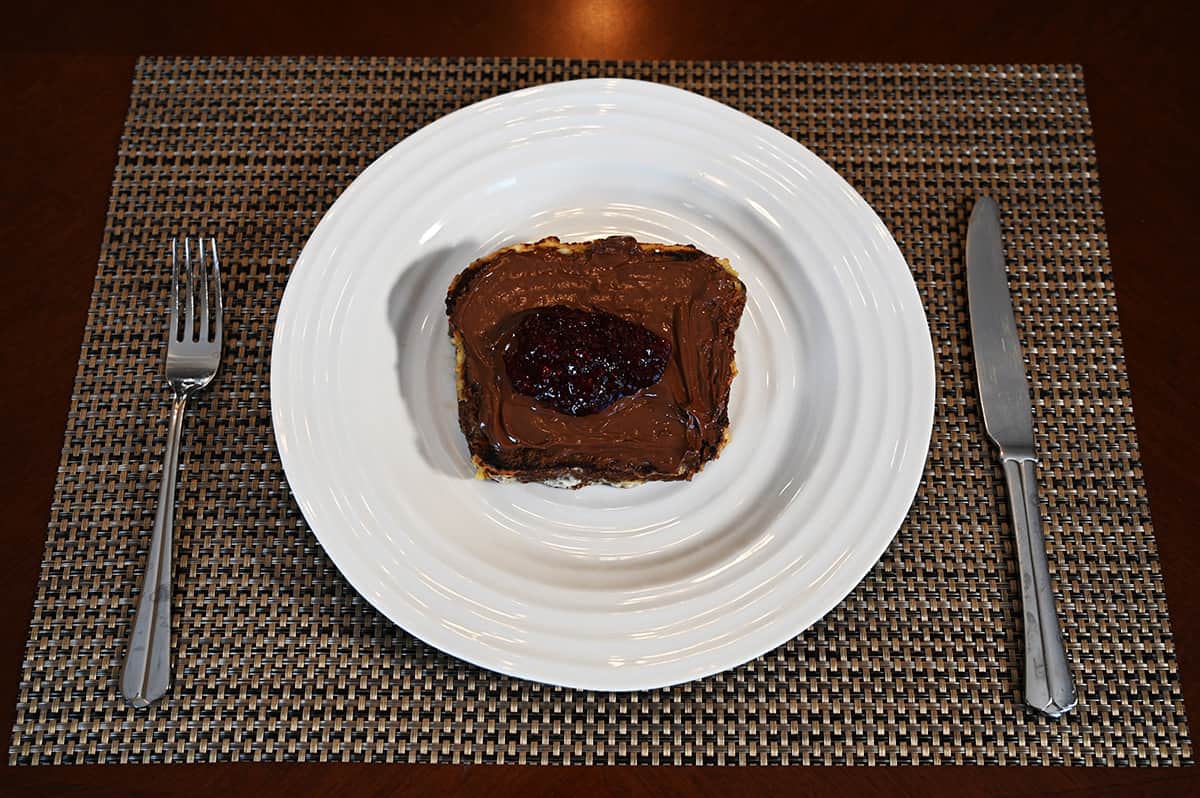 Convenience
I like to cut my banana loaf and freeze it, it freezes amazingly. The best-before date is five days from the date the loaf is packaged on. It's great for an easy breakfast or snack or even dessert.
If you're feeling a bit fancy you can make banana bread french toast. My first encounter with banana bread french toast was in Hawaii and it was so good I decided to try to make it when we returned home. I'm sharing my recipe so you can make it too!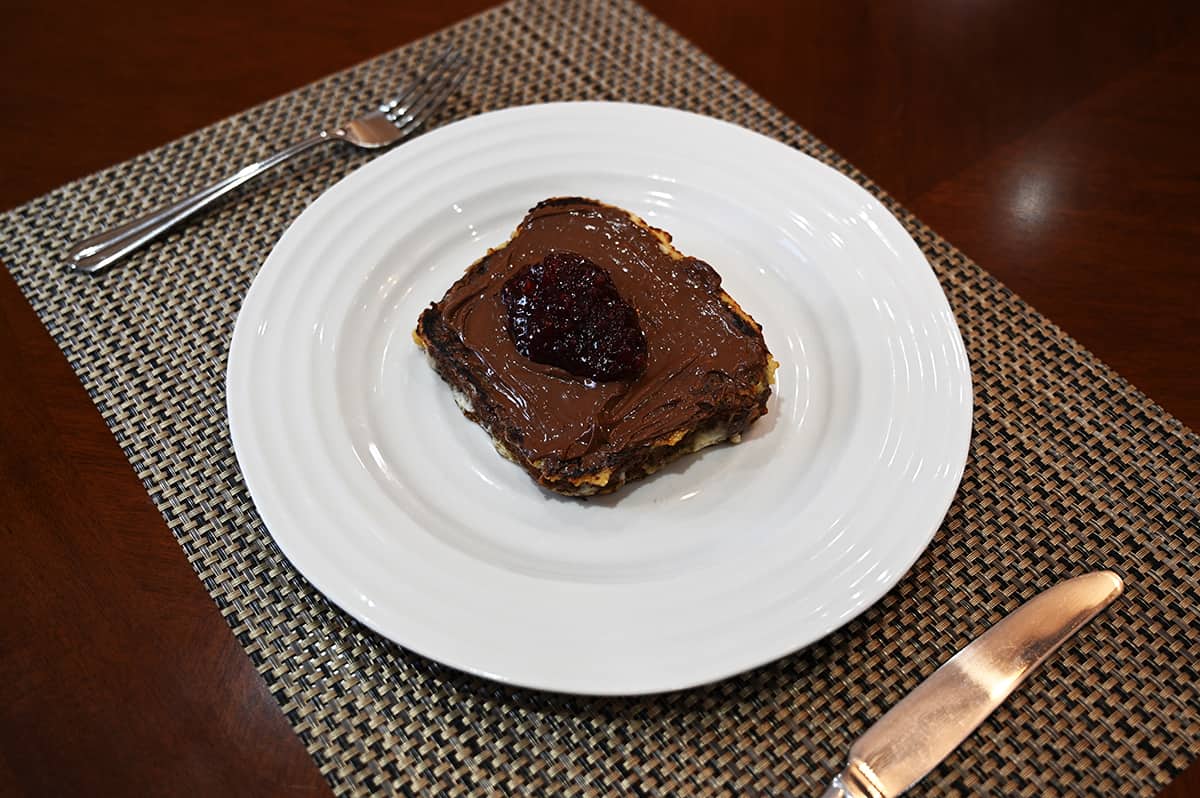 Banana Bread French Toast Recipe
One Costco Kirkland Banana Nut Loaf Sliced Into 2.5 inch thick pieces
Four eggs
Two tablespoons milk
Two tablespoons condensed milk (non-fat is fine)
One teaspoon vanilla
One tsp cinnamon
One-eighth of a teaspoon of nutmeg
If you don't want to use condensed milk you can substitute using three tablespoons of regular milk and one tablespoon of sugar.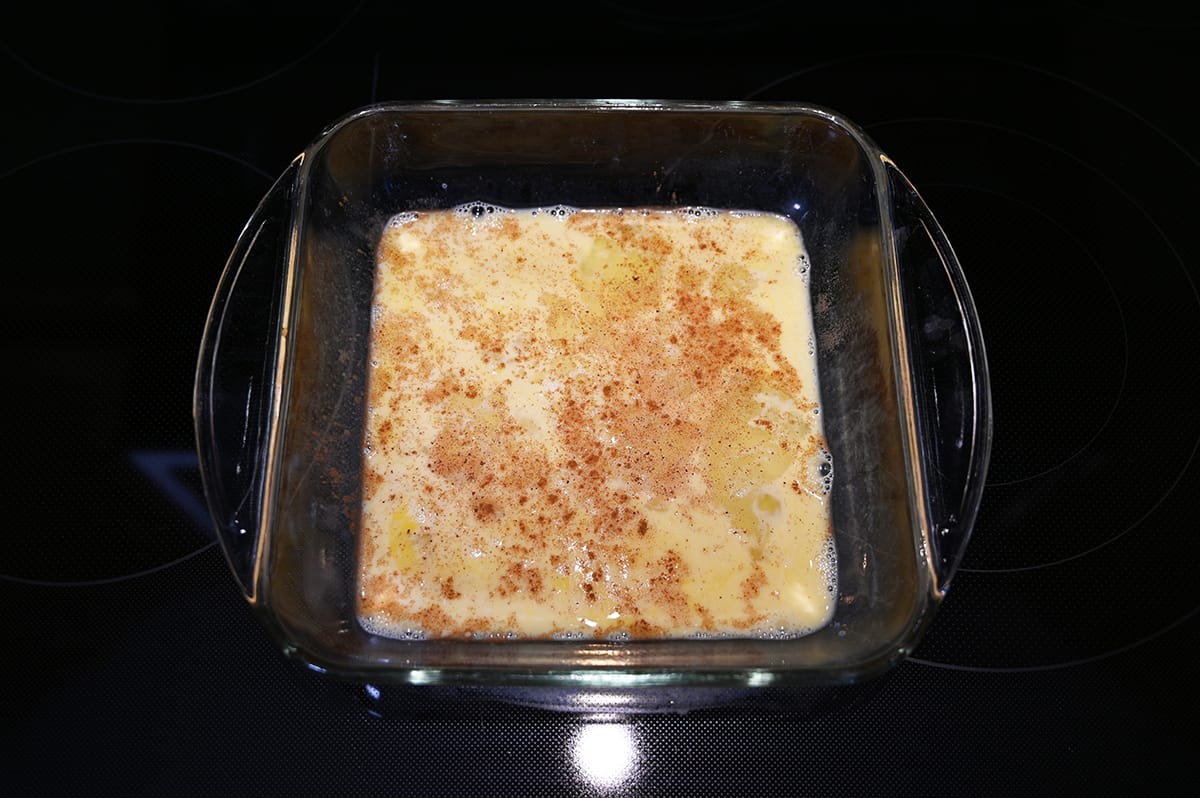 Directions
Cut Costco Kirkland Banana Nut Loaf into 2.5 inch thick slices.
Whisk eggs, milk, condensed milk, cinnamon, nutmeg and vanilla in an 8×8 glass dish or any shallow large pan or dish.
Preheat a nonstick frying pan over medium heat with one teaspoon of butter or cooking spray in the pan.
Dip Costco Kirkland Banana Nut Loaf in egg and milk mix, coat both sides and let the batter drip off.
Place dipped Banana Nut Loaf in preheated pan and cook for one minute on each side.
Serve and top with your favorite toppings!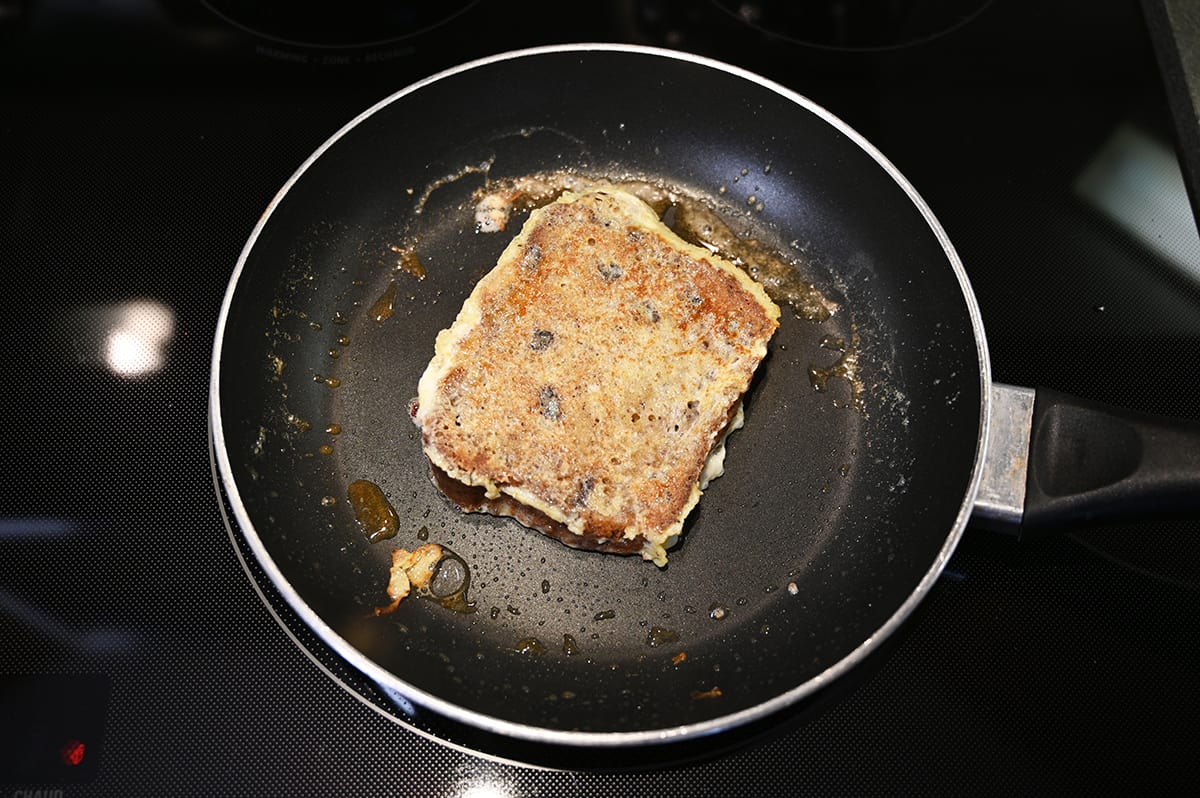 Nutrition
Calories
1/20th of the loaf contains 200 calories, nine grams of fat, 150 milligrams of sodium, 29 grams of carbohydrates, one gram of fibre, 16 grams of sugar and four grams of protein. I probably eat 1/10th of the loaf when I have it so I'm looking at double the calories, fat, sugar, etc.
Ingredients
I'm pleased by the short and sweet ingredients list. Most of these ingredients the average person would use to make a banana loaf at home. It contains wheat, milk, egg and pecans and also may contain other tree nuts, peanuts, sesame, soy, mustard and sulfites.

Scoring
Taste: 8.5/10
Cost: 9.5/10
Convenience: 10/10
Nutrition: 1/10
Overall
Give it a try!
If you know you like banana bread and aren't someone who likes to do a lot of baking I think the Costco Banana Pecan Loaf is tasty and cheap!
Do you make your own banana bread or buy it?
---
Please note that this review was not paid for or sponsored by any third party. This product was purchased by Costcuisine for the purpose of producing this review. The opinions in this review are strictly those of Costcuisine. Costcuisine is not affiliated with Costco or any of its suppliers. In the event that Costcuisine receives compensation for a post from the manufacturer of a product or some other third party, the arrangement will be clearly disclosed (including where the manufacturer of a product provides Costcuisine with a free sample of the product).