In terms of simple but satisfying foods, good bread and buns are probably near the top of my list. A fresh bun with lots of butter goes well with nearly any meal! I also love a good sandwich, and a tasty bun is a great way to start one of those off. The Costco Kirkland Signature Ciabatta Buns come in two varieties to cover your need for both a dinner roll and a sandwich base.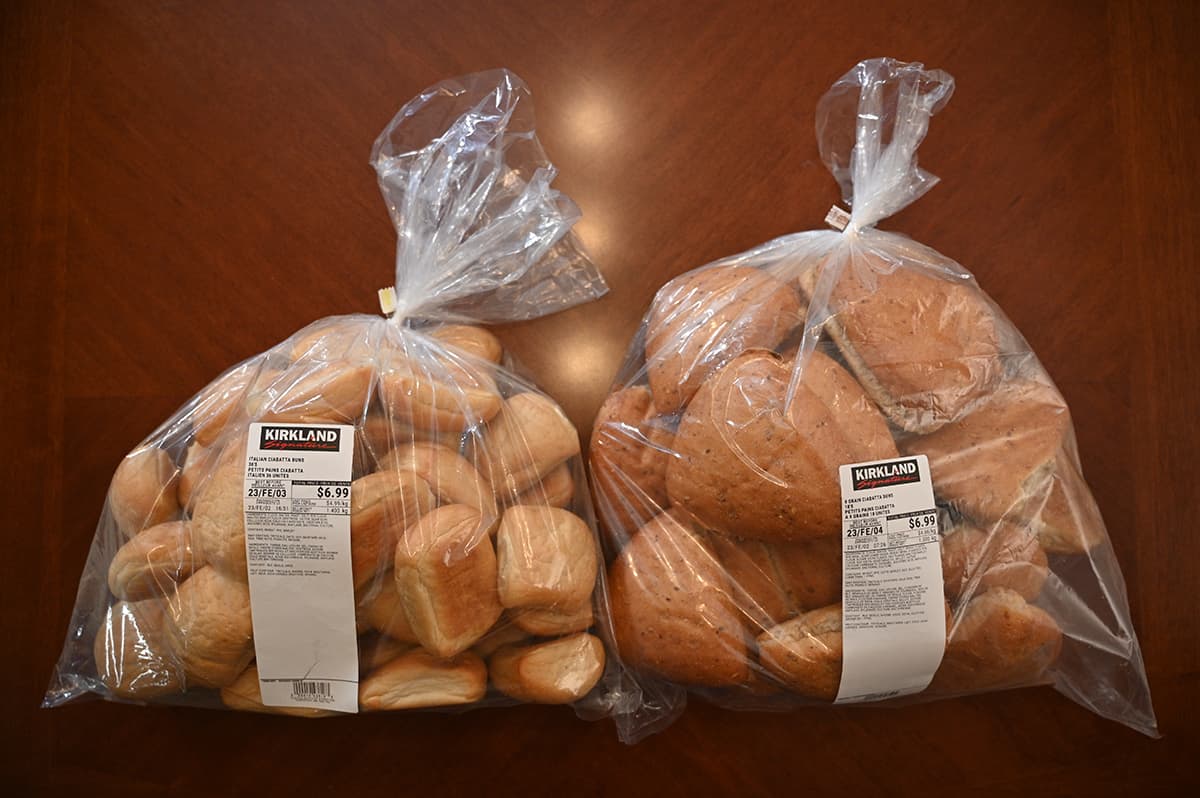 Reviewing buns isn't that exciting, but these Costco Kirkland Signature Italian Ciabatta and 9 Grain Ciabatta Buns are a staple in our home and maybe after this review they'll be a regular item in your household too!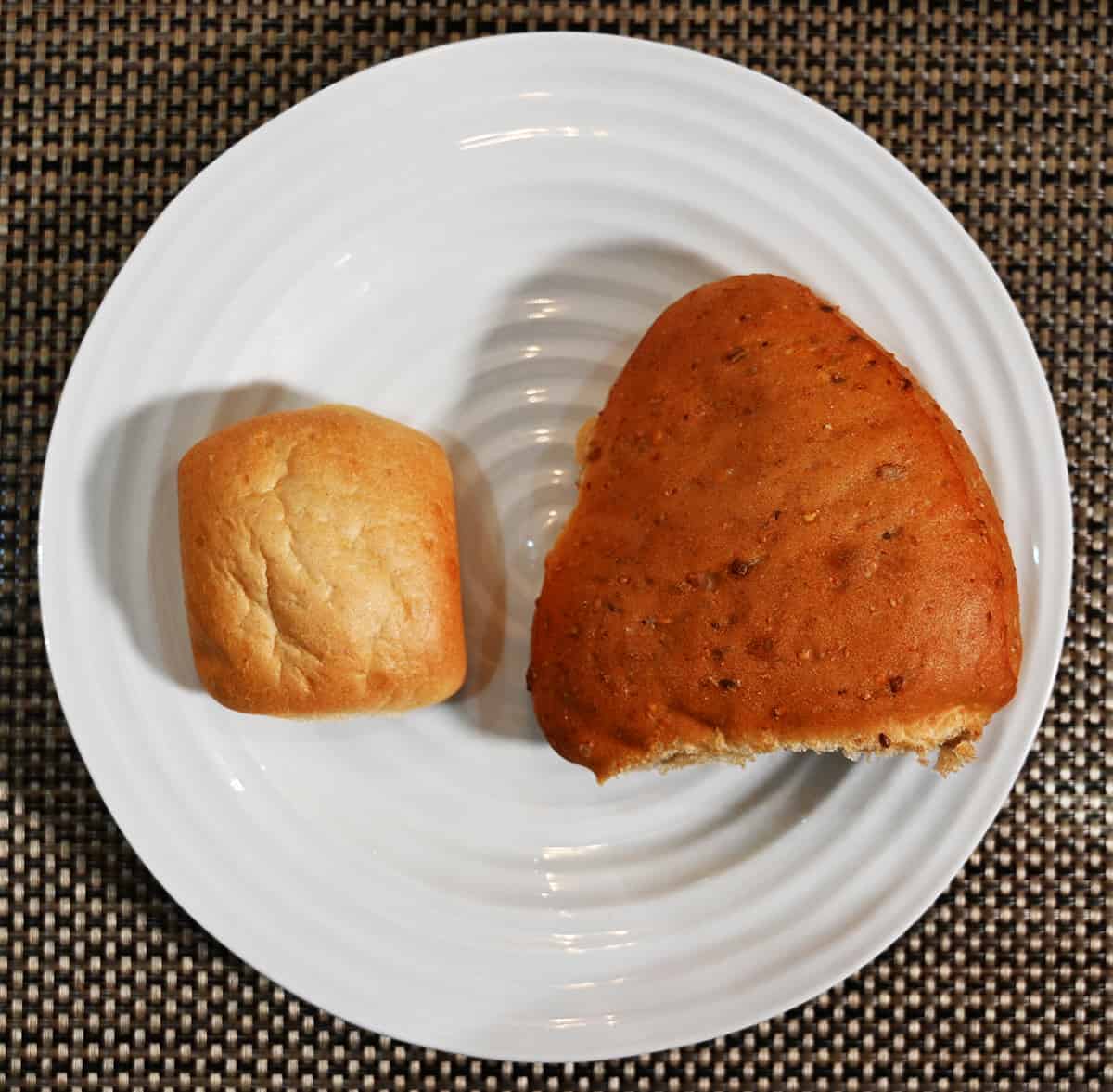 Other bakery products I've reviewed from Costco are the Kirkland Signature Garlic Baguette, Kirkland Signature Artisan Baguettes, Kirkland Signature Granola, Kirkland Signature Tuxedo Cake, Kirkland Signature Pumpkin Pie, Kirkland Signature Chocolate Lover's Cookie Pack, Kirkland Signature Raspberry Crumble Cookies and the Kirkland Signature Artisan Hamburger Buns.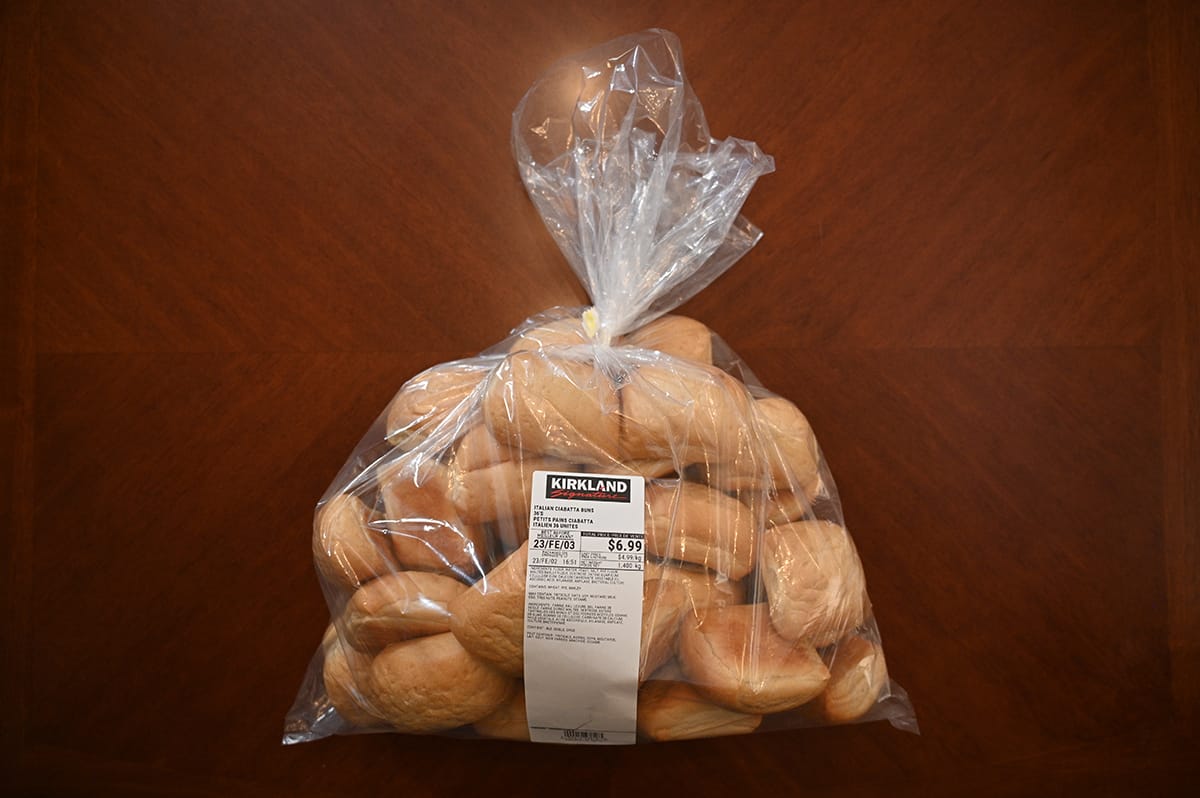 Location in Store
The buns can be found in the bakery section, the item number for the Italian Ciabatta Buns is 1043818 and the 9 Grain Ciabatta Buns item number is 30859.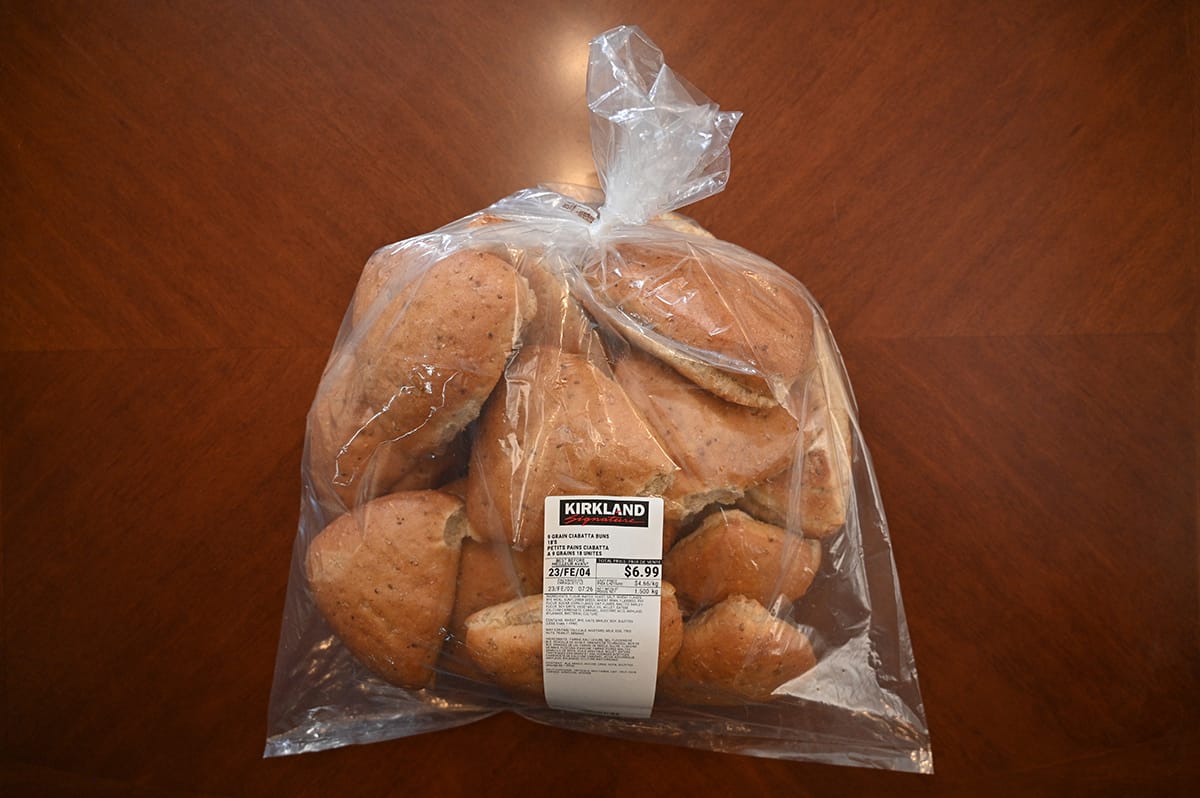 Taste
I prefer the Italian Ciabatta Buns better but it kind of depends on what you're planning to use them for. We really like the Italian buns as a side dinner roll with butter to have with pasta, chili or any kind of casserole dish. The 9-grain ones are too large for that in my opinion and just not a suitable dinner bun, they're amazing for sandwiches though.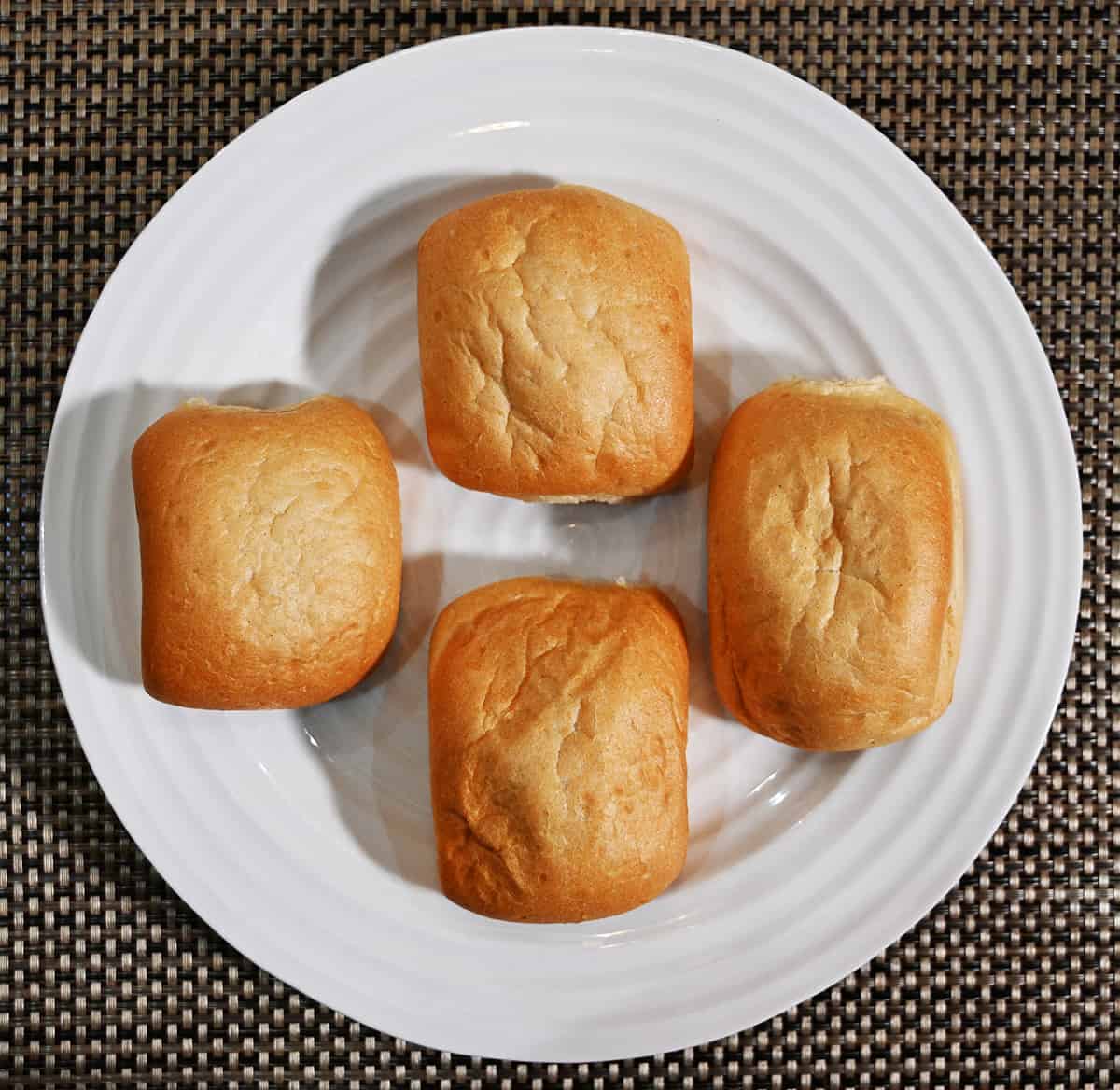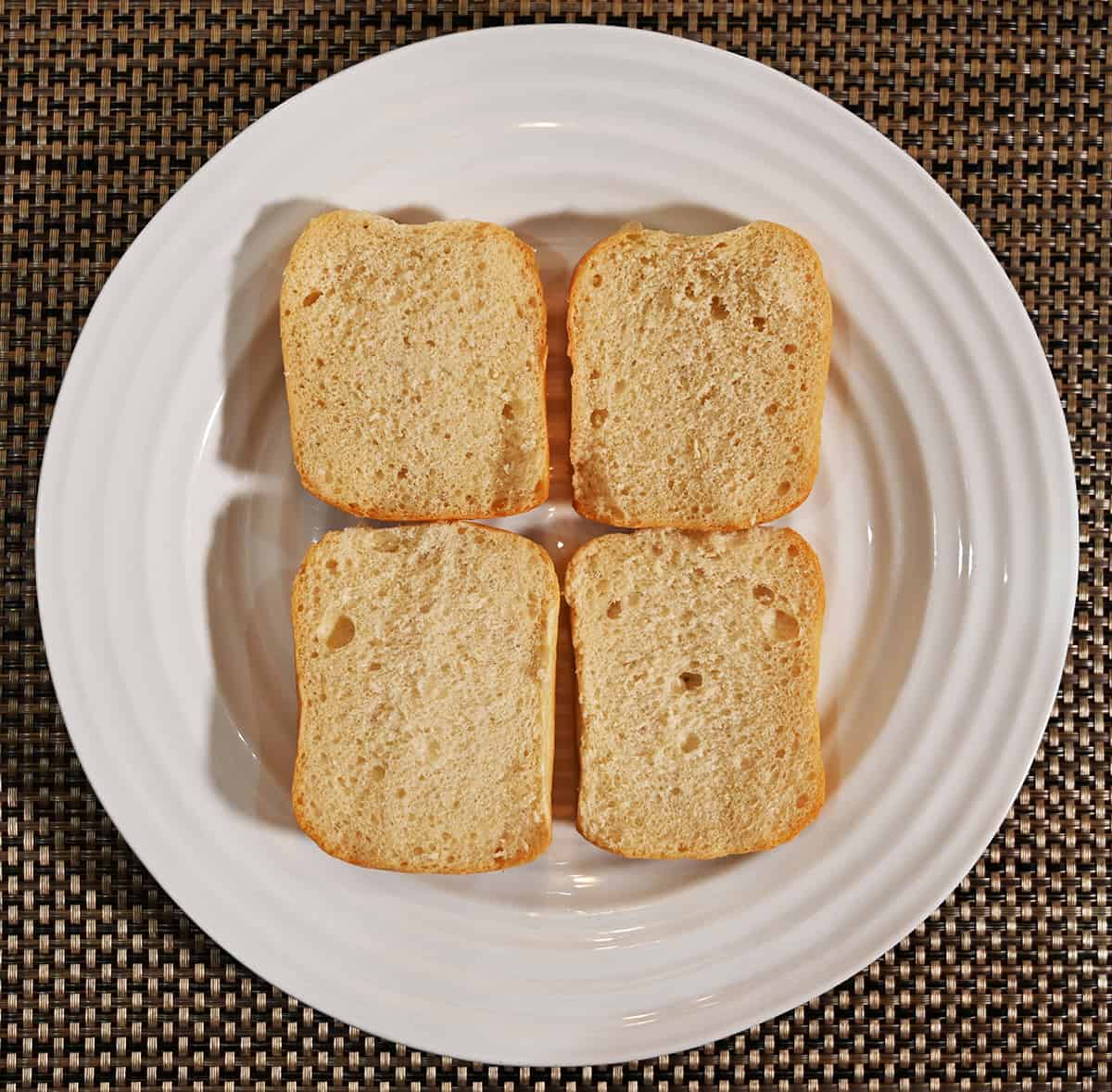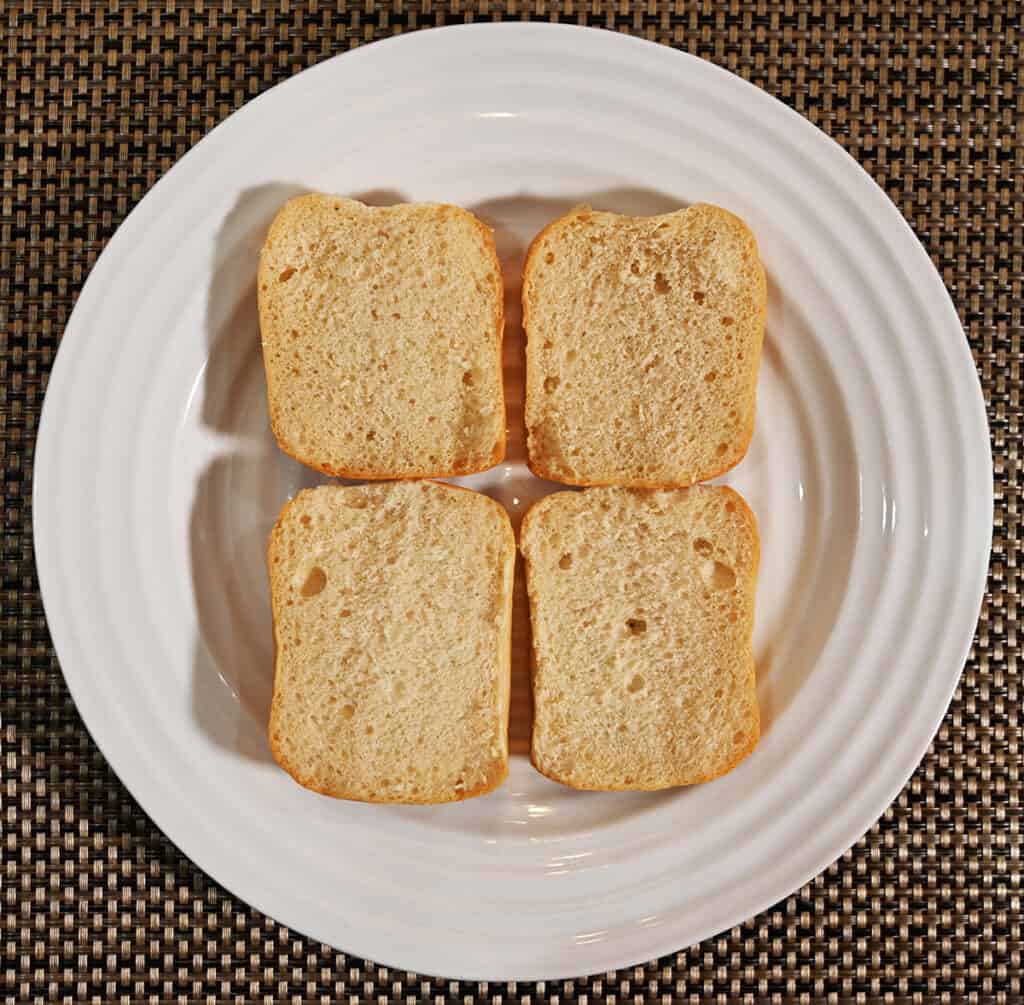 The Italian Ciabatta Buns are a white bun that's dense on the outside and soft on fluffy on the inside. The texture is a bit chewy and they make cute small "bunwiches". Butter tastes amazing on these.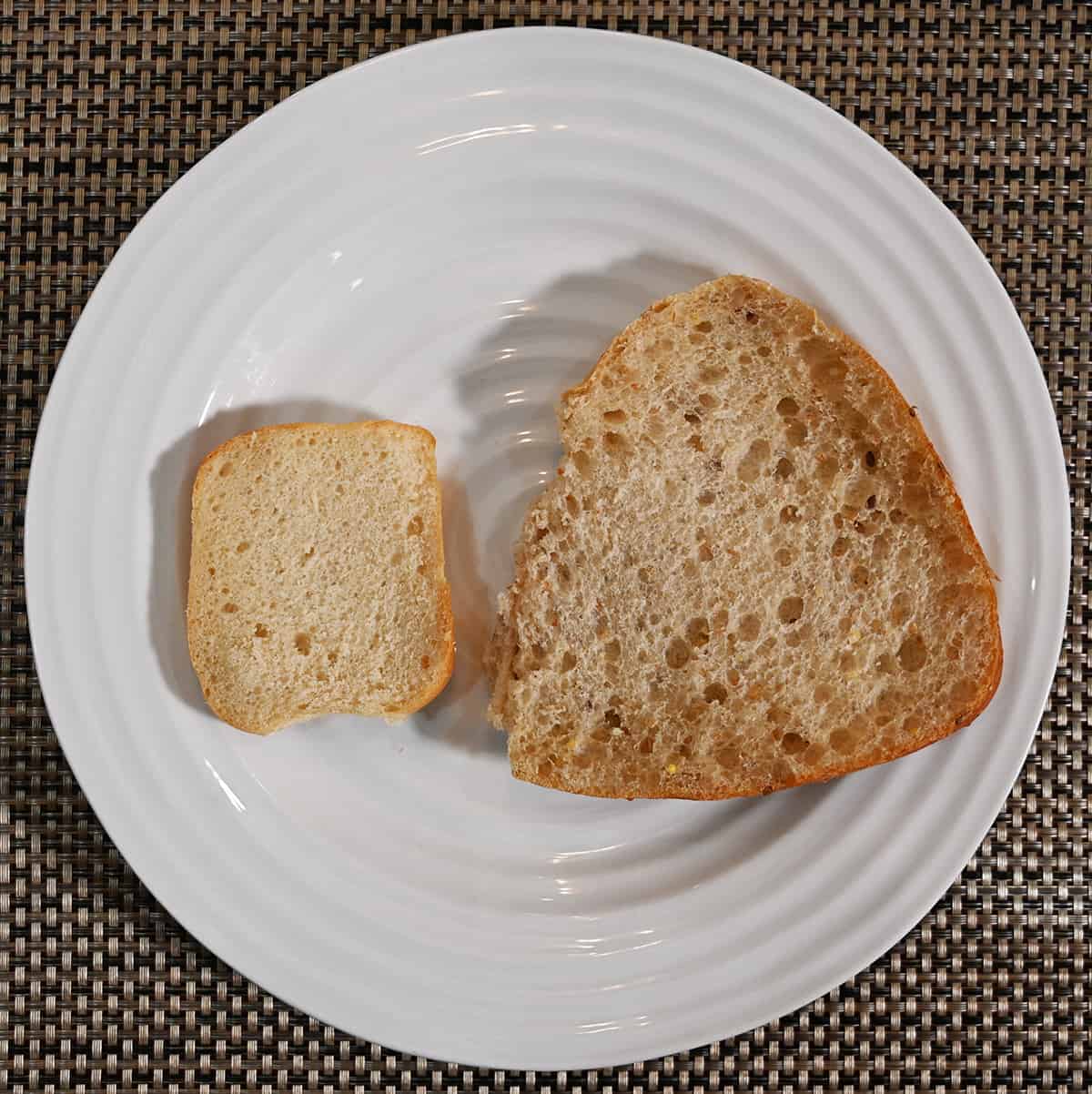 The 9-grain ciabatta buns are softer and less chewy than the Italian ones and are have a golden brown slightly crisp exterior and a soft, fluffy and airy interior. They have a whole wheat, hearty flavor and the sunflower seeds add a bit of crunchy texture.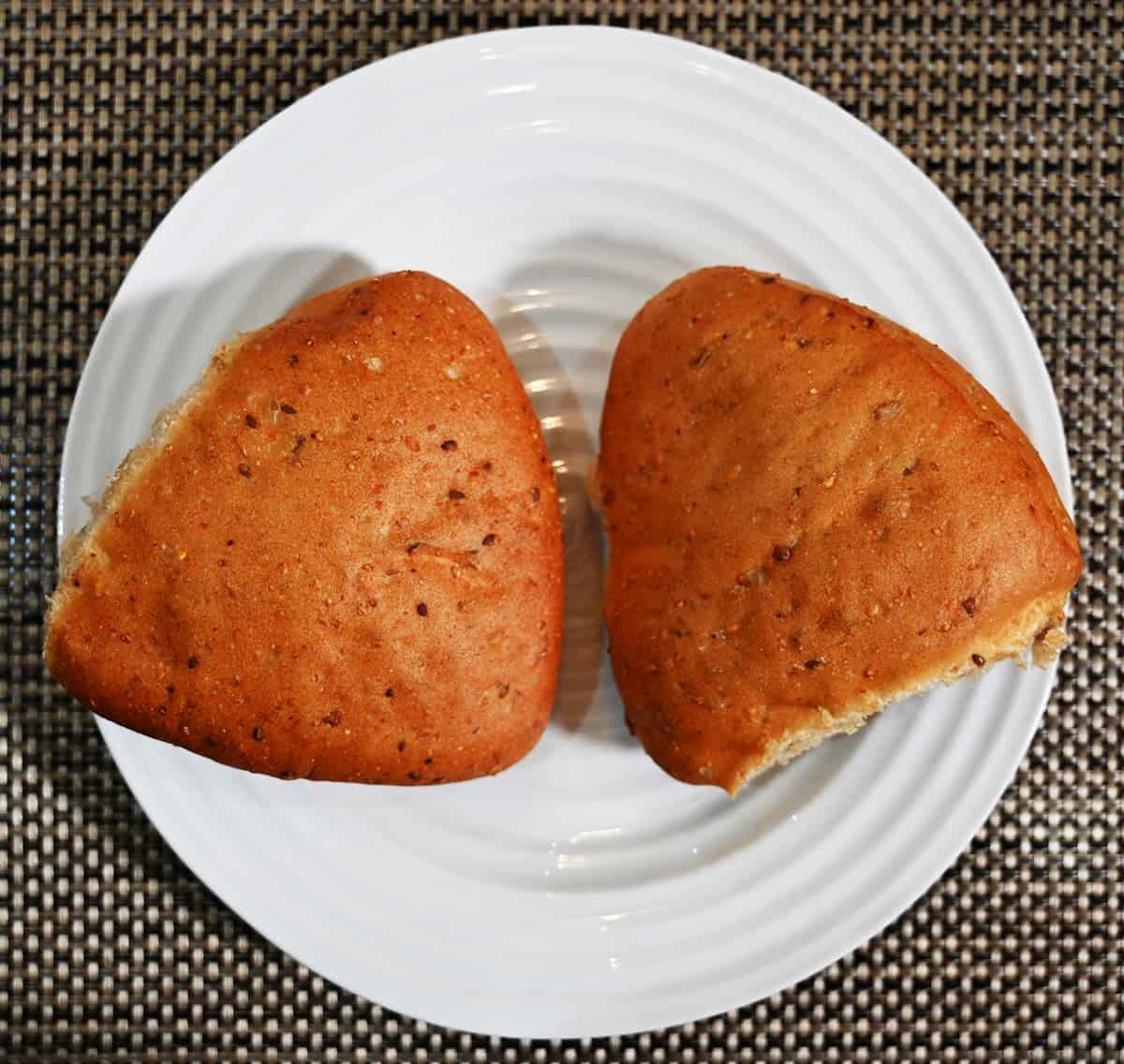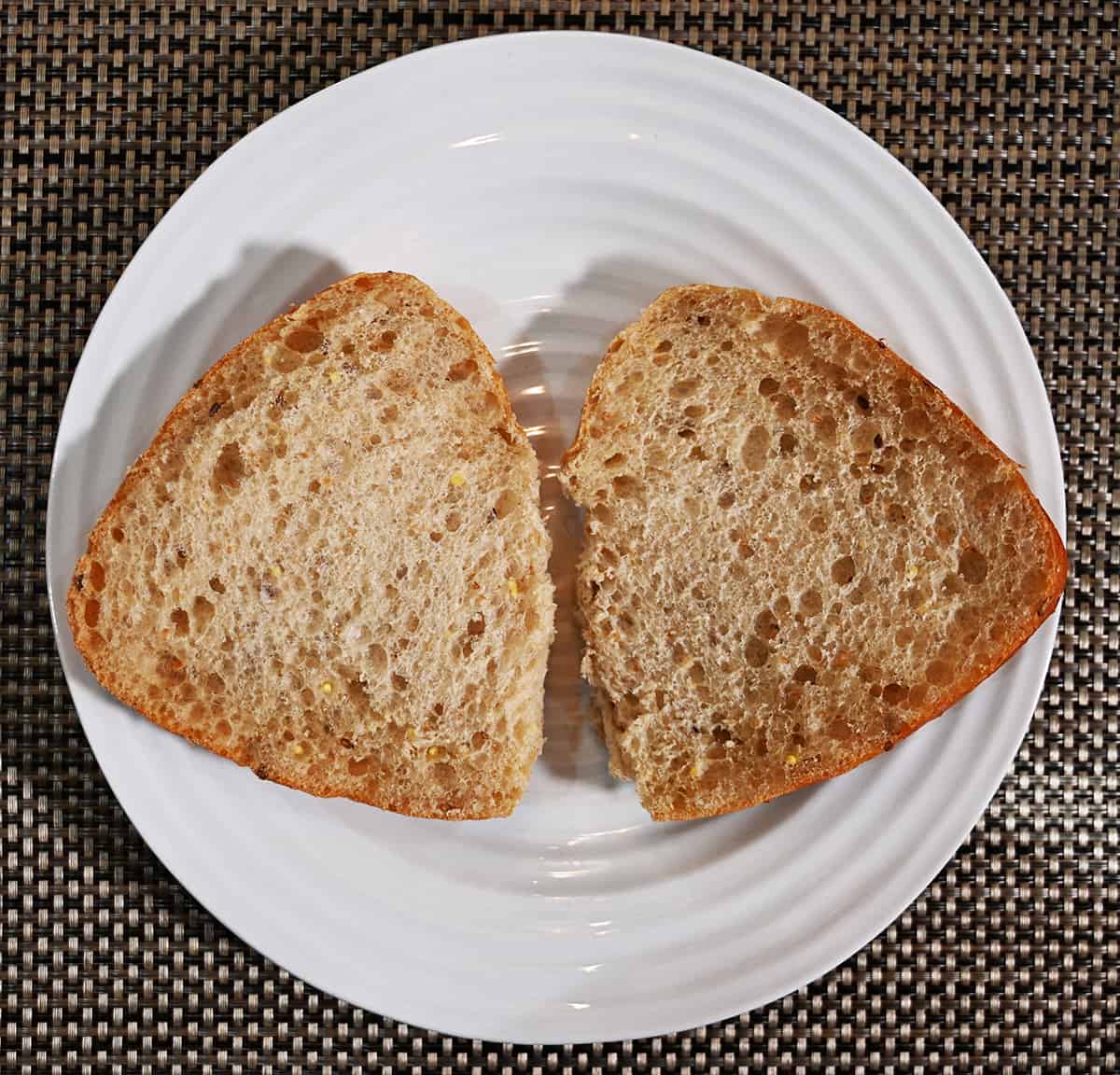 Cost
Both buns cost $6.99 Canadian which is extremely reasonable and in my opinion, they're worth the $6.99. The Italian buns are slightly more expensive at $4.99 per kilogram and d the 9-grain buns are $4.66 per kilogram.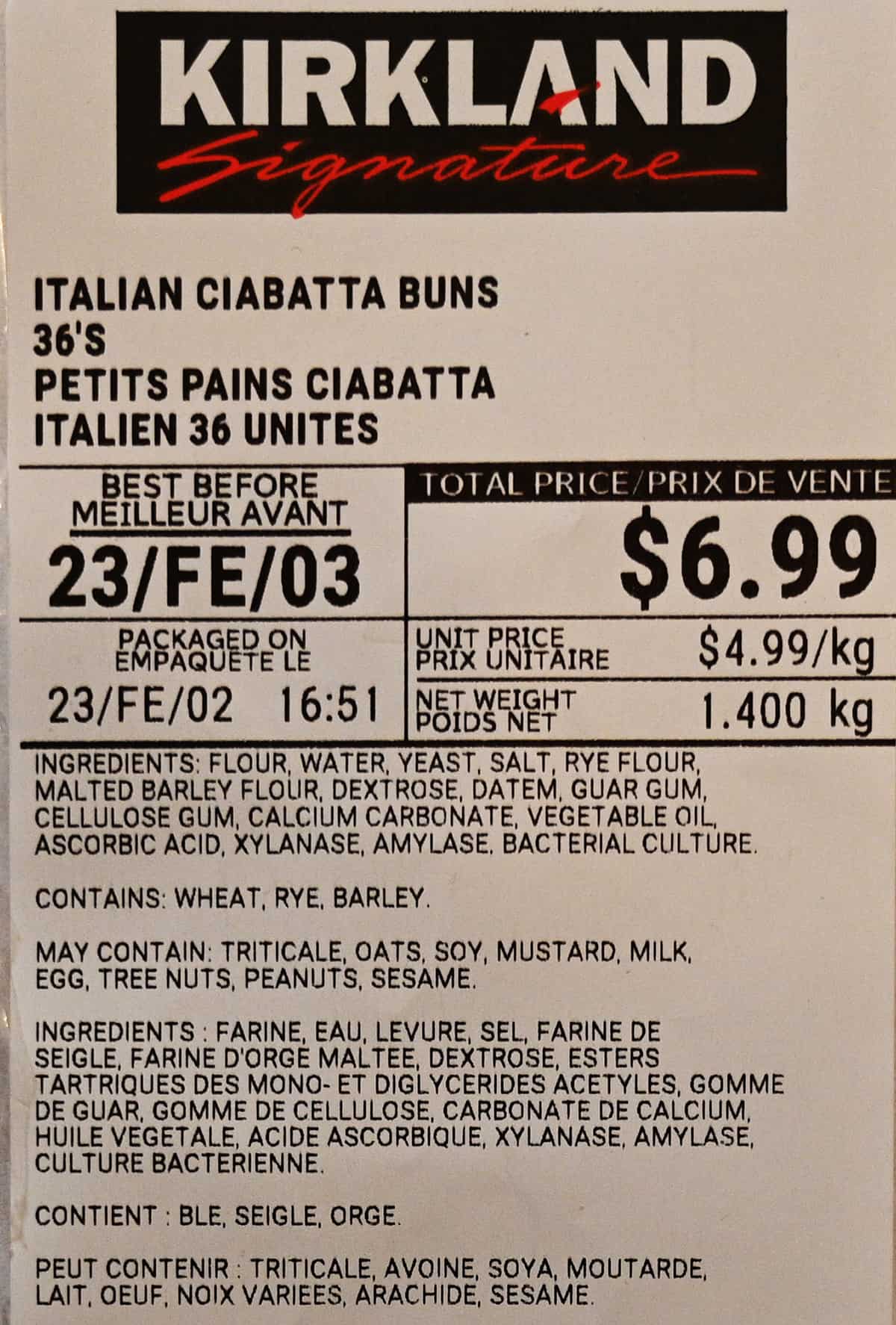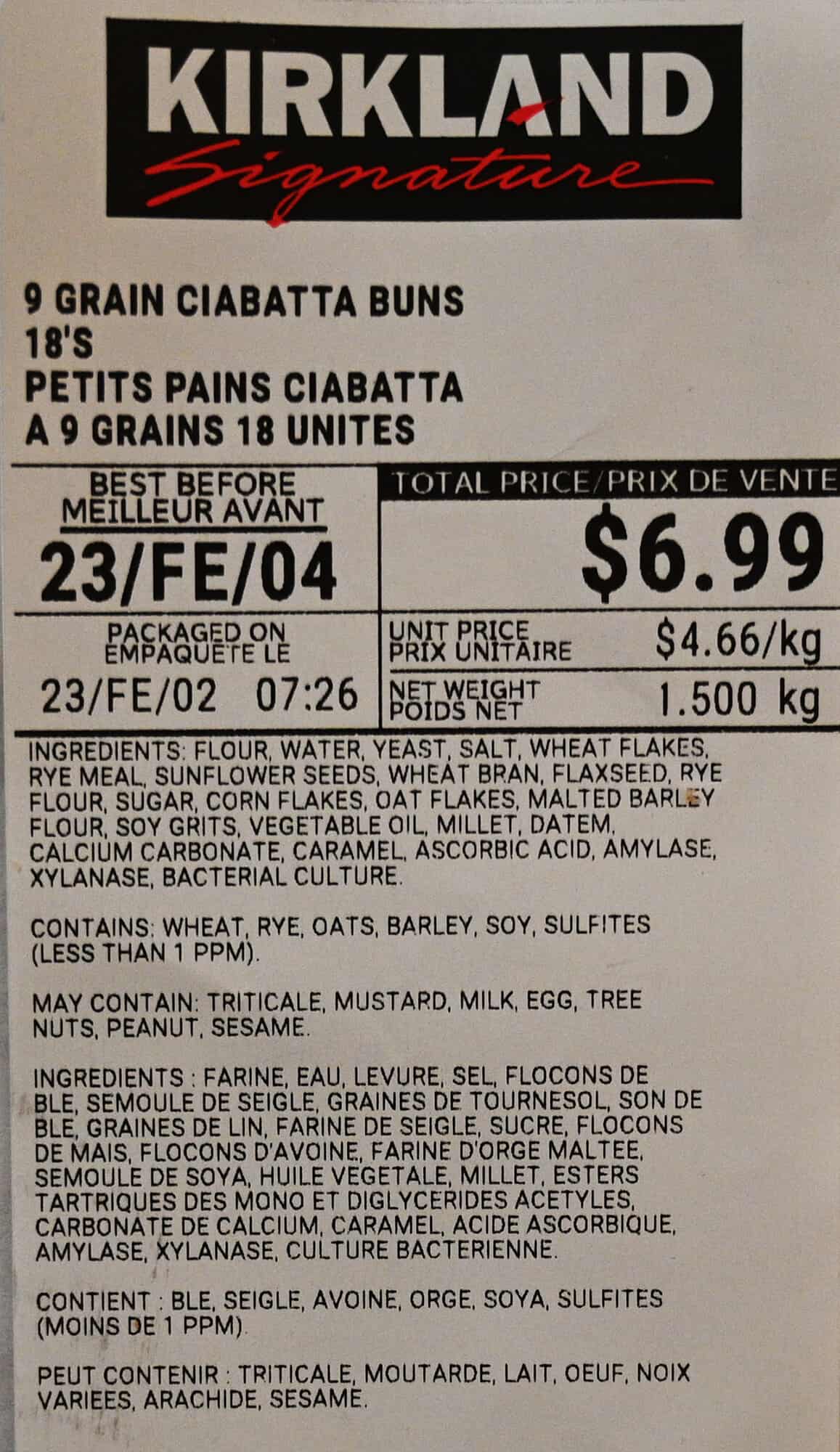 Convenience
If you need a ton of buns for a big party or get-together these are a perfect purchase. One bag comes with a ton of buns. I always freeze my buns and they last for a long time in the freezer and defrost just fine. I highly recommend freezing any of the extra buns right away to keep them as fresh as possible.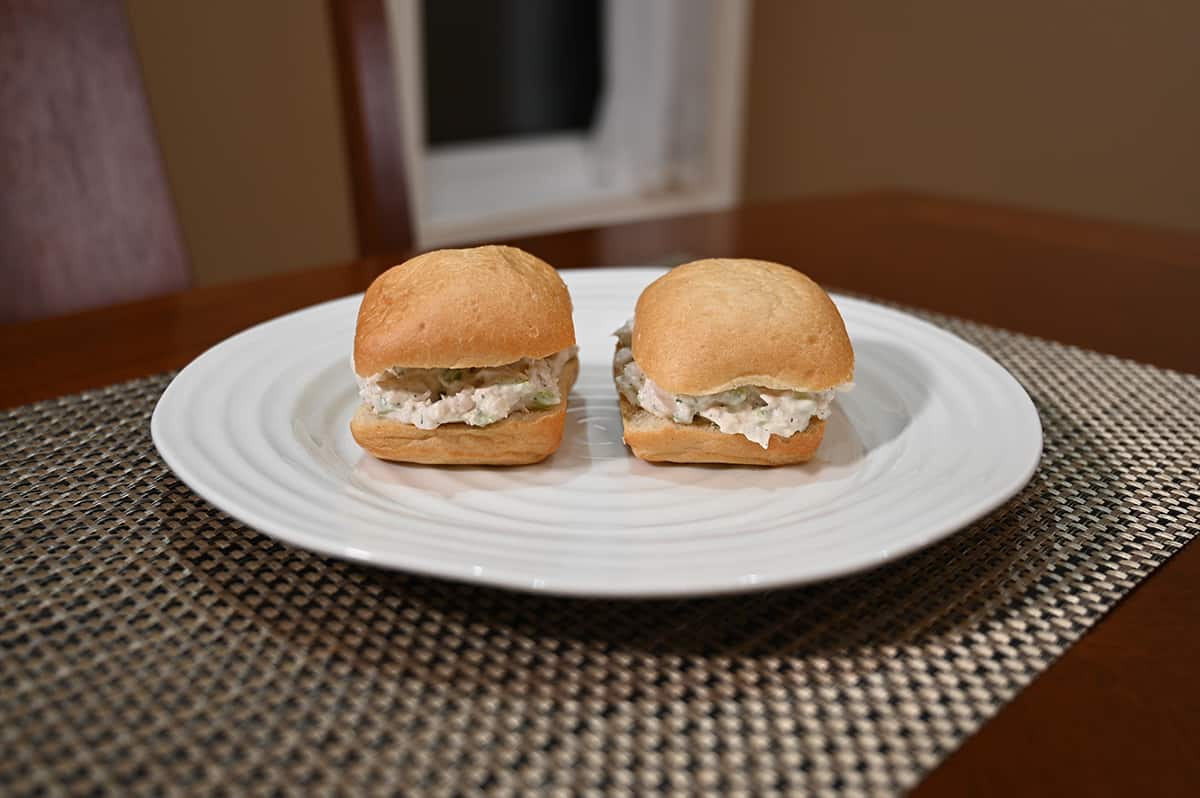 I use the Kirkland Signature Italian Ciabatta Buns for dinner rolls and the Kirkland Signature 9 Grain Ciabatta Buns for sandwiches. You can pair either bun with the Kirkland Signature Chicken Salad or your own favorite sandwich ingredients.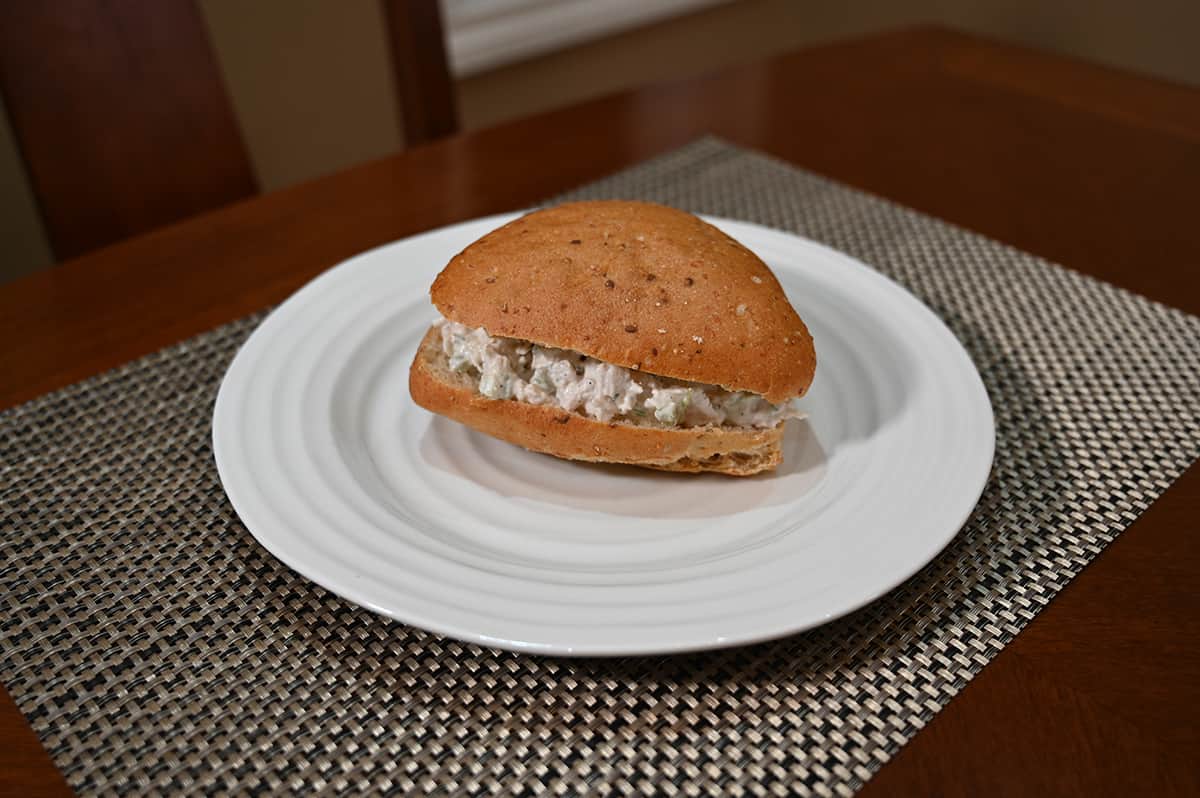 Nutrition
Calories
One Italian bun contains 110 calories, one gram of fat, 21 grams of carbohydrates, one gram of fibre, zero grams of sugar, four grams of protein and 230 milligrams of sodium. The calories and fat aren't very high for one bun! If you add a ton of butter which is what I do then you're obviously looking at lot more calories and fat.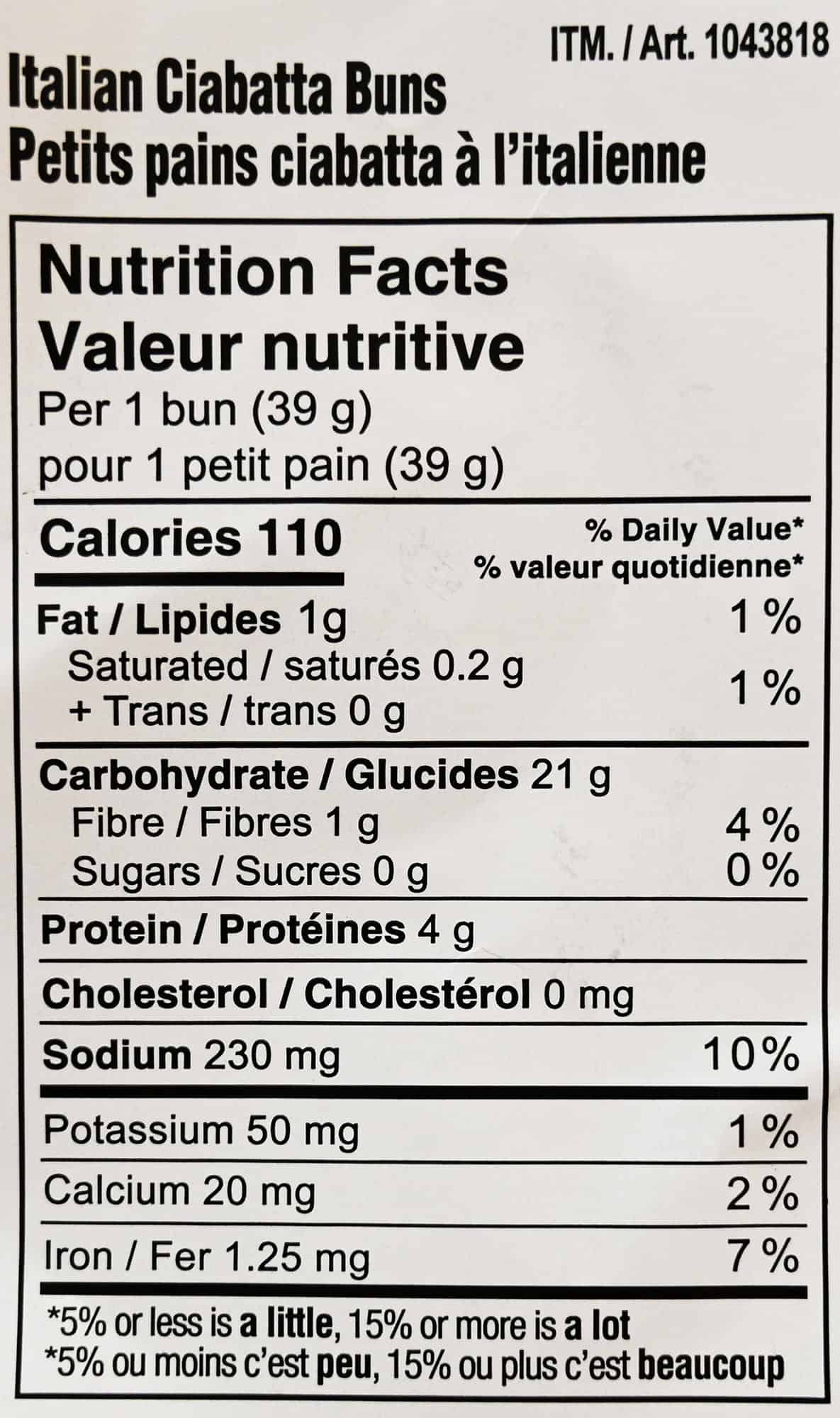 One 9 grain bun contains 220 calories, two and a half grams of fat, 43 grams of carbohydrates, three grams of fibre, one gram of sugar, eight grams of protein and 480 milligrams of sodium.
The 9 grain buns are 86 grams per bun and the Italian buns are 39 grams, so the Italian ones are a lot smaller. It makes sense the Italian ciabattas would have fewer calories, fat and sodium based on size alone.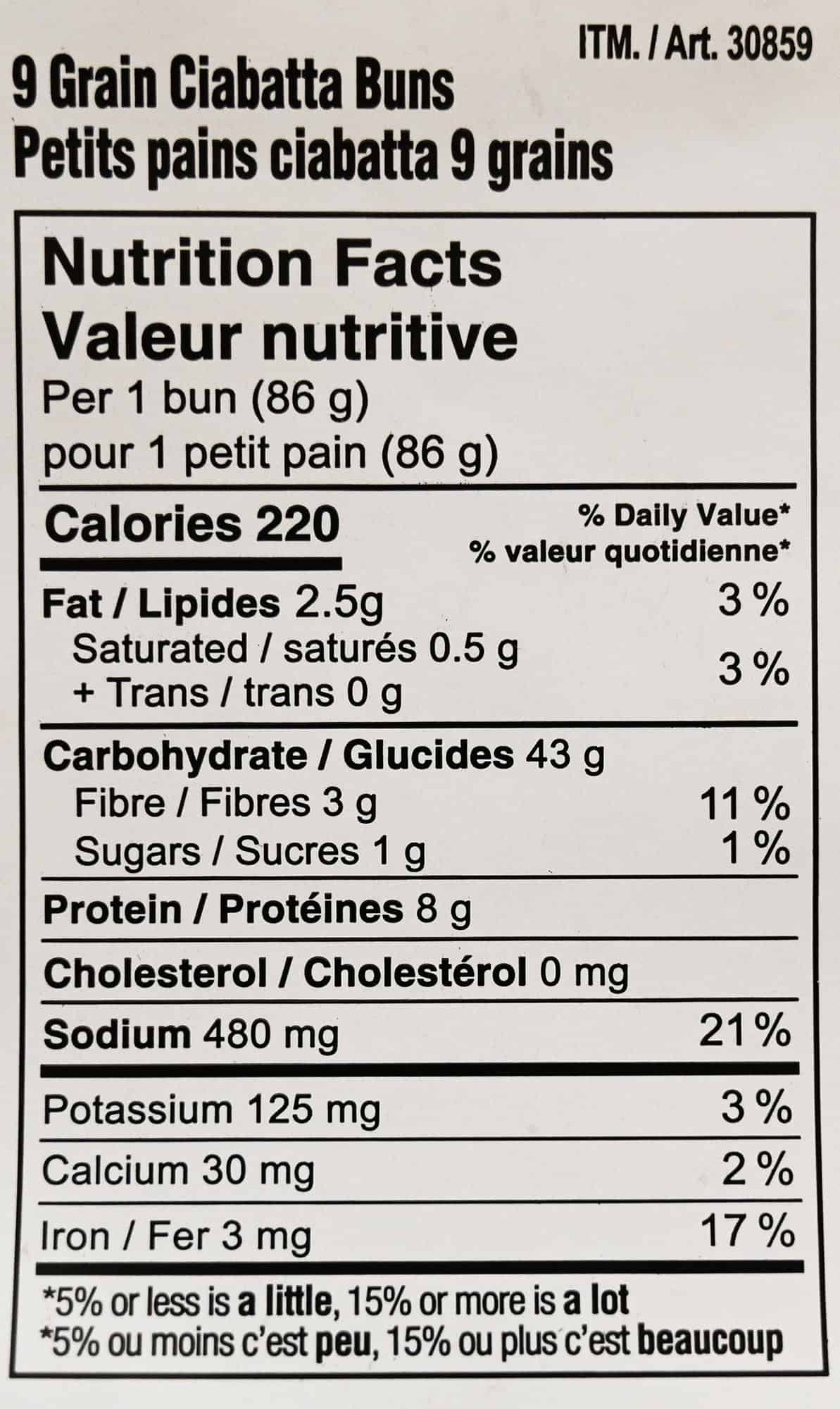 Ingredients
The Italian ciabatta buns have fewer ingredients which I expect because they're a lot simpler in taste and texture. The 9 grain ciabattas have similar ingredients to the Italian ones but contain sunflower seeds, wheat flakes, rye meal, oat flakes and a few additional ingredients to give them the whole grain texture and flavor.

Both kinds of buns contain wheat, rye and barley and the nine grain buns contain oats, soy and sulfites. Both buns may contain triticale, mustard, milk egg, tree nuts, peanuts and sesame, soy and oats.
If you're not a super strict vegan these may be a good option for you when you're craving buns as they only may contain milk or eggs!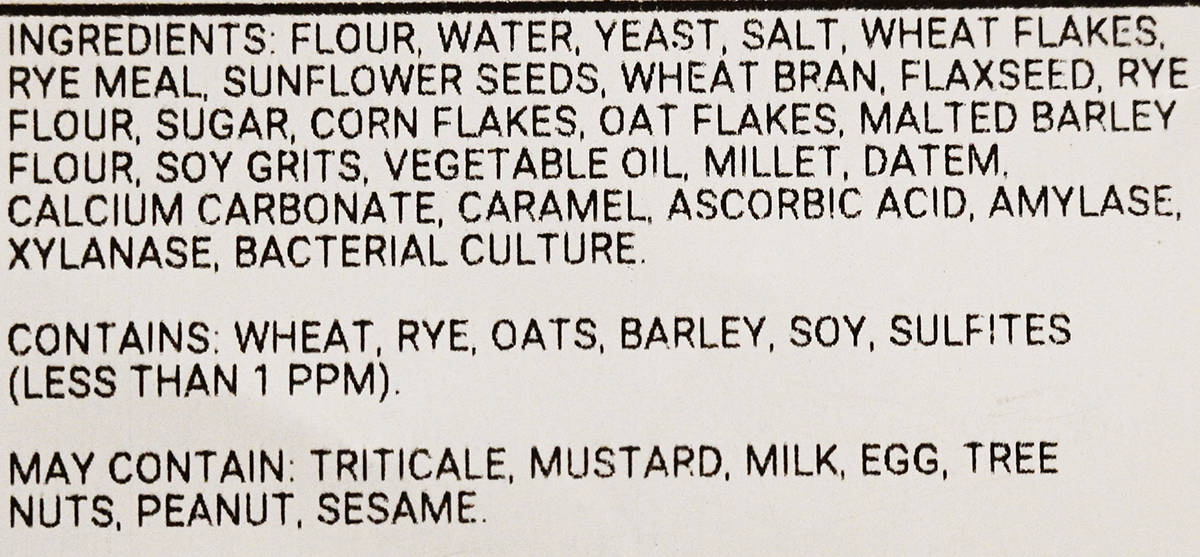 Scoring
Taste: 9/10
Cost: 9/10
Convenience: 10/10
Nutrition: 2/10
Overall
Must buy!
These are a staple item in our freezer! You get a ton of delicious buns for a reasonable cost that freeze well or are perfect for any big get-together.
If you've tried these buns before, what do you think of them?
---
Please note that this review was not paid for or sponsored by any third party. This product was purchased by Costcuisine for the purpose of producing this review. The opinions in this review are strictly those of Costcuisine. Costcuisine is not affiliated with Costco or any of its suppliers. In the event that Costcuisine receives compensation for a post from the manufacturer of a product or some other third party, the arrangement will be clearly disclosed (including where the manufacturer of a product provides Costcuisine with a free sample of the product).