The Costco bakery carries its own Kirkland Signature Garlic Baguette that makes a quick and convenient fresh garlic toast at home. How does this garlic bread compare to others from Costco?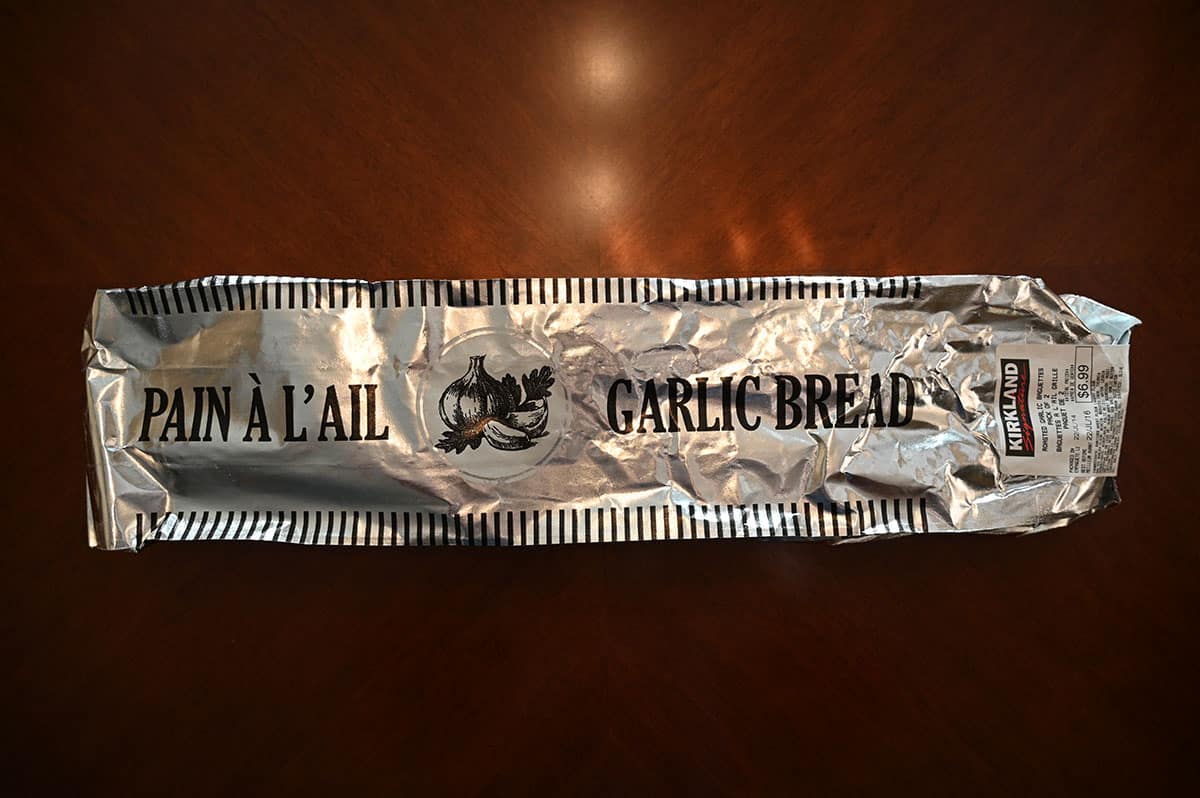 Garlic bread is a "treat" in our house, my husband eats about ten pieces of it when we have it and I like it too. It drives me a bit crazy because he'll eat it before he eats whatever we're having it with! For example, I'll make homemade lasagna, serve it and then watch Sean eat a mass amount of garlic toast while the lasagna I slaved over goes cold, haha.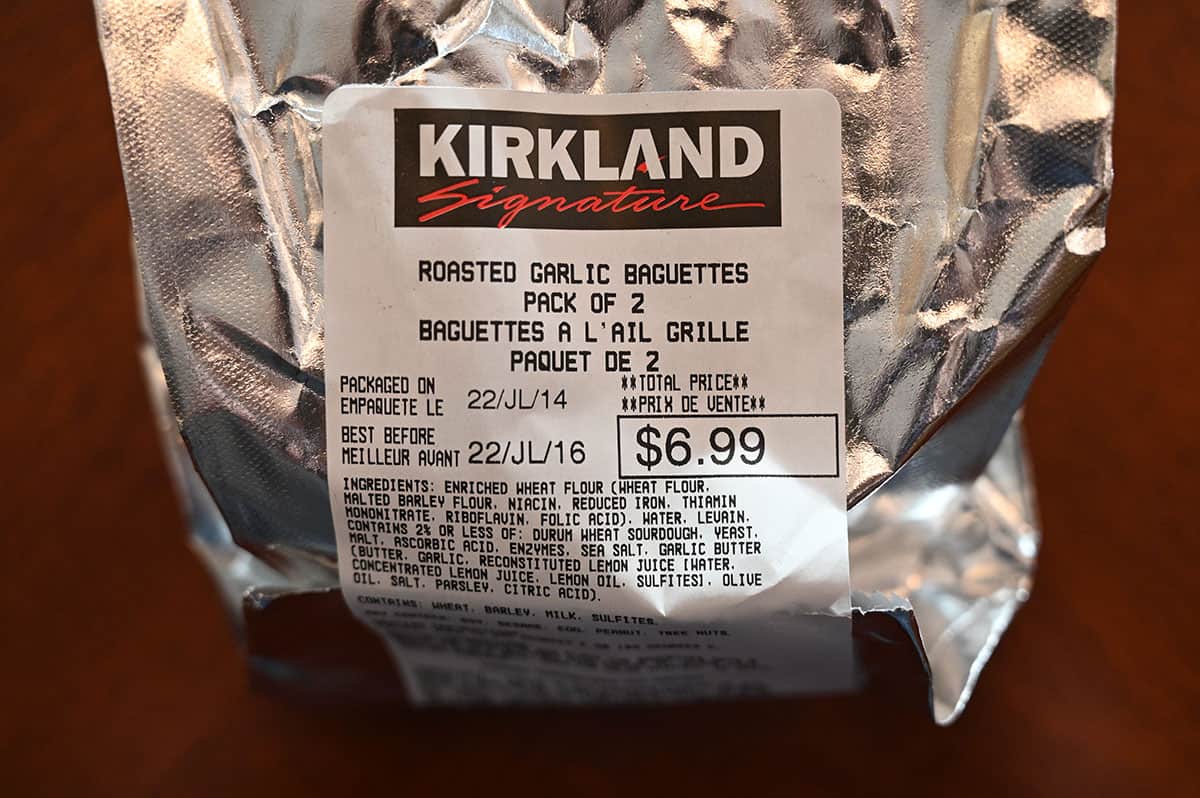 We hadn't tried the Costco Kirkland Signature Garlic Baguette from Costco so I picked it up to try and review. Other bakery items I love from Costco are the Villagio Garlic Toast, Panaji Naan Minis, Kirkland Signature Ciabatta Buns, Kirkland Signature Cheese Buns, Kirkland Signature Brioche Buns, Kirkland Signature Cherry Danish, Kirkland Signature Palm Leaves and the Kirkland Signature Homestyle Apple Pie.
Location in Store
You can find the garlic baguette in the bakery section at Costco, the item number is 1674041.

Taste
I like this garlic toast but it's not my favorite. It's not as garlic-y as some bread I've had but I don't mind that. There's a ton of butter flavor and a hint of lemon which is unique. I prefer my garlic bread really soft in the middle and this is chewy with very crisp outer edges.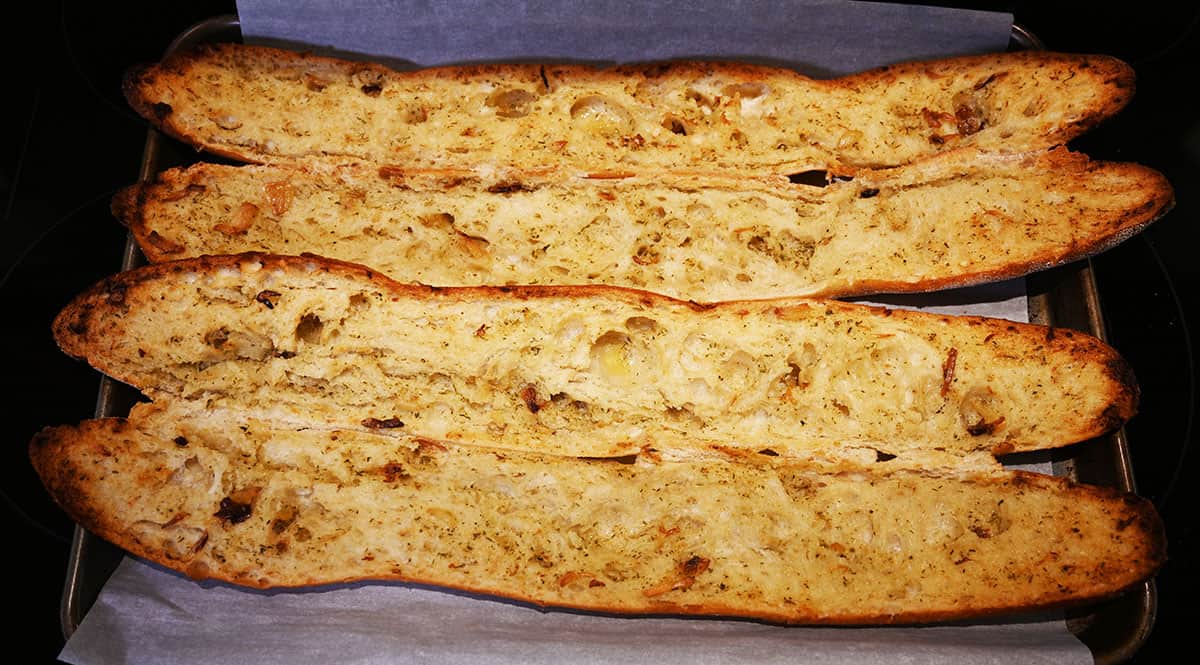 The bread itself isn't very thick and is the same bread as the Costco Kirkland Signature Artisan Baguettes.
Cost
The cost is $6.99 Canadian for one bag of two large garlic baguettes. I wish they sold packs of one because two baguettes is a lot! One can be frozen but it won't taste as fresh.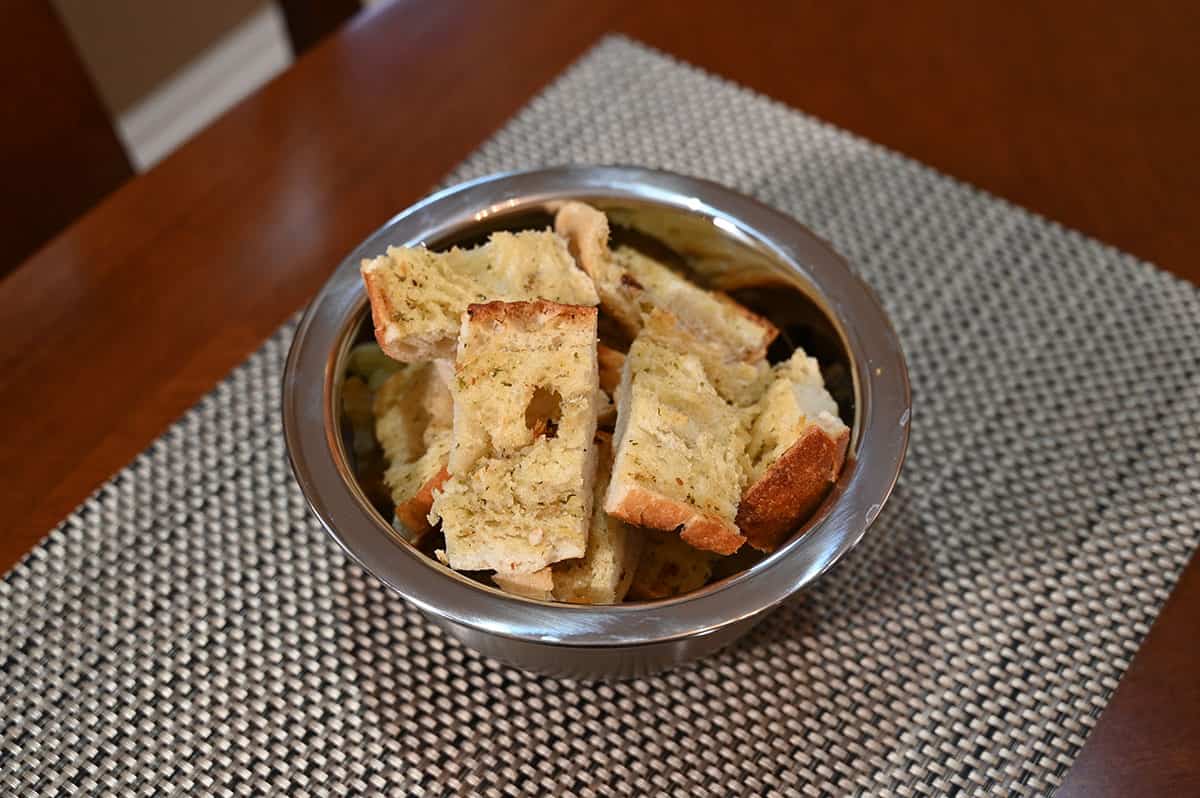 Convenience
The best-before date on the Costco garlic baguette is two days from the day it was packaged but, I would eat it the day it's packaged if possible. We enjoyed ours on the same day it was packaged and because of that it tasted fresher.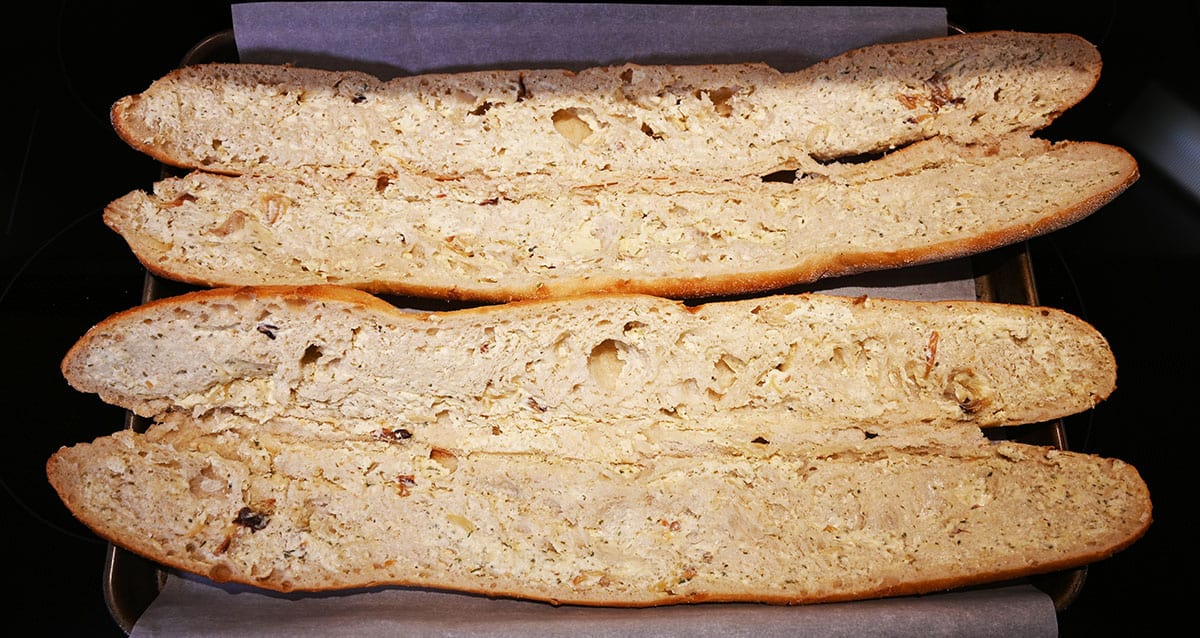 Because there are two big baguettes in the package this is perfect to pick up for a big family dinner or potluck. This is convenient to bake, you remove it from the bag and place it on a parchment-lined baking tray and heat it at 375 for about 20 to 25 minutes.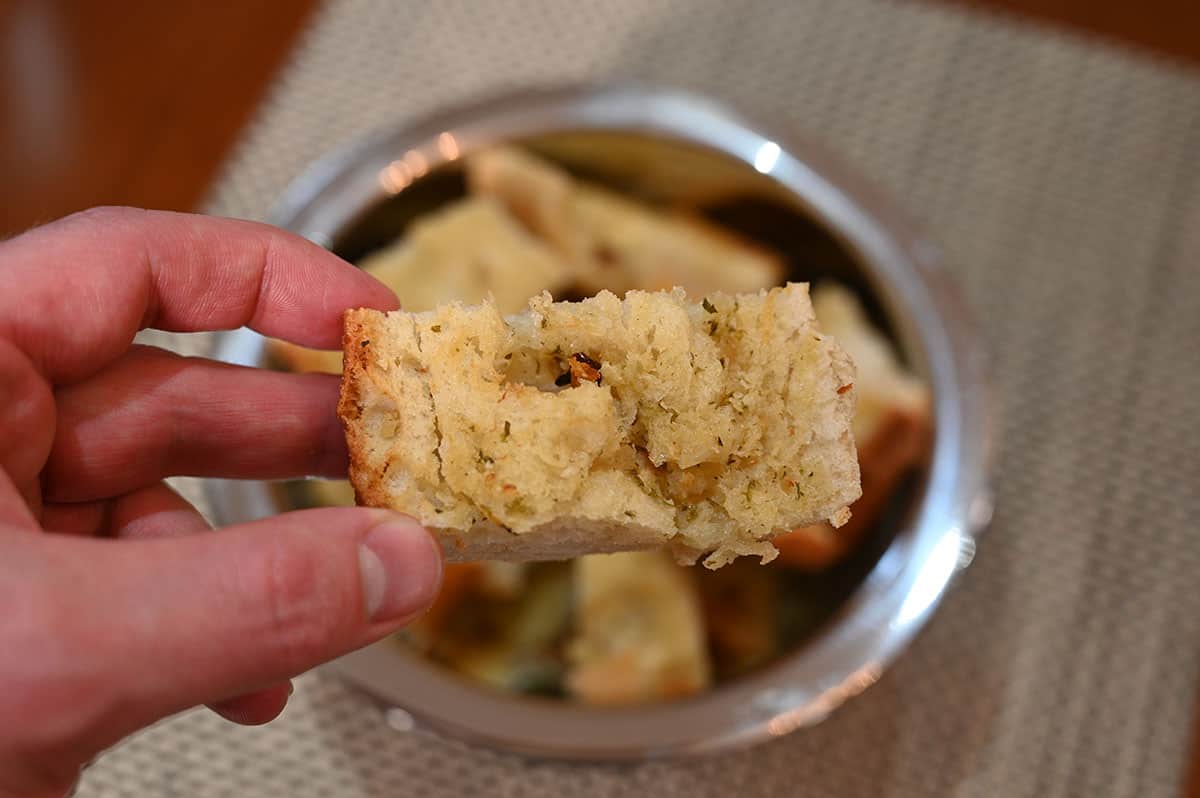 Nutrition
Calories
One-eighth of a loaf is 200 calories, nine grams of fat, 300 milligrams of sodium, 26 grams of carbohydrates, one gram of fibre, zero grams of sugar and five grams of protein. That's actually not as many calories and fat as I expect for 1/8th of a loaf!
Ingredients
I really appreciate that butter is used instead of margarine. The garlic baguette contains wheat, barley, milk and sulfites and may contain soy, sesame, egg, peanut and tree nuts.
Scoring
Taste: 7.5/10
Cost: 8/10
Convenience: 9.5/10
Nutrition: 2/10 I appreciate that they use real butter.
Overall
Give it a try!
Not my favorite garlic toast from Costco. I prefer the Villaggio Garlic Toast from Costco but this was alright! I think I'd like it more if I were hosting a huge pasta get-together and needed a mass amount of garlic bread.
Have you tried this garlic bread? What did you think of it?
---
Please note that this review was not paid for or sponsored by any third party. This product was purchased by Costcuisine for the purpose of producing this review. The opinions in this review are strictly those of Costcuisine. Costcuisine is not affiliated with Costco or any of its suppliers. In the event that Costcuisine receives compensation for a post from the manufacturer of a product or some other third party, the arrangement will be clearly disclosed (including where the manufacturer of a product provides Costcuisine with a free sample of the product).