I've noticed quite a few new items in my local Costco bakery lately – the Kirkland Signature Orange Pecan Cookies, Kirkland Signature Lemon Poppy Seed Loaf and this Kirkland Signature Maple Pecan Coffee Cake are all items that I've seen for the first time in the last couple months. This cake doesn't look or sound particularly exciting, but I was pleasantly surprised when I tried it! Read on to find out why.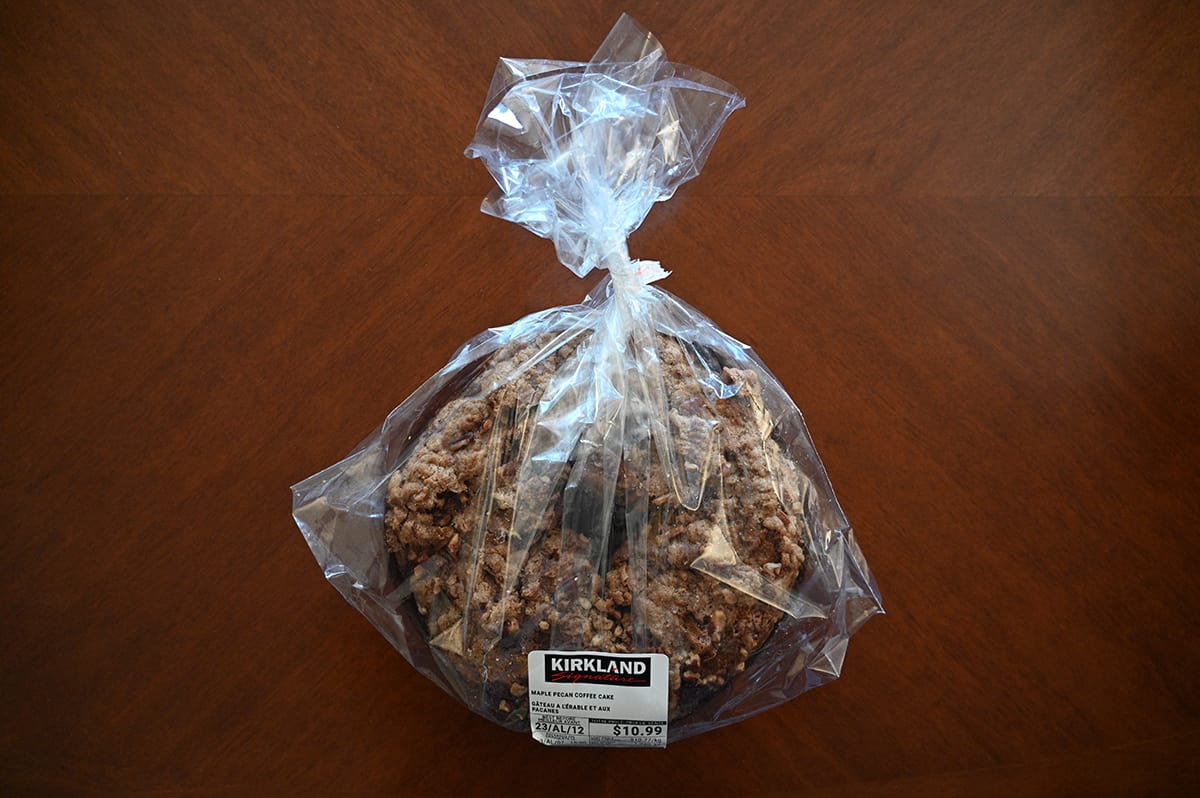 On Easter weekend we stocked up on a few new treats from the Costco bakery department like this maple pecan coffee cake. I really like coffee cake but don't have it that often, usually only when my friend drops me off a slice from Starbucks!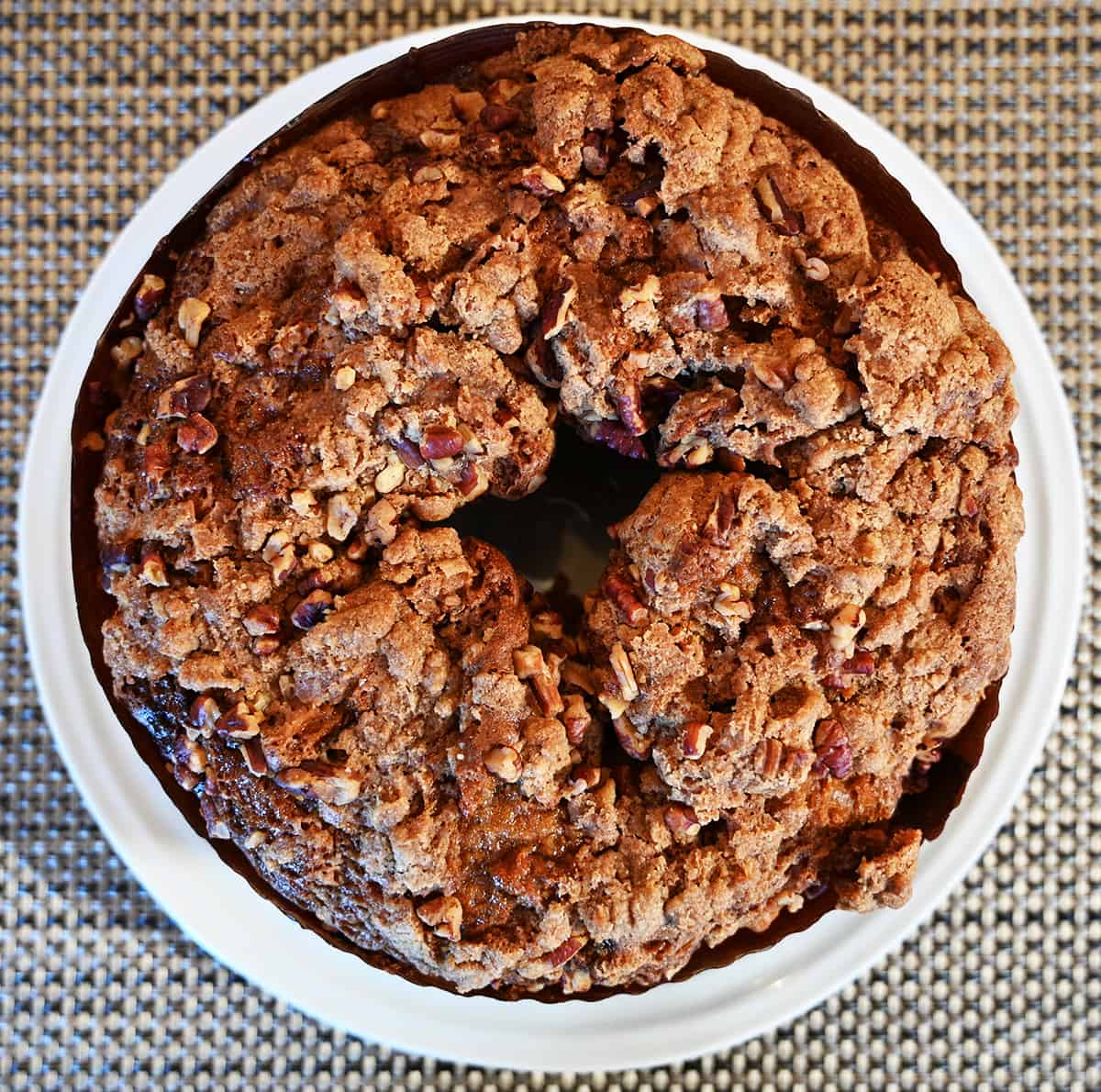 If coffee cake isn't your favorite, that's okay! Costco has a ton of other delicious delights like the Kirkland Signature Banana Pecan Loaf, Kirkland Signature Almond Danishes, Kirkland Signature Cherry Danishes, Kirkland Signature Muffins and the Kirkland Signature Hazelnut Cream Donuts.
Location in Store
You can find the coffee cake in the bakery department at Costco, the item number is 1730889.
Taste
The first thing I notice about the cake is that the top is very crumbly (the nuts and caramelized sugar on top fall off easily), it's very moist and it smells great! The scent is more brown sugar than maple.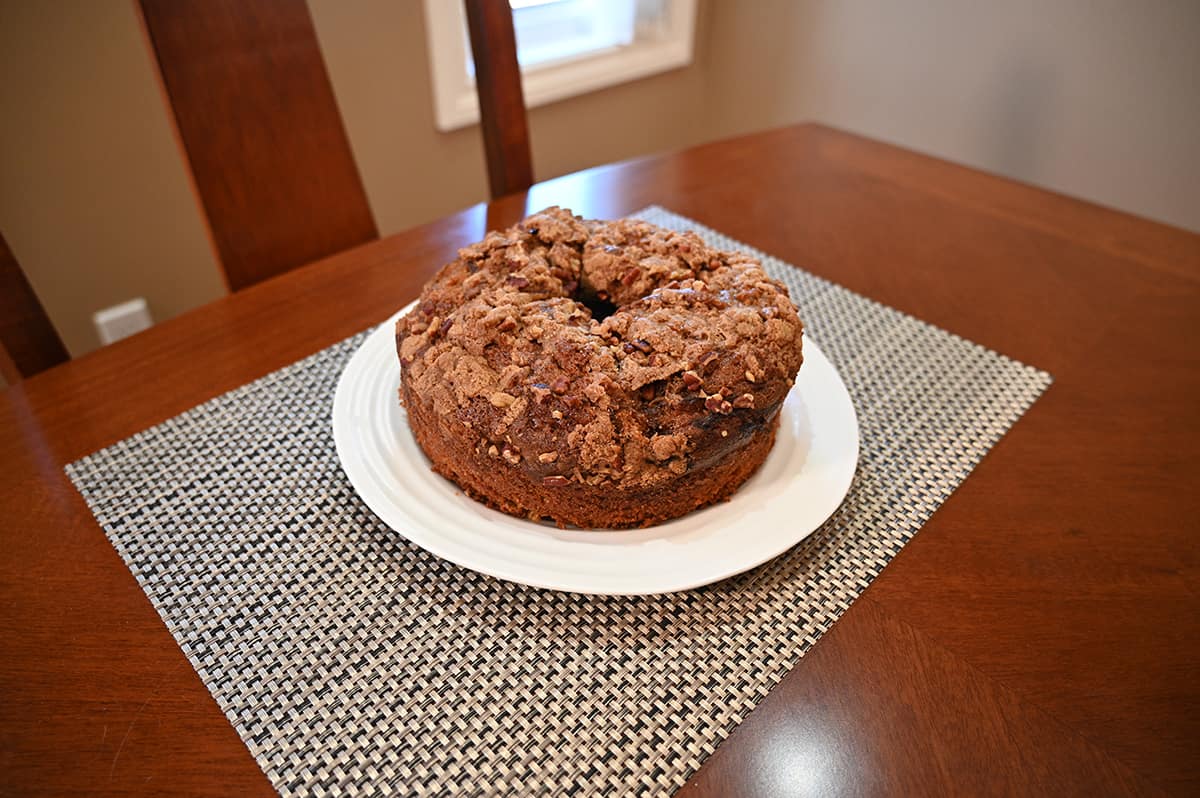 The flavor of the cake doesn't disappoint. I was worried it might be greasy because it feels quite buttery/oily, but it's just nice and moist. I always spread butter on muffins, scones, banana bread etc but this did not need any additional butter and I love it without.
The maple flavor is pretty mild. It tastes more like brown sugar me, but that's not a bad thing. The crust on top is probably my favorite part; I love the taste of the caramelized brown sugar.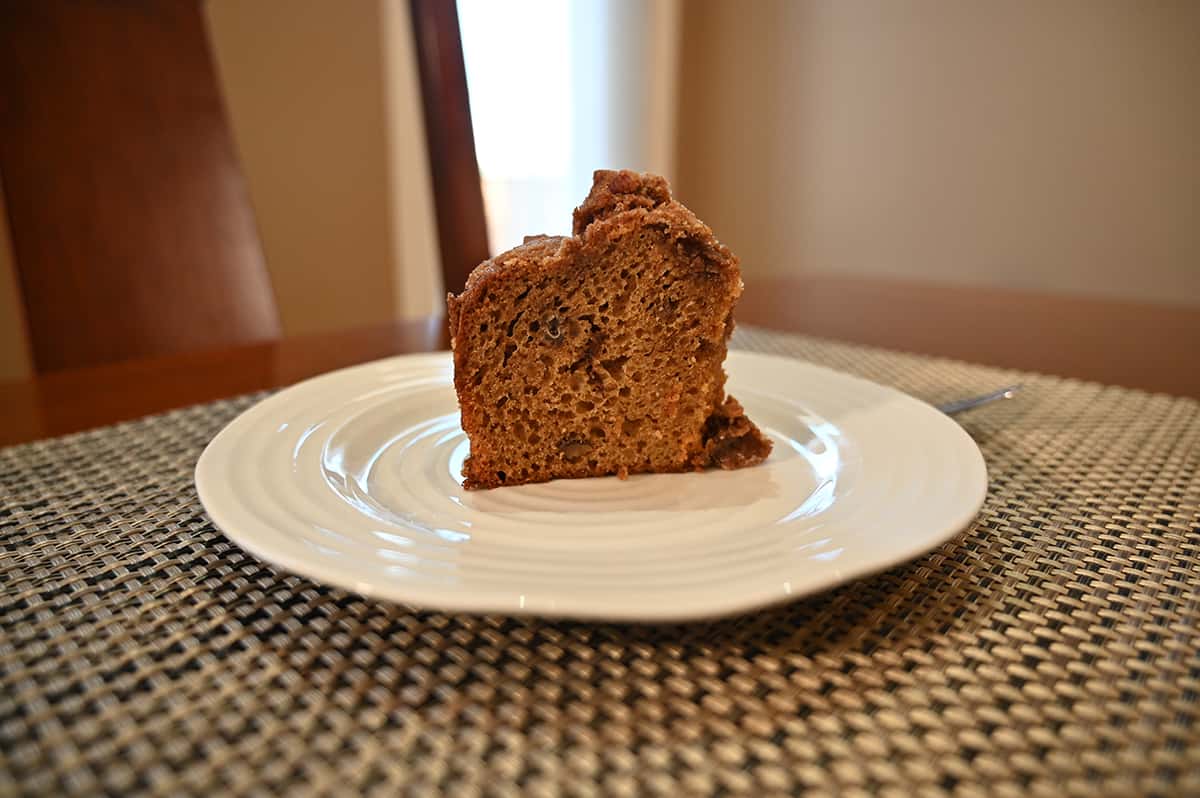 Those of you hoping for lots of pecans might be a bit disappointed. There aren't any pecans in the cake itself. The only pecan fragments are on top and there aren't a lot of them.
Cost
The maple pecan coffee cake costs $10.77 per kilogram at Costco and I paid $10.99 for the cake I bought.
The price is right, it's a pretty big cake and not too expensive.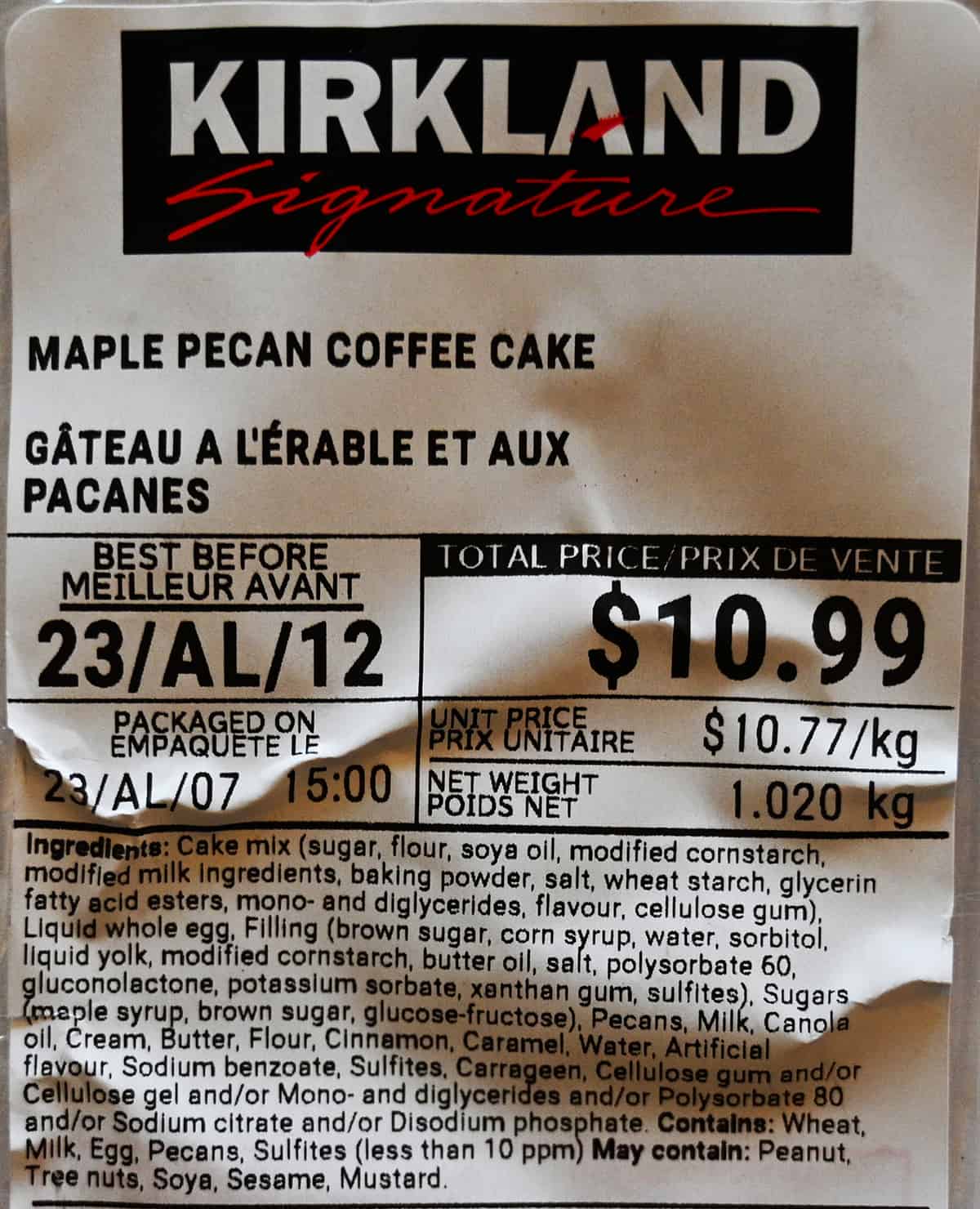 Convenience
The best-before date is five days from the day it was packaged. The coffee cake comes wrapped in a plastic bag and can easily be frozen whole or sliced. I'd recommend slicing it before freezing for additional convenience!
This coffee cake is not only great for breakfast but also for a snack or dessert. It's delicious and decadent!
Nutrition
Calories
1/20th of the cake contains 210 calories, 10 grams of fat, 29 grams of carbohydrates, one gram of fibre, 18 grams of sugar, one gram of sorbitol, two grams of protein and 140 milligrams of sodium. Sorbitol is a sugar alcohol.
I think a lot of people will eat a bit more than 1/20th of the cake so if you're really watching your calories you need to watch your serving size. I know the slices I serve for myself are a lot bigger than 1/20th.
Ingredients
The ingredients are pretty typical for a grocery store-bought coffee cake. I don't love all the artificial, chemical-sounding ingredients, sorbitol and artificial flavor. The coffee cake contains wheat, milk, egg, pecans, and sulfites and may contain peanut, tree nuts, soya, sesame and mustard.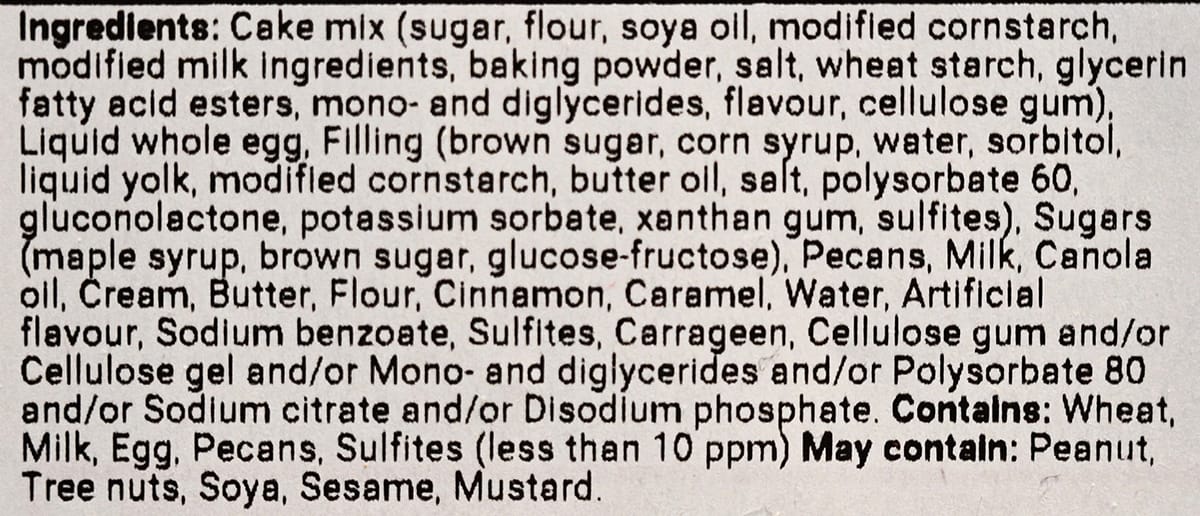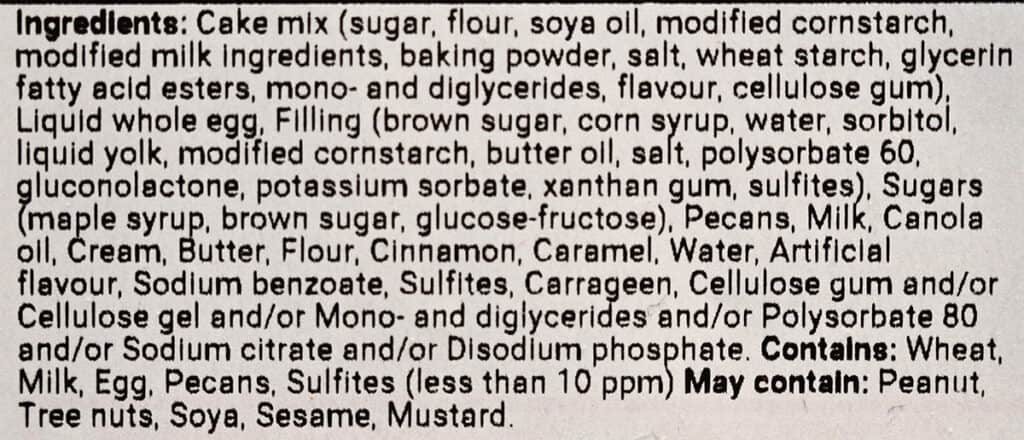 Scoring
Taste: 9/10
Cost: 8.5/10
Convenience: 10/10
Nutrition: 0/10
Overall
Must buy!
This coffee cake is wonderful, it's as good as any coffee cake I've had from a coffee shop and I'd definitely repurchase it.
Have you tried this maple pecan coffee cake? What did you think of it?
---
Please note that this review was not paid for or sponsored by any third party. This product was purchased by Costcuisine for the purpose of producing this review. The opinions in this review are strictly those of Costcuisine. Costcuisine is not affiliated with Costco or any of its suppliers. In the event that Costcuisine receives compensation for a post from the manufacturer of a product or some other third party, the arrangement will be clearly disclosed (including where the manufacturer of a product provides Costcuisine with a free sample of the product).