Costco's bakery items are usually pretty good, but their bar cakes (the Kirkland Signature Tuxedo Cake and the Kirkland Signature Tiramisu Cake) might be the best things that they make. I don't think you can buy a better cake from a grocery store than either of these! For that reason, I was very excited when I noticed the Kirkland Signature Pistachio Cake in my local warehouse. At $25, it's not cheap, but it looks very elegant and appetizing – almost like a wedding cake. Does it taste good enough to make you forget about the price and Costco's other great cakes?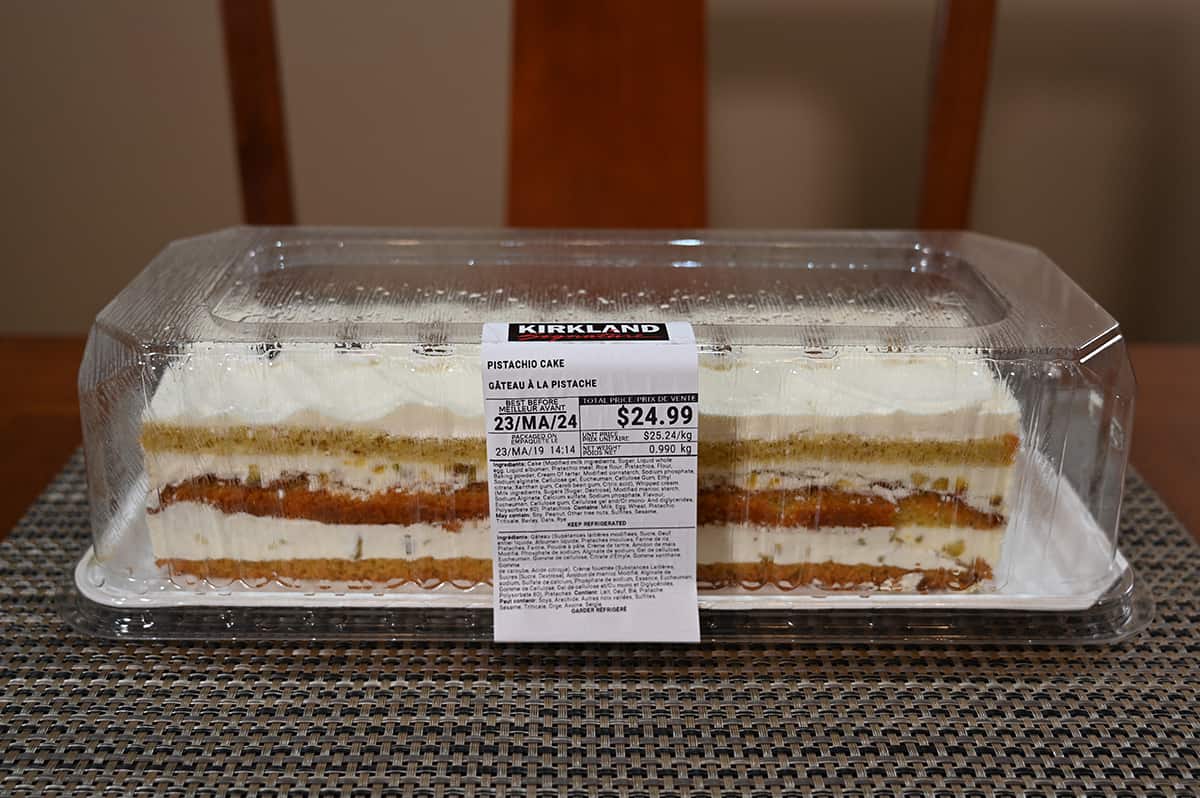 I was hosting a late Mother's Day/early Father's Day barbecue for our parents and went to Costco to pick up some steak to serve. We weren't sure what we were going to serve for dessert, but as soon as we saw this cake, that problem was solved! We had to try this new Kirkland Signature Pistachio Cake.
Other cakes from Costco we've liked are the Kirkland Signature Raspberry Lemonade Cake, Kirkland Signature Strawberry Shortcake, Kirkland Signature New York Style Strawberry Cheesecake, Costco Kirkland Signature Fruit Cake and the Kirkland Signature Raspberry White Chocolate Heart Cake.
Location in Store
You can find the cake in the refrigerator in the bakery. The item number is 1676830.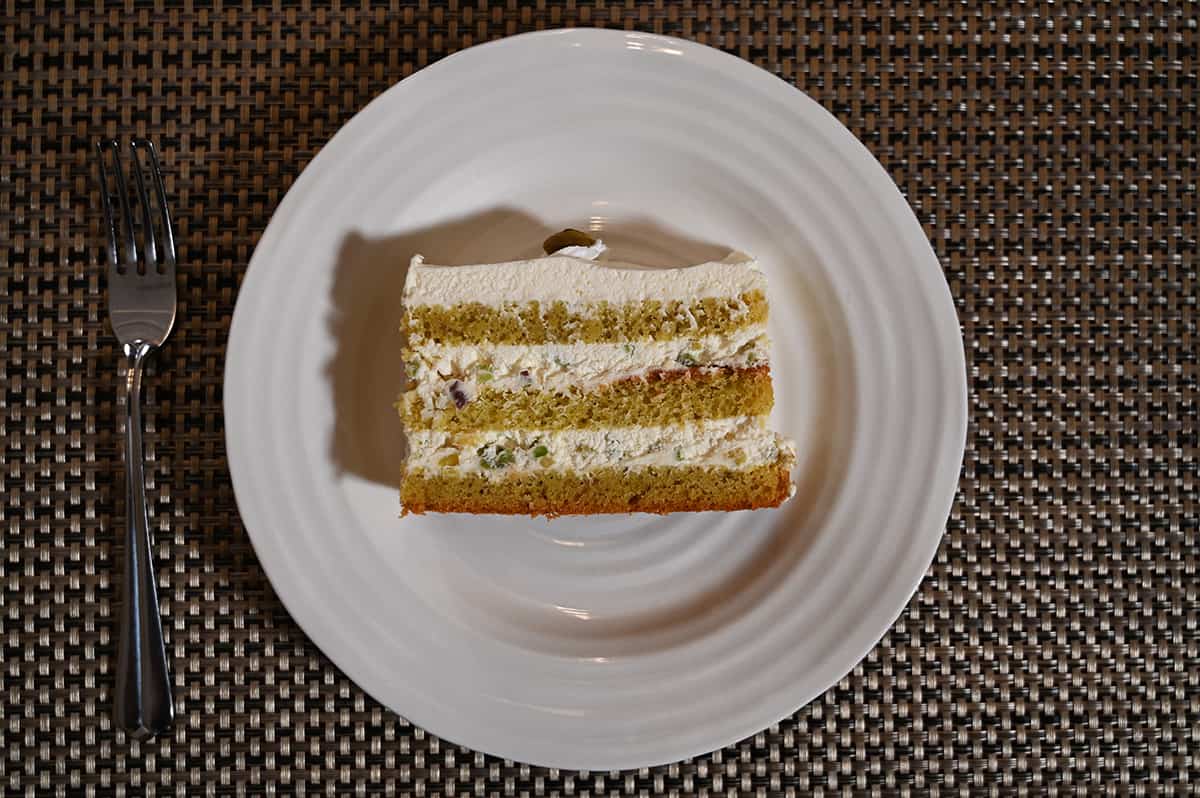 Taste
This is a very simple but tasty cake. Honestly, I find it a bit hard to describe. The cake part itself is fairly plain; it's slightly sweet with just a hint of pistachio. The icing tastes like a thickened whipped cream and has a good amount of small pistachio fragments mixed in to add texture and flavor.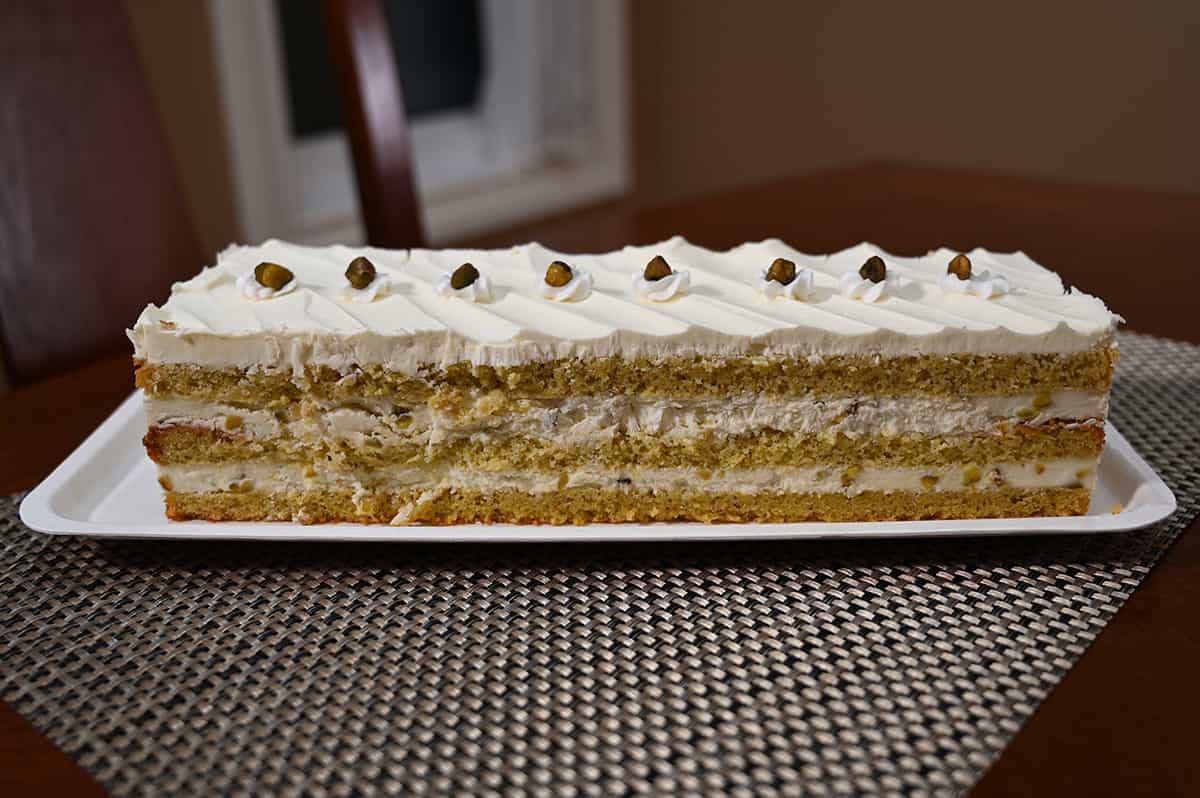 I wouldn't say I'm a fan of pistachios, but I think this cake is okay. It's just kind of bland. The pistachio elements are well done – noticeable, but not overpowered. The first thing I thought when I tasted the cake was that it was very light and not too sweet; perfect for summer parties.
Cake isn't something I would normally think of as refreshing, but I think the description is fair for this one. It's a dessert you can eat after a big dinner on a hot day and will probably leave you wanting another bite. Unfortunately, as I had more bites (two pieces over two days), that feeling wore off and I started to find the cake more boring than anything.
Cost
This cake isn't cheap at all! It costs $24.99 Canadian. In my opinion, that's pretty expensive for a grocery store-bought cake. It serves about 10 to 12 people, unless you're cutting very thin slices.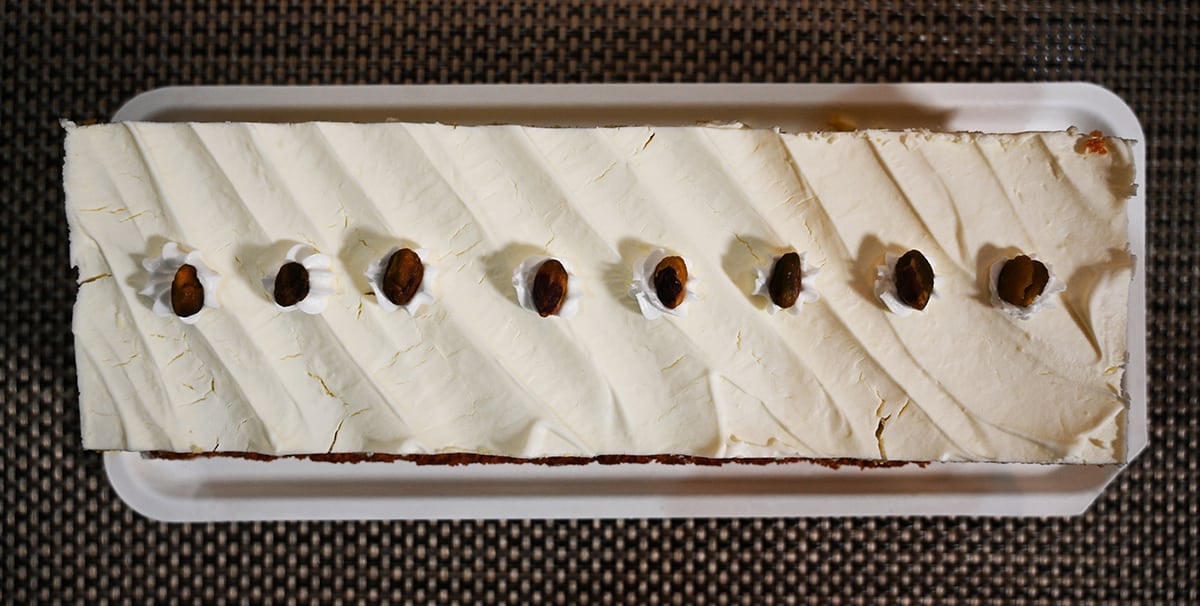 Convenience
The cake needs to be kept refrigerated and has a best-before date that's five days from the date it was packaged on. It slices very easily and can be frozen without any issue.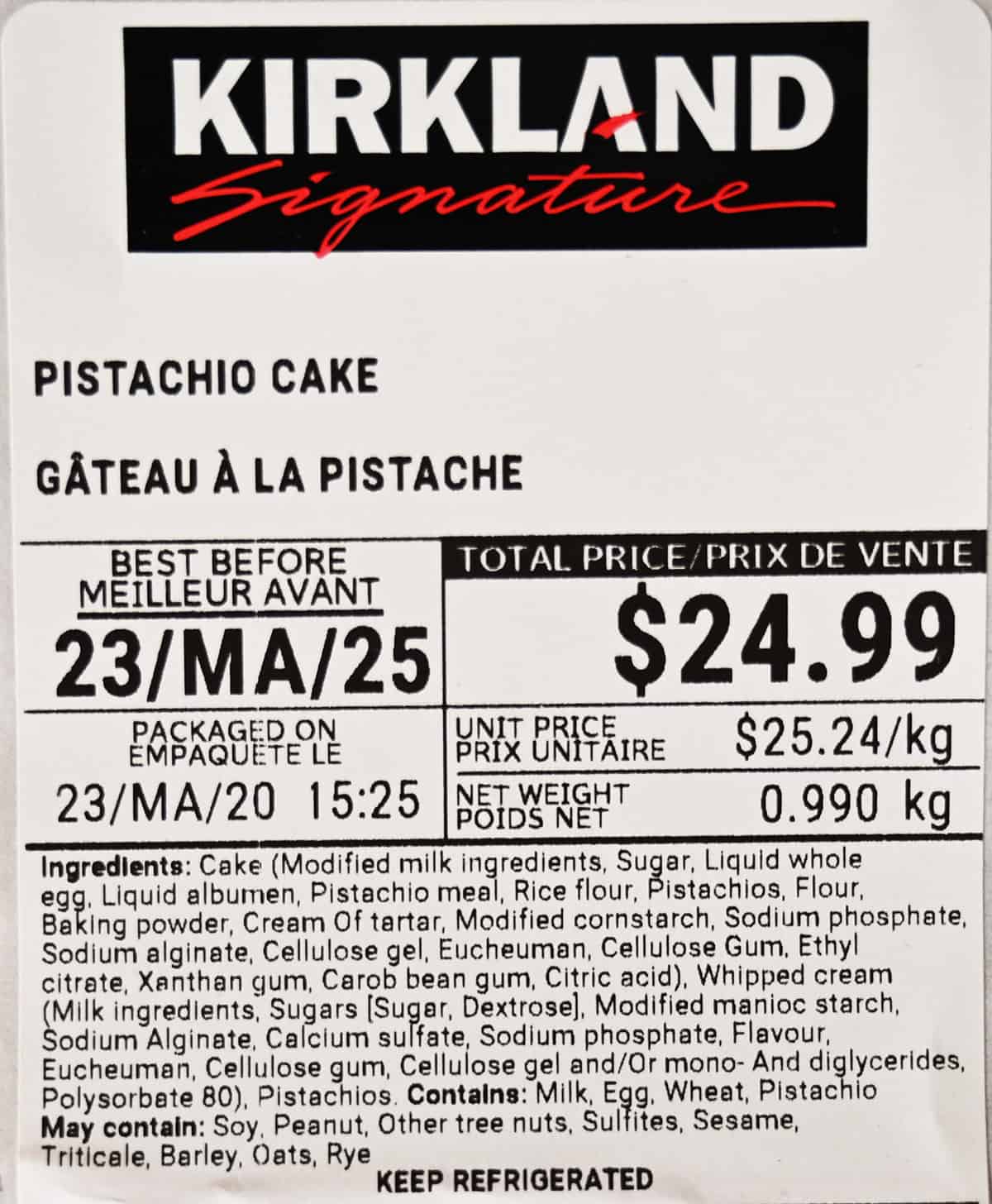 I think people who enjoy a lighter dessert that doesn't have a ton of flavor or sweetness would enjoy this. If you're a fan or rich, chocolaty, sweet and flavorful desserts I wouldn't recommend this.
Nutrition
Calories
1/8th of the cake contains 450 calories, 34 grams of fat, 28 grams of carbohydrates, one gram of fibre, 20 grams of sugar, eight grams of protein and 230 milligrams of sodium. The sugar isn't that high for a slice of cake and I think that's also reflected in the taste. I wouldn't say this cake is very sugary.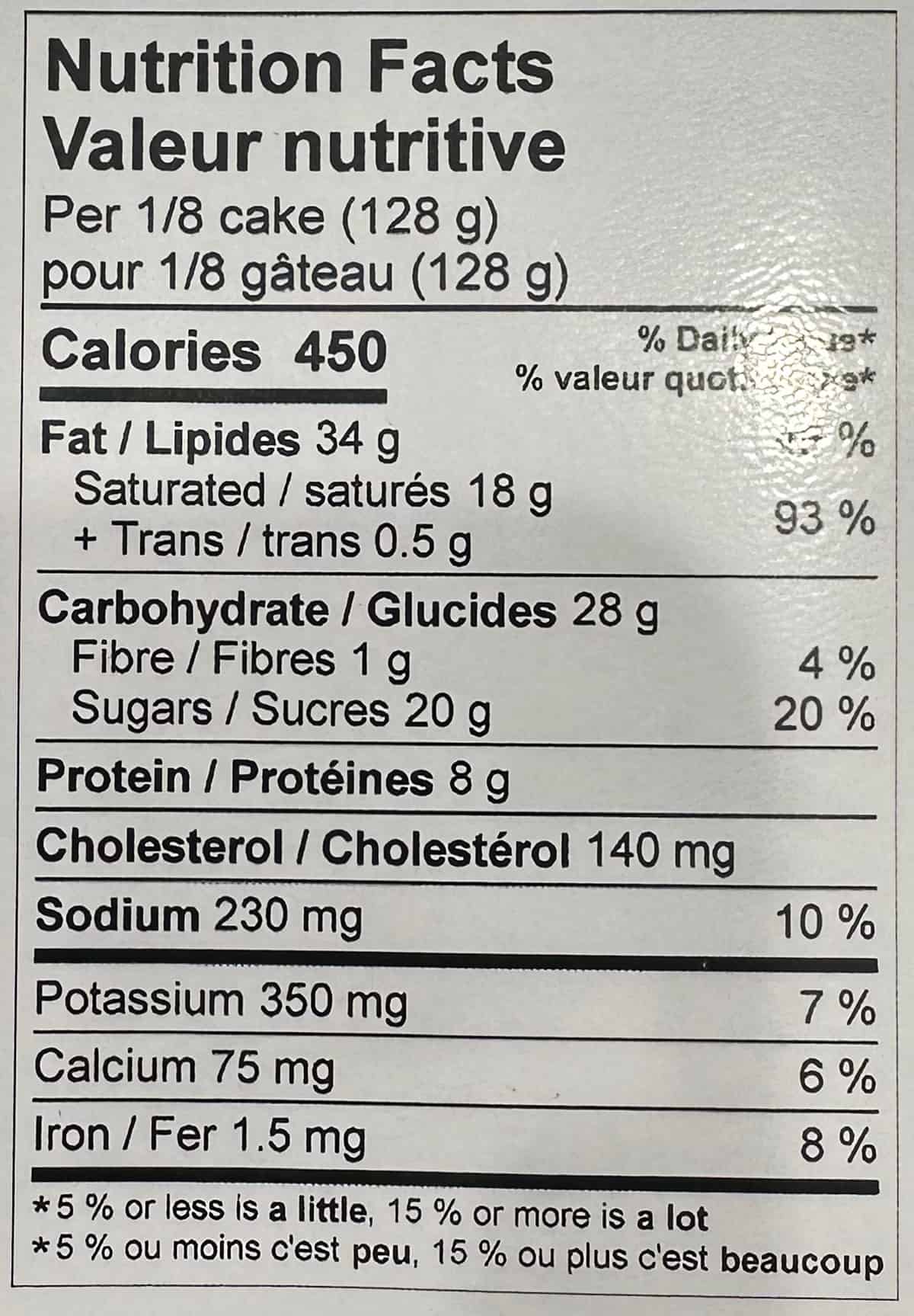 Ingredients
This definitely isn't healthy and has some ingredients that I'm not sure what they were until I used Google to find out such as eucheuman, modified manioc starch and sodium alginate. The cake contains milk, egg, wheat and pistachio. It may contain soy, peanut, other tree nuts, sulfites, sesame, triticale, barley, oats and rye.

Scoring
Taste: 6/10
Cost: 6/10
Convenience: 10/10
Nutrition: 0/10
Overall
Walk on by!
Costco sells far better cakes than this one. Unless you're crazy about pistachios, skip it and buy a Kirkland Signature Tuxedo Cake or a Kirkland Signature Tiramisu Cake.
Have you tried this cake? What did you think of it?
---
Please note that this review was not paid for or sponsored by any third party. This product was purchased by Costcuisine for the purpose of producing this review. The opinions in this review are strictly those of Costcuisine. Costcuisine is not affiliated with Costco or any of its suppliers. In the event that Costcuisine receives compensation for a post from the manufacturer of a product or some other third party, the arrangement will be clearly disclosed (including where the manufacturer of a product provides Costcuisine with a free sample of the product).