Cinnamon buns are one of my favorite things. There are quite a few variations of this simple treat, even just at Costco – cinnamon danishes, cinnamon buns with cream cheese icing and mini cinnamon buns to name a few. This Kirkland Signature Gooey Cinnamon Roll is similar to other cinnamon buns with cream cheese icing, but it comes in an oven-safe pan so that it's easy to heat the cinnamon rolls to maximize their gooeyness (and deliciousness!). It's designed more for serving a small group than for taking out a single cinnamon roll at a time. Let's be honest though, it would take a lot of self-control to eat just one of these Costco Pull-A-Part Gooey Cinnamon Rolls, if you can even figure out where each one starts and ends!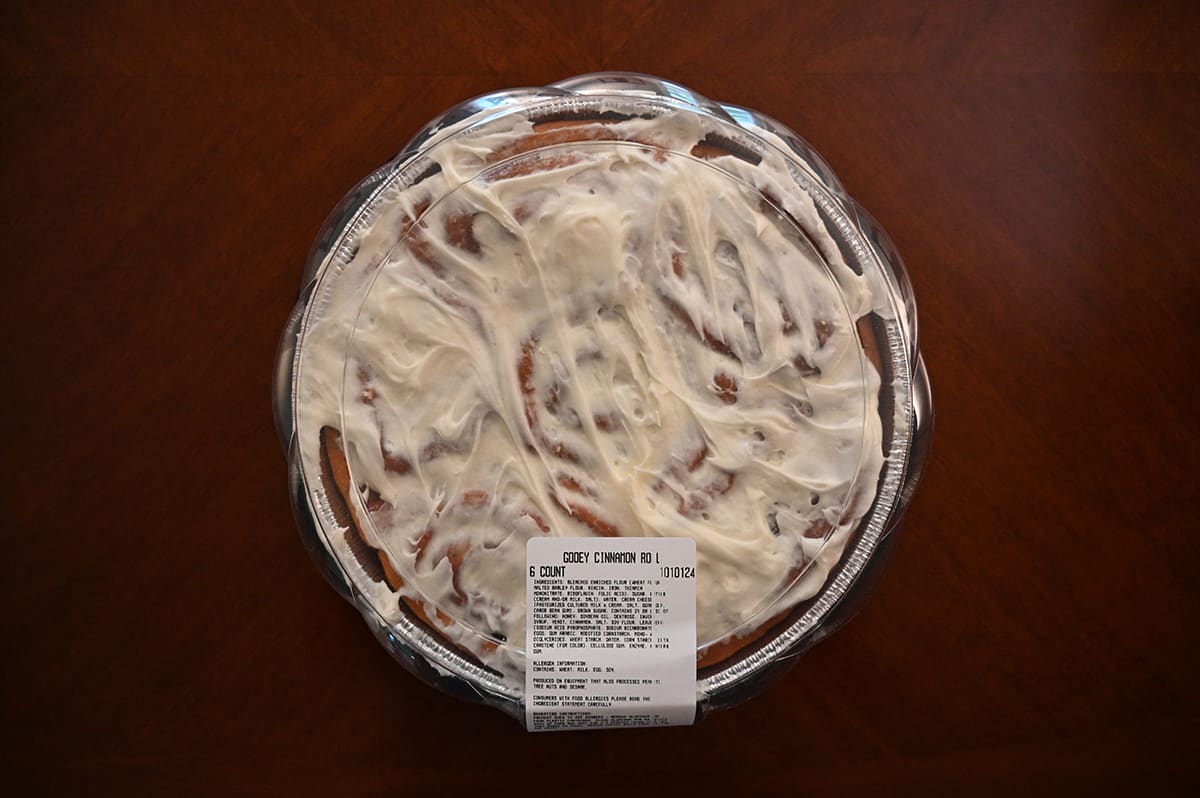 Other Costco bakery items I enjoy are the Kirkland Signature Coffee Cake, Kirkland Signature Banana Pecan Loaf, Kirkland Signature Pumpkin Pie, Kirkland Signature Raspberry Crumble Cookies, Kirkland Signature Almond Danishes, Kirkland Signature Cheese Buns, Kirkland Signature Mini Chocolate Chip Cookies and the Kirkland Signature Tuxedo Cake.
Location in Store
The Kirkland Signature Gooey Cinnamon Rolls are located in the bakery section at Costco and the item number is 1010124. I bought the cinnamon rolls in Kalispell, Montana. I've also seen this item labeled as a Cinnamon Pull-A-Part.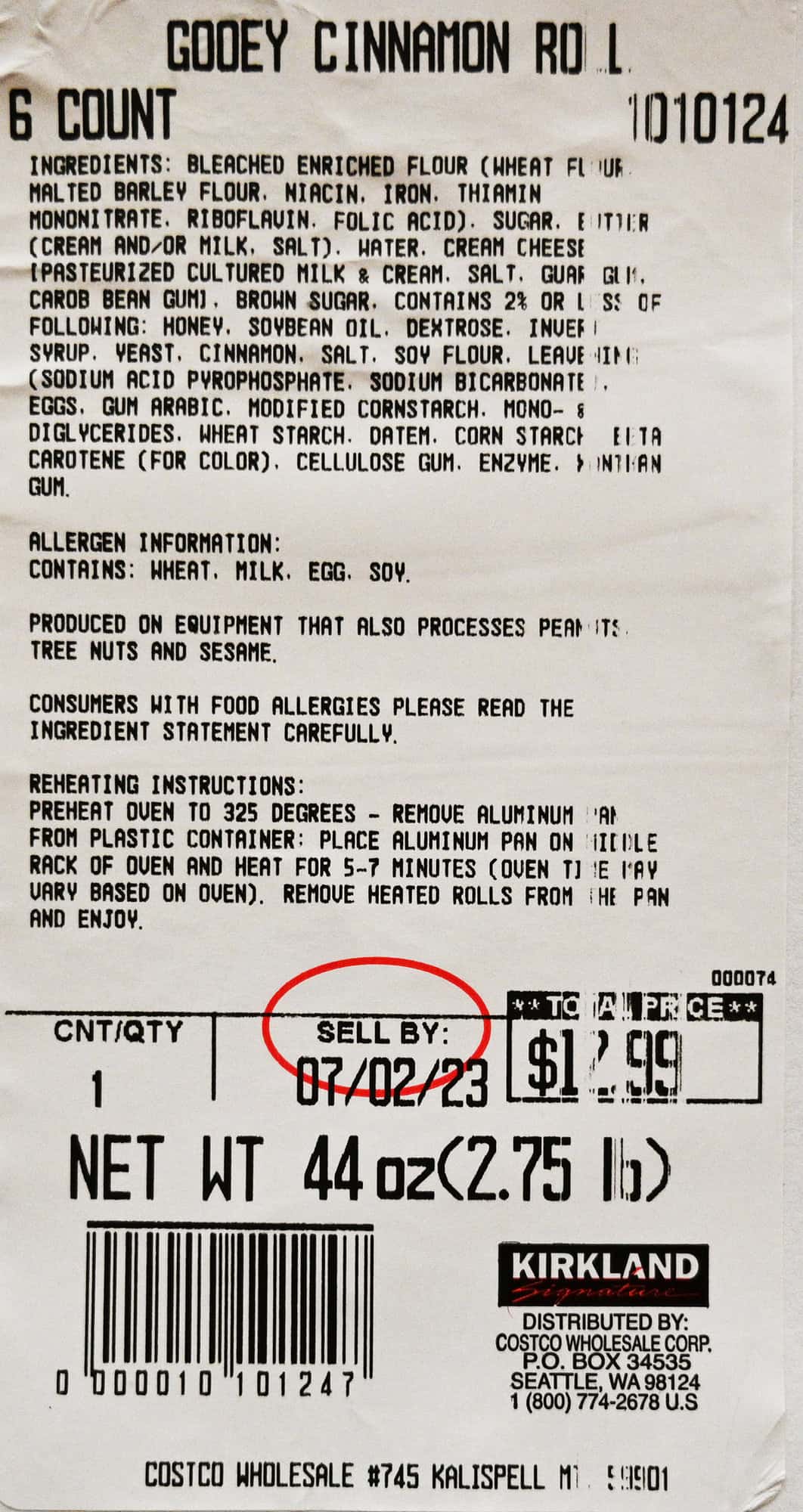 Taste
I'll say right off the top – this cinnamon roll is as good as it looks. It's basically a giant Cinnabon. I baked my cinnamon roll for about seven minutes, and I kind of wish I'd done it for a bit longer. It was warm, but not hot.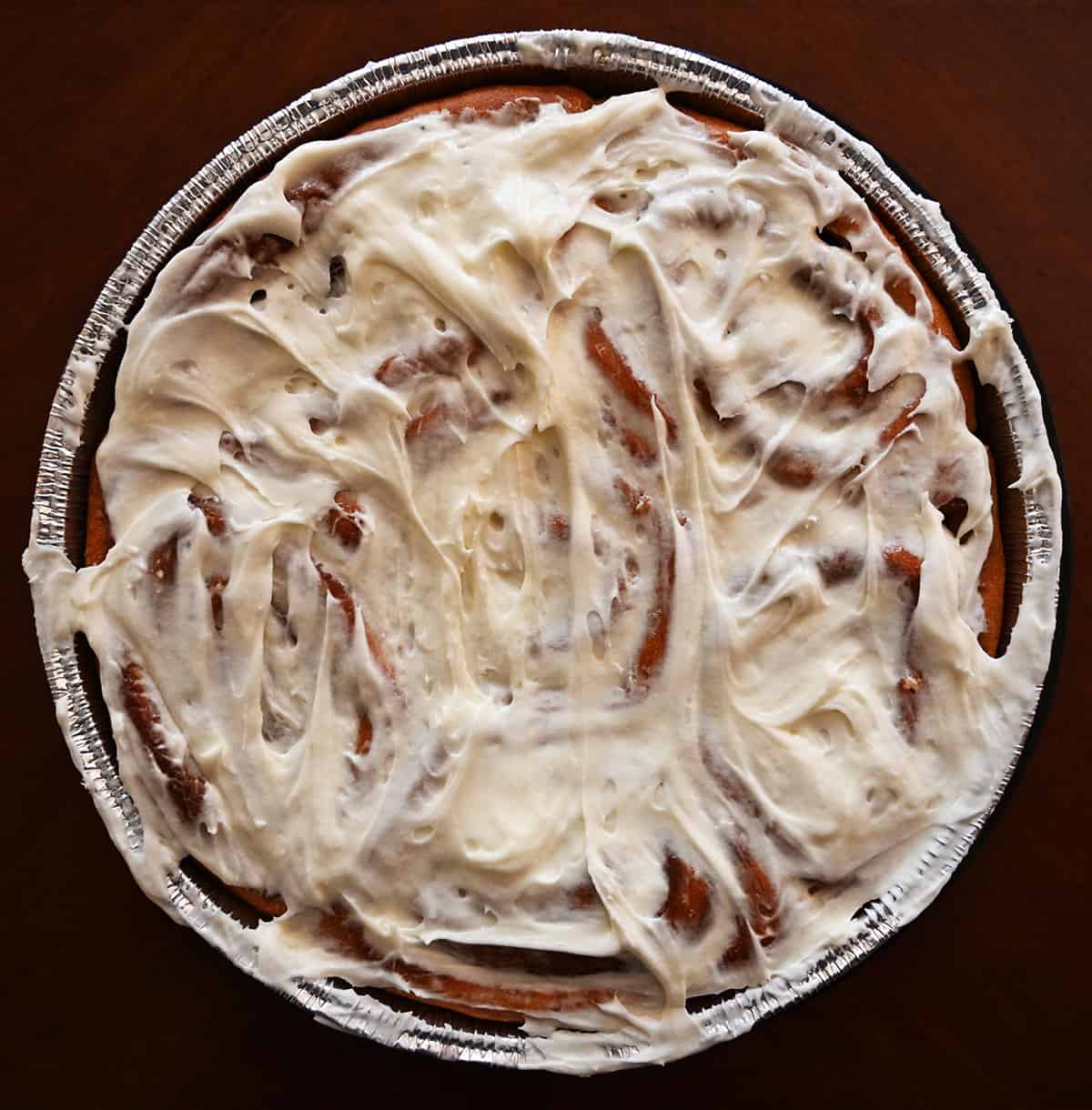 It doesn't come apart or out of the pan too easily – you'll want to cut your pieces before removing them and probably separate them from the sides and bottom of the pan too. I don't think that's going to bother anyone too much though!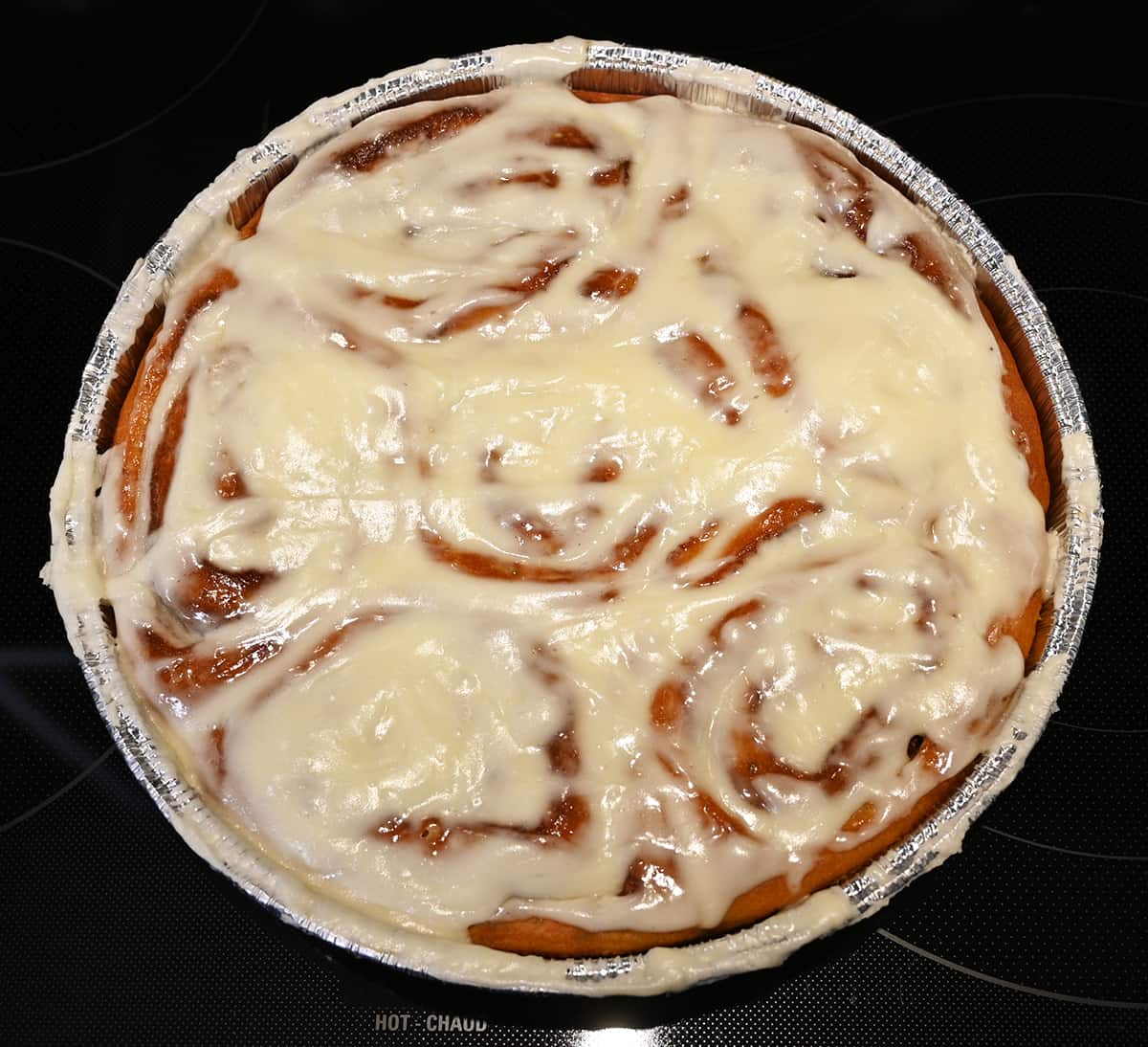 Taste wise it does remind me a lot of Cinnabon or other places like that. Gooey is a great description. The icing and the cinnamon mixture in the roll both add to the gooey goodness. It's not too sweet and has a great buttery cinnamon flavor. You can tell there's actual butter in it.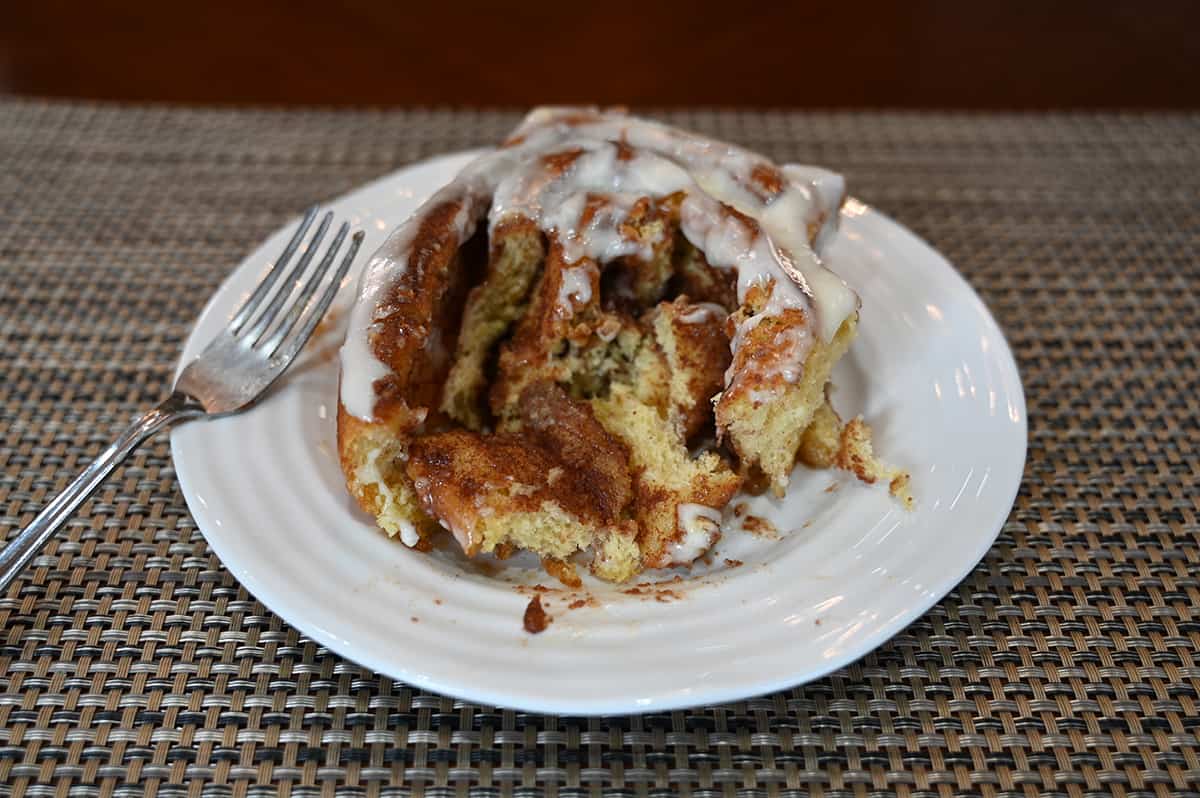 The cream cheese icing is good too. It definitely tastes like cream cheese and isn't too sweet. You don't notice the cream cheese flavor as much as you eat the cinnamon roll. There isn't quite as much icing as you'd find on a Cinnabon, so that's probably part of it.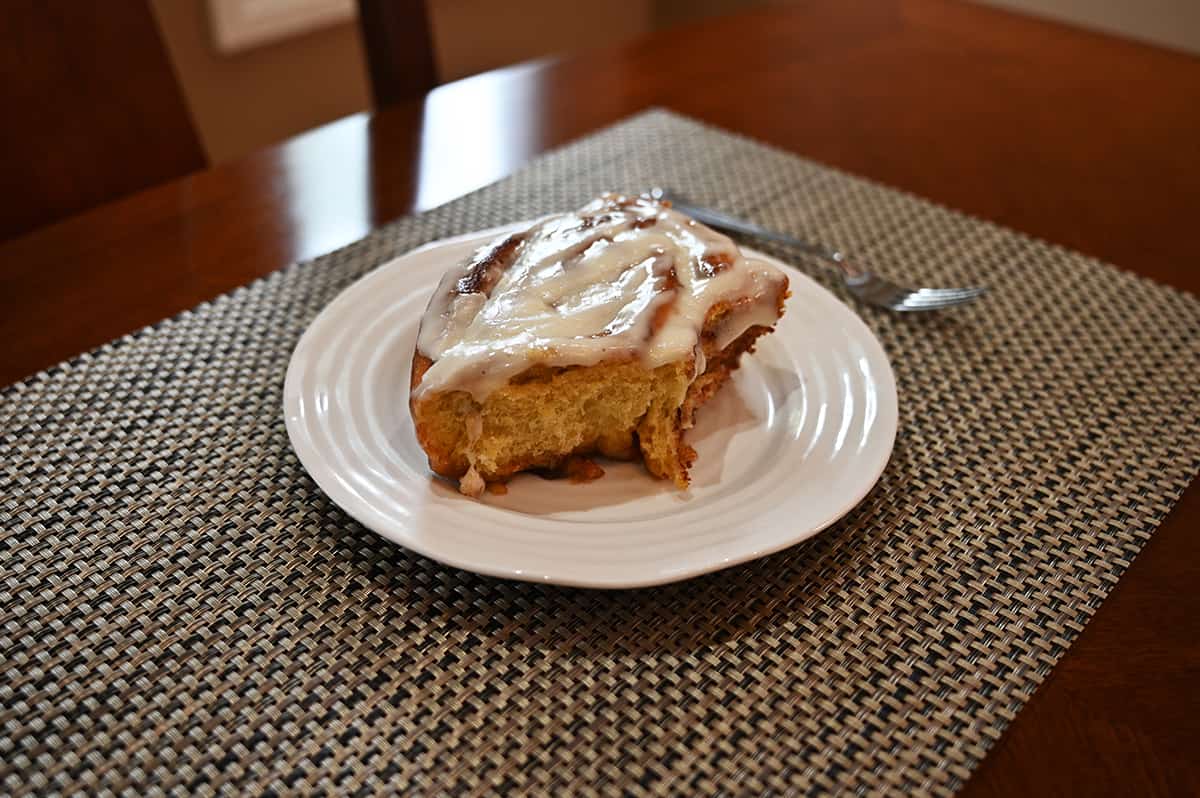 Cost
There are six cinnamon rolls in the round container, which costs $12.99 USD. This isn't exactly cheap, but it's cheaper than buying Cinnarolls or Cinnzeo.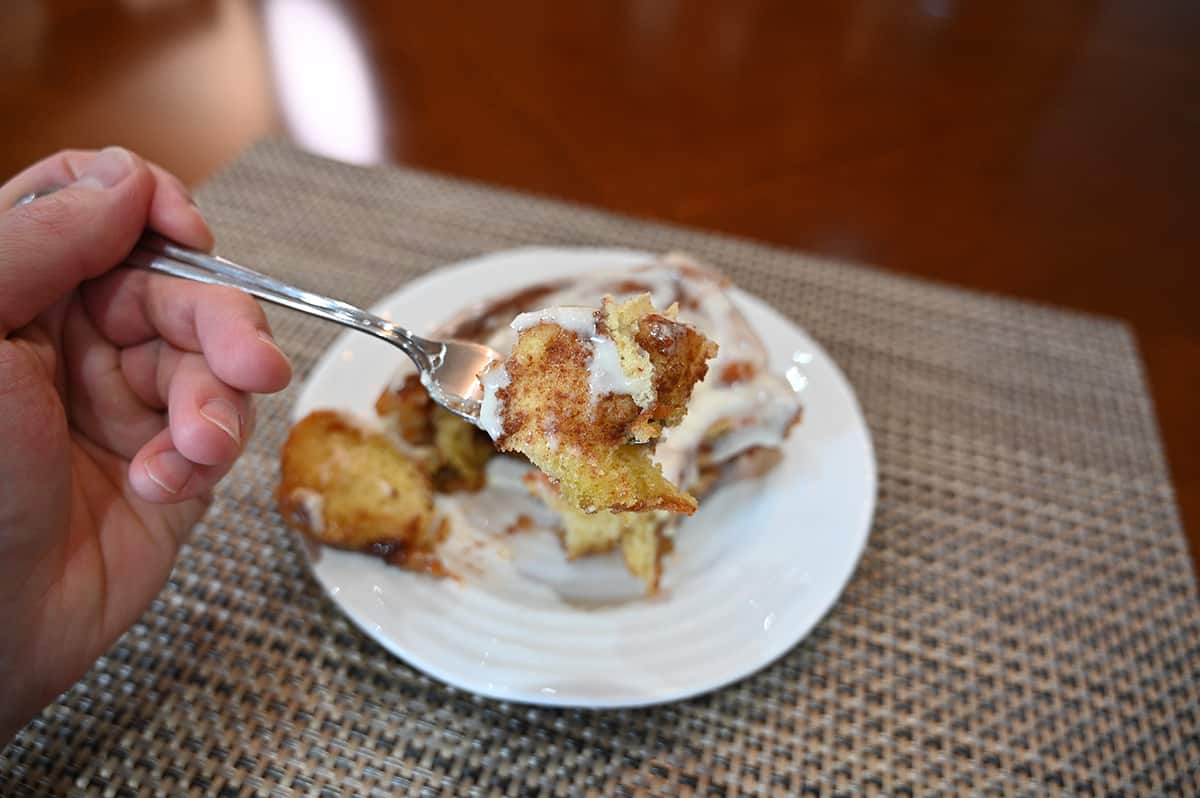 Convenience
The package has directions on how to heat the entire container of rolls in the oven which we did. Next time I think I'd cut rolls out individually and just microwave them because there's no way Sean and I are eating an entire container of rolls in one sitting.

The rolls can be easily frozen and despite heating the whole aluminum tray of rolls we froze some.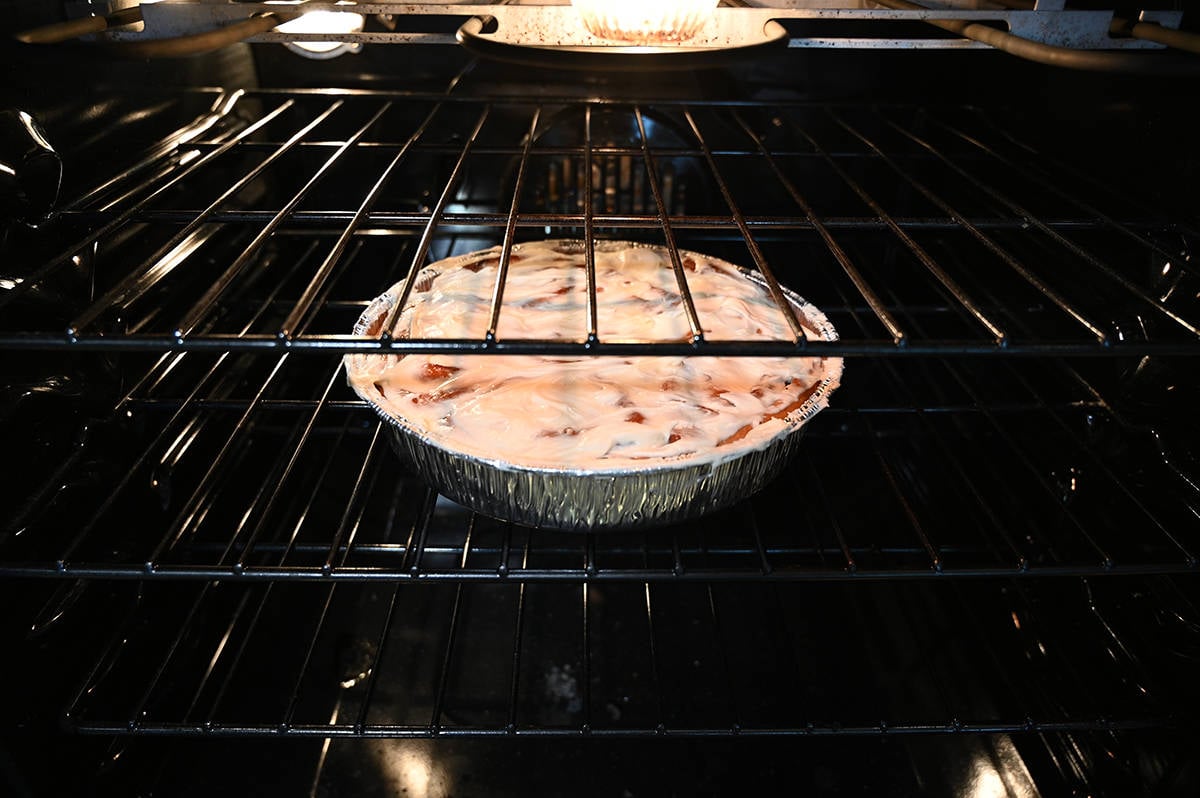 Nutrition
Calories
One roll contains 250 calories, 10 grams of fat, 200 milligrams of sodium, 35 grams of carbohydrates, one gram of fiber, 16 grams of sugar and four grams of protein.
That's not that terrible for a cinnamon roll, I was expecting more calories, fat and carbs to be honest! I absolutely love cinnamon rolls so they're worth every calorie in my opinion.
Ingredients
The ingredients list is pretty typical for a cinnamon roll, flour, sugar, butter, brown sugar and cream cheese! The rolls contain wheat, milk, egg and soy and may contain peanuts, tree nuts and sesame.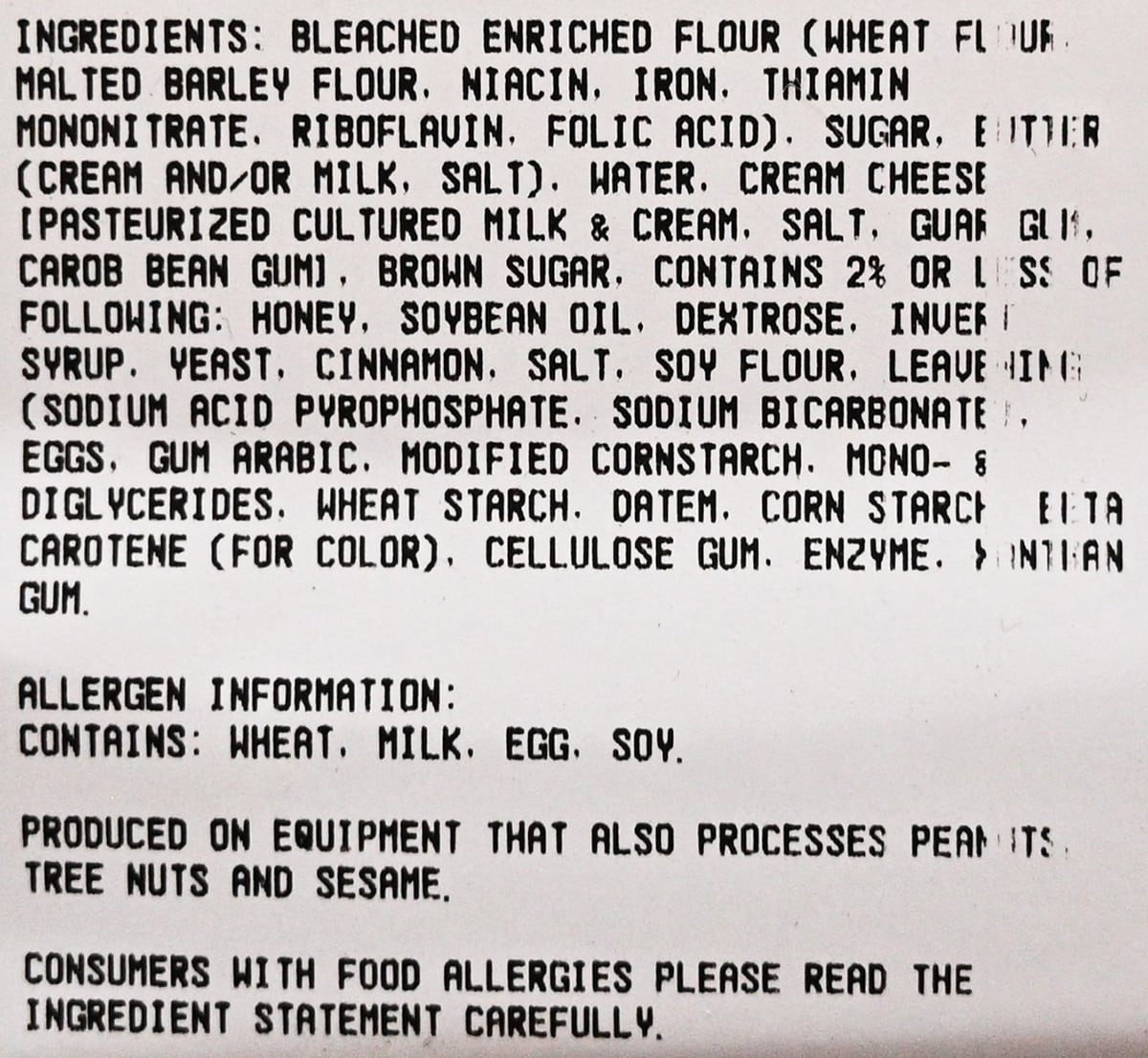 Scoring
Taste: 10/10
Cost: 9/10
Convenience: 10/10
Nutrition: 0/10
Overall
Must buy!
This Gooey Cinnamon Roll belongs in the Costco bakery hall of fame. It's sure to delight almost anyone.
Have you tried these cinnamon rolls from the Costco bakery? What did you think of them?
---
Please note that this review was not paid for or sponsored by any third party. This product was purchased by Costcuisine for the purpose of producing this review. The opinions in this review are strictly those of Costcuisine. Costcuisine is not affiliated with Costco or any of its suppliers. In the event that Costcuisine receives compensation for a post from the manufacturer of a product or some other third party, the arrangement will be clearly disclosed (including where the manufacturer of a product provides Costcuisine with a free sample of the product).