Costco is carrying these gluten-free, organic, plant-based vegetable & sunflower seed veggie bites!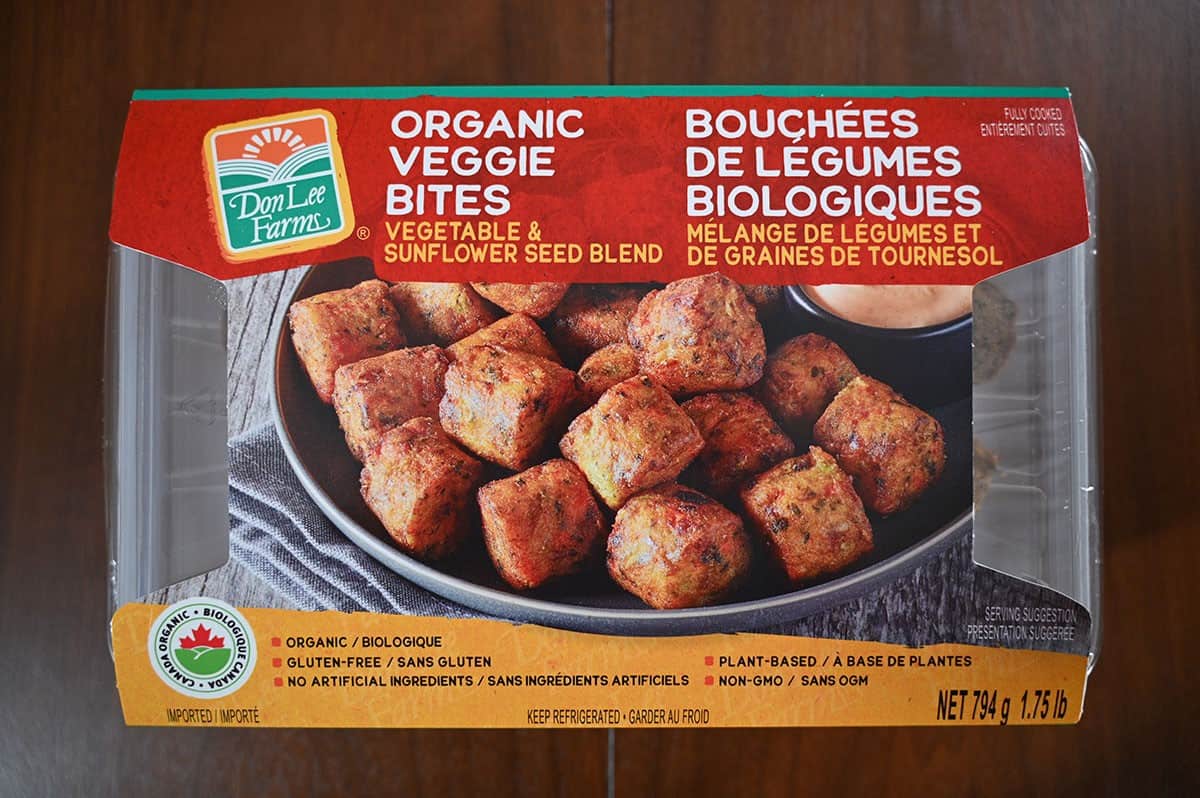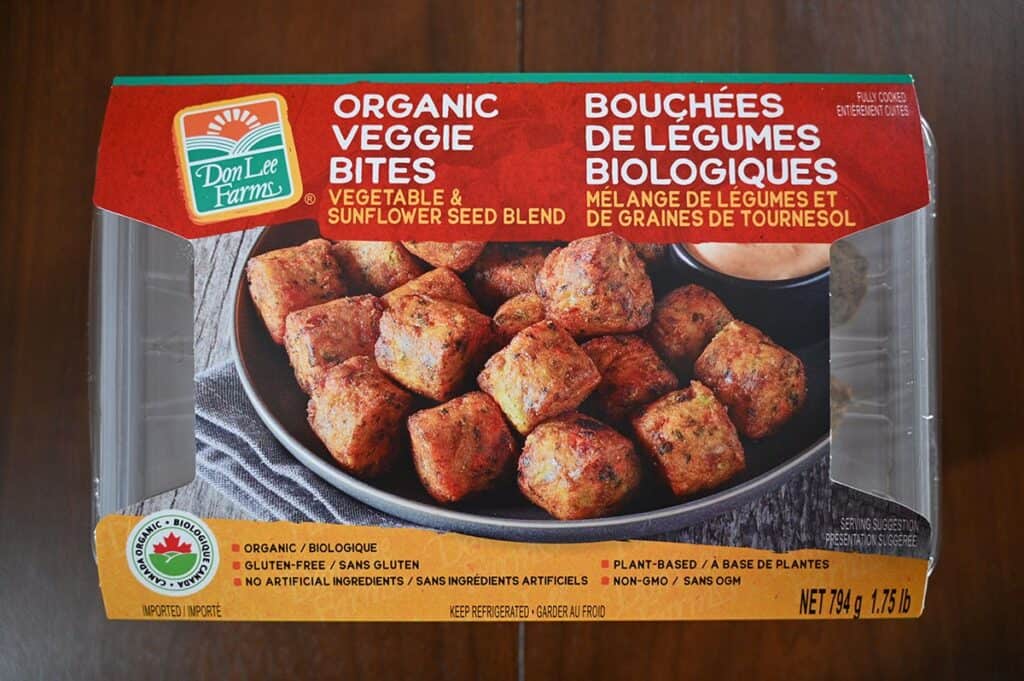 Today I'm reviewing a product that's new to my local Costco. The Don Lee Farms Organic Veggie Bites. I tend to really like plant-based food and have been exploring more gluten-free foods lately so I wanted to try these when I saw them.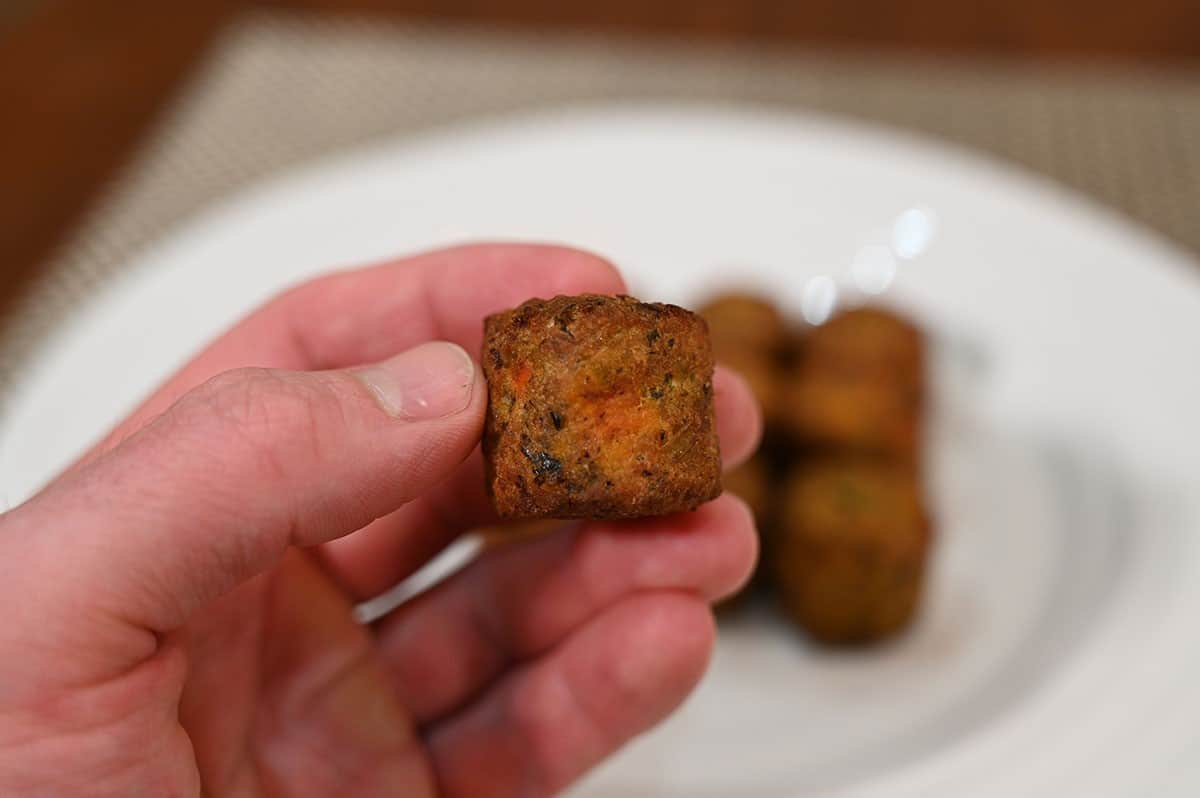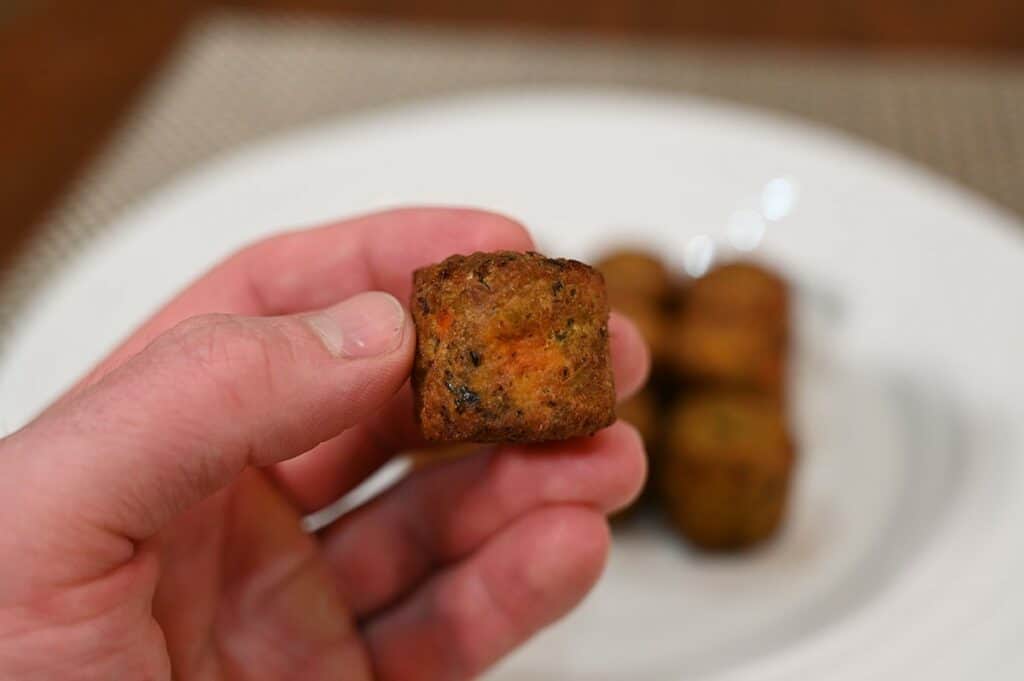 When I saw the bites I thought they looked similar to the Costco Sol Cuisine Plant Based Spinach Chickpea Bites. Other Costco plant-based foods I love are the Wholly Veggie Buffalo Cauliflower, Costco Traditions Forest Fruit Vegan Frozen Bars and the Costco MadeGood Red Velvet Mini Cookies.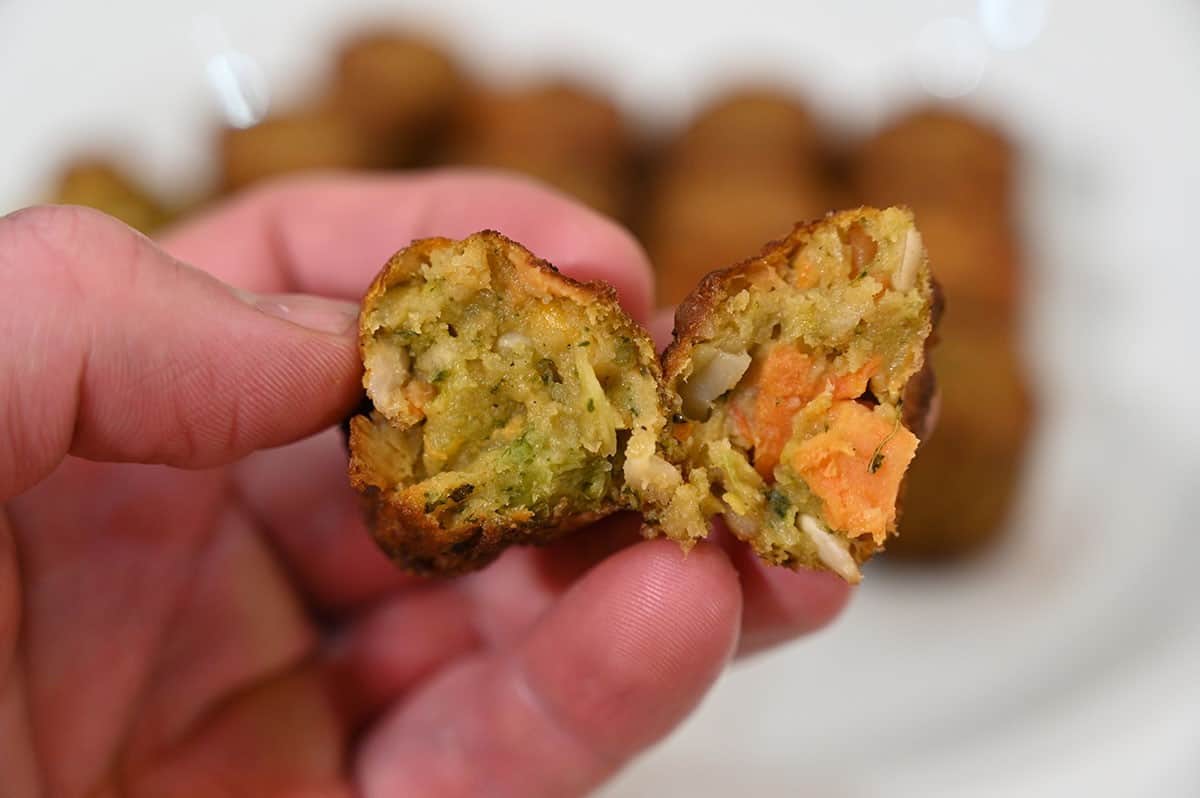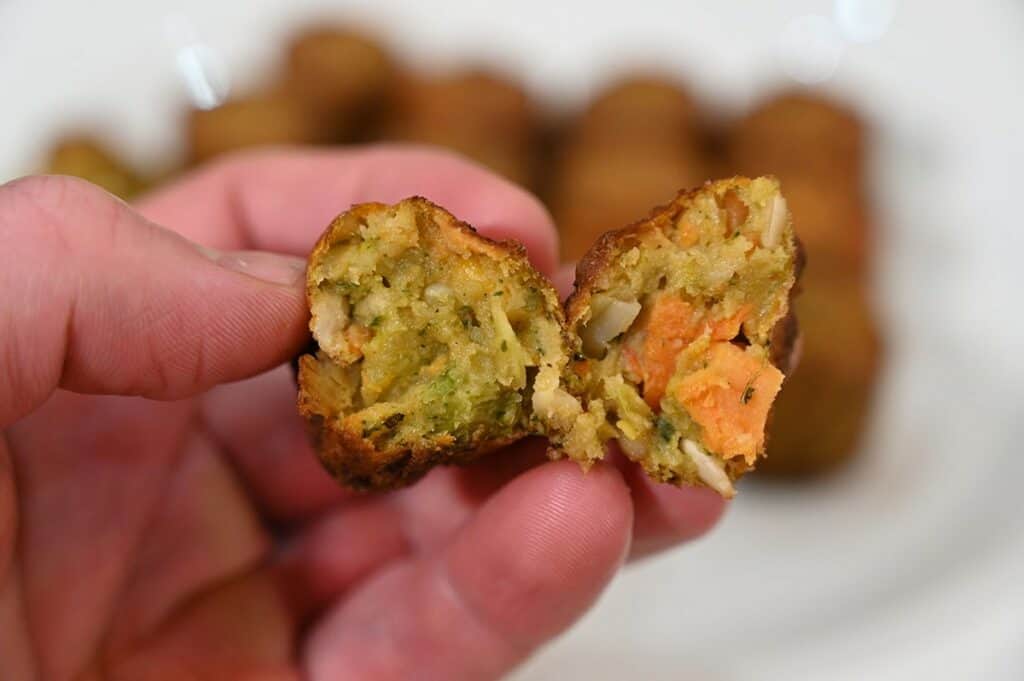 Location in Store
You can find these veggie bites at Costco in the refrigerated deli section by the fresh pasta, refrigerated dessert and refrigerated appetizers. The item number is 1340640.


Taste
After tasting these, I don't love them. They're not awful or anything like that I just don't find them that flavorful or tasty. The flavor is quite bland and they remind me of a mushed-up vegetable tater tot, which is essentially what they are. Just not a really yummy mushed-up vegetable tater tot. They're very slightly salty and you can definitely taste that they're made of vegetables.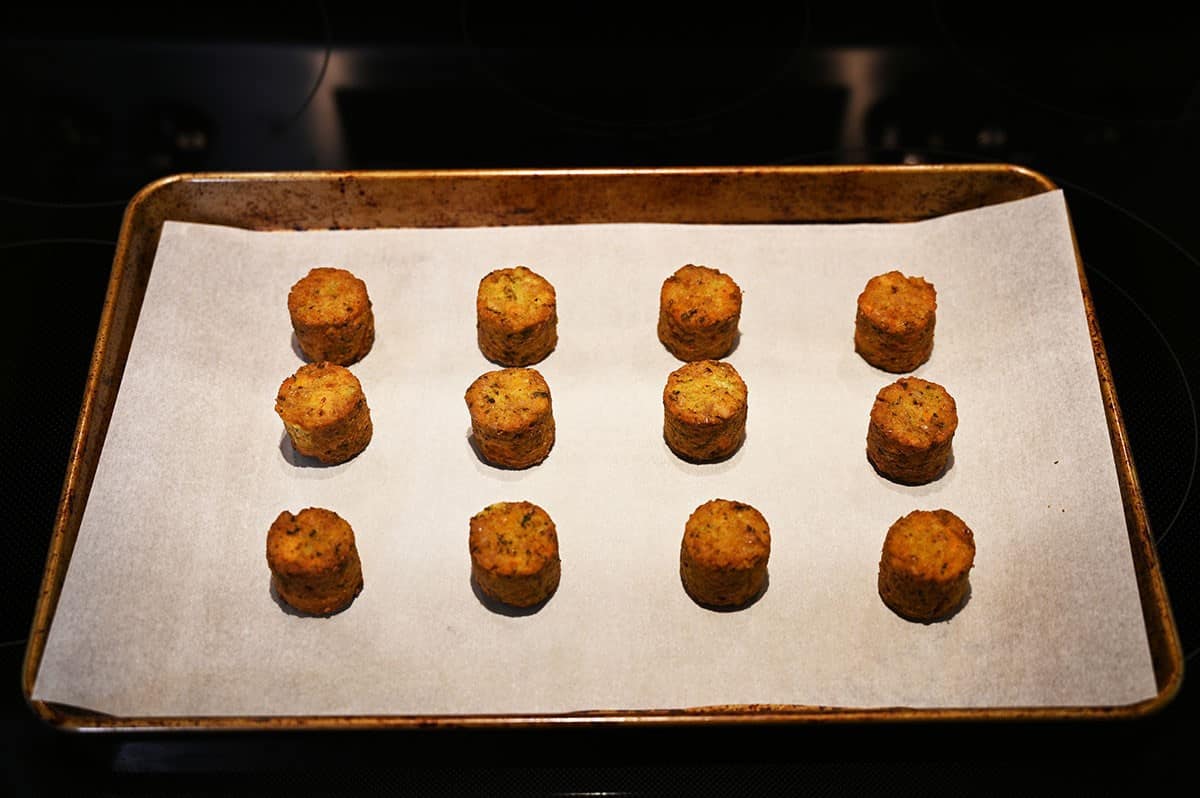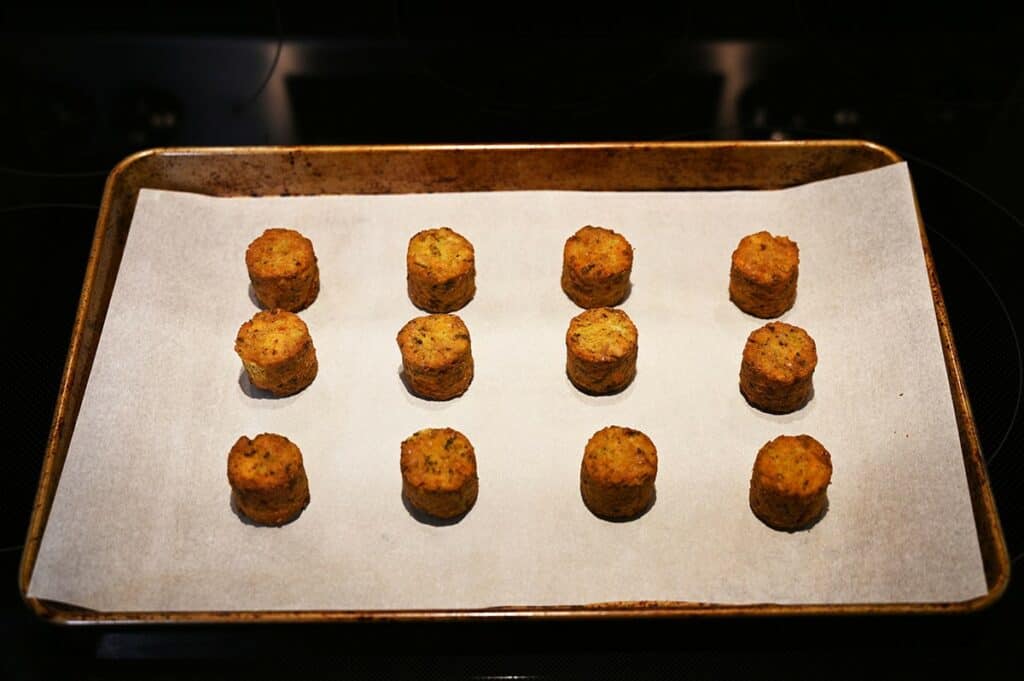 I notice there's also a hint of spiciness that is more of an aftertaste, just a tiny amount of heat, most likely from the herbs and spices used. After baking the bites, they get crisp on the outside and stay soft on the inside.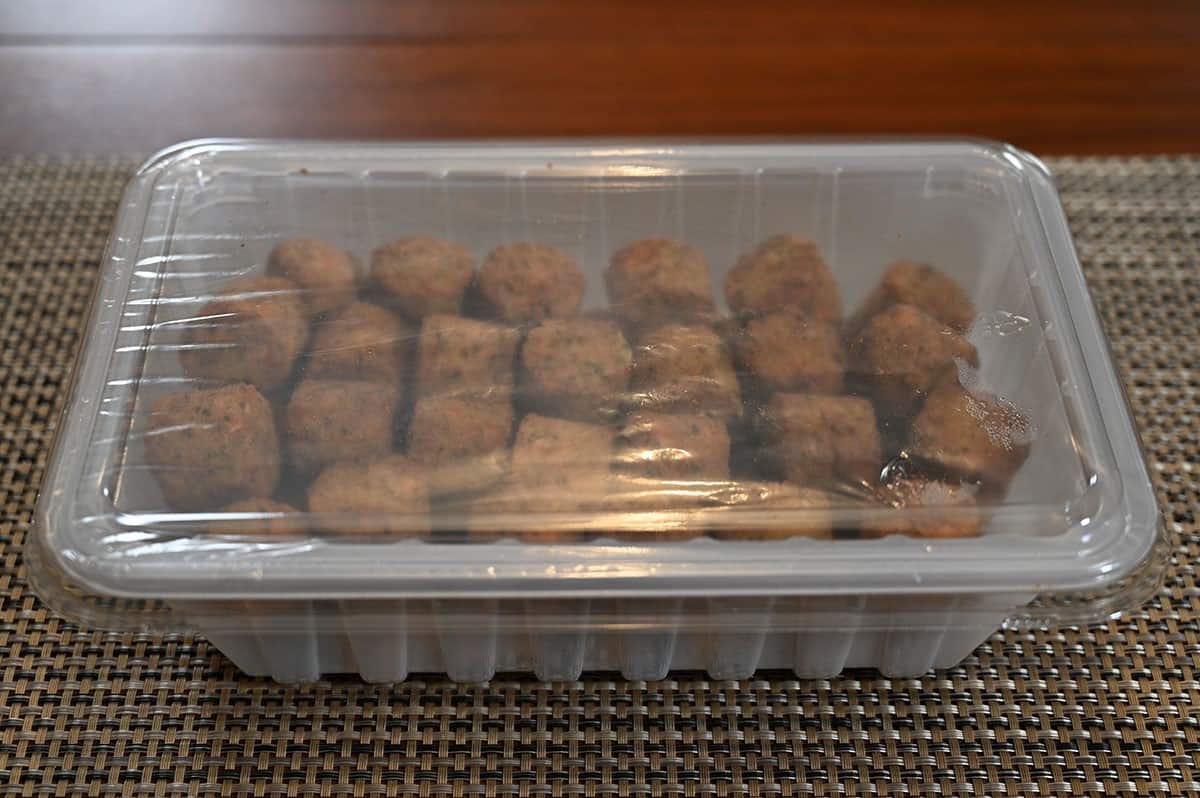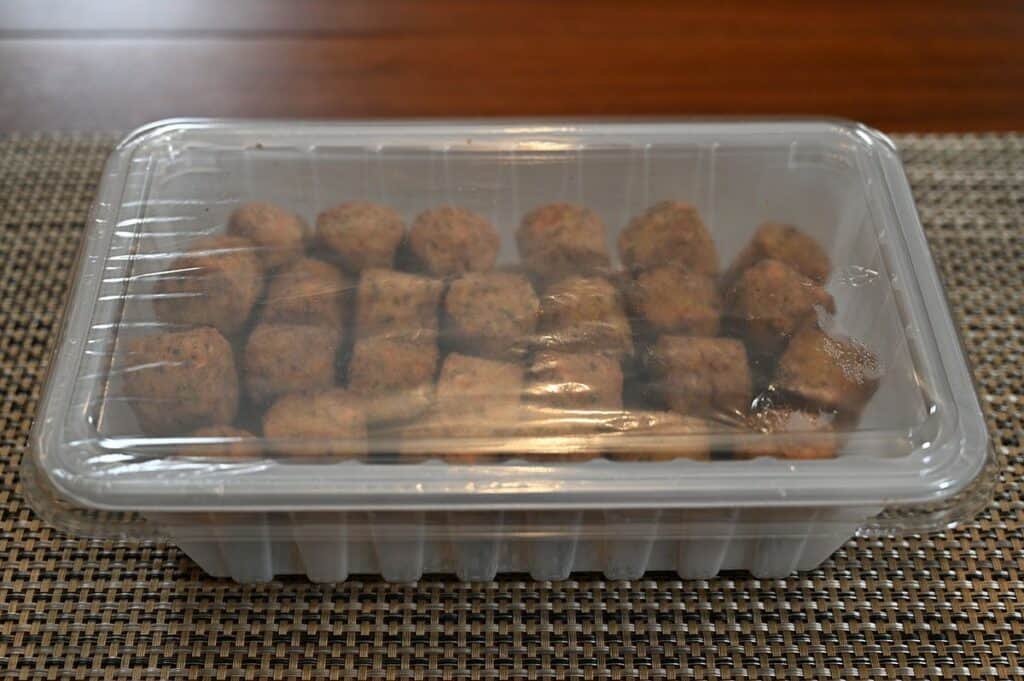 Cost
The price for the 794-gram container of veggie bites is $12.99 Canadian. This isn't too expensive if you like them, but I can't say I'm a huge fan.


Convenience
There are three methods to heat the veggie bites: in a microwave, a skillet, or the oven. I used the oven method, which involves preheating the oven to 375 degrees Fahrenheit, placing the bites on a cookie sheet and cooking them in the oven for 10-12 minutes. The bites are already pre-cooked, so you're just reheating them.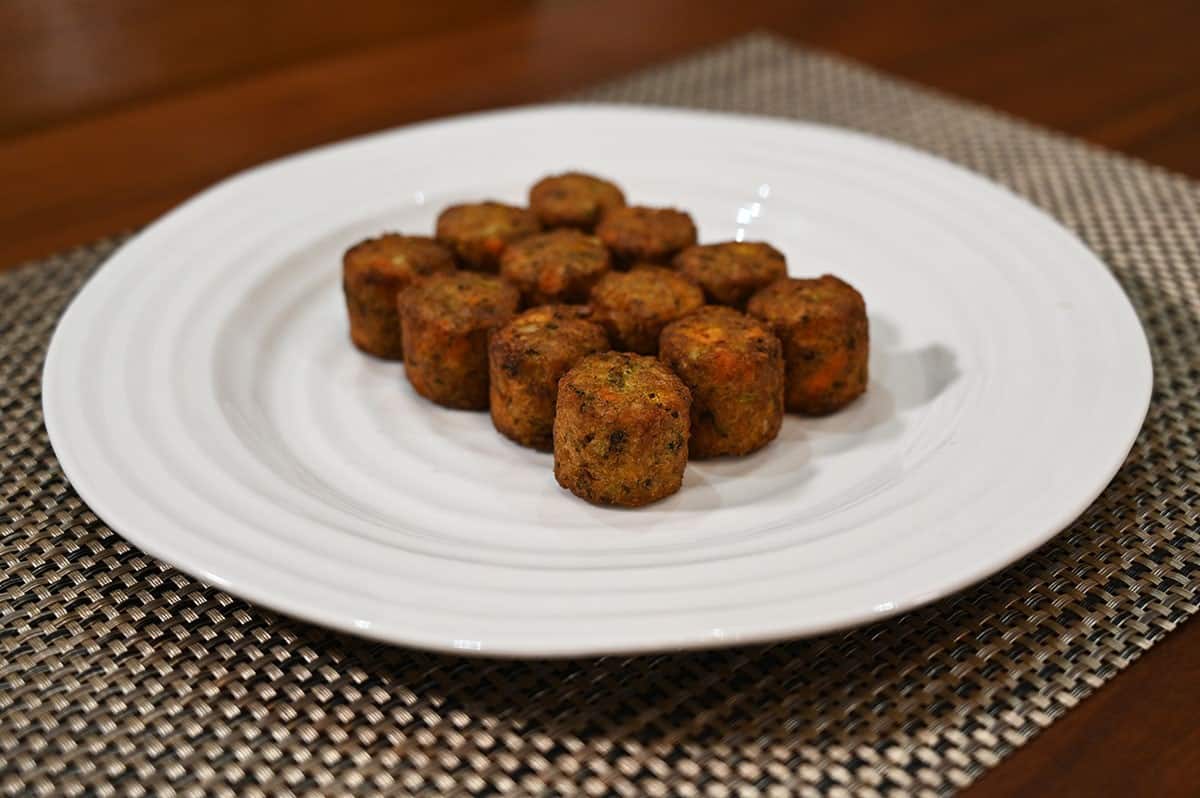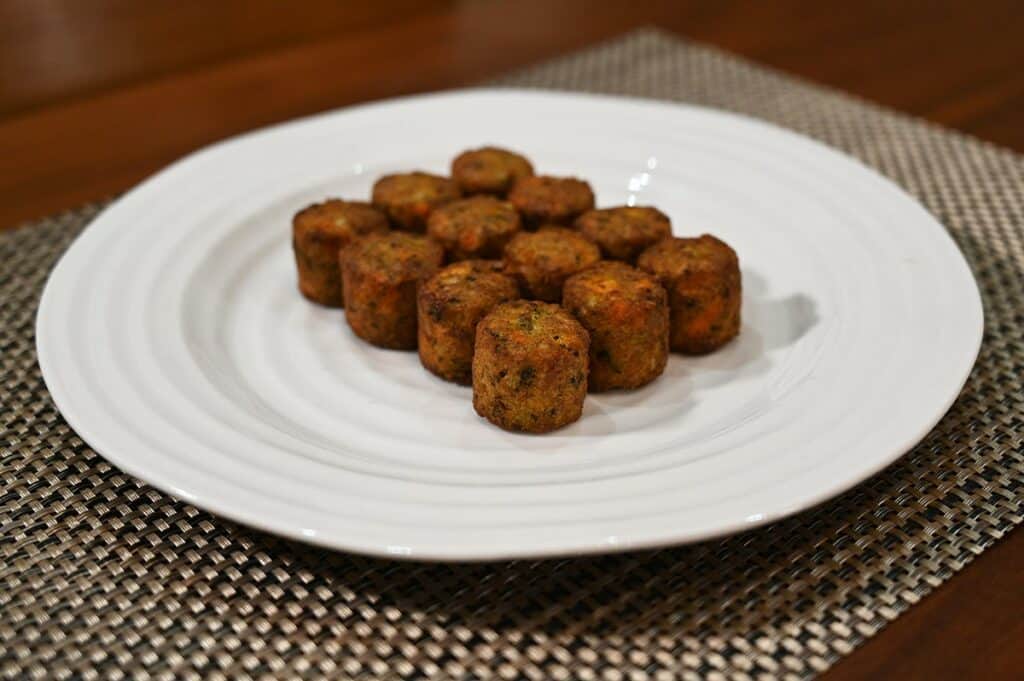 The best before date is just under a month from the date we purchased the veggie bites. However, the packaging states that once opened the veggie bites should be consumed within three days. I feel like these need a sauce to go along with them and they'd be best as a side dish or appetizer.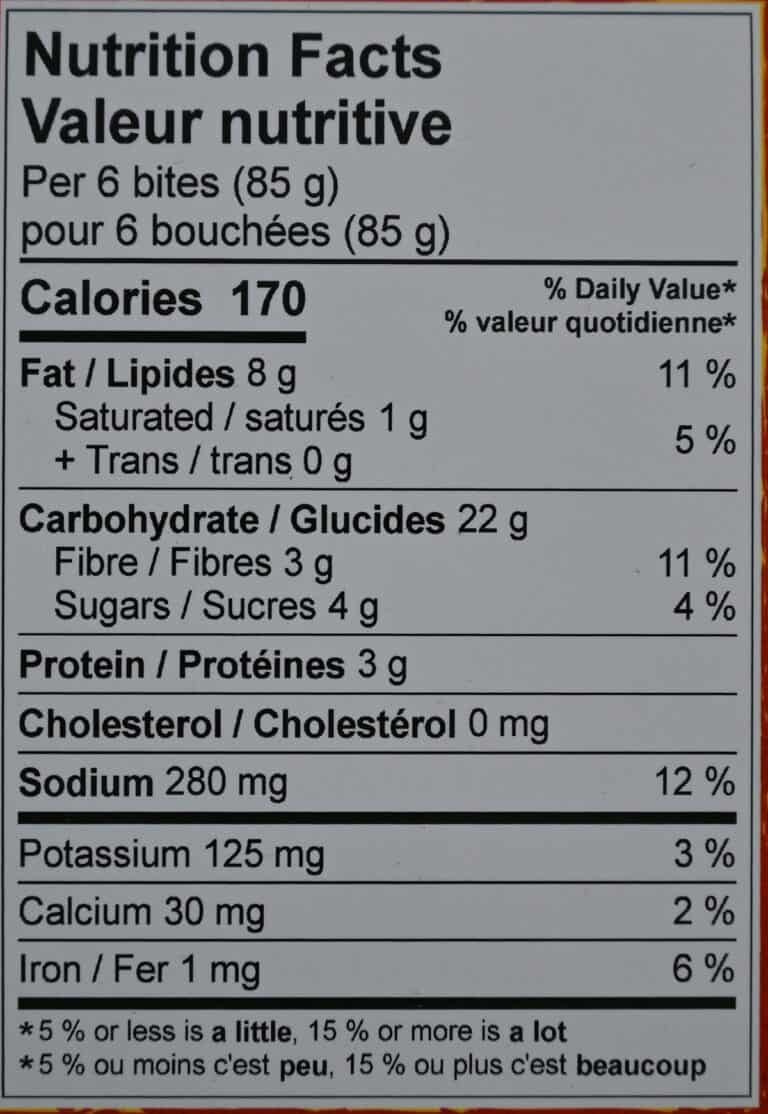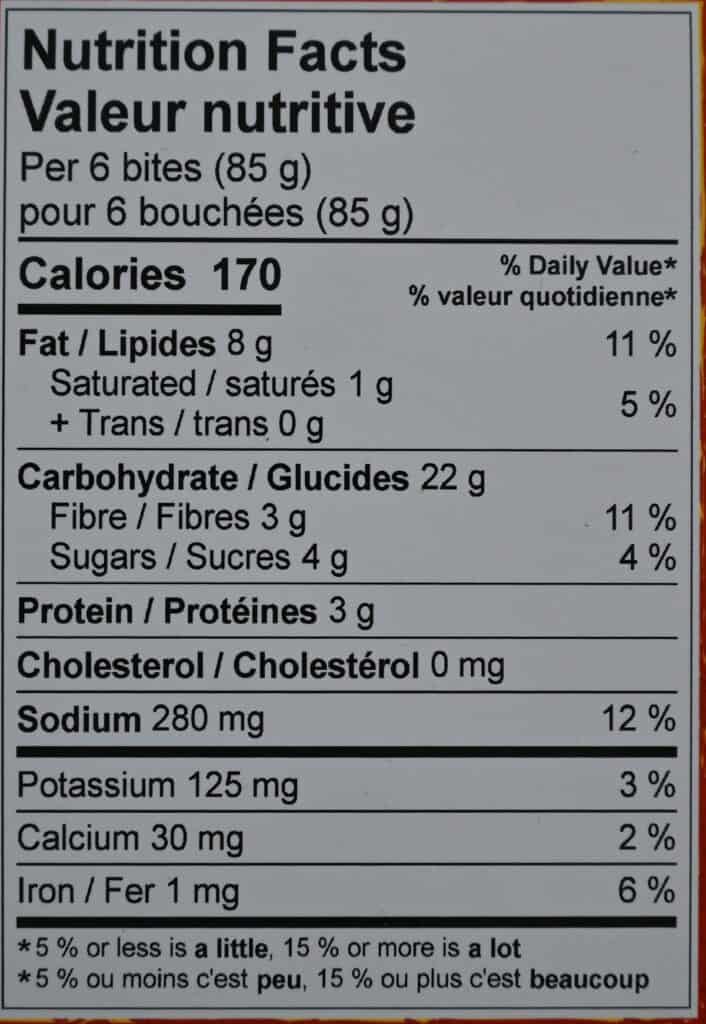 Nutrition
Calories
Six bites contain 170 calories, eight grams of fat, 22 grams of carbohydrates, three grams of fibre, four grams of sugar, three grams of protein and 280 milligrams of sodium. That's actually not bad for six bites! Seeing the nutrition information makes me really wish I liked these more. The sodium is really reasonable and the fat and calories aren't very high for six bites.


Ingredients
The fact these are called veggie bites is not at all misleading. These Costco Don Lee Farms Veggie Bites are full of veggies! They're organic, plant-based as well as gluten-free and I actually love the ingredients listed. Maybe that's why I don't find them that tasty, because they're not filled with a ton of unhealthy ingredients.
Scoring
Taste: 6.5/10
Cost: 7/10
Convenience: 9.5/10 (It's hard to finish one pack in three days!)
Nutrition: 10/10
Overall
Give it a try!
I don't love the taste but I love that these are loaded with vegetables, are gluten-free, plant-based and organic. I think trying them with some sauce would make them extra tasty!
Would you try these? If you have tried them, what do you think of them?
---
Please note that this review was not paid for or sponsored by any third party. This product was purchased by Costcuisine for the purpose of producing this review. The opinions in this review are strictly those of Costcuisine. Costcuisine is not affiliated with Costco or any of its suppliers. In the event that Costcuisine receives compensation for a post from the manufacturer of a product or some other third party, the arrangement will be clearly disclosed (including where the manufacturer of a product provides Costcuisine with a free sample of the product).