It's officially summer and this Good Host Raspberry Lemonade from Costco looks like a refreshing beverage for a hot summer day! It also might make a unique option to offer at your lemonade stand. Is this as thirst-quenching as it looks?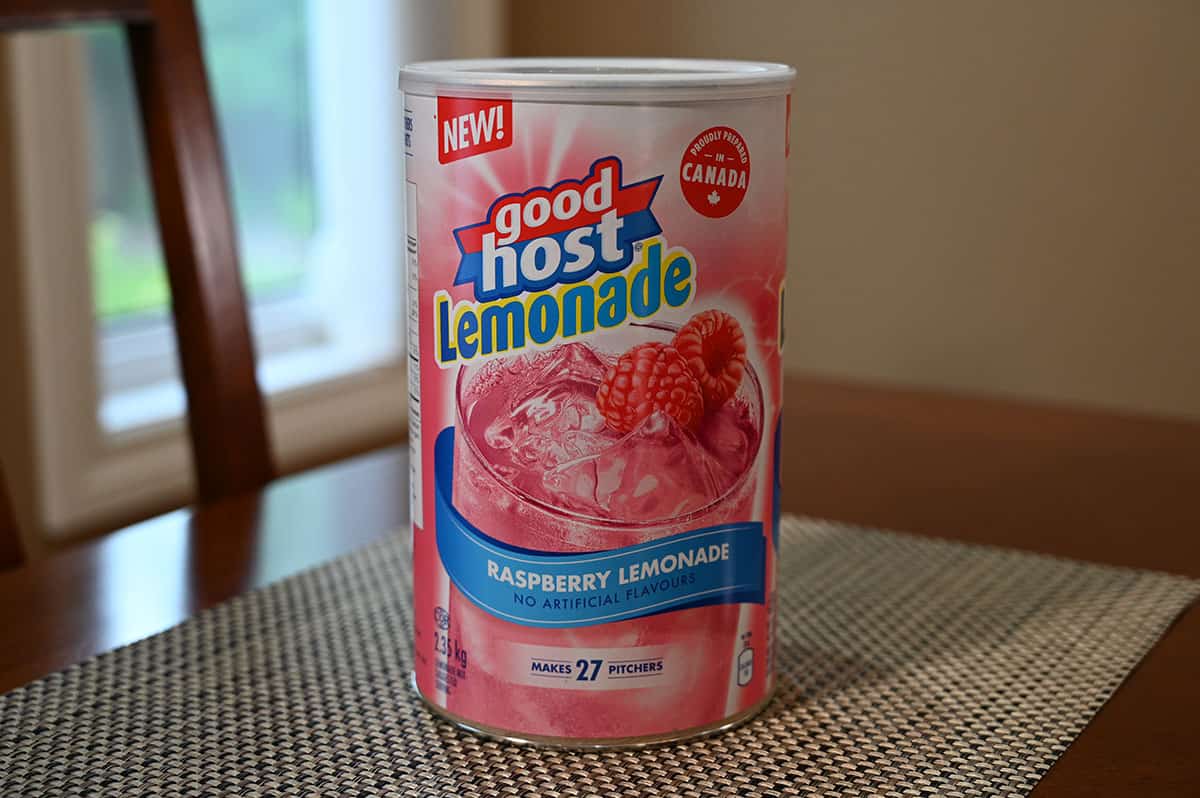 I rarely ever buy powdered beverage mix because it's usually unhealthy and loaded with sugar, but I couldn't resist trying this Costco Good Host Raspberry Lemonade. The bright and colorful packaging lured me into buying it.
Other beverages from Costco that are perfect for summer are the Costco Kirkland Signature Frozen Cocktails, Costco Blue Monkey Sparkling Juice, Costco Boba Bam Instant Boba Pack, Costco Kirkland Signature Lemonade and the Costco Tazo Iced Passion Tea.
Location in Store
You can find the raspberry lemonade near the other non-refrigerated beverages at Costco such as the juices. The item number is 1633765.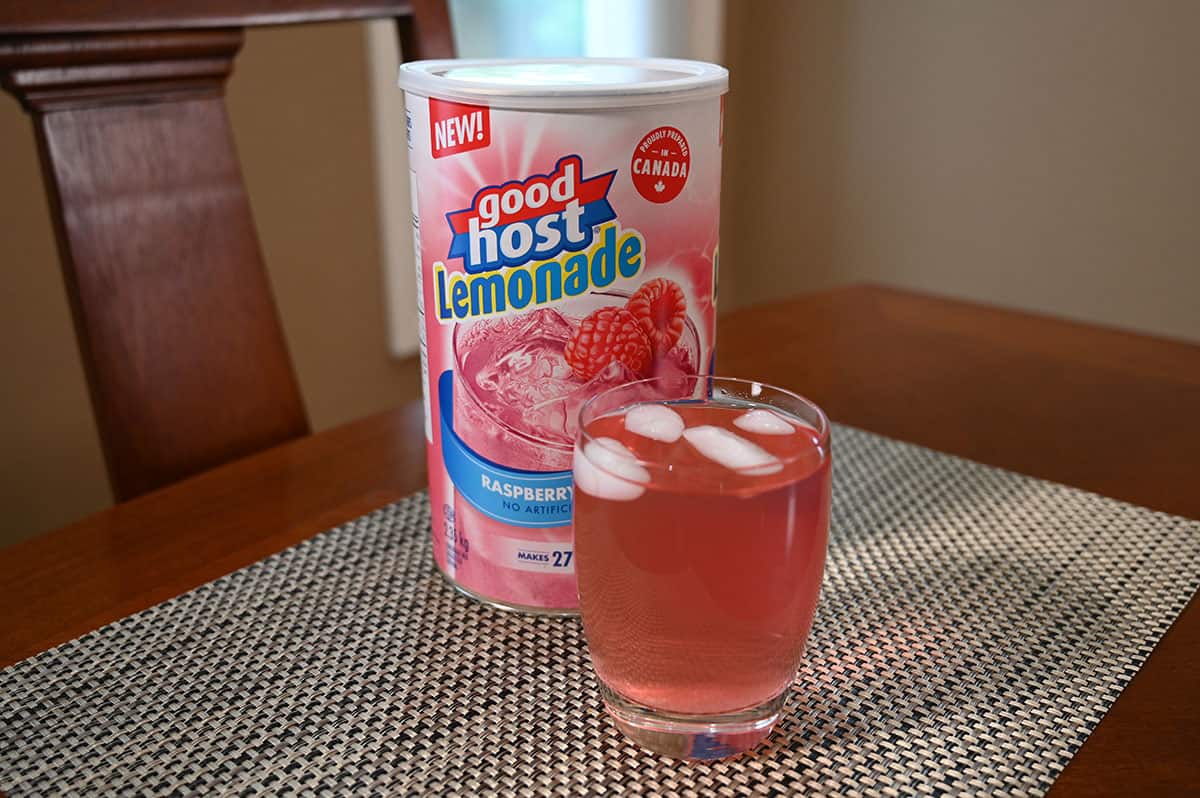 Taste
Although the container states that there are no artificial flavors, I find this artificial tasting. It's missing that zesty tang you get from real lemonade and I personally enjoy my lemonade with a bit of pulp as well. I much prefer fresh lemonade or even frozen canned lemonade.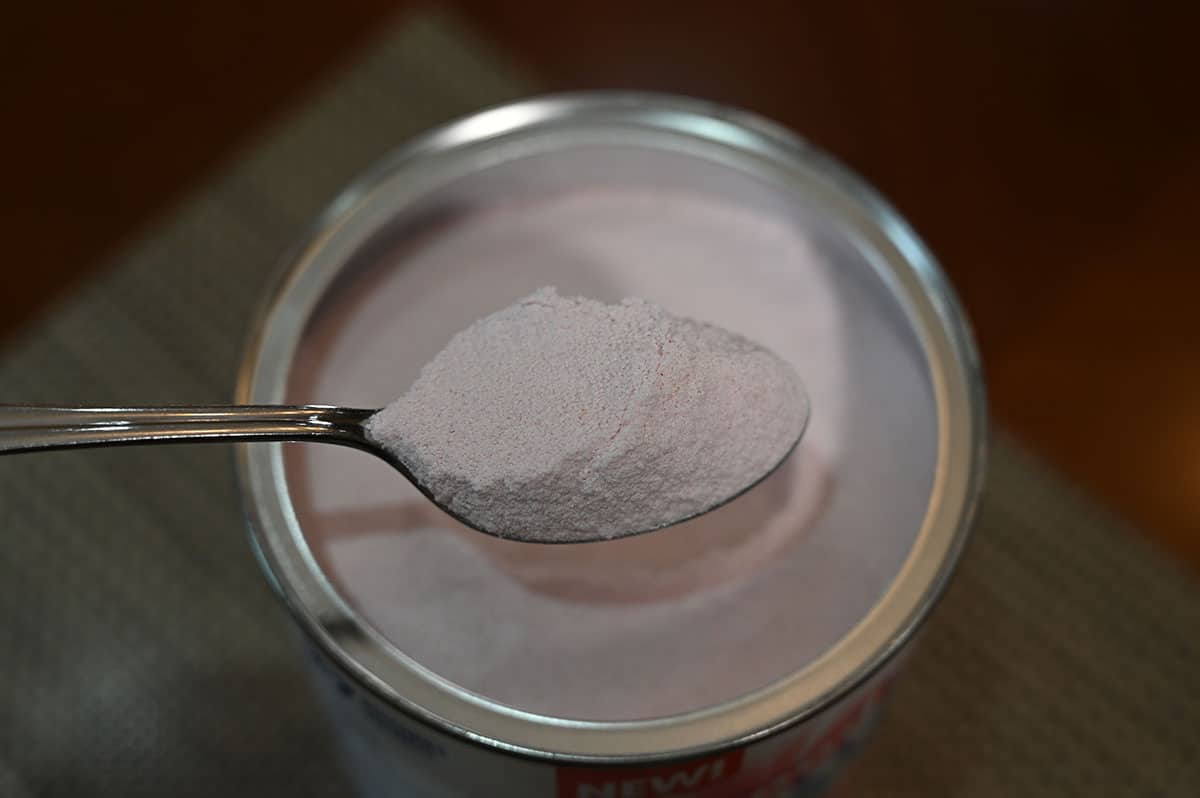 The flavors of raspberry and lemon are equal so neither flavor is very strong or distinct. The aroma coming from the can is a strong artificial raspberry flavor. I really don't love this but I could tolerate a glass on a really hot summer day with a lot of ice. I do think my younger self would have enjoyed it and can see non-picky kids liking it!
Cost
The 2.35 kilogram container of raspberry lemonade powder costs $9.89 Canadian at Costco. The price is reasonable considering one container makes 27 pitchers of lemonade.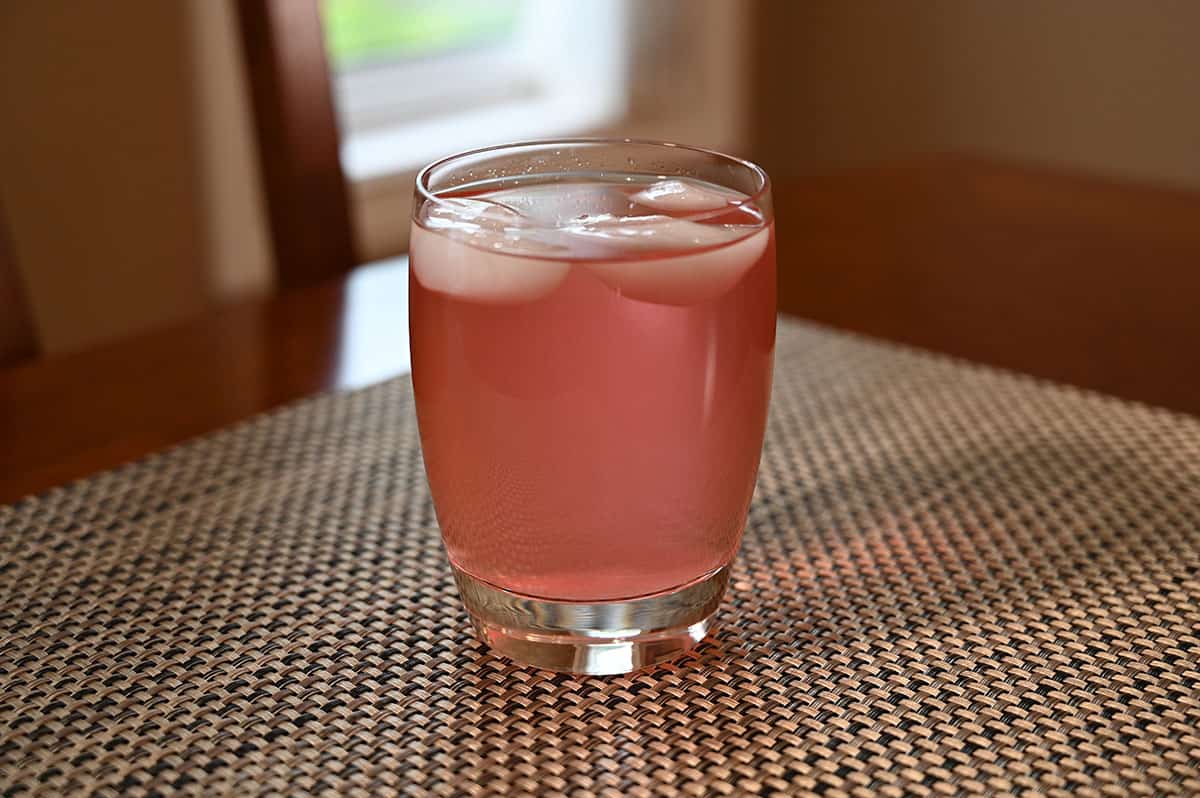 Convenience
Beverages made from powder are always convenient, you don't need to worry about defrosting a frozen can of lemonade and can whip up a pitcher in seconds. The container has preparation instructions for both a glass and a pitcher.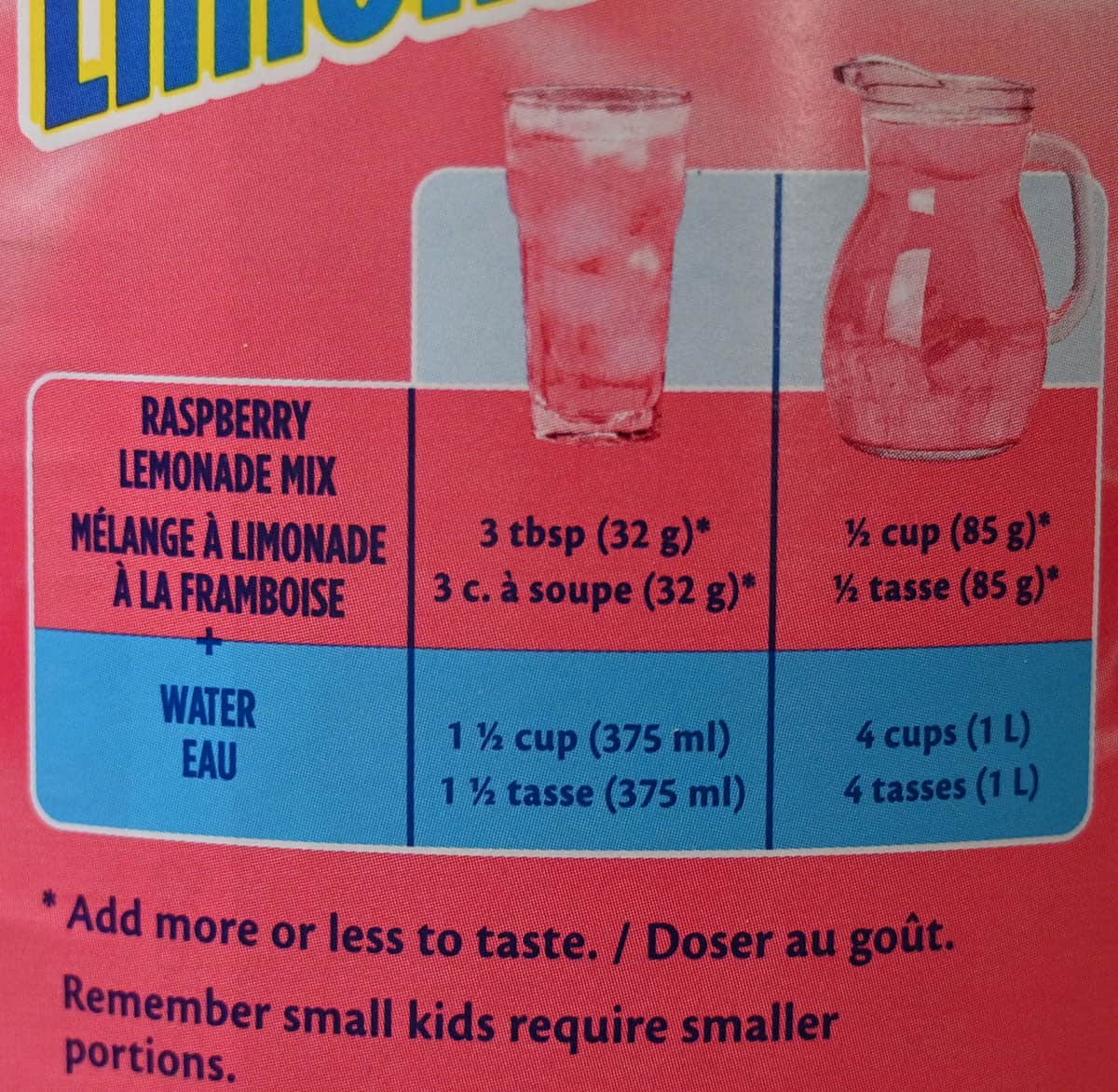 To prepare the raspberry lemonade, mix the powder with water. You can be creative with this raspberry lemonade and make homemade popsicles out of it, use it for a punch, or even make your own cocktails with it.
This raspberry lemonade from Costco has a best before date that's 23 months from when we purchased it and needs to be stored in a cool, dry place.
Nutrition
Calories
Three tablespoons of powder has 130 calories, zero grams of fat, 32 grams of carbohydrates, zero grams of fibre, 30 grams of sugar, zero grams of protein and 40 milligrams of sodium. This is basically a powder sugar with flavor. It's full of carbohydrates and 30 grams of sugar is a lot!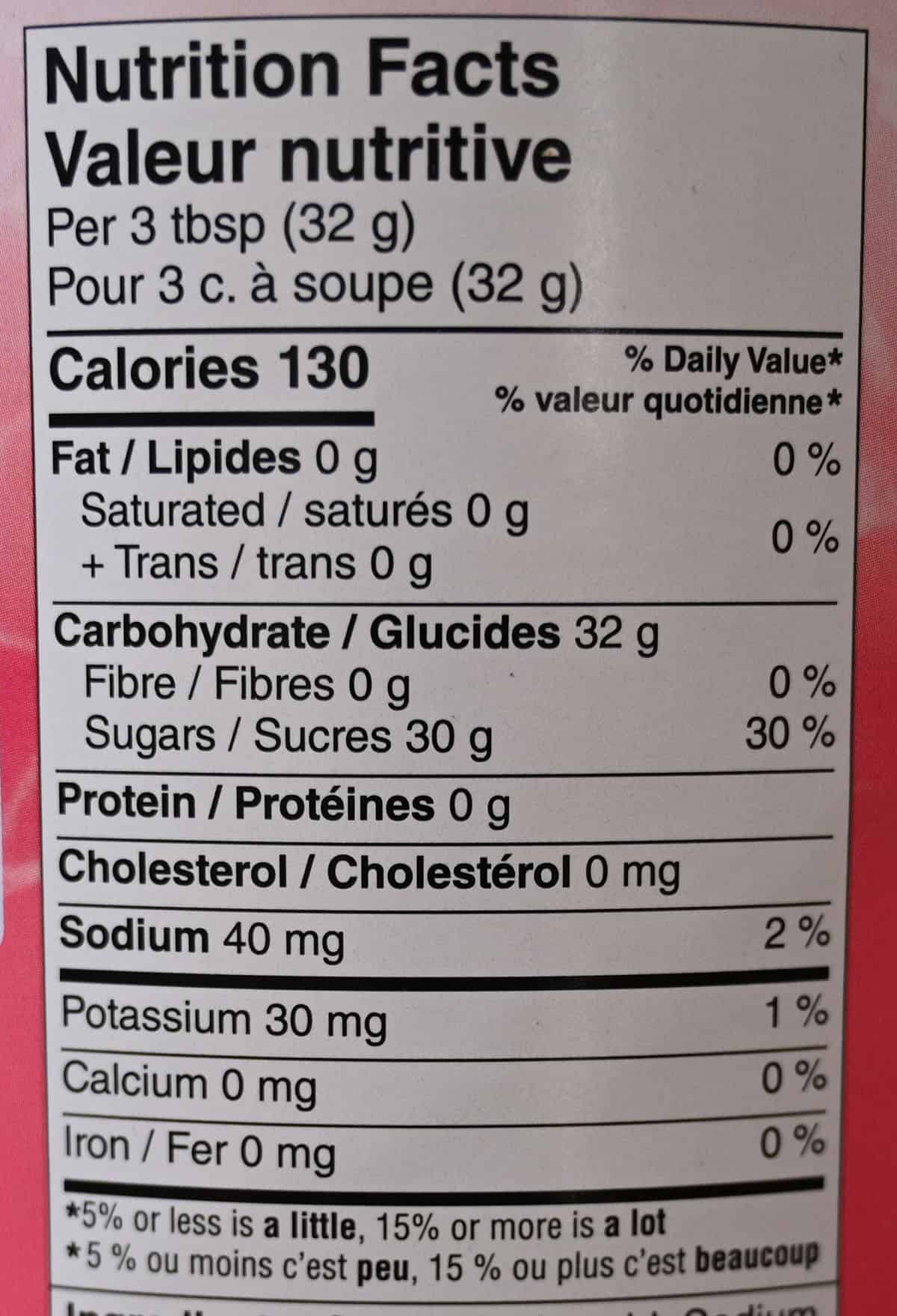 Ingredients
When I was a kid I used to drink iced tea made from powder every day and I'd add so much powder that there would be a bit of sludge in the bottom that I'd eat with a spoon. Very gross I know, but I never once thought how unhealthy that was! Powders like this have literally no nutritional benefit, the first ingredient is sugar.

Scoring
Taste: 6/10
Cost: 9/10
Convenience: 10/10
Nutrition: 0/10
Overall
Walk on by!
For the amount of sugar and carbohydrates, I'd much rather have freshly squeezed lemonade or even a sugary Starbucks drink.
Have you tried this? What did you think of it?
---
Please note that this review was not paid for or sponsored by any third party. This product was purchased by Costcuisine for the purpose of producing this review. The opinions in this review are strictly those of Costcuisine. Costcuisine is not affiliated with Costco or any of its suppliers. In the event that Costcuisine receives compensation for a post from the manufacturer of a product or some other third party, the arrangement will be clearly disclosed (including where the manufacturer of a product provides Costcuisine with a free sample of the product).