Finding the perfectly ripe fresh mangoes and cutting them up can be a lot of work. Buying these Costco Kirkland Signature Organic Dried Mangoes is an easy and convenient way for mango fans to curb their cravings and enjoy sweet and chewy dried mango anywhere and anytime! As someone who is a bit of a fruit snob, what are my thoughts on these Costco packaged dried mangoes?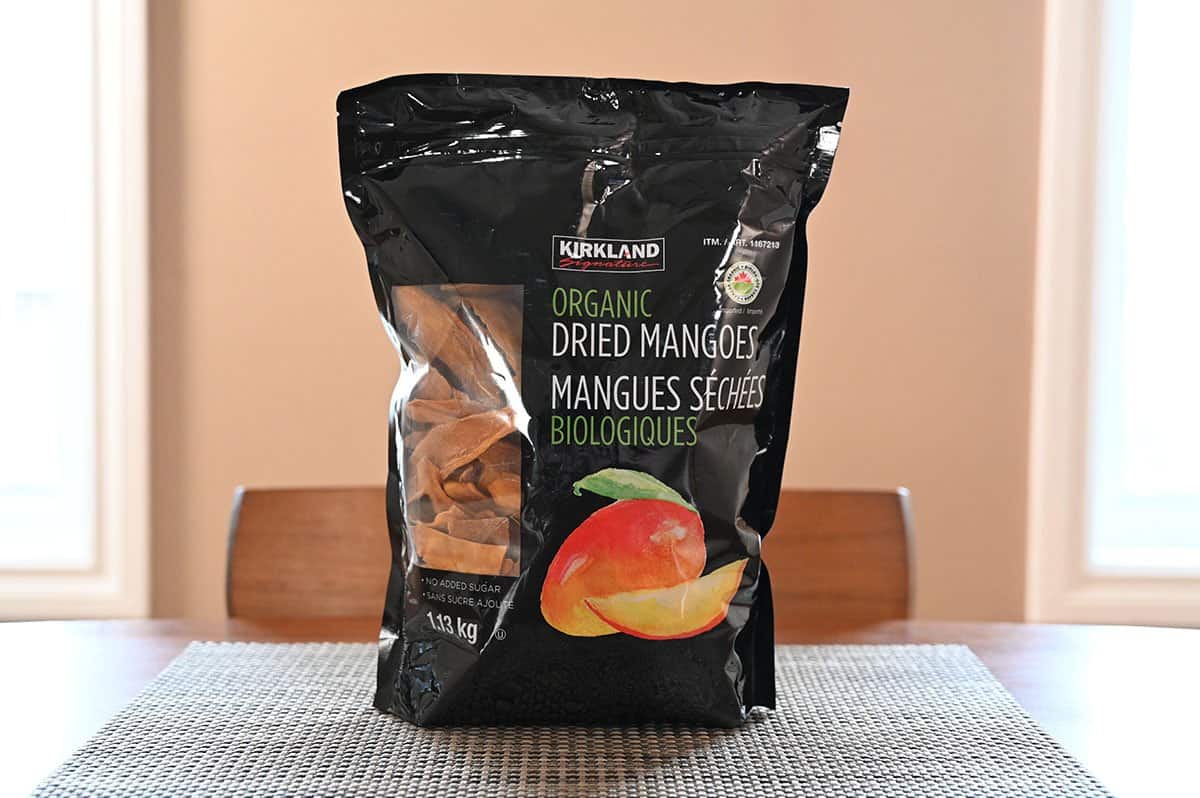 Both of us love fresh mango and I often buy big cases! One thing I'm not very good at is cutting mango and I'm always disappointed when I cut into a mango and find it's gone all brown and bad. The Costco Kirkland Signature Organic Dried Mangoes are convenient because there's no cutting required and all the pieces are perfectly ripe.
Other fruit containing product reviews I've done on the blog are the Costco Vonbee Passionfruit Honey Puree, Costco Welch's Fruit Snacks, Costco That's It Fruit Mini Bars, Costco Martin's Crispy Apple Chips, Costco Kirkland Signature Dark Chocolate Covered Mangoes and the Costco Wish Farms Pink-A-Boo Pineberries.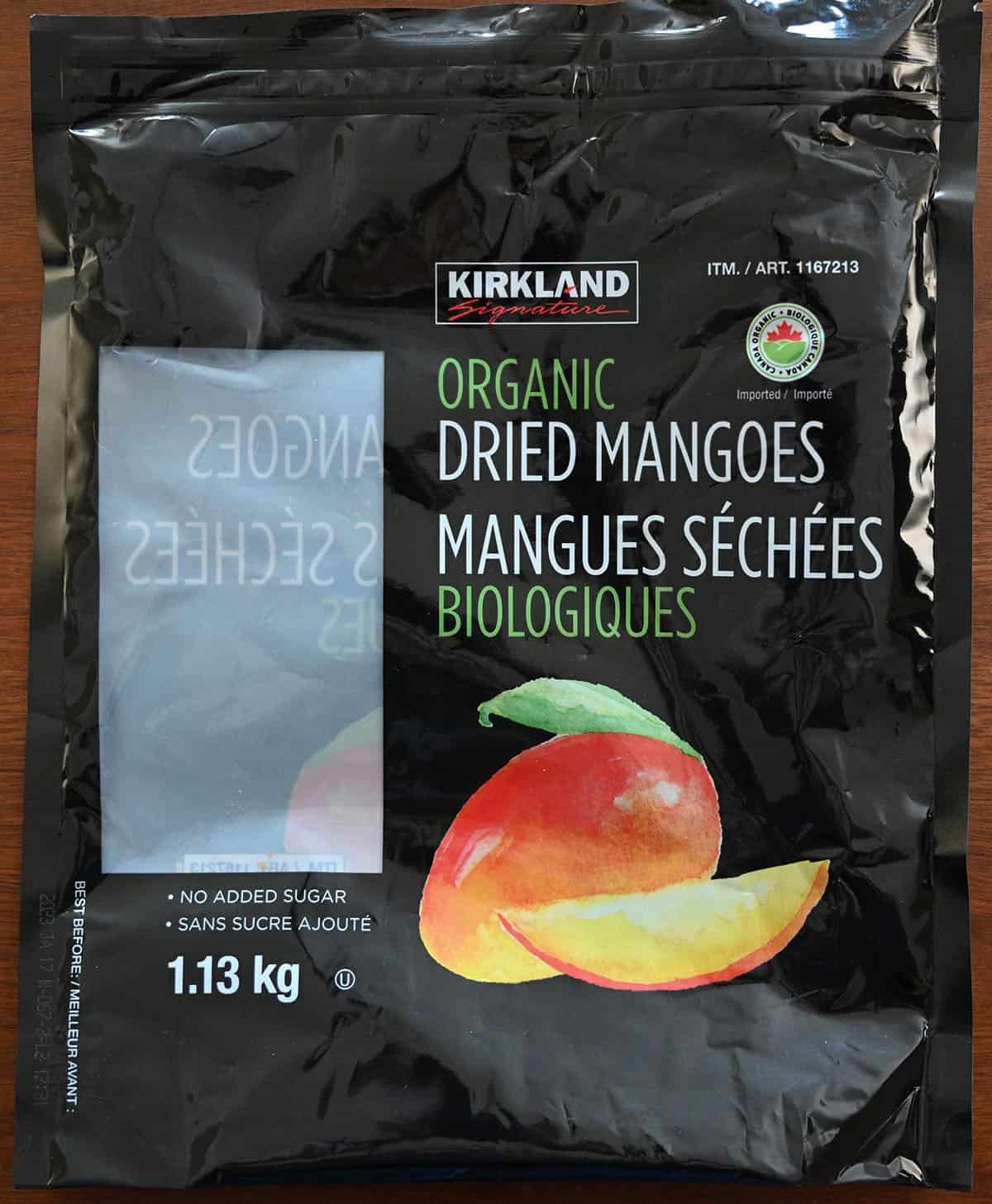 Location in Store
You can find the dried mango with the other dried fruits like figs, it's in the aisle near the front of the store that has a peanut butter and jams. The item number is 1167213.
Taste
First of all, these are not comparable to fresh, juicy mango! I do like them though. They're sweet pieces of very chewy organic dried mango. The pieces of mango come in all different shapes and sizes. If you like the flavor of mango you'll love the taste of these. There's nothing added to them, just dried organic mango that actually tastes very natural and not overly sweet at all.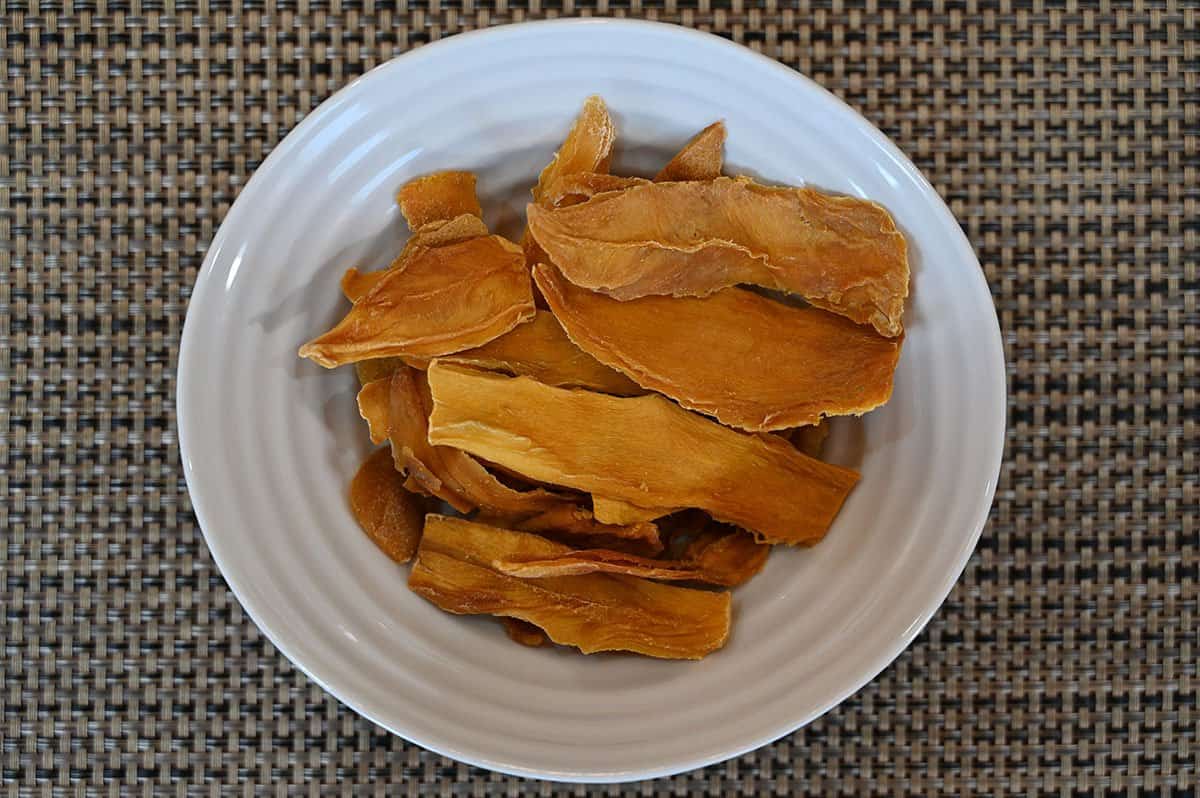 Some people (like my dad) don't enjoy the texture of fresh soft mango, he finds it too mushy. So if you enjoy the flavor of fresh mango but not the texture these might be something work checking out. One thing I don't love is how tough and chewy they are, I was expecting a bit of chewiness due to all dried fruit being kind of chewy and tough but my bag seemed to be extra hard.
Cost
This big bag of dried organic mangoes is not cheap. $22.99 Canadian for a 1.13 kg bag. Mangoes in general aren't cheap though.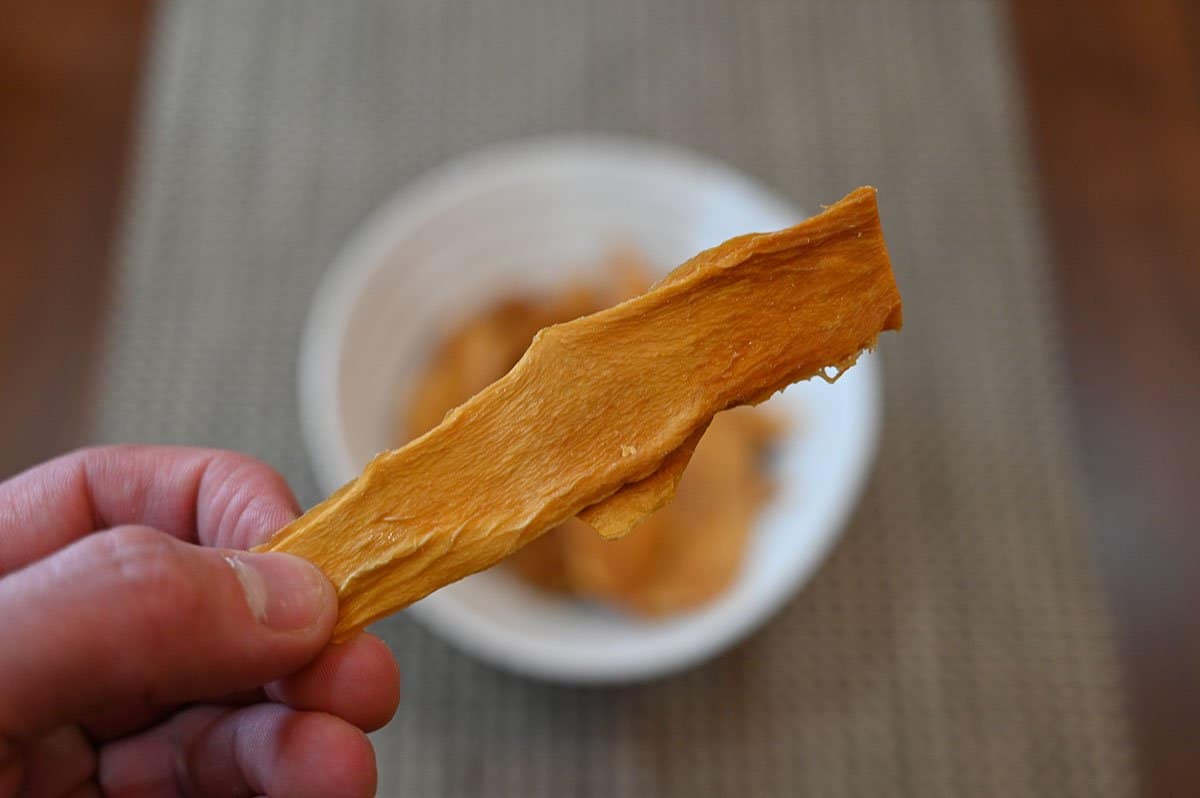 Convenience
These are a super convenient snack or dessert or addition to your breakfast! The bag reseals so the mango stays fresh and all you have to do is open the bag and enjoy! The best before date on the mangoes is about nine months from the date they were purchased.
Organic dried mangoes are great for camping, going to the beach, bring to work to snack on or just having around the house to enjoy.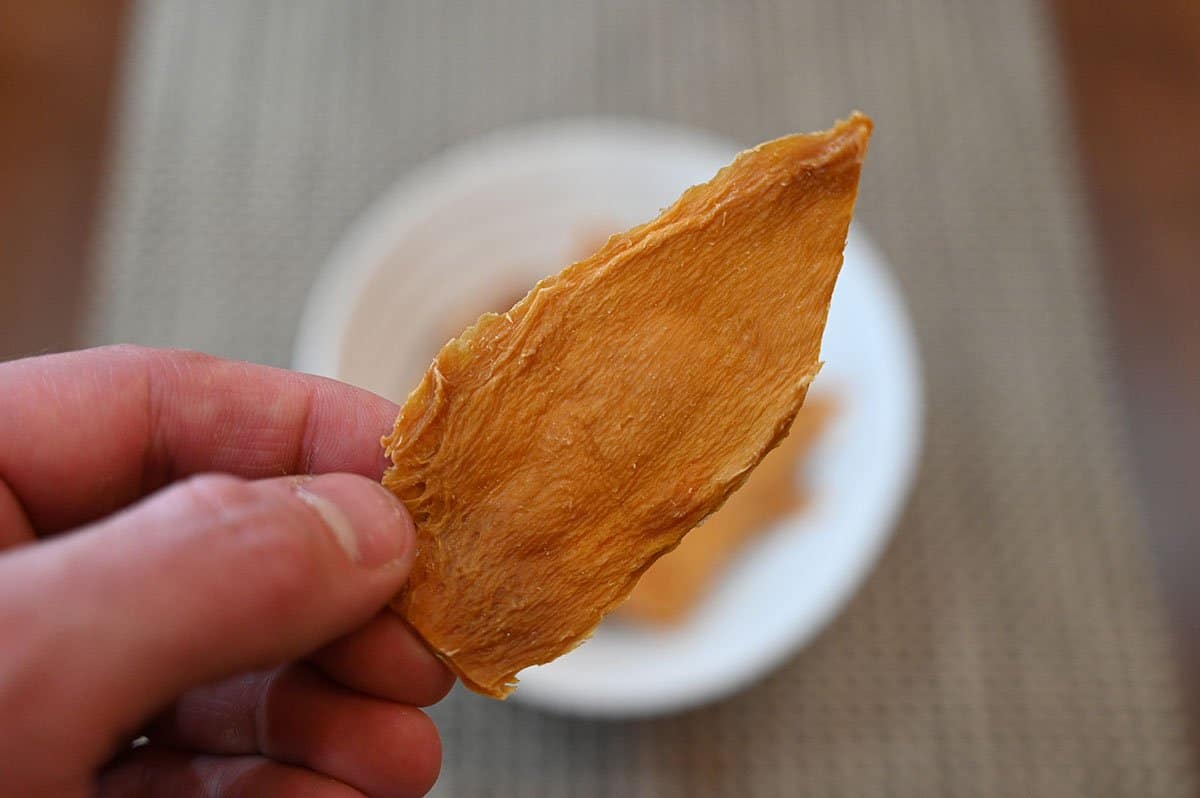 Nutrition
Calories
These are full of natural sugar. There's no added sugar but if you're closely watching your sugar intake you may want to steer clear of these. A one third cup serving is 130 calories, zero grams of fat, 31 grams of carbohydrates, three grams of fibre, 24 grams of sugar, one gram of protein and zero milligrams of sodium.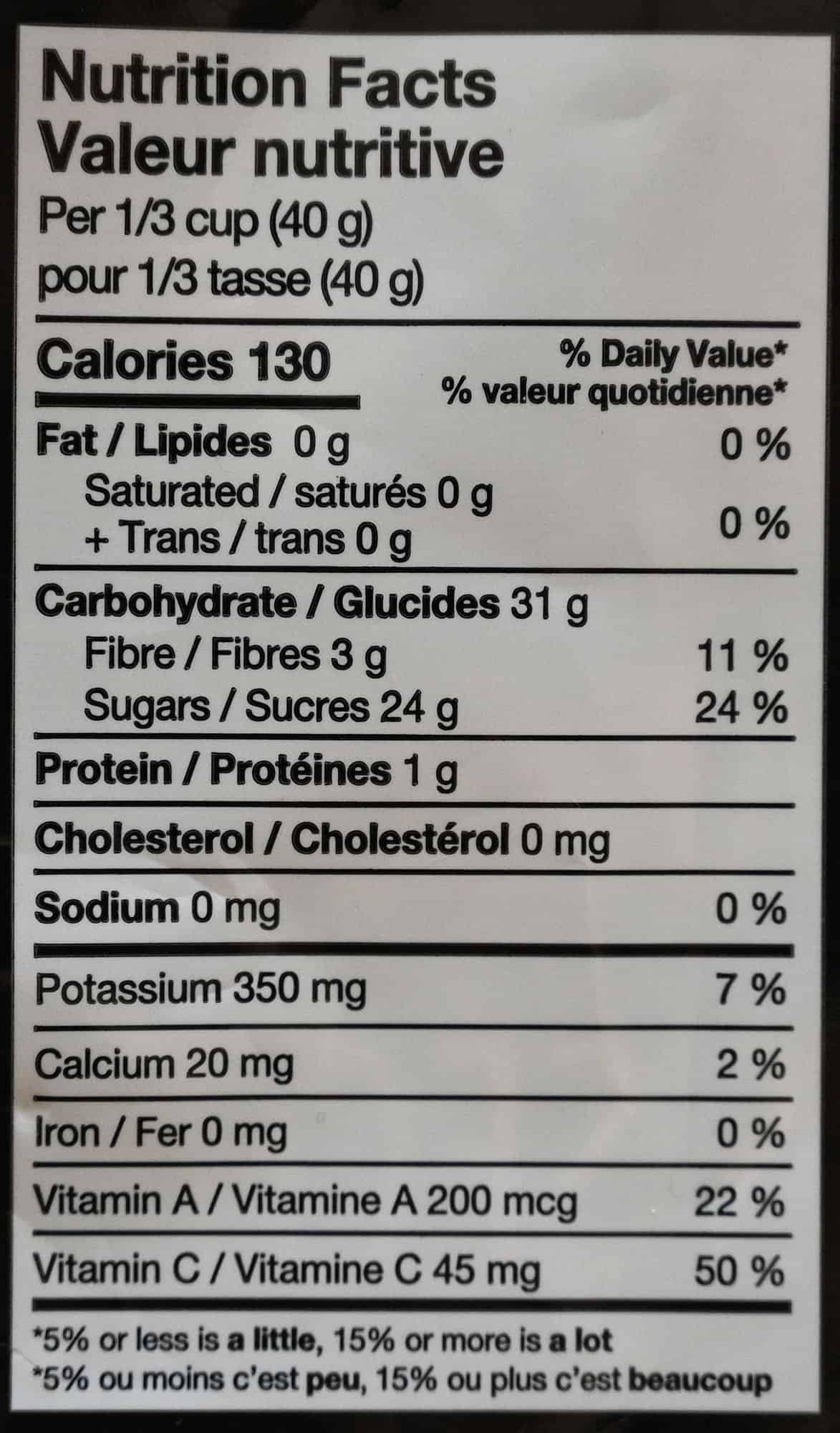 Ingredients
It doesn't get any simple than this, there's one ingredient only, organic dried mangoes! Mango is a great source of vitamin C, magnesium and potassium!

Scoring
Taste: 8/10 I love the flavor but don't how chewy they are!
Cost: 5/10
Convenience: 10/10
Nutrition: 9/10 Just watch how much you eat because there's a lot of natural sugar!
Overall
Give it a try!
If you like the flavor of mango but don't love cutting them up and waiting for them to ripen then this is a good alternative!
Have you tried these dried mangoes from Costco? What did you think of them?
---
Please note that this review was not paid for or sponsored by any third party. This product was purchased by Costcuisine for the purpose of producing this review. The opinions in this review are strictly those of Costcuisine. Costcuisine is not affiliated with Costco or any of its suppliers. In the event that Costcuisine receives compensation for a post from the manufacturer of a product or some other third party, the arrangement will be clearly disclosed (including where the manufacturer of a product provides Costcuisine with a free sample of the product).