Whatever sweets you have left in your pantry, just thow them in these cookies!
Please note that this review was not paid for or sponsored by any third party. The opinions in this review are strictly my own. I am not affiliated with Costco or any of its suppliers. I am just a fan of the company. I write these honest reviews to help my fellow shoppers.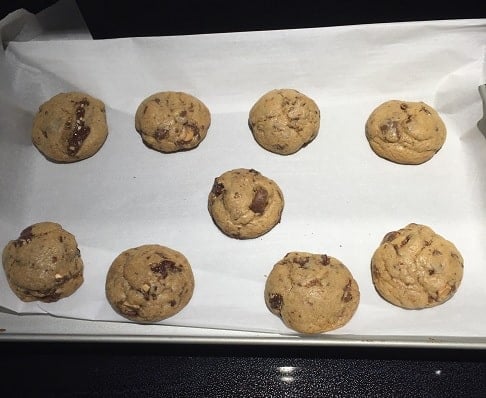 Have you ever opened your pantry to find that massive bag of nuts, 1/4 lb giant peanut butter cup, Icy Squares or a Toblerone bar from Christmas or chocolate covered something from Costco and then wondered what you can do with it to not waste it before the expiry? This cookie recipe I find goes well with all sorts of treats. Chocolate covered raisins/almonds, nuts, dried fruit, M&M's, peanut butter cups, leftover Halloween candy. You name it, it works. Recently I made cookies with the Edward Marc Milk Chocolate Toffee Covered Almonds, Almond Nuggets In Dark Chocolate and barkTHINS snacking chocolate all from Costco.
Ingredients:
1 egg
1 tsp vanilla extract
2/3 cup unsalted butter
1 cup golden brown sugar, packed
1/2 tsp salt
1/2 tsp baking soda
3/4 tsp baking powder
1 and 3/4 cup all purpose flour, spooned into the cup and leveled.
1 and 1/2 cups chocolate, nuts or dried fruit of your choosing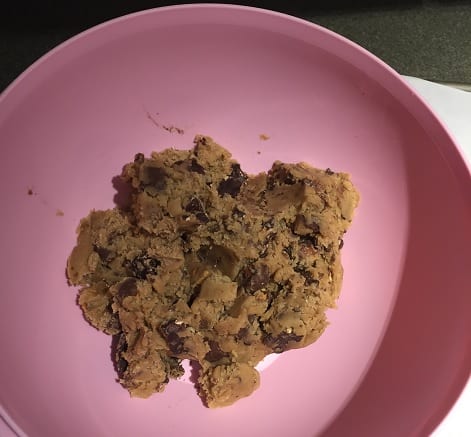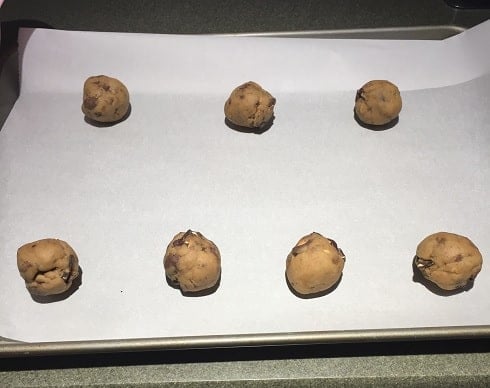 Directions:
Using either a stand mixer or hand mixer cream together butter, vanilla and brown sugar until creamed well (1-2 minutes)
In a medium sized bowl combine dry ingredients and mix together with a spoon or whisk.
Add your egg to creamed butter and mix until just incorporated.
Add dry ingredients to wet and mix just until the flour is well blended and you see no more flour chunks or white.
Use a spatula and fold in your chocolate, nuts, candy.
Chill dough for about half an hour in the fridge, cover with saran wrap.
Preheat oven to 350, Using your hands, a spoon or cookie scoop make dough balls about 1.5-2 tbsp. Roll the balls with your hands and place the balls on a parchment lined cookie sheet.
Bake in preheated oven for 12 minutes if you like softer cookies and about 14 minutes if you like harder/crispier cookies.
Cool on cookie sheet for 5 minutes before transferring cookies to cooling rack.
Any questions? Let me know!