Costco carries both salty and sweet snack options to satisfy shoppers' cravings. The Parm Crisps Snack Mix combines a few popular flavors – ranch, parmesan cheese, salt and nuts. Is the resulting taste greater than the sum of its parts, or it is overkill?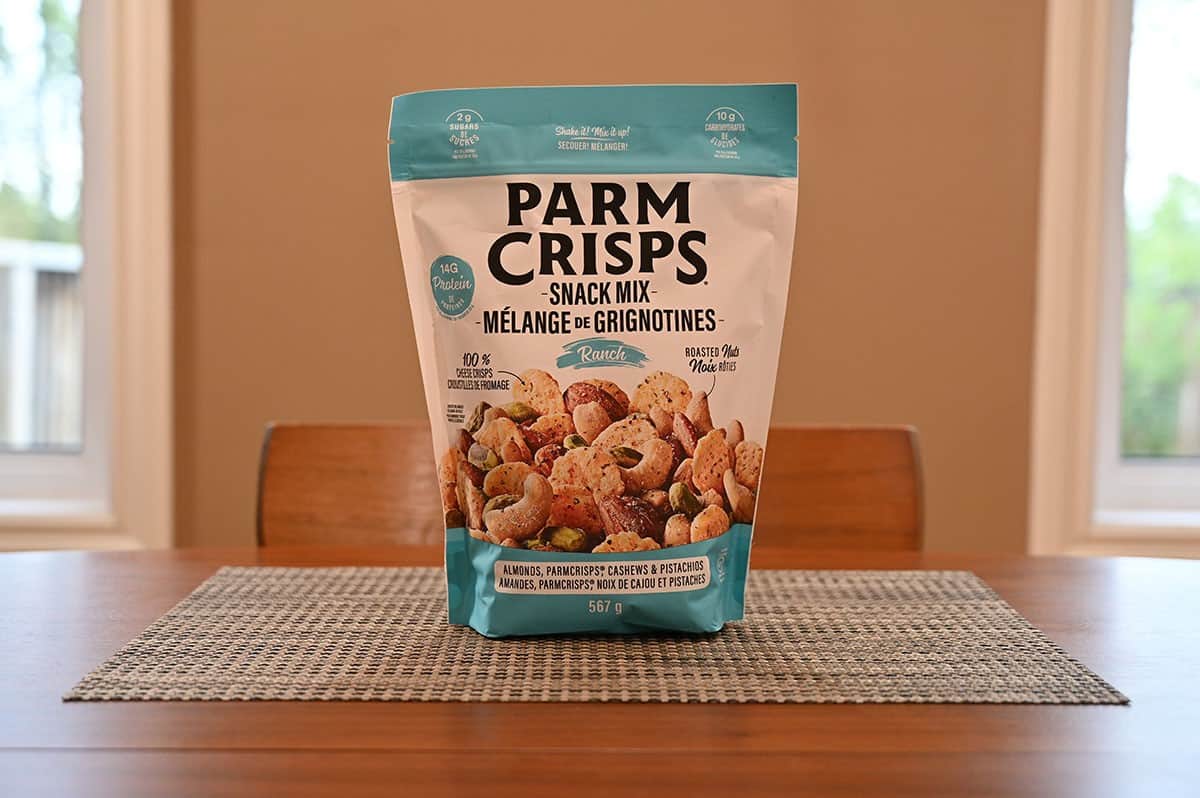 When we're at Costco I always wander off to check out the snack section. I'm always excited to find a new snack that I haven't seen before. My latest snack section purchase is this Costco Parm Crisps Ranch Snack Mix!
A few of the many snacks I've reviewed from Costco are the Costco MadeGood Star Puffed Crackers, Costco Moon Cheese, Costco Kirkland Signature Granola, Costco Kirkland Signature Kettle Brand Himalayan Salt Potato Chips and the Costco Miss Vickie's Spicy Dill Pickle Chips.
Location in Store
This snack mix can be found in the snack aisles at Costco, near the front of the store. The item number is 1496178.
Taste
First off, check out my review for the Costco Parm Crisps for an idea of what the little parmesan crisps in this mix taste like. This snack mix is basically a mix of nuts and parmesan crisps with a sour cream/ranch flavor. I say sour cream because there's a tangy sour cream flavor that is noticeably different than the ranch seasoning you can also taste.
The flavor from the parmesan cheese is more noticeable than both the ranch or tangy flavor so you have to like parmesan cheese to enjoy these. The ranch flavor is noticeable but mild and tastes different than most ranch flavored foods, I wouldn't say it tastes like ranch to me but that's what the bag says.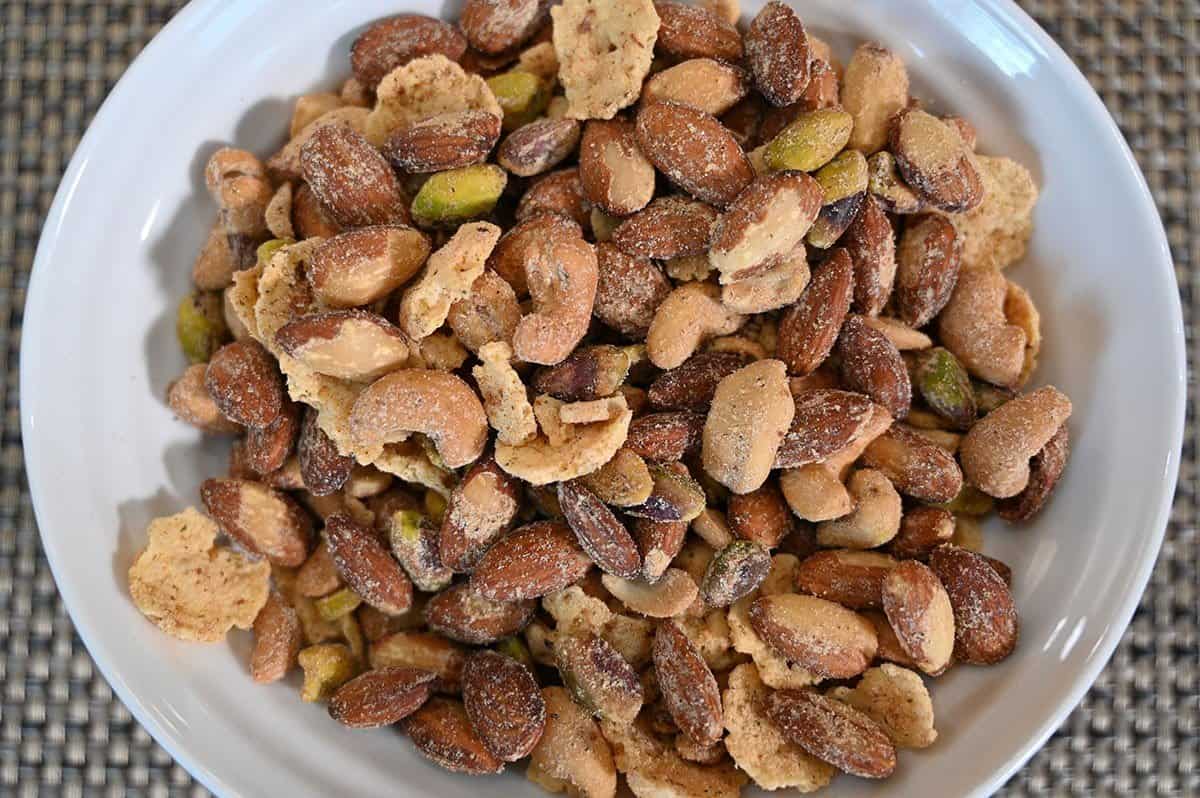 The nuts in the mix are cashews, almonds and pistachios. The parm crisps are little crispy pieces of parmesan cheese. The nuts are nicely coated with additional flavor from the seasoning.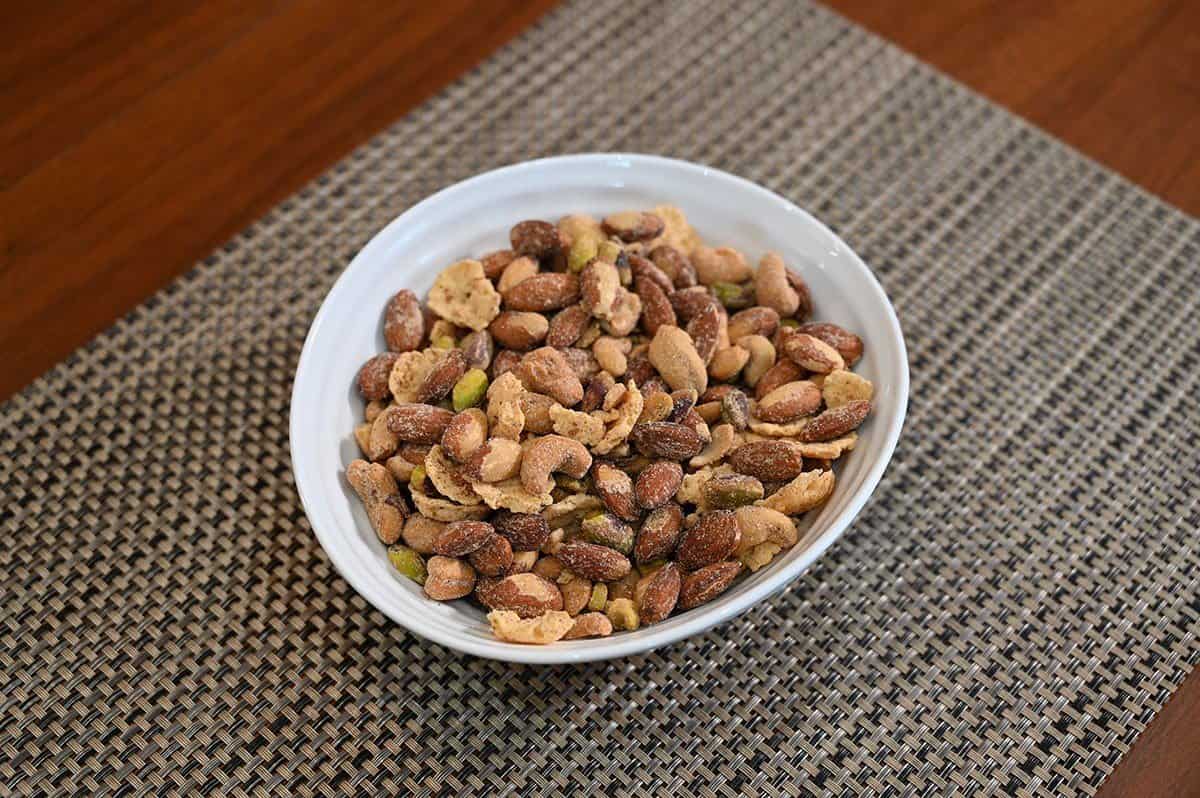 In summary, this is a satisfying, flavorful, tangy, cheesy nut mix with a nice amount of saltiness. One criticism is there are quite a few broken-up pieces and crumbs in the bag.
Cost
The 567-gram bag of Costco Parm Crisps Snack Mix costs $18.99 Canadian at Costco, which isn't very cheap, but remember that it's a mix of nuts and parmesan cheese crisps and neither ingredient is cheap.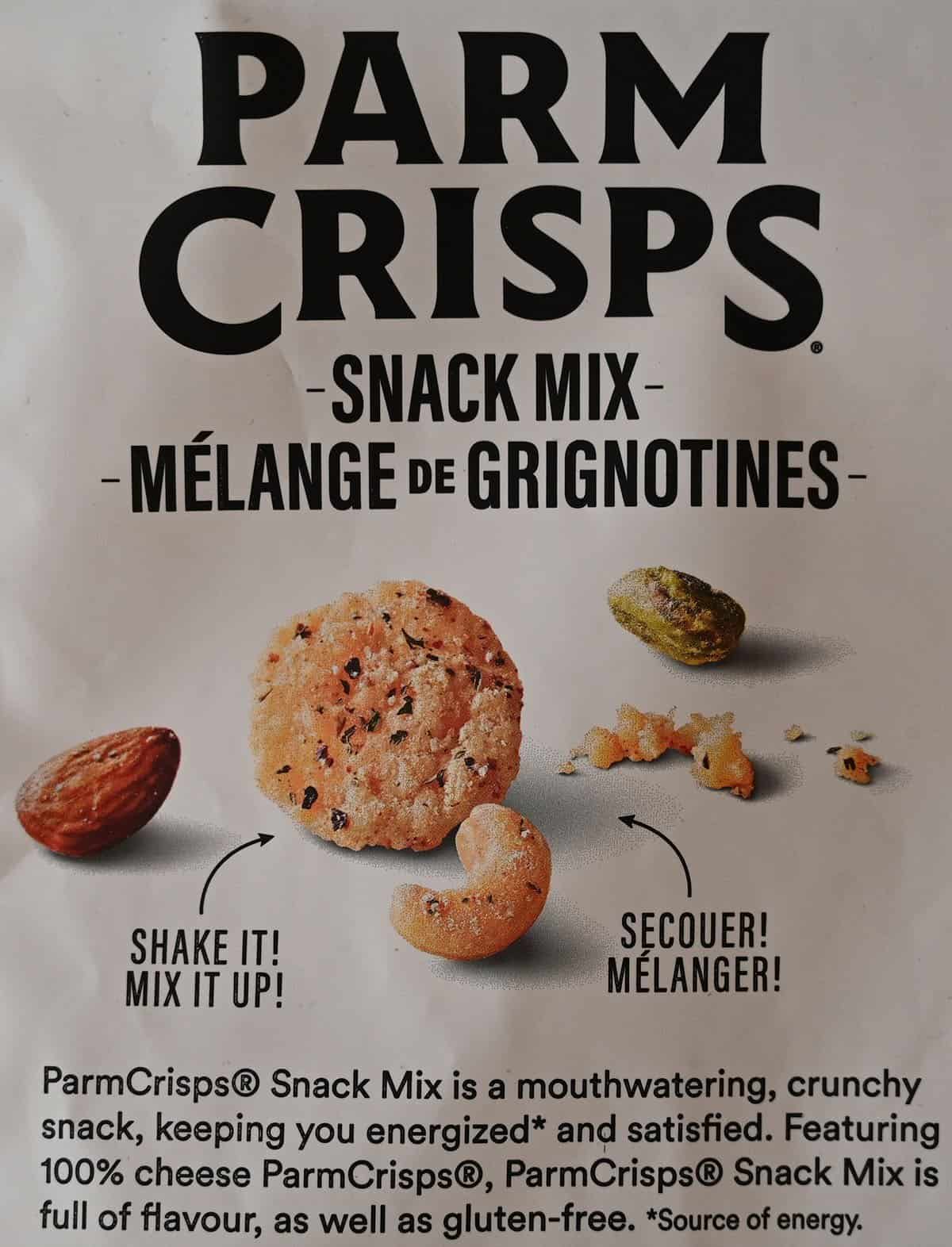 Convenience
This is a perfect mid-morning or late afternoon snack or would be great for a game or movie night with friends. You can also bring it camping or on a hike for a quick pick-me-up. I think it would be a good choice for someone on a low-carb diet.
The best before date is eight months from the date I purchased the bag and the bag reseals, which helps keep the mix fresh.
Nutrition
Calories
A half cup serving of snack mix contains 290 calories, 21 grams of fat, 10 grams of carbohydrates, three grams of fibre, two grams of sugar, 14 grams of protein and 250 milligrams of sodium. The high fat content is due to the nuts and cheese. I love that one serving has 14 grams of protein. The more protein, the more full you'll feel!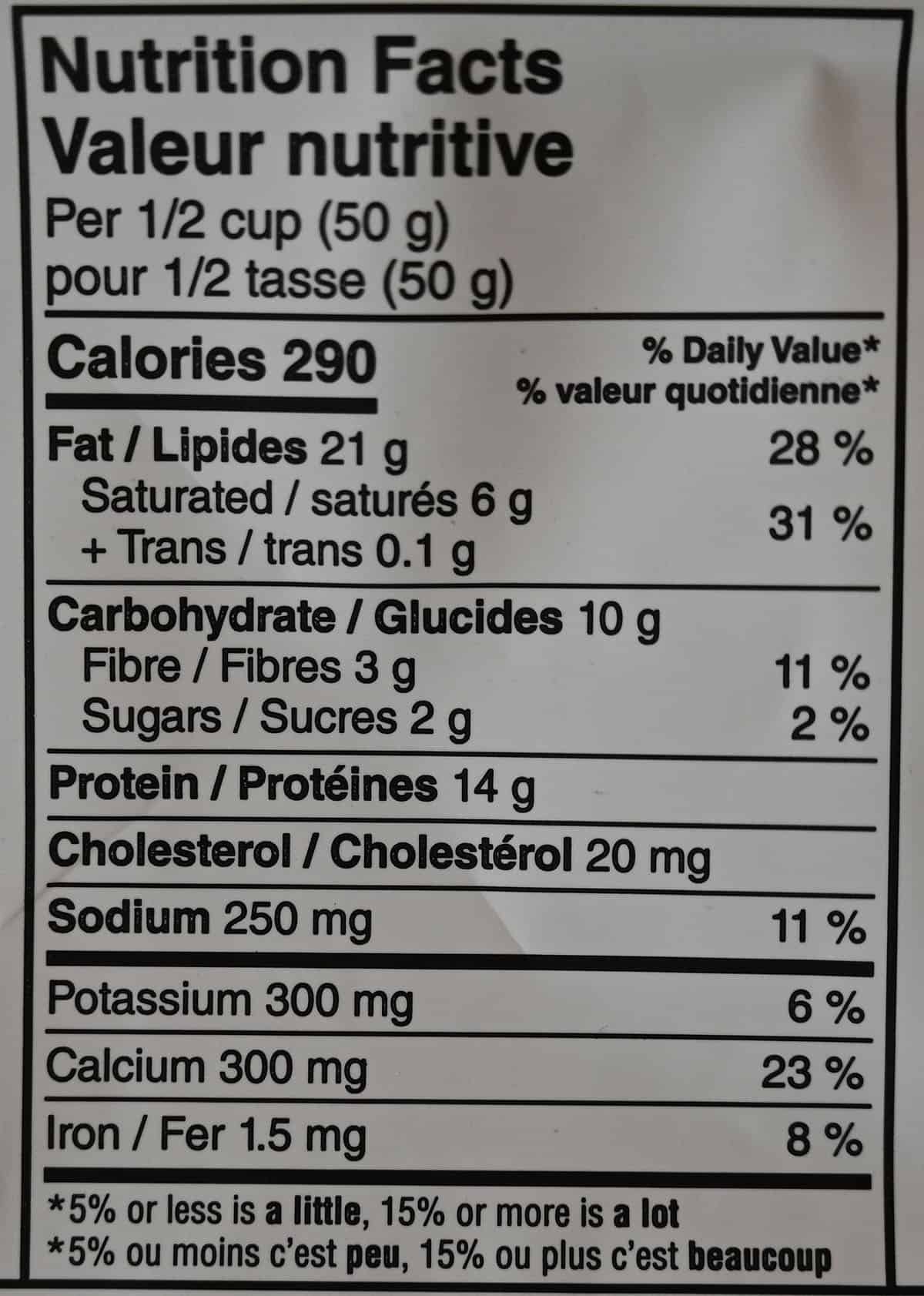 Ingredients
The mix is essentially made of nuts, parmesan cheese crisps and seasoning. It's not dairy-free but it is gluten-free as well as low in sugar and low in carbs!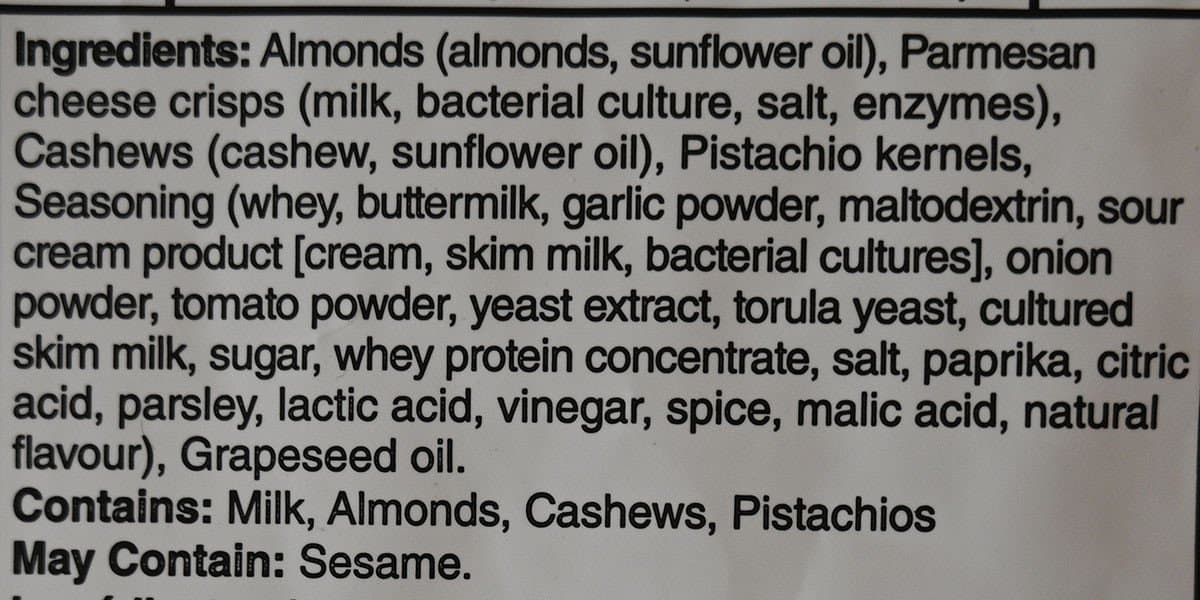 Scoring
Taste: 8/10
Cost: 6/10
Convenience: 10/10
Nutrition: 5/10 (It's high in calories and fat although healthy fats)
Overall
Give it a try!
I actually really like this mix and find it a bit addictive! It's perfect for a gluten-free or low-carb diet.
Have you tried this mix? What did you think of it?
---
Please note that this review was not paid for or sponsored by any third party. This product was purchased by Costcuisine for the purpose of producing this review. The opinions in this review are strictly those of Costcuisine. Costcuisine is not affiliated with Costco or any of its suppliers. In the event that Costcuisine receives compensation for a post from the manufacturer of a product or some other third party, the arrangement will be clearly disclosed (including where the manufacturer of a product provides Costcuisine with a free sample of the product).