Are you looking for a convenient and crunchy snack that's also gluten-free and dairy-free? The Costco MadeGood Star Puffed Crackers check all of these boxes, so when I saw them at my local warehouse, I knew I had to give them a try. A good snack has to be tasty and satisfying, so let's see if these crackers deliver on those requirements.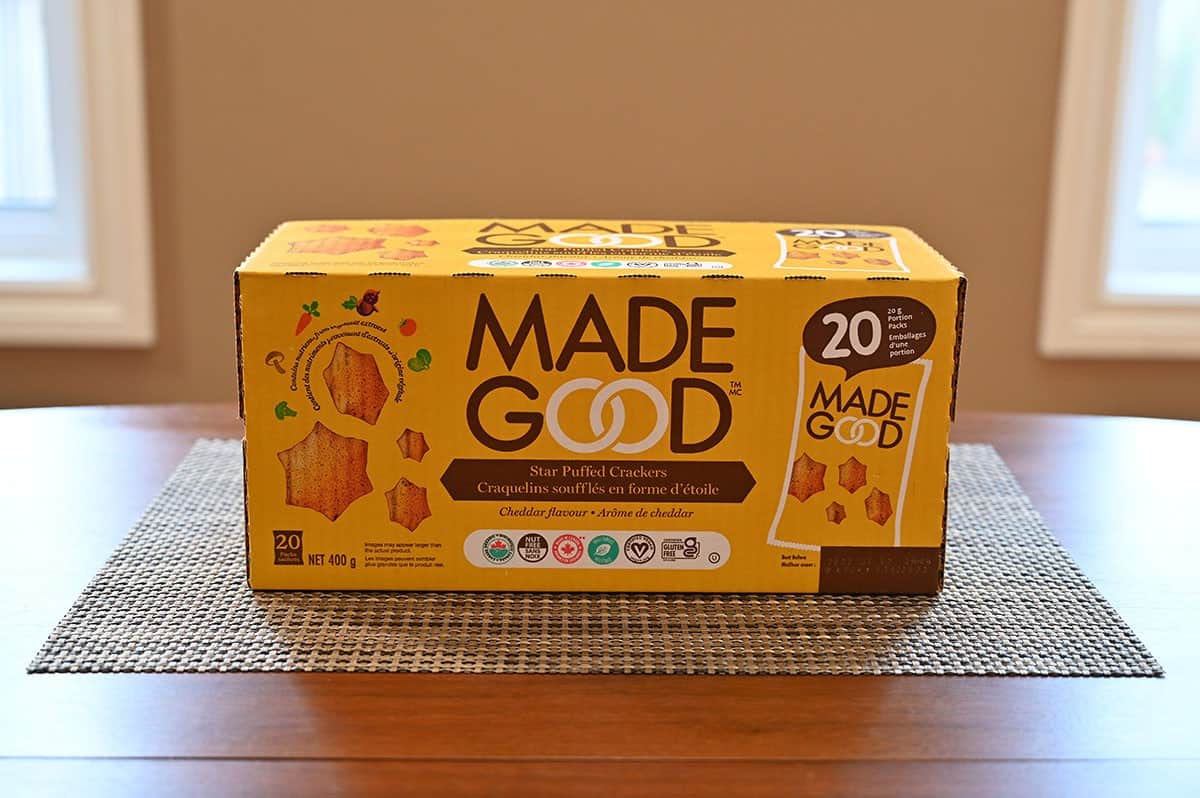 I love trying new snacks from Costco so of course I have to try these MadeGood Star Puffed Crackers in cheddar flavor. I'm especially curious to try them because most cheddar flavored crackers are not dairy-free!
Other crackers from Costco are the Costco From The Ground Up Purple Carrot Crackers, Costco innofoods Keto Crackers, Costco Simple Mills Almond Flour Crackers, Costco Mary's Organic Crackers,
Location in Store
You can find these crackers in the snack section at Costco, near the front of the store and by the granola bars etc. The item number is 1589207.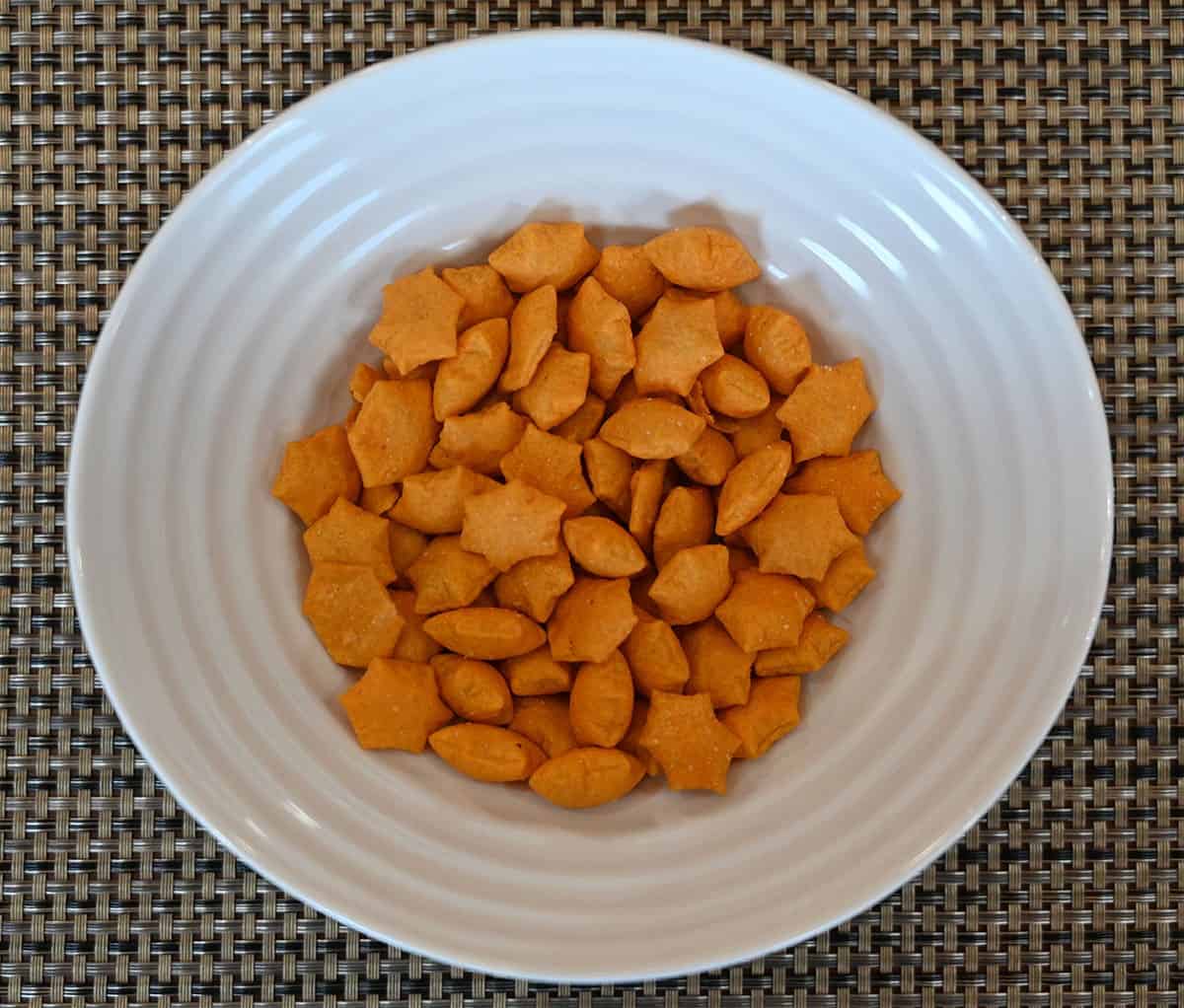 Taste
These MadeGood Star Puffed Cheddar Crackers are the cutest shape and size, they look like actual stars and are similar to the size of Goldfish Crackers. The flavor of the crackers is cheddar but there's no dairy in the crackers and they're plant-based. These don't taste at all like cheddar flavored crackers to me, in my opinion they have a butter flavor. Almost like a butter popcorn flavor! Overall the flavor isn't bad, it's just that any cheese flavor is undetectable in my opinion.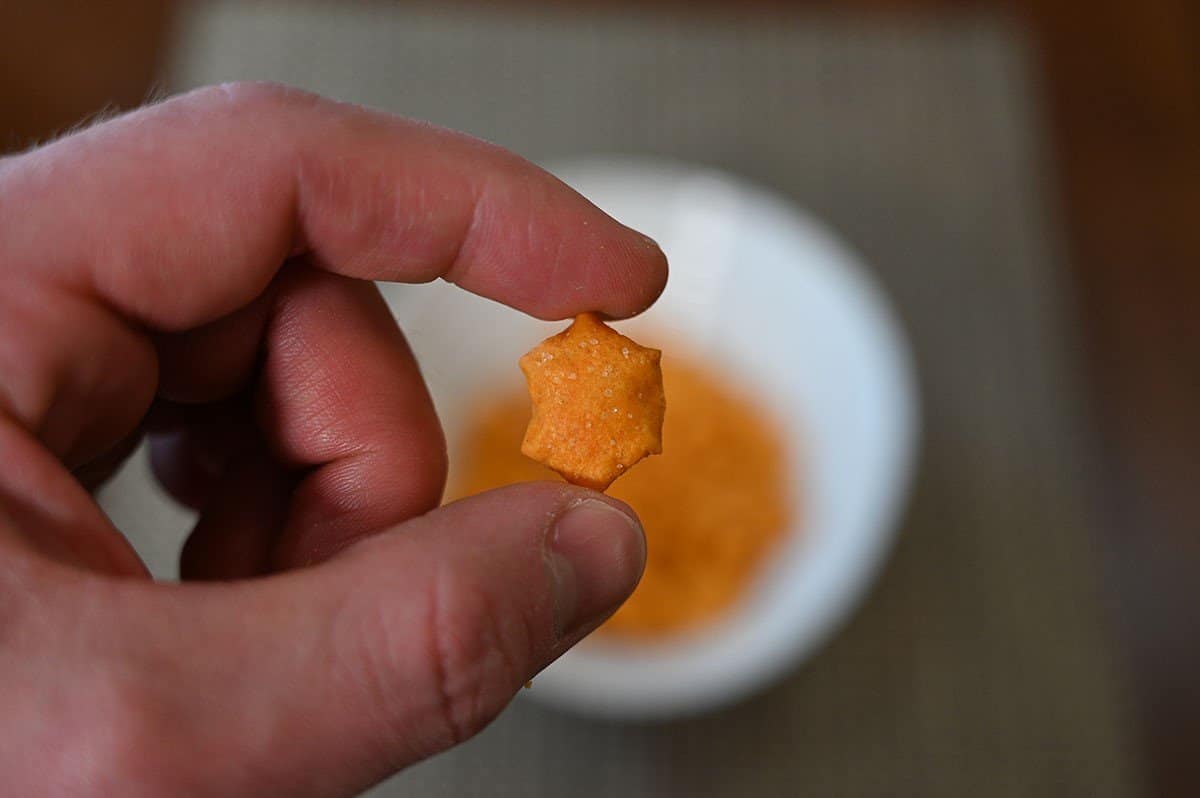 Although these crackers are gluten-free you can't really tell, they taste just like any other crackers that have wheat in them. You also can't taste the added vegetable extracts either really. I find the more you eat these the more addictive they become but I can't see myself craving them or reaching for a packet outside of this review.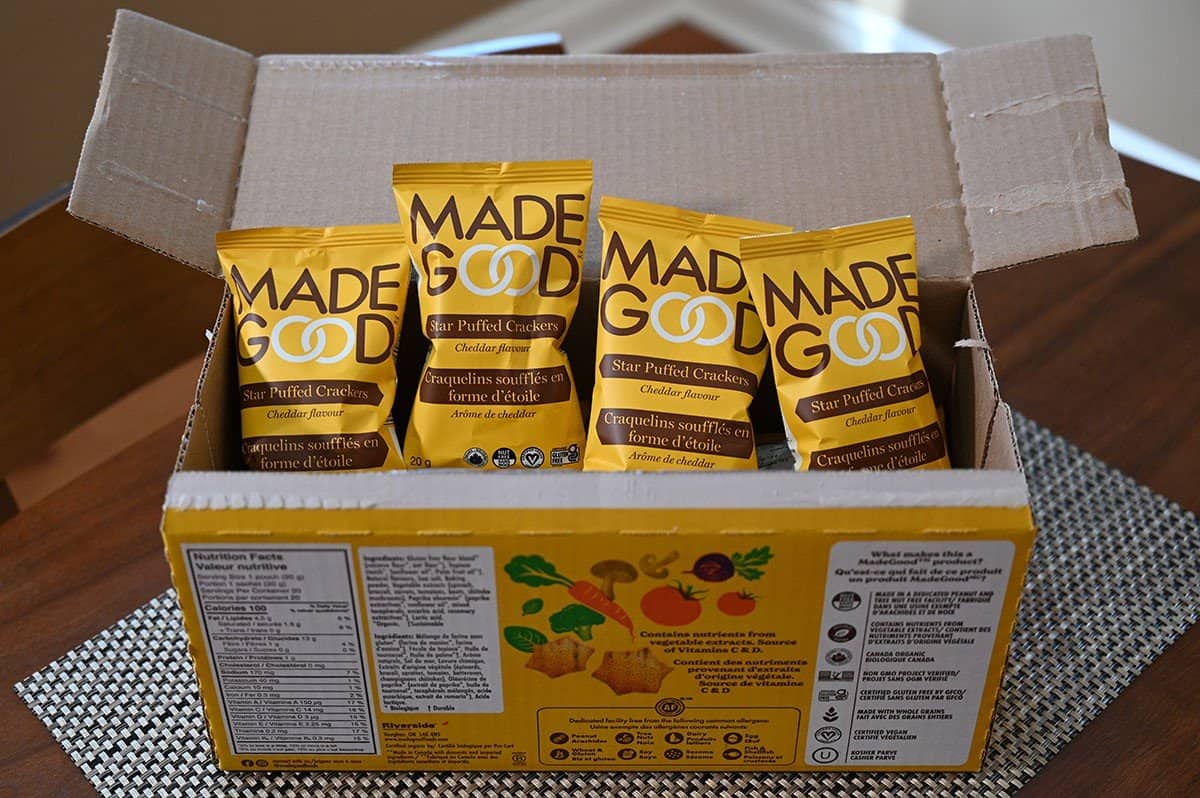 Cost
The 400 gram box contains 20 packets, each packet has a 20 gram portion inside and the cost at Costco is $10.99 Canadian. You're paying for the convenience of the crackers being portioned in individual packets.
For $10.99 Canadian you're not really getting a ton of actual crackers but you get 20 pouches!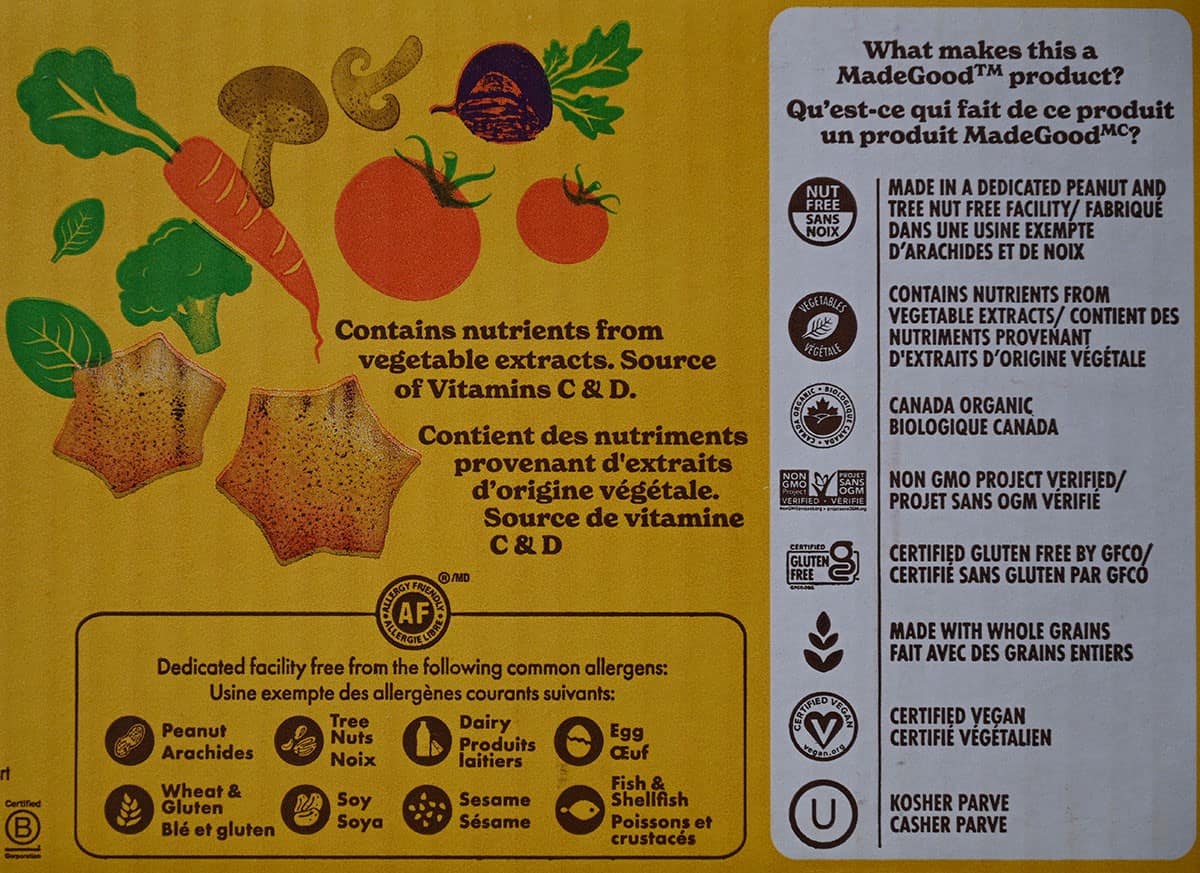 Convenience
The best before date on the crackers is eight months from the date I purchased them. Each 30 gram packet has just the right amount of crackers in them.

Although I don't absolutely love these I do think kids with gluten and dairy allergies would enjoy them. They're perfect for recess or lunch, an after school snack or for an adult to bring to work! The individual packaging makes it easy to control your portion as well as easily transport the crackers anywhere.
Nutrition
Calories
One pouch has 100 calories, four and a half grams of fat, 13 grams of carbohydrates. one gram of fibre, zero grams of sugar, one gram of protein and 170 mg of sodium. That's not much calories, fat, carbohydrates or sodium! You can feel good about your kids enjoying a packet of these at school or at home.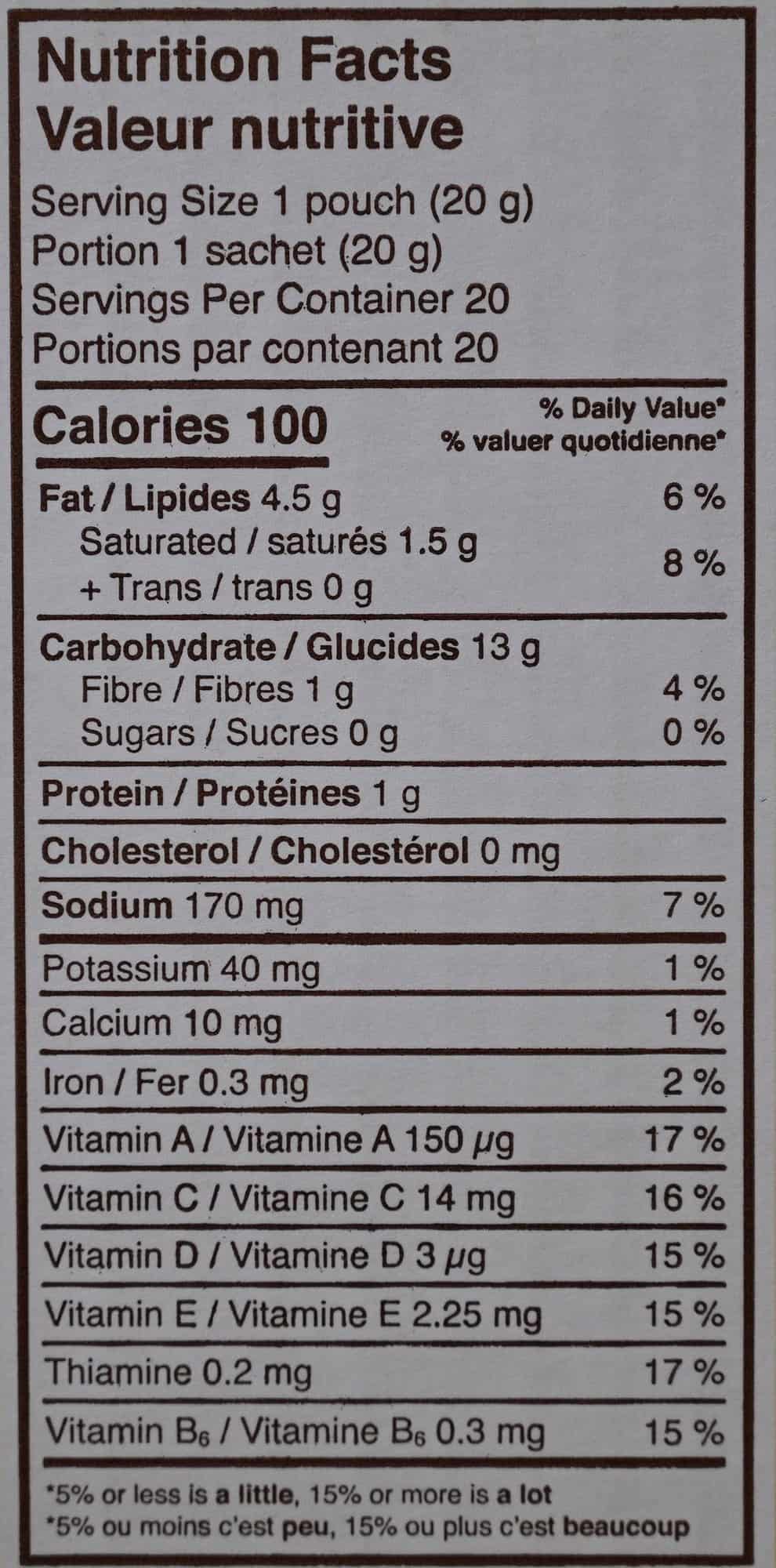 Ingredients
The ingredients are pretty typical for gluten-free crackers except for the added vegetable extracts which make these unique. The crackers are vegan, gluten-free, dairy-free, egg-free, peanut and tree-nut free, organic, kosher and non-GMO.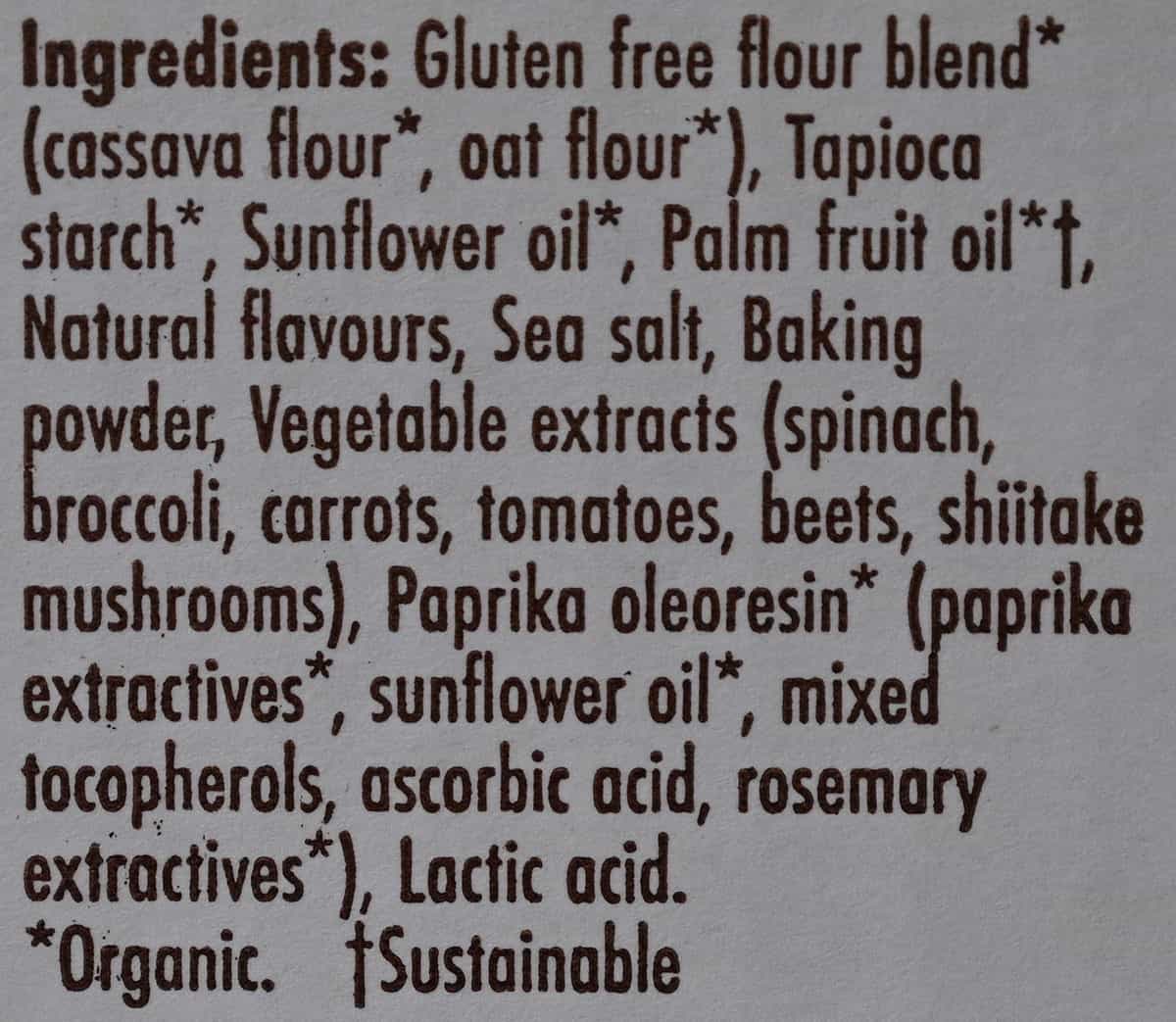 Scoring
Taste: 6.5/10
Cost: 7/10
Convenience: 10/10
Nutrition: 9/10
Overall
Give it a try!
Although I don't love the flavor or taste do recognize if you or your family is gluten-free and vegan these might be considered a tasty snack option compares to others. I'm curious to find out what you think!
Have you tried these MadeGood dairy-free, vegan crackers? What did you think of them?
---
Please note that this review was not paid for or sponsored by any third party. This product was purchased by Costcuisine for the purpose of producing this review. The opinions in this review are strictly those of Costcuisine. Costcuisine is not affiliated with Costco or any of its suppliers. In the event that Costcuisine receives compensation for a post from the manufacturer of a product or some other third party, the arrangement will be clearly disclosed (including where the manufacturer of a product provides Costcuisine with a free sample of the product).