Gluten-free and vegan, these ranch flavored crackers made from purple carrots are at Costco! They might just be the perfect snack you're looking for or perhaps they're not as tasty as they sound?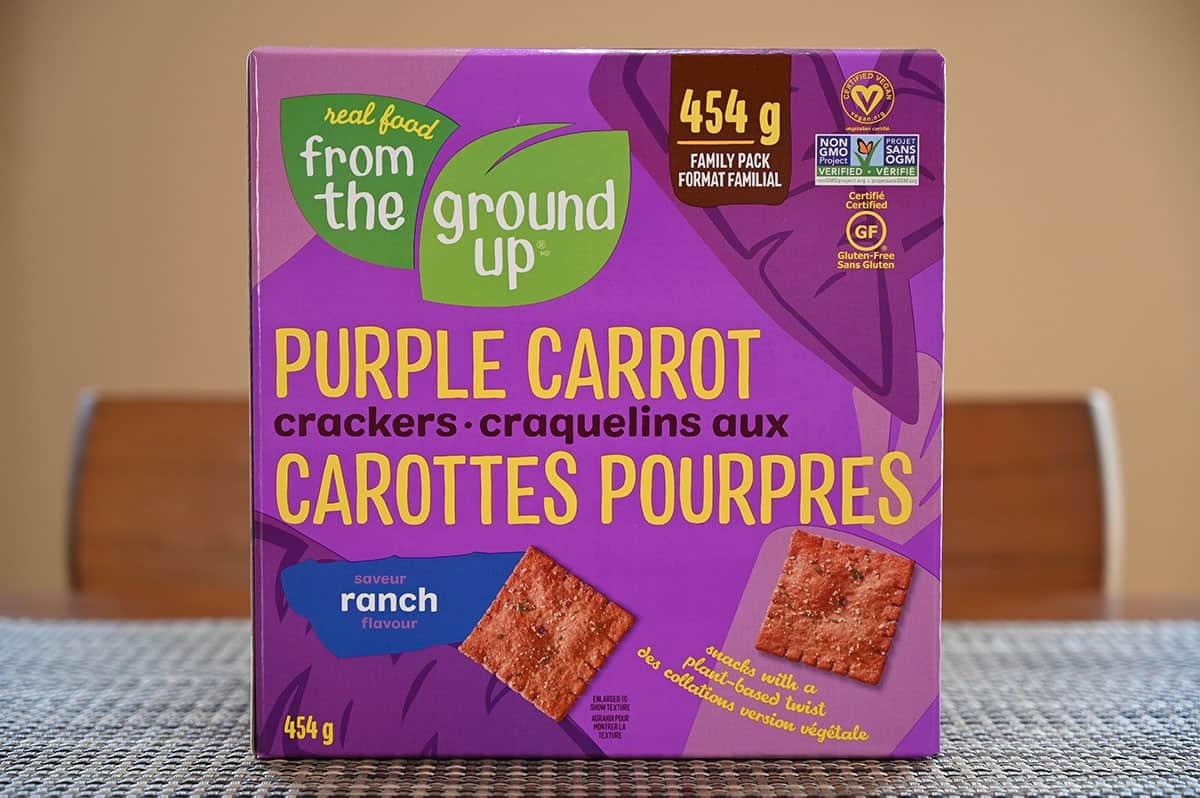 Today I'm reviewing the Costco From The Ground Up Purple Carrot Crackers! I found these on my most recent trip to Costco and the bright packaging caught my eye so I picked them up to review.
My all-time favorite gluten-free crackers at Costco are the Costco Simple Mills Almond Flour Crackers. Other gluten-free crackers are the Costco From The Ground Up Cauliflower Crackers, Costco Mary's Organic Crackers, Costco innofoods Keto Crackers and the Costco RW Garcia Organic Sweet Beetroot Crackers.
Location in Store
These are located in the middle of the store at my Costco. The item number is 1330473.
Taste
These are full of flavor! I have mixed feelings about these crackers. They've got an earthy, funky taste. When you eat one they're so unique in flavor that you want to eat a bunch more to figure out what you're tasting but I can't see myself craving ever craving these.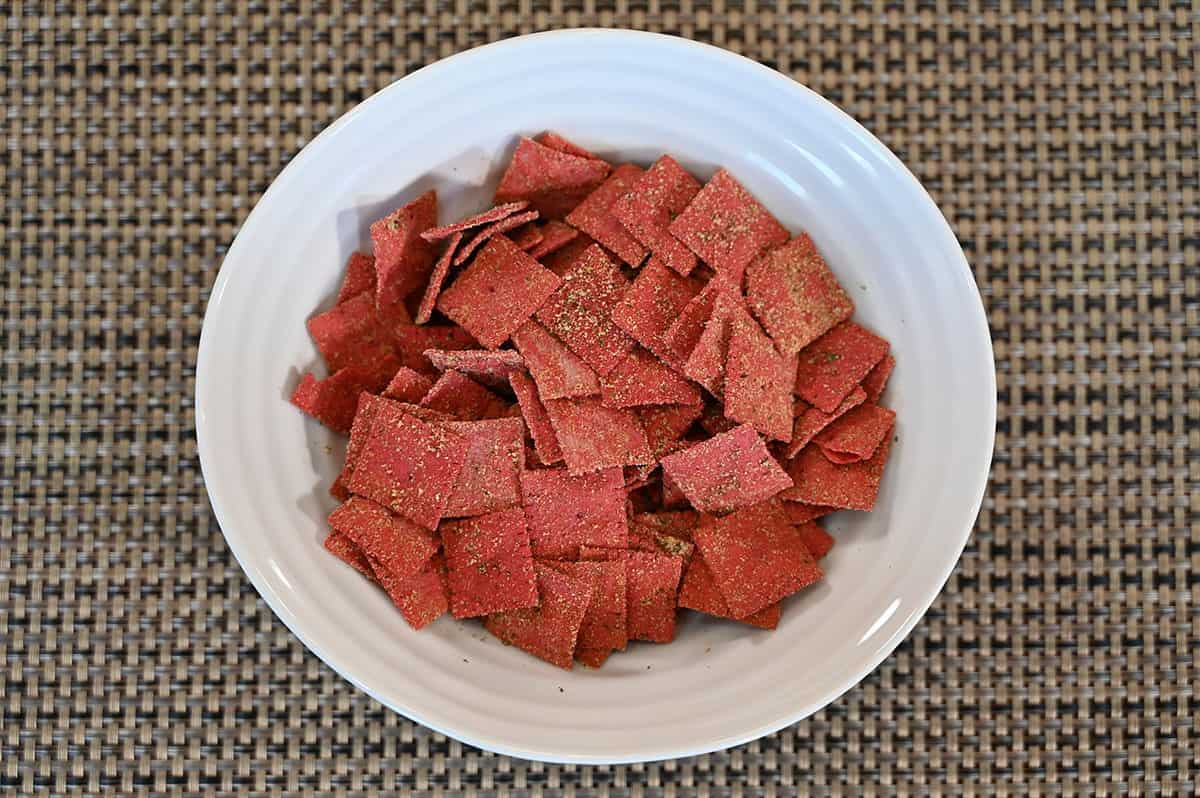 I like the crunchy texture of the crackers. I find they have a mushroom flavor which makes sense as shiitake mushrooms are listed on the ingredients. The mushroom flavor really turns me off these crackers, it's just not tasty. I can also taste strong garlic flavor and a slight hint of carrot. The ranch seasoning has a pretty powdery texture so it gets all over your fingers.
The ranch seasoning is what I don't like about these crackers. I would probably prefer them as just plain carrot crackers without any seasoning. The crackers are really small and the flavor is too overpowering to combine with dips or cheese.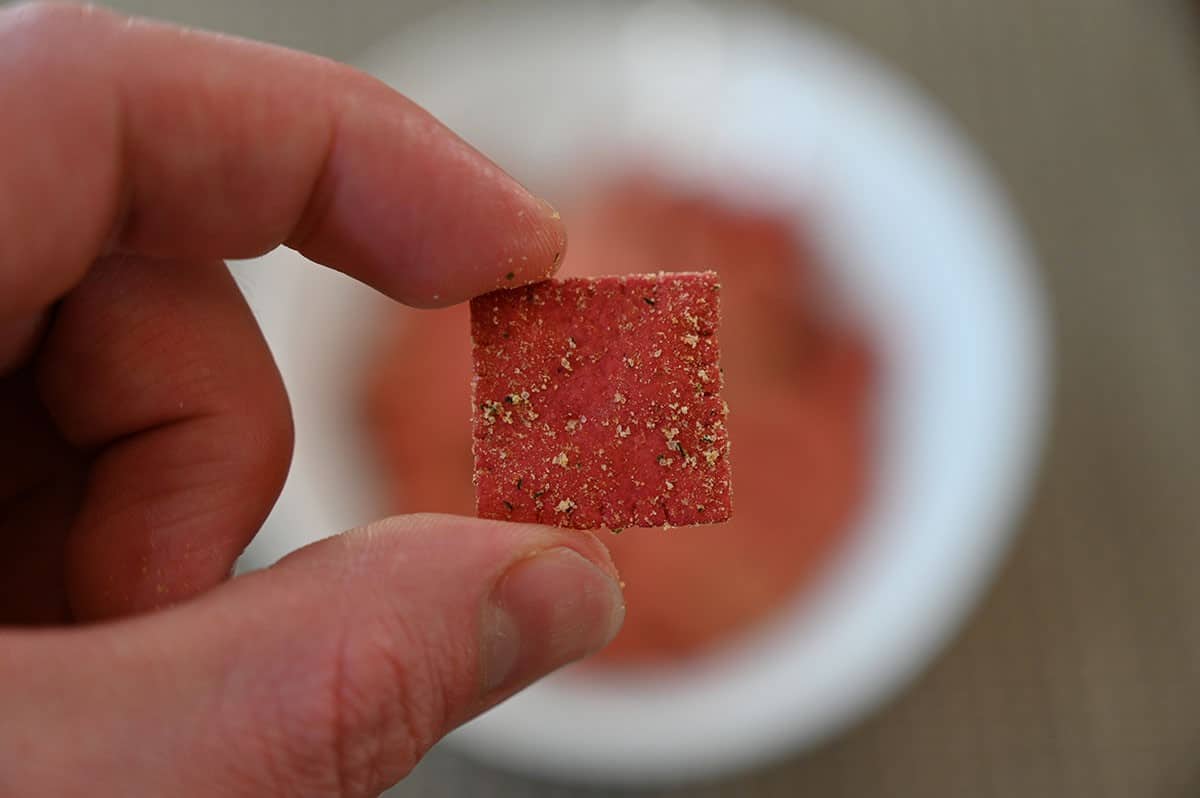 Cost
The crackers cost $8.99 Canadian for the 454 gram box with two separate bags of crackers. I have seen them on sale for as little as $5.99 at Costco.
Convenience
There are two small bags of crackers in the box, the bags don't reseal so I use an elastic or clothespin to seal them after opening. The crackers are small so even if they were something that would be tasty with dip they're not really the right dipping size.
The best before date is eight months from the date I purchased the crackers. If I thought these tasted better I'd say they would make a good snack!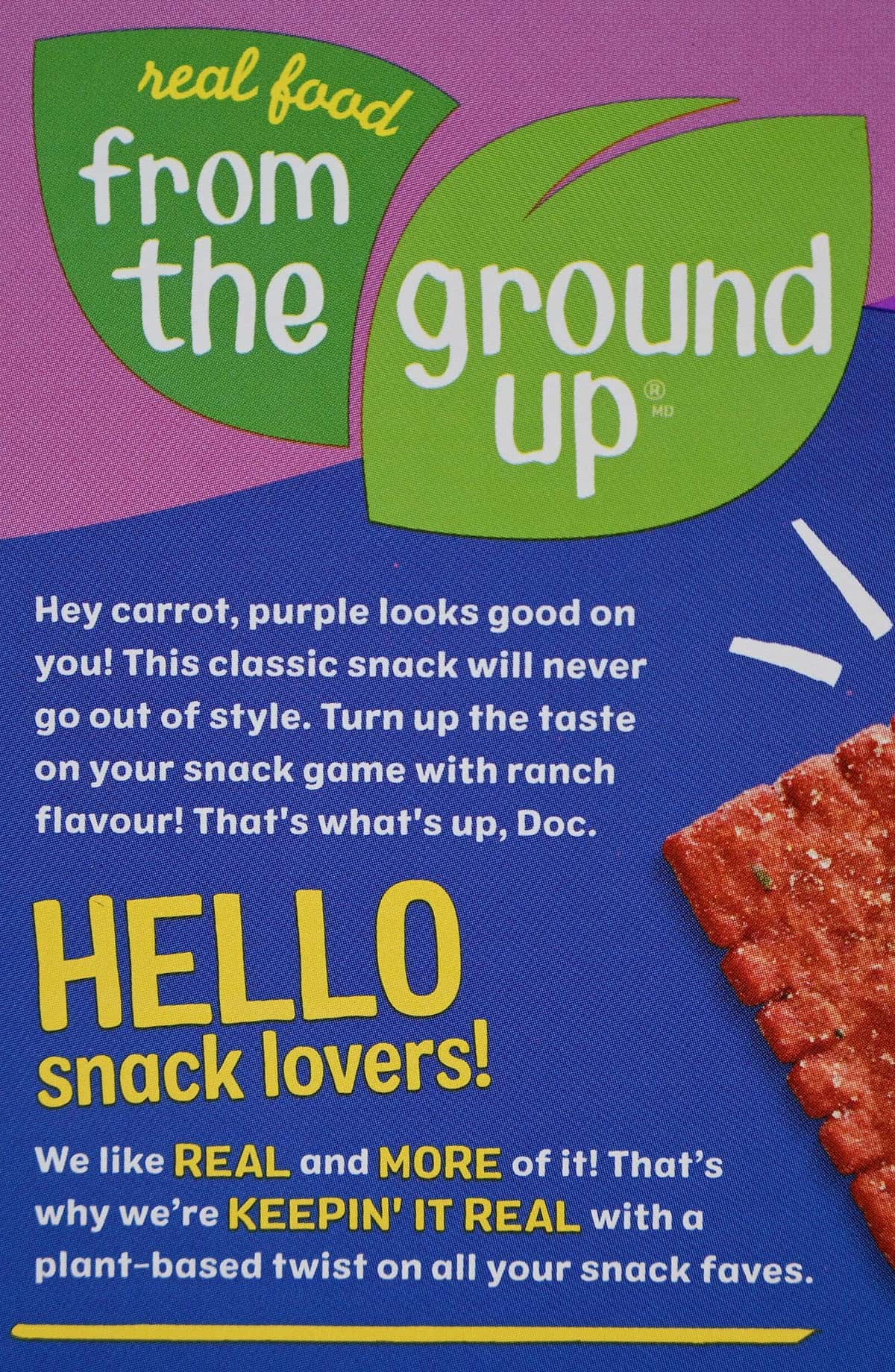 Nutrition
Calories
A 2/3 cup serving is 120 calories, two and a half grams of fat, 21 grams of carbohydrates, two grams of fibre, three grams of sugar, one gram of protein and 370 mg of sodium.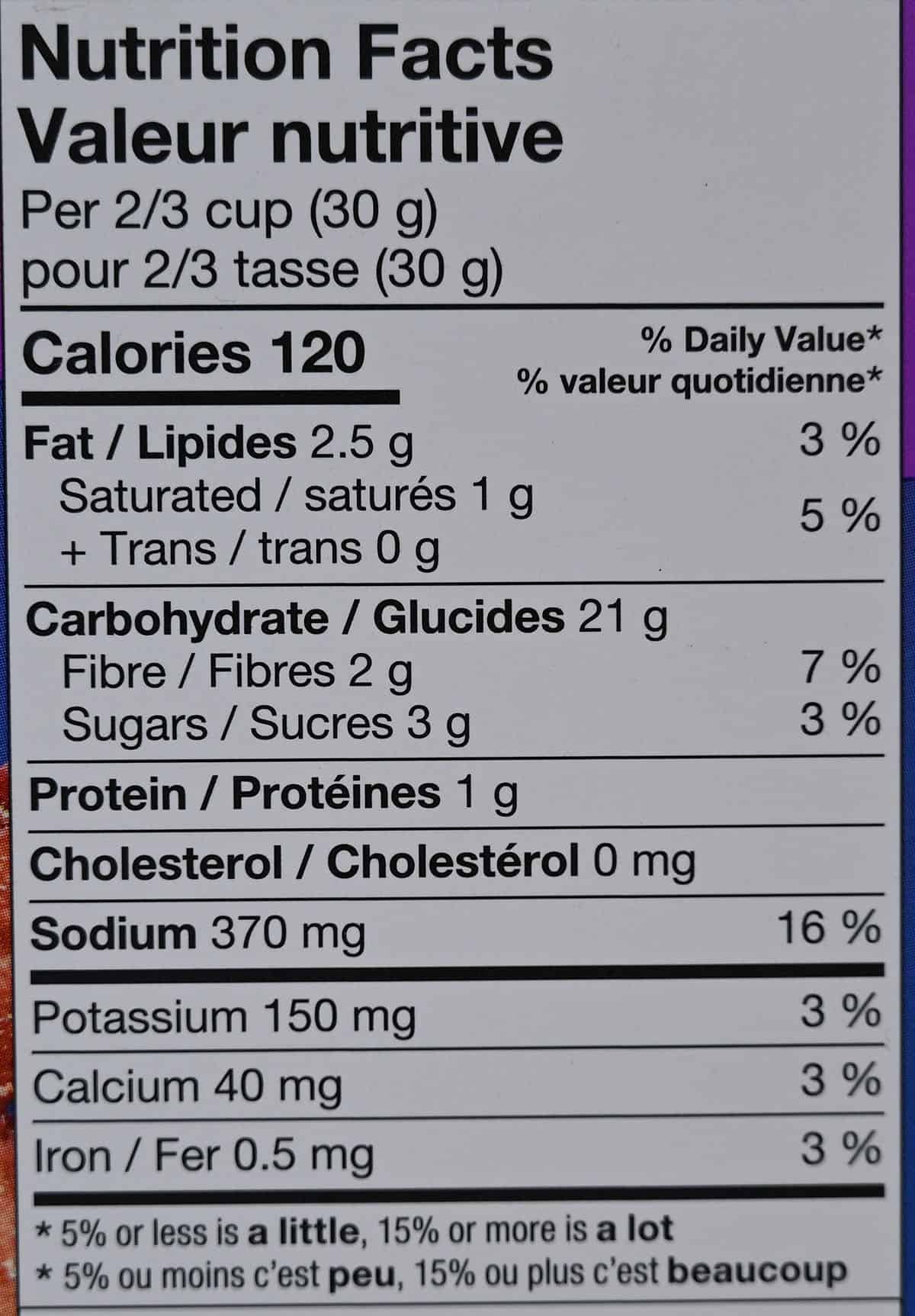 Ingredients
From The Ground Up Purple Carrot Crackers from Costco are gluten-free as well as vegan! I find the vegan part really surprising because most ranch flavored products have milk/dairy in them. I like that there's so many vegetables in the crackers!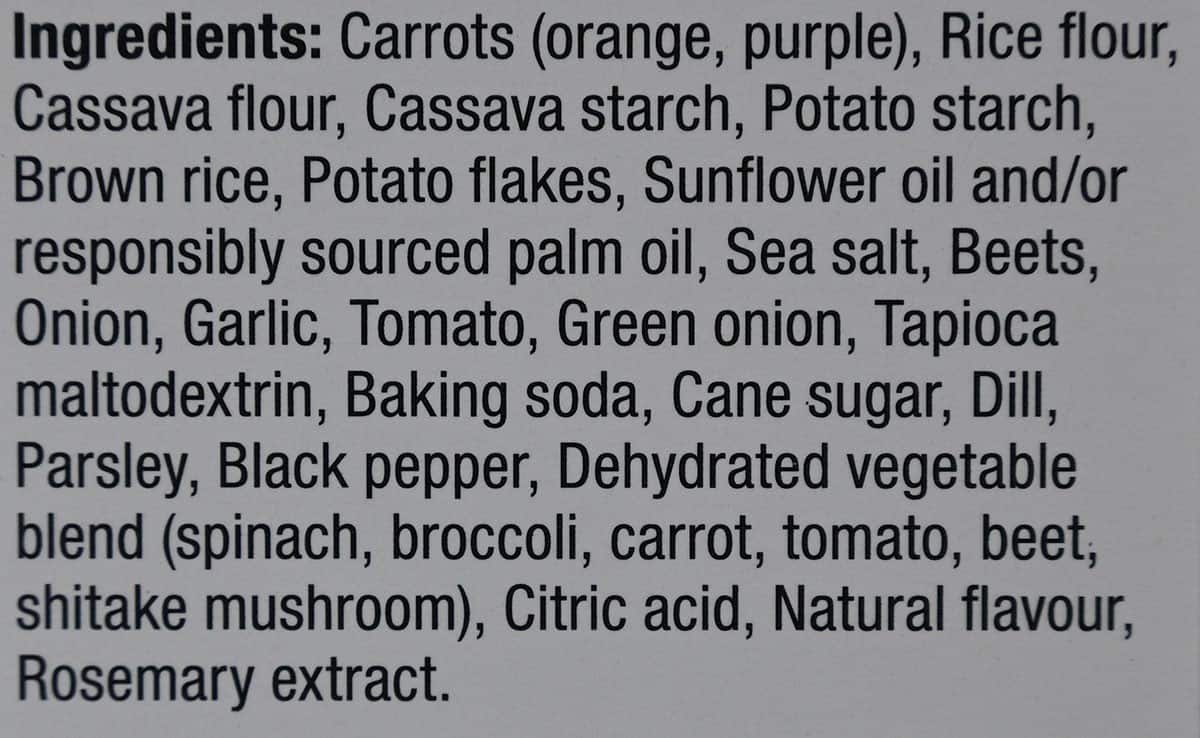 Scoring
Taste: 4/10
Cost: 7/10
Convenience: 10/10
Nutrition: 8.5/10
Overall
Walk on by!
I love the concept of Costco carrying plant-based and gluten-free crackers but I don't love the taste of these! I'd rather eat other crackers and get my veggies elsewhere.
Have you tried these? What did you think of them?
---
Please note that this review was not paid for or sponsored by any third party. This product was purchased by Costcuisine for the purpose of producing this review. The opinions in this review are strictly those of Costcuisine. Costcuisine is not affiliated with Costco or any of its suppliers. In the event that Costcuisine receives compensation for a post from the manufacturer of a product or some other third party, the arrangement will be clearly disclosed (including where the manufacturer of a product provides Costcuisine with a free sample of the product).