Costco Pisti Spreadable Pistachio Cream is similar to Nutella, but made out of pistachios instead of hazelnuts. The classic chocolate hazelnut flavor of hazelnut spreads works well with a number of different foods. This pistachio spread might look a lot different, but the flavor is more similar than you might think. So what can you do with this decadent, sweet, nutty spread?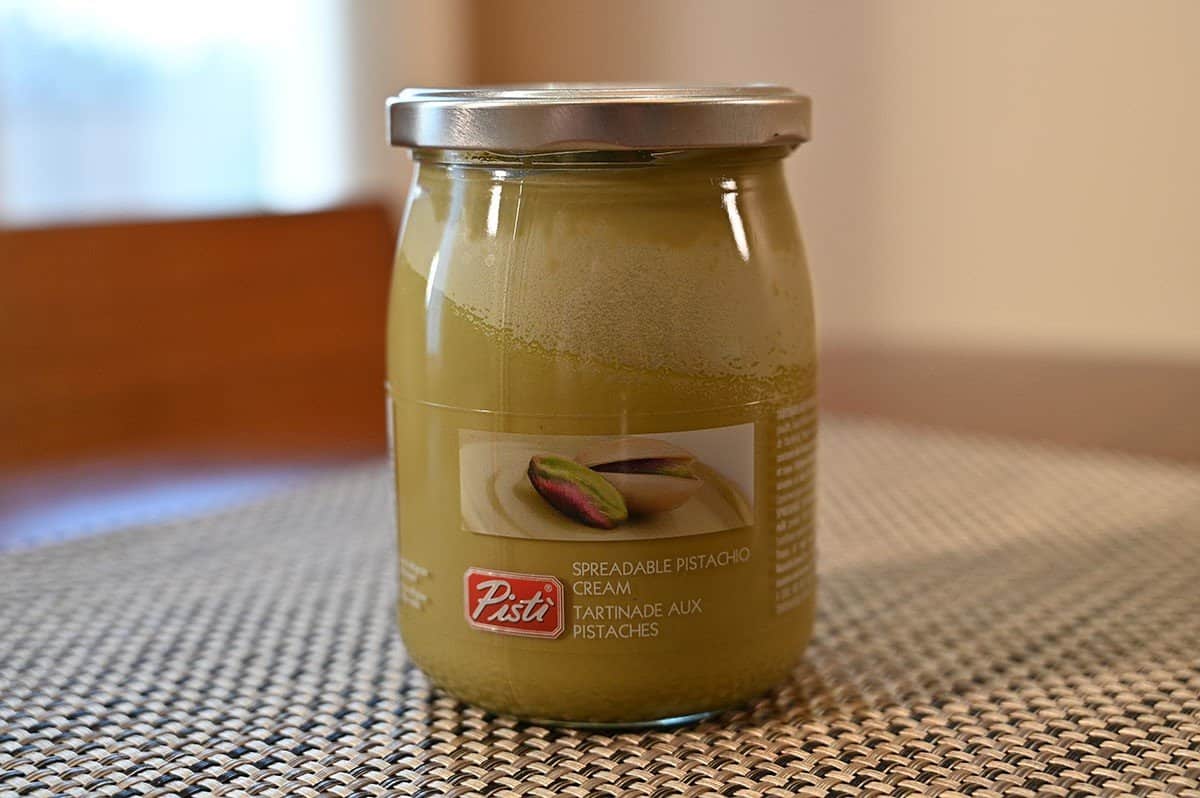 Today I'm reviewing the Costco Pisti Spreadable Pistachio Cream. I thought this looked like a really interesting product! I've never tried or bought pistachio cream before so I picked this up to try.
Other products from Costco that are similar are the Costco Kirkland Signature Creamy Almond Butter, Costco Smucker's Goober, Costco Vonbee Passionfruit Honey Puree and the Costco Kirkland Signature Hazelnut Spread.
Location in Store
You can find the pistachio paste at Costco in the aisle with all the jams and nut butter. The item number 1607671.
Taste
The first thing I notice when trying this is how sweet it is! It's very sweet but also extremely delicious and rich. It tastes like a creamy delicious chocolate. I find it very similar to a hazelnut spread but butter. The pistachio cream is very thick, creamy and smooth.
I used the pistachio cream on toast and feel like it doesn't match well with toast, it's too much, too sweet. I would much prefer to have this with crepes on the weekend or in baking.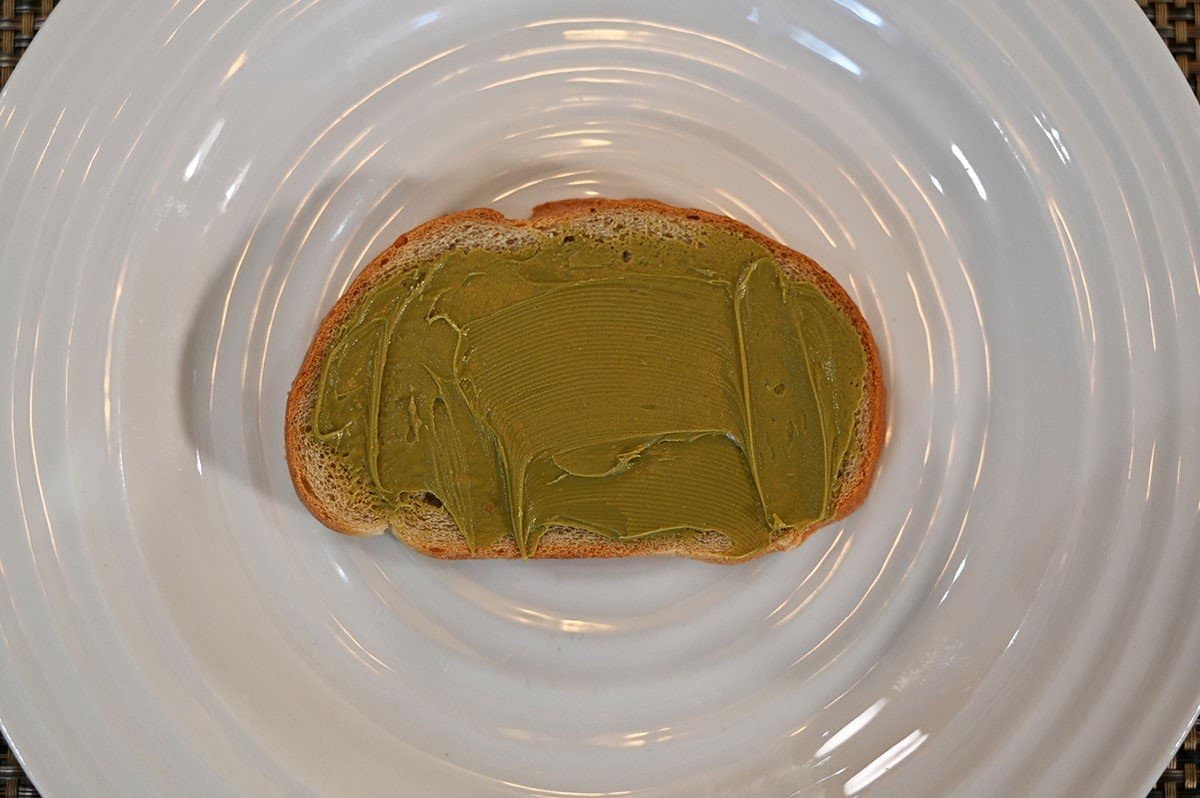 Cost
The cost of the 600 gram jar of spreadable pistachio cream at Costco is $11.99 Canadian which isn't cheap but also not completely unreasonable for a unique product with pistachios in it!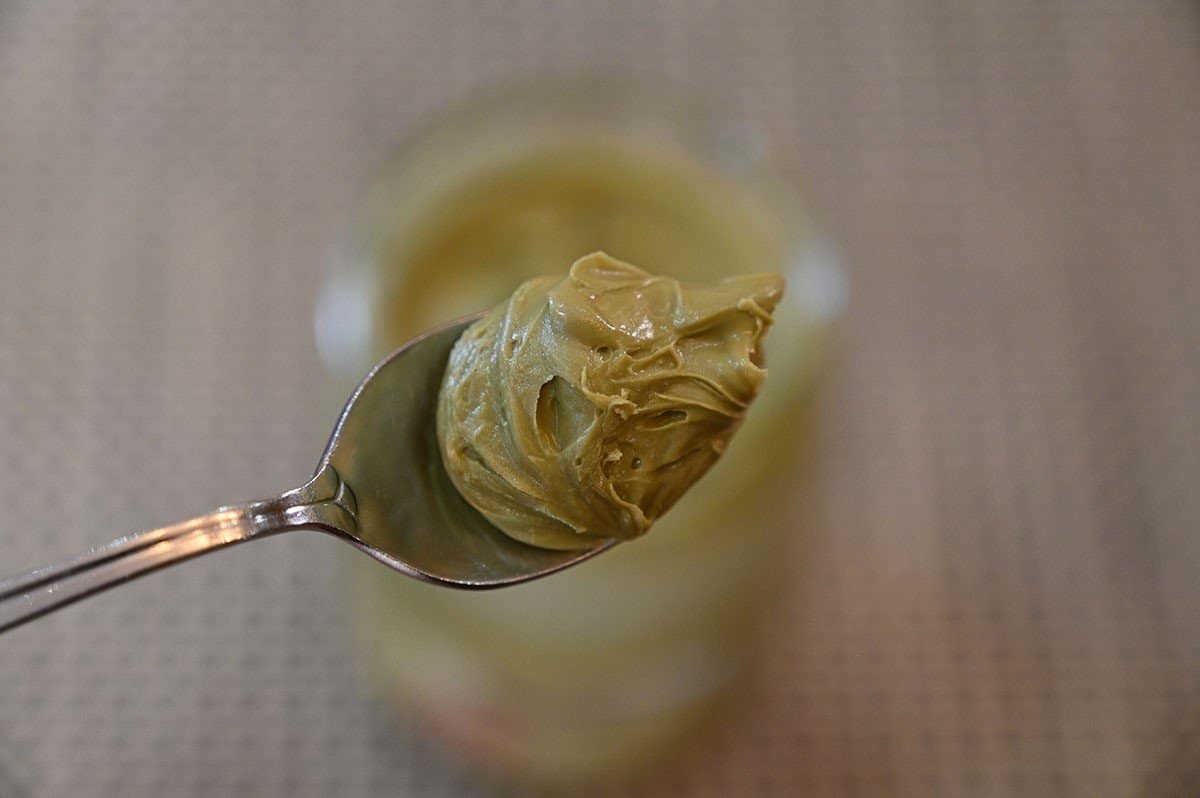 Convenience
The best before date on the pistachio cream is 13 months from the date that it was purchased. I scanned the jar to see if it needs to be refrigerated after opening and it says "do not refrigerate".
This would taste best in baking, like cookies, cakes and to fill croissants and other pastries. I think it would also taste good in dessert crepes or as a dip with fruit or plain shortbread cookies.
If kids get their hands on this, I think they'd eat the whole jar!
Nutrition
Calories
Per 1/17 tablespoon there are 197 calories, 12.3 grams of fat, 17.9 grams carbohydrates, zero grams of fibre, 16.7 grams of sugar, 52.5 grams of sodium and 3.8 grams of protein.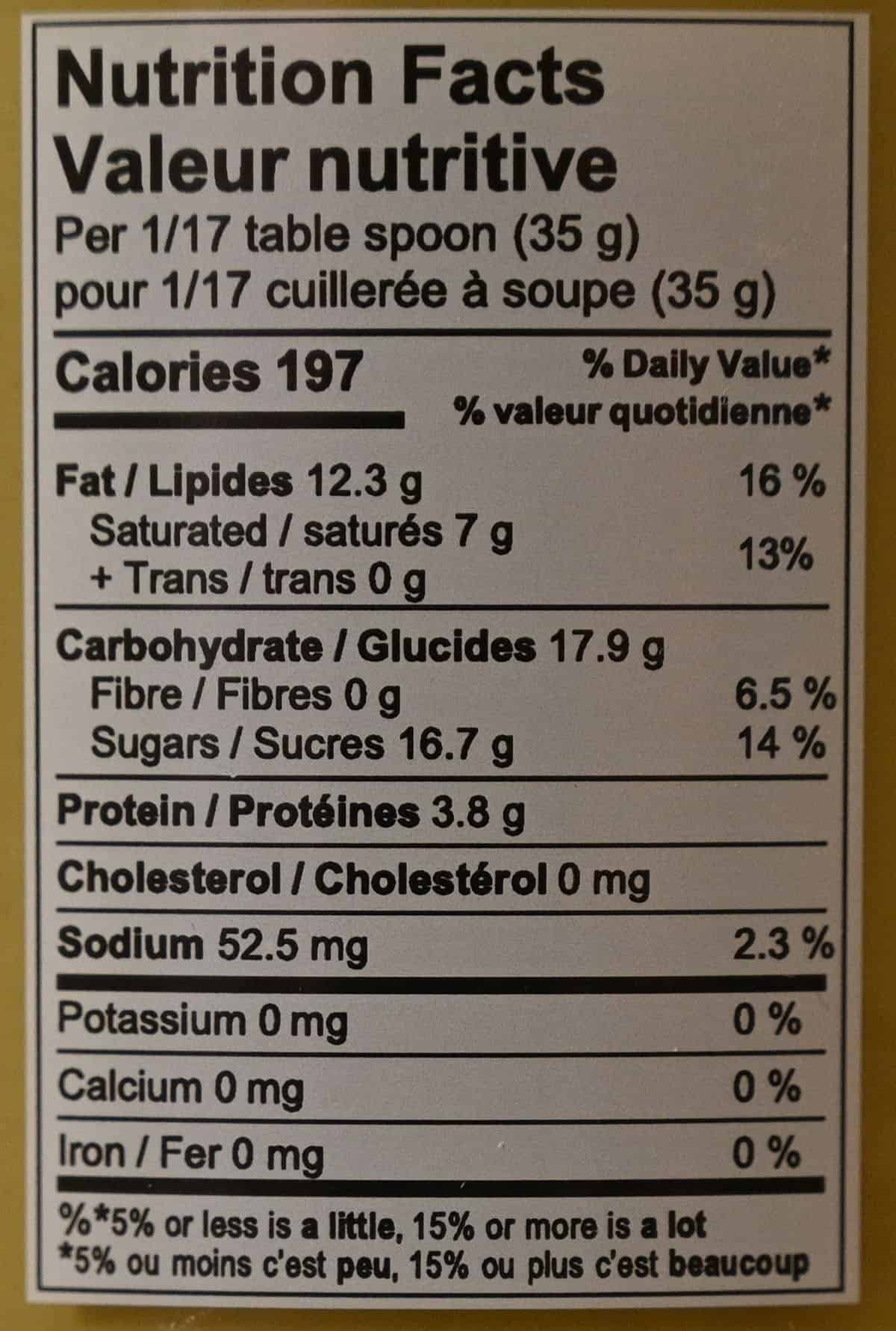 I'm so confused by this nutrition label! It looks like 1/17th of a tablespoon is 197 calories, which would be a tiny amount of pistachio cream for a ton of calories. Don't freak out, I weighed out a 35 gram serving with my kitchen scale and this is what it looks like.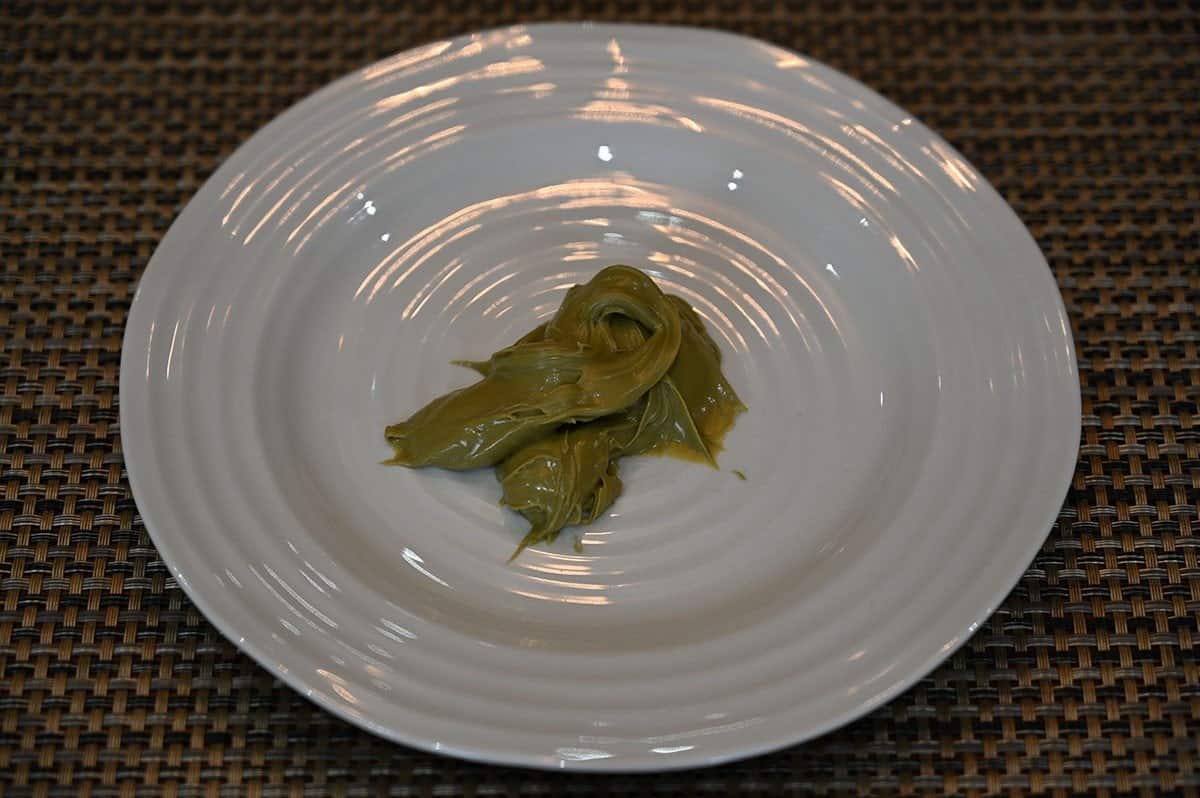 Ingredients
The ingredients list is pretty straight forward with pistachio being the first ingredient. Sugar is the second ingredient which isn't surprising based on how sweet it is!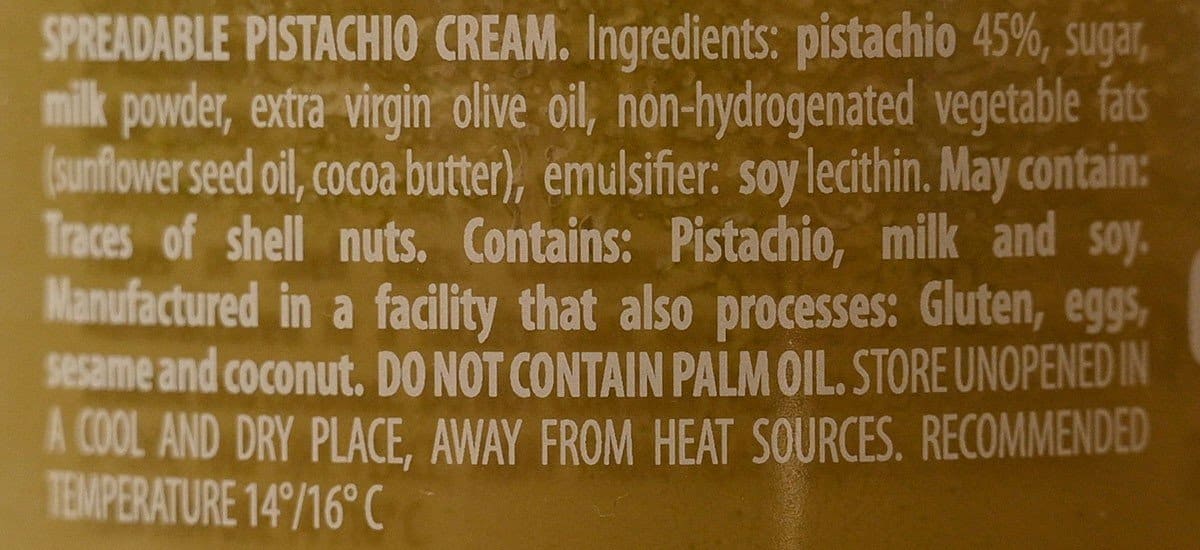 Scoring
Taste: 8/10 (super tasty is small quantities)
Cost: 7.5/10
Convenience: 10/10
Nutrition: 1/10 (pistachios are healthy!)
Overall
Walk on by!
I honestly only recommend this if you're big into baking or eat a lot of crepes. As delicious as it is, it's hard to find a ton of ways to use it and will probably end up sitting in my cupboard.
Have you tried this pistachio cream from Costco? What did you think of it?
---
Please note that this review was not paid for or sponsored by any third party. This product was purchased by Costcuisine for the purpose of producing this review. The opinions in this review are strictly those of Costcuisine. Costcuisine is not affiliated with Costco or any of its suppliers. In the event that Costcuisine receives compensation for a post from the manufacturer of a product or some other third party, the arrangement will be clearly disclosed (including where the manufacturer of a product provides Costcuisine with a free sample of the product).