Are you someone who loves a good hearty soup? Did you know lentils are a great source of plant-based protein? Costco is carrying Sprague Organic Lentil Soup that's dairy-free and gluten-free which is great but I'm not so sure I love the spices used.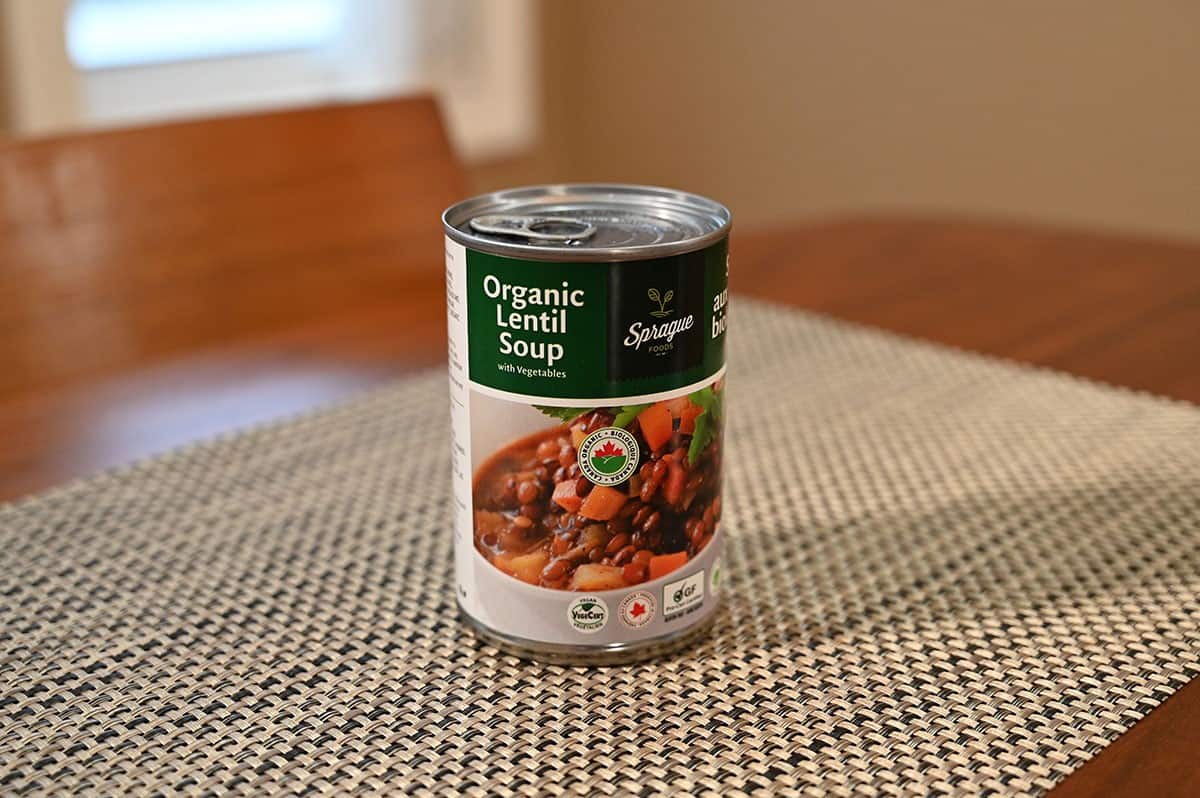 I enjoy soup no matter what season it is so when I saw this Sprague Organic Lentil Soup at Costco I decided to pick it up to try.
Other soups from Costco are the Costco Cuisine Adventures French Onion Soup, Costco Kirkland Signature Broccoli Cheddar Soup, Costco Kirkland Signature Chicken Tortilla Soup, Costco Authentic Asia Hand Wrapped Shrimp Wonton Soup and Costco Johnny's Potato Cheddar Soup Mix.
Location in Store
You can find this in Costco in the aisle with the rice, other canned soups and jarred vegetables. The item number is 1062199.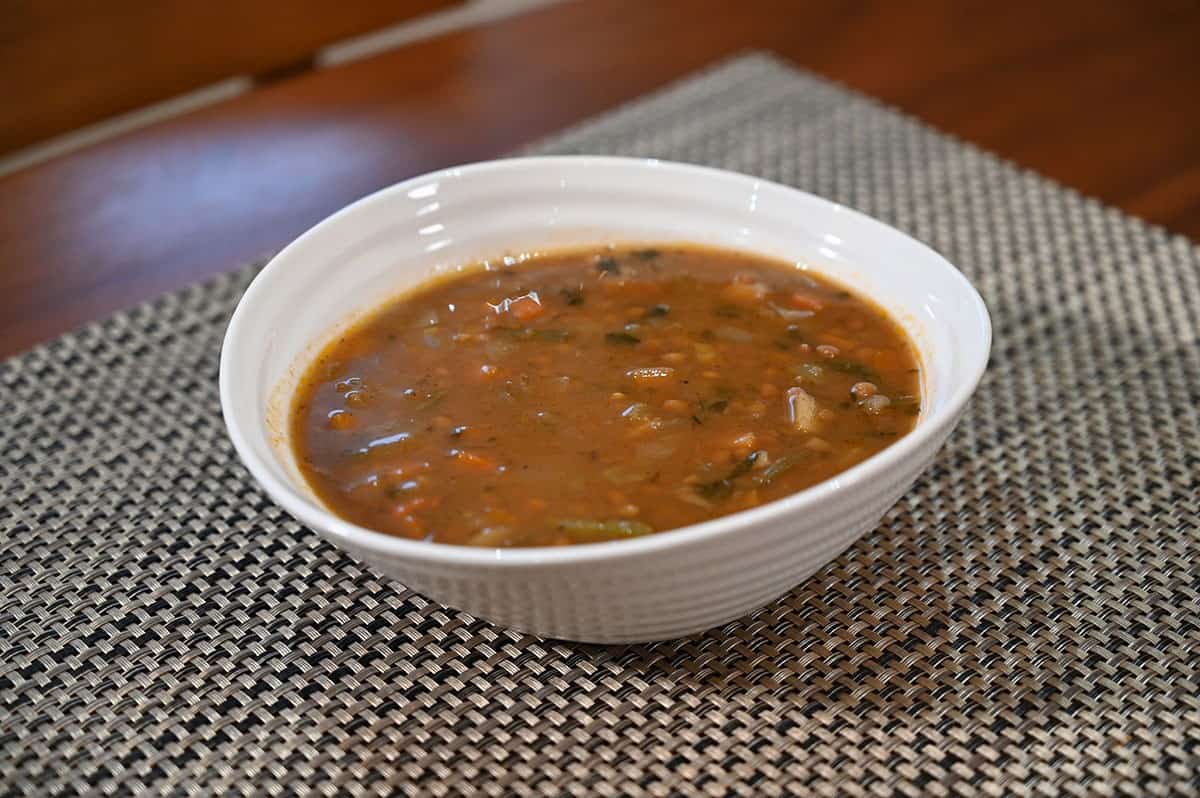 Taste
First of all, this soup is totally loaded with lentils and vegetables, which makes it really hearty! I think there might be less broth than lentils and vegetables to be honest. I find a lot of canned soups have so much broth and just a few bites of vegetables, noodles or meat but not this soup.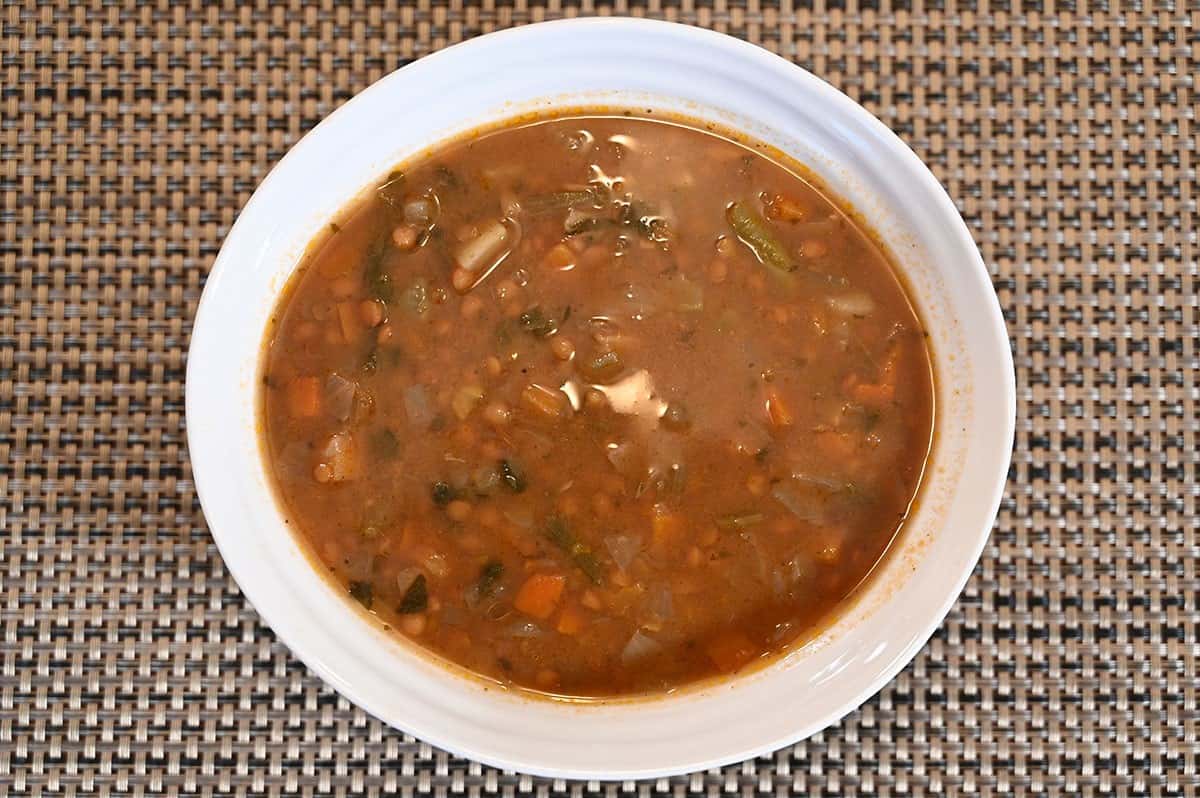 I enjoy that the soup doesn't taste too salty and the flavors of the vegetables and lentils complement one another well. The broth is tomato based with lots of seasonings and spices. I don't like one the spices in the soup which is really disappointing to me. It has an earthy/moldy after taste (in my opinion) but the soup is 100% not moldy. I really hoped to love this soup but I tried it twice just to double check that I still didn't like it and one of the spices keeps throwing me off.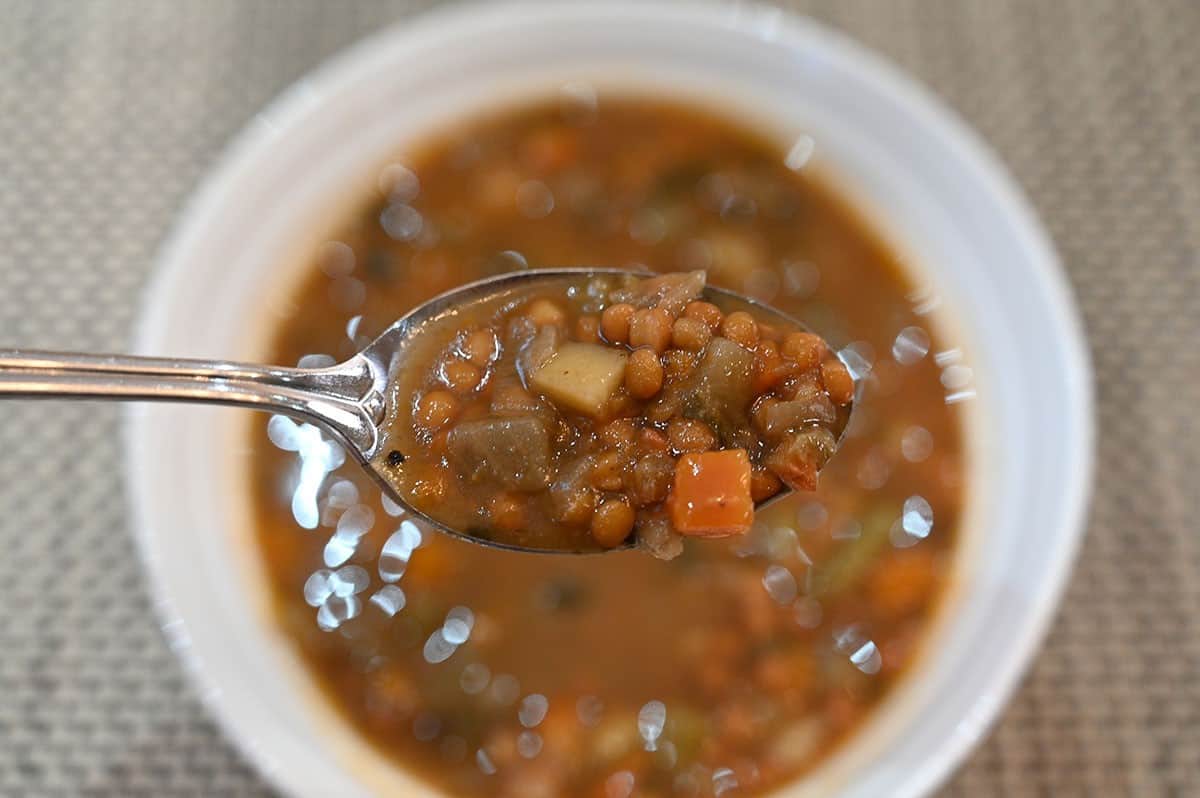 Cost
You get eight 398 milliliter cans for $14.49 at Costco. The same brand of soup, Sprague, is also sold in my local grocery store for $4.99 a can, so the $14.49 at Costco price is quite reasonable.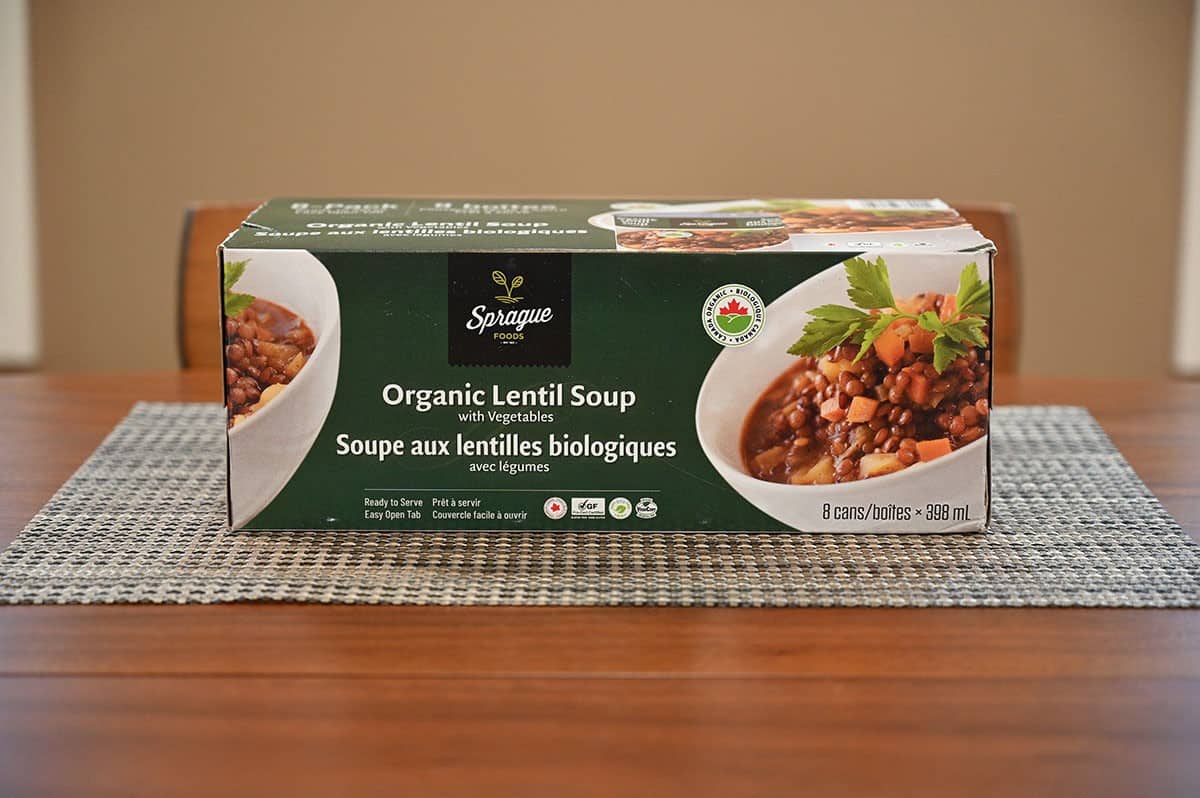 Convenience
The best before date on the soup is over three years from the date we purchased it. The top of each can has an easy pull tab to open the can so no can-opener is required! You can either heat the soup on the stove top or in the microwave.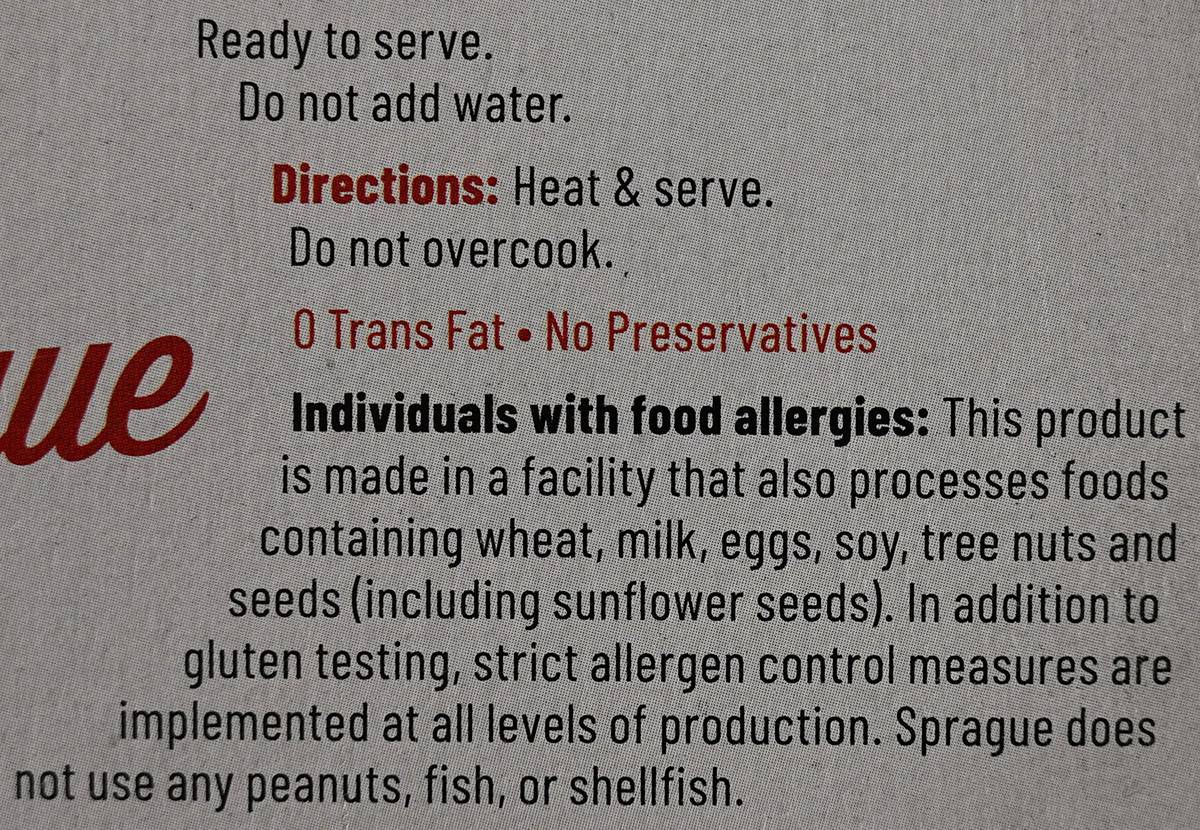 I love soup with sandwiches, particularly grilled cheese. I've also had soup as a side with pizza or just on it's own. Crackers in any soup are a must for me! These Costco soups are really convenient for work lunches because you can just bring it in your bag and microwave it in the lunch room.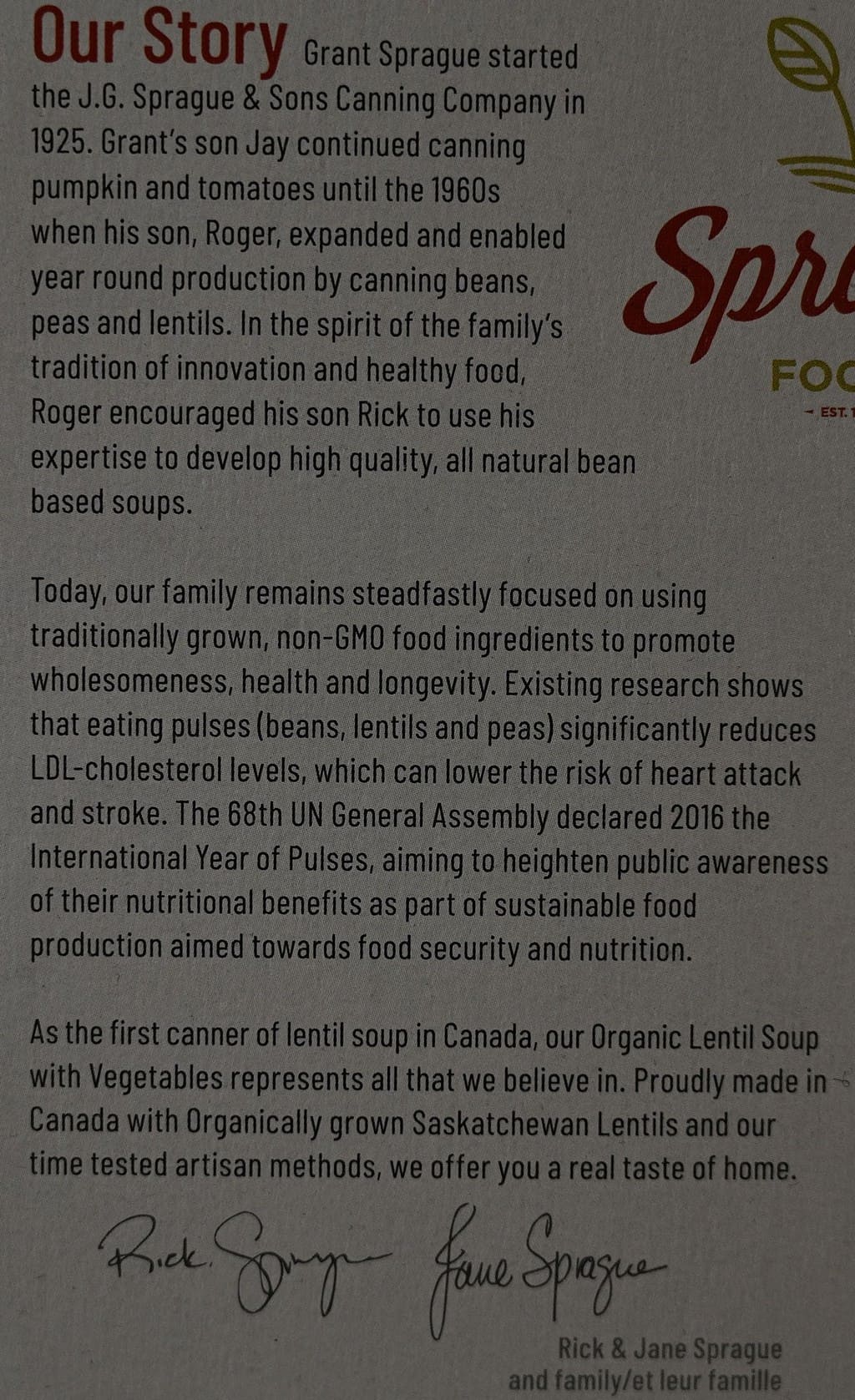 Nutrition
Calories
A one cup serving of Costco Sprague Organic Lentil Soup has 170 calories, three and a half grams of fat, 28 grams of carbohydrates, seven grams of fat, two grams of sugar, nine grams of protein and 300 mg of sodium. That's a decent amount of protein for one cup and the sodium is high but not ridiculously high.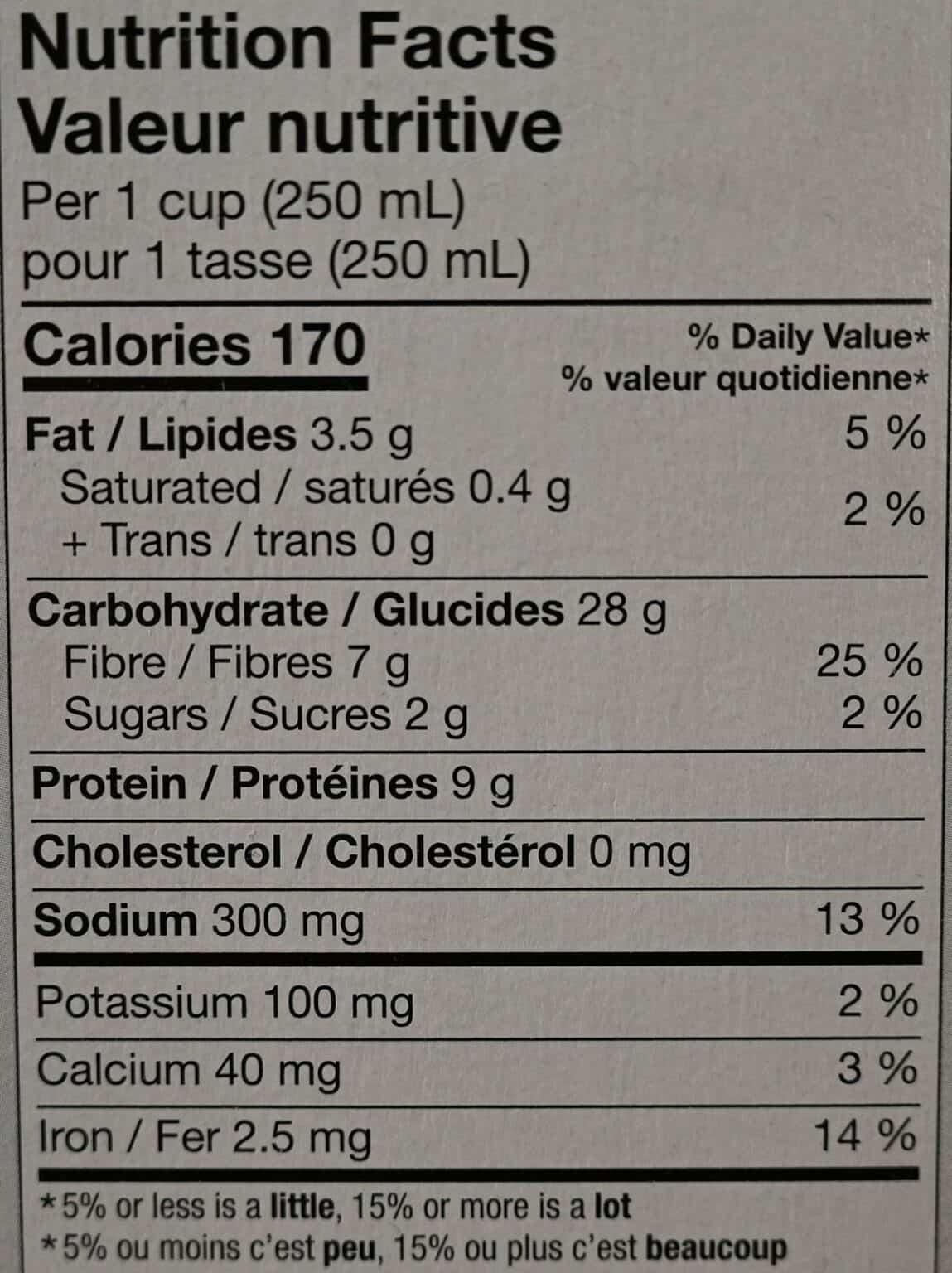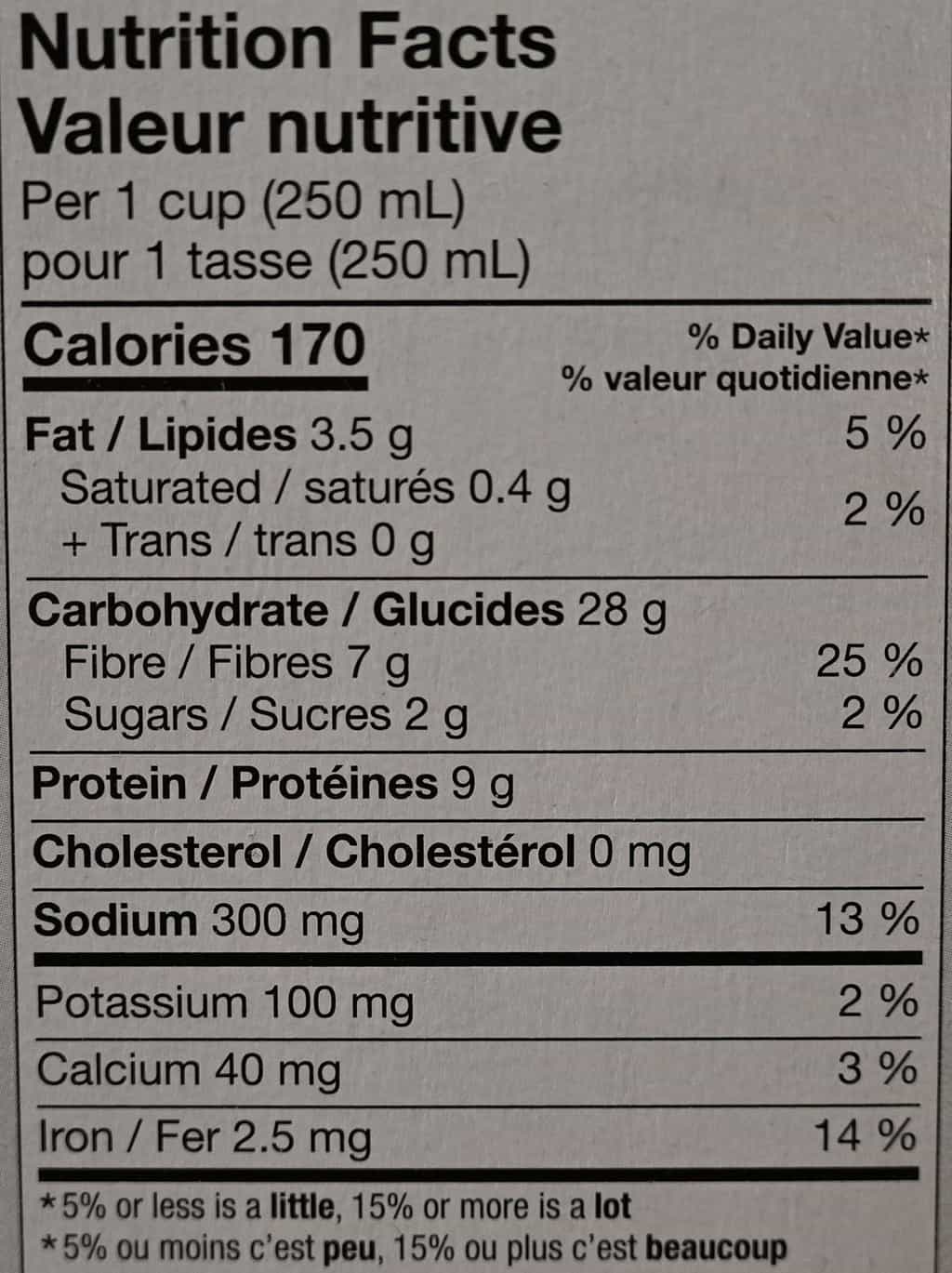 Ingredients
I need to point out that I really love the use of olive oil and balsamic vinegar. So many foods have sugar and inflammatory oils like canola oil and palm oil. I have to give Sprague a huge pat on the back for having one of the healthiest ingredients lists I've seen! The lentil soup from Costco is gluten-free, vegan and organic!

Scoring
Taste: 6/10 (that one spice I just really don't like)
Cost: 8/10
Convenience: 10/10
Nutrition: 10/10
Overall
Give it a try!
I do know others who have tried this soup that enjoy it and the spice doesn't bother them. If you're looking for a hearty, healthy, filling soup, try this lentil soup from Costco.
Do you have a favorite soup from Costco?
---
Please note that this review was not paid for or sponsored by any third party. This product was purchased by Costcuisine for the purpose of producing this review. The opinions in this review are strictly those of Costcuisine. Costcuisine is not affiliated with Costco or any of its suppliers. In the event that Costcuisine receives compensation for a post from the manufacturer of a product or some other third party, the arrangement will be clearly disclosed (including where the manufacturer of a product provides Costcuisine with a free sample of the product).