Costco's Kirkland Signature Chicken Tortilla Soup sounds like a hearty soup that a person could eat for a meal. If you're planning to do that though, you better like spicy and salty foods!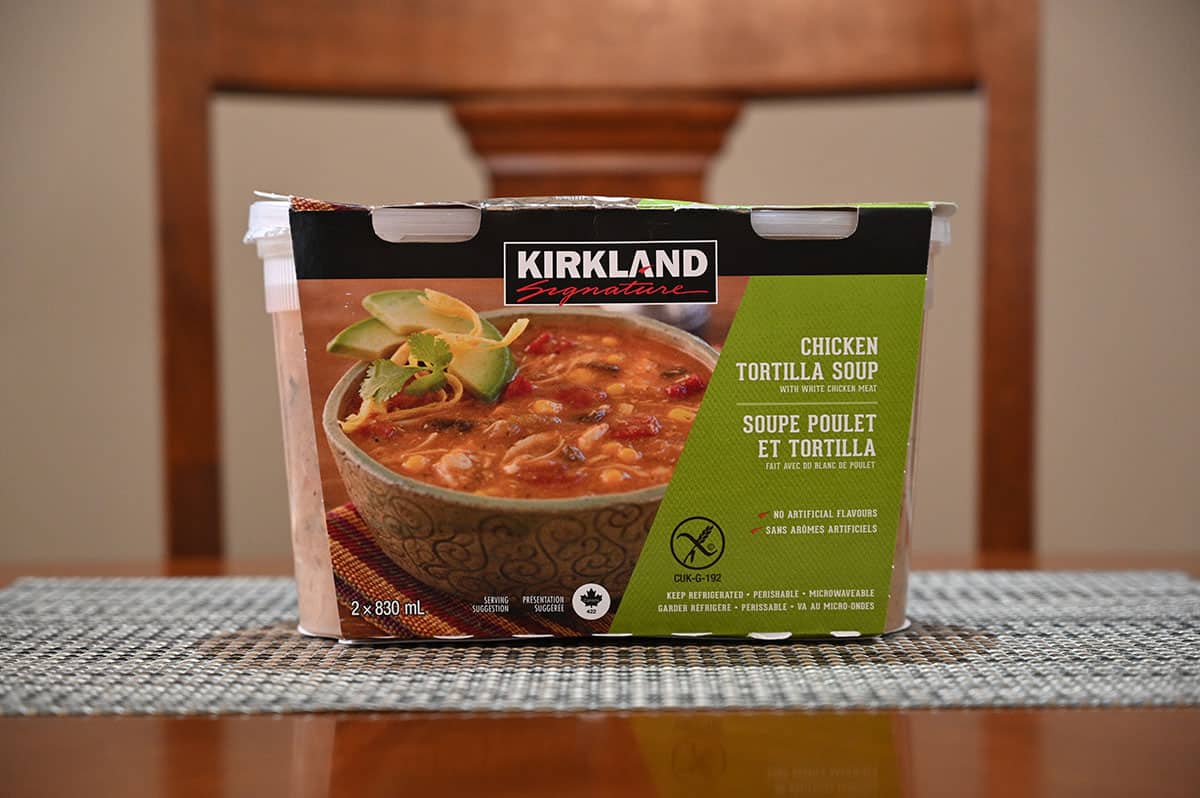 It's the perfect time of year for a soup review! I love soup and as a kid it was something I ate all the time. Since getting married I haven't eaten as much soup as I'd like to because Sean doesn't think "soup is a meal" which means I'm eating soup alone or I'm making a full meal with soup as a "side".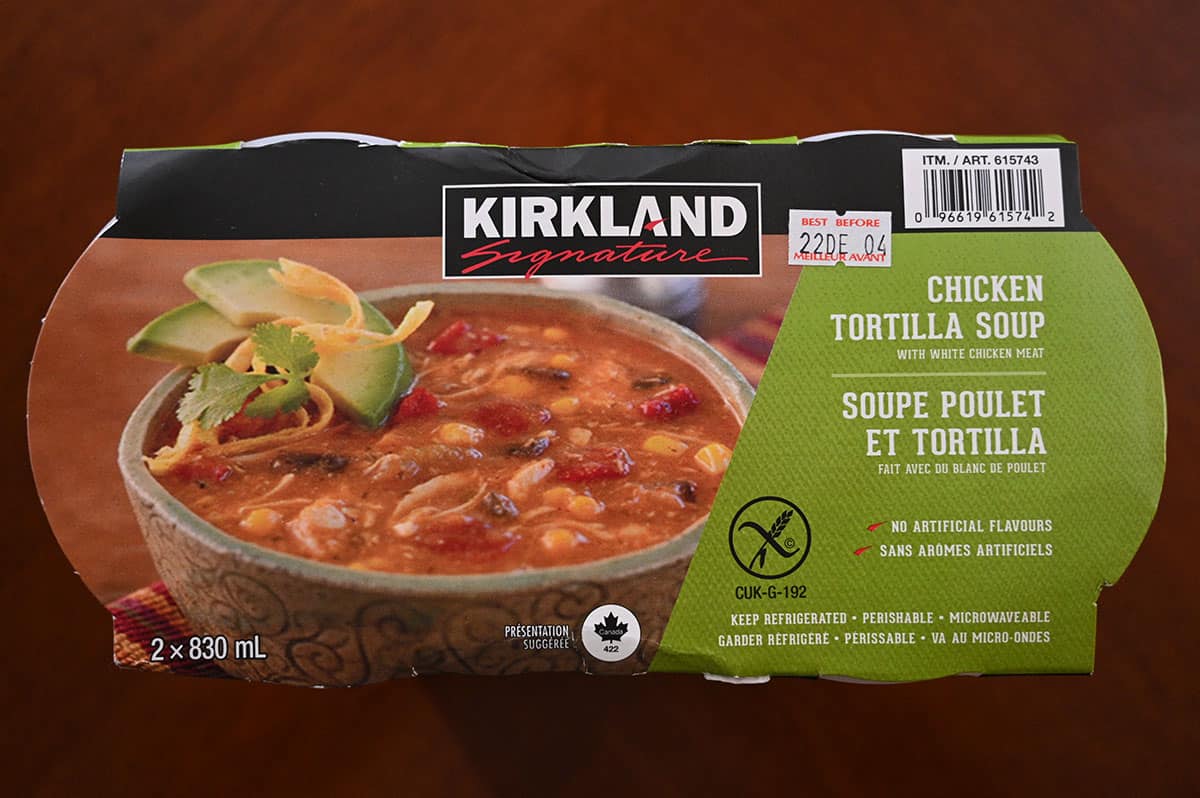 Other soups from Costco are the Kirkland Signature Broccoli Cheddar Soup, Sprague Organic Lentil Soup, Cuisine Adventures French Onion Soup, Authentic Asia Hand Wrapped Shrimp Wonton Soup, Synear Soup Dumplings and the Johnny's Potato Cheddar Soup Mix.
Location in Store
You can find the Costco Chicken Tortilla Soup in the refrigerated deli section, near the fresh pasta. The item number is 615743.
Taste
I previously reviewed this product in 2019 and I've noticed some changes and they aren't for the better! There's barely any chicken in the soup, just tiny wisps of shredded chicken. The base is a spicy chicken broth that just tastes salty and spicy without much flavor. The vegetables are tomatoes, bell peppers, green onions, carrots, corn, onions and poblano peppers.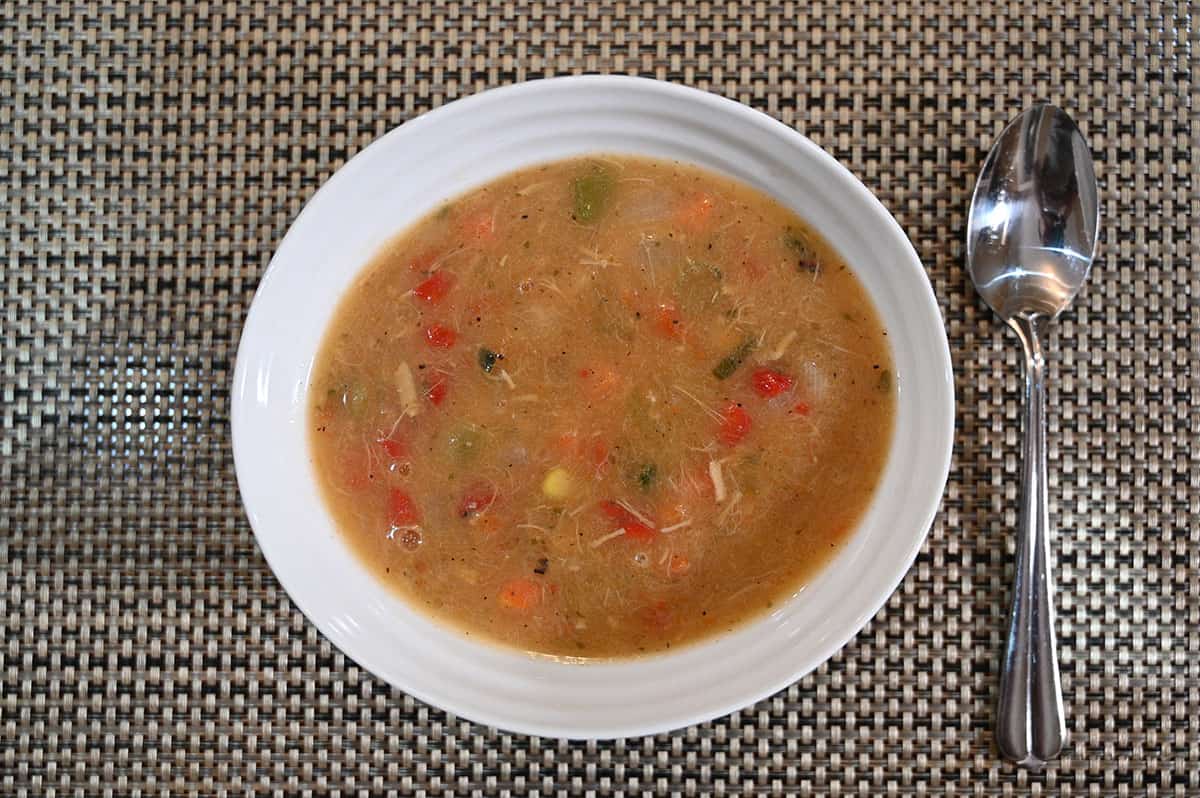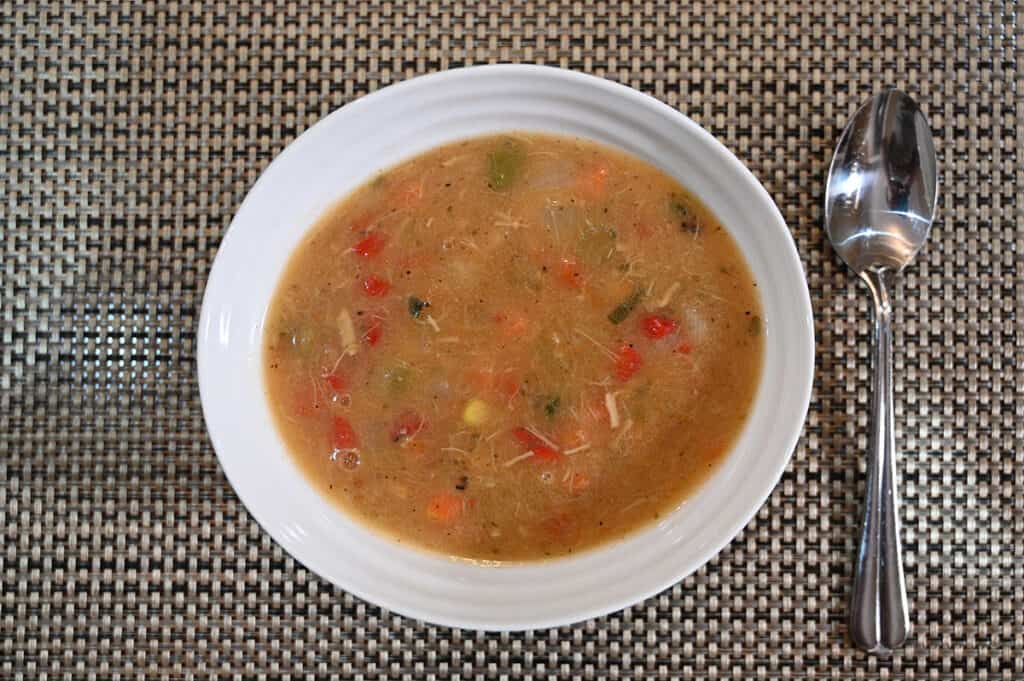 The list of ingredients includes tortillas, but I can't find or taste them. There aren't any noodles in this soup, which is fine. I find adding a bit of water to the soup and a dollop of sour cream or plain greek yogurt cuts down the sodium and spice. I also like to serve it with fresh cut-up avocado sprinkled on top.
This is definitely pretty hot so if you don't like spice you probably won't enjoy this. I also am really disappointed by the lack of chicken, in my opinion, it's a broth heavy soup.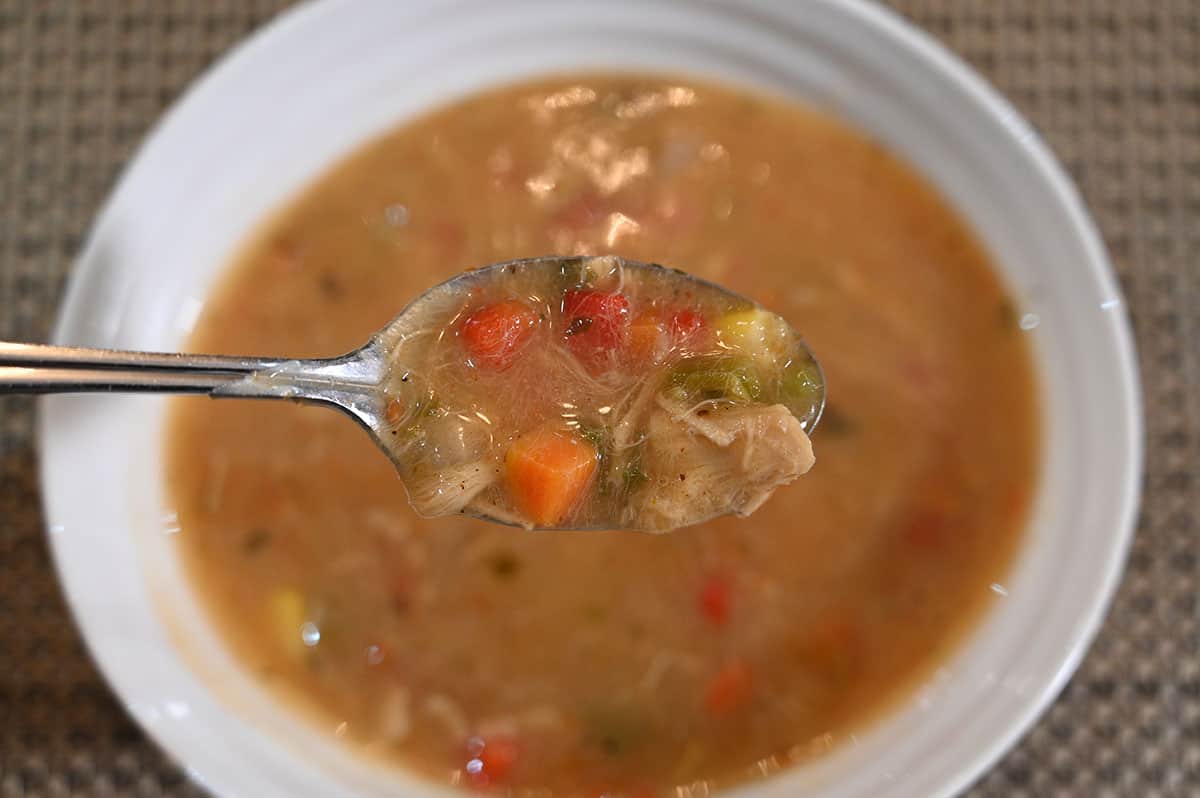 Cost
The Costco Kirkland Chicken Tortilla Soup comes in pack of two 830 milliliter soups for $10.99 Canadian. Obviously, you can find cheaper soups, but this soup is on a different level than the typical canned option, so it doesn't make a lot of sense to compare it with canned soups from a cost perspective either. From what I can recall, the price is comparable with other "fresh" (i.e., not canned or frozen) soups.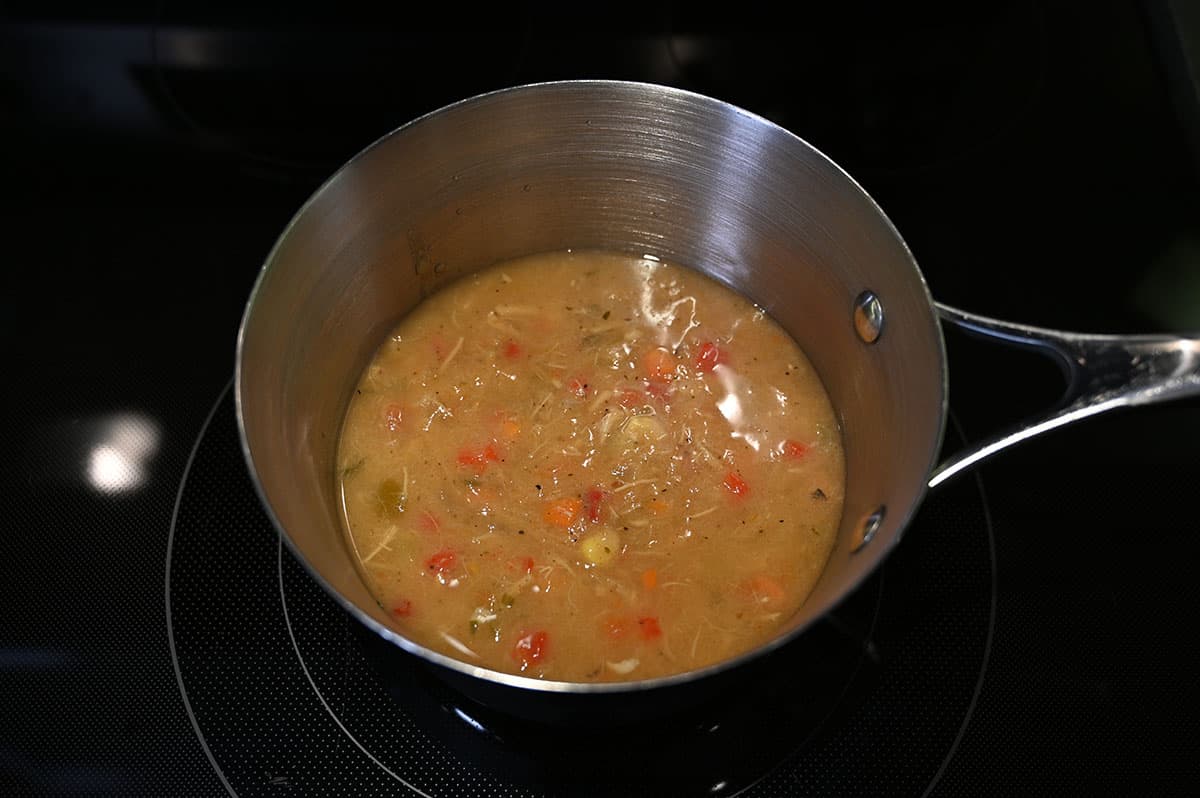 Convenience
The soup is very easy to make. To heat it, you can either microwave it in the plastic container it comes in for five minutes or cook it in a saucepan on the stove. I generally prefer to cook soup on the stove, but I have microwaved this soup without any issues.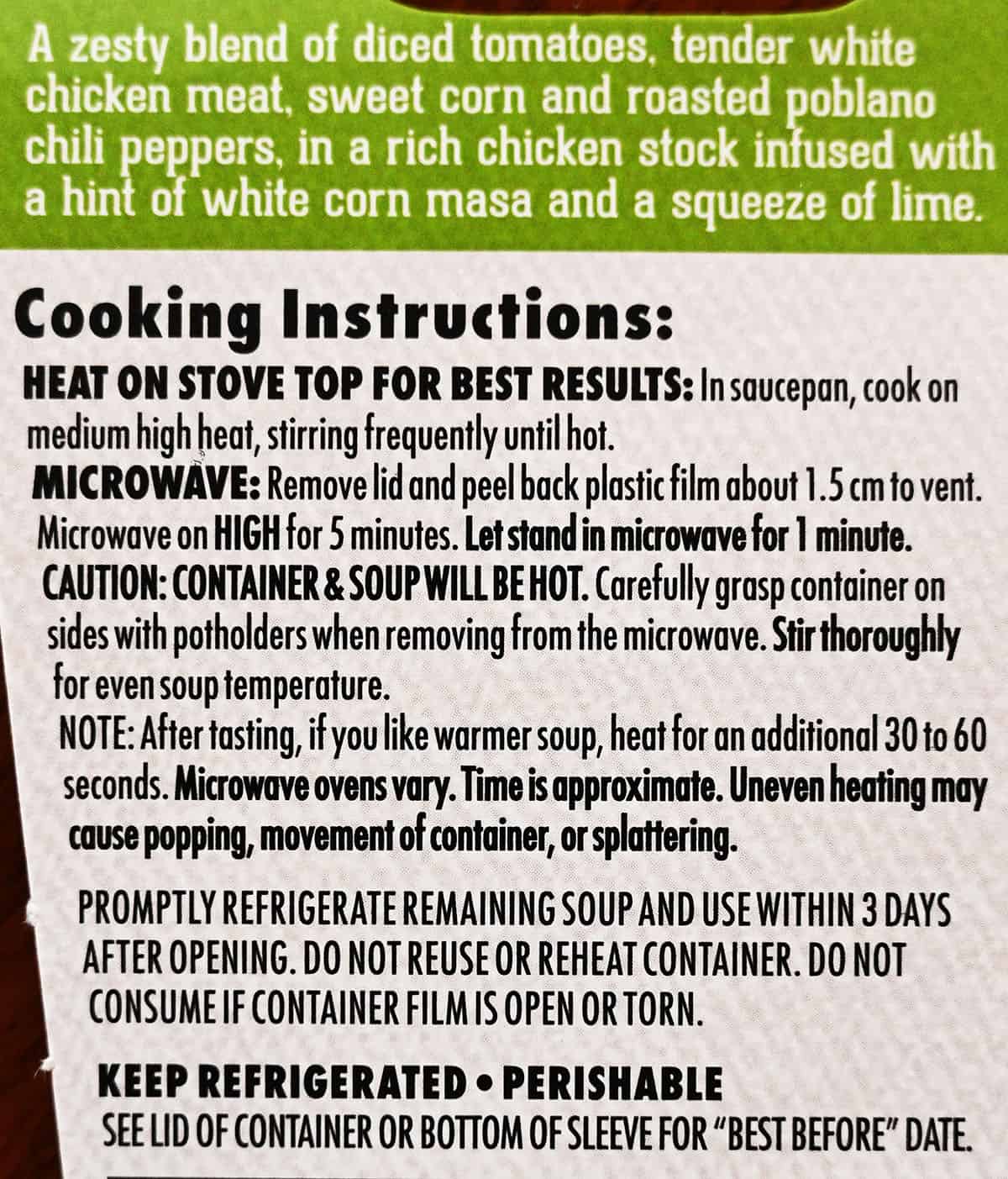 Both methods of heating it is simple and takes minimal time. This soup freezes well if you want to store it for a longer period. I thought it would be a great option for work lunches as you could easily divide it into the right portions (in microwave-safe containers) ahead of time, then bring it as needed (either from the fridge or the freezer).
The soup needs to be kept refrigerated and has a best-before date of about a month from the date I purchased it.
Nutrition
Calories
One cup of the Costco Kirkland Signature Tortilla Chicken Soup contains 120 calories, three grams of fat and nine grams of protein. I was pleasantly surprised to see how much protein there was in the soup. The sodium and sugar content are less pleasing (615 milligrams of sodium and seven grams of sugar per cup).
The Costco Kirkland Signature Chicken Tortilla Soup actually has less calories, fat and sodium than it did in 2019! In 2022 the contains 100 calories, two grams of fat, 14 grams of carbohydrates, two grams of fibre, five grams of sugar, seven grams of protein 560 milligrams of sodium per cup.
In 2019 one cup of the Costco Kirkland Signature Tortilla Chicken Soup contained 120 calories, three grams of fat and nine grams of protein, 615 milligrams of sodium and seven grams of sugar.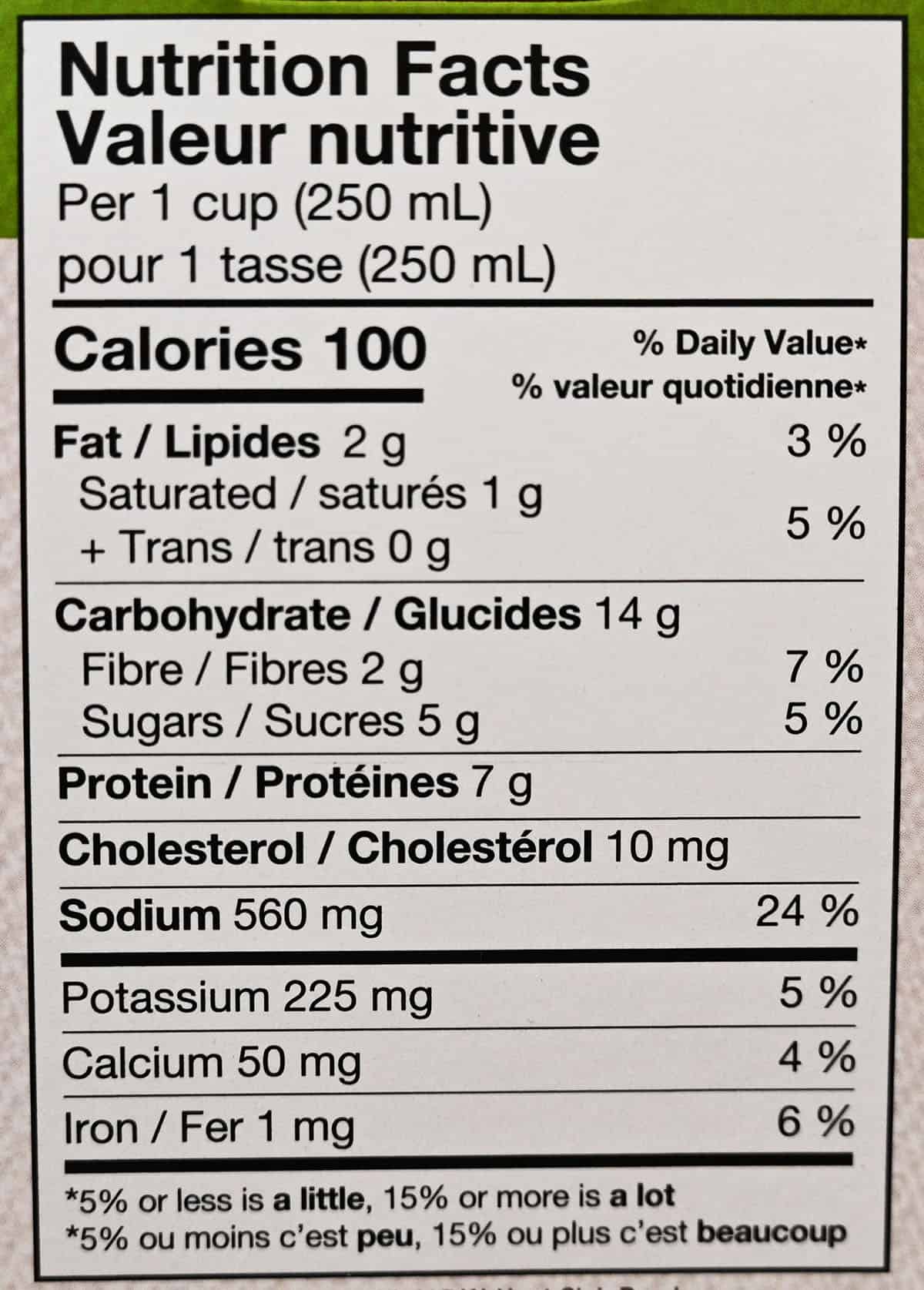 Ingredients
The soup is gluten-free as well as dairy-free. Chicken is the third ingredient with the chicken broth being the first.
Overall, this isn't the healthiest soup option, but it isn't the worst either. A lot of store-bought soups are high in sodium, so that's a common nutritional issue in this product category; if you want a really healthy soup, your best bet is probably to make one from scratch.

Scoring
Taste: 6.5/10
Cost: 8.5/10
Convenience: 10/10
Nutrition: 7/10
Overall
Give it a try – if you like spicy and salty soup!
I think Costco skimps on the chicken in this soup now! If it had more chicken I'd find it a lot more pleasing!
What are your thoughts on the Costco Kirkland Signature Chicken Tortilla Soup?
---
Please note that this review was not paid for or sponsored by any third party. This product was purchased by Costcuisine for the purpose of producing this review. The opinions in this review are strictly those of Costcuisine. Costcuisine is not affiliated with Costco or any of its suppliers. In the event that Costcuisine receives compensation for a post from the manufacturer of a product or some other third party, the arrangement will be clearly disclosed (including where the manufacturer of a product provides Costcuisine with a free sample of the product).