Fans of spicy food, this one is for you!
Please note that this review was not paid for or sponsored by any third party. I purchased this product with my own money and the opinions in this review are strictly my own. I am not affiliated with Costco or any of its suppliers. I am just a fan of the company. I write these reviews to help my fellow shoppers.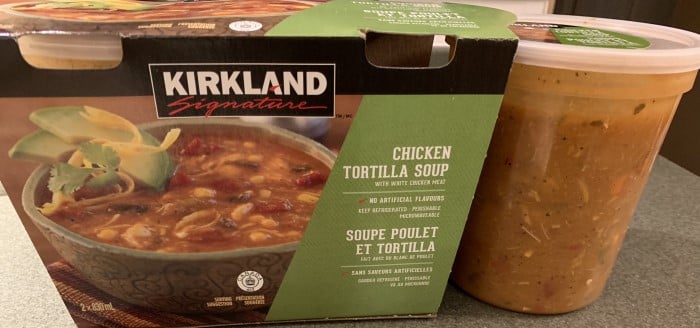 It seems that everyone is currently in a polar vortex right now so I figured this was the perfect time to post this review for the Costco Kirkland Signature Chicken Tortilla Soup! I love soup. I could eat soup daily; when I was a kid, I always wanted soup for lunch. Sometime after I met my husband, I remember suggesting that we have soup for dinner one night and being informed (to my disappointment) that "soup is not dinner." Flash forward a few years and we were sitting eating the Costco Kirkland Signature Chicken Tortilla Soup at dinner (with a side of sandwiches) and I hear, "now this is a soup you can have for dinner!"
Taste
The Costco Kirkland Signature Chicken Tortilla Soup is full of hearty ingredients. The base is a spicy chicken broth and there are vegetables like tomatoes, bell peppers, green onions, carrots, corn, onions and poblano peppers. For protein, there is a generous amount of good-quality, tender white chicken breast meat. The list of ingredients includes tortillas, but I couldn't really taste them or see them in the soup. There aren't any noodles in this soup, but I didn't miss them with the other hearty ingredients. The soup is tasty, but I'll warn you that it's salty and spicy (at least in my opinion). I think everyone probably knows that person who scoffs and says, "this is NOT spicy!" when you're enjoying a meal or an appetizer together and you say that you find it spicy, so I'm sure some lovers of spicy food with a high tolerance for heat will disagree with me. Still, for what it's worth, my husband tends to be one of those spicy food lovers with a good tolerance for heat and he thought this soup definitely had some!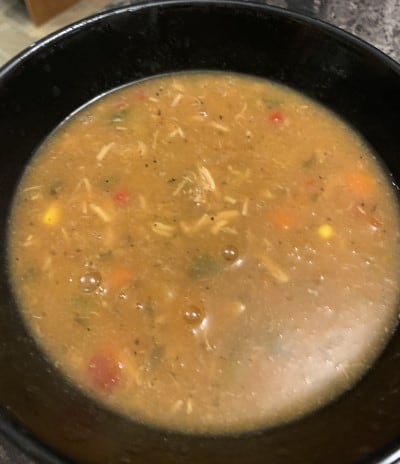 Cost
The Costco Kirkland Chicken Tortilla Soup comes in pack of two 830 milliliter soups for $10.99 Canadian. Obviously you can find cheaper soups, but from both quality and taste perspectives, this soup is on a different level than the typical canned option, so it doesn't make a lot of sense to compare it with canned soups from a cost perspective either. From what I can recall, the price is comparable with other "fresh" (i.e., not canned or frozen) soups. Costco Kirkland Signature doesn't skimp on the amount or quality of chicken in this soup, and the quality of the other ingredients seems equally high. In my opinion, this makes the price easier to swallow. Also, as I mentioned earlier, even my anti-soup-as-a-meal husband thought this soup was a worthy of being a meal, so that helps the value proposition too!
Convenience
The soup is very easy to make. To heat it, you can either microwave it in the plastic container it comes in or heat it on a stove. I generally prefer to cook soup on the stove, but I have microwaved this soup without any issues. Both methods of heating it are simple and take minimal time. This soup freezes well if you want to store it for a longer period. I thought it would be a great option for work lunches as you could easily divide it into the right portions (in microwave-safe containers) ahead of time, then bring it as needed (either from the fridge or the freezer).
Nutrition
One cup of the Costco Kirkland Signature Tortilla Chicken Soup contains 120 calories, three grams of fat and nine grams of protein. I was pleasantly surprised to see how much protein there was in the soup. The sodium and sugar content are less pleasing (615 milligrams of sodium and seven grams of sugar per cup). Overall, this isn't the healthiest soup option, but it isn't the worst either. A lot of store-bought soups are high in sodium, so that's a common nutritional issue in this product category; if you want a really healthy soup, your best bet is probably to make one from scratch.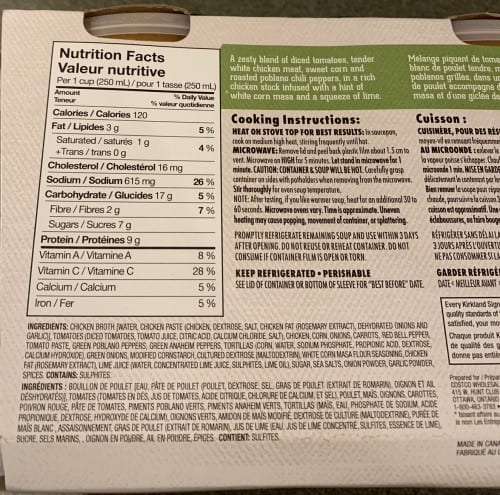 I would buy the Costco Kirkland Signature Chicken Tortilla Soup again for the convenience of being able to quickly heat up a hearty, protein-rich soup for dinner. My husband and I really enjoyed the flavors and the heat of the soup, but if you don't like spicy foods, you might find it to be too much for you.
Taste: 7.5/10
Cost: 7/10
Convenience: 9/10
Nutrition: 6/10
Have you tried this soup? If so did you like it? What would you serve this with?