Costco's French Onion Soup isn't super flavorful, but it's convenient and enjoyable!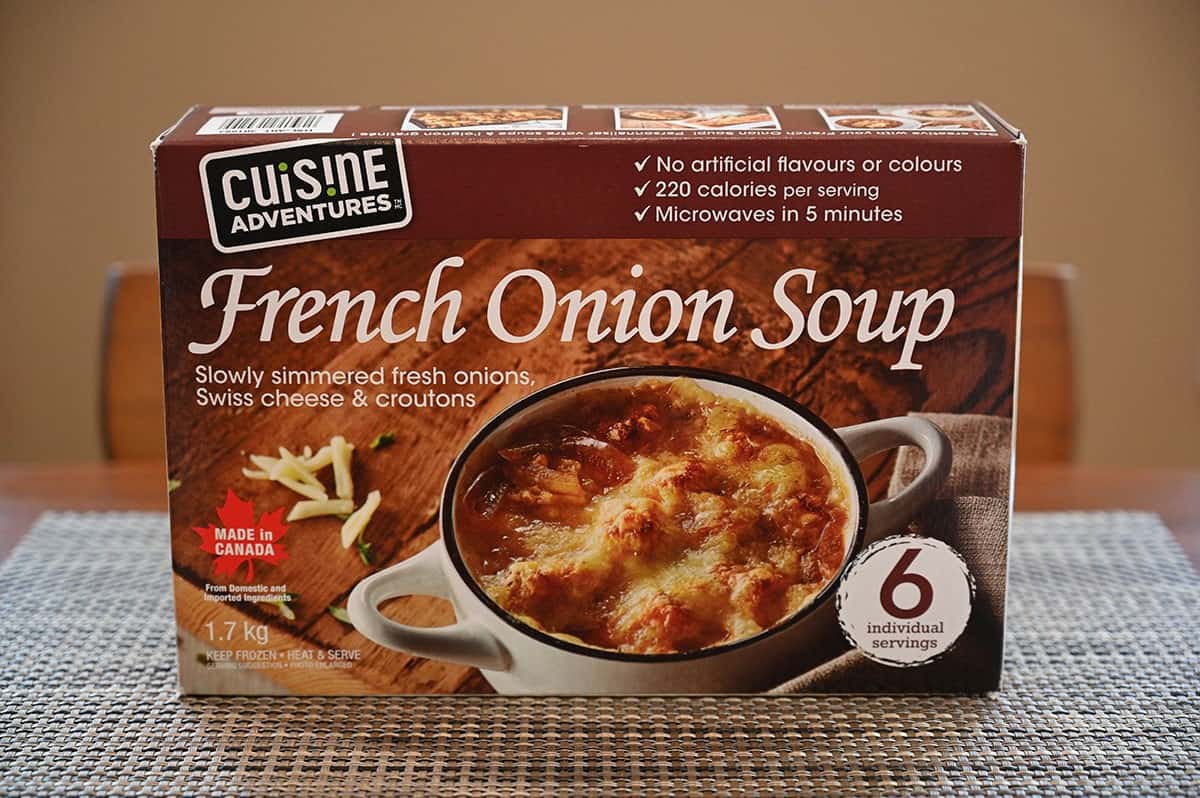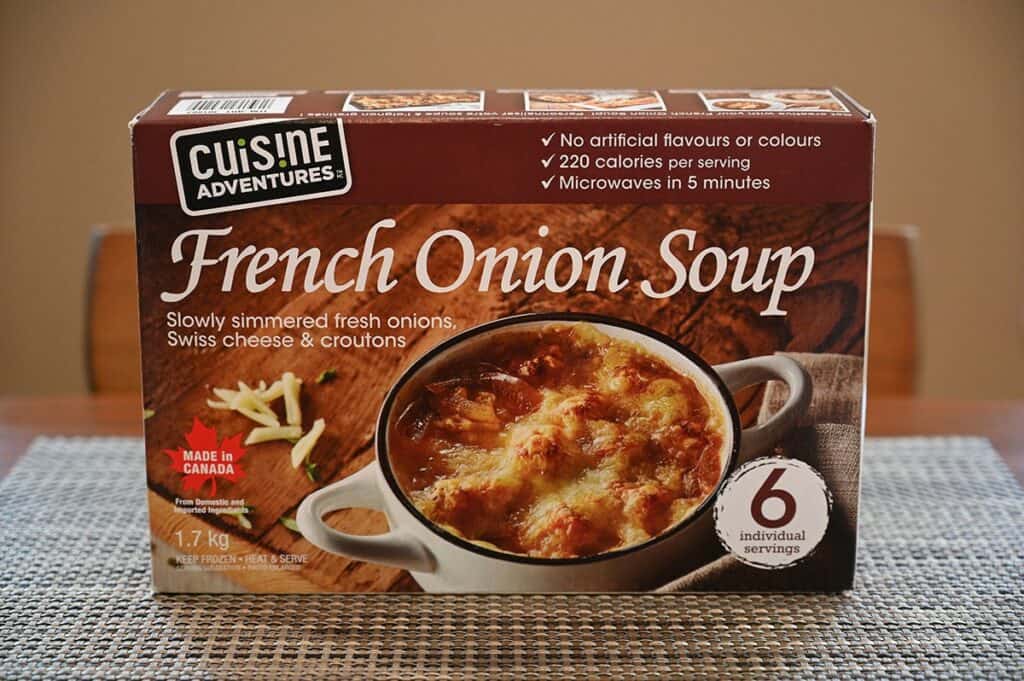 Today I'm reviewing the Cuisine Adventures French Onion Soup. I was actually given this French onion soup by my parents a few years ago to try. They purchased it from Costco and ranted and raved about how good it is.
Other soups from Costco are the Costco Johnny's Potato Cheddar Soup Mix, Costco Kirkland Signature Cheddar Broccoli Soup, Costco Ajinomoto Tokyo Style Shoyu Ramen with Chicken, Costco Kirkland Signature Chicken Tortilla Soup and the Costco Authentic Asian Hand Wrapped Shrimp Wonton Soup.
Location in Store
You can find the soup in the freezer section at Costco. The item number is 301883.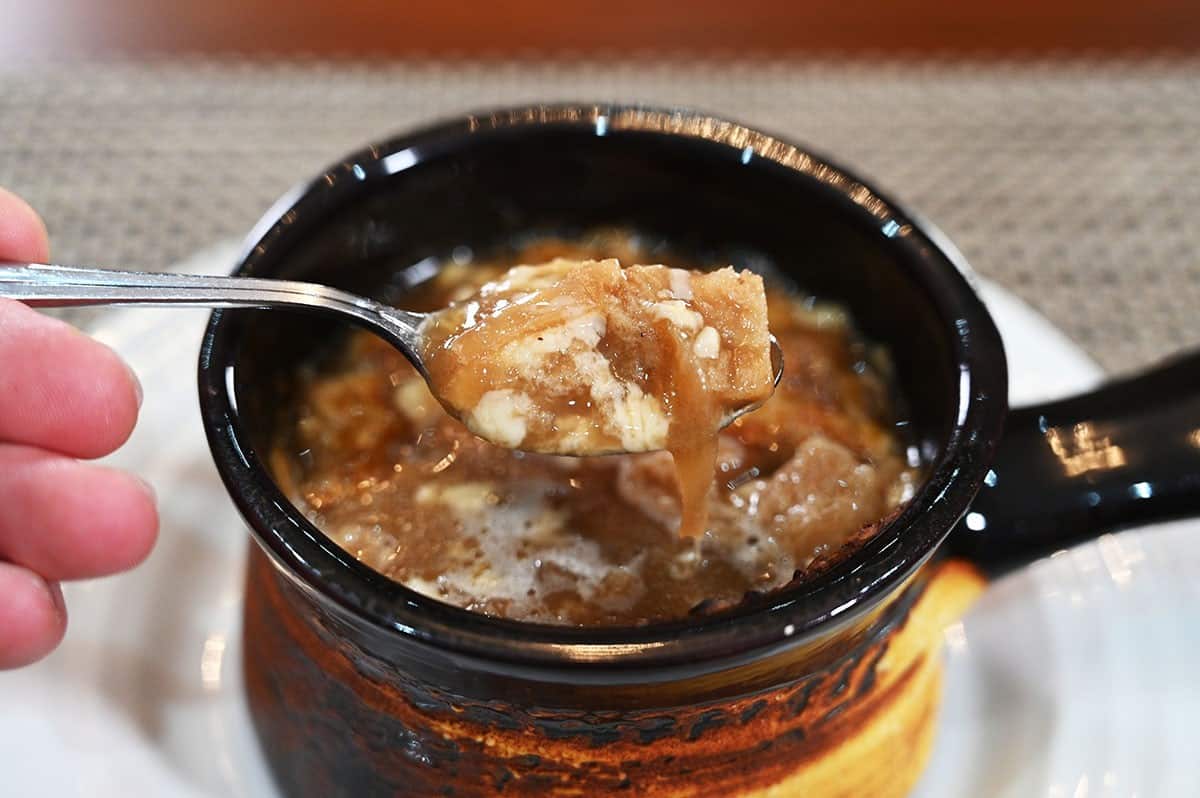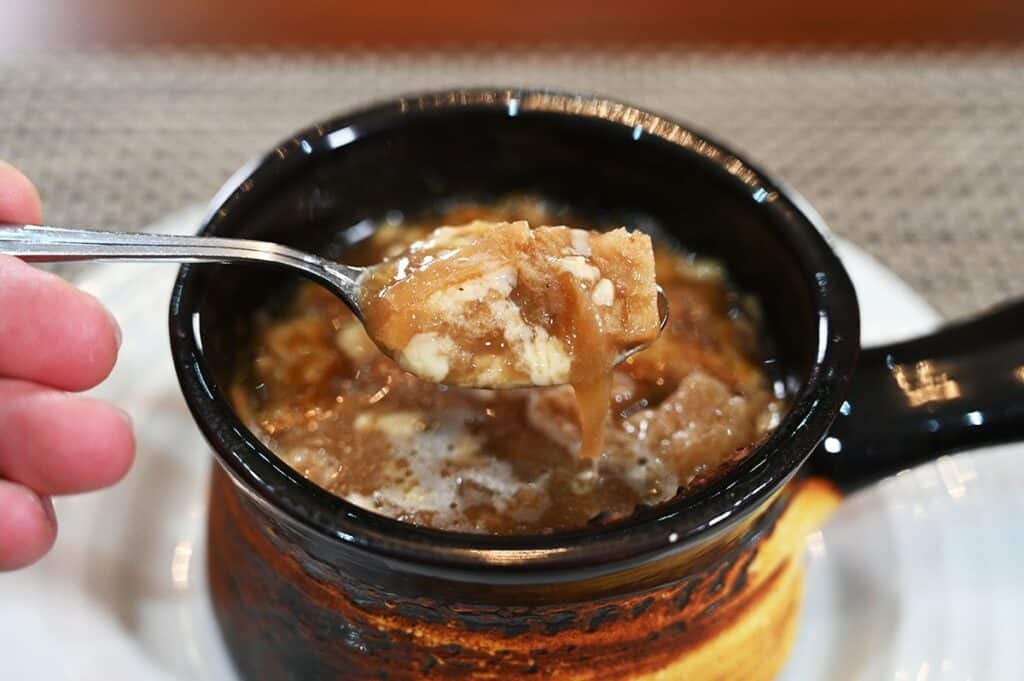 Taste
The first thing you notice is that the soup is loaded with cheese, onion and pieces of bread! I love how crispy and golden brown the cheese gets on top from baking the soup in the oven. Each serving of soup is fairly small, but it's a very hearty soup.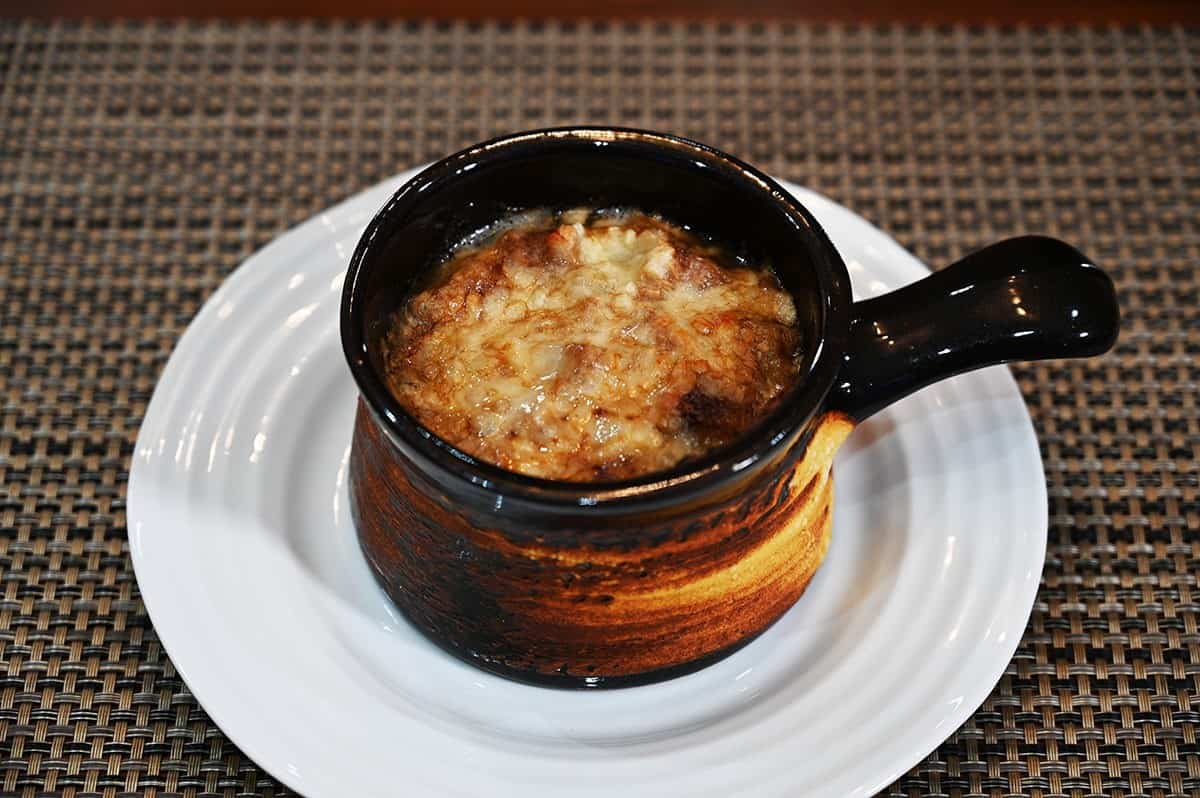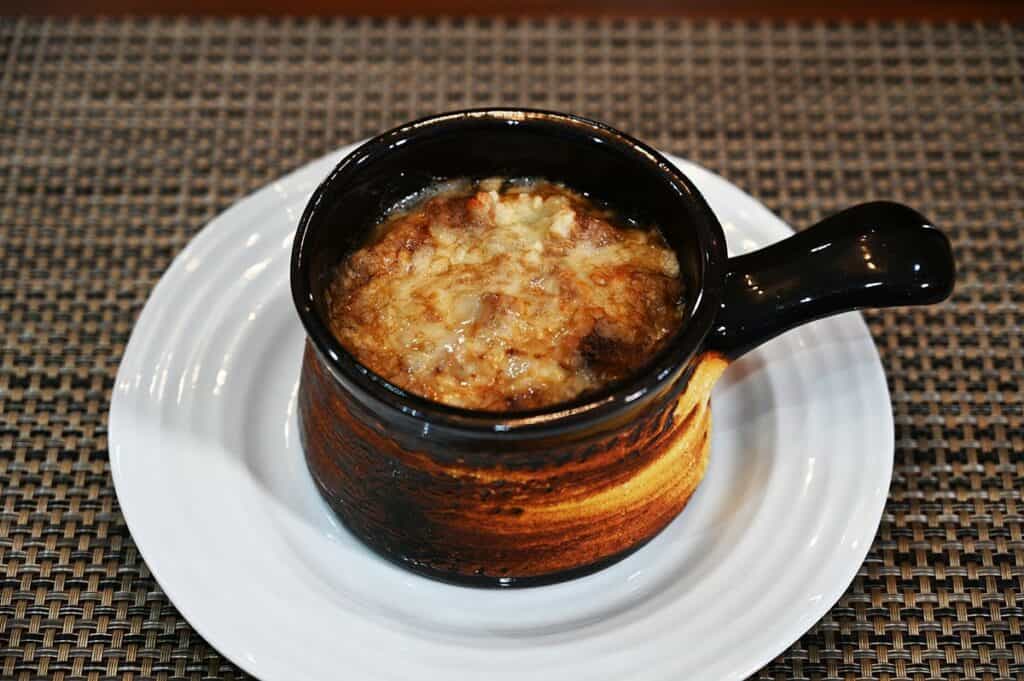 The flavors are mild, but pleasant. You notice the different textures of the cheese, onion and bread as much or more than the flavors. The cheese is nice and chewy and the onions add a bit of crunch (though not a lot as they're well cooked).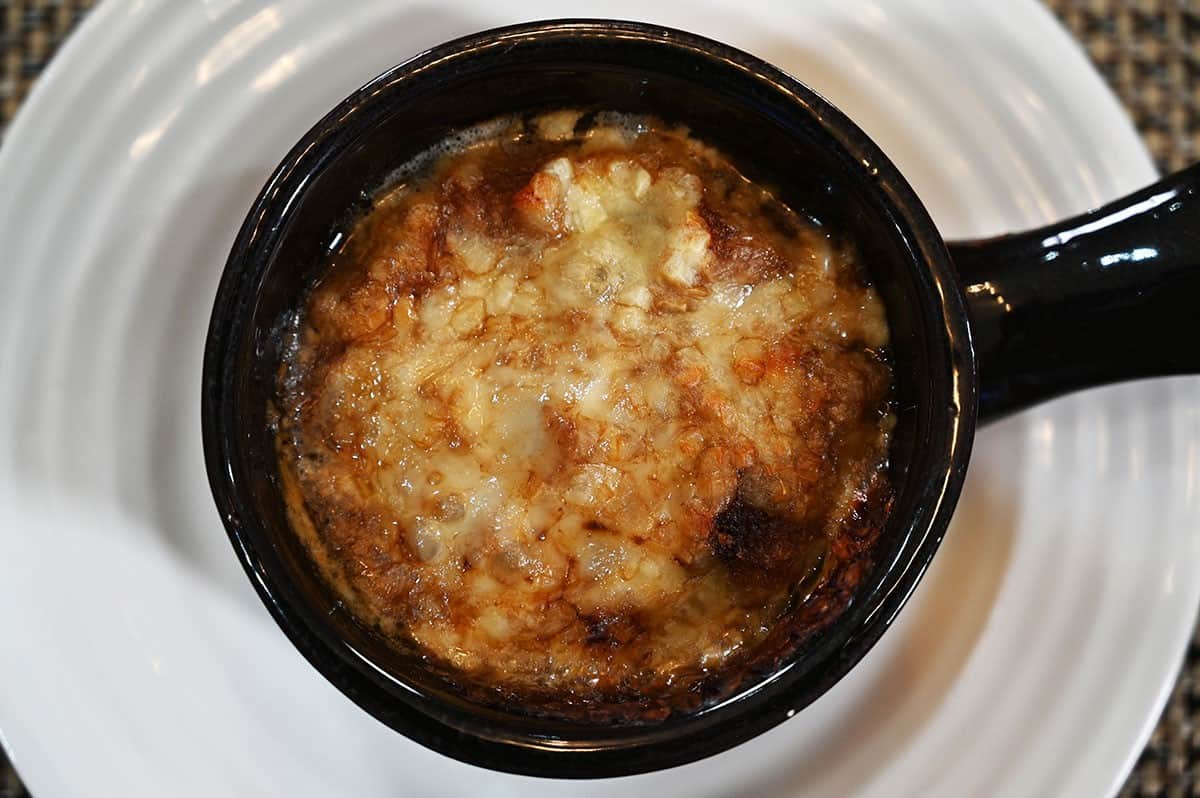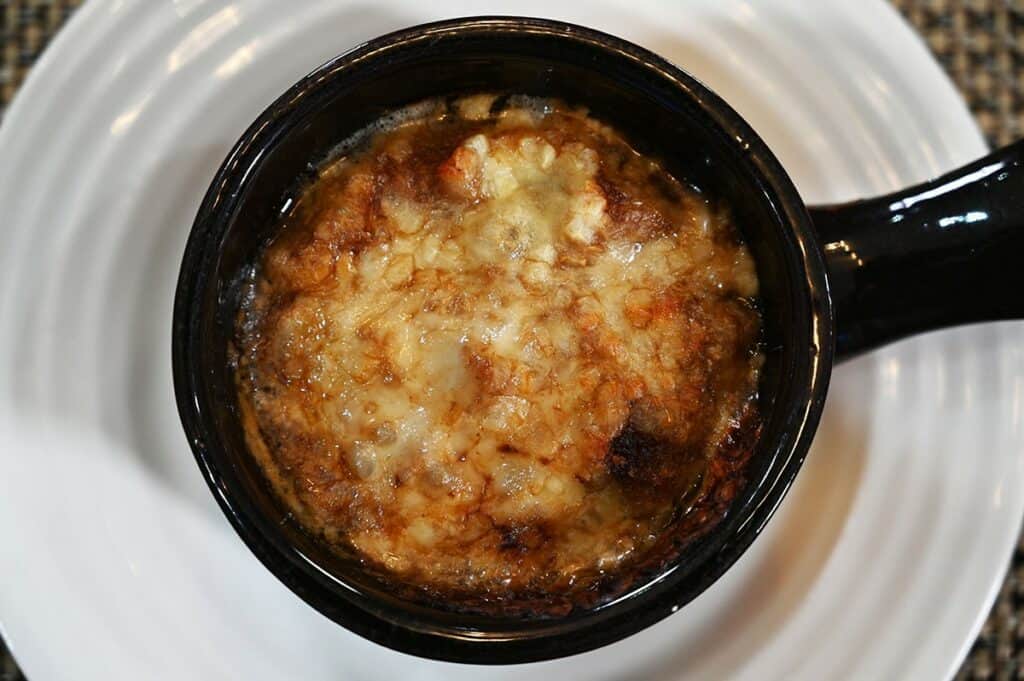 I can't imagine too many people not liking this soup. It's a mild yet extremely satisfying comfort food that's perfect for fall and winter. I think it works best as an appetizer, but I'm sure some people out there would love it as a main course!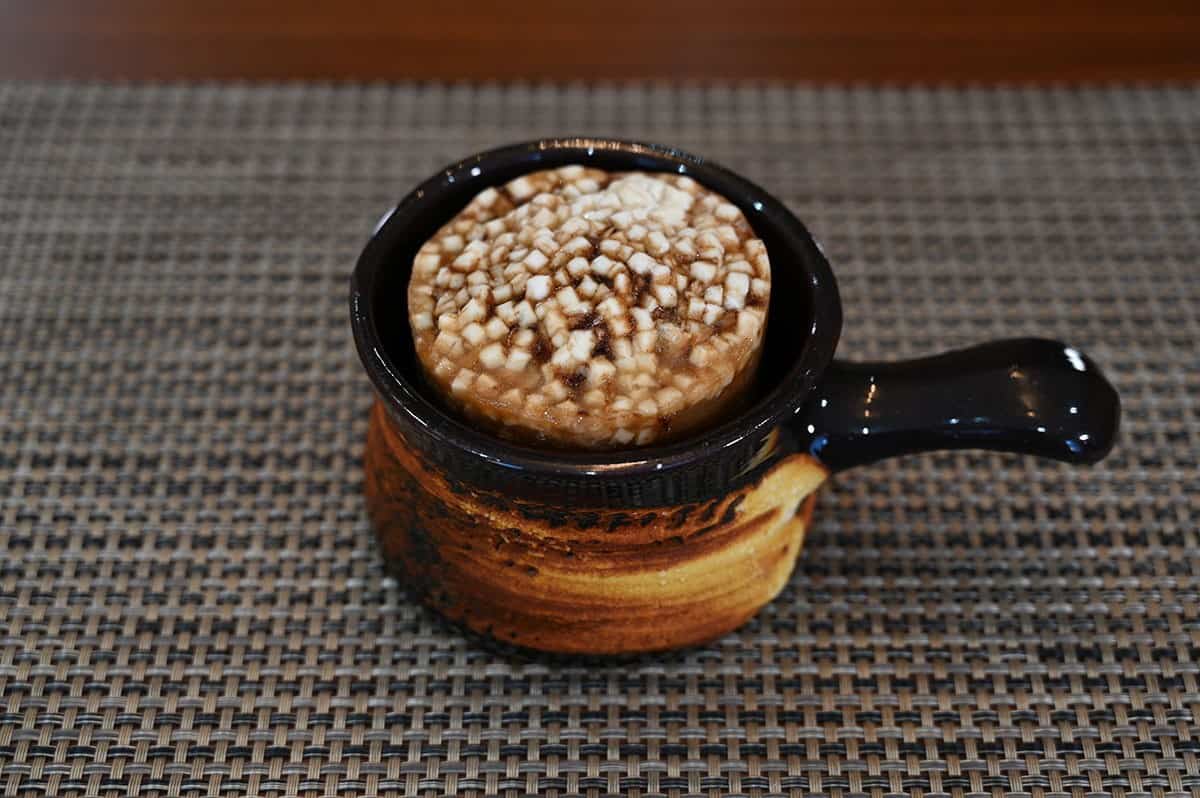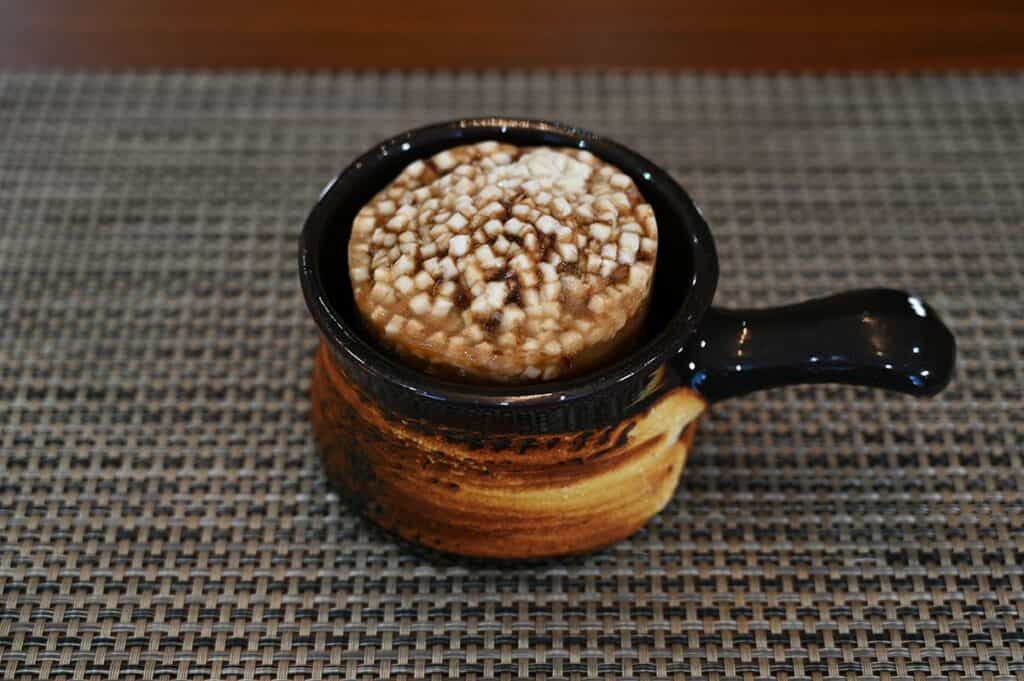 Cost
The Costco Cuisine Adventures French Onion Soup costs $12.49 Canadian for six soups. Keep in mind you're probably paying a bit for the fancy vacuum seal packaging.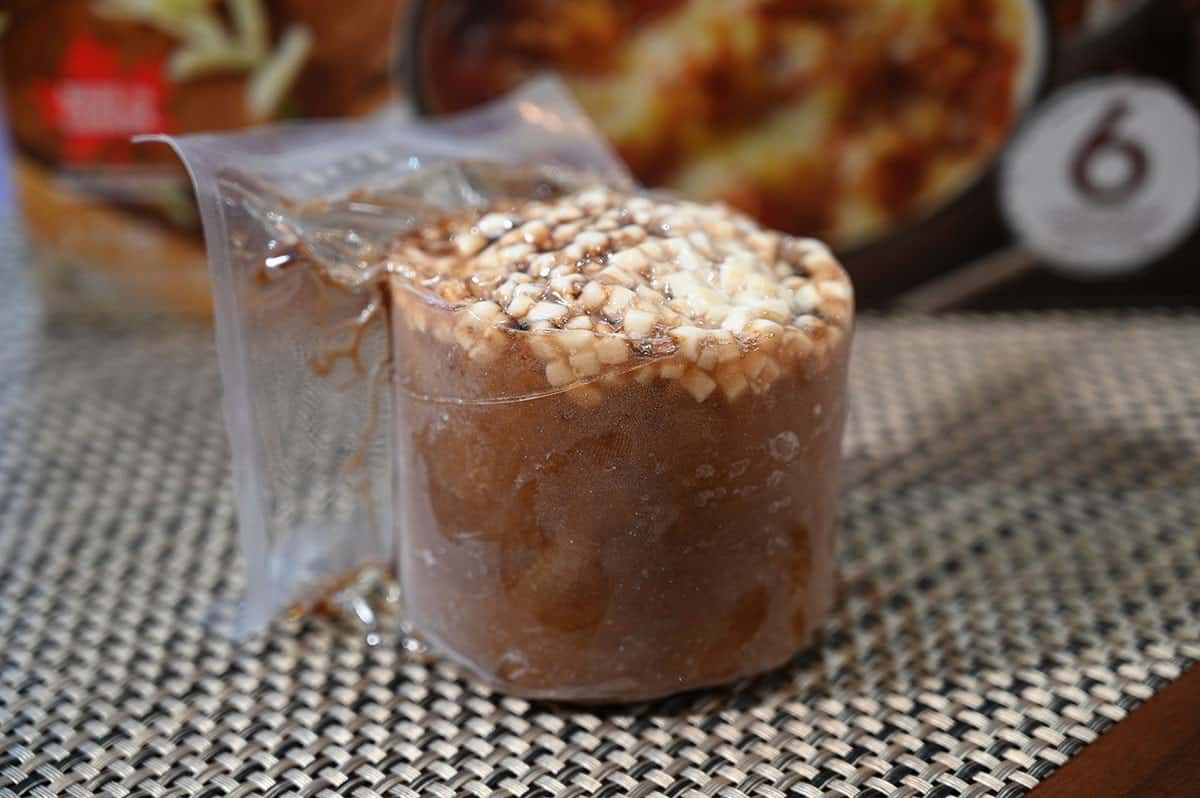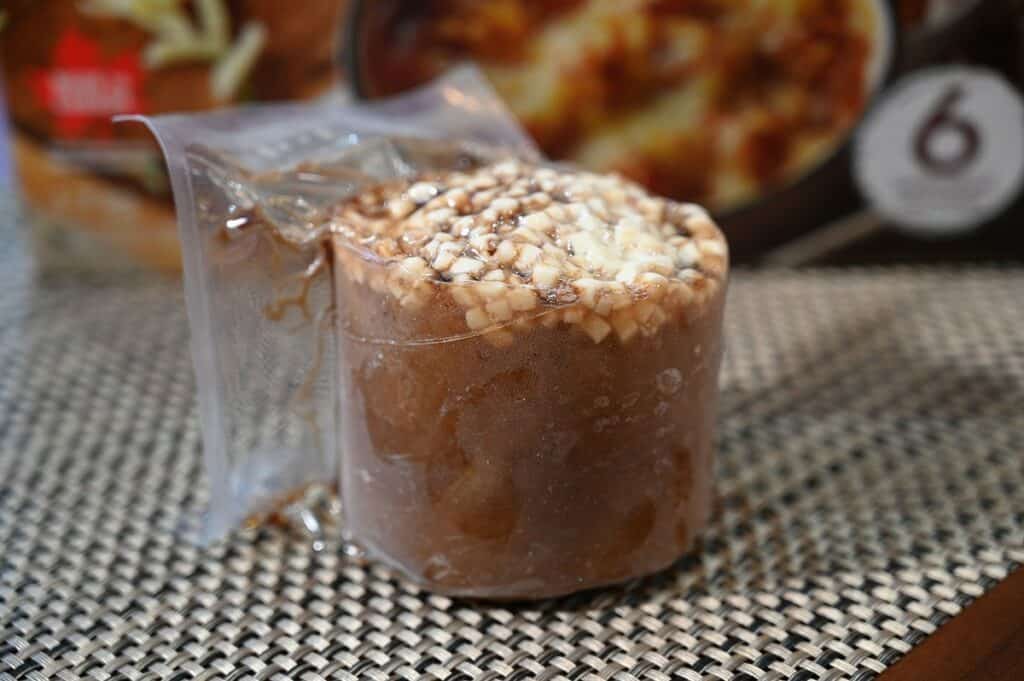 I feel like French Onion soup is something that's rare to find in a grocery store and also there's a high probability it won't taste very good. I enjoy the taste of this soup therefore I would love to purchase this when on sale.


Convenience
Each soup in the box comes separately vacuum-sealed in plastic and frozen in a cylindrical shape. This is convenient for a single person who just wants to make one soup for themselves. To heat these in the oven, I used special bowls that my mom gave me that are oven-safe and have a large handle on them.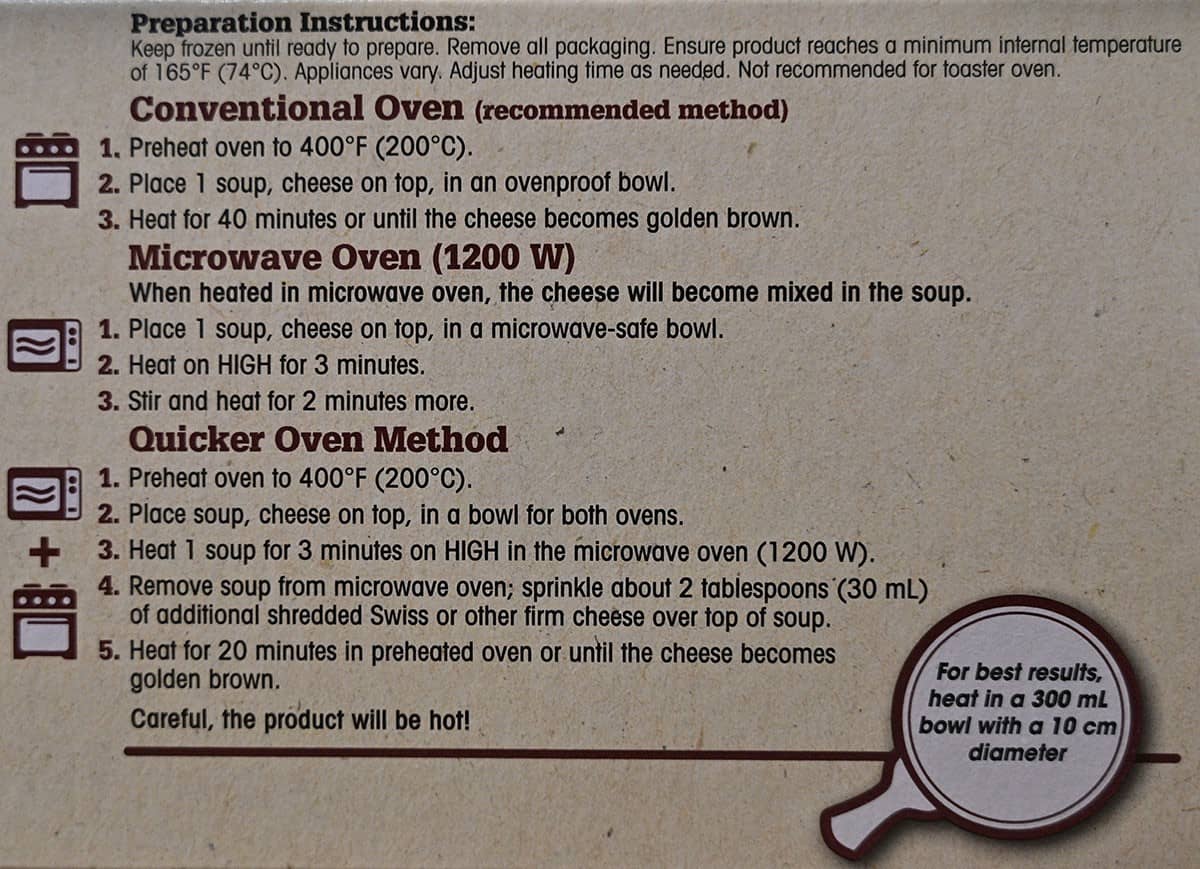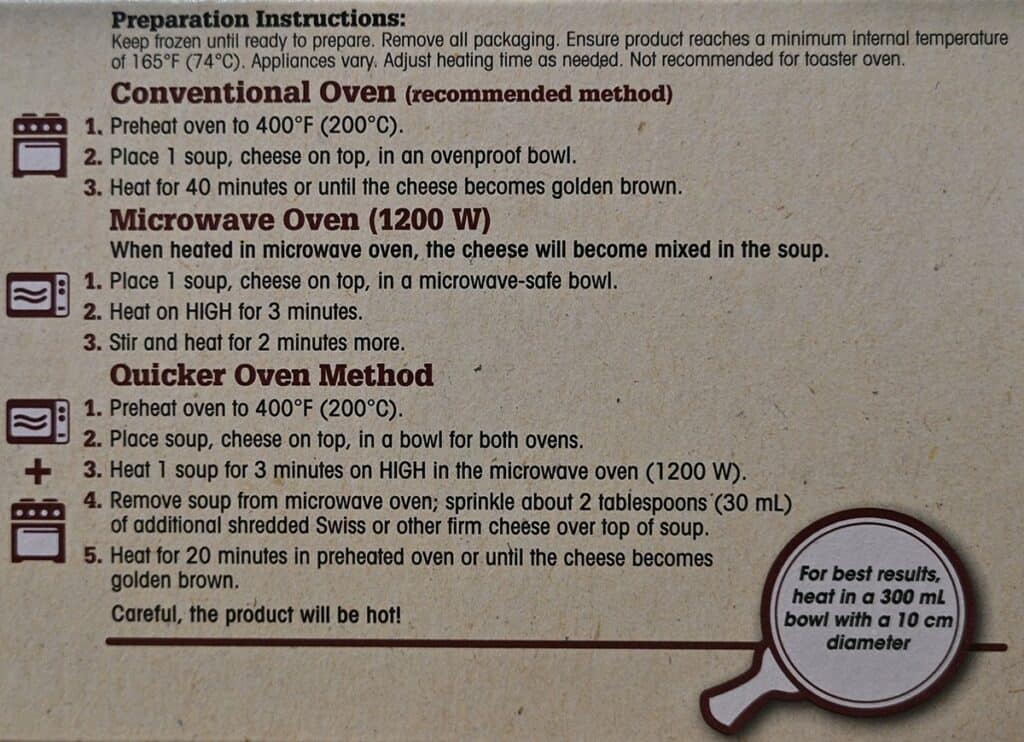 If you really love French Onion soup it might be wise to invest in some nice soup bowls. The soups are frozen with the cheese on top so as the soup heats the cheese stays on top of the liquid and remains crispy. It's a pretty convenient product because all you need to do is heat and serve it.
I recommend cooking the soup in the oven as I feel like the cheese gets brown and crispy that way. All this requires is putting your soup in an oven safe bowl, turning the oven on and sticking them in the oven for 45 minutes. I always follow the instructions for the recommended oven method that takes longer, so I'm not sure how well the quick method that uses the microwave and the oven works.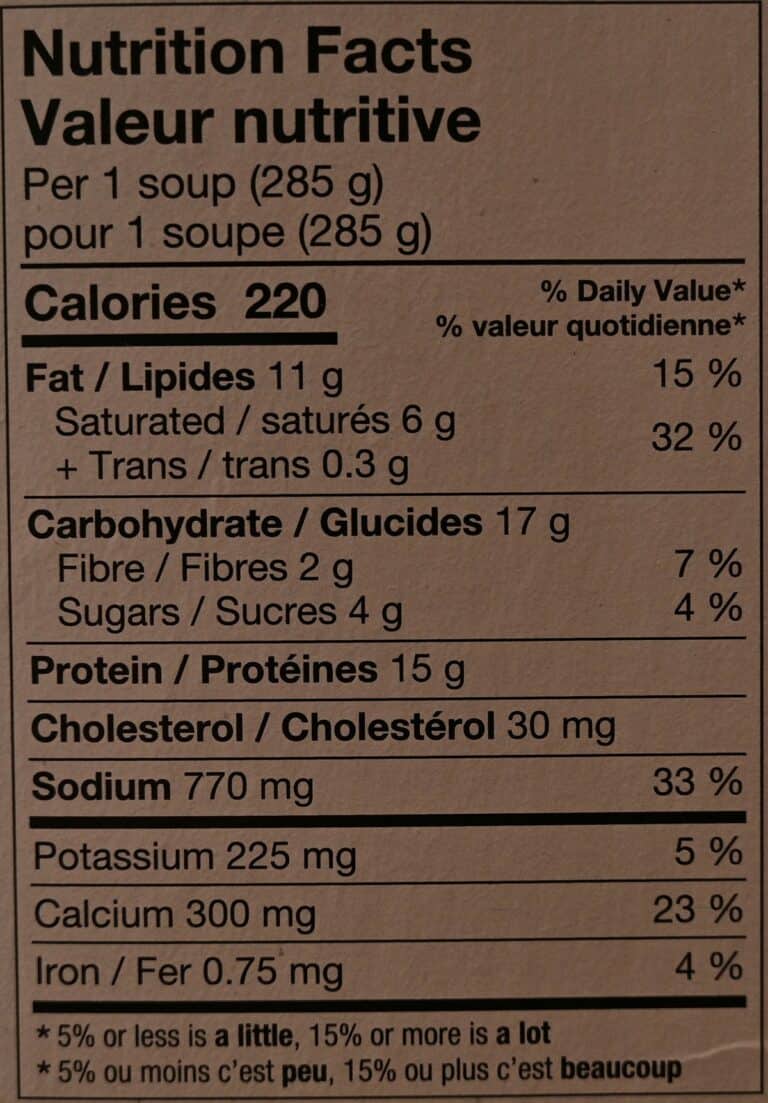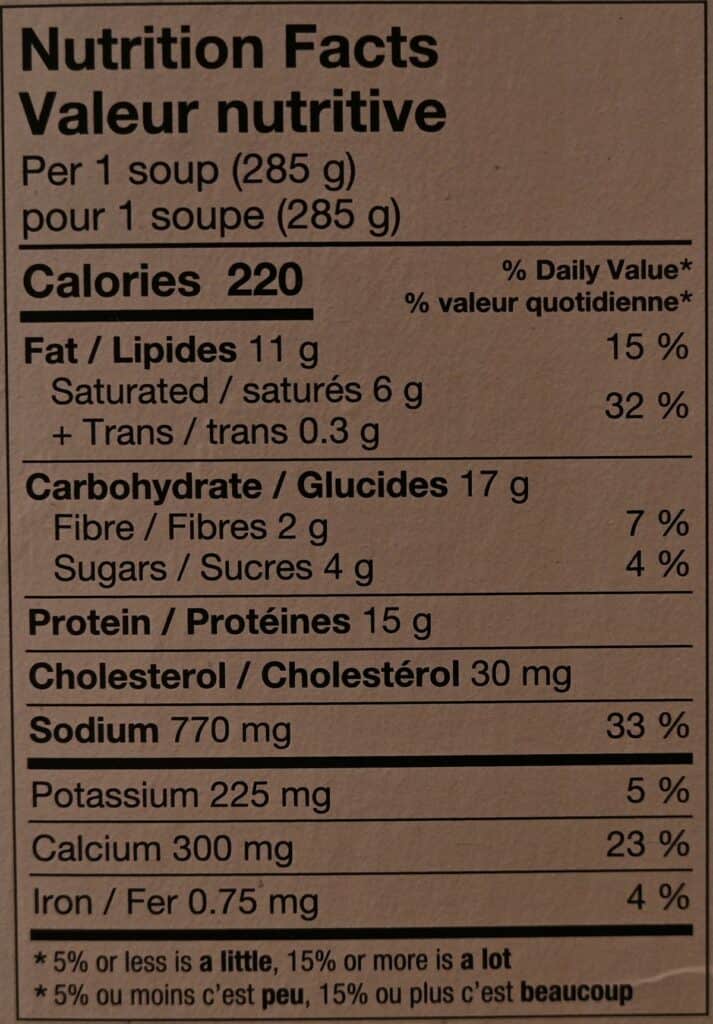 Nutrition
Calories
This French Onion Soup isn't the healthiest option, but also isn't the worst. One soup contains 220 calories, 11 grams of fat, 17 grams of carbohydrates, two grams of fibre, four grams of sugar, fifteen grams of protein and 770 milligrams of sodium. That's quite a bit of sodium!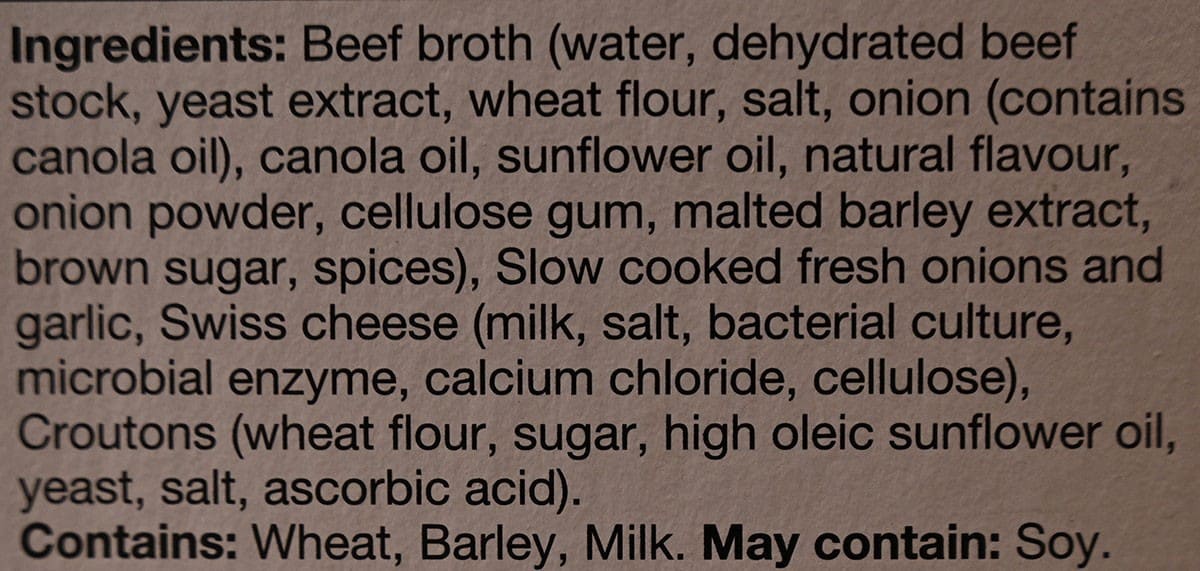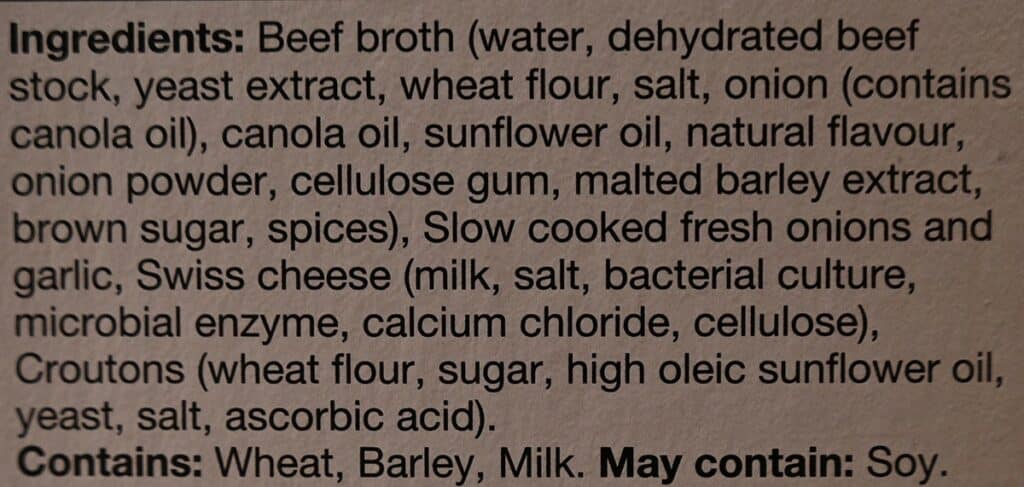 Ingredients
The Costco French onion soup is neither gluten-free nor dairy-free. It contains wheat, barley and milk and may contain soy too.
Scoring
Taste: 9/10
Cost: 7.5/10
Convenience: 9.5/10
Nutrition: 2/10
Overall
Must buy!
If you like French onion soup, I think you'll like this Costco freezer version. It's not as good as restaurant quality but it's still really comforting and enjoyable.
Have you tried this? What did you think?
---
Please note that this review was not paid for or sponsored by any third party. This product was purchased by Costcuisine for the purpose of producing this review. The opinions in this review are strictly those of Costcuisine. Costcuisine is not affiliated with Costco or any of its suppliers. In the event that Costcuisine receives compensation for a post from the manufacturer of a product or some other third party, the arrangement will be clearly disclosed (including where the manufacturer of a product provides Costcuisine with a free sample of the product).