Costco apple pie rolls – like a spring roll, but with apple pie filling and a caramel dipping sauce!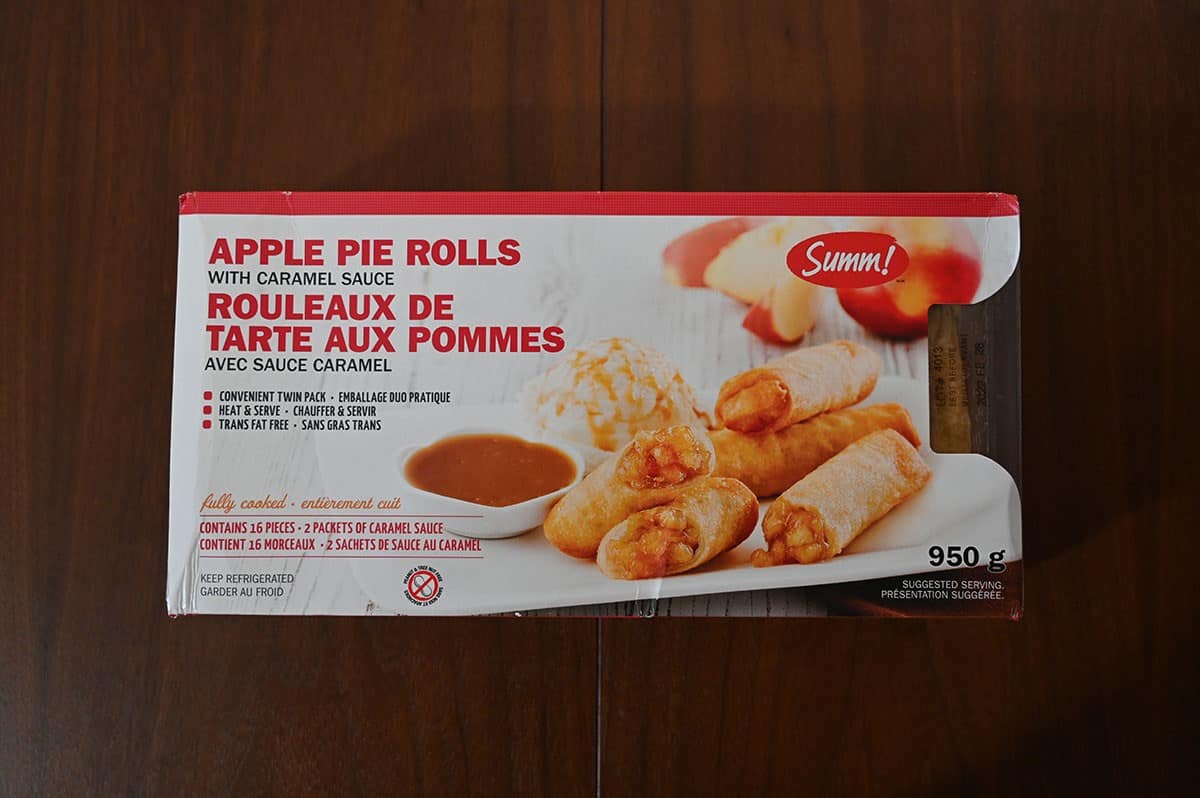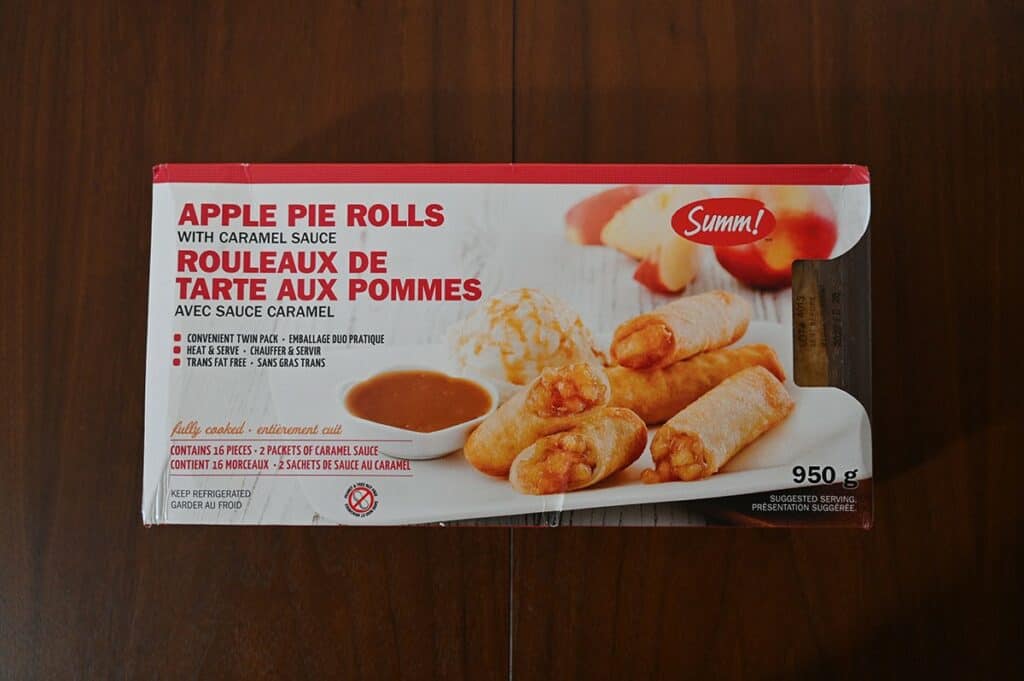 Today I'm reviewing a product I've been wanting to try for years! The Costco Summ! Apple Pie Rolls with Caramel Sauce. These have been available in Eastern Canada in previous years but did not make their way to Western Canada until just recently!
Other similar products at Costco I've reviewed are the Summ! Crispy Vegetable Spring Rolls, the Summ! Sweet & Sour Chicken Spring Rolls and the Minh Egg Rolls,
Location in Store
You can find the apple spring rolls in the refrigerated dessert section at Costco, by the fresh pasta and refrigerated appetizers, the item number is 1286798.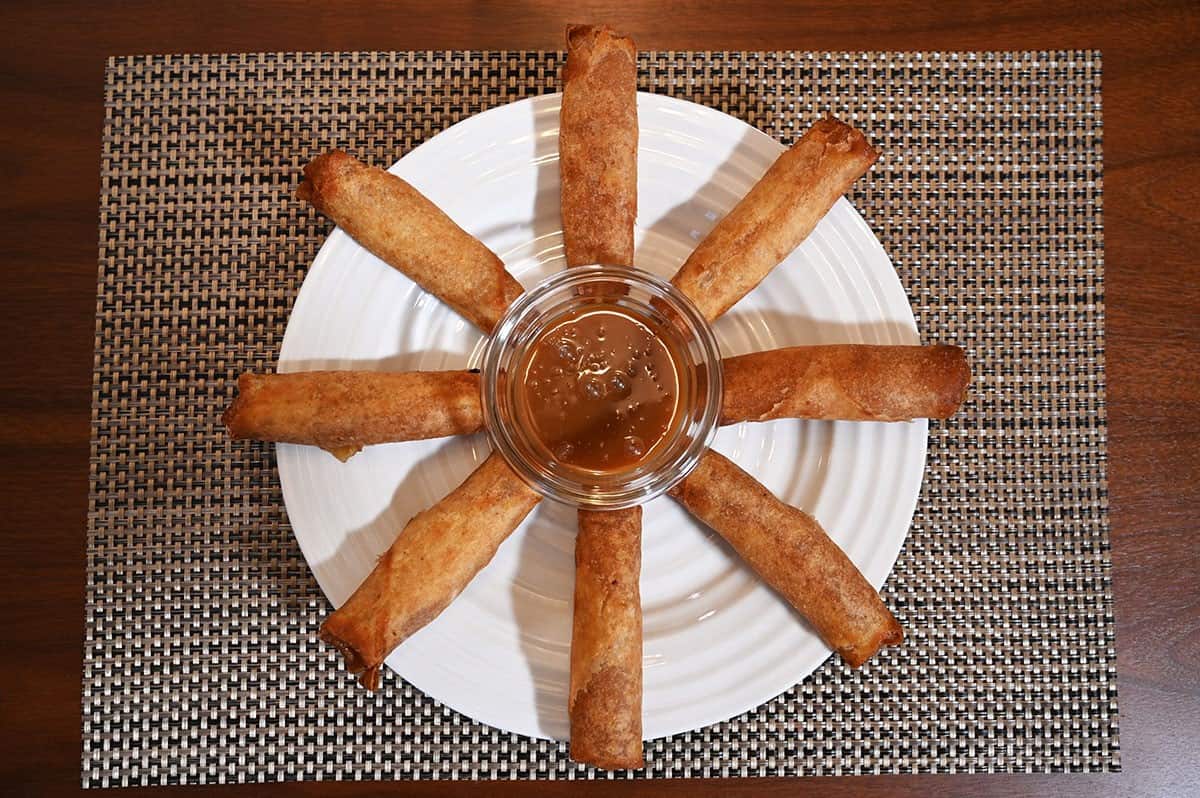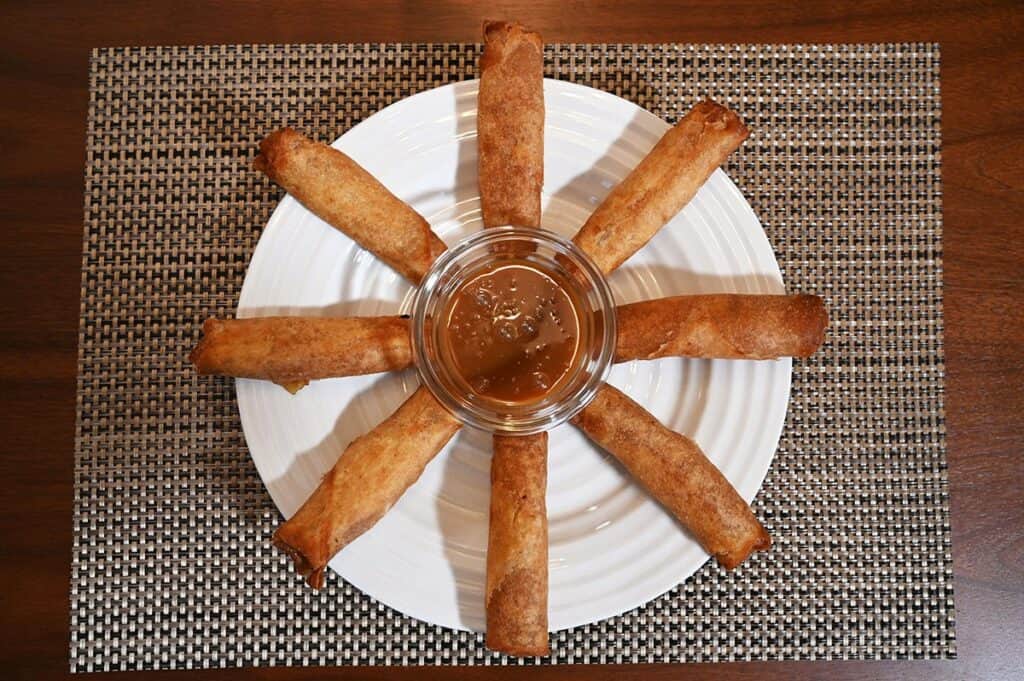 Taste
The first thing I notice about the apple pie rolls is how good they smell as I'm baking and serving them! It reminds me of the smell of those mini donuts you get at fairs and amusement parks – more so cinnamon than apple.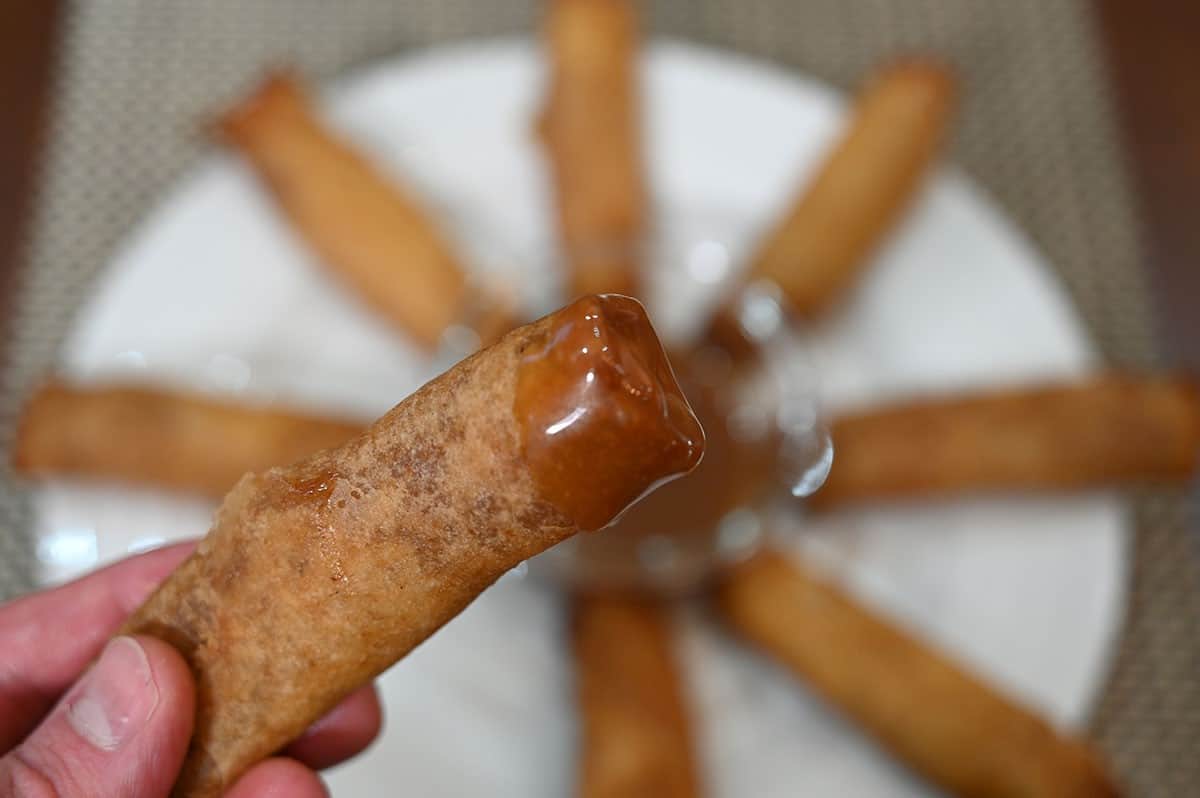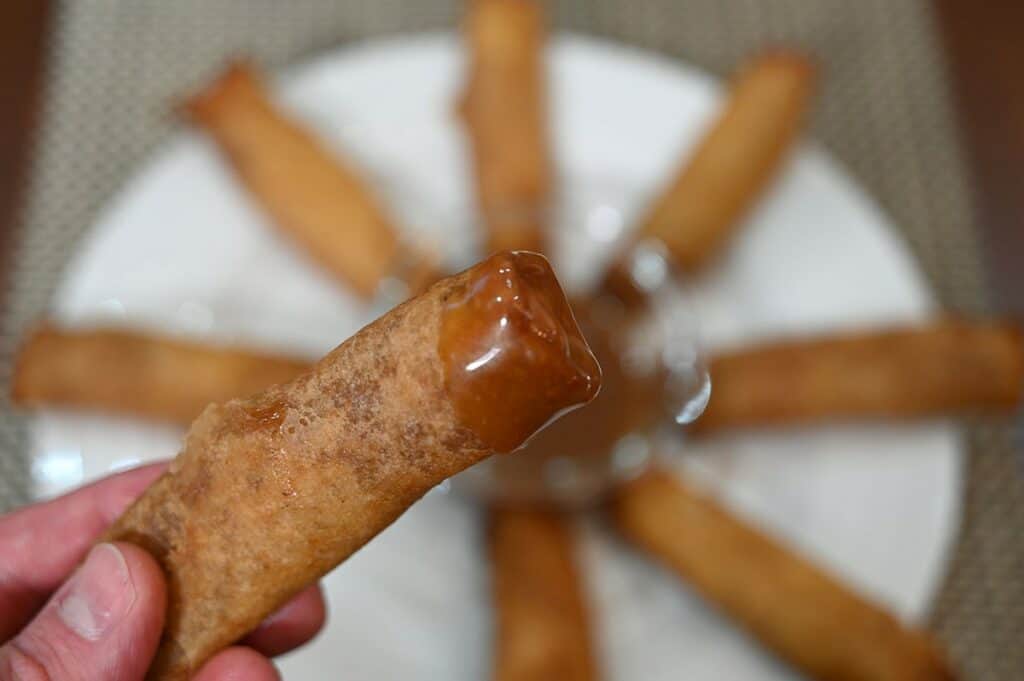 After baking my rolls for 16 minutes and flipping them halfway through cooking, they are nice and crispy on the outside with the filling inside nice and warm.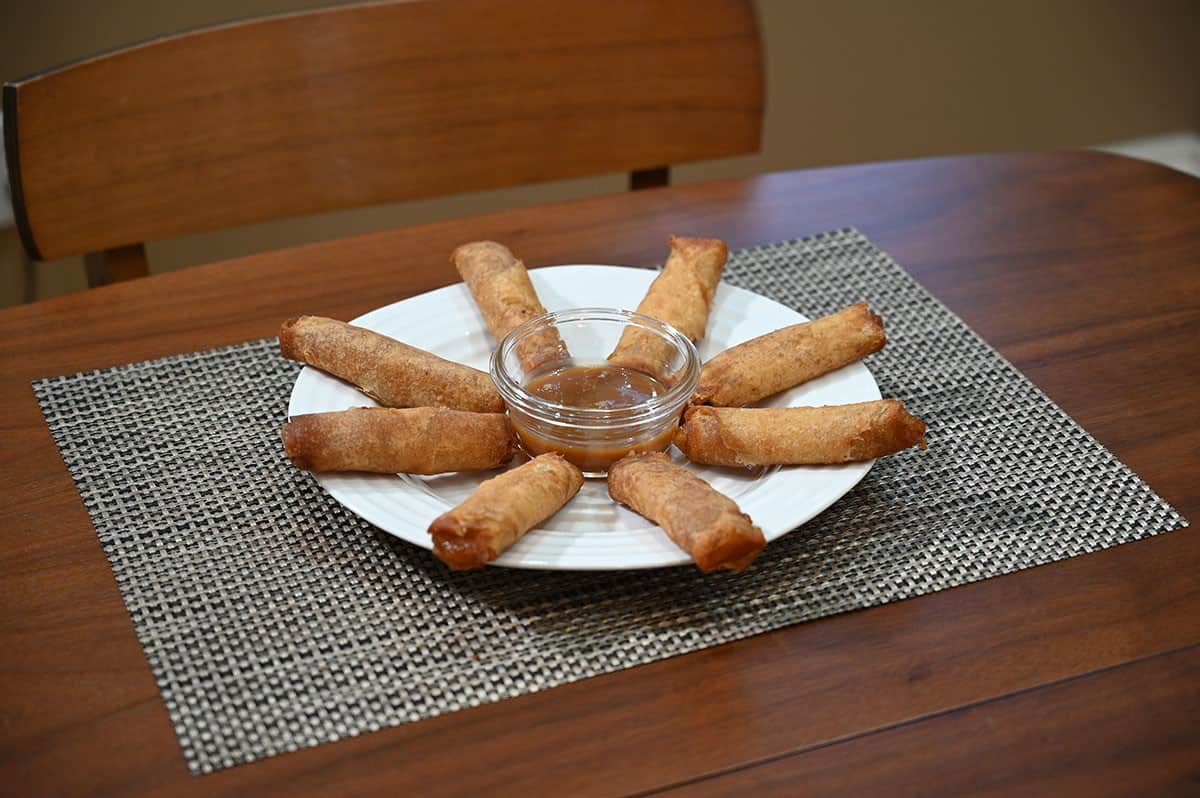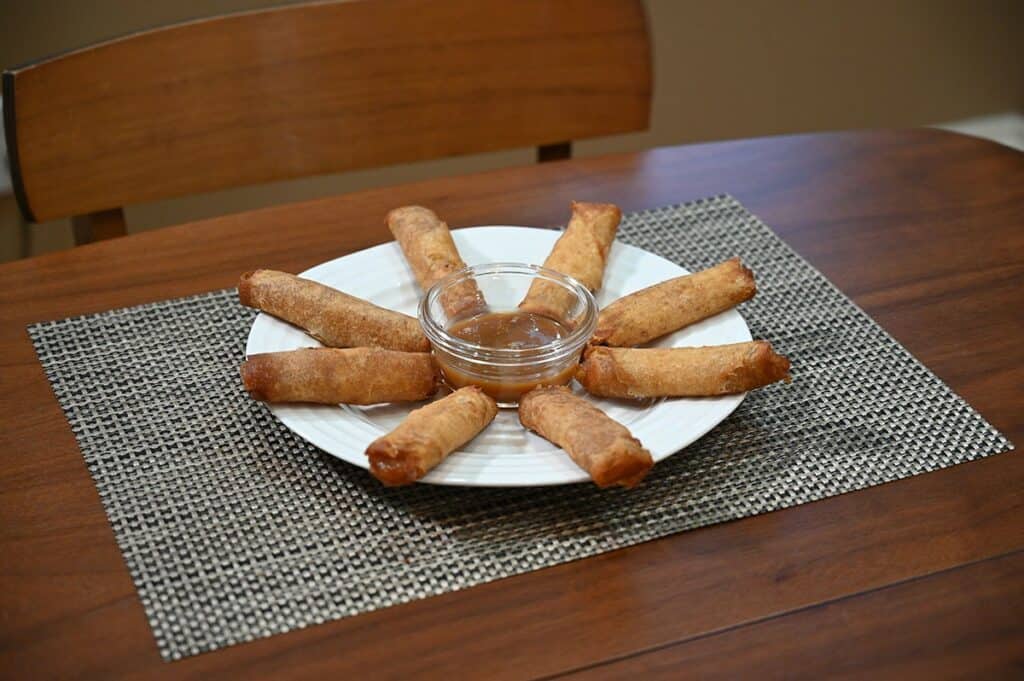 The caramel dipping sauce is a little on the sweet side, but tasty. Personally I find it a bit much with the fried dough and apple pie filling. I do enjoy it though but would prefer to enjoy these with vanilla ice cream.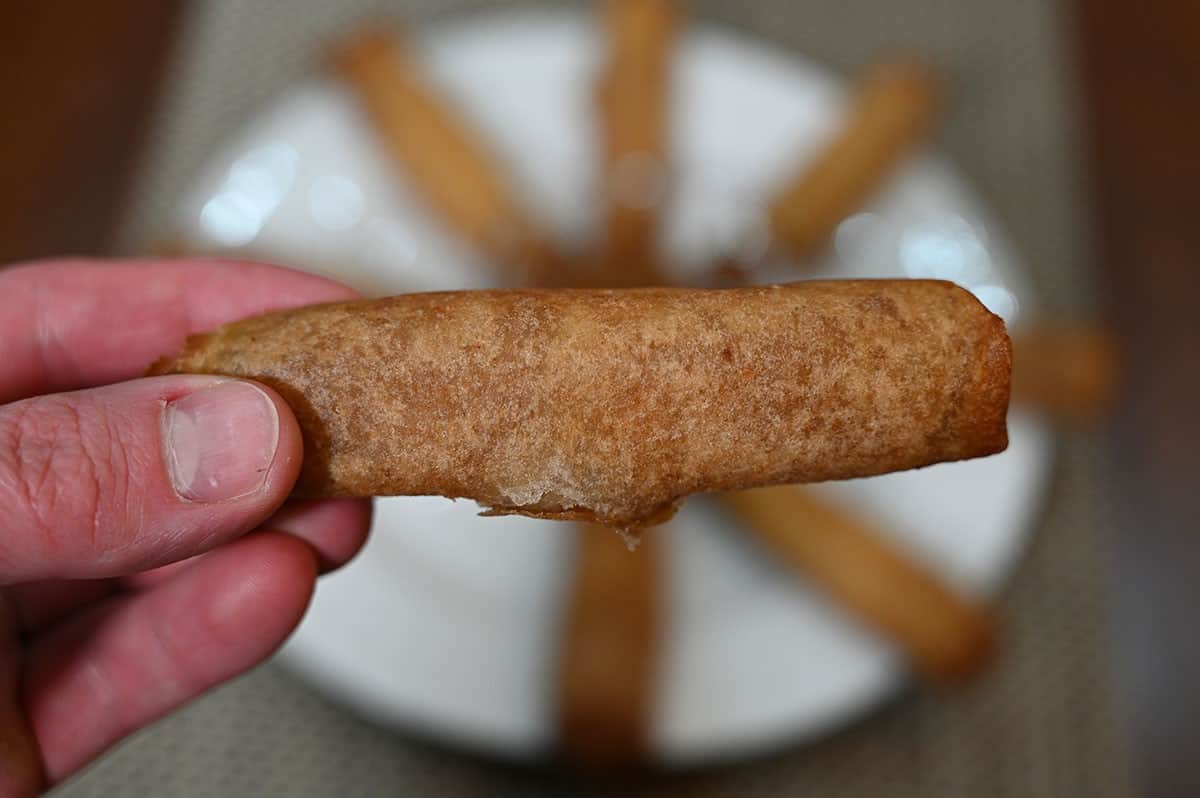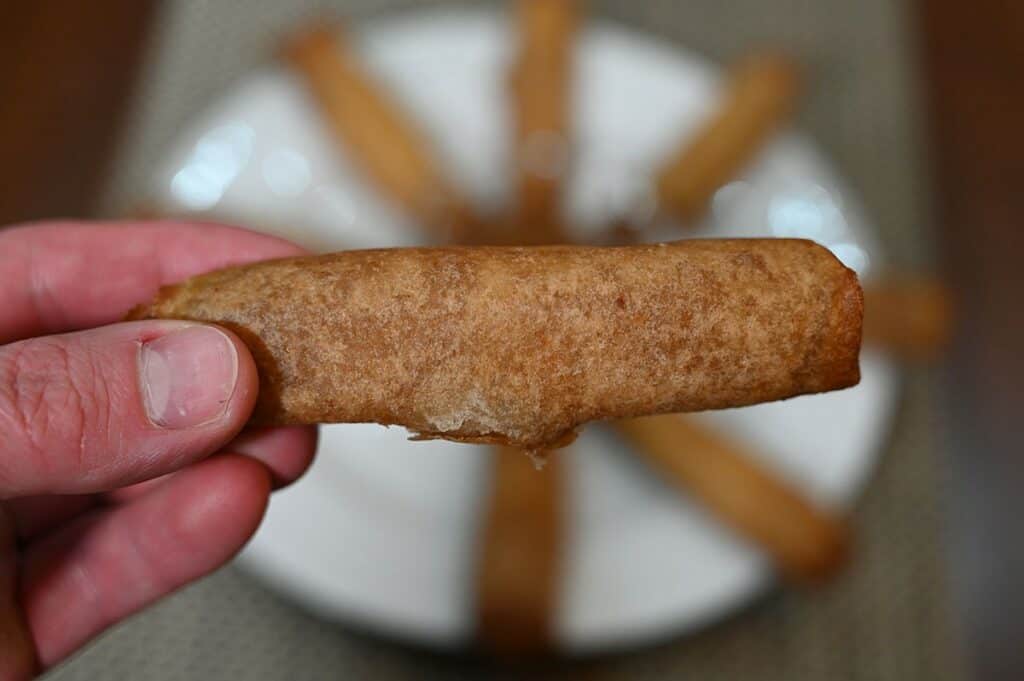 The dough doesn't have much flavor; it tastes like crisp fried dough with a hint of cinnamon. The filling inside has a strong apple cinnamon taste and that's where most of the flavor comes from. The filling is also quite sweet. There are small chunks of apple in it, but they're very soft.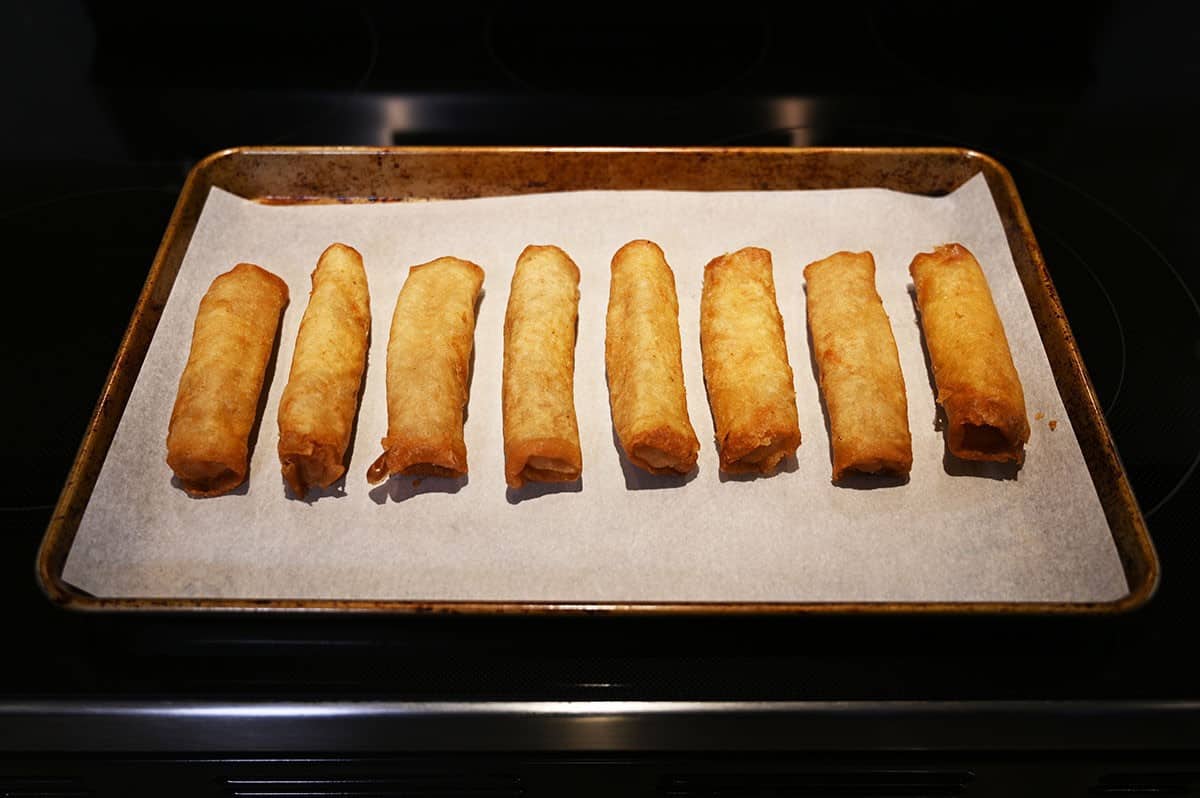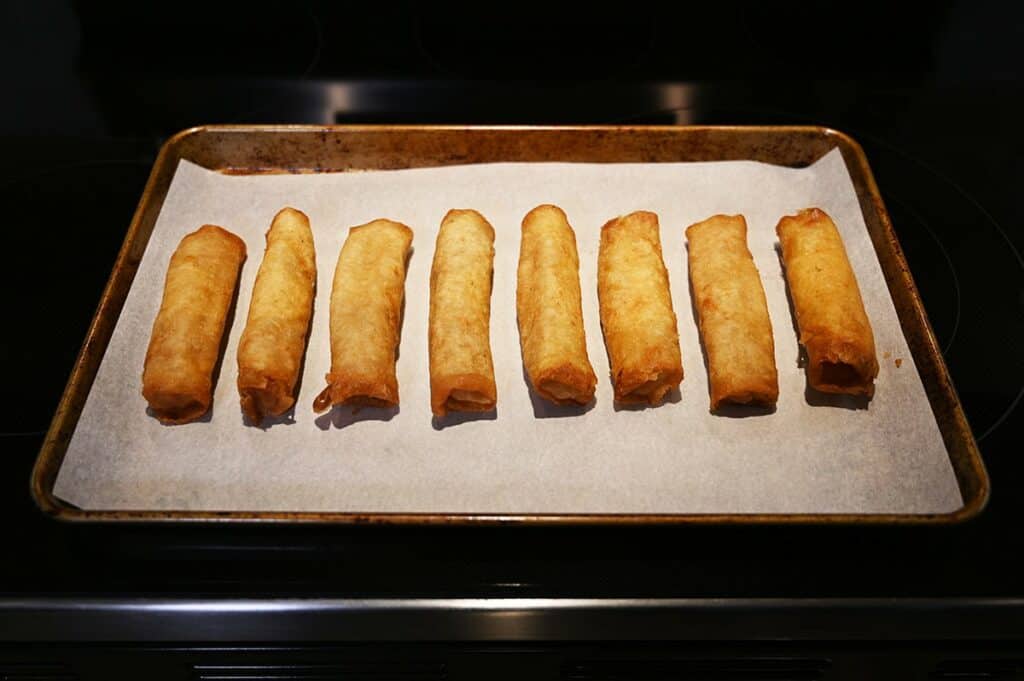 The Apple Pie Rolls can be a bit messy to eat; sometimes the dough will crack and the filling leaks out.
Cost
I paid $11.49 Canadian for the 950 gram two-pack of apple pie rolls.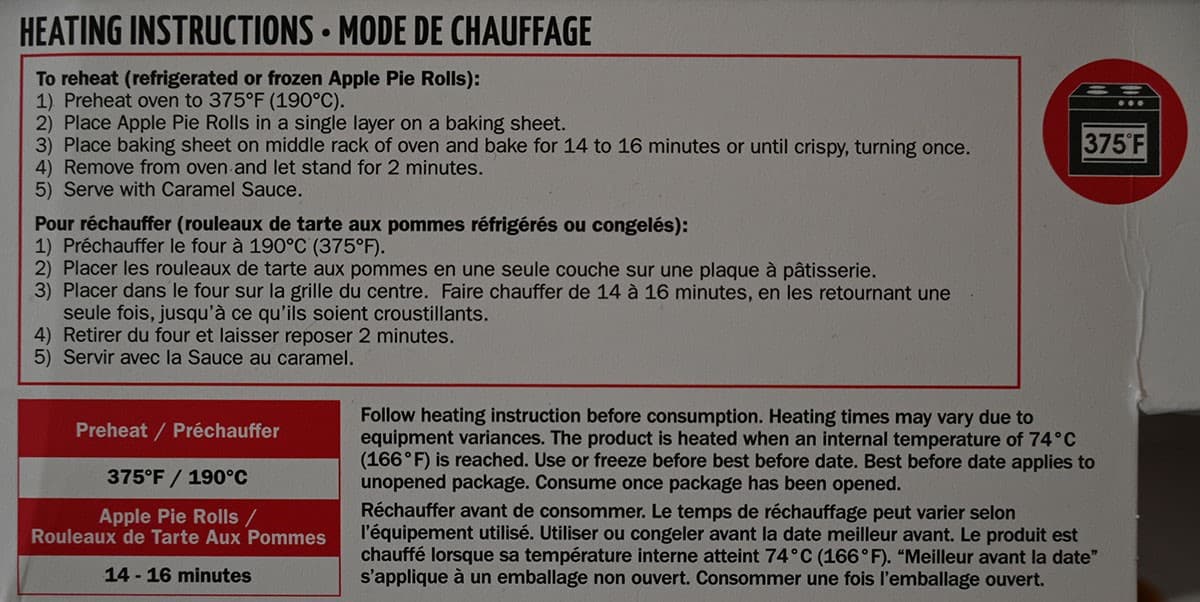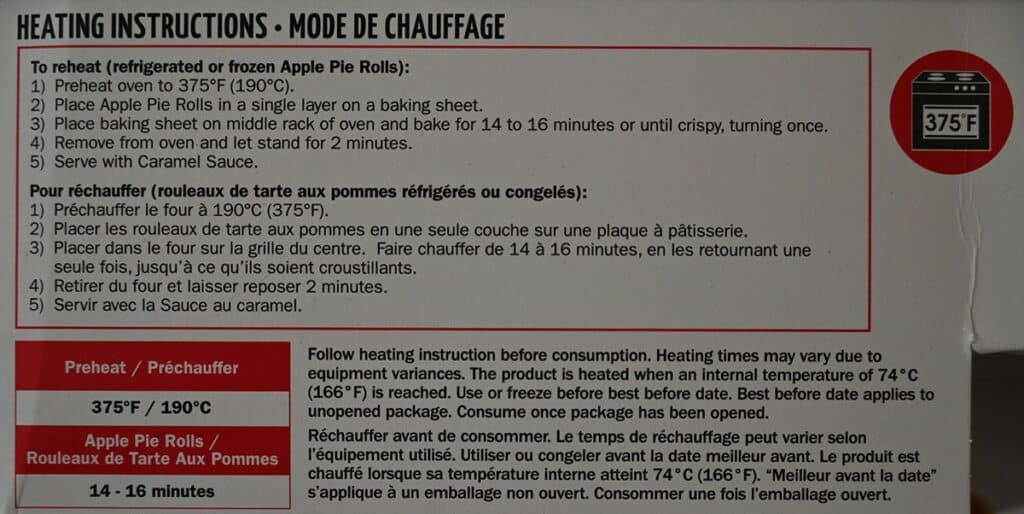 Convenience
To reheat the apple pie rolls from frozen or refrigerated, preheat the oven to 375 degrees farenheit, place the rolls on a cookie sheet and on the middle rack of your oven. Bake the rolls for 14 to 16 minutes turning over once halfway through. Let me stand for a few minutes so you don't burn your mouth and serve them with the caramel sauce. You could also heat these in your air fryer!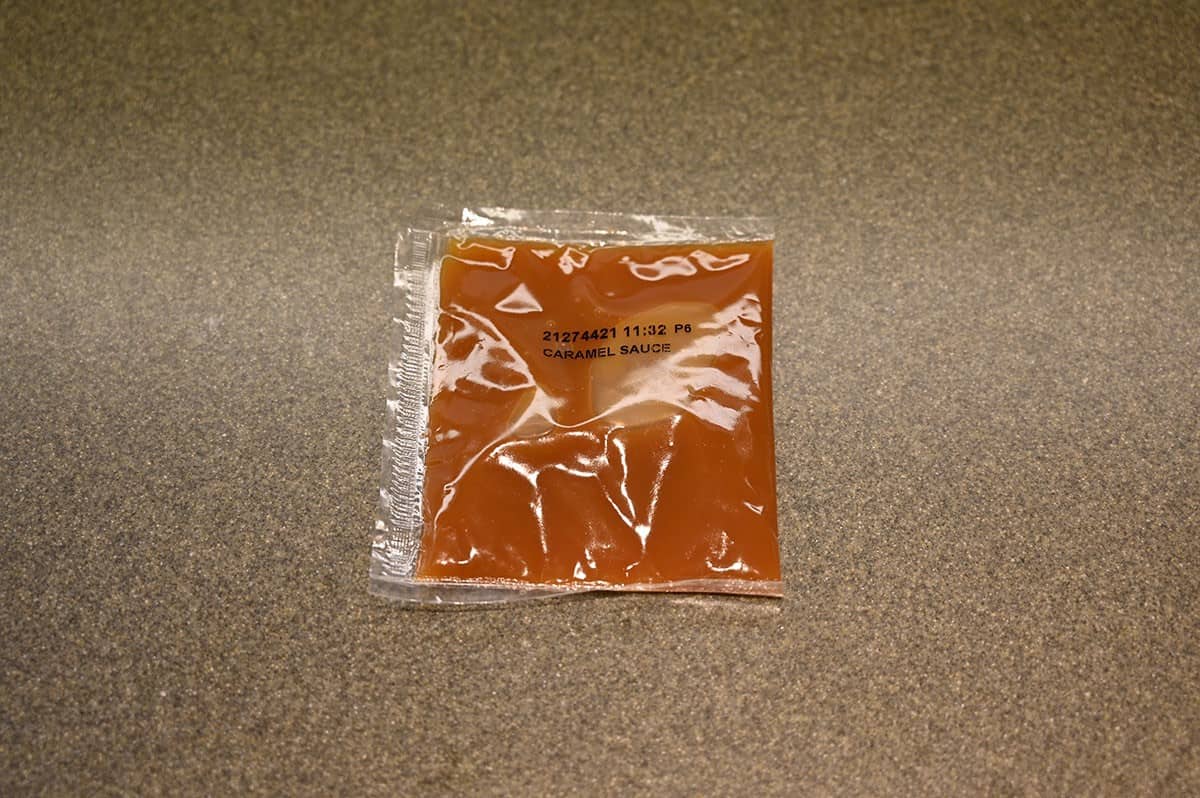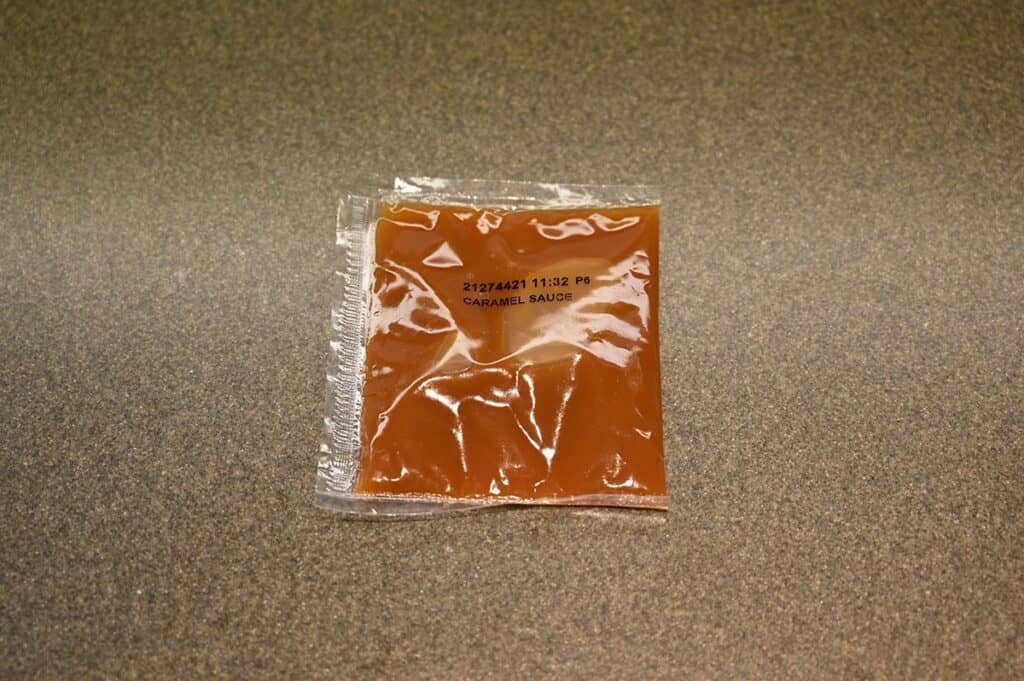 The Costco Summ! Apple Pie Rolls come in a two-pack with egg apple pie rolls in each pack. Each pack also comes with it's own caramel sauce.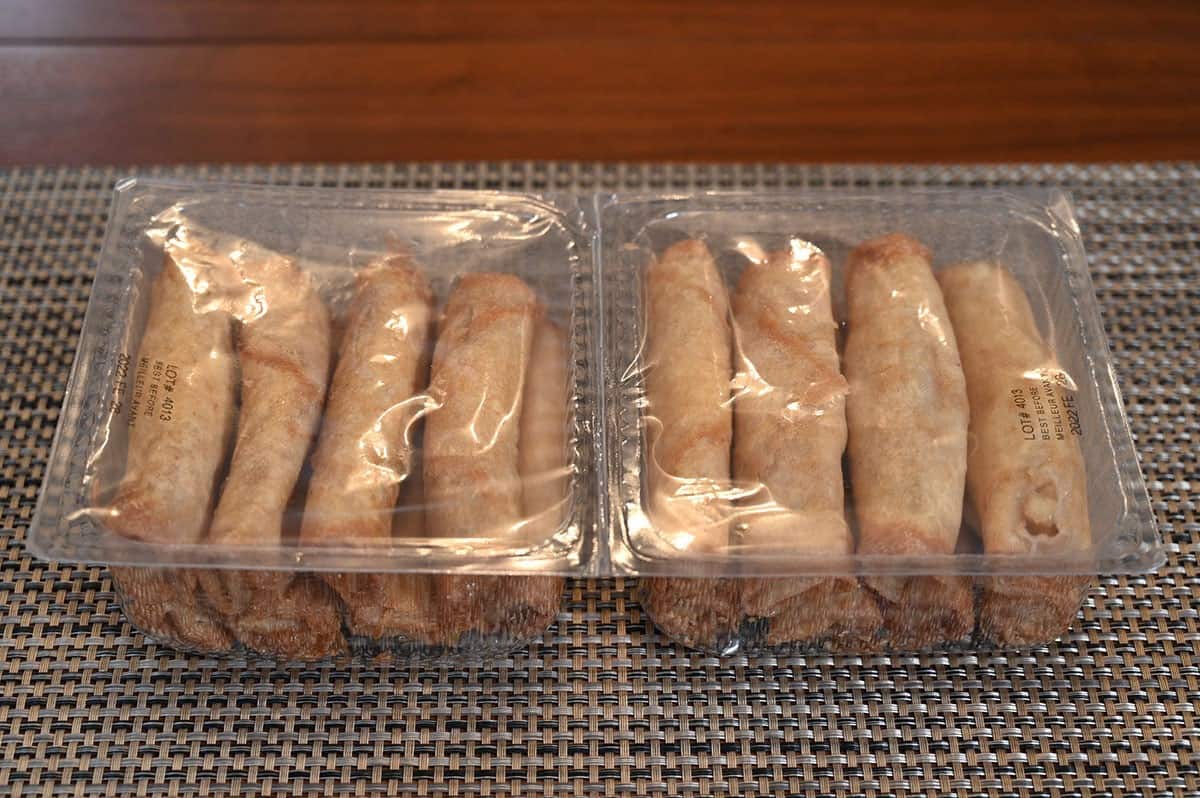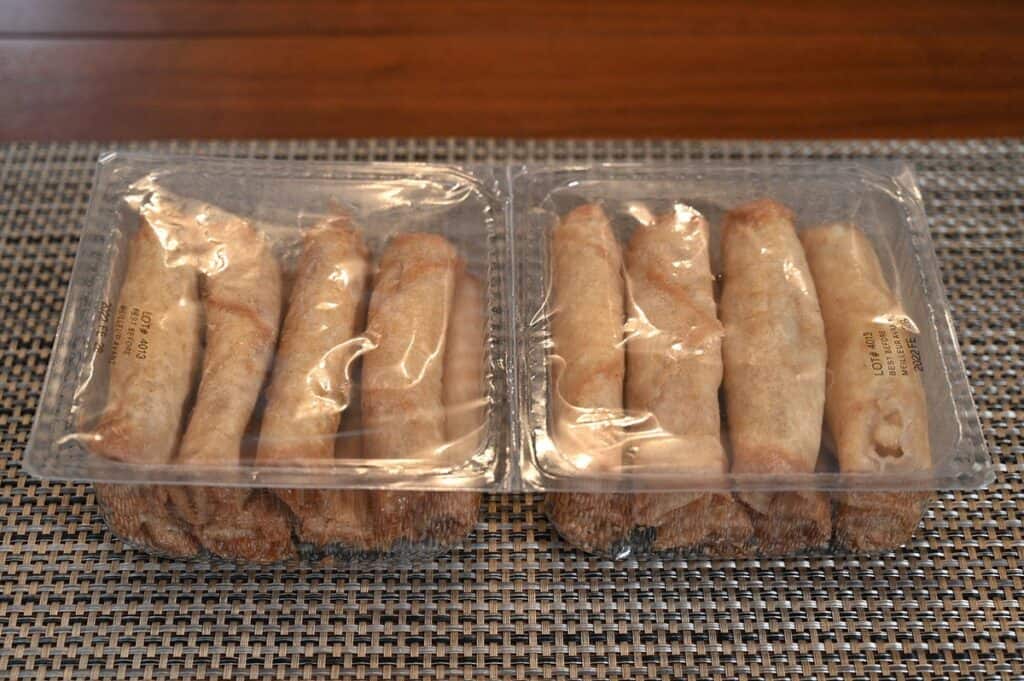 The best before date listed on the apple pie rolls is about a month from the date we purchased them. They need to be kept refrigerated but can be frozen if you're not going to use them before the best before date. I think these are perfect for a time when you're having guests over and need something to serve for dessert.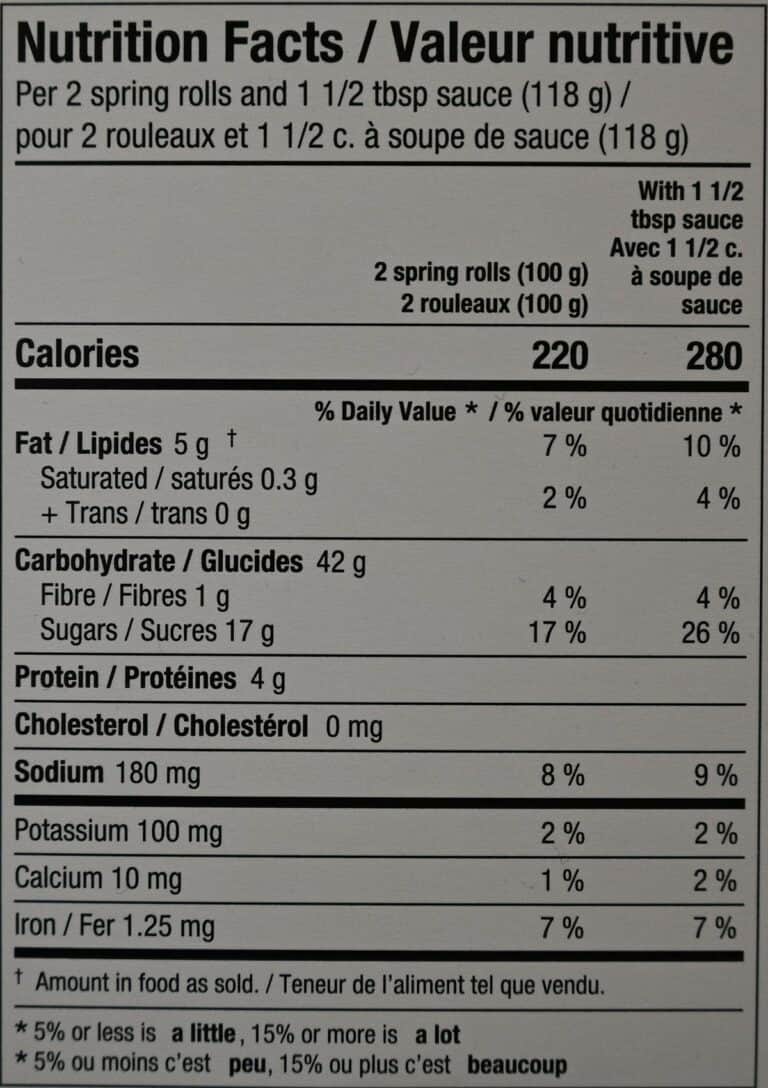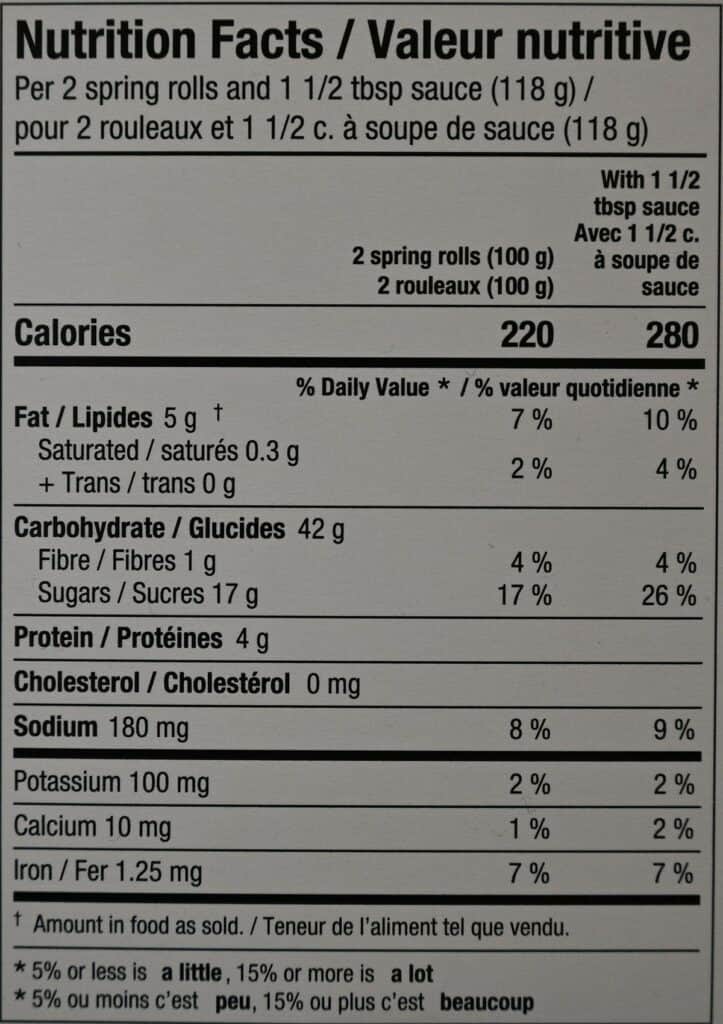 Nutrition
Calories
Two apple pie rolls with one and a half tablespoons of caramel sauce is 220 calories, five grams of fat, 42 grams of carbohydrates, one gram of fibre, 17 grams of sugar, four grams of protein and 180 mg of sodium. I'm actually surprised, the calories, fat and sugar are lower than what I'd expect them to be for two rolls with a decent amount of caramel.


Ingredients
The apple pie rolls aren't gluten-free but the wrapping and filling is dairy-free as long as you skip the caramel sauce. The Costco apple pie rolls may also contain soy and sesame.
Scoring
Taste: 7.5/10
Cost: 7/10
Convenience: 9/10
Nutrition: 1/10 (One point for having apples).
Overall
Give it a try!
I think the fun factor is the best thing about these Apple Pie Rolls. They're unique and fun to eat with the sauce. They're tasty enough, but they're a bit heavy and sweet for me.
Have you tried these apple pie rolls from Costco? What did you think of them?
---
Please note that this review was not paid for or sponsored by any third party. This product was purchased by Costcuisine for the purpose of producing this review. The opinions in this review are strictly those of Costcuisine. Costcuisine is not affiliated with Costco or any of its suppliers. In the event that Costcuisine receives compensation for a post from the manufacturer of a product or some other third party, the arrangement will be clearly disclosed (including where the manufacturer of a product provides Costcuisine with a free sample of the product).