Costco Tipiak French Macarons – fall and winter 2021 flavors!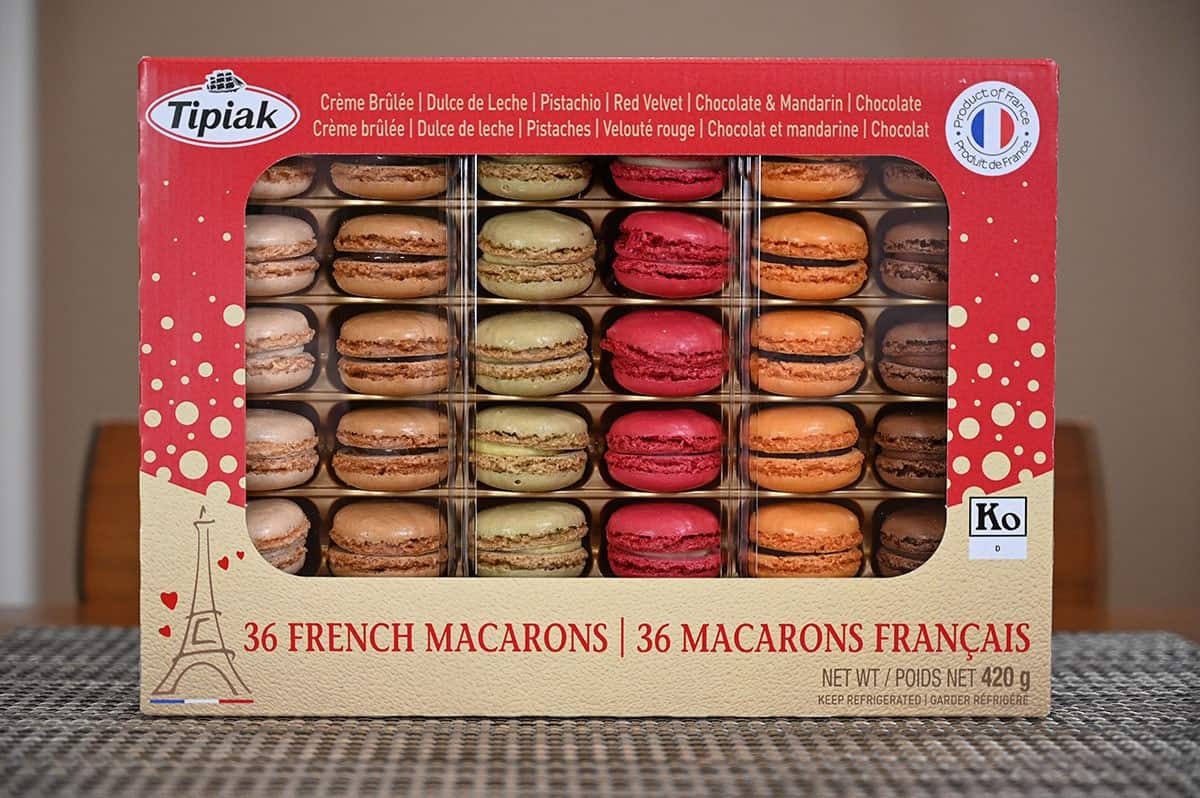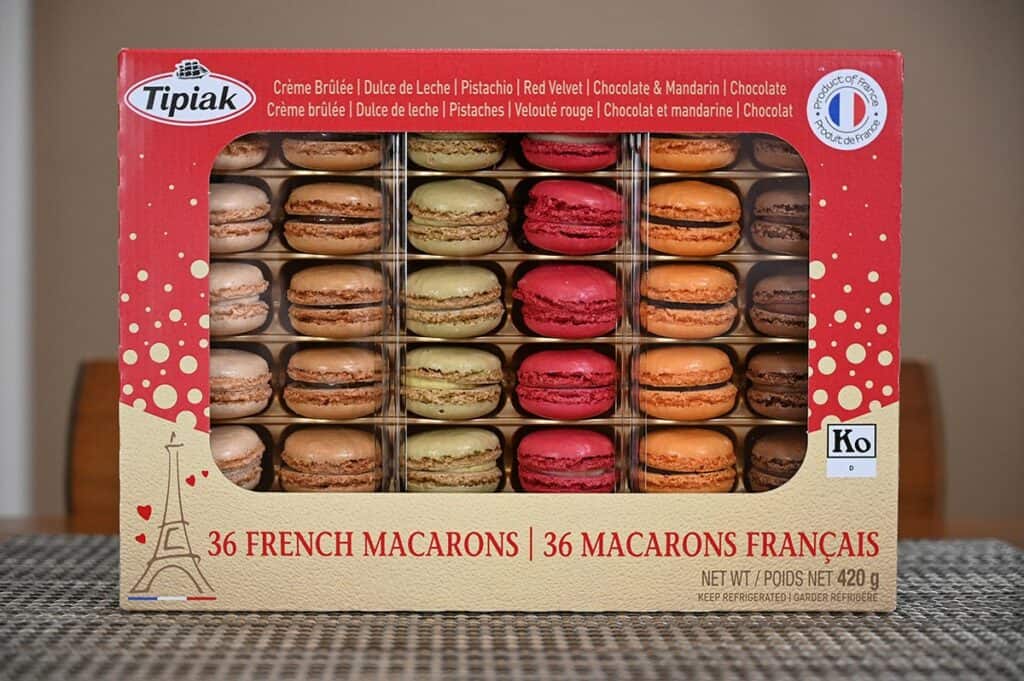 Today I'm reviewing the Costco Tipiak French Macarons. These are the fall and winter 2021 flavors available at Costco currently. The french macarons from Costco are gluten-free and are a unique little cookie to serve to guests!
Check out my previous reviews for different flavors of these macarons: there's the spring version that I did a video review for, this older spring pack from 2019 and my first review for them from back in 2018. They're always changing the flavors a bit, which is fun. I picked up this box of new winter flavors last time I was at Costco and I'm reviewing it today!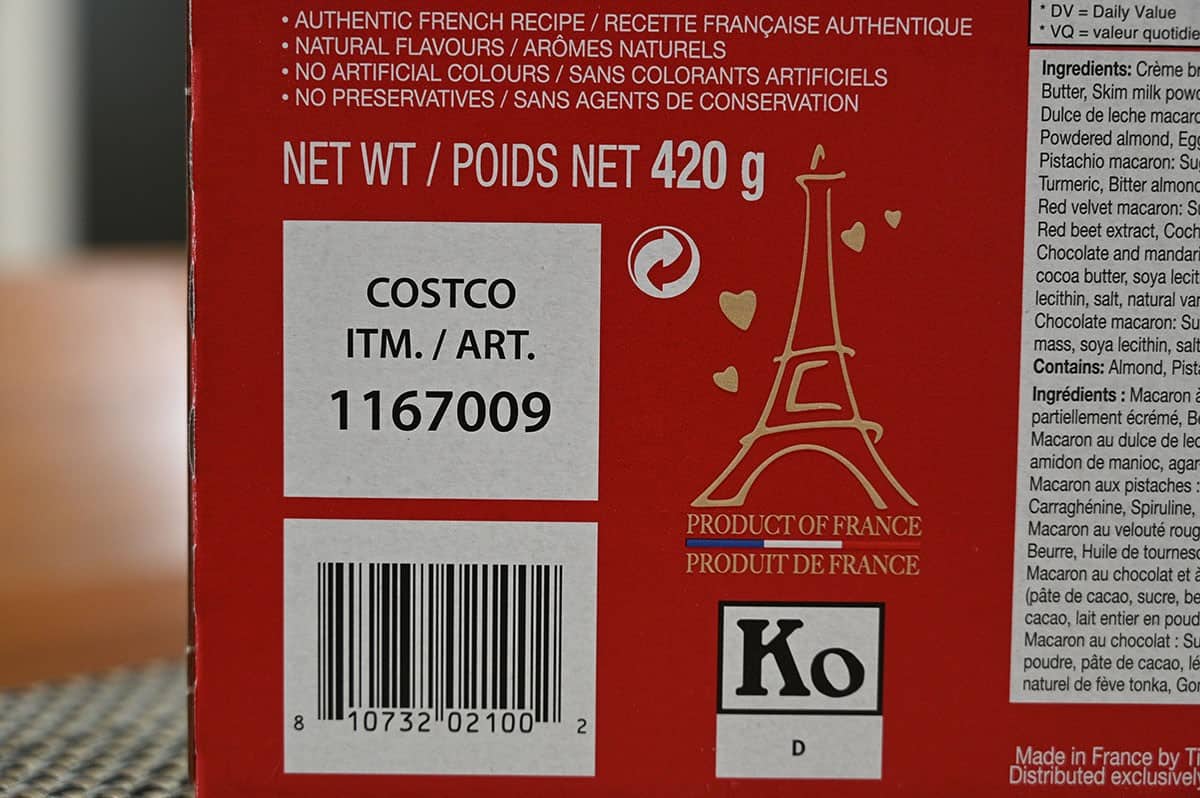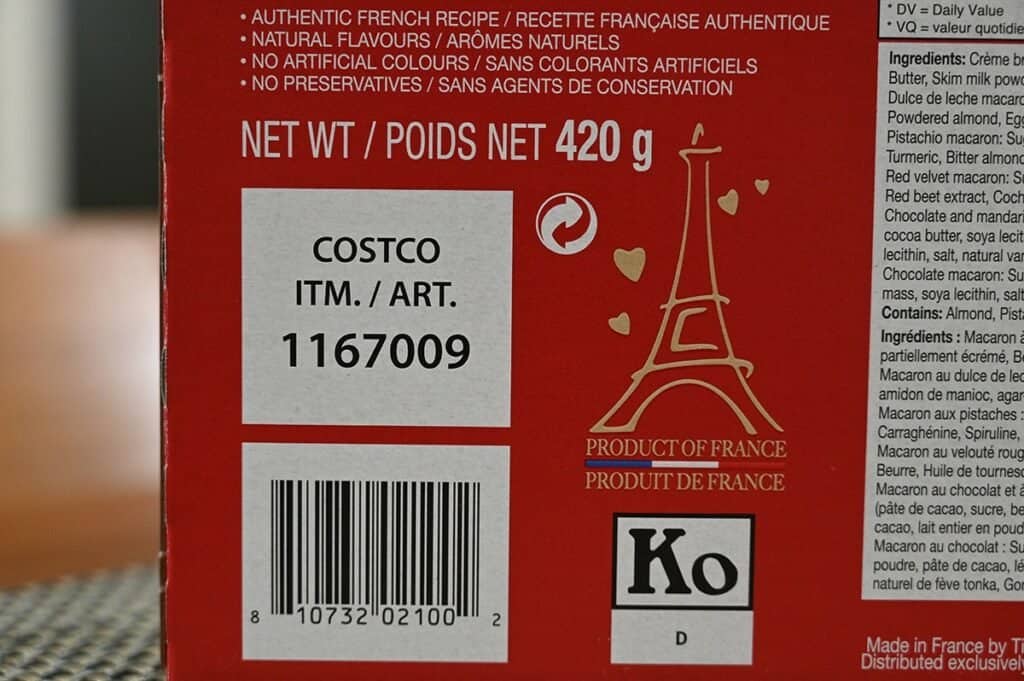 Location in Store
You can find the macarons in the refrigerated deli section, near the other refrigerated desserts. The item number is 1167009.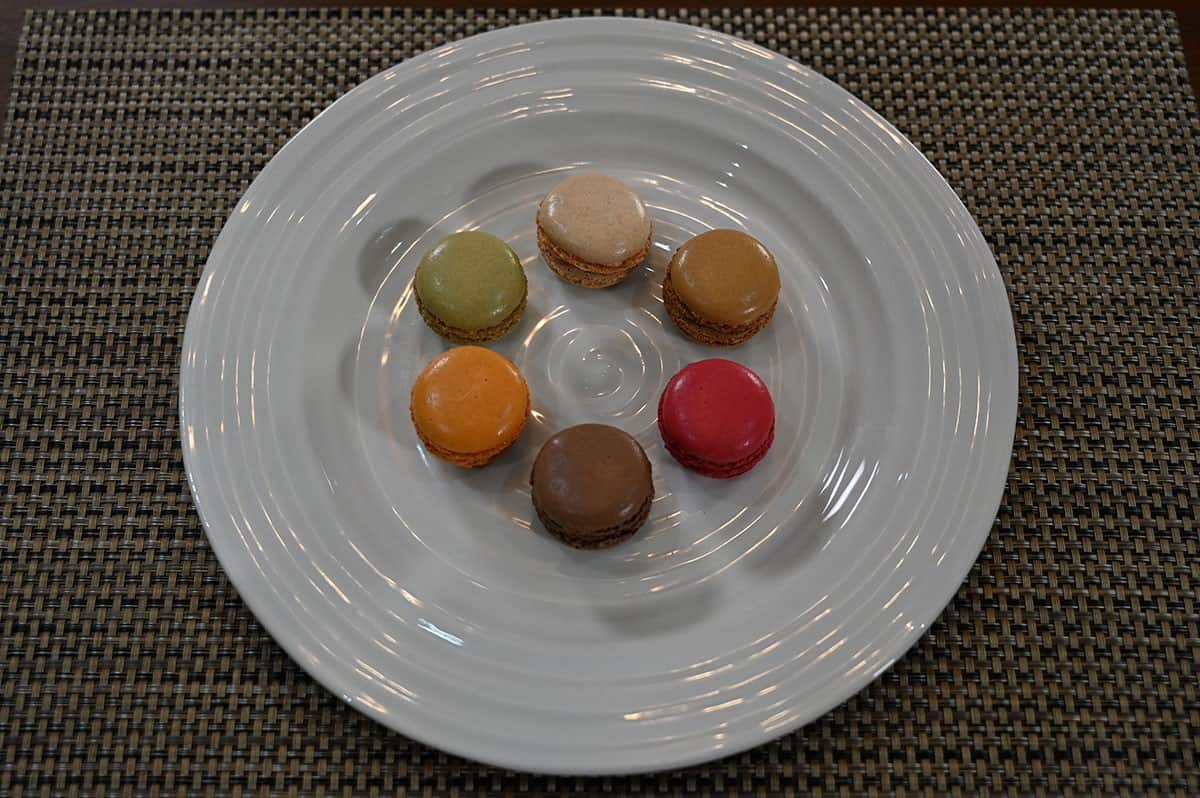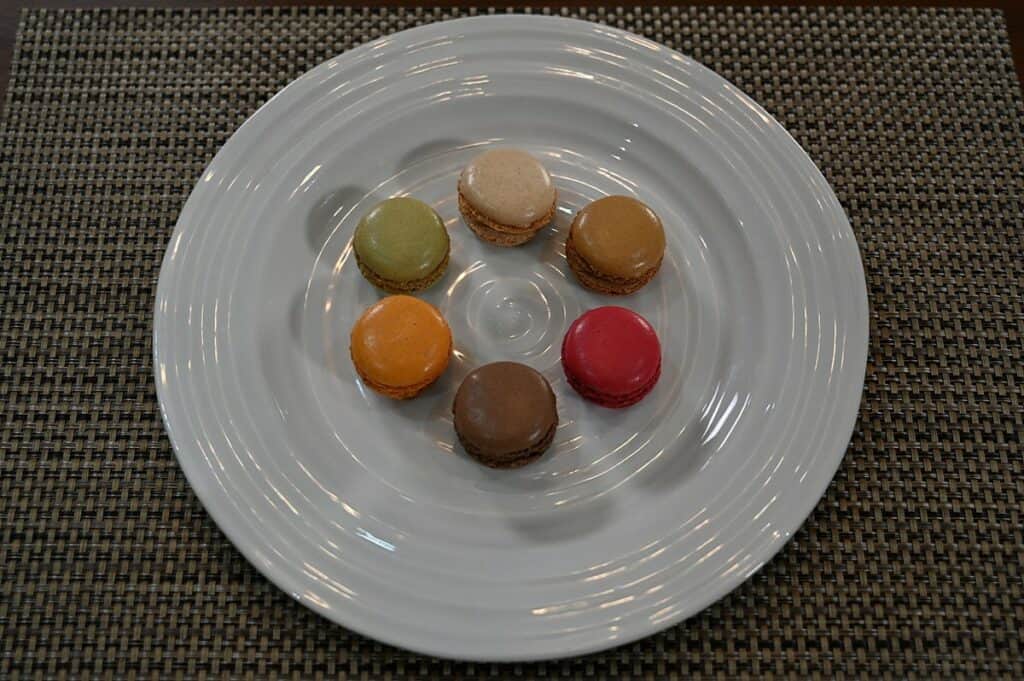 Taste
There are six different flavors in the box, crème brulee, dulce de leche, pistachio, red velvet, chocolate and mandarin and chocolate.
Creme brulee – Sweet with a nice, mild vanilla flavor.
Dulce de leche – Quite sweet with a mild caramel flavor. The caramel filling makes them extra chewy. 
Pistachio – Sweet with a pleasant, mild pistachio flavor.
Red velvet – Mild red velvet flavor, but the cream cheese flavor of the filling is great and really stands out.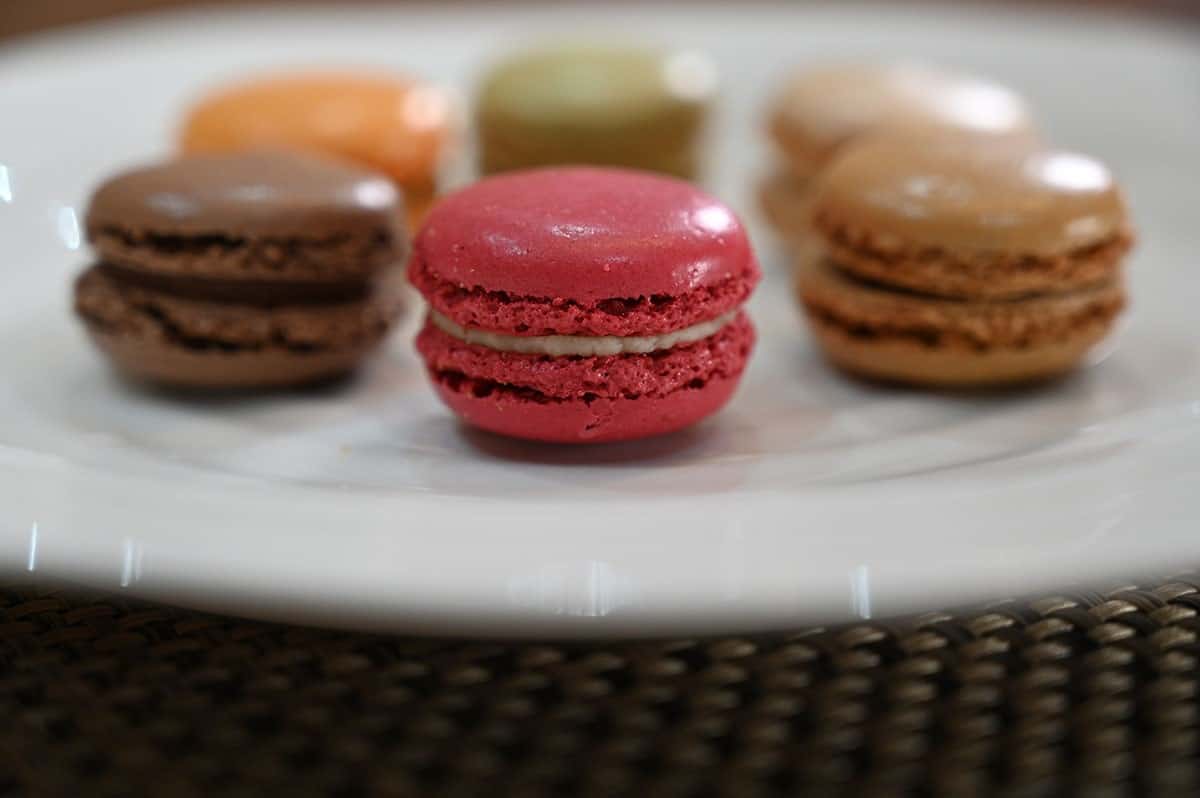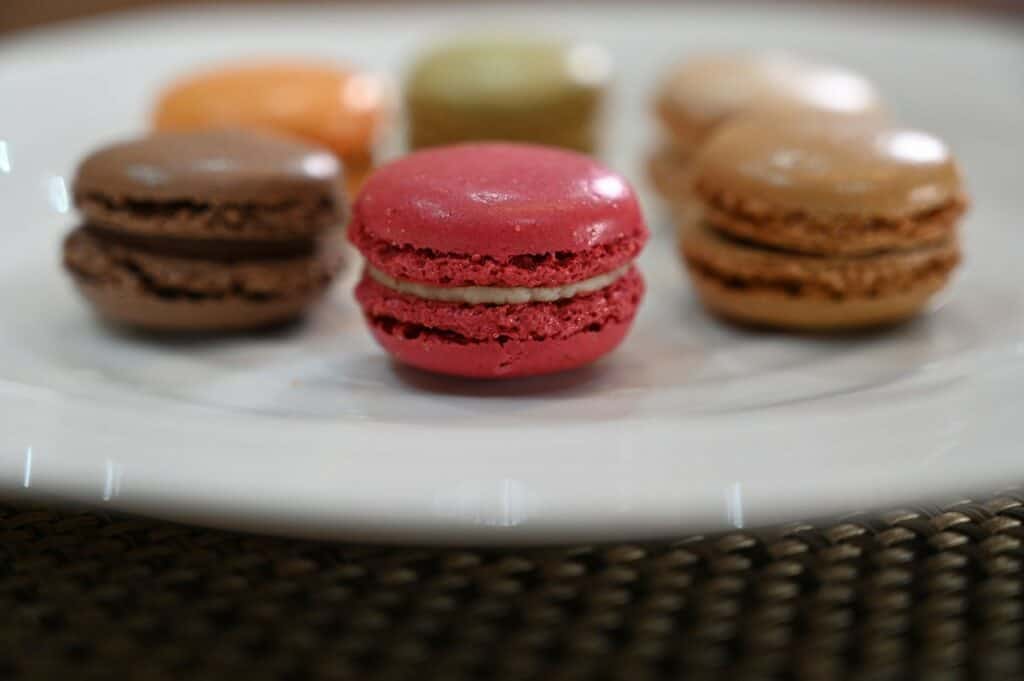 Chocolate and mandarin – Sweet orange cookie with rich chocolate filling. I found this one a bit disappointing. The orange cookie was a little too sweet and artificial tasting.
Chocolate – Mild chocolate flavor from the cookie parts with a richer chocolate filling (though it seems to be a lighter chocolate filling than the chocolate orange).
Honestly, I don't dislike any of the flavors. The Costco Tipiak French Macarons are little delicate, light, beautiful, flavor-packed delightful cookies. They're crunchy, chewy and soft all at the same time. The almond flour gives them a slight hint of nuttiness as well.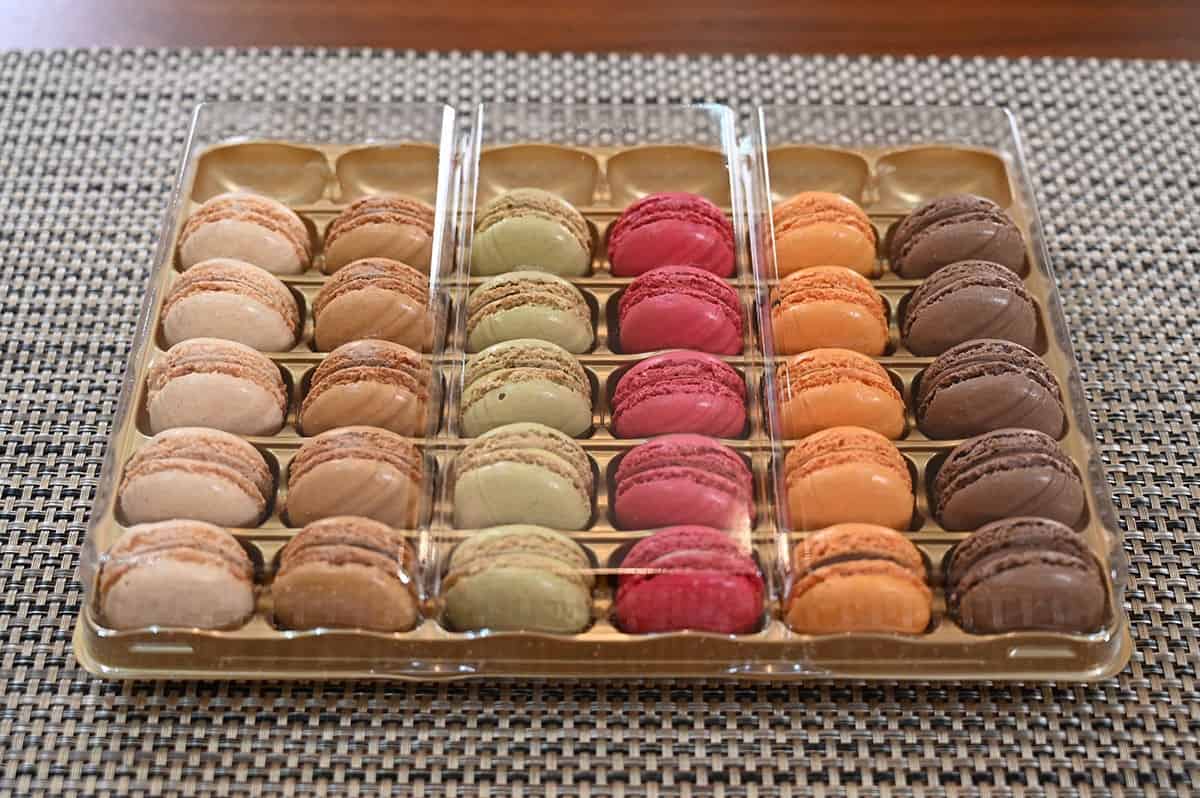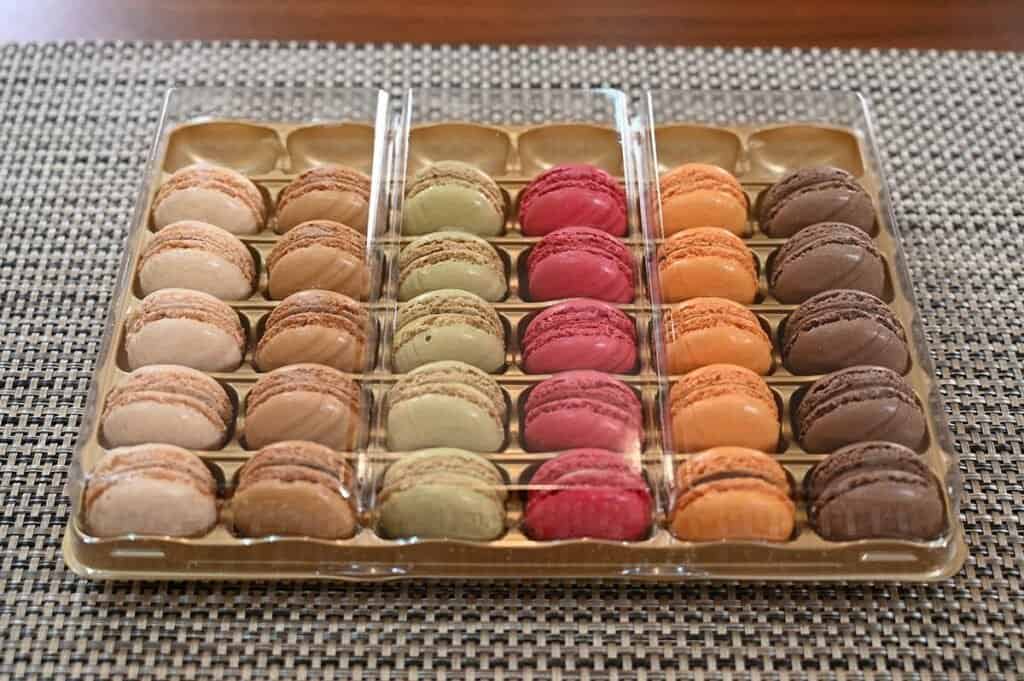 Cost
The box of 36 macarons at Costco is $18.99 Canadian. However, you can sometimes find them on sale for as much as five dollars off! This is really reasonable for macarons. The local bakeries sell macarons individually for three dollars each!


Convenience
The best before date is about three weeks from the date I purchased the macarons. They also need to be kept refrigerated. These are perfect to have as a treat at home or to serve at your next party or get-together.
I have frozen these macarons before and notice they become a bit dry and crack easier when frozen so I highly suggest eating them up while they're fresh!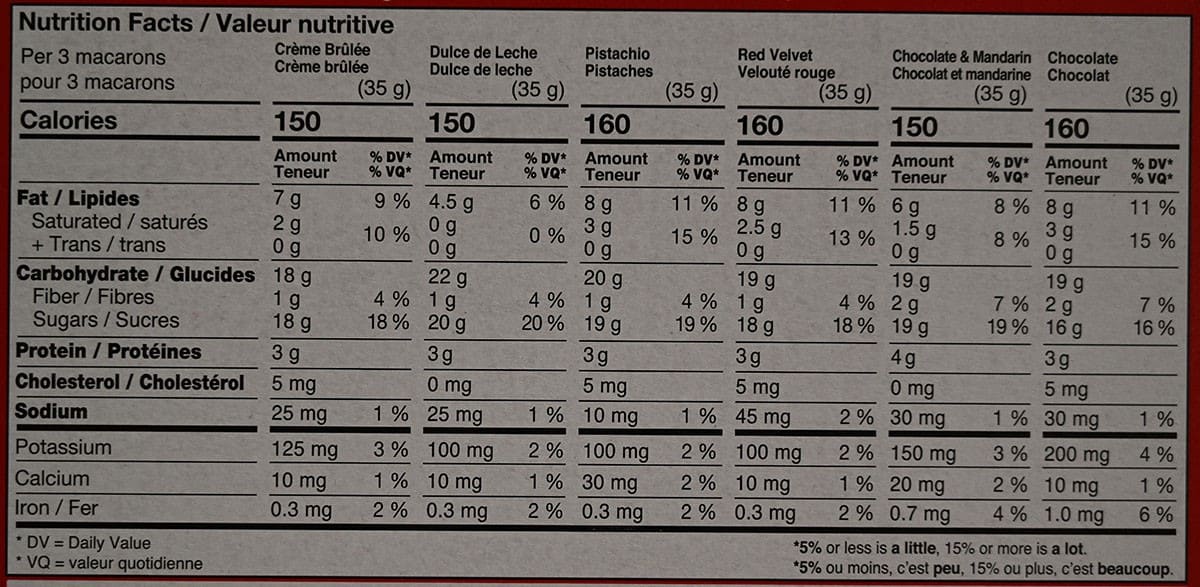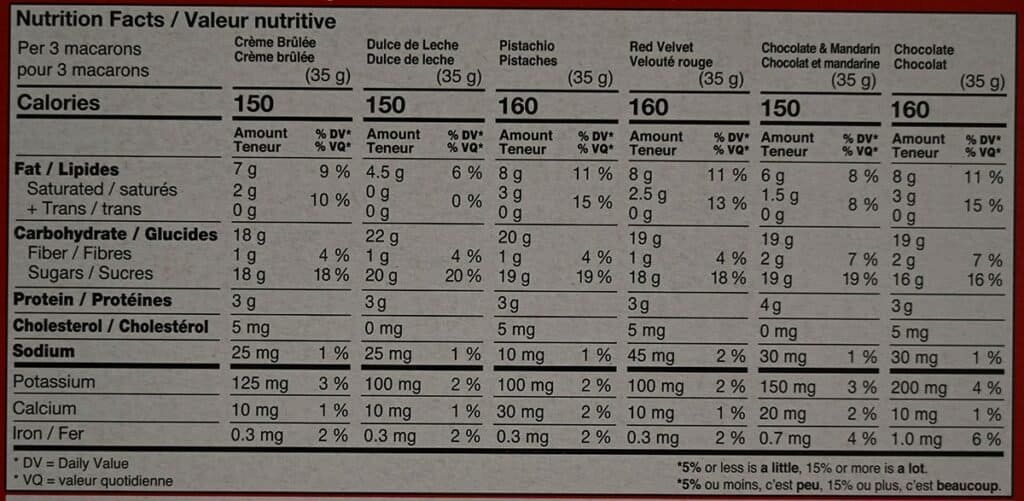 Nutrition
Calories
The nutrition information varies slightly depending on the flavor but generally, you're looking at about 150-160 calories, four to eight grams of fat and 16 to 20 grams of sugar for three macarons.
Secondly, macarons are very light and not very filling, they're basically sugar, almond flour and egg whites with flavoring. These aren't extremely high in calories or fat considering the nutrition information is for three macarons. They do have a good amount of sugar.


Ingredients
Macarons are great for people following a gluten-free diet because they don't contain wheat but the Tipiak Macarons from Costco "may contain" wheat. My guess is they're made in a facility that also packages wheat products so they have to put that.
Scoring
Taste: 8/10
Cost: 9/10
Convenience: 10/10
Nutrition: 0/10
Overall
Give it a try!
My favorite macaron flavors in this box ranked: red velvet, creme brulee, dulce de leche, chocolate, pistachio, chocolate mandarin.
Have you tried these? What did you think of them?
---
Please note that this review was not paid for or sponsored by any third party. This product was purchased by Costcuisine for the purpose of producing this review. The opinions in this review are strictly those of Costcuisine. Costcuisine is not affiliated with Costco or any of its suppliers. In the event that Costcuisine receives compensation for a post from the manufacturer of a product or some other third party, the arrangement will be clearly disclosed (including where the manufacturer of a product provides Costcuisine with a free sample of the product).