More Than Pasta! High protein, plant-based spaghetti at Costco.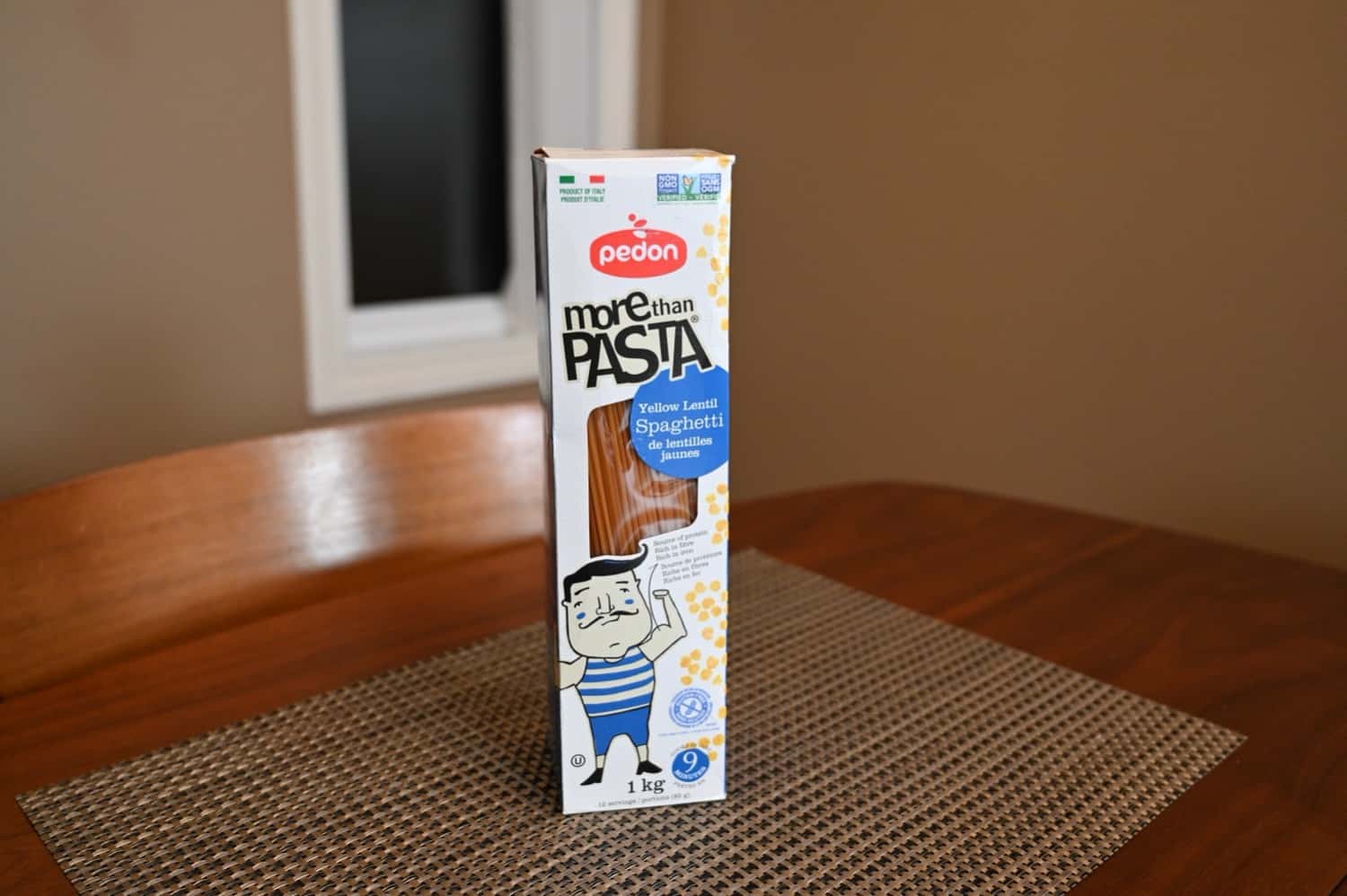 You can expect to see more healthy Costco food reviews because I'm trying to incorporate more plant based, gluten-free and low sugar foods into my diet! Today I'm reviewing the Costco Pedon More Than Pasta Yellow Lentil Spaghetti! This is a gluten-free, plant-based, high fibre, high protein pasta. Basically this looks exactly like spaghetti but it's made from lentils! I've reviewed a few plant-based products from Costco including the Costco Good Foods Plant Based Queso Dip, Costco Gardein Meat Free Crispy Tenders and the Costco milkadamia Macadamia Beverage.
I found this product in the aisle with the other dry pasta and pasta sauce near the front of the store. The item number is 1291245.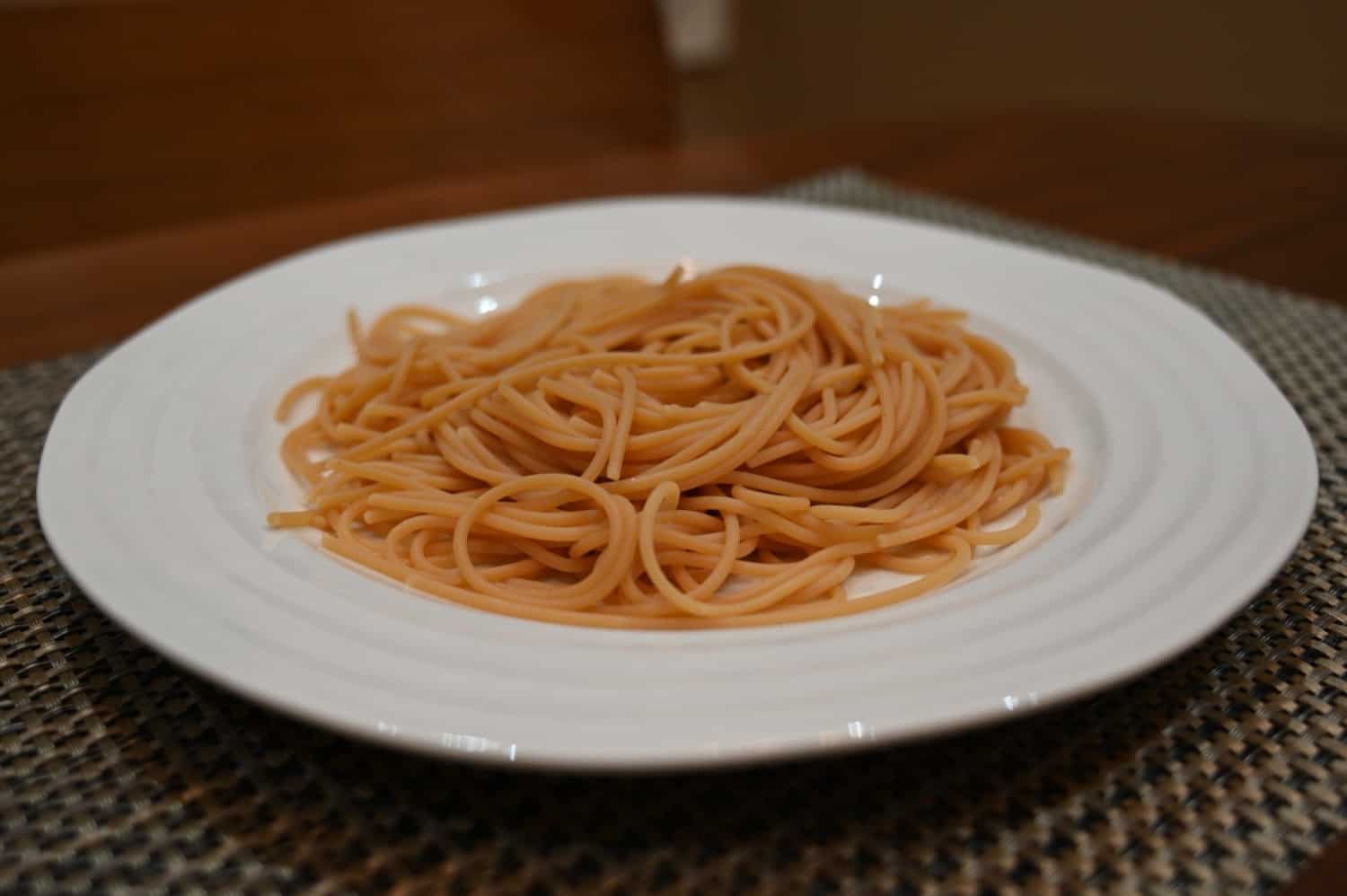 Taste
This Pedon More Than Pasta Yellow Lentil Spaghetti is made from yellow lentil flour that's blended with brown rice rice. You can barely tell that this isn't just regular spaghetti, my picky husband had no idea I was serving him gluten-free spaghetti made from yellow lentils. Any legume flavor there might be was completely masked by the Costco Rao's Marinara I had with the spaghetti. I was super impressed by how delicious this was! Another awesome Costco gluten-free find.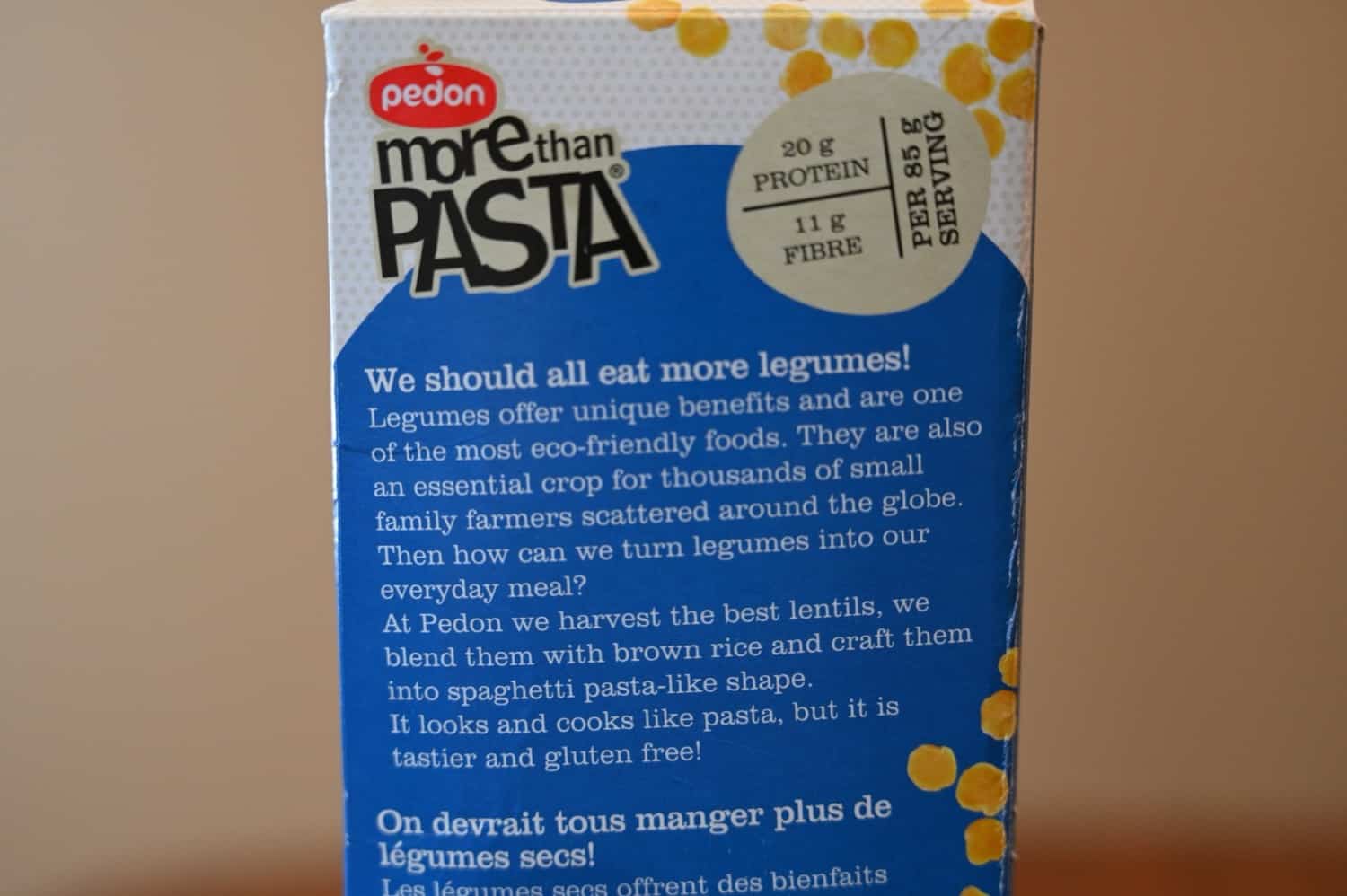 I pretty much followed the box directions on how to cook the spaghetti and the texture turned out perfect. Not too firm and definitely not too soft or mushy. This definitely looks and cooks like spaghetti! If you eat a huge mouthful of the lentil spaghetti just plain without any sauce, you might get the slightest hint of an earthy, legume flavor. I've ate this a few times and have found that anything I add to it completely overpowers any lentil flavor from the pasta.
Both Sean and I could barely tell the difference between regular spaghetti and this plant-based lentil spaghetti.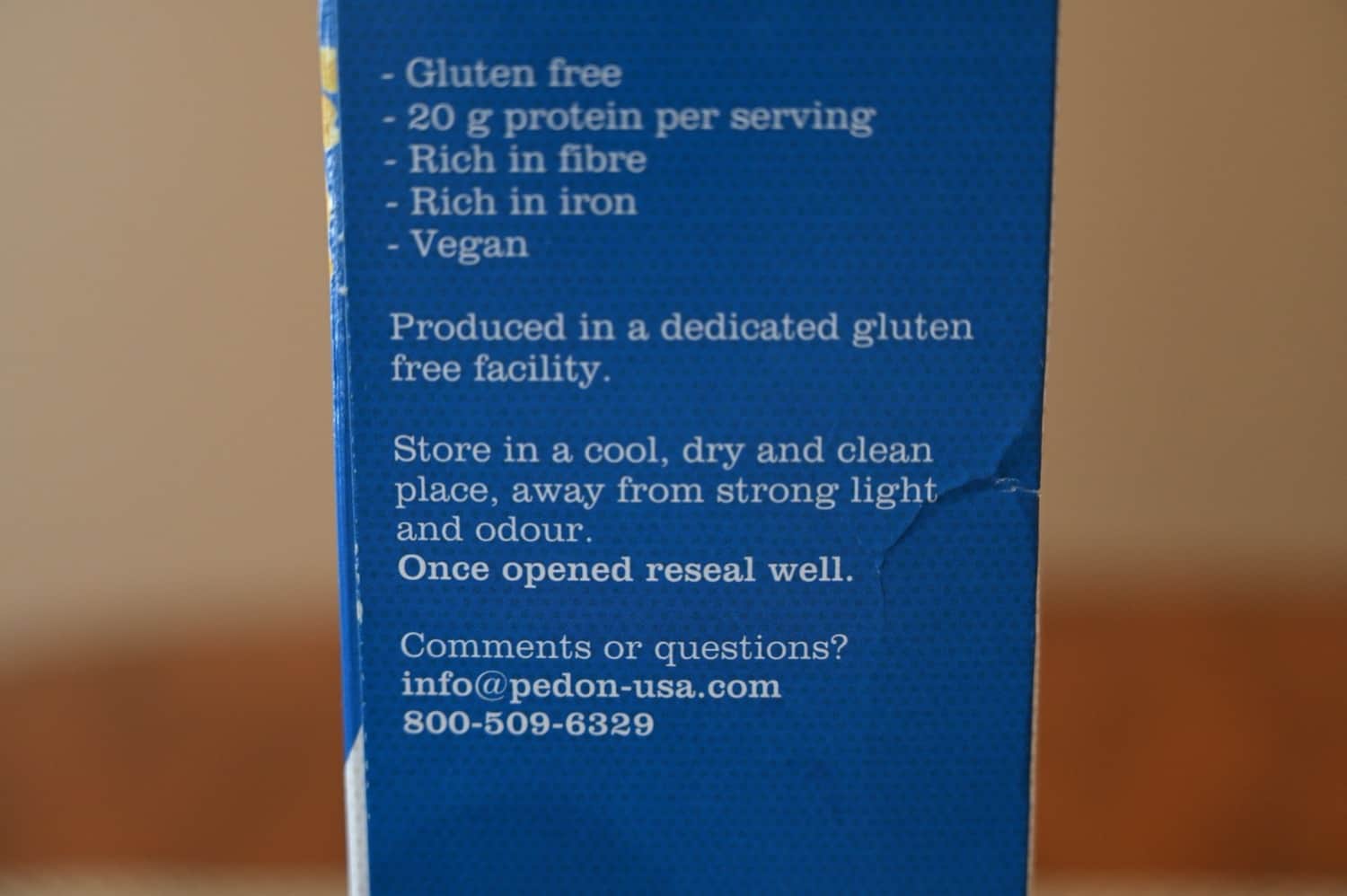 Cost
I paid $9.99 Canadian for the 1 kilogram box of yellow lentil spaghetti. One box is enough for four meals for the two of us. This is a super reasonably priced product that packs a ton of protein!
Convenience
I followed the directions on the box to make the Costco Pedon More Than Pasta Yellow Lentil Spaghetti and boiled it for about 10 minutes and 30 seconds because I like my spaghetti tended. The spaghetti turned out perfectly al dente even after boiling it for an extra minute and a half. I have tried a few chickpea/brown rice/lentil pasta products and find they always need a bit more time in the pot to get the noodles to my desired tenderness.
The best before date is about a year and a half from the date I purchased the spaghetti.
This has so much protein in one serving that you can completely leave out any kind of meat sauce. If you really love your meat sauce or want some extra chicken or shrimp thrown in, go for it! All I'm saying is that this has a lot of protein already. One idea I have is you could make a Mediterranean pasta using this with some cherry tomatoes, red onion, feta, spinach, green peppers and olives with a drizzle of Greek salad dressing!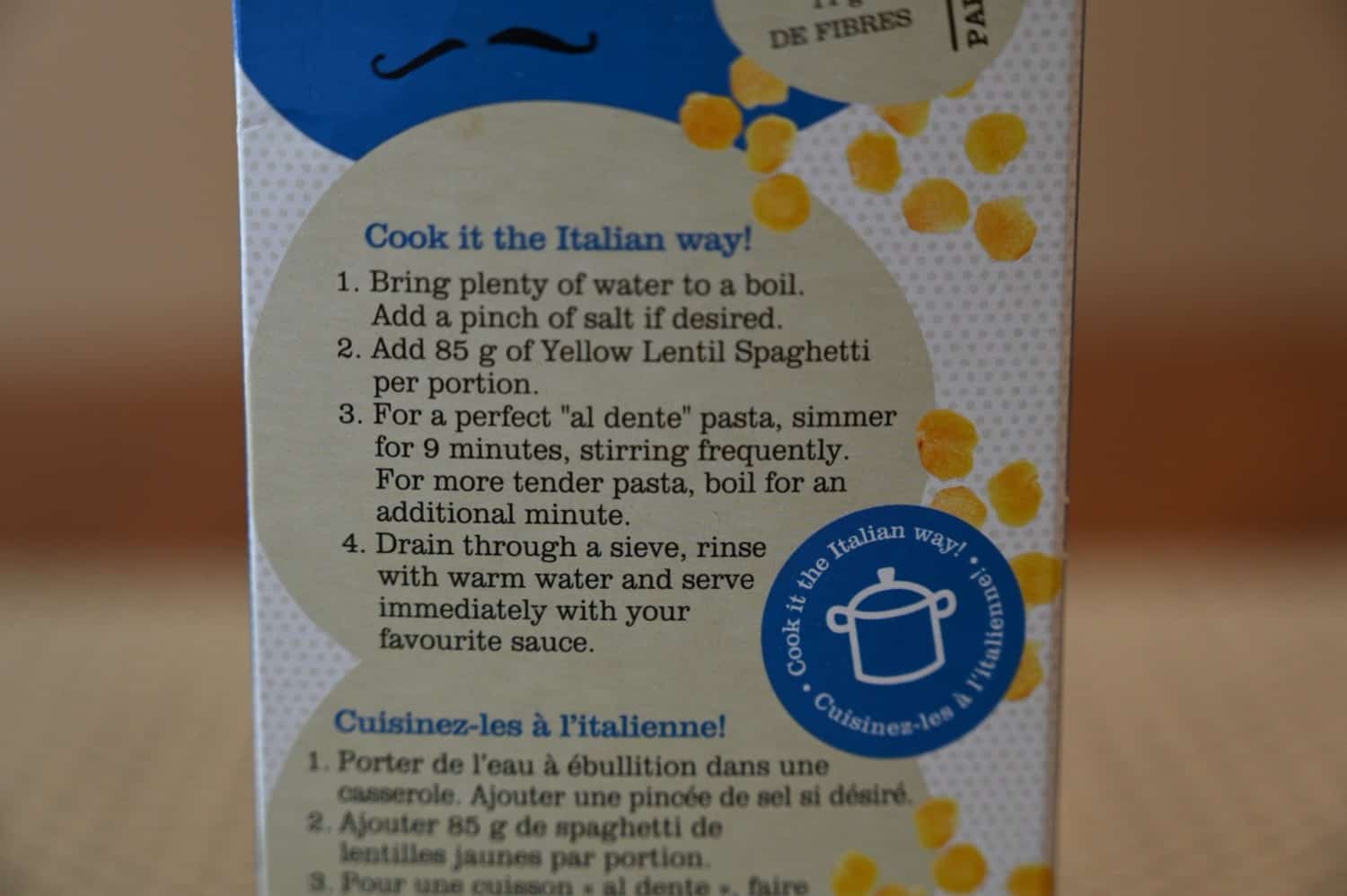 Nutrition
1/12 of the package or 85 grams has 310 calories, one gram of fat, 56 grams of carbohydrates, 11 grams of fibre, two grams of sugar and 20 grams of protein. This is not for people following a keto diet (high carbs) but has an amazing amount of protein and fibre!
The ingredients list is short and sweet, only two ingredients!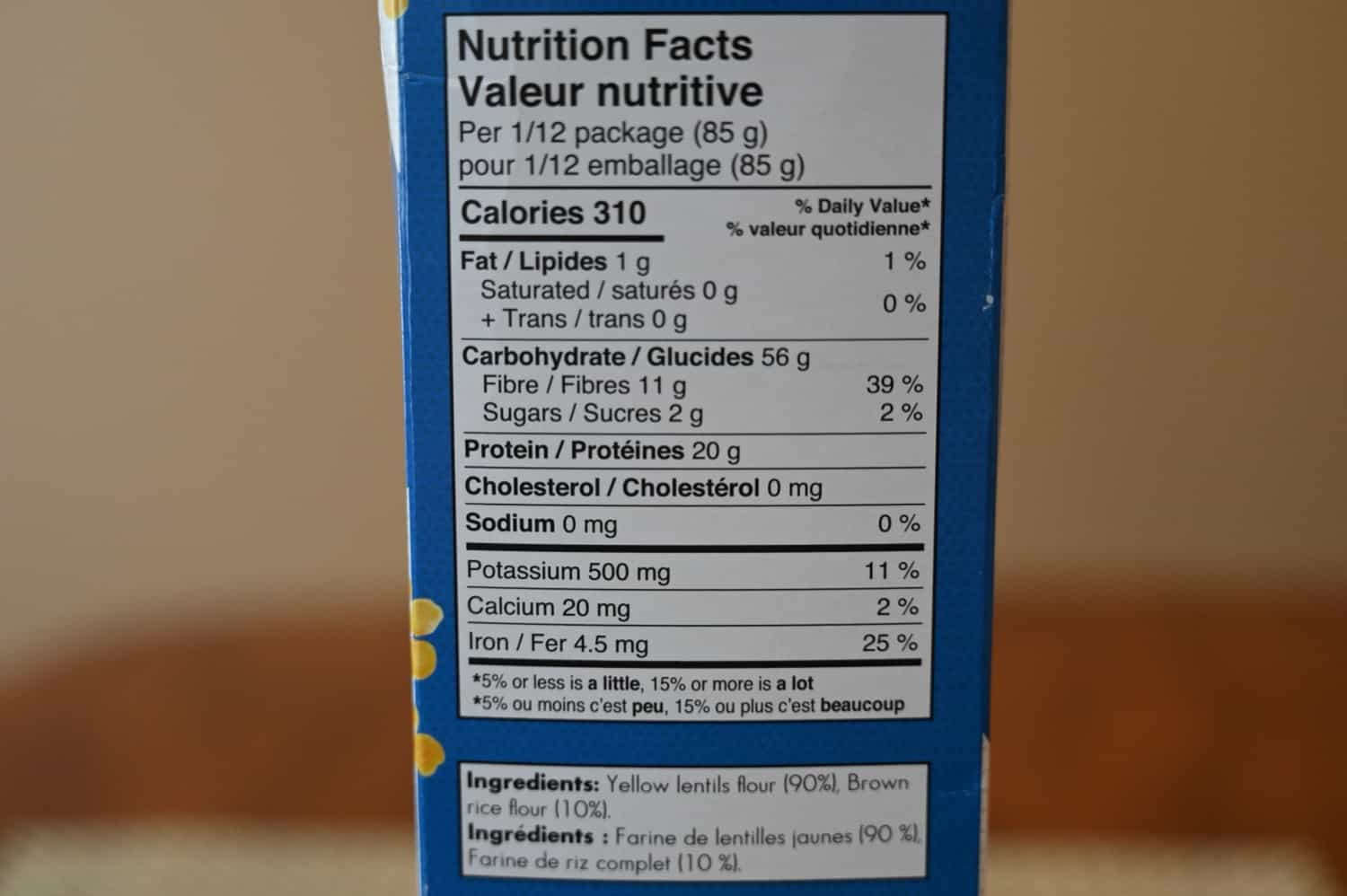 I would definitely buy this Costco Pedon More Than Pasta Yellow Lentil Spaghetti again without hesitation. I couldn't even tell it wasn't regular spaghetti!
Scoring
Taste: 9/10
Cost: 9/10
Convenience: 8/10
Nutrition: 9/10
Overall
Must buy!
This is another great vegan, gluten-free, plant-based, high fibre, high protein food find from Costco! I love using it to make work lunches that are healthy and keep me full all afternoon.
---
Have you had this? What did you think? Would you buy this? Why or why not?
Please note that this review was not paid for or sponsored by any third party. This product was purchased by Costcuisine for the purpose of producing this review. The opinions in this review are strictly those of Costcuisine. Costcuisine is not affiliated with Costco or any of its suppliers. In the event that Costcuisine receives compensation for a post from the manufacturer of a product or some other third party, the arrangement will be clearly disclosed (including where the manufacturer of a product provides Costcuisine with a free sample of the product).