Hard seltzer has become a very popular summer drink, and there are lots to choose from! White Claw is kind of the original hard seltzer as far as I know and Costco has sold it in the past. Costco has also carried a few other hard seltzers over the past couple of summers (see my list below). The latest one to find its way into my local warehouse's liquor store is this Vizzy Hard Seltzer. I'm curious to find out how it compares to the classic White Claw!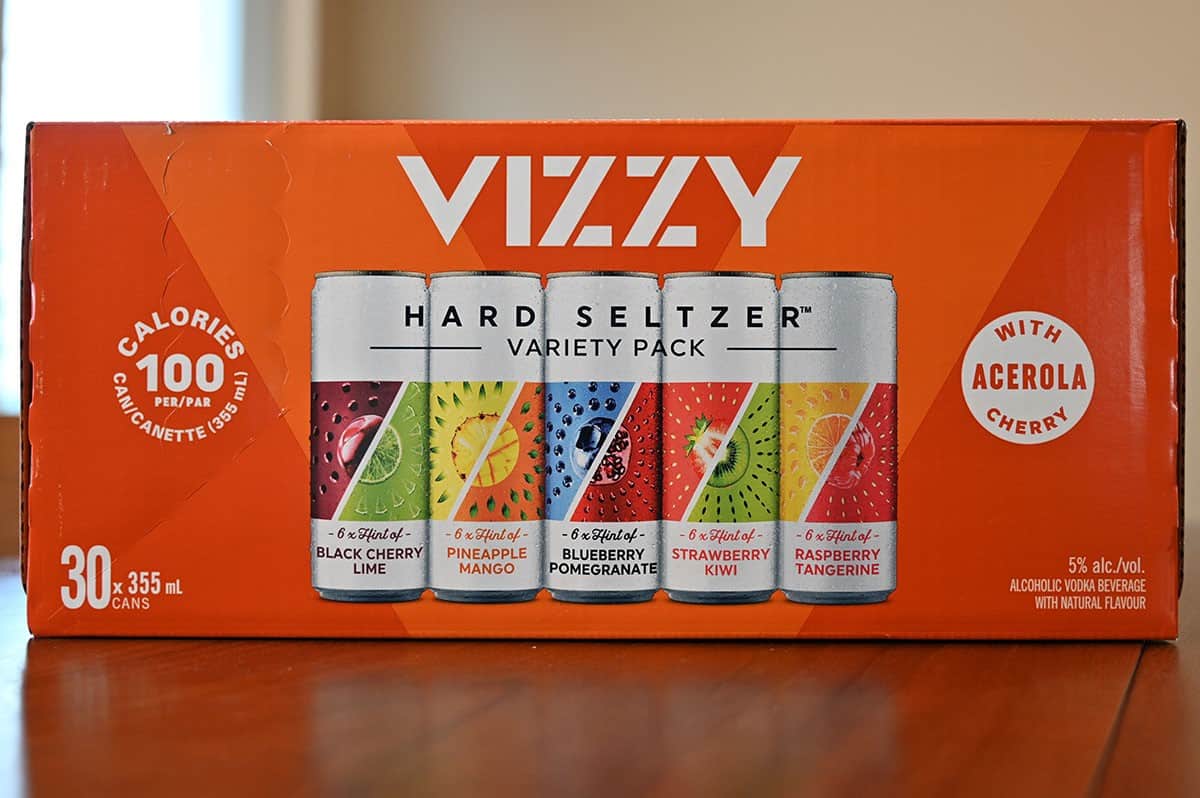 Other hard seltzers that I've purchased from Costco and reviewed include the Costco Tempo Gin Smash Pack, Costco White Claw Hard Seltzer Variety Pack and the Costco Truly Hard Seltzer.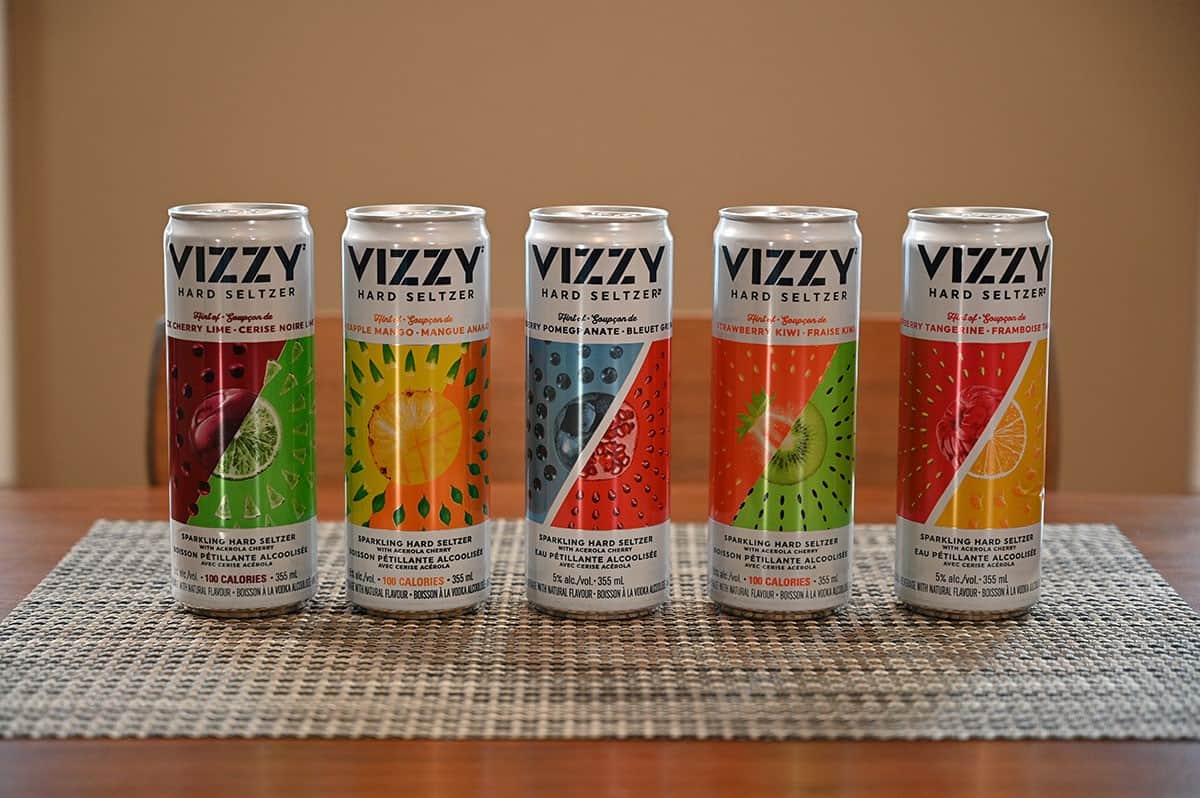 Location in Store
You can find the Vizzy Hard Seltzer in the Costco liquor store. The item number is 2530630.
Taste
You can't tell from the photos, but the various drinks are slightly different colors (not completely clear). The black cherry lime has the most noticeable color with a purplish tinge. All of the drinks smell great and there are five different flavors! My husband tried all of the flavors and I've summarized his comments below.
Black cherry lime – Nice, but has an artificial cherry flavor. The lime flavor isn't really noticeable. You notice a slight bite/harshness from the vodka.
Pineapple mango – Pretty artificial pineapple mango flavor. The pineapple flavor is a bit more noticeable than the mango, especially as it first hit my tongue. It's not overly sweet or strong.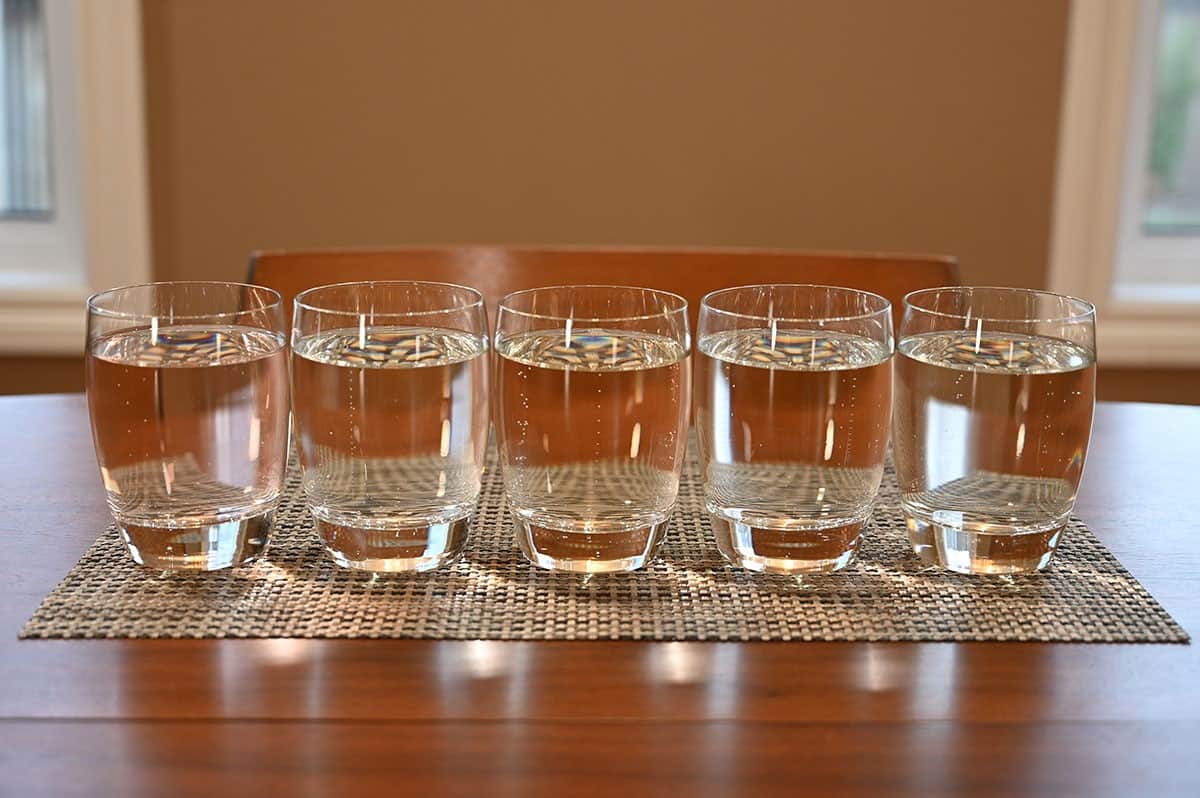 Blueberry pomegranate – Artificial but really nice pomegranate flavor. The blueberry flavor is there, but less noticeable. The flavors mask the bite of the vodka well in this one.
Strawberry kiwi – Artificial and sweet (compared to the other flavors) strawberry flavor. Personally, I didn't notice the kiwi flavor, though maybe that was the extra sweetness that I detected. Again, these flavors seem to mask the vodka well. 
Raspberry tangerine – Interesting flavor combination. Tasty enough, but not the clear raspberry flavor I expected. Probably up there with the blueberry pomegranate as my favorites. The flavors masked the vodka well.
Overall, these drinks remind me quite a bit of White Claws or Trulys. Probably more like Trulys with stronger flavors (White Claws are milder). They're fairly tasty, but not overly sweet or strong in flavor. Personally I still prefer White Claw because I find the stronger flavors a little much, but lots of people prefer the stronger flavors.
Cost
For 30 cans of hard seltzer (six of each flavor), the price of the Vizzy Hard Seltzer Variety Packs is $49.99 Canadian. Not cheap! You may wonder why it's so expensive here in Canada compared to the United States; it's because of our high taxes on liquor.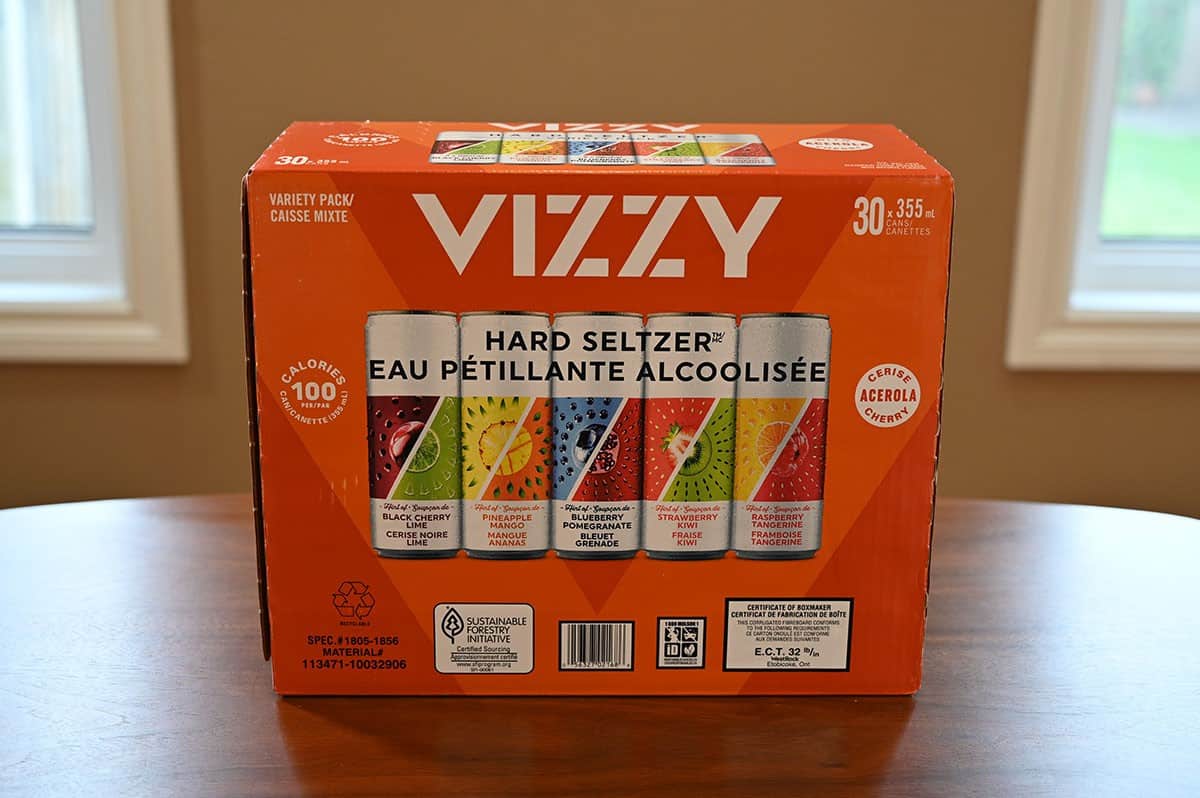 Convenience
The case includes a variety of flavors! I recommend chilling your hard seltzers before serving them as they don't taste nearly as good warm. These are great for any summer moment when you would enjoy a cold, refreshing drink: backyard barbecues, relaxing and sitting on the deck or camping trips.
I couldn't find a best before date listed on the cans or box, so they must be good for quite a long time? I would guess the cans would stay fresh through the summer at a minimum.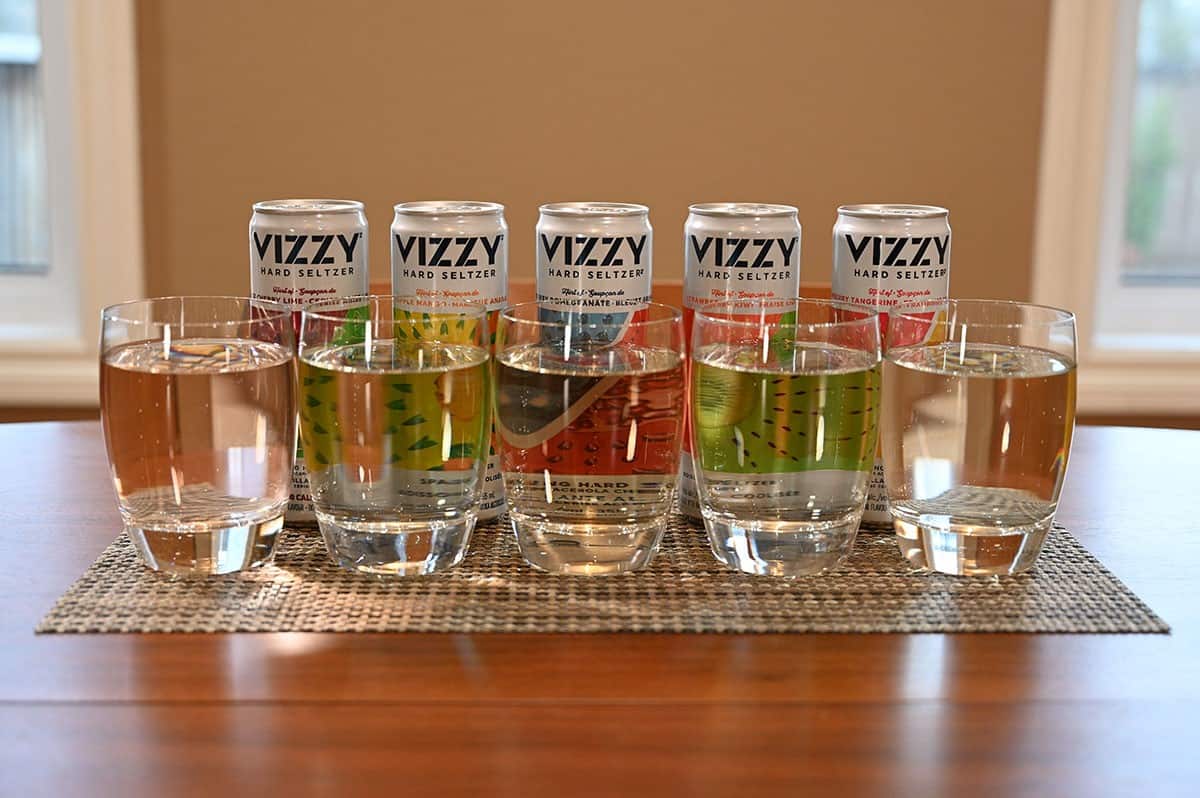 Nutrition
Calories
I think one of the reasons why hard seltzer is so popular is because it's low in calories, fat, sugar and carbohydrates. One can of Vizzy contains 100 calories, zero grams of fat, zero grams of carbohydrates, zero grams of fibre, zero grams of sugar, zero grams of protein and 30 milligrams of sodium.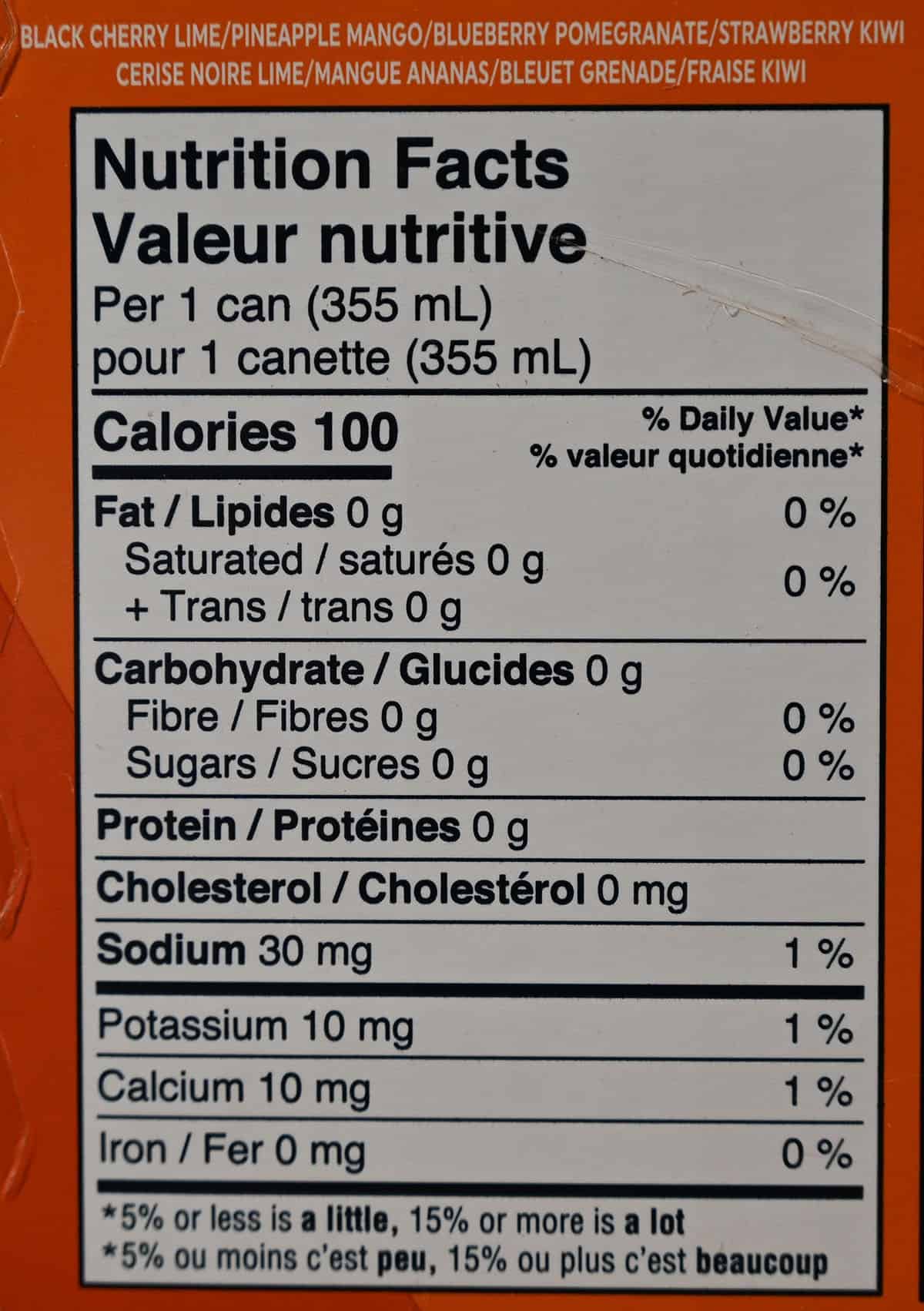 Ingredients
I find it weird how there are zero grams of sugar and yet there's juice concentrate in each one. How does that work? These hard seltzers are made with vodka. Alcoholic beverages are empty calories and not at all nutritious, but a lot of people enjoy them.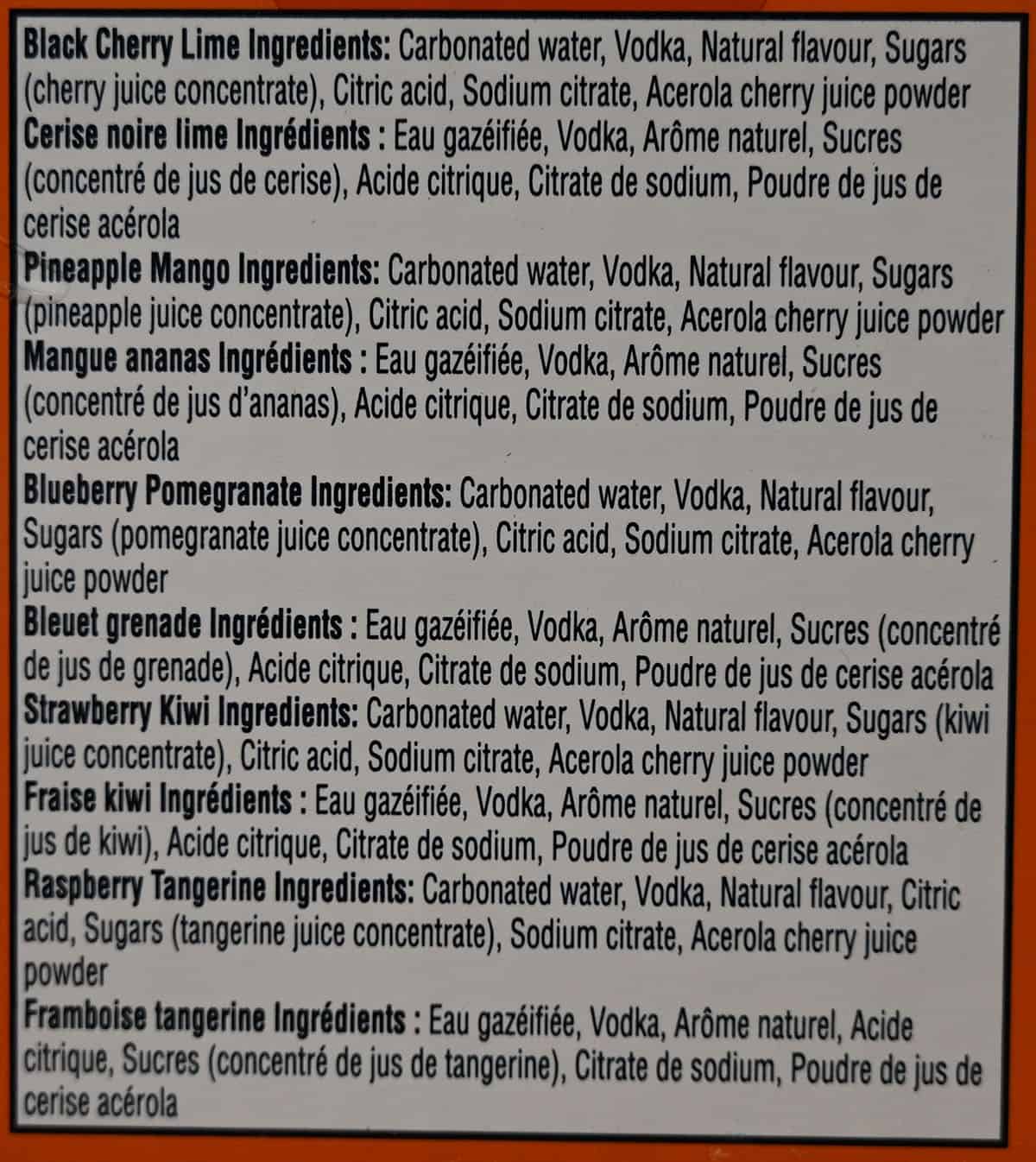 Scoring
Taste: 6.5/10
Cost: 6/10
Convenience: 10/10
Nutrition: Low in sugar, carbs and calories, but no nutritional value
Overall
Give it a try!
Vizzy Hard Seltzer has strong fruity flavors and isn't overly sweet. If you like your hard seltzer to be more flavorful, this is brand is worth a try. If you like the more mild flavors of White Claw, it might not be for you.
Do you have a favorite hard seltzer? If so, which brand is it?
---
Please note that this review was not paid for or sponsored by any third party. This product was purchased by Costcuisine for the purpose of producing this review. The opinions in this review are strictly those of Costcuisine. Costcuisine is not affiliated with Costco or any of its suppliers. In the event that Costcuisine receives compensation for a post from the manufacturer of a product or some other third party, the arrangement will be clearly disclosed (including where the manufacturer of a product provides Costcuisine with a free sample of the product).