Costco carries licorice allsorts for the Christmas season for the black licorice lover in your life!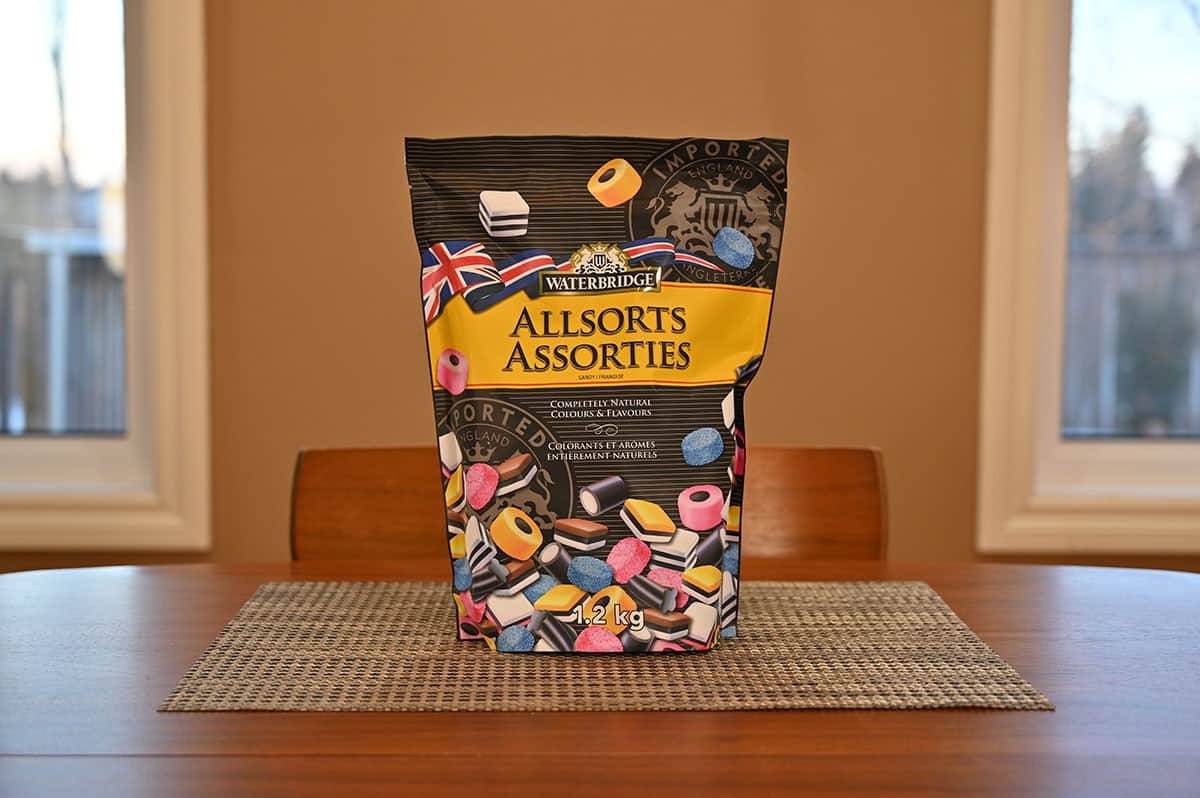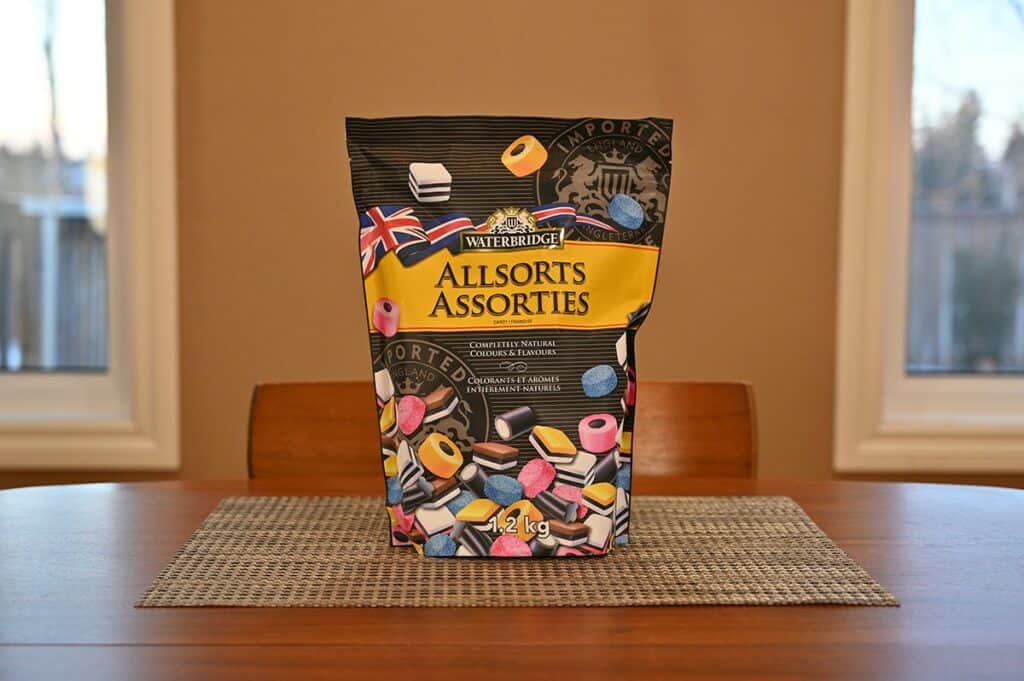 Last trip to Costco I saw they had these Waterbridge Allsorts in the Christmas treat aisle. Although I'm not a fan of black licorice my mom is and my Nanny was too. Seeing these at Costco reminded me of my Nanny because we would buy her allsorts for part of her Christmas gift every year.
If you're not a licorice allsorts fan, don't worry! Costco has a ton of other sweet treats for Christmas. like the Costco Truffettes De France Peppermint White Chocolate Bites, Costco Kirkland Signature Jelly Belly Gourmet Jelly Beans, Costco Merci European Chocolates, Costco Smart Sweets Peach Rings and Swedish Fish and the Costco After Eight Assorted Mint Pieces.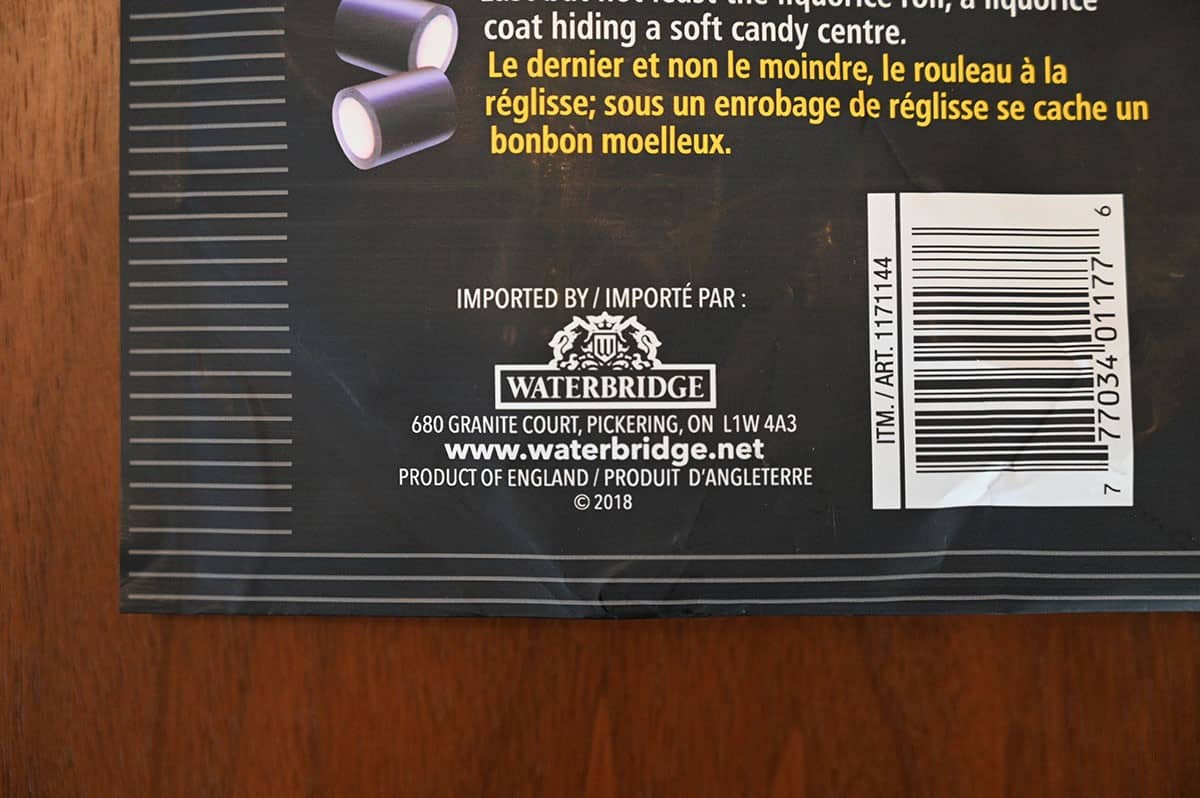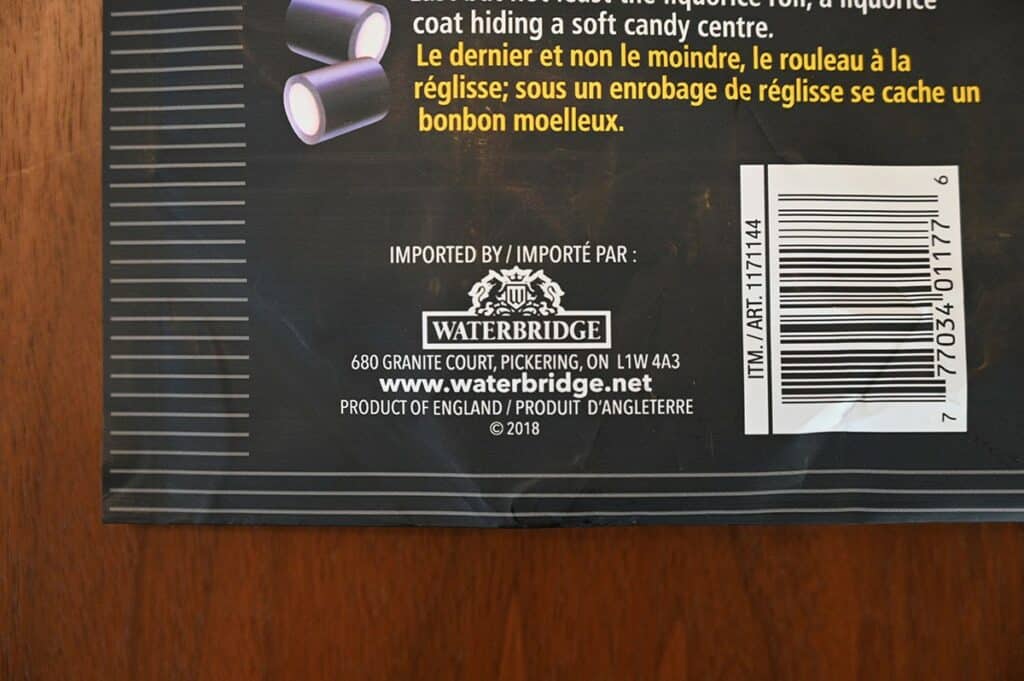 Location in Store
The Costco Waterbridge Allsorts are in the Christmas treat section at Costco. The item number is 1171144.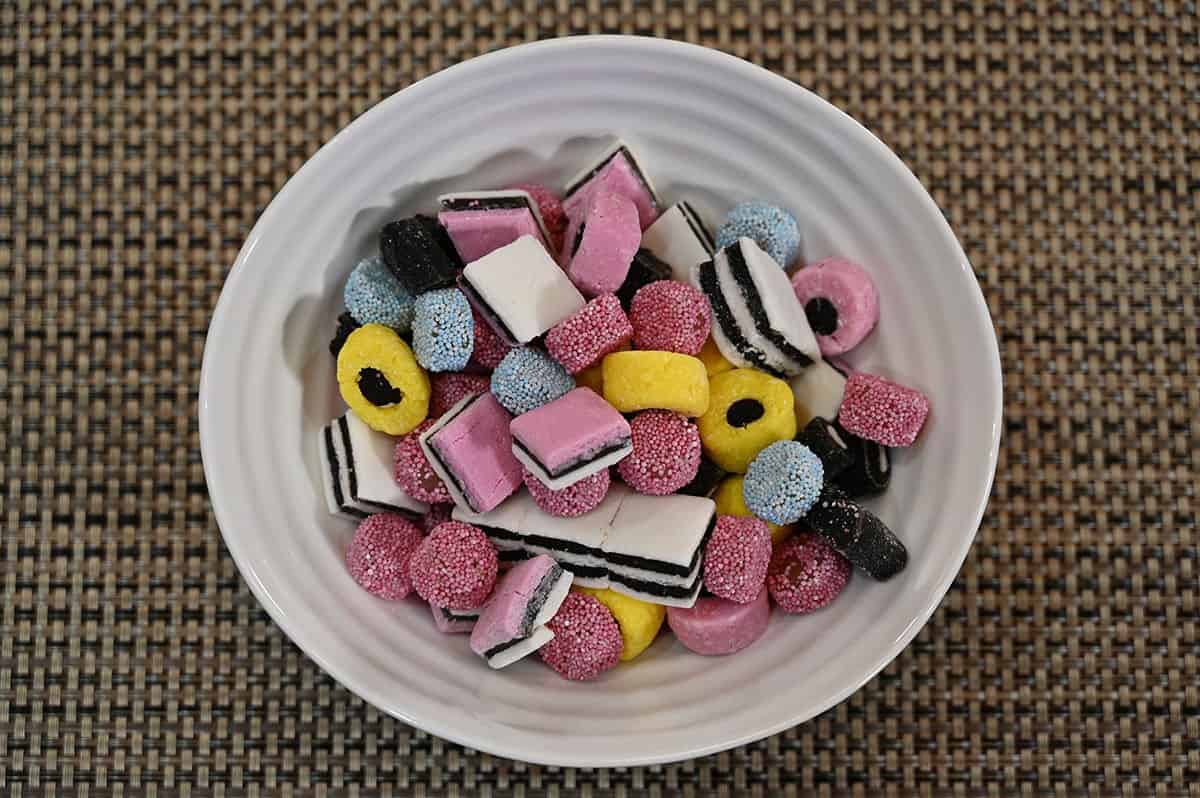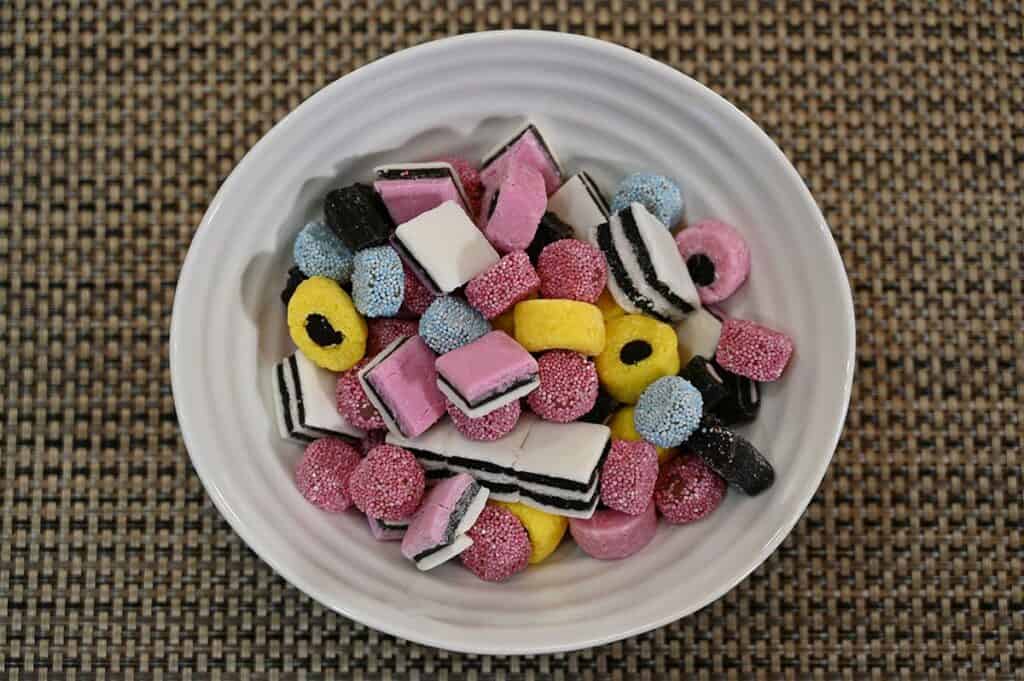 Taste
There's 10 different flavors in the bag and I tried each flavor separately while keeping notes on how each one tasted.
Blue jelly button – It has a strong licorice flavor with some crunch from the sprinkles on the outside. It tasted sweeter than black licorice that I've had in the past. 
Pink jelly button – This one was a little bit sweeter with a milder licorice taste than the blue jelly button. It has the same sort of crunch from the sprinkles.
Crazy liquorice twists – These ones have a strong molasses flavor. They also have a bit of a warm spiciness to them. 

Lemon fruit sandwich – It has a strong lemon flavor and it's quite sweet. The texture is a little less chewy than the ones above; it melted in my mouth faster than they did. You can also taste hints of molasses.
Raspberry fruit sandwich – It has a strong but fairly artificial raspberry flavor with the same texture as the lemon fruit sandwich. This is one of my favorites. You can taste hints of molasses.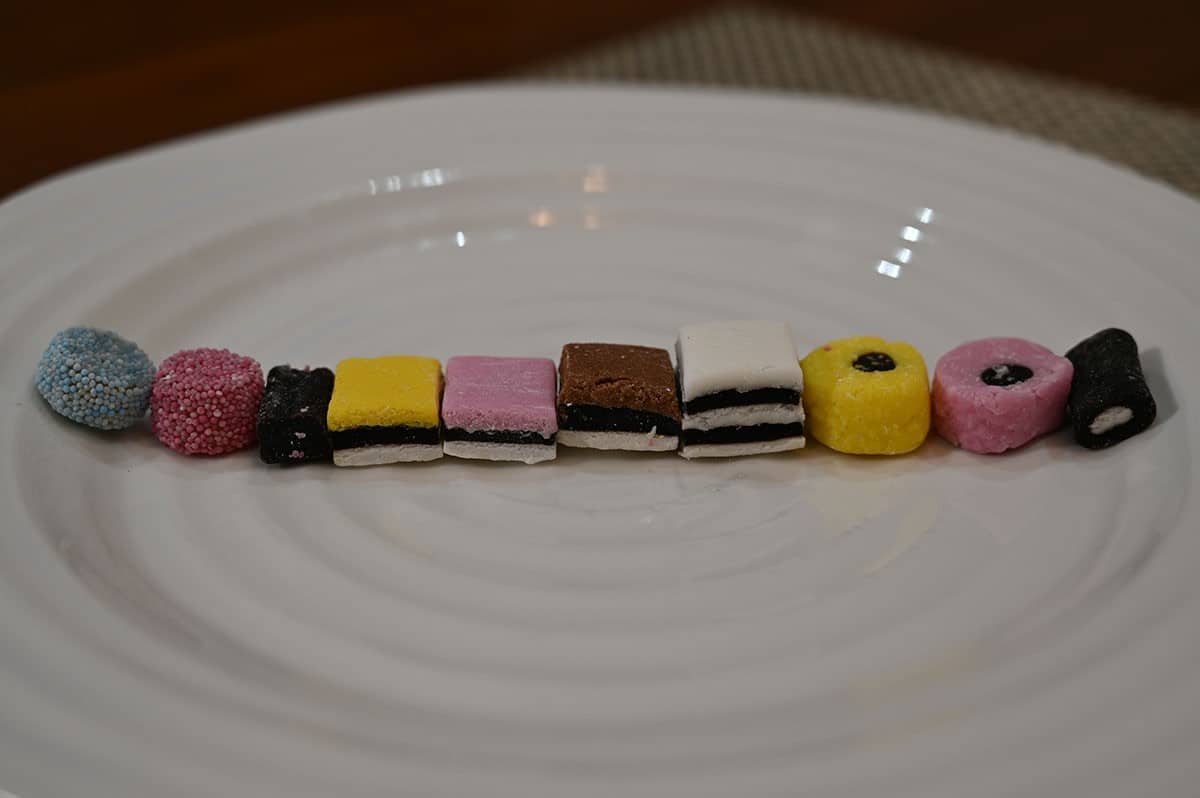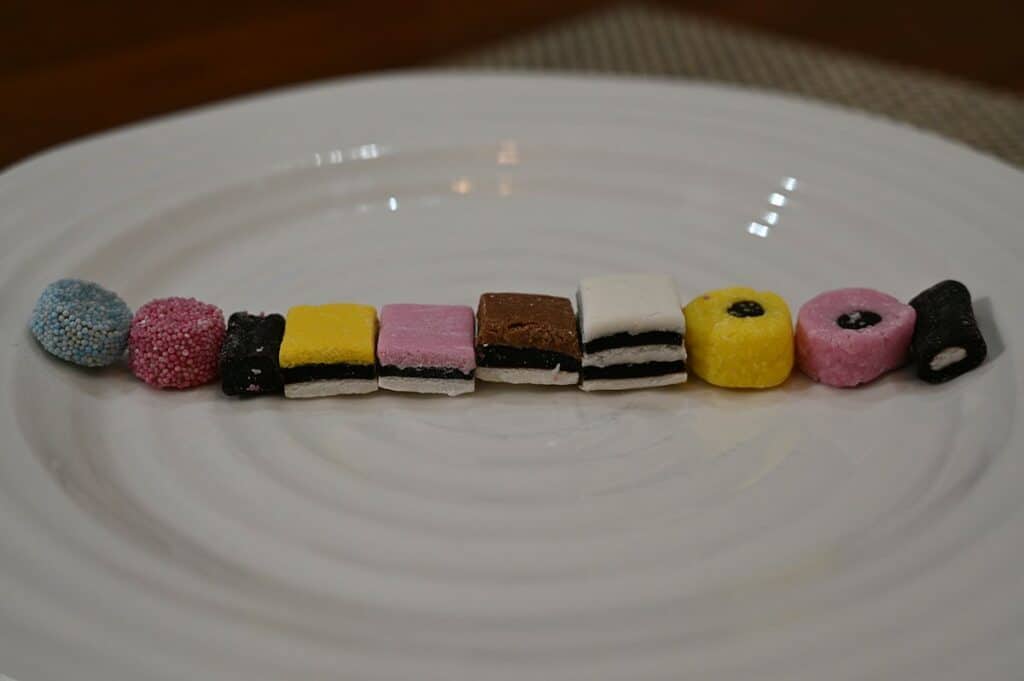 Chocolate sandwich – It has a noticeable but sweet chocolate flavor. It's a little chalky in texture and similar to the other fruit squares in that it's more melty than chewy. The hints of molasses are a little stronger compared to the lemon and raspberry squares. 
Vanilla sandwich – This one is very sweet. I didn't really notice a real vanilla flavor. It has a fairly strong molasses aftertaste. 

Yellow coconut roll – It has more of a chalky texture – even less chewy and more melty than the sandwich allsorts. The coconut flavor stands out and is very nice. This is another favorite of mine from the bag. 
Pink coconut roll – The texture is basically the same as the yellow coconut roll. The flavor is also very similar, but maybe slightly sweeter with a bit of a molassesy finish.
Liquorice roll – This one is more chewy. The outside has a strong licorice taste and the candy center inside was quite sweet.

Overall, these Allsorts are very interesting and not what I expected at all. I really dislike black licorice, but I kind of enjoyed them. The lemon and raspberry fruit squares I especially enjoy as well as the coconut rolls. I should also mention that the candy is a bit hard but not rock hard.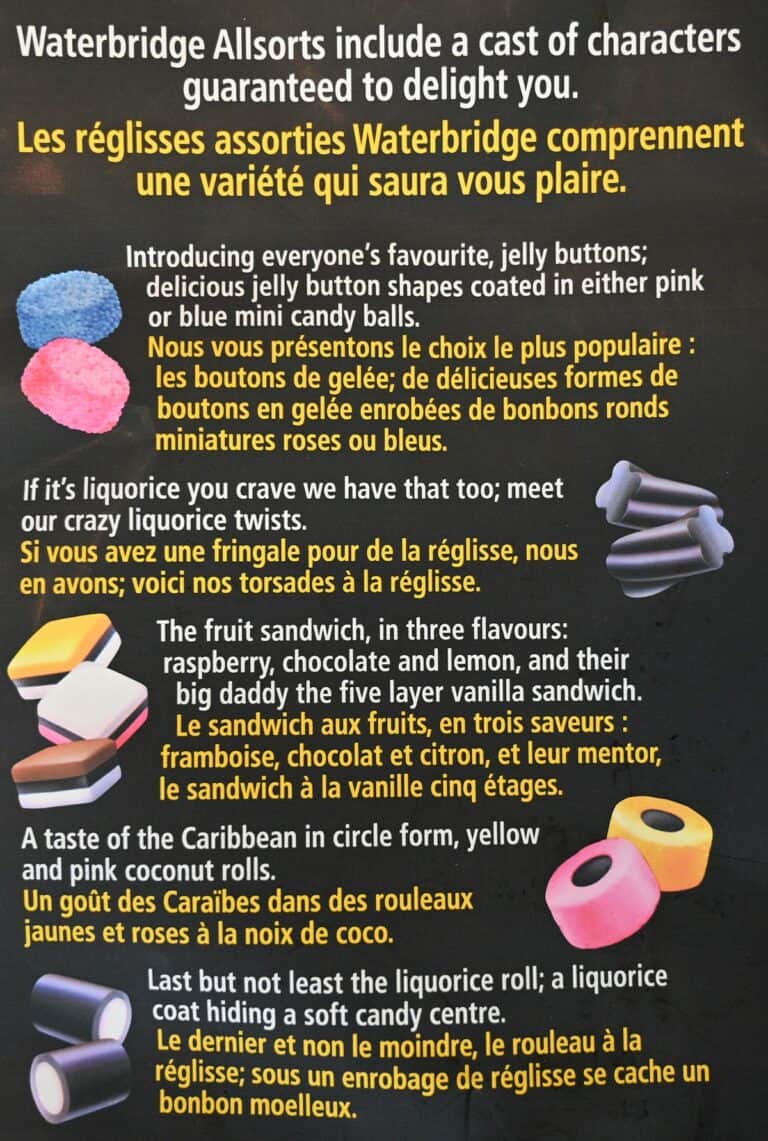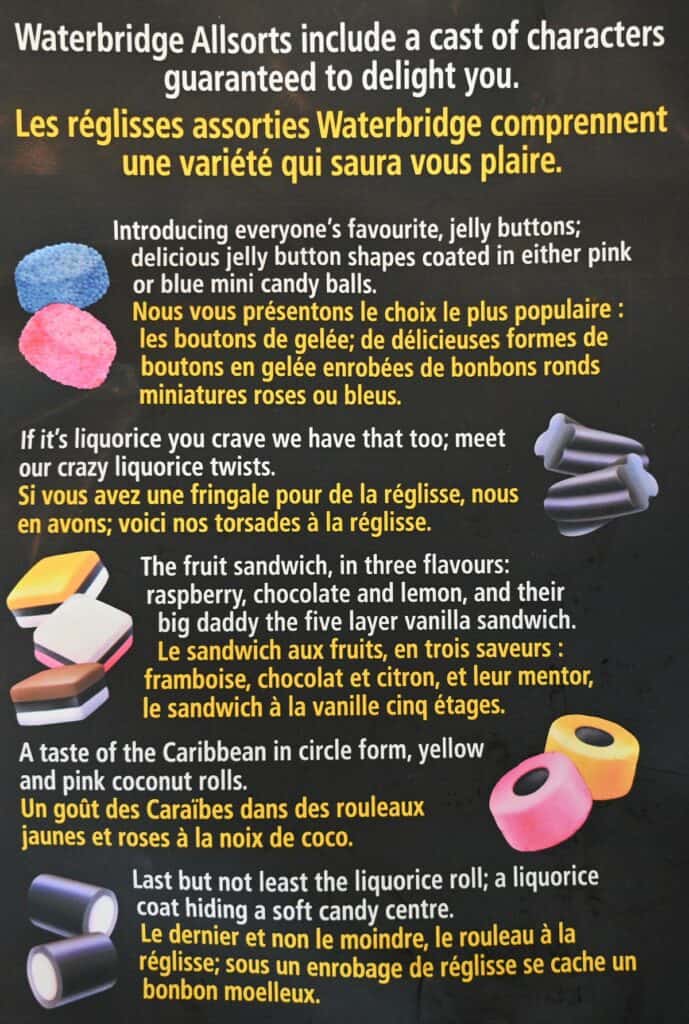 Cost
The 1.2kg bag comes with three smaller bags of allsorts inside and costs $8.99 Canadian at Costco.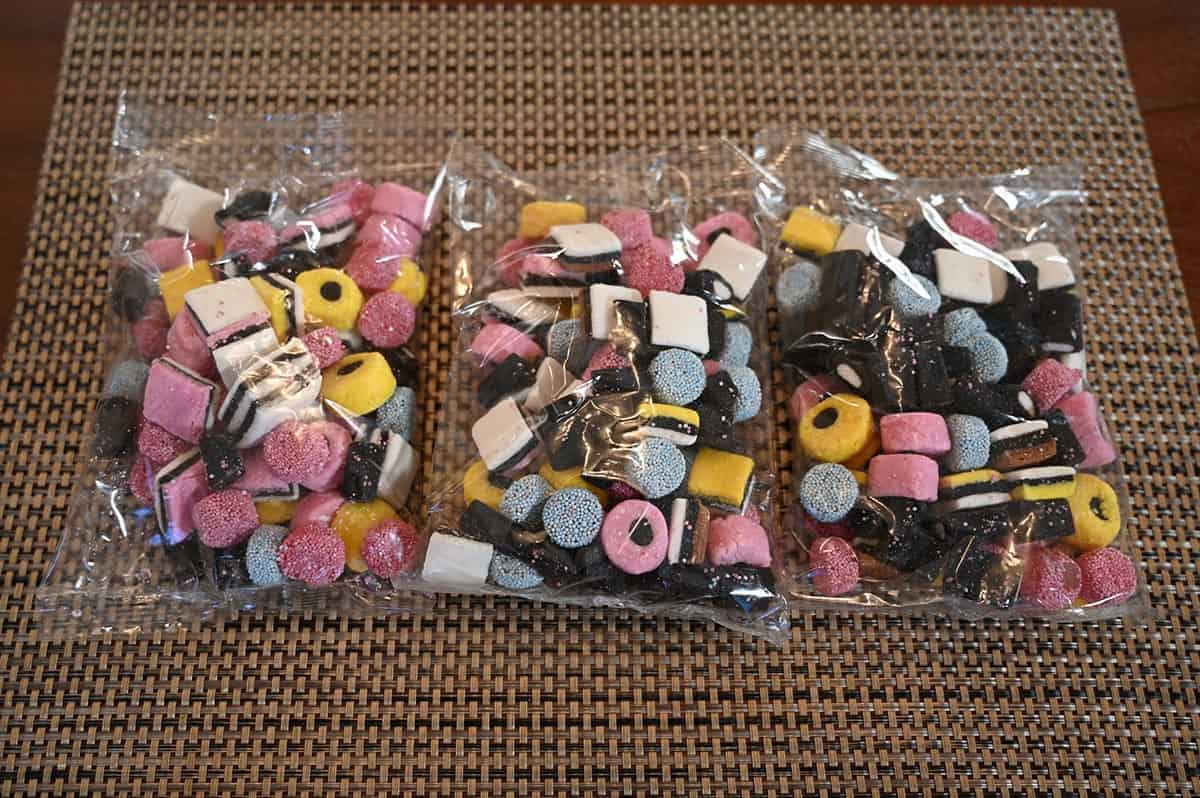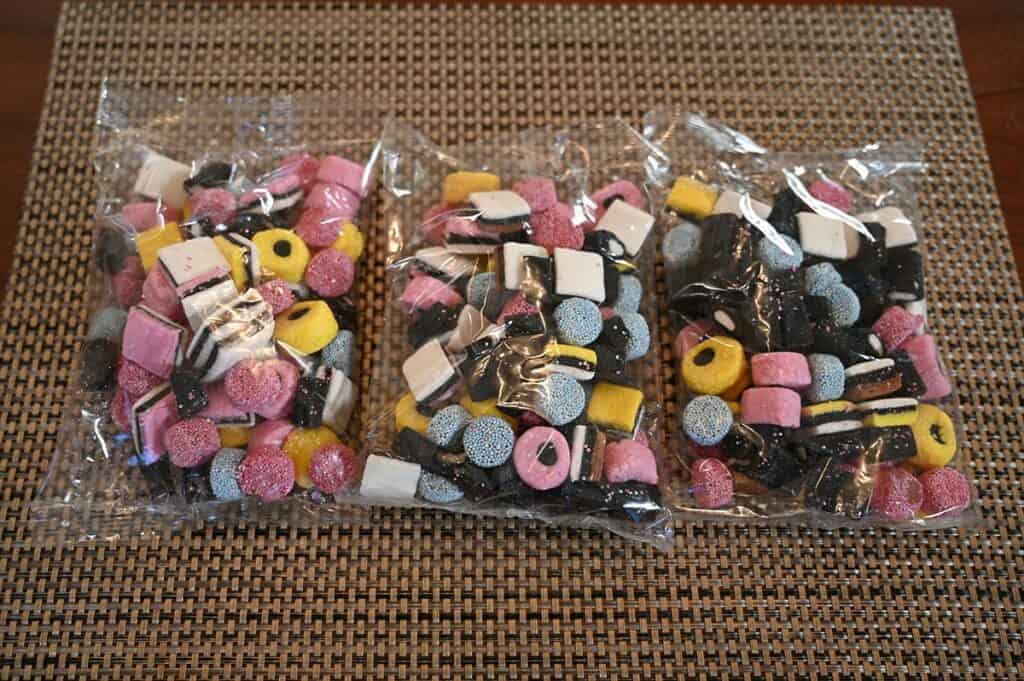 Convenience
It's nice that the big bag has three smaller bags inside because that way you don't have to open all the allsorts at once and it keeps them fresh. These are such a colorful and fun looking candy! The best before date is about nine months from the date we purchased them.
These make a nice gift for someone you know who enjoys licorice allsorts. They're also nice to have around for the holiday season in a candy dish to offer guests!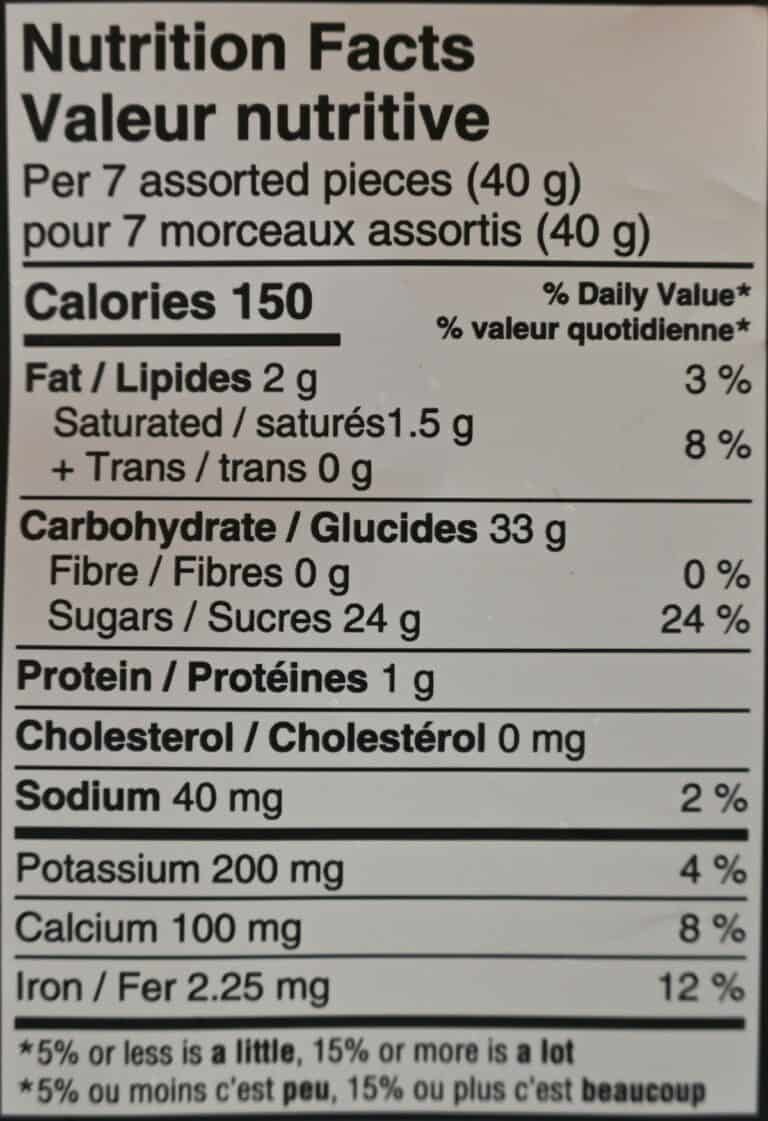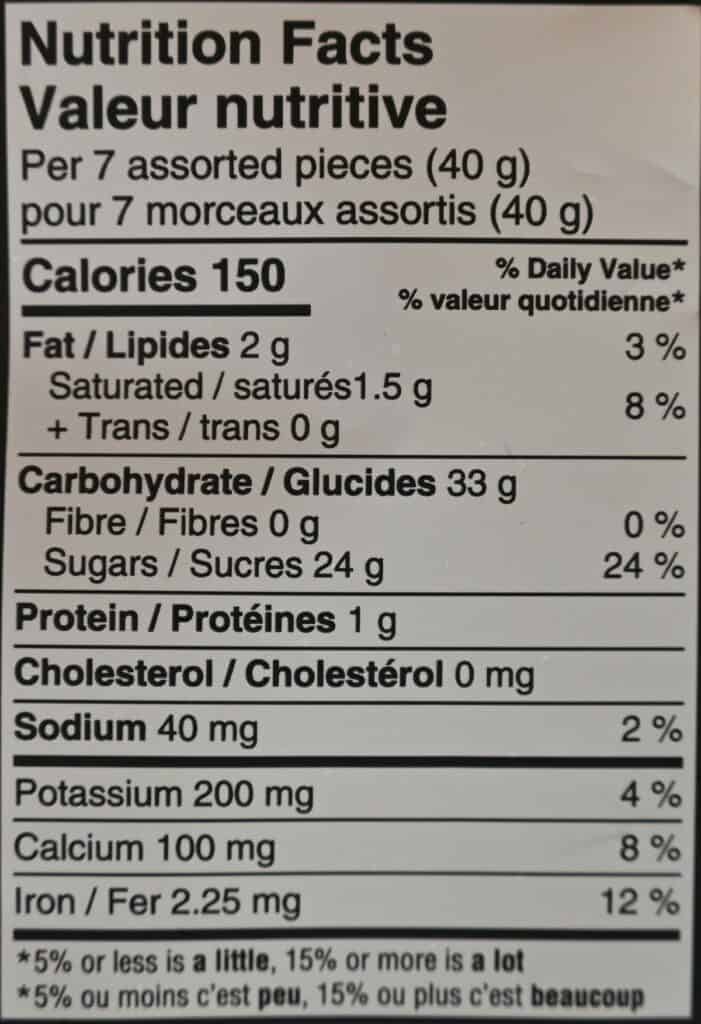 Nutrition
Calories
Seven licorice all sorts are 150 calories, two grams of fat, 33 grams of carbohydrates, zero grams of fibre, 24 grams of sugar, one gram of protein and 40 mg of sodium. Seven is a lot to eat! I feel like one to three at a time is all I can handle.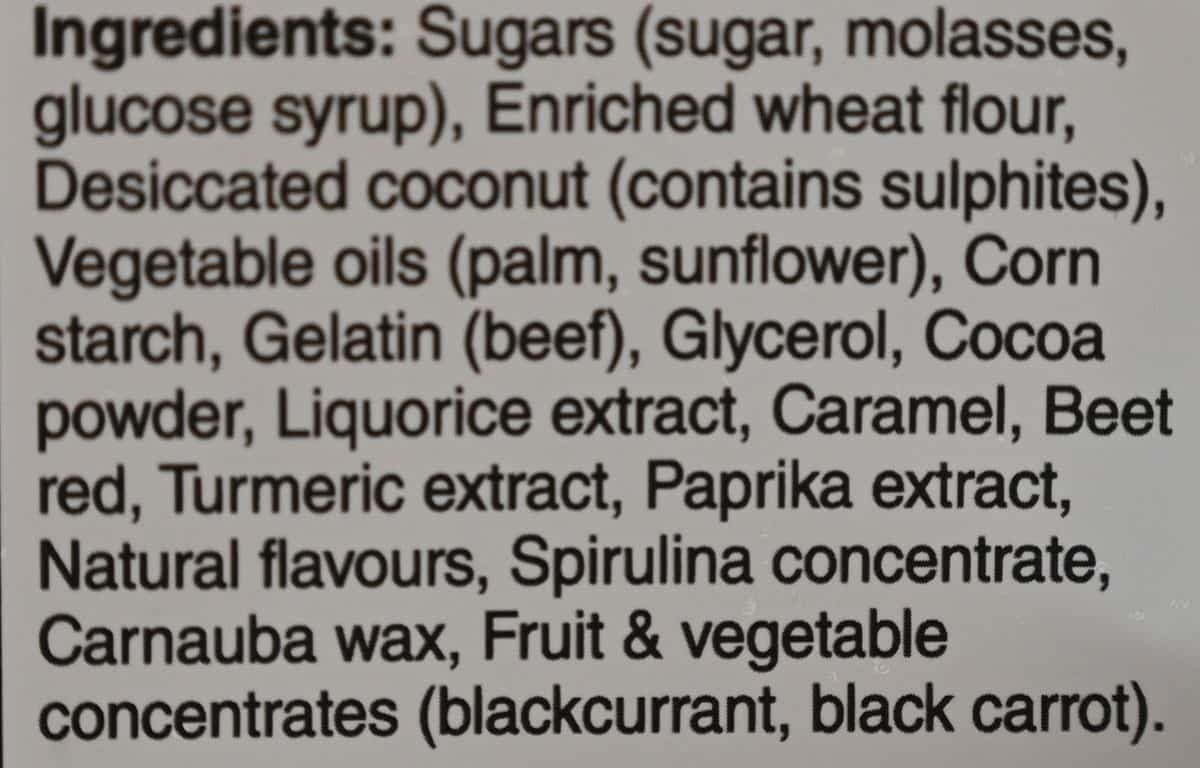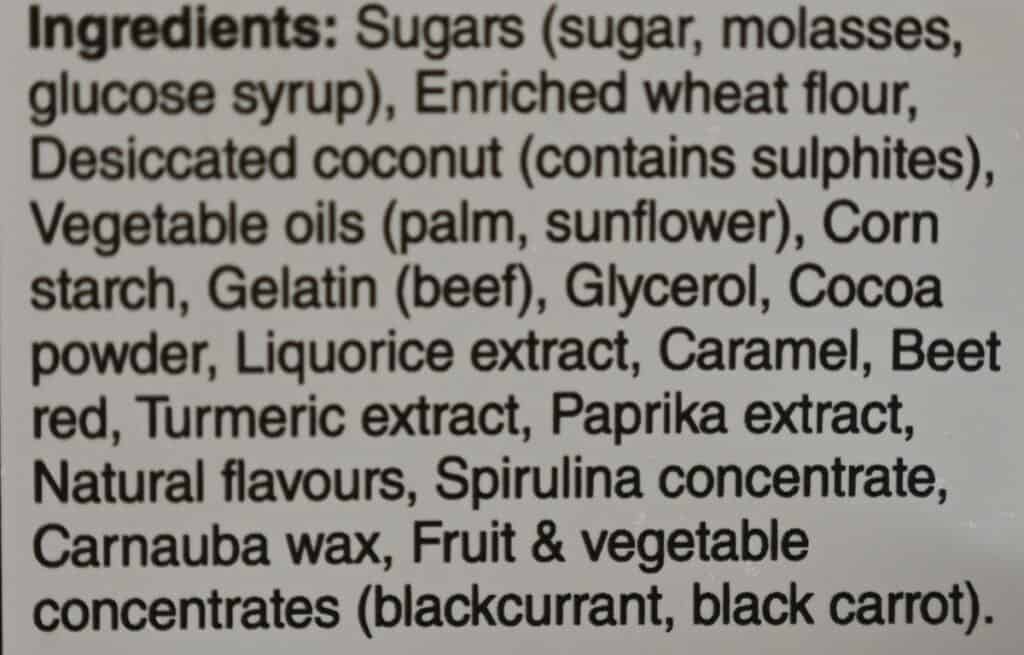 Ingredients
There's really nothing healthy about these licorice allsorts but they do have fruit & vegetable concentrates, spirulina and tumeric, which I find interesting! They are not gluten-free and do contain beef gelatin.
Scoring.
Taste: 7/10 for me, but I think this really depends on your taste in candy!
Cost: 8/10
Convenience: 10/10
Nutrition: 0/10
Overall
Give it a try!
I don't think I'd buy them again, but I might eat a couple if I came across a bowl of them somewhere, whereas in the past I would have avoided them. 
Do you know anyone in your life who also loves allsorts like my nanny did?
---
Please note that this review was not paid for or sponsored by any third party. This product was purchased by Costcuisine for the purpose of producing this review. The opinions in this review are strictly those of Costcuisine. Costcuisine is not affiliated with Costco or any of its suppliers. In the event that Costcuisine receives compensation for a post from the manufacturer of a product or some other third party, the arrangement will be clearly disclosed (including where the manufacturer of a product provides Costcuisine with a free sample of the product).