Flavor packed, nutrient dense delicious salad!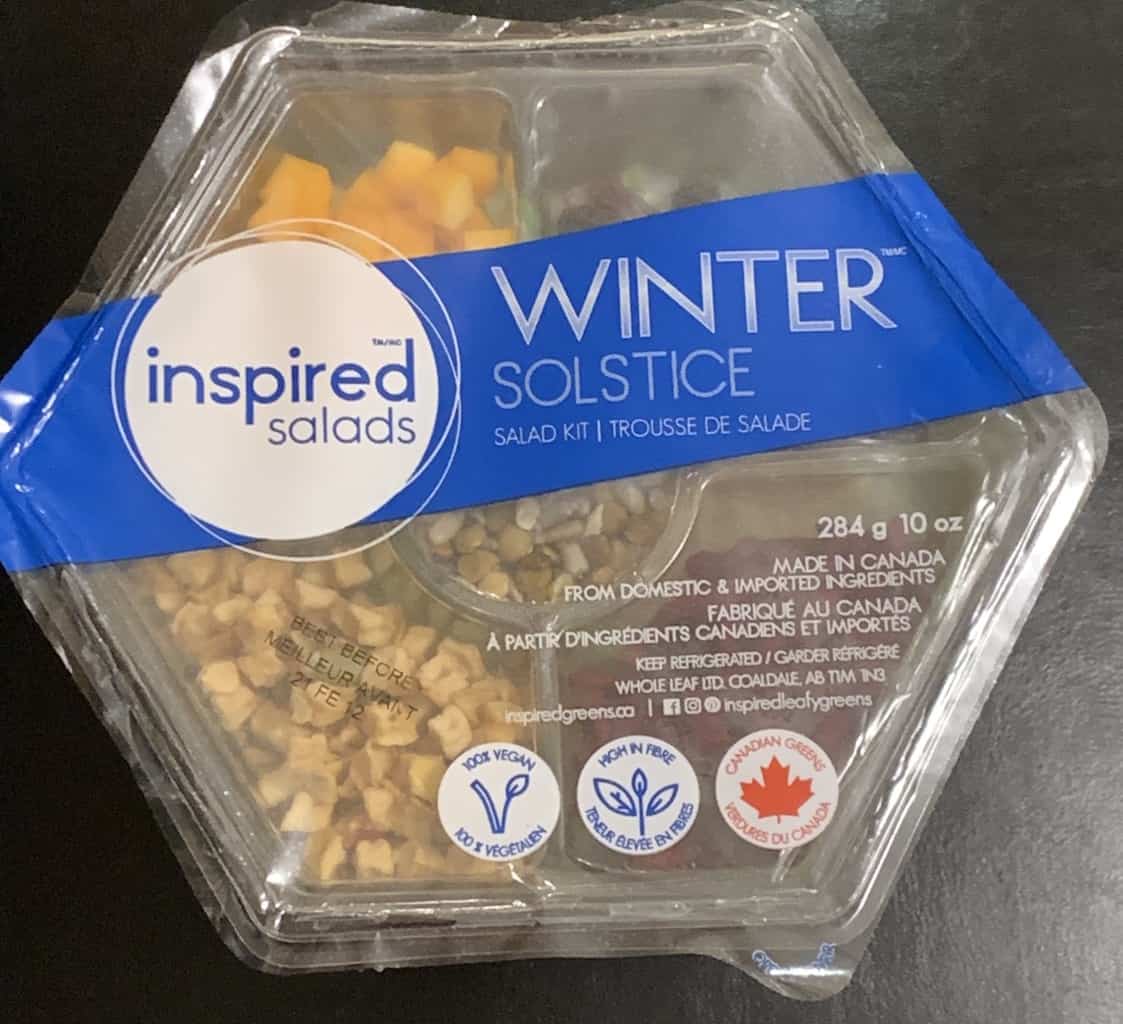 I absolutely love a good salad and we eat salads in our house quite often! I've reviewed a few salads on my blog such as the Costco Taylor Farms Creamy Dill Pickle Salad, Costco Taylor Farms Buffalo Blue Salad Kit and the Costco Inspired Salads Kickin' Caprese Salad Kit.
Today I'm reviewing the Costco Inspired Salads Winter Solstice Salad Kit. This can be found in the produce room and the item number is 1509245.
Taste
This salad is absolutely loaded with ingredients other than lettuce. Honestly there's way more mix-ins and toppings than there is lettuce. I like a really leafy lettuce with a few toppings and added ingredients so next time I would have added my own lettuce to bulk it up a bit and make it less heavy.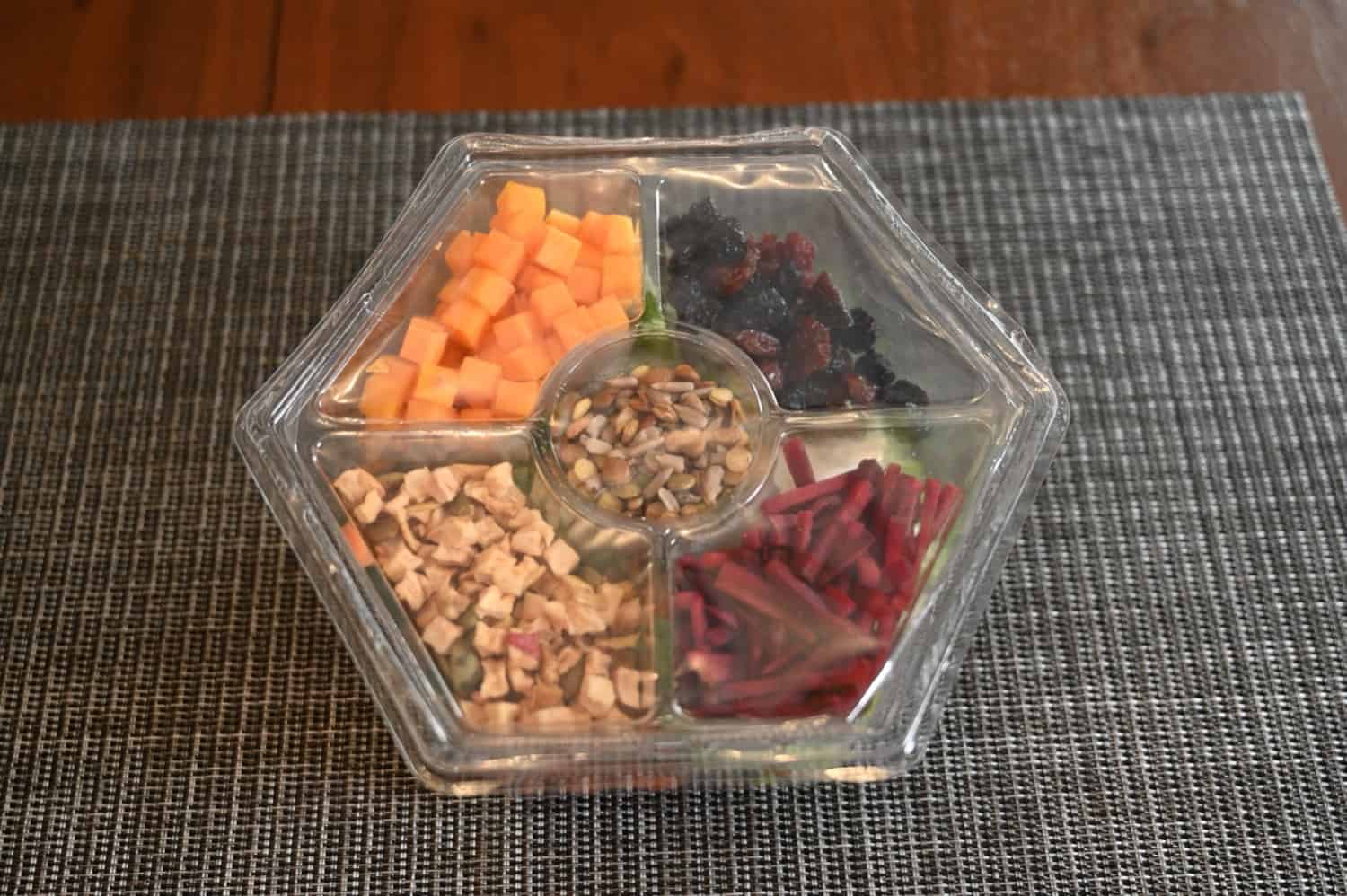 This salad has mixed grains, leaf lettuce, butternut squash, dried blueberries, carrots, beets, dried cherries, roasted lentils, pumpkin seeds, sunflower seeds, dried apple and a ginger tahini dressing.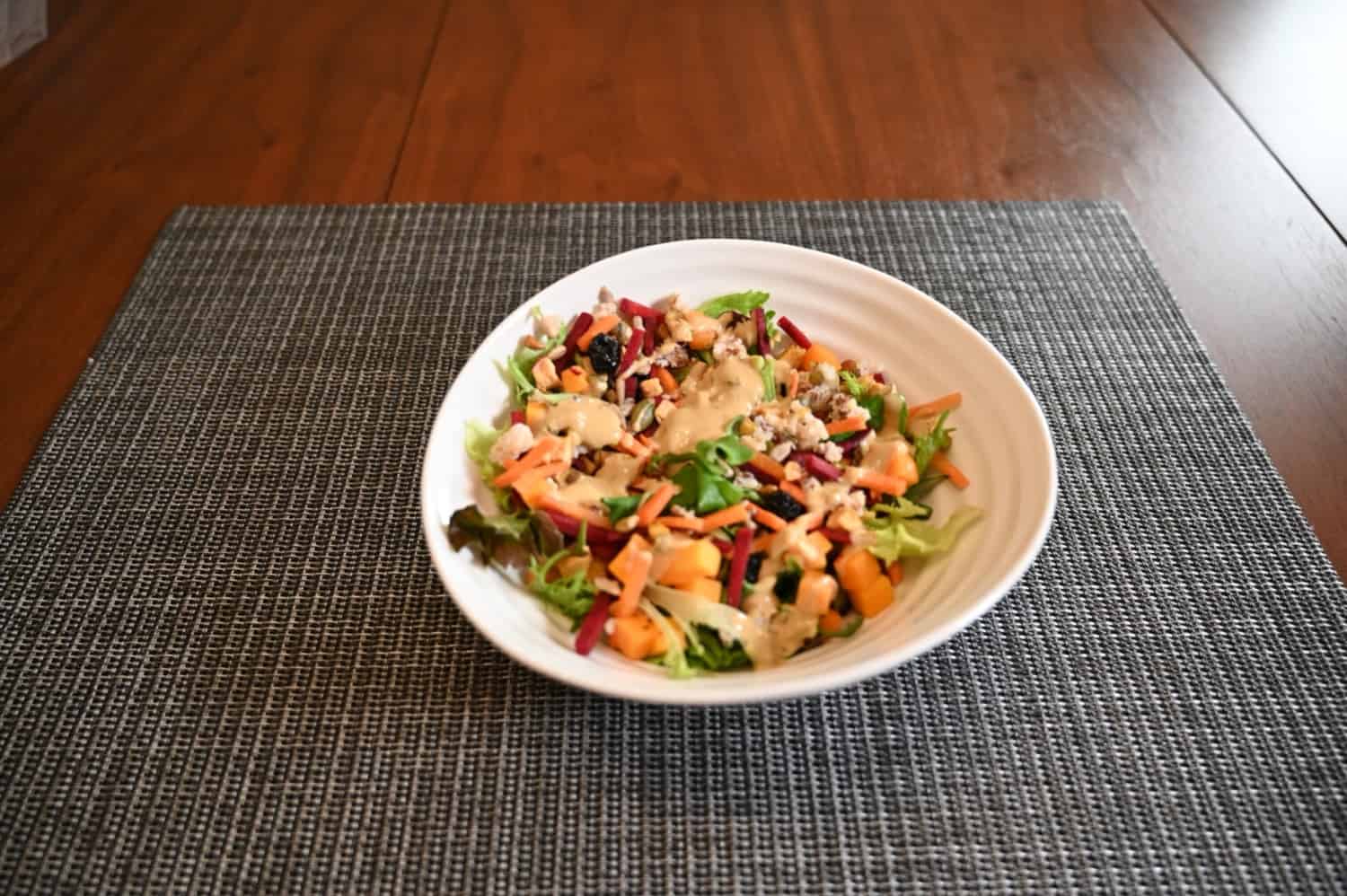 The ginger tahini dressing tastes the slightest bit sweet at first but then tastes very savory. This salad is extremely tasty and so very flavorful. All the ingredients compliment each other and you have a combination of sweet, savory and crunchy. The grains don't add much flavor but do make the salad a bit more heavy so I think the salad could do without the grains.
I really enjoyed this salad and would gladly eat it again. It tastes like a restaurant quality salad that you can have at home.
Cost
This isn't cheap! I paid $7.99 Canadian for the salad kit and it feeds about one adult a meal sized salad or feeds two adults a side salad.
Convenience
The Costco Inspired Salads Winter Solstice Salad Kit is extremely convenient! All you have to do is flip over your lid of toppings/ingredients, pour some dressing overtop and shake or toss before serving!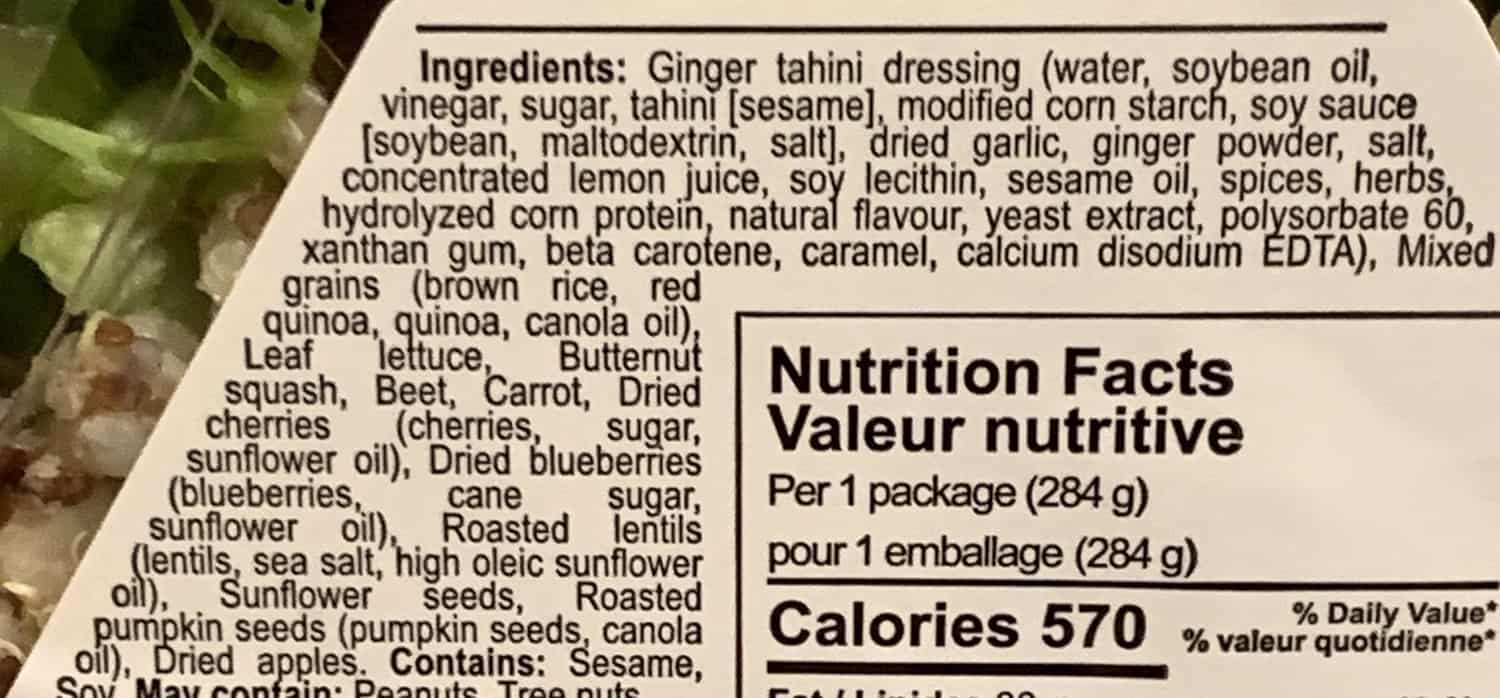 Nutrition
This isn't really that healthy, one salad is 570 calories, 30 grams of fat, 68 grams of carbohydrates, 32 grams of sugar, nine grams of fibre, 12 grams of protein and 600 mg of sodium.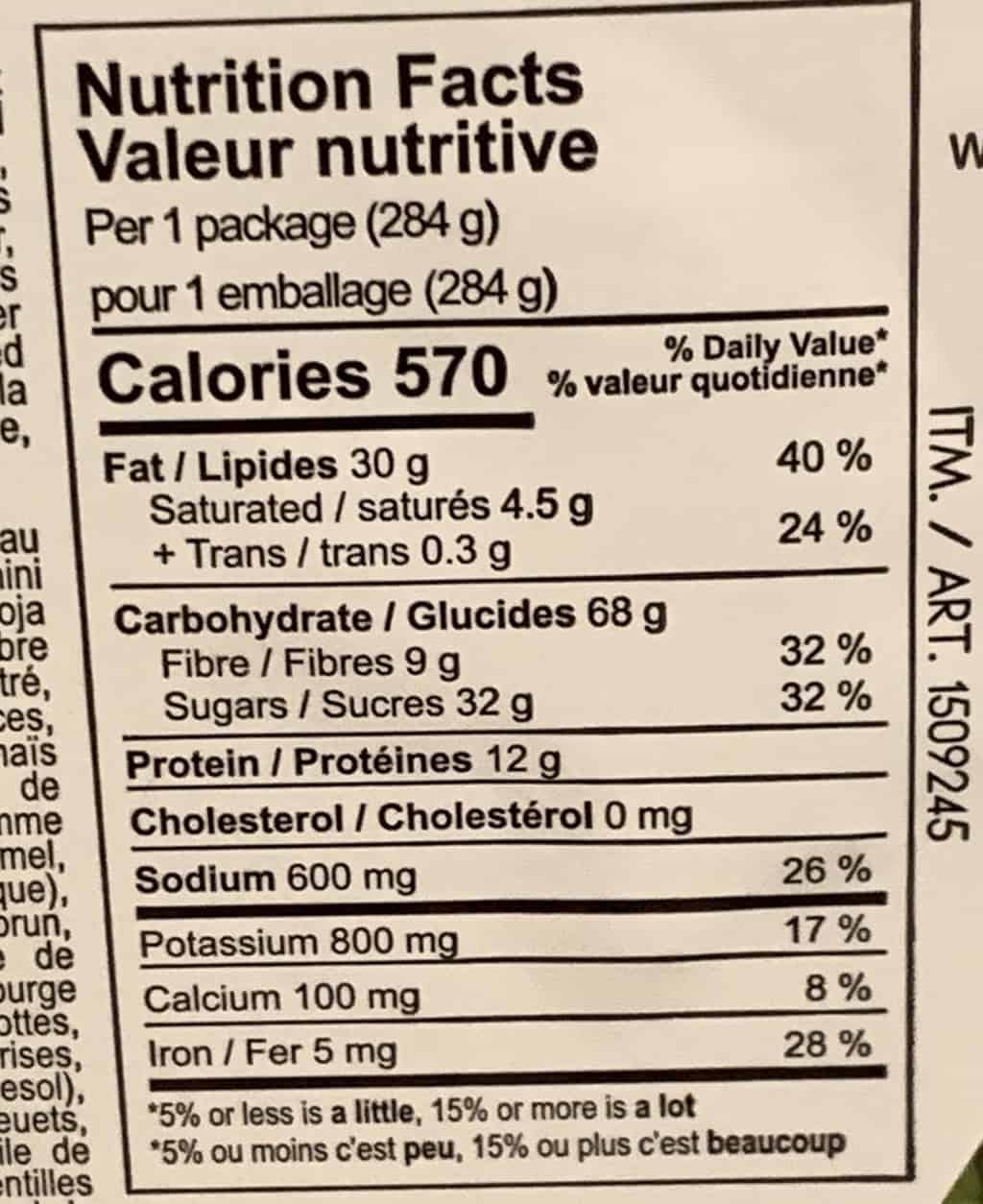 I enjoyed this salad and would gladly eat it again but the price tag is a little steep! I wish they made the salad a bit bigger with more lettuce as I found it has so much "stuff" in it that it starts to not taste like a salad anymore!
Scoring
Taste: 9/10
Cost: 4/10
Convenience: 10/10
Nutrition: 3/10
Overall
Give it a try!
Especially if you enjoy a salad with a ton of toppings and ingredients!
---
What's your favorite salad to buy from Costco?
Please note that this review was not paid for or sponsored by any third party. This product was purchased by Costcuisine for the purpose of producing this review. The opinions in this review are strictly those of Costcuisine. Costcuisine is not affiliated with Costco or any of its suppliers. In the event that Costcuisine receives compensation for a post from the manufacturer of a product or some other third party, the arrangement will be clearly disclosed (including where the manufacturer of a product provides Costcuisine with a free sample of the product).