If you want to decrease the amount of pasta you eat and increase the amount of veggies try this recipe!
Please note that this review/recipe was not paid for or sponsored by any third party. The opinions in this review are strictly my own. I am not affiliated with Costco or any of its suppliers. I am just a fan of the company. I write these honest reviews to help my fellow shoppers.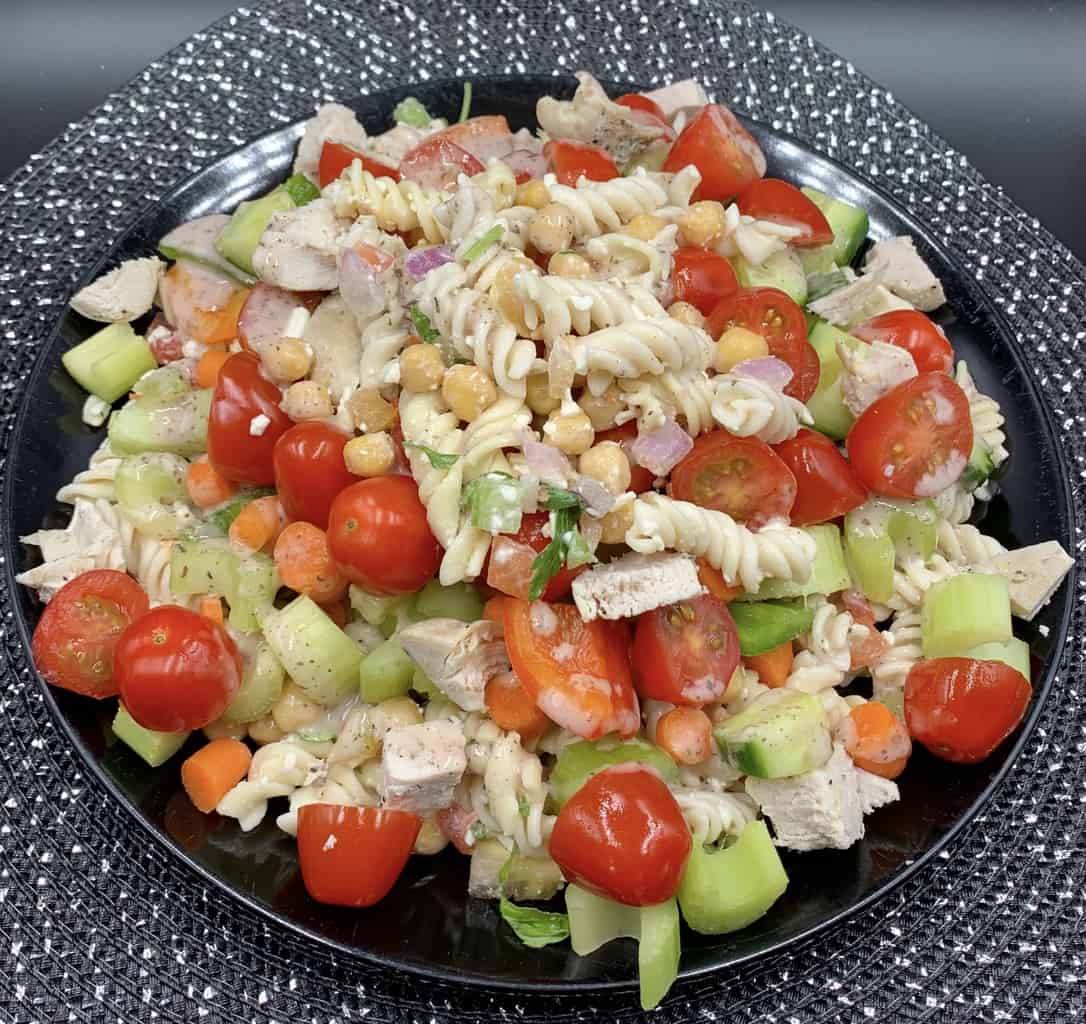 Yesterday I posted a review for the Costco Kirkland Signature Pasta Salad. Today I want to share with you how I turn this pasta salad into a vegetable heavy, protein packed, healthy meal. By adding a few simple additional ingredients you can cut back on the amount of carbs and get the pasta salad to stretch over a few meals or feed your entire family. It's also a great way to bring a large salad to a family gathering or potluck to share with others. These are the ingredients I've decided pair the best with the Costco Kirkland Signature Pasta salad after trying many different ingredients.
Ingredients:
1 Costco Kirkland Signature Mediterranean Pasta Salad
2 green, red, yellow or orange bell peppers diced
4 stalks of celery chopped thin
½ cup chopped cucumber
¼ cup diced carrots
1 cup Costco Concerto cherry tomatoes, sliced in half
1 Costco Kirkland Signature Boneless Skinless Chicken Breast cooked with salt and pepper (optional)
1 can no salt added chickpeas (optional
3 cups spinach or kale (optional) I like leafy greens with this but my husband prefers it without
1 avocado peeled and diced into small cubes
Directions:
Wash and chop all of your vegetables. If bringing to a potluck mix Costco Kirkland Signature Mediterranean Pasta Salad in a large bowl with all the veggies and coat with dressing supplied. Use as much or as little as you like. Bring bowl of chicken to potluck or gathering for people to use as they wish. If using chickpeas, add your chickpeas with everything else.
If making just for home, set up bowls of veggies and Costco Kirkland Signature Pasta Salad on counter. Layer plate with veggies and pasta salad. Drizzle with dressing supplied. Top with chicken and avocado. I recommend not mixing it all up at home and keeping things for separate because if you have leftovers, they stay fresher longer and you can easily make up a plate of salad with the stored veggies.
Any questions?! Let me know!