This Costco pot roast is very convenient but small and fatty!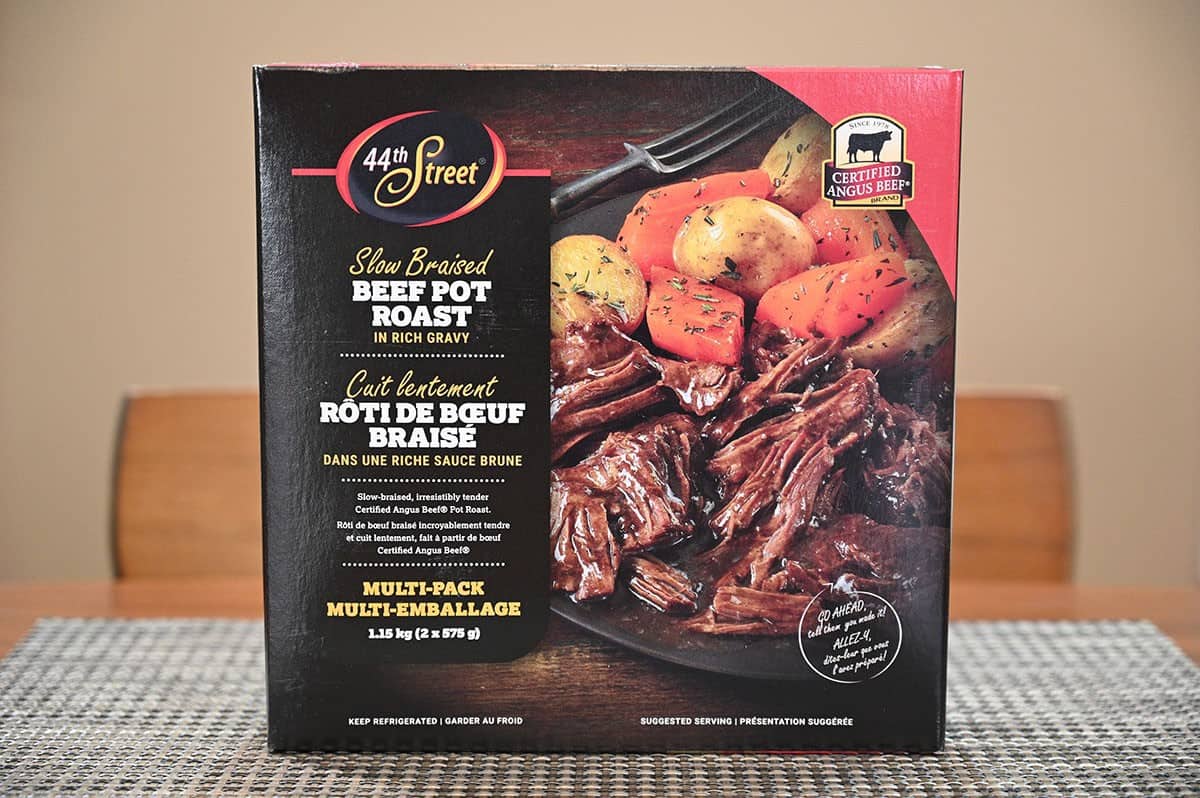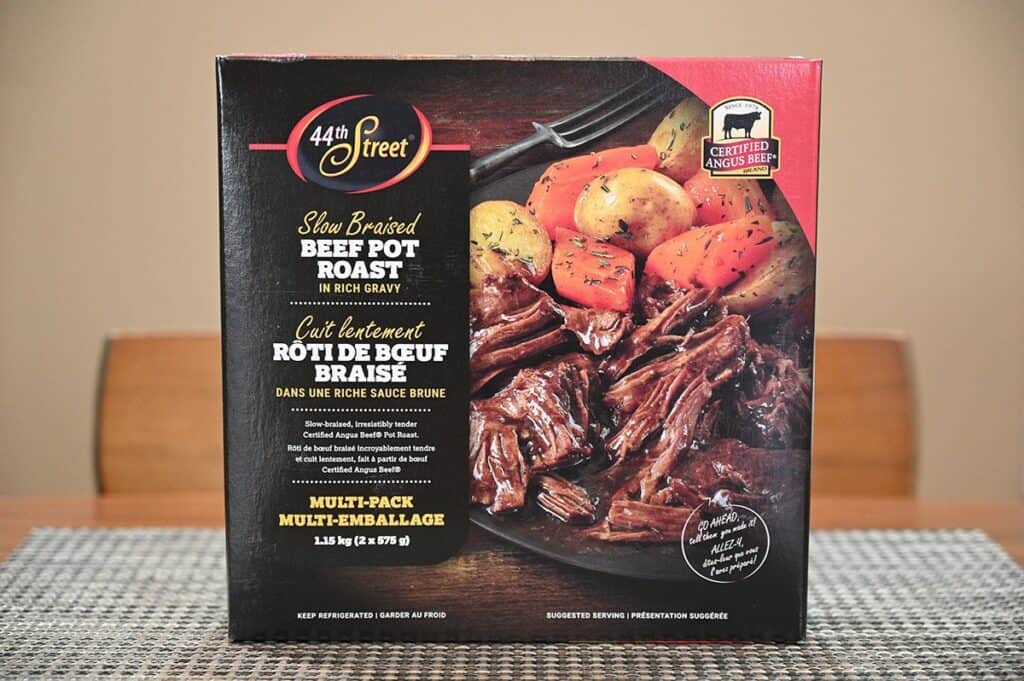 During the winter I like to have a few quick and convenient comfort meals in my freezer for nights where I feel like hibernating at home and not cooking! The Costco 44th Street Beef Pot Roast seems like a great convenient comfort meal.
Other convenient comfort meals from Costco I've reviewed are the Costco Ventera Pork Schnitzel, Costco Stoney Creek Shaved Beef Au Jus, Costco EastWest Kung Pao Chicken, Costco Rana Tagliatelle Seasoned White Chicken & Mushroom Sauce and the Costco Vicentina Italian Porchetta.


Location in Store
You can find the is Costco beef pot roast in the refrigerated section near all the refrigerated appetizers and desserts. The item number is 27956.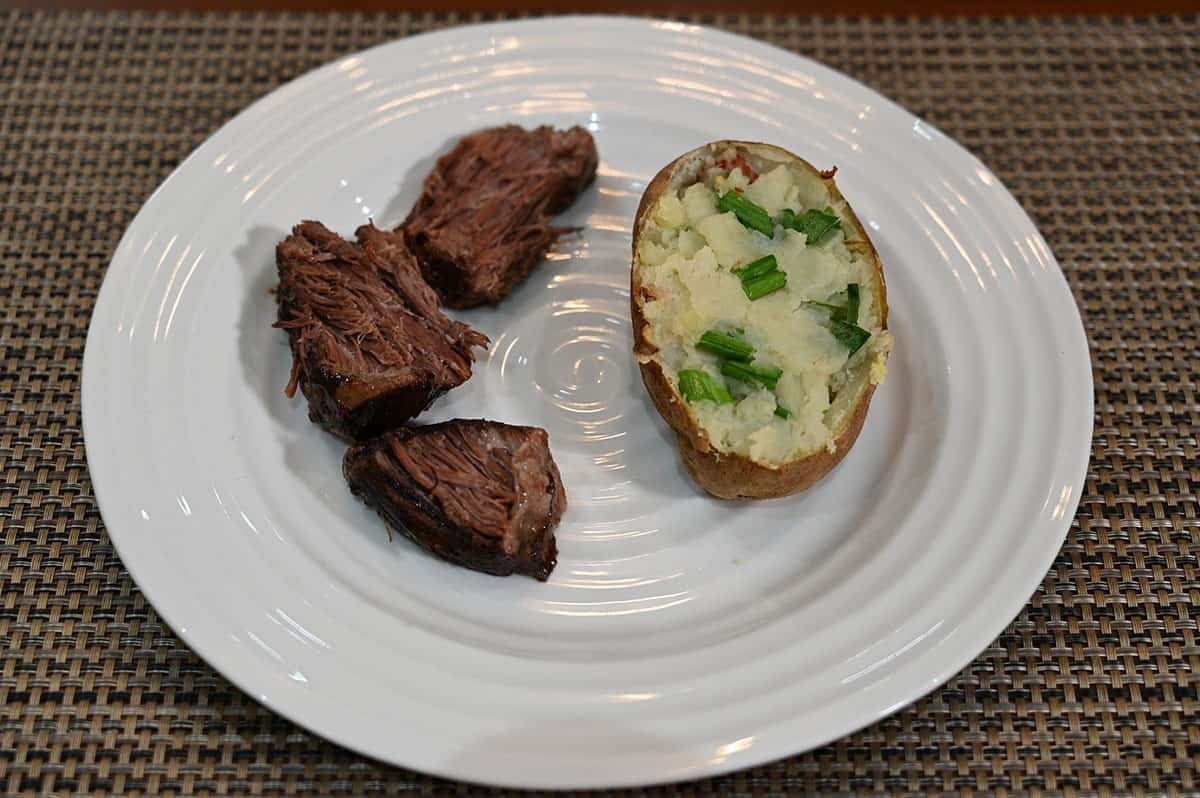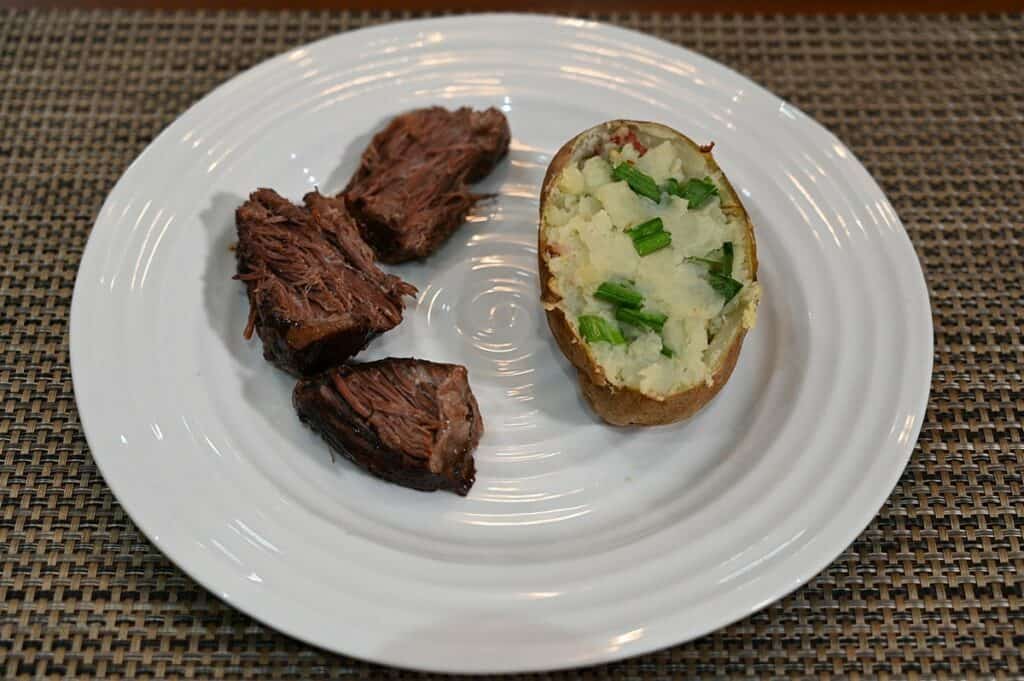 Taste
The Costco 44th street Beef Pot Roast is pretty tasty! It's a tender, well seasoned, pre-cooked beef pot roast. Trying to plate it and cut it is tricky because it's so tender that it basically just falls apart. It's very flavorful, though a little on the salty side!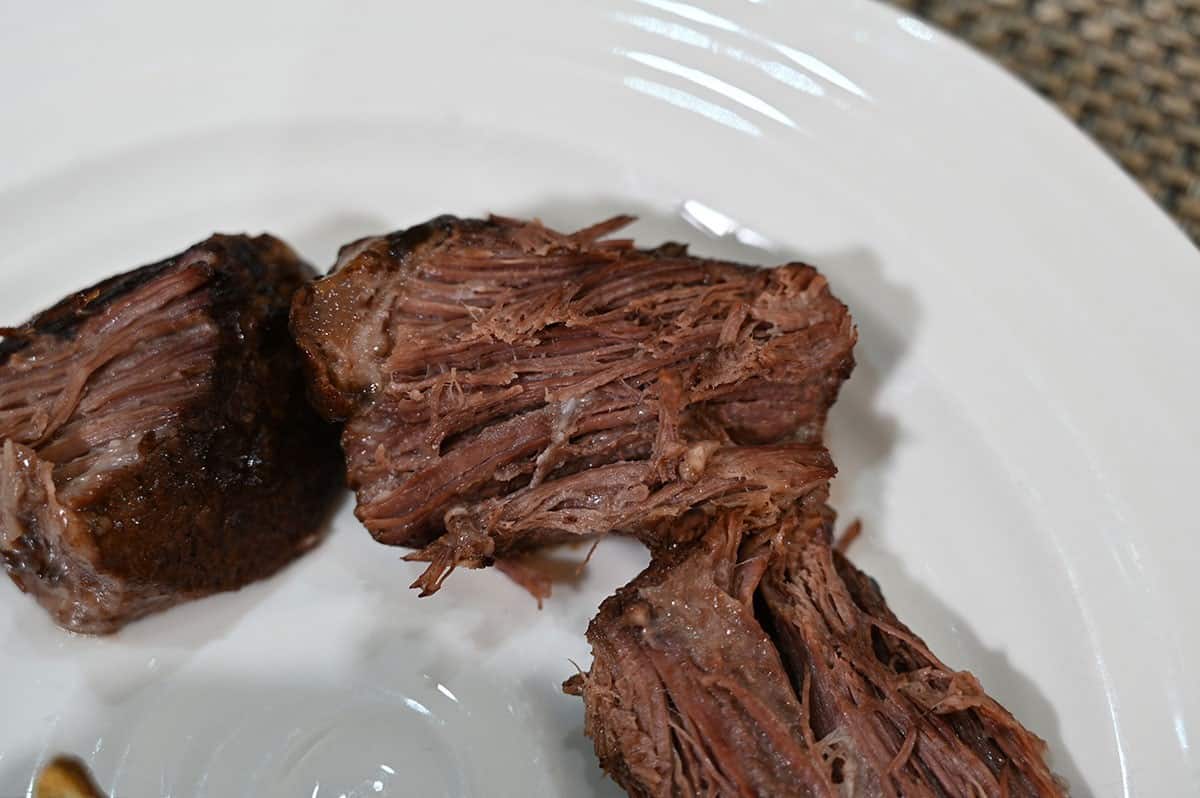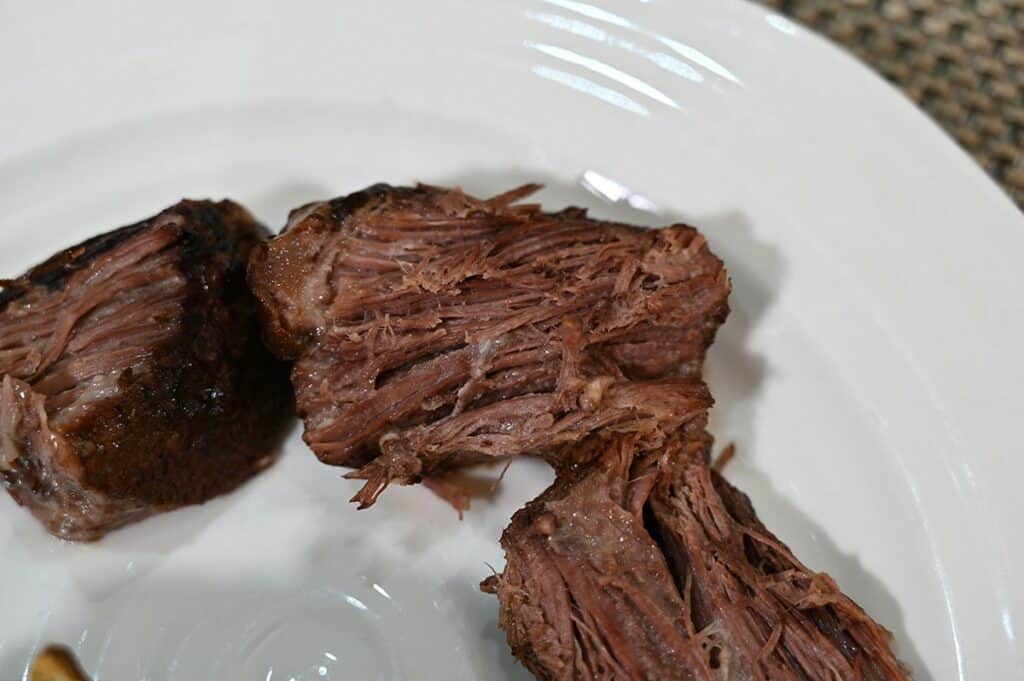 The meat is pretty fatty and you'll probably find a few pretty large chunks of fat in the pot roast. When you first put the pot roast and gravy in an oven-safe dish, there are noticeable white chunks of fat. I try to carefully remove them with a spoon. I definitely don't get all of them, but I try to get a few of them and that helps a bit.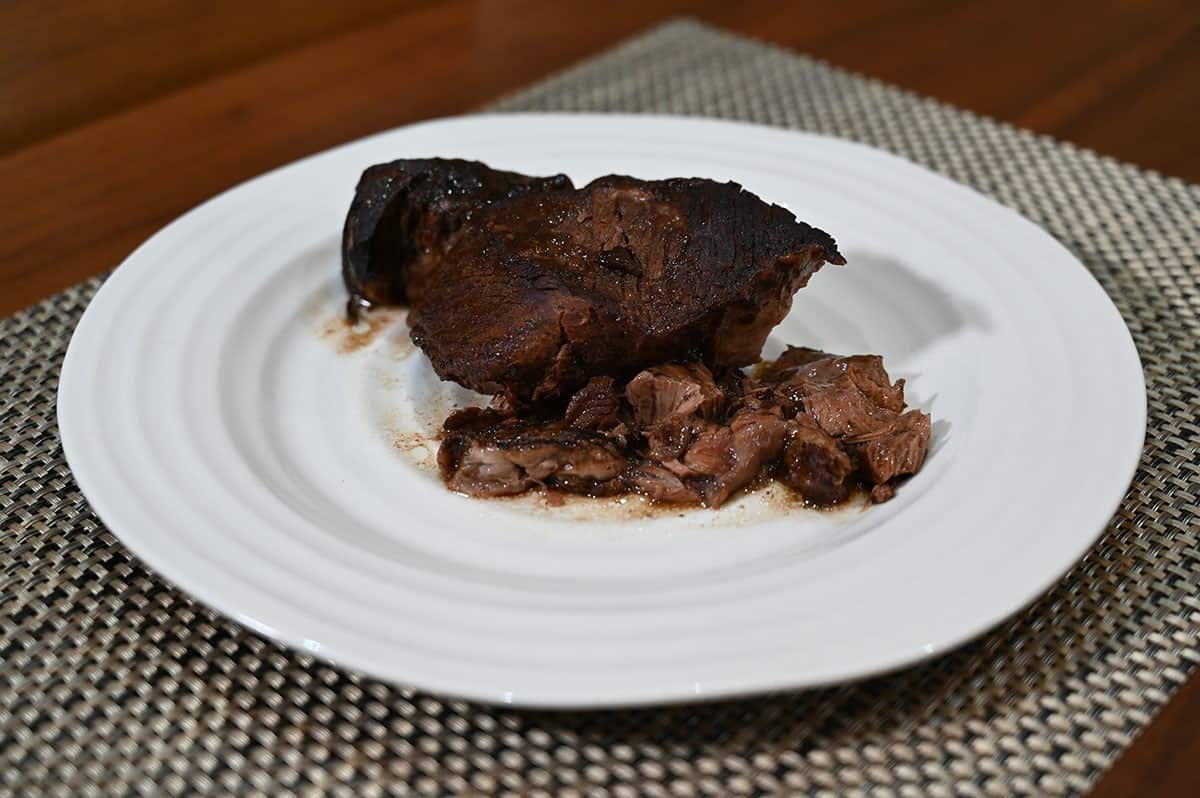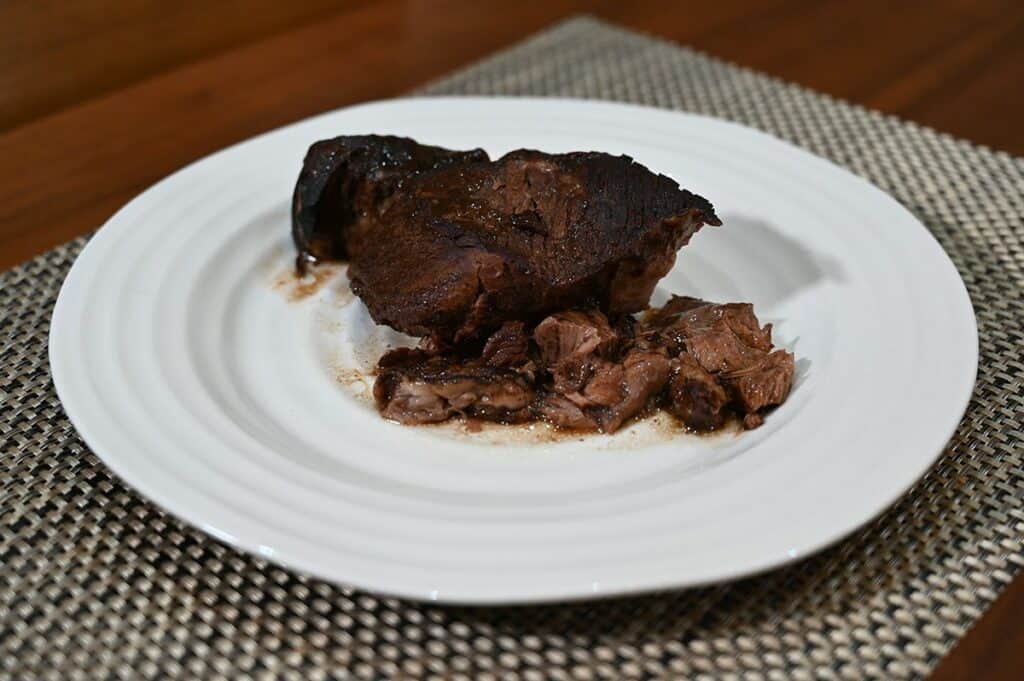 The meat that's not fatty is really enjoyable. It's just too bad that the roast is so small and fatty as there's not a lot of edible meat in each pot roast package.
Cost
The regular price for the Costco 44th Street Beef Pot Roast is $23.99. I purchased mine on sale for five dollars off. $23.99 is pretty expensive for two very small pot roasts, so you might want to watch for a sale as I did!
One pot roast barely feeds just my husband and I, but that's because my husband is a BIG eater (you already know this if you follow the blog). Still, the serving size is probably more appropriate for two people than say a family of four.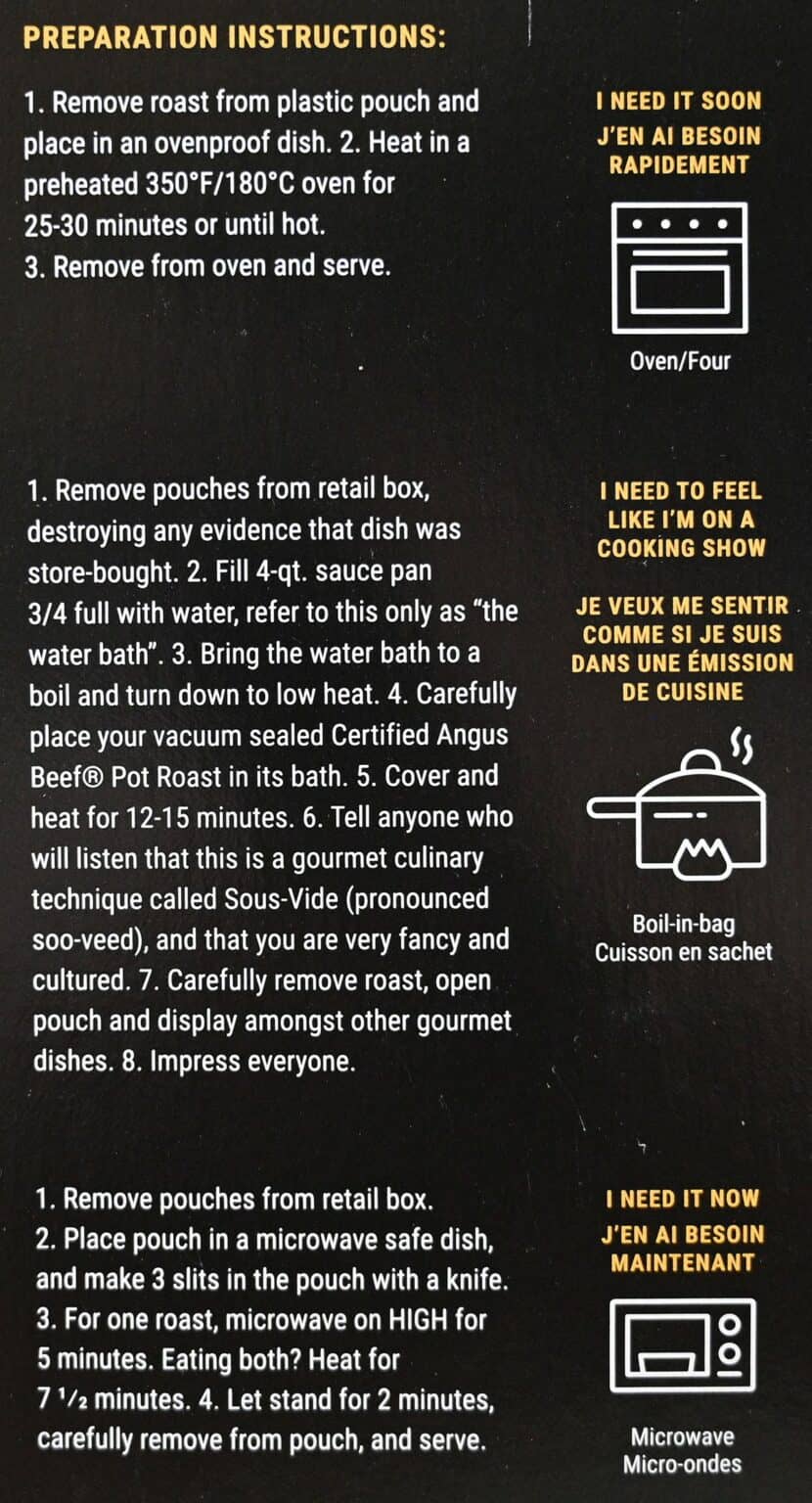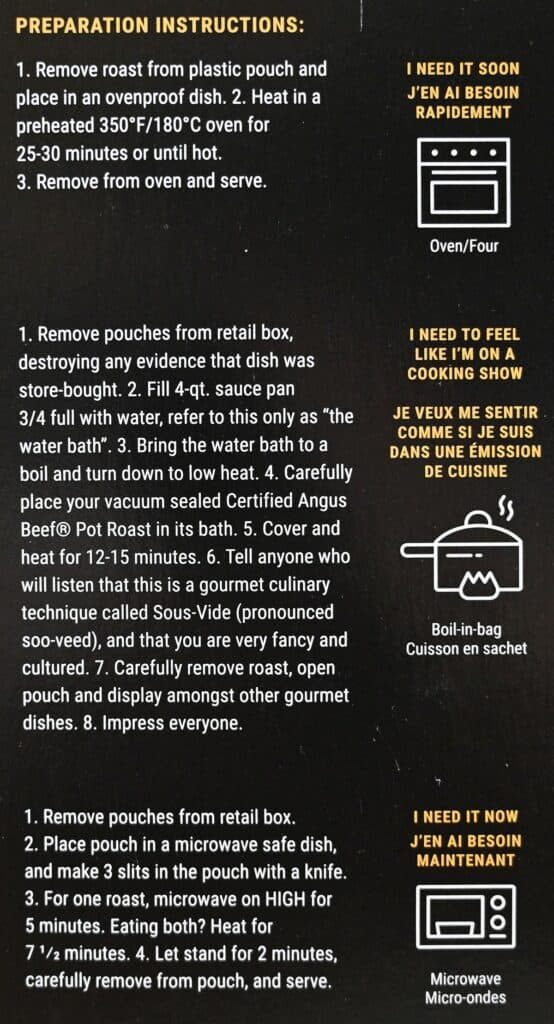 Convenience
This pot roast is so convenient! Basically all you do is pop the pot roast in an oven-safe dish and heat it up in the oven. You also even boil or microwave the pot roast if you prefer. The only thing that took a little time for me was scooping out the little chunks of fat that come in the package with the pot roast and gravy.
The best before date is about four months from the date that we purchased the pot roast. The 44th Street Beef Pot Roast comes with two beef roasts, each in its own vacuum-sealed pack.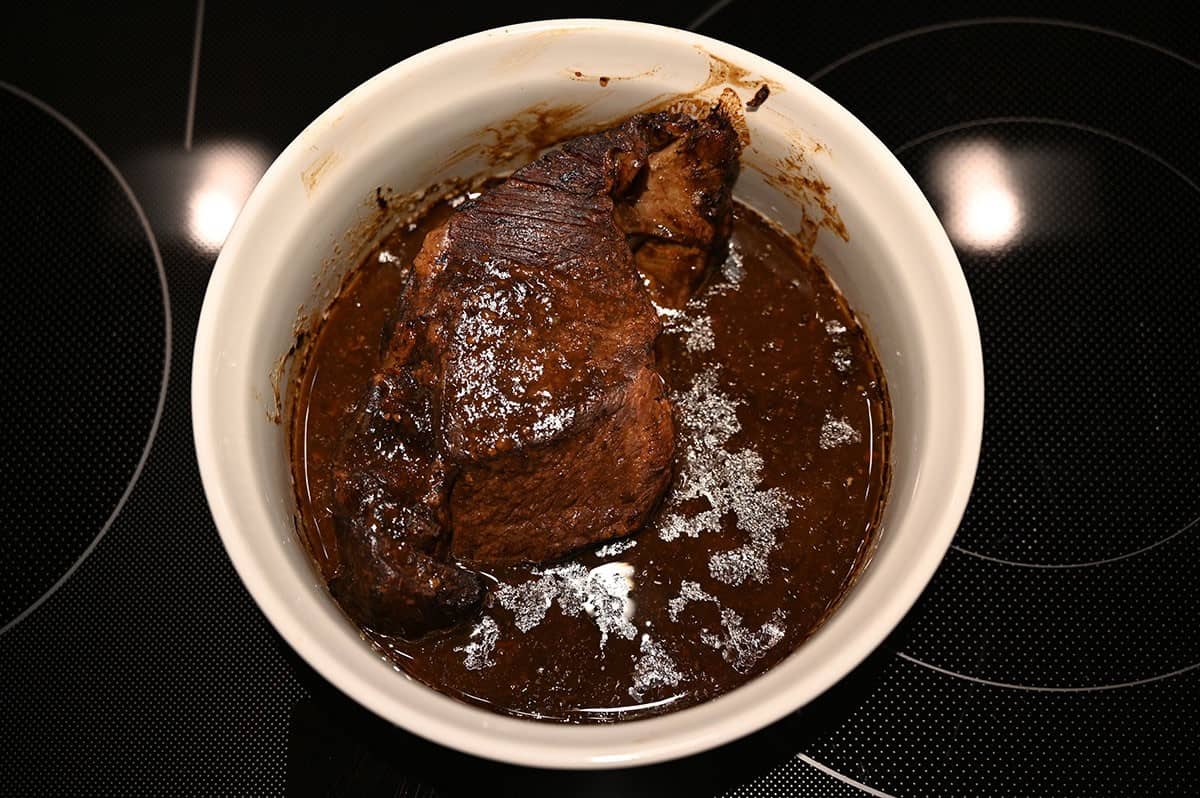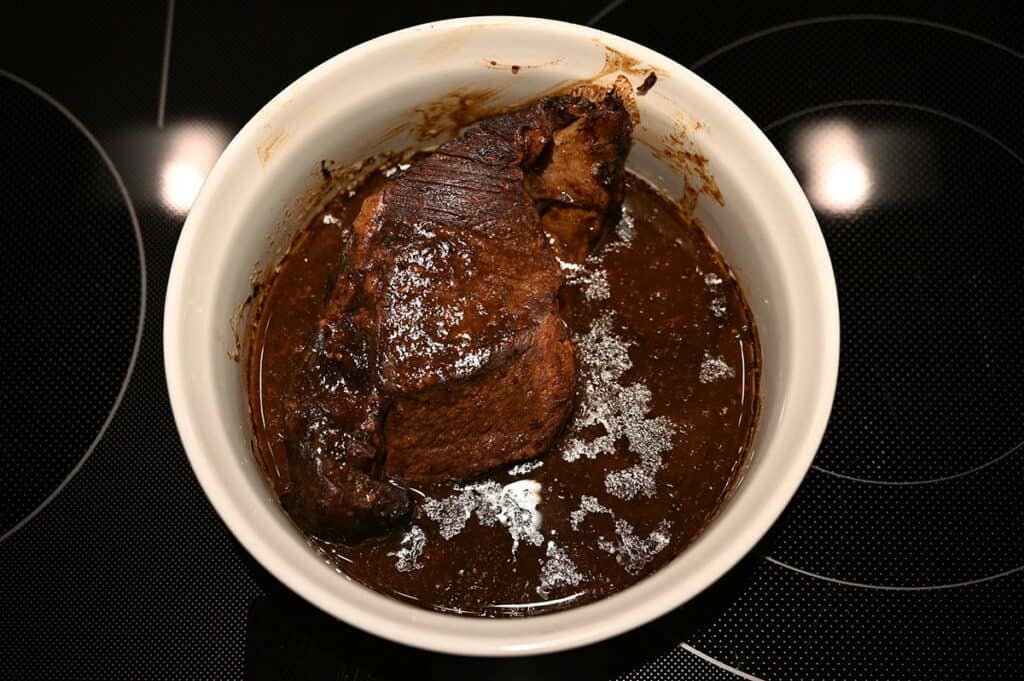 You can freeze the pot roast after purchasing it and defrost it in the fridge overnight prior to cooking it if you'd like to store your pot roasts for longer than four months or so. You might want to do this if you don't plan to use your pot roasts within a couple of weeks as I think they'll keep better/fresher in the freezer rather than sitting in the fridge for months.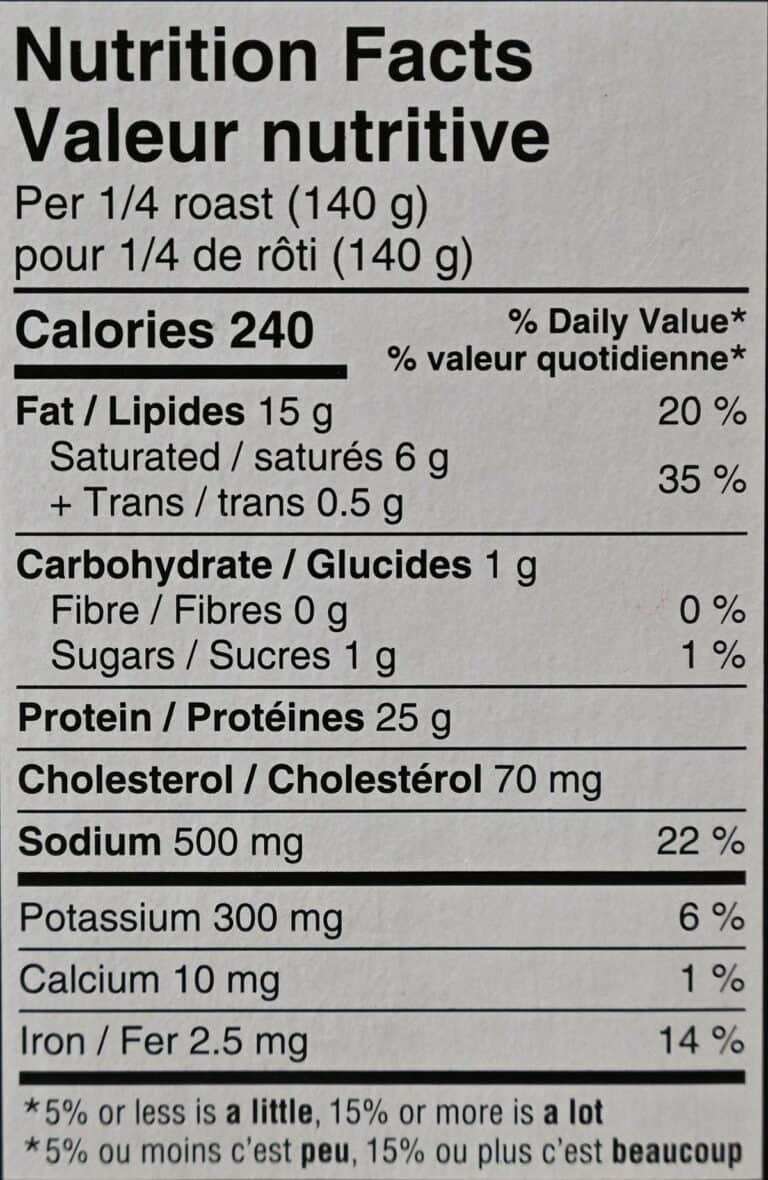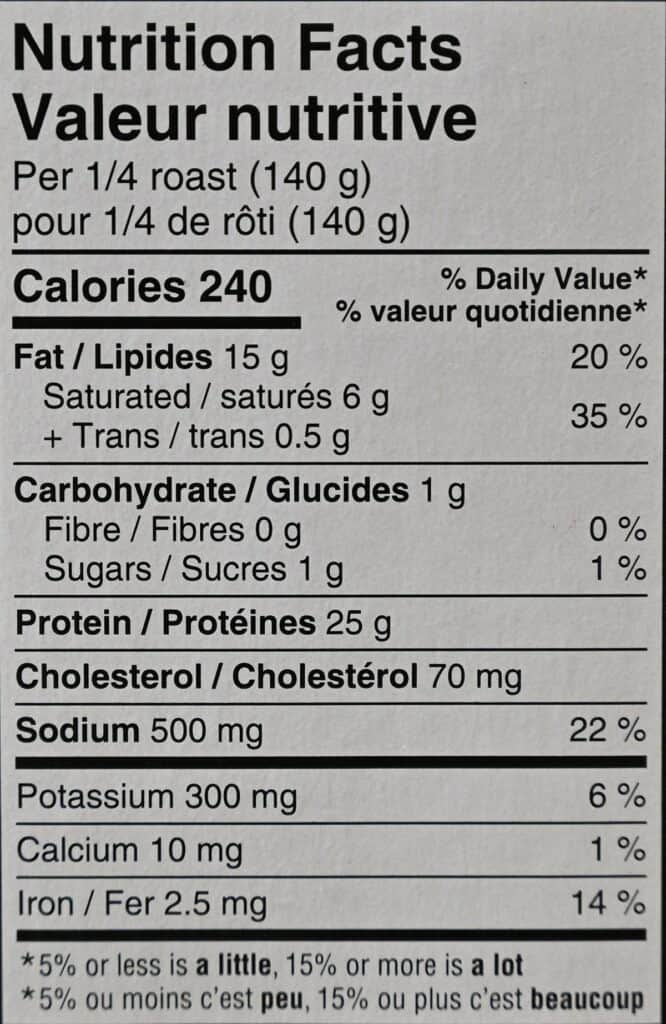 Nutrition
Calories
One-quarter of the pot roast contains 240 calories, 15 grams of fat, one gram of sugar, one gram of carbohydrates, 25 grams of protein and 500 milligrams of sodium. An entire pot roast only contains 960 calories, but again, they're not very big!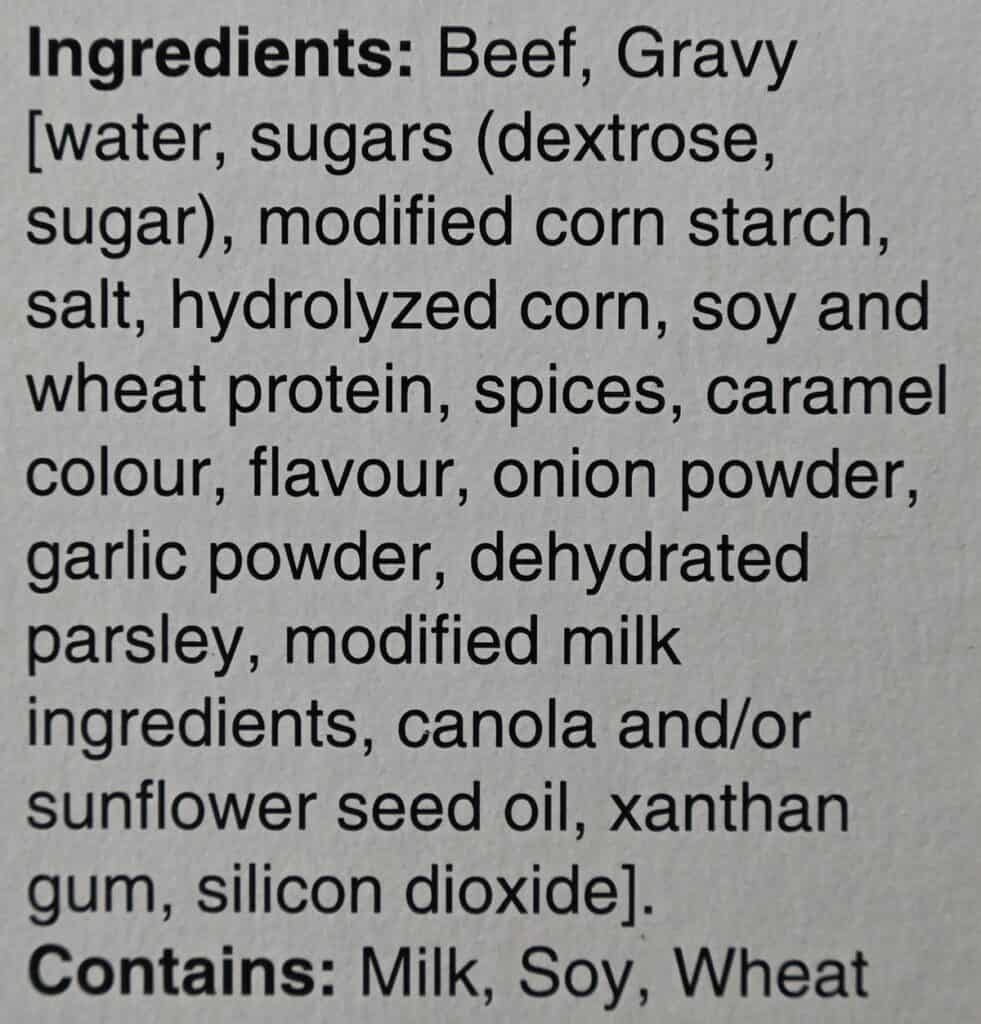 Ingredients
The ingredients list states that it contains wheat, soy and milk, so it's not gluten-free or dairy-free. I'm really disappointed this isn't gluten-free and dairy-free because I feel like a few small changes could make it so that gluten-intolerant and dairy-intolerant individuals could enjoy this!
Scoring
Taste: 7/10
Cost: 4/10
Convenience: 9.5/10
Nutrition: 4/10
Overall
Give it a try!
I think I'll buy the Costco 44th Street Slow Braised Beef Pot Roast In Rich Gravy when it's on sale and probably once a year! The part that's not fatty tastes great and is so convenient!
Have you tried this? What are your thoughts on it?
---
Please note that this review was not paid for or sponsored by any third party. This product was purchased by Costcuisine for the purpose of producing this review. The opinions in this review are strictly those of Costcuisine. Costcuisine is not affiliated with Costco or any of its suppliers. In the event that Costcuisine receives compensation for a post from the manufacturer of a product or some other third party, the arrangement will be clearly disclosed (including where the manufacturer of a product provides Costcuisine with a free sample of the product).