You can buy convenient Arby's copycat shaved beef from Costco and it's full of flavor!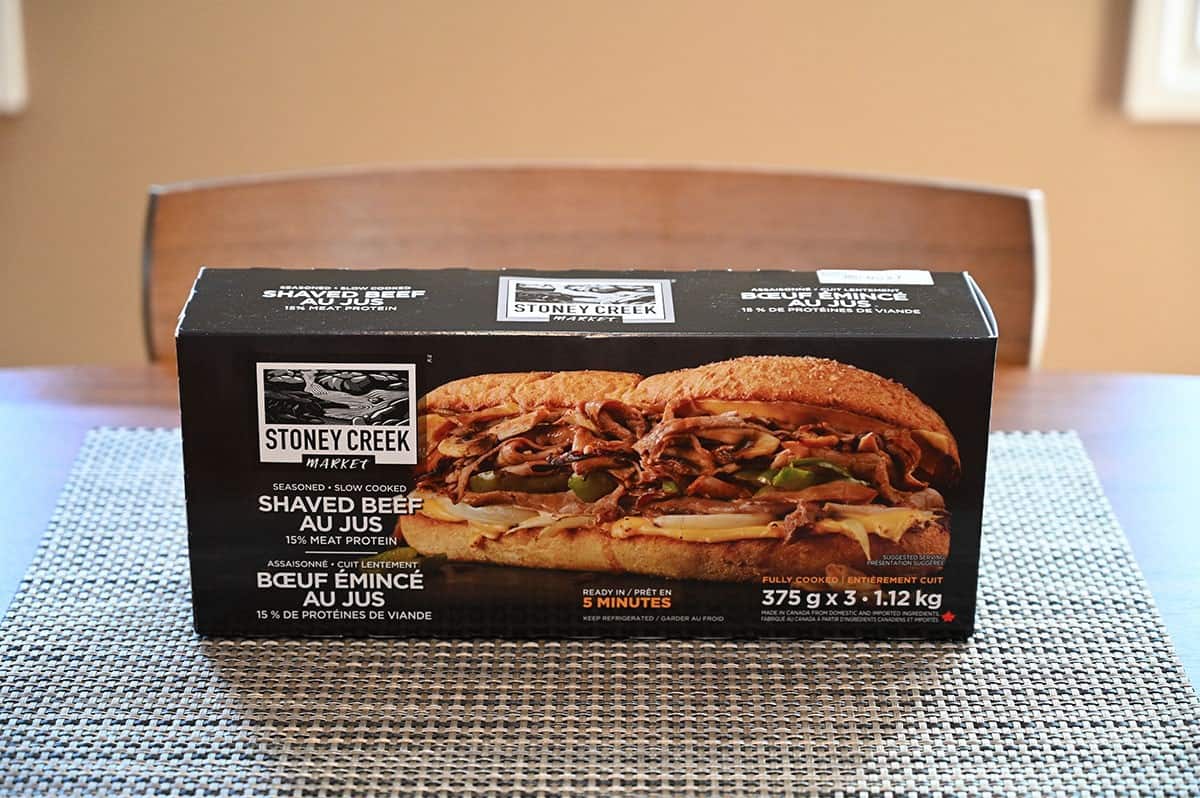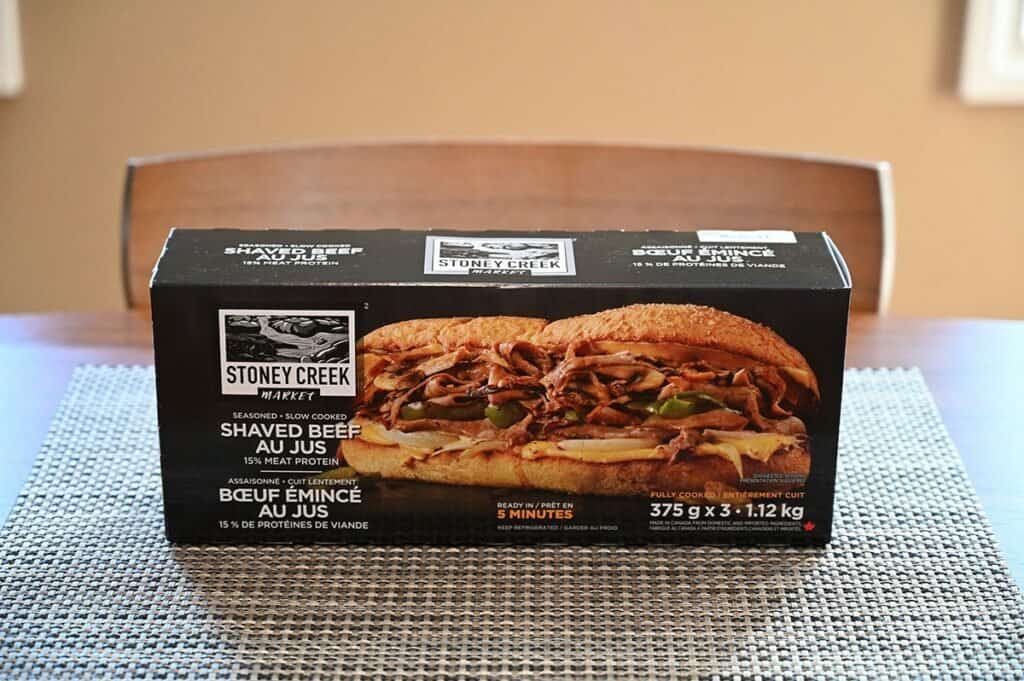 Today I'm reviewing the Stoney Creek Shaved Beef Au Jus from Costco! This has been available at Costco for quite a few months and I finally got around to buying it to try and review here today!
Similar products to this shaved beef from Costco are the Costco EastWest Cuisine Kung Pao Chicken, Costco Caesar's Kitchen Chicken Florentine with Riced Cauliflower and the Costco Caesar's Kitchen Lemon Chicken Piccata.
Two similar products that readers love and are also easy dinner items from Costco are the Costco 44th Street Beef Pot Roast and the 44th Street Slow Cooked Pork Back Ribs.
Location in Store
You can find this in the refrigerated section by the fresh pasta, pesto and tofu! The item number is 5051019.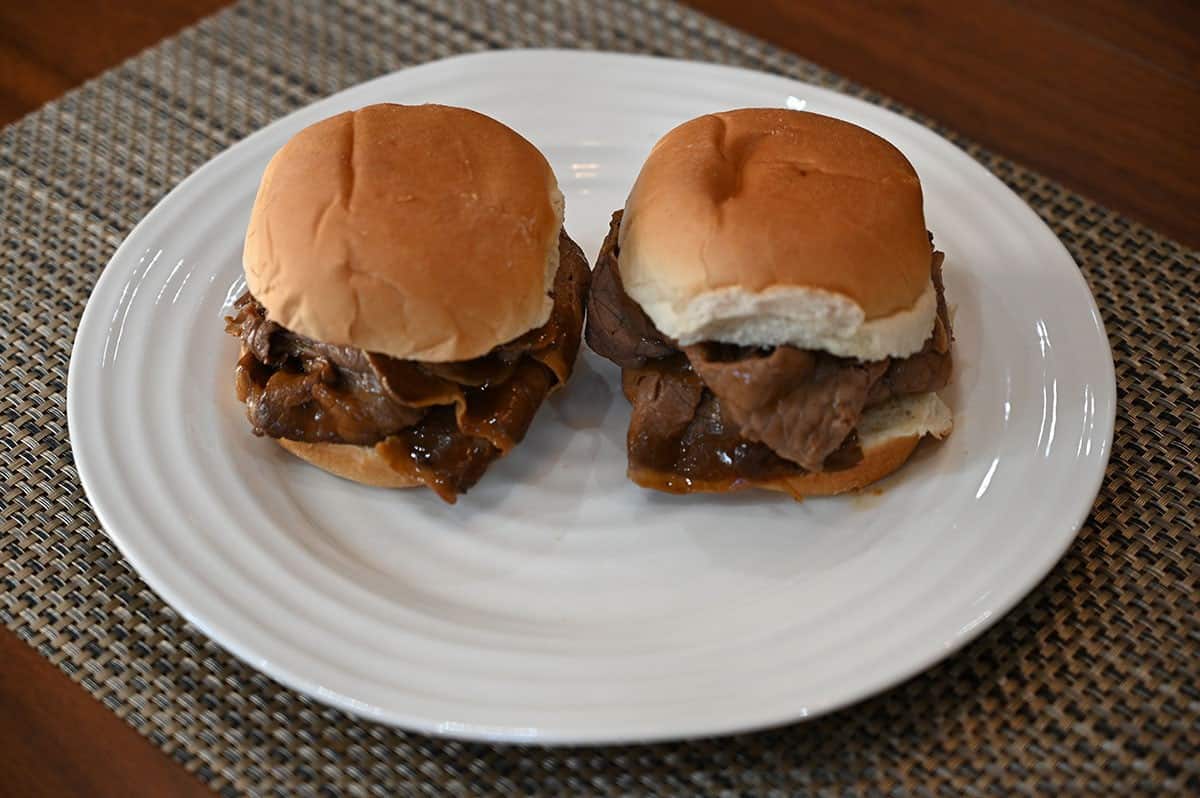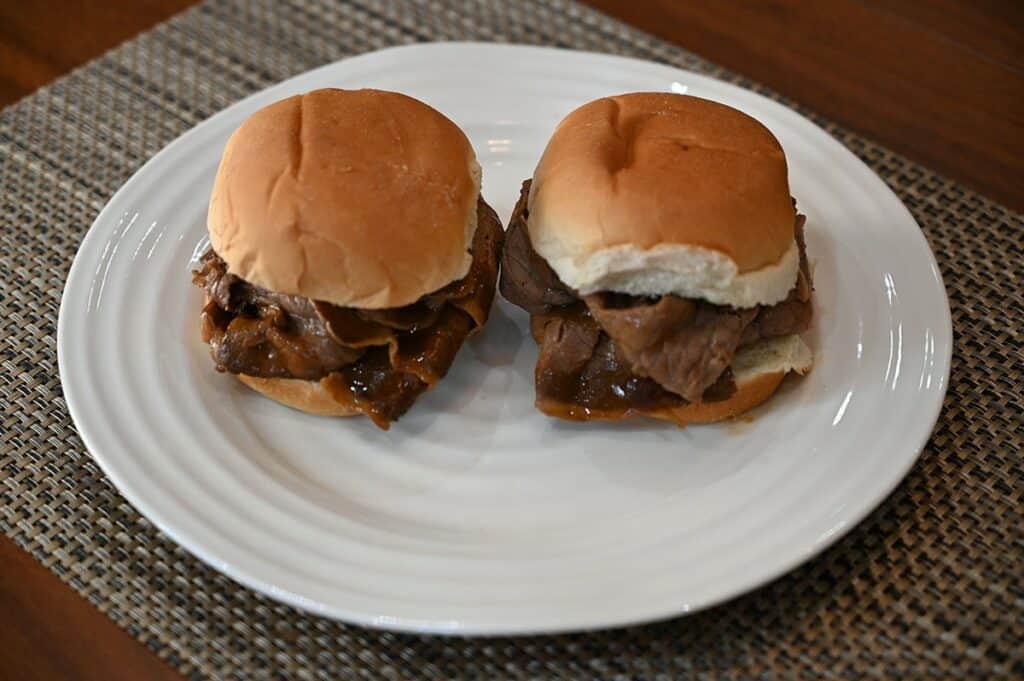 Taste
Trying this shaved beef from Costco is like having an Arby's sandwich at home! Firstly, this doesn't look the most appetizing before you eat it.
The beef is very thin and comes in a big clump surrounded and smothered by lots of gravy/au jus. I heated it in the oven and once heated it just falls apart and is very tender and looks much tastier.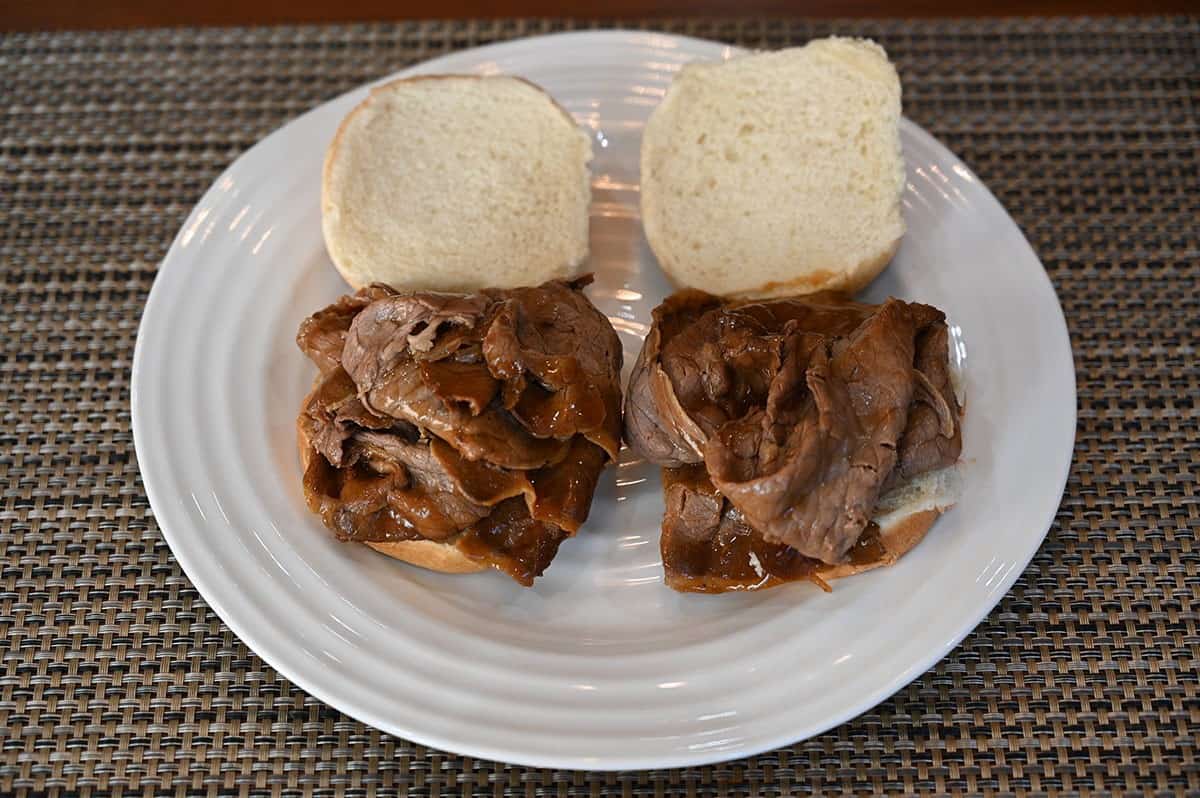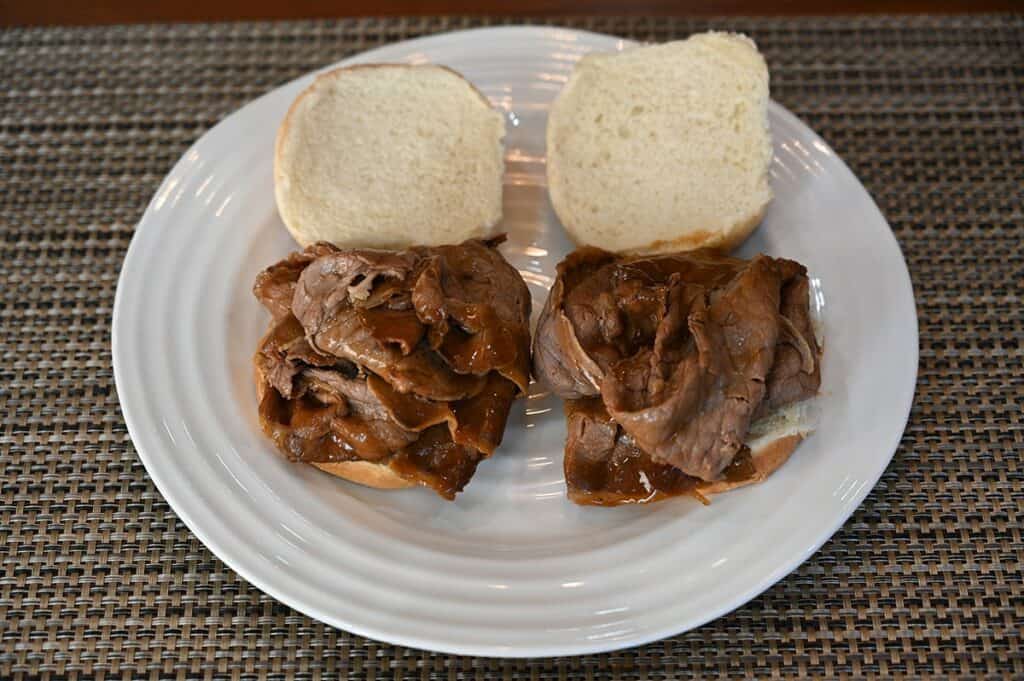 The beef is overall tasty. It's very thinly sliced and tender. The beef has just a slight grainy texture and a few pieces had some fat and gristle but overall not much! Way less than I expected. I would say the quality of the beef is decent.
The au jus or gravy that it comes with is very flavorful. It keeps the beef moist and is seasoned with onion and garlic.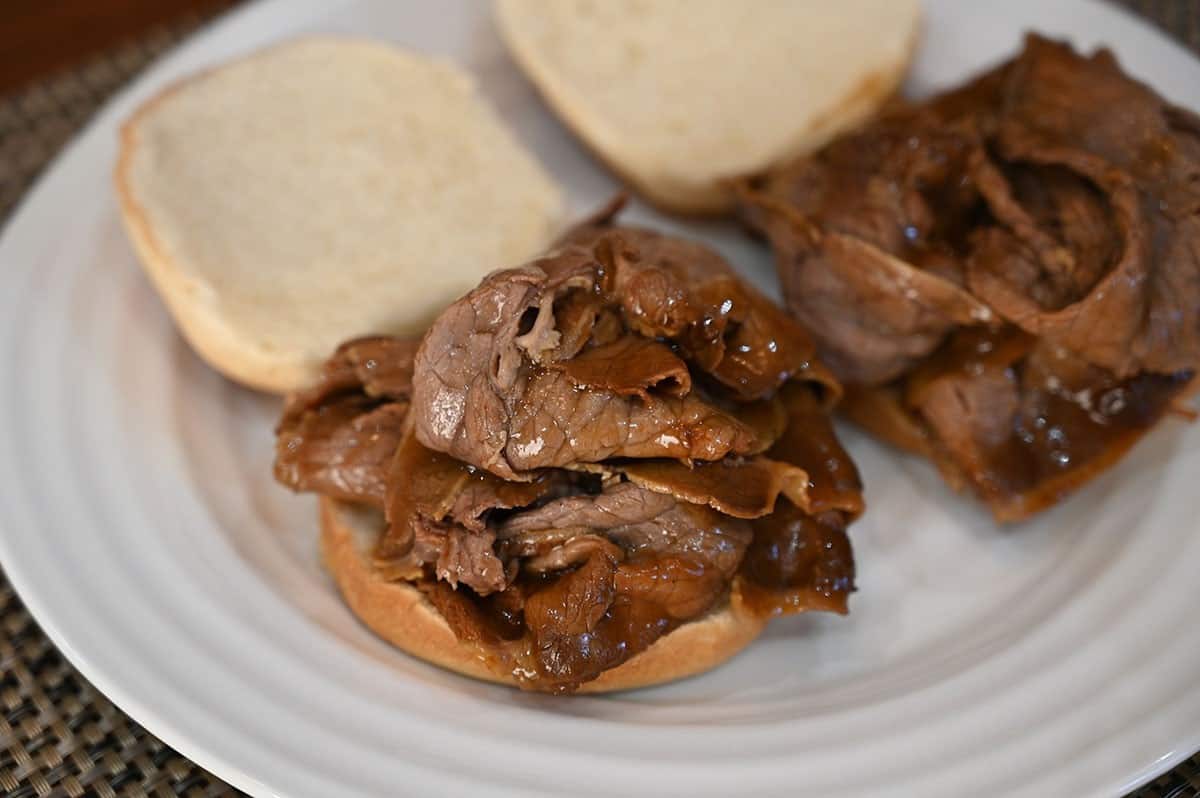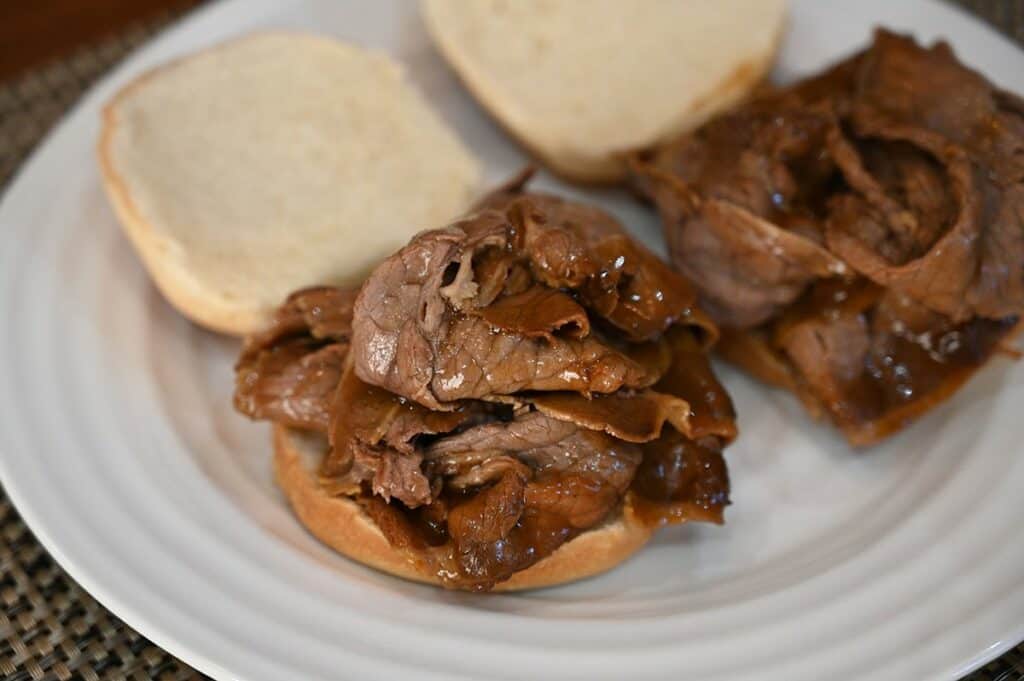 I ate the shaved beef by itself on a bun, I gave my mom and dad some to try and they added sautéed onions and red pepper as well as added some cheese and said it was delicious.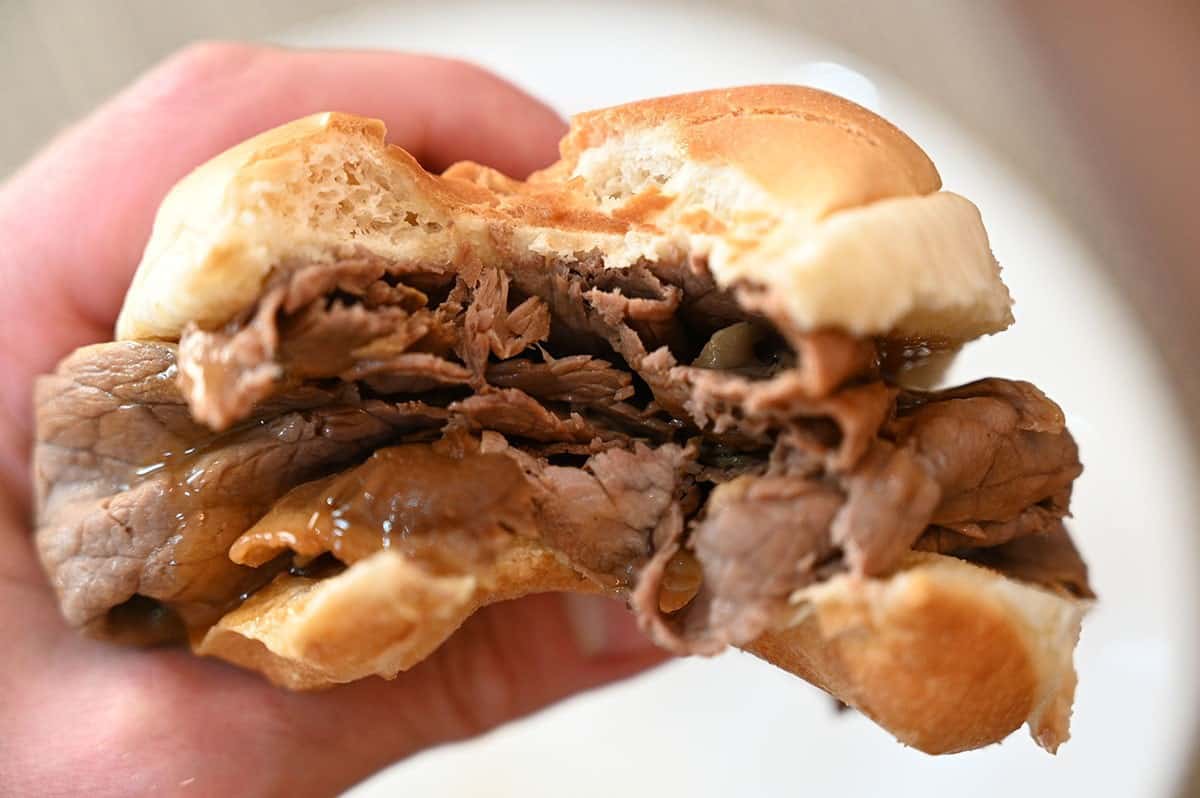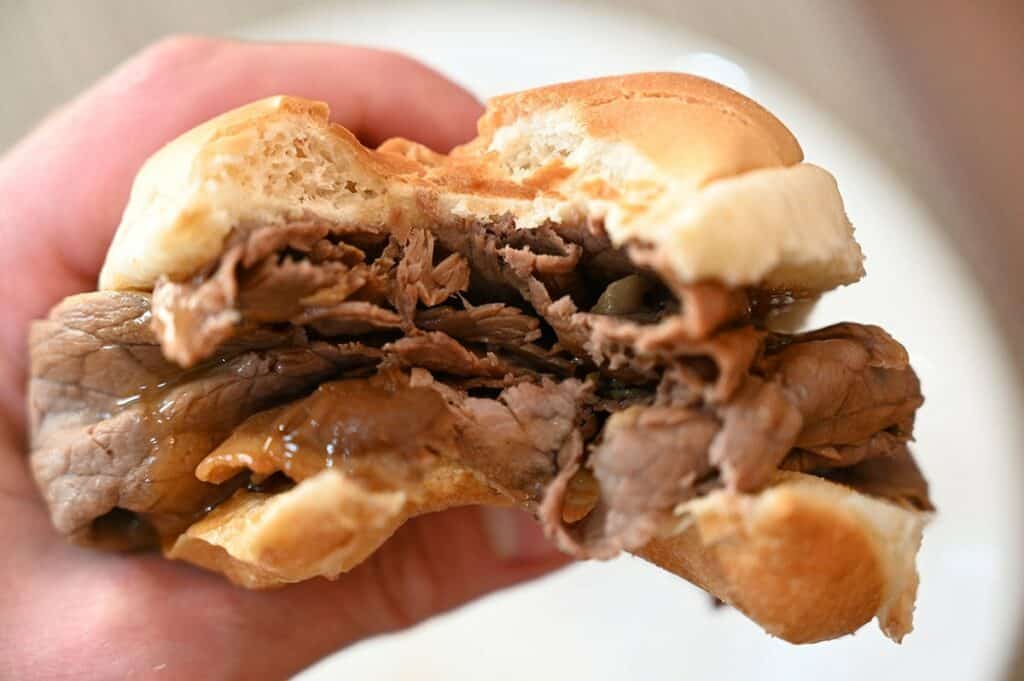 Cost
I paid $15.99 Canadian for the box of three pouches of shaved beef. Each pouch is 375 grams.
One pouch was used to make the two sandwiches in the photos. If you're making one pouch, I think that would feed two adults a lighter/smaller meal. I would recommend making two pouches for two people or one pouch for one person.
If it's a larger family dinner and people are hungry you might actually want to make all three pouches so you have enough.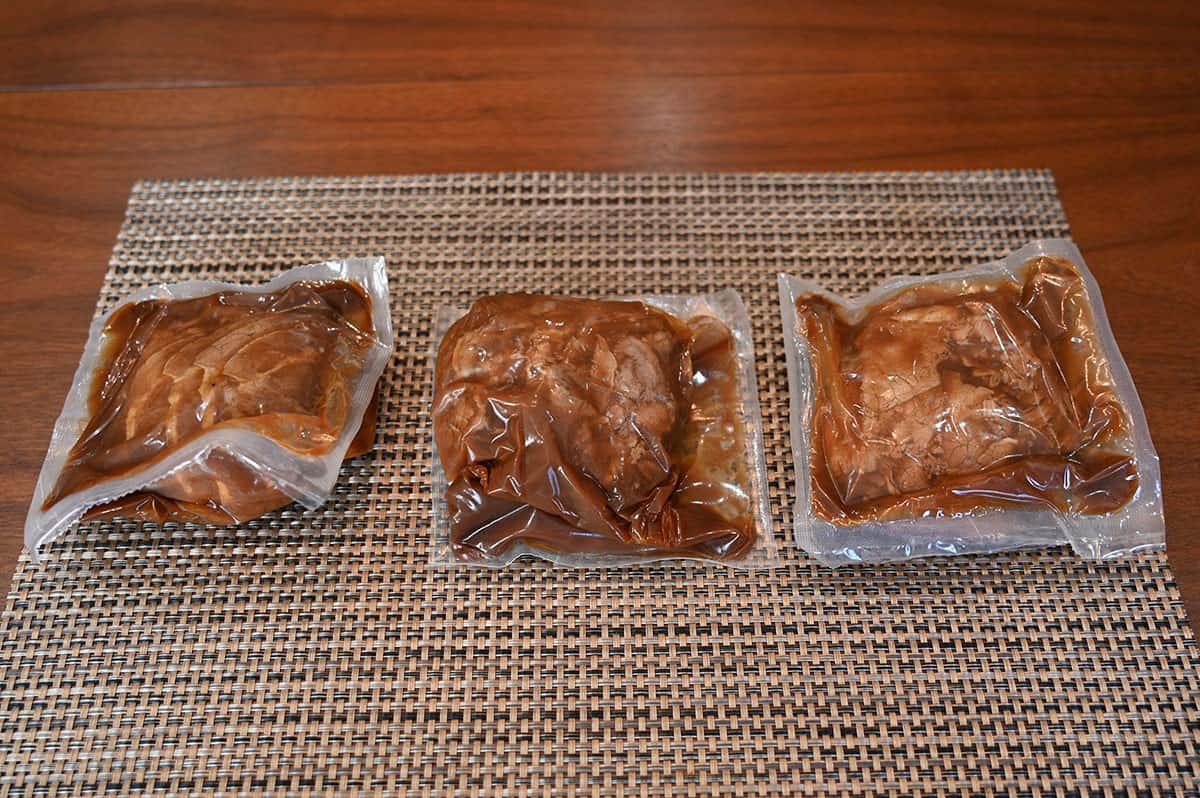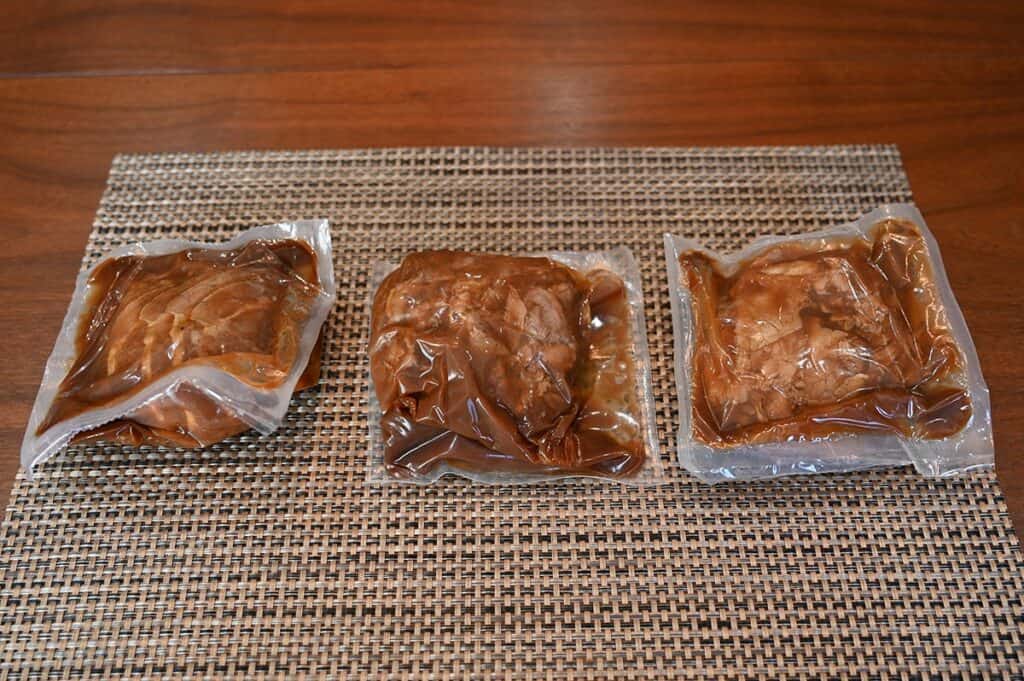 Convenience
If you don't want to eat this on a bun you could add it to a wrap, top a potato with it or just have it alone.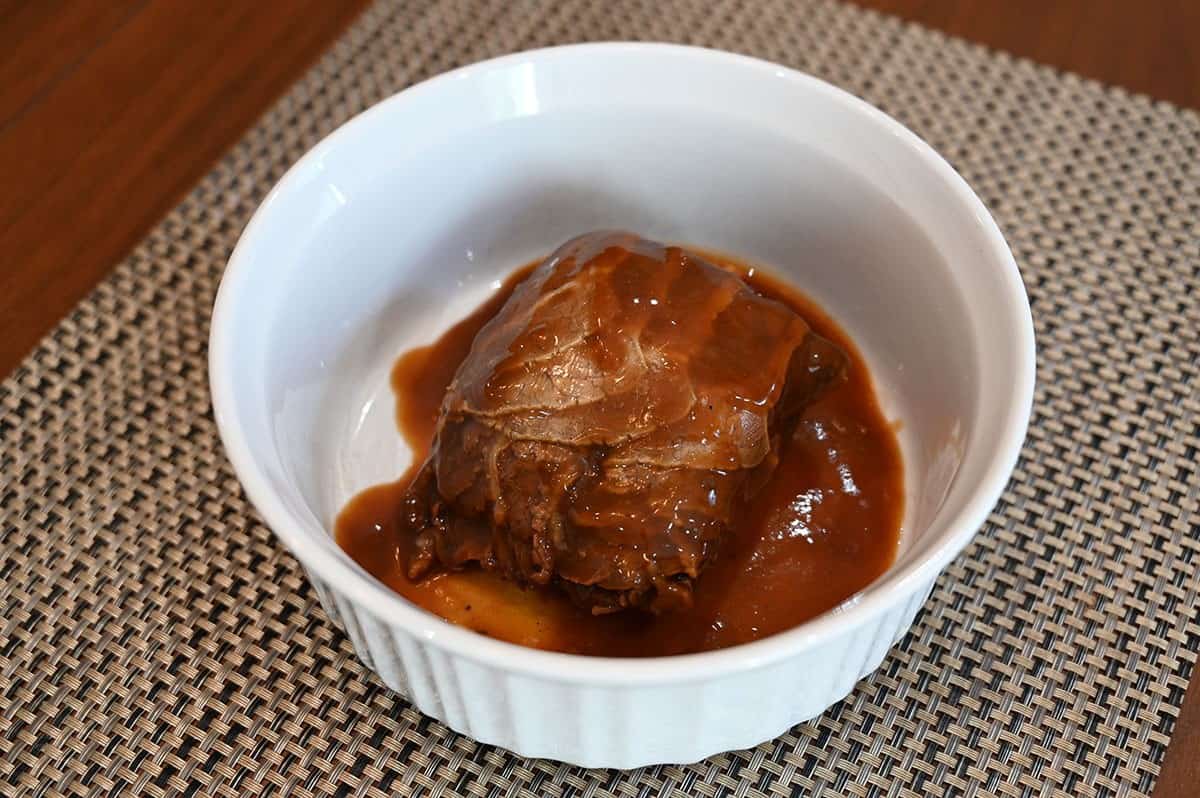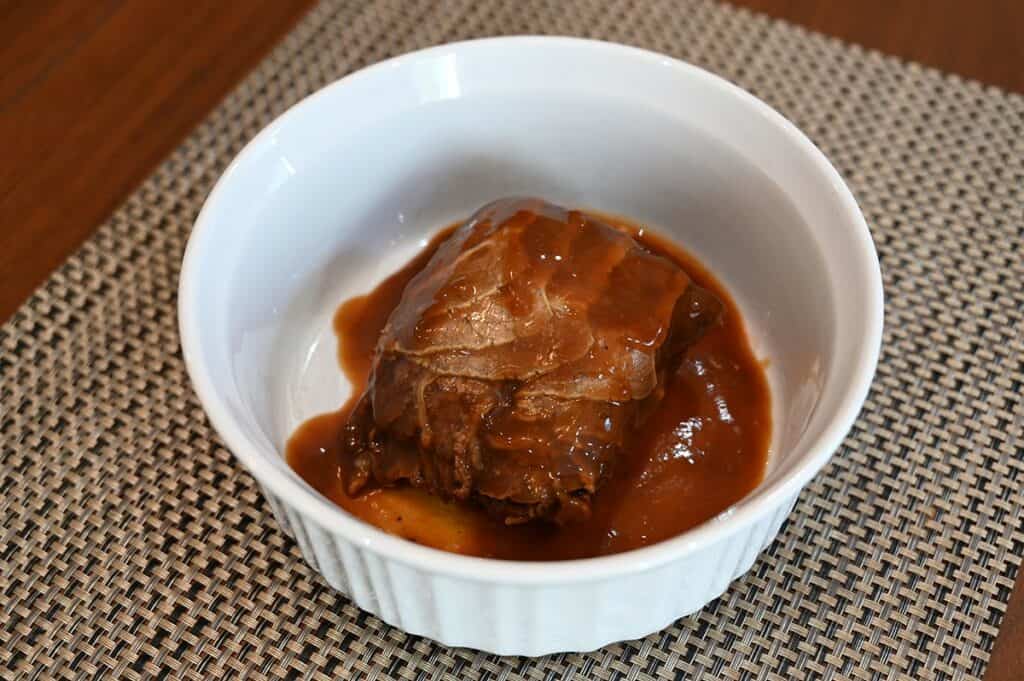 This is an absolutely easy and convenient meal from Costco! The Costco shaved beef is on the table in just minutes with minimal effort.
The beef can be heated in the oven, stovetop or microwave. I used the oven method and heated it in my oven at 325 degrees farenheit for about 30 minutes. Alternatively, the stovetop and microwave method both look just as easy as the oven!
The best before date is over two months from the date we purchased the Costco Stoney Creek Shaved Beef Au Jus and it needs to be kept in the refrigerator. You can also freeze it if you're not going to eat it by the best before date. If you do freeze it the box recommends defrosting it in the fridge prior to heating it.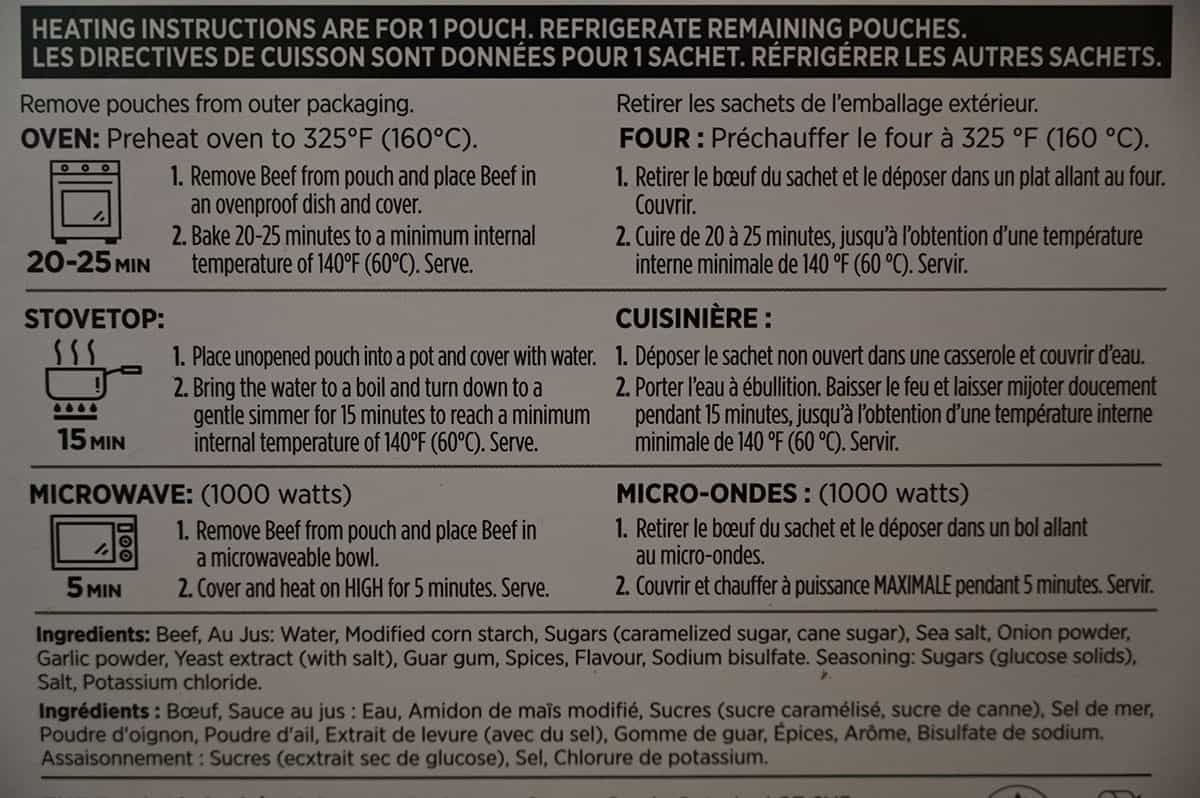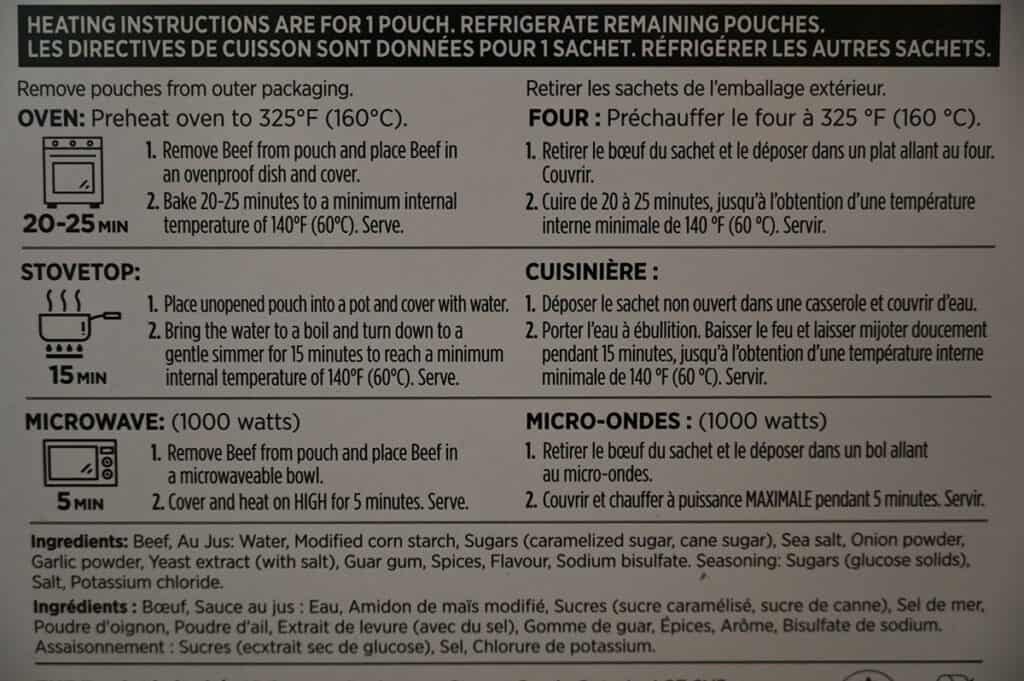 Nutrition
Calories
A half cup serving of shaved beef is 130 calories, four grams of fat, five grams of carbohydrates, zero grams of fibre, zero grams of sugar, 17 grams of protein and 610 mg of sodium. That's actually not bad! The sodium is a bit high but the fat and calories aren't as high as I'd expected and that's a decent amount of protein.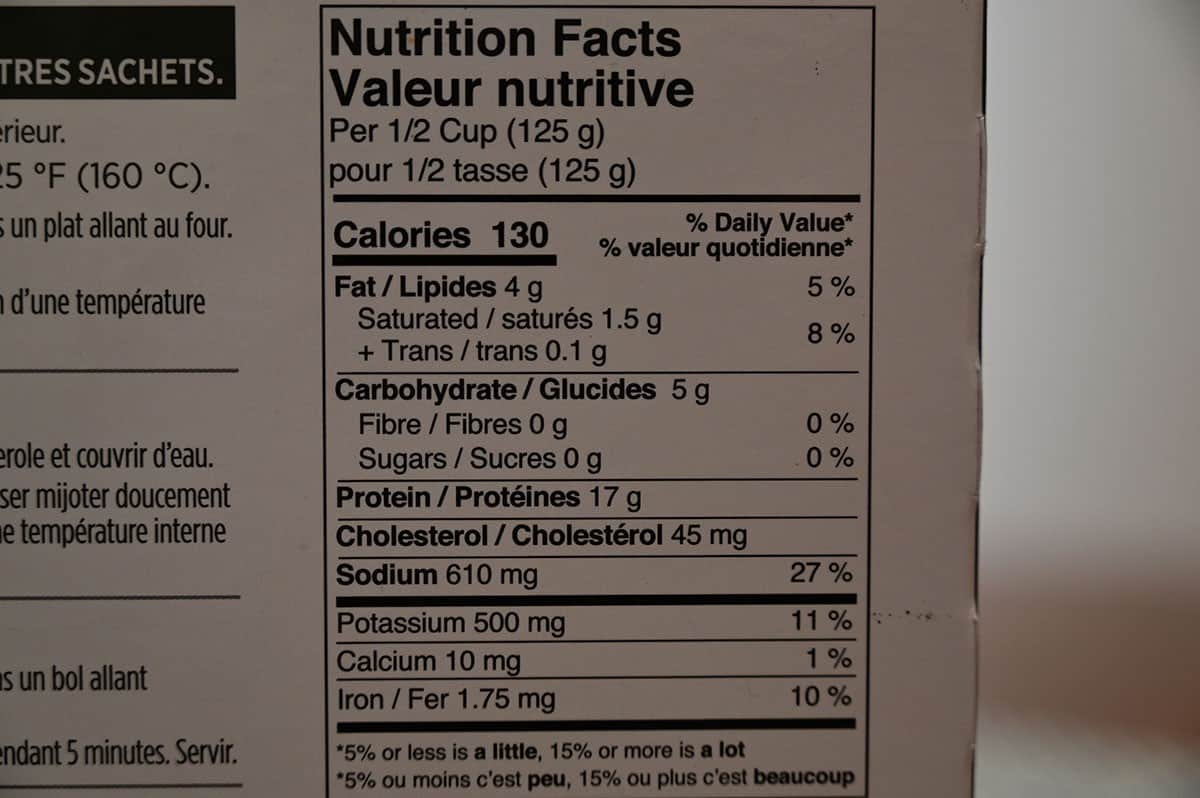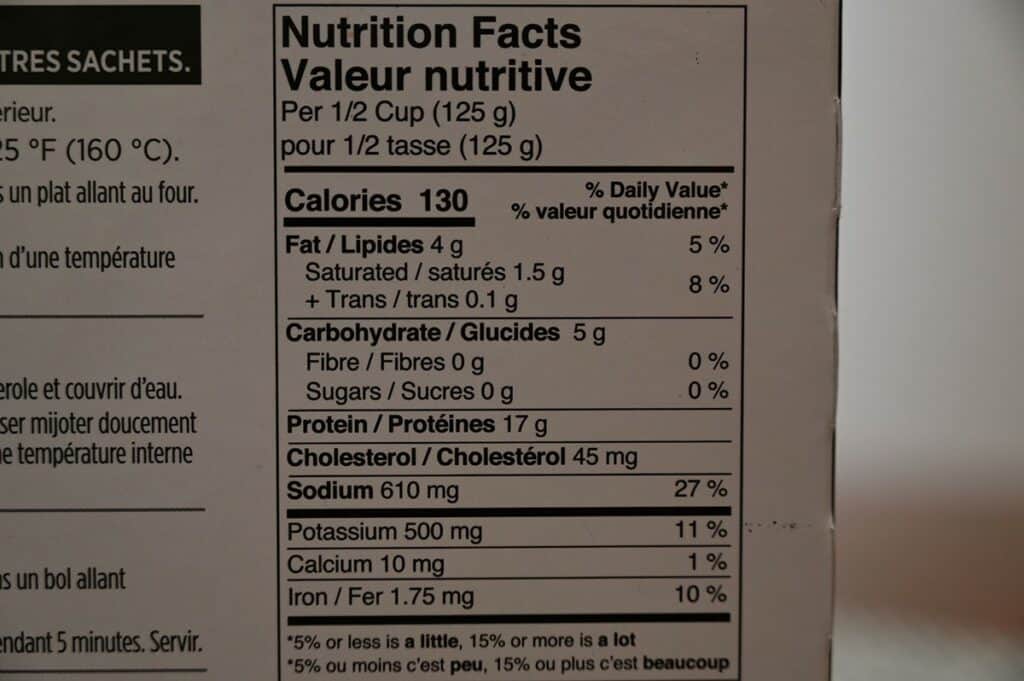 Ingredients
The first ingredient is beef which is awesome. The au jus has sugar and the seasoning also has sugar but the nutrition information says zero grams of sugar so I find that a bit confusing. Honestly, the ingredients list doesn't really look all the terrible to me! I expected much worse.
I also don't see any wheat on the ingredients list so add this to the Costco gluten-free products list.
Scoring
Taste: 7.5/10
Cost: 7/10
Convenience: 9/10
Nutrition: 6/10
Overall
Give it a try!
This shaved beef from Costco is similar to what you would get at Arby's. It's flavorful and extremely convenient!
If you've tried this, what did you think?
---
Please note that this review was not paid for or sponsored by any third party. This product was purchased by Costcuisine for the purpose of producing this review. The opinions in this review are strictly those of Costcuisine. Costcuisine is not affiliated with Costco or any of its suppliers. In the event that Costcuisine receives compensation for a post from the manufacturer of a product or some other third party, the arrangement will be clearly disclosed (including where the manufacturer of a product provides Costcuisine with a free sample of the product).