Craving a sweet and decadent bundt cake but not wanting to go to the effort of making a whole cake at home? The Costco Bakery Street Pistachio Mini Bundts are the cutest looking mini cakes that I've ever seen. Do they taste as good as they look though?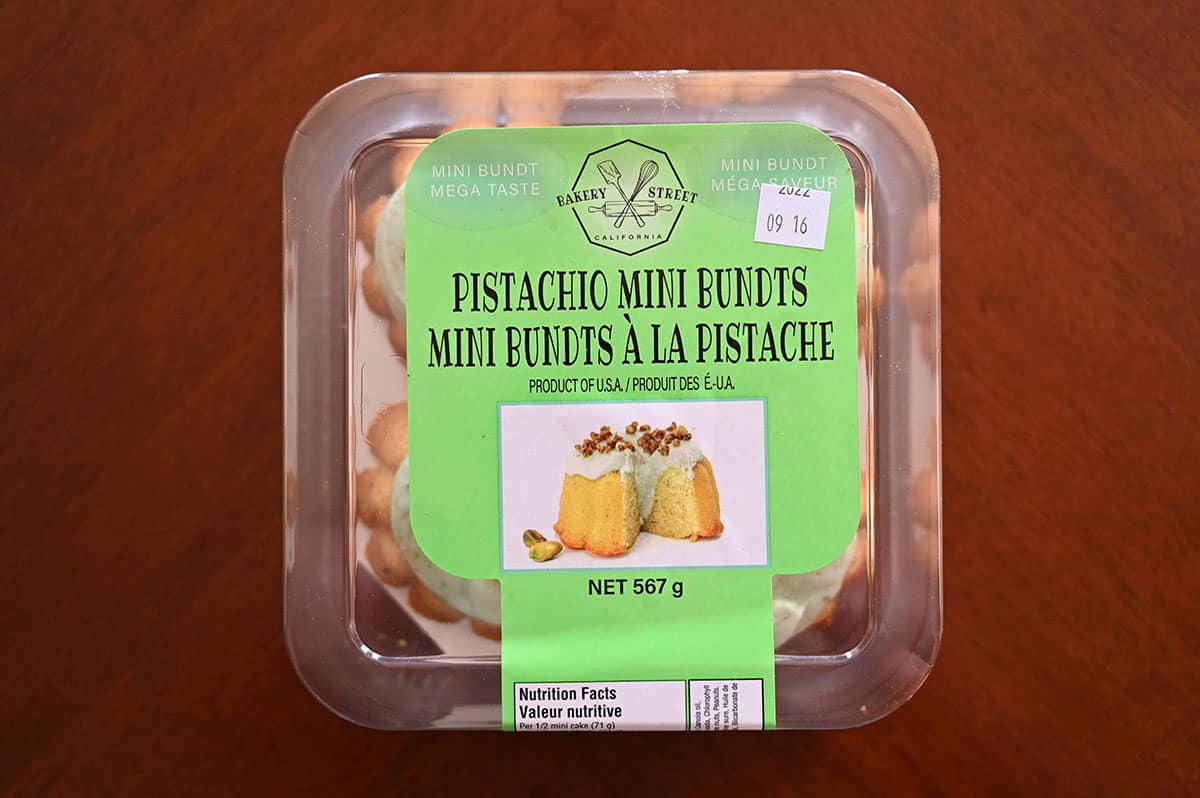 I always check out the bakery section at Costco to find new products and on my most recent Costco visit I came across these really adorable Bakery Street Pistachio Mini Bundts. I couldn't resist picking them up to review.
Other cakes from the bakery section at Costco are the Costco Kirkland Signature Tuxedo Cake, Costco Kirkland Signature Tiramisu Cake, Costco Kirkland Signature Carrot Cheesecake, Costco Kirkland Signature Chocolate Celebration Cake and the Costco Kirkland Signature Strawberry Shortcake.
Location in Store
You can find this in the bakery section at Costco, the cakes are at room temperature and not in the refrigerator. The item number is 1679726.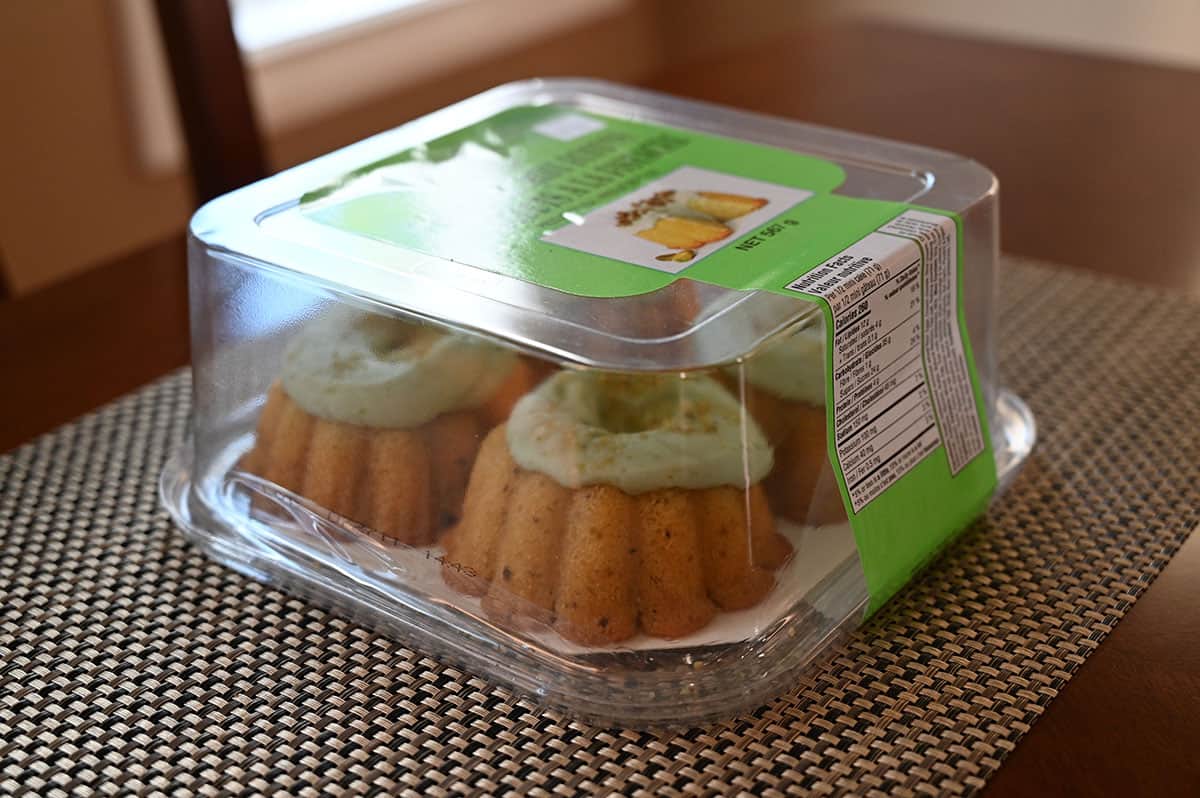 Taste
I'll admit two things up front. First, I've developed lower expectations for a lot of the pre-packaged bakery items at Costco (basically anything not made in-store or refrigerated). Second, I don't absolutely love pistachio. For those reasons, I wasn't too excited about the Pistachio Mini Bundts even though they looked interesting. I have to admit that I was pleasantly surprised.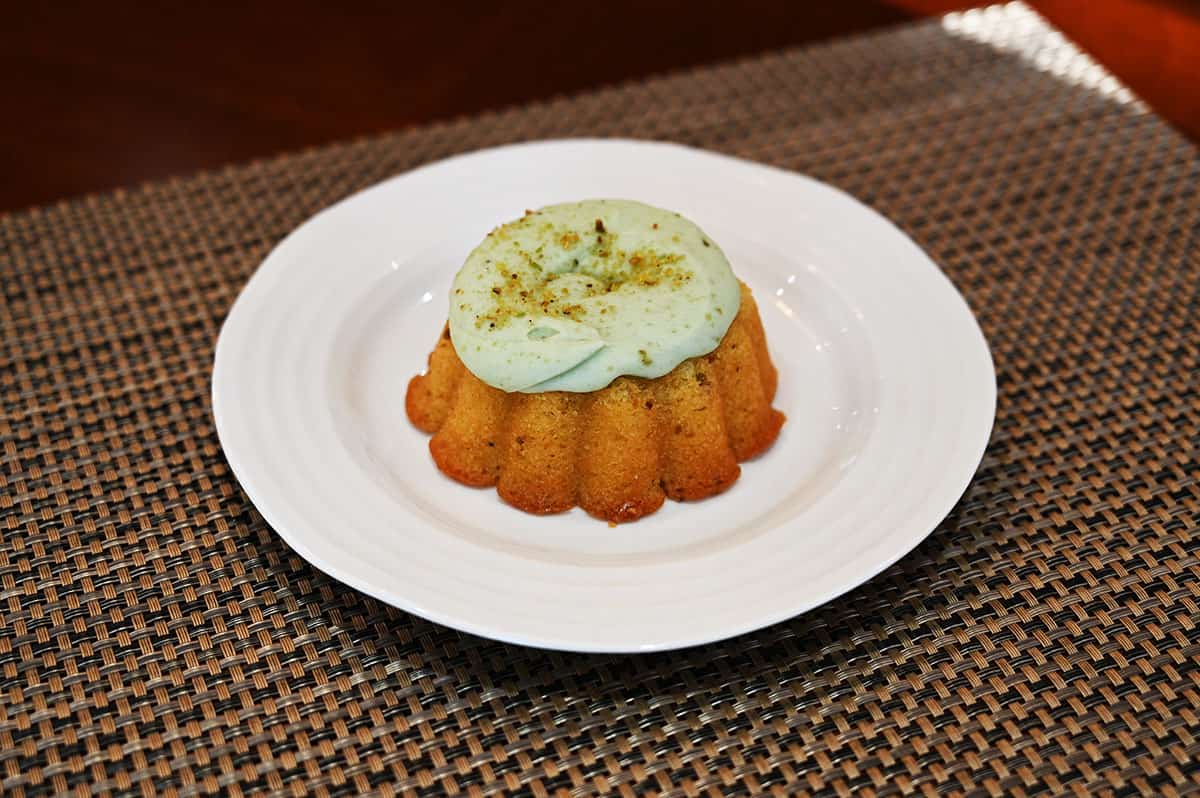 The bundt cakes are moist (though slightly oily) and sweet. The texture is a little dense and spongey, not super soft and fluffy but still good. The pistachio flavor isn't very noticeable, for some reason the cakes taste like almond extract to me and not like pistachio. One surprise was how much icing is on the cakes! They're basically filled with it. The cake itself is more mild-flavored than the icing, which is much sweeter.
I probably could do with a bit less sweetness, but it's not too out of control. The icing actually tastes similar to homemade buttercream icing I make with butter, icing sugar and cream.
Don't get me wrong, there's a limit to how good a packaged bakery item like this can be and these cakes don't break that rule. Something like this will never be as good as a homemade one. Still, even as someone who isn't a huge pistachio fan, they're pretty tasty.
Cost
The container with four mini cakes costs $12.99 Canadian, which isn't cheap but also isn't totally overpriced either for four little cakes.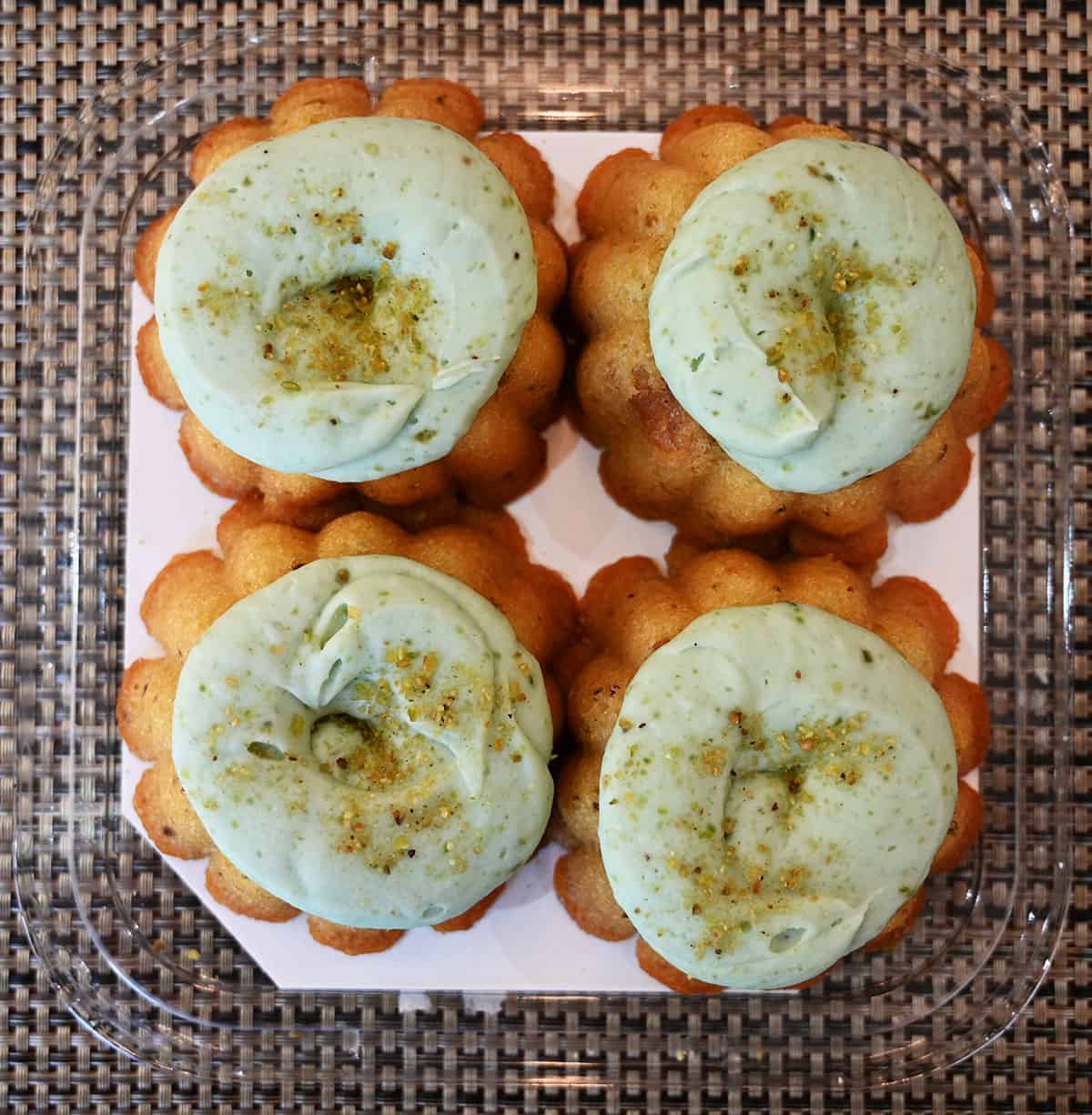 Convenience
The best before date listed on the cakes is 13 days from the date I purchased the cakes, which is quite a while for a cake to last sitting at room temperature. The cakes come in a plastic resealable container.
I think one cake is enough for two people to share and would definitely recommend picking these up if you're having guests over for dinner or want a bit of a special dessert. I think kids would enjoy them and of course adults too.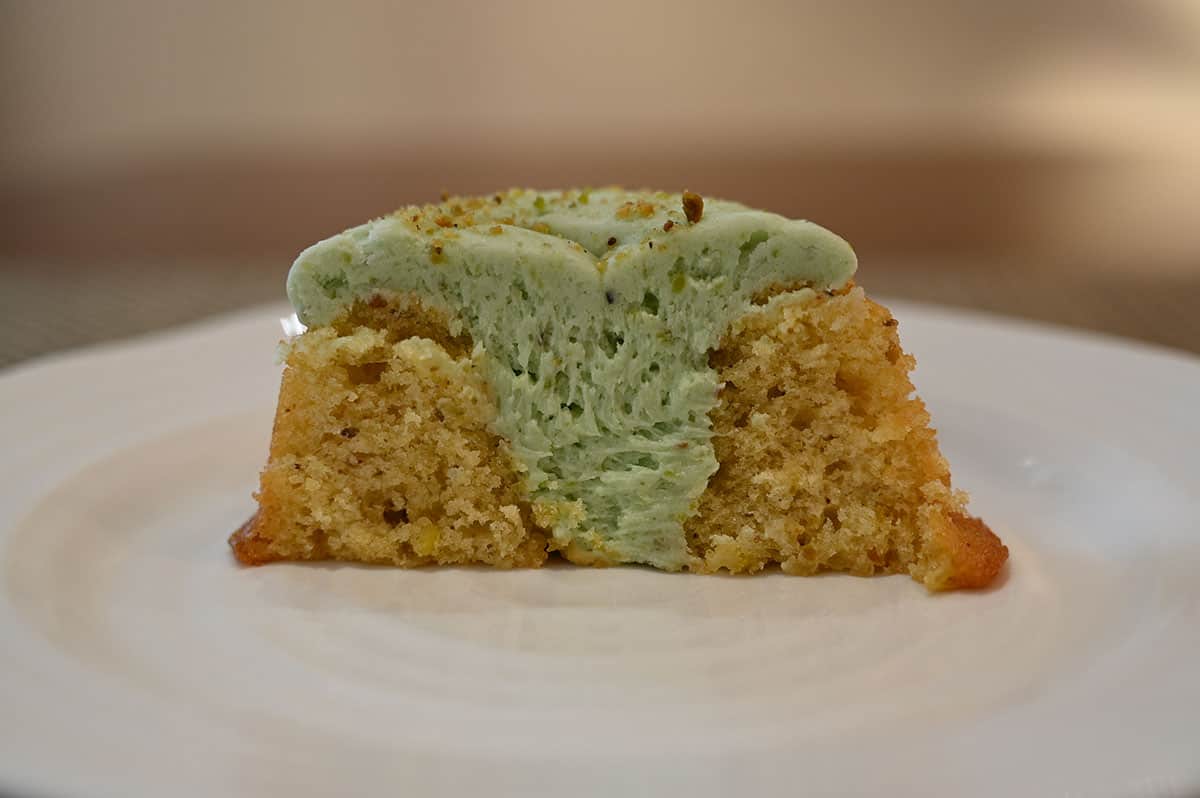 Nutrition
Calories
The pistachio mini bundts from Costco are pretty terrible for you (not going to lie!) but they're also quite sweet and decadent tasting so it really isn't a surprise. One half of a cake is 260 calories, 12 grams of fat, 35 grams of carbohydrates, one gram of fibre, 24 grams of sugar, four grams of protein and 150 milligrams of sodium.
One entire cake has 48 grams of sugar, 24 grams of fat as well as 520 calories but half a cake is more than satisfying in my opinion so I would serve the cakes in half and if people want more they could go for it.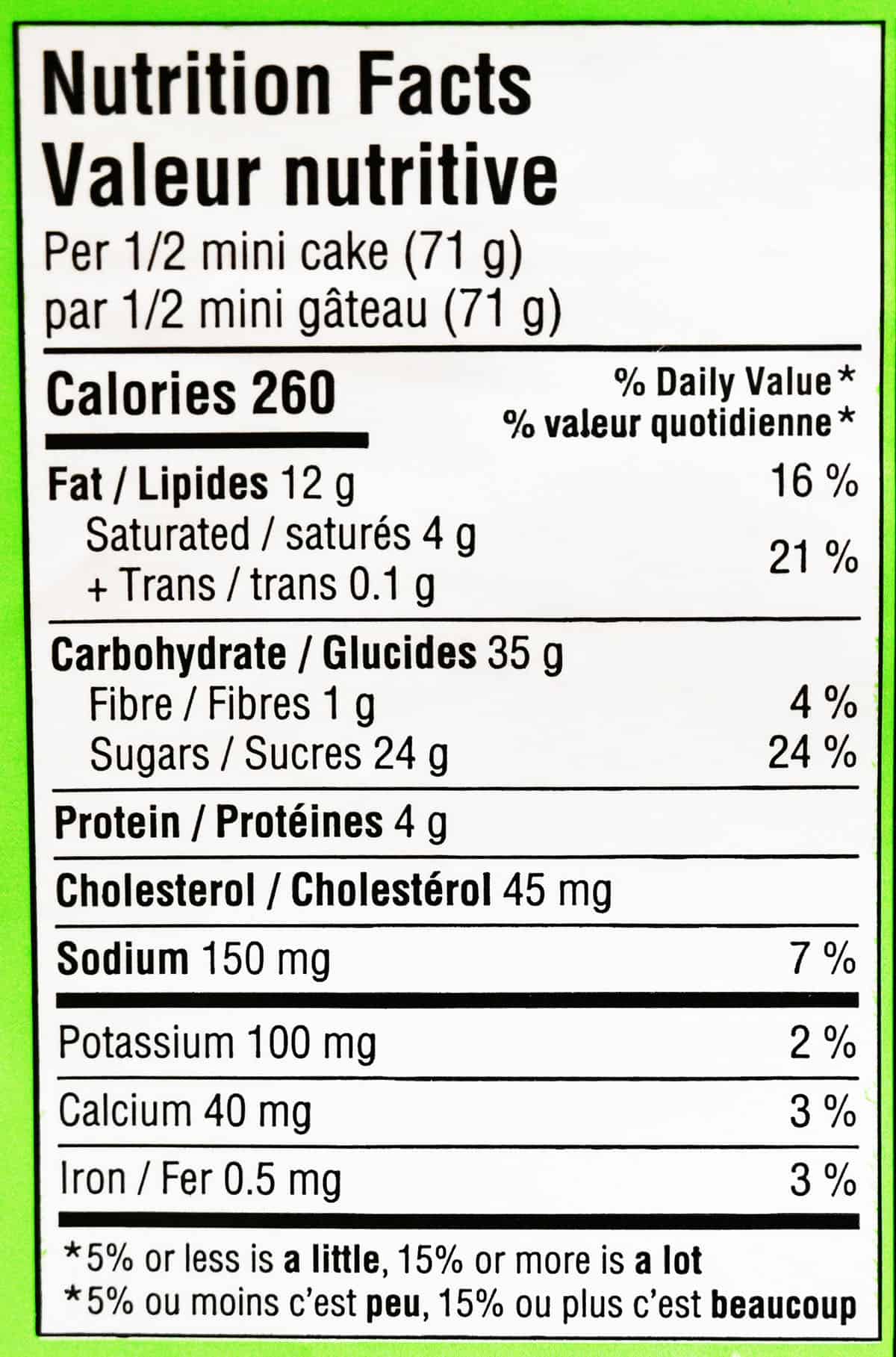 Ingredients
Despite it tasting like there's an almond extract in the cakes, there isn't. The ingredients list isn't actually as bad as I thought it might be! It's full of ingredients you would use at home to bake which I really appreciate. I also like that there's butter in the ingredients rather than shortening or margarine.
The cakes contain wheat, egg, milk and tree nuts and may contain soy and peanuts.

Scoring
Taste: 8/10
Cost: 7/10
Convenience: 10/10
Nutrition: 0/10
Overall
Give it a try!
I prefer the Costco Kirkland Signature refrigerated cakes, like the tuxedo one or tiramisu but I did enjoy these as well, just not as much.
Have you tried these? What did you think of them? What's your favorite cake to buy from Costco?
---
Please note that this review was not paid for or sponsored by any third party. This product was purchased by Costcuisine for the purpose of producing this review. The opinions in this review are strictly those of Costcuisine. Costcuisine is not affiliated with Costco or any of its suppliers. In the event that Costcuisine receives compensation for a post from the manufacturer of a product or some other third party, the arrangement will be clearly disclosed (including where the manufacturer of a product provides Costcuisine with a free sample of the product).