Moist, sweet and flavorful Costco Carrot Cheesecake from the Costco bakery department!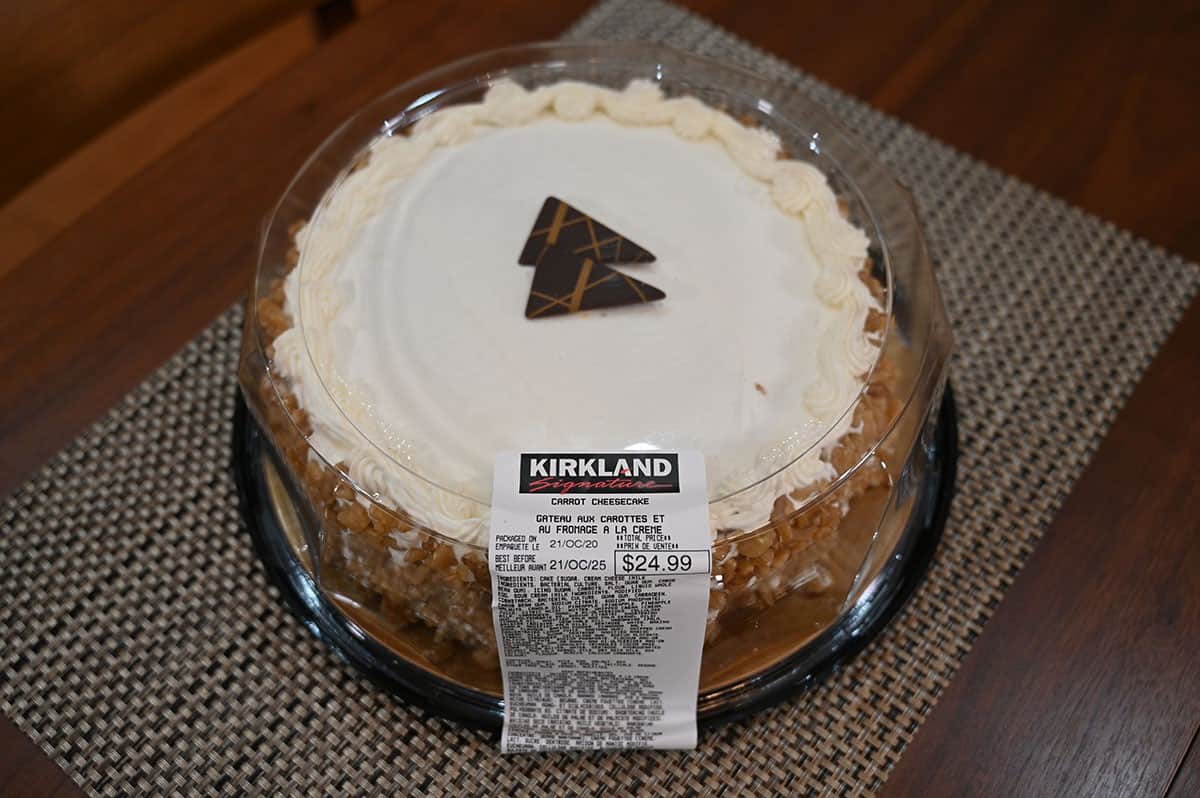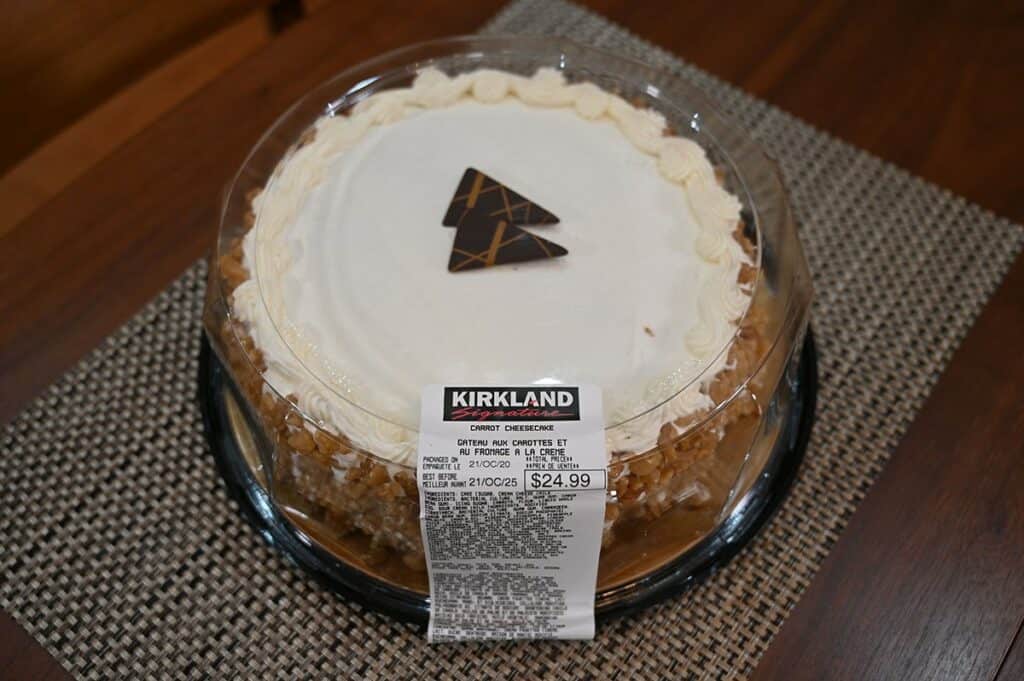 Today I'm reviewing the Costco Kirkland Signature Carrot Cheesecake. This is new to my Costco so Sean and I picked one up to try as a weekend treat!
I love reviewing all the Costco cakes like my favorite Costco Kirkland Signature Tuxedo Cake. Additionally, the Costco Tiramisu Cake, Costco Strawberry Shortcake, Costco Chocolate Celebration Cake and the Costco New York Style Cheesecake with Strawberry Topping.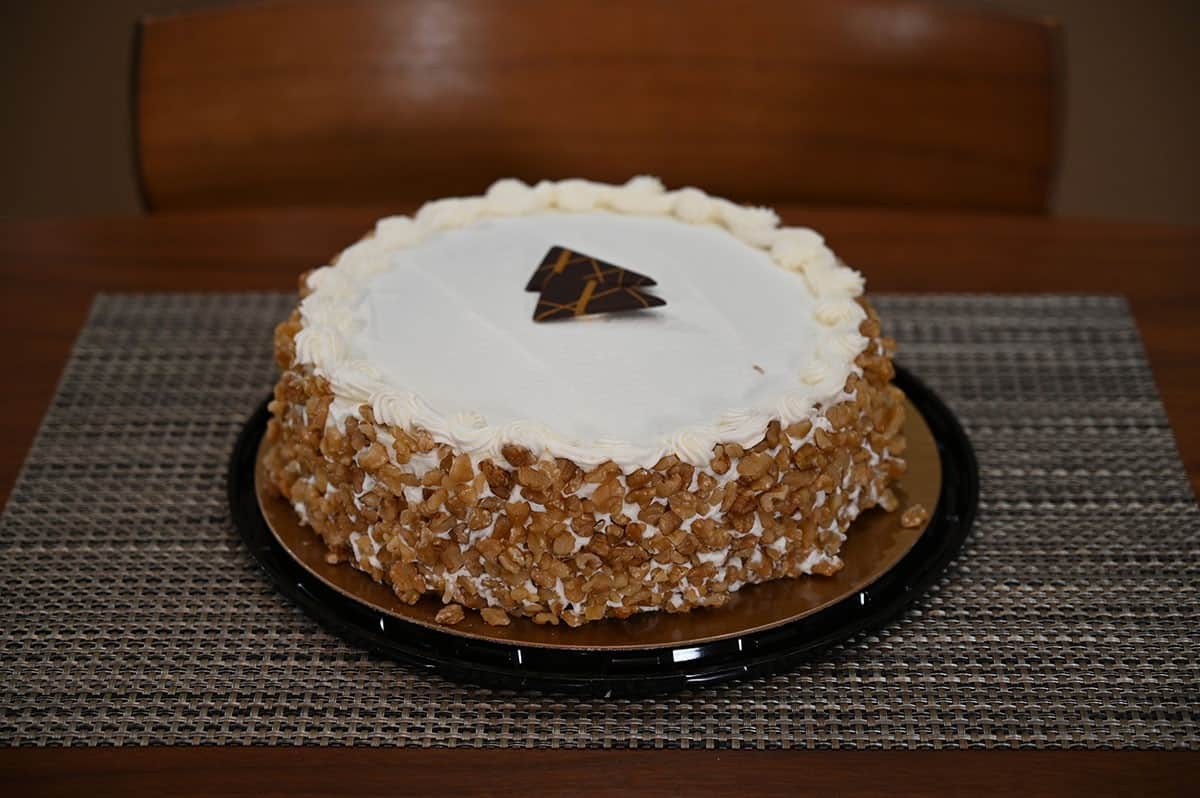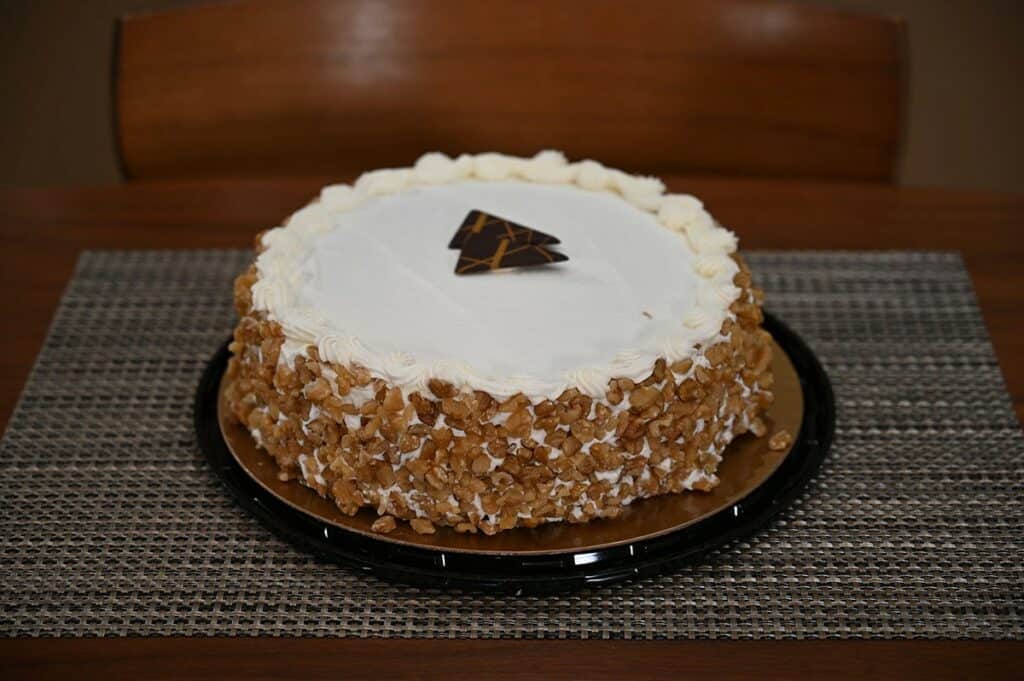 Location in Store
You can find the Costco Kirkland Signature Carrot Cheesecake in the bakery section at Costco. The cake will be in the cooler in the bakery as it needs to be refrigerated. The item number is 1360905.
Taste
I like the Costco Kirkland Signature Carrot Cheesecake! It's perfect for the fall season. The cake has three layers. The bottom layer is carrot cake, the middle layer is a cream cheese icing and on top of the cream cheese icing is another layer of carrot cake. Finally the top layer is a very sweet, sugary. plain tasting icing.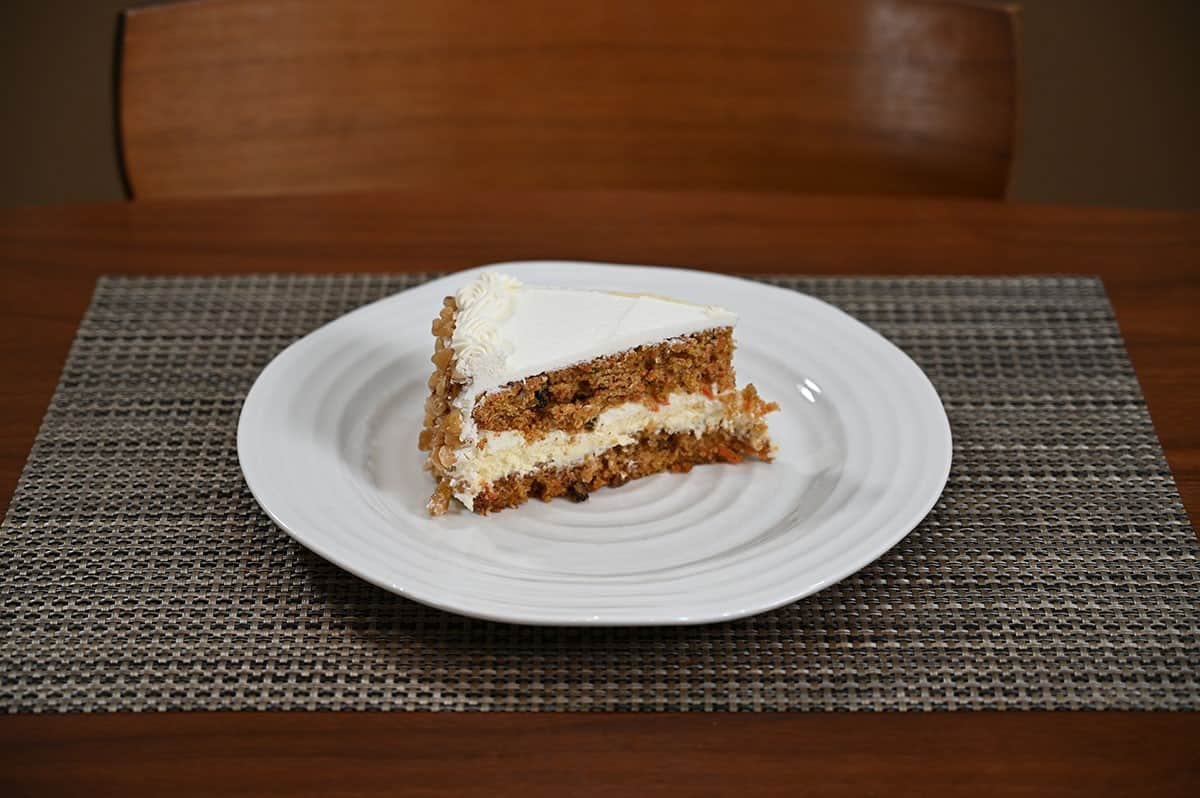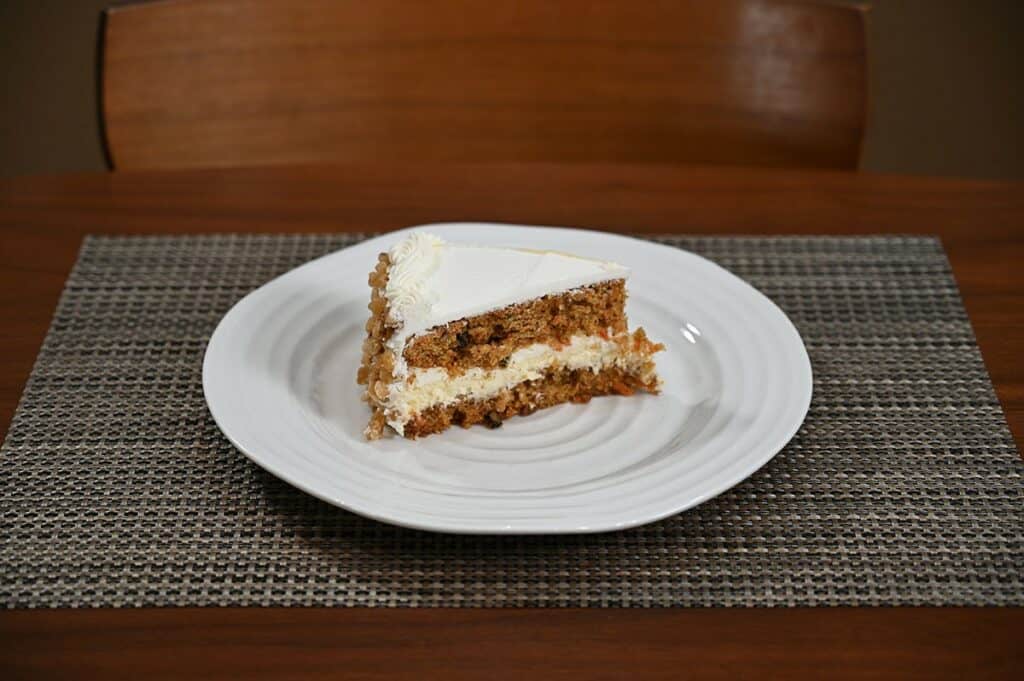 The top icing is super sweet, much sweeter than the middle layer of cream cheese icing. It has a decorative ring of icing around the top of the cake and that decorative ring icing is actually less sweet. I wish they just put more of the middle layer cream cheese icing on the top instead of the sweet icing.
The cake is moist and is full of nuts and raisins with a hint of cinnamon.
The cream cheese icing layer in the middle is delicious, slightly tangy, creamy and not super sweet – which I like. The outside of the cake is completely covered in walnuts, Costco definitely didn't skimp on the walnuts. The walnuts actually make the cake lid kind of hard to close because there's so many that fall off onto the container.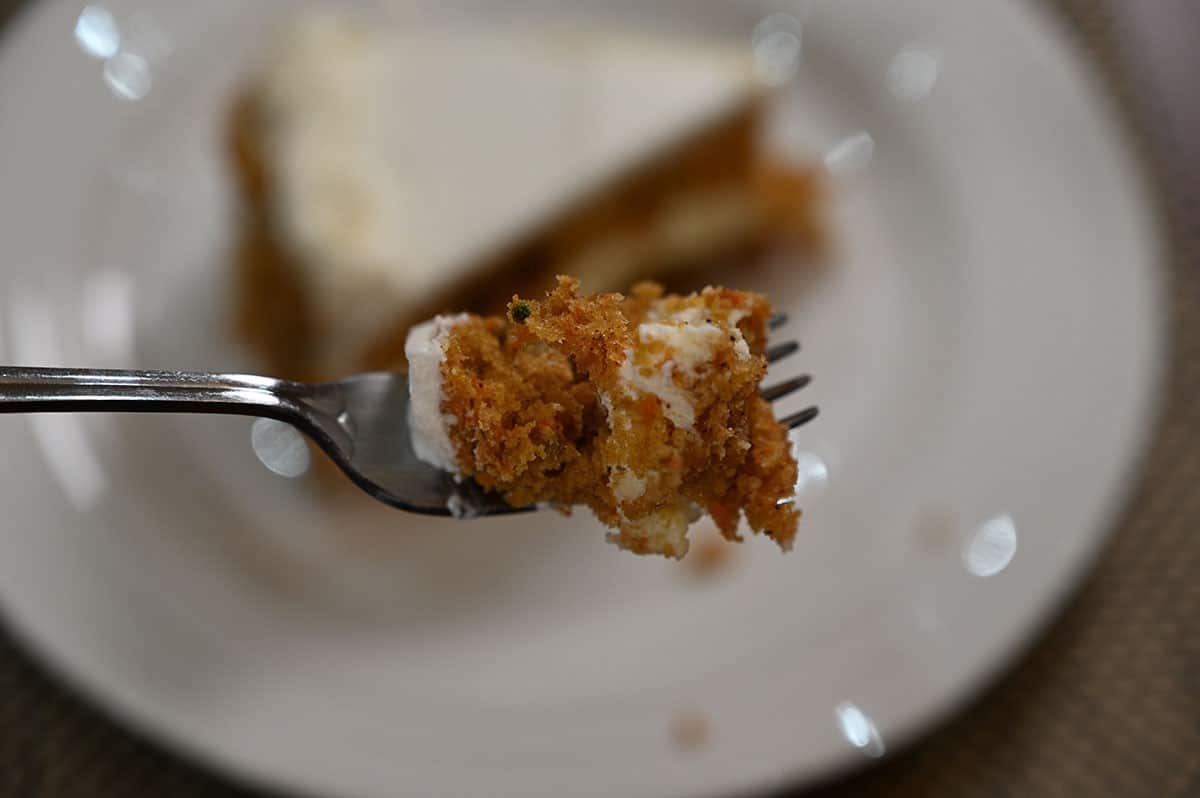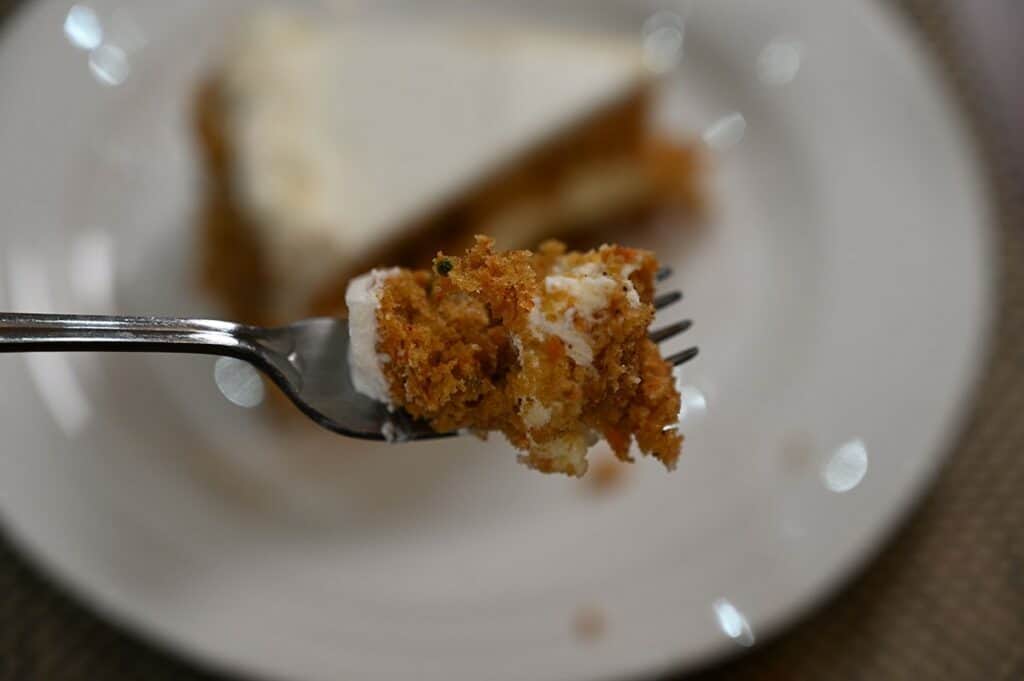 There's a decorative piece of chocolate on top of the Costco Carrot Cheesecake which tastes good but I'm not sure how well chocolate and carrot cheesecake go together. In my opinion, this is more like a carrot cake than a cheesecake, the cream cheese layer in the middle is the consistency of an icing more than it is a cheesecake.
Cost
I paid $24.99 Canadian for the Kirkland Signature Carrot Cheesecake which is not cheap! It's a big cake though and could feed about 16 people.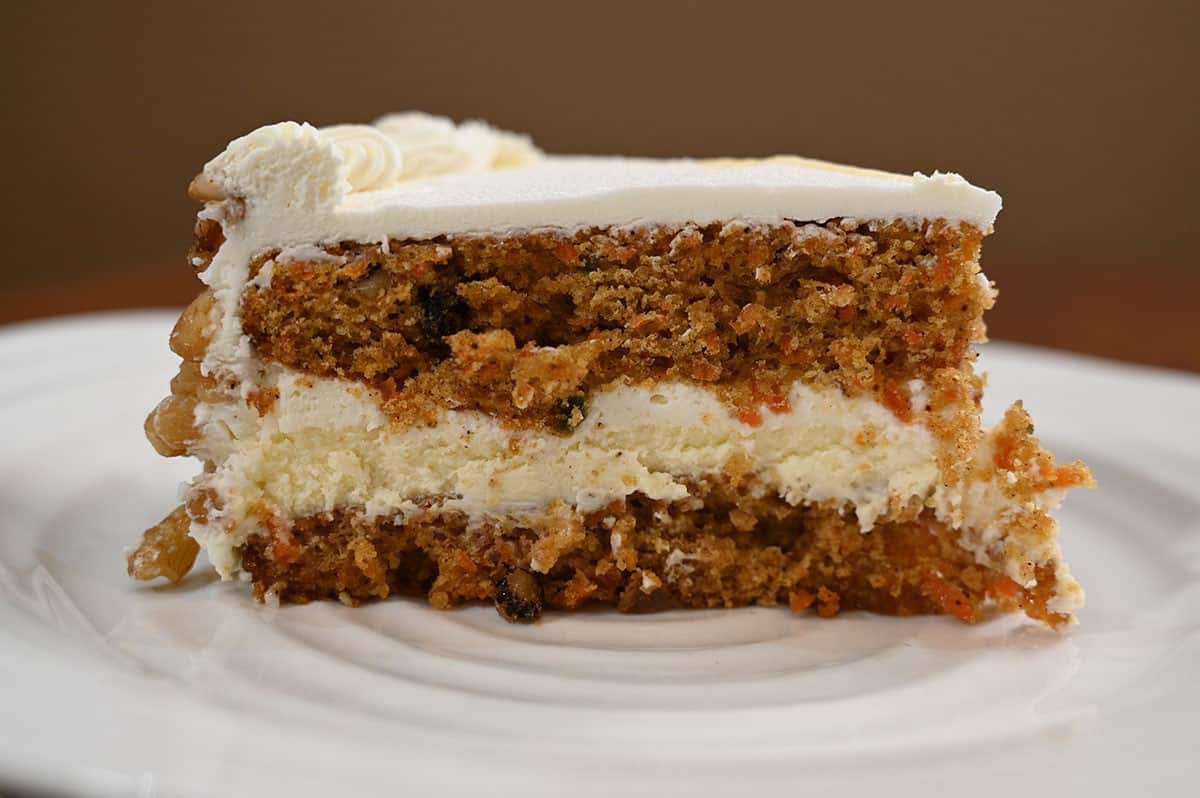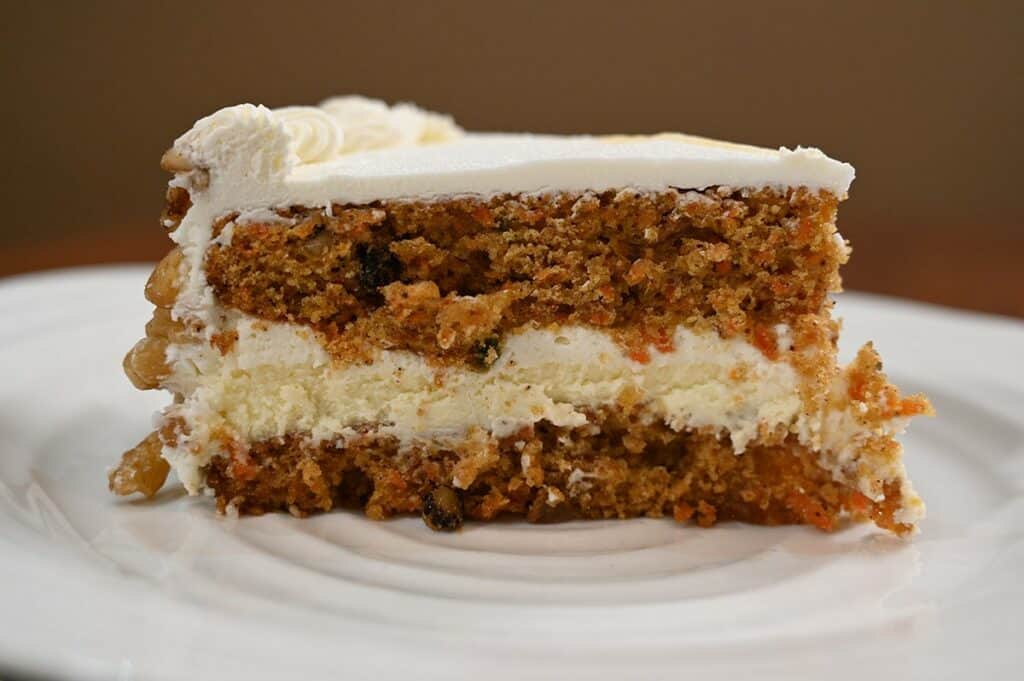 Convenience
The cake must be kept refrigerated, the best before date on the Costco Carrot Cheesecake is five days from the date it was packaged on.
This cake freezes beautifully so if you're a small family of two like us and can't eat the whole cake right away you can easily freeze some. This cake is perfect for Christmas, Thanksgiving or any family get together. The cake will feed 10-16 people depending how big the slices are.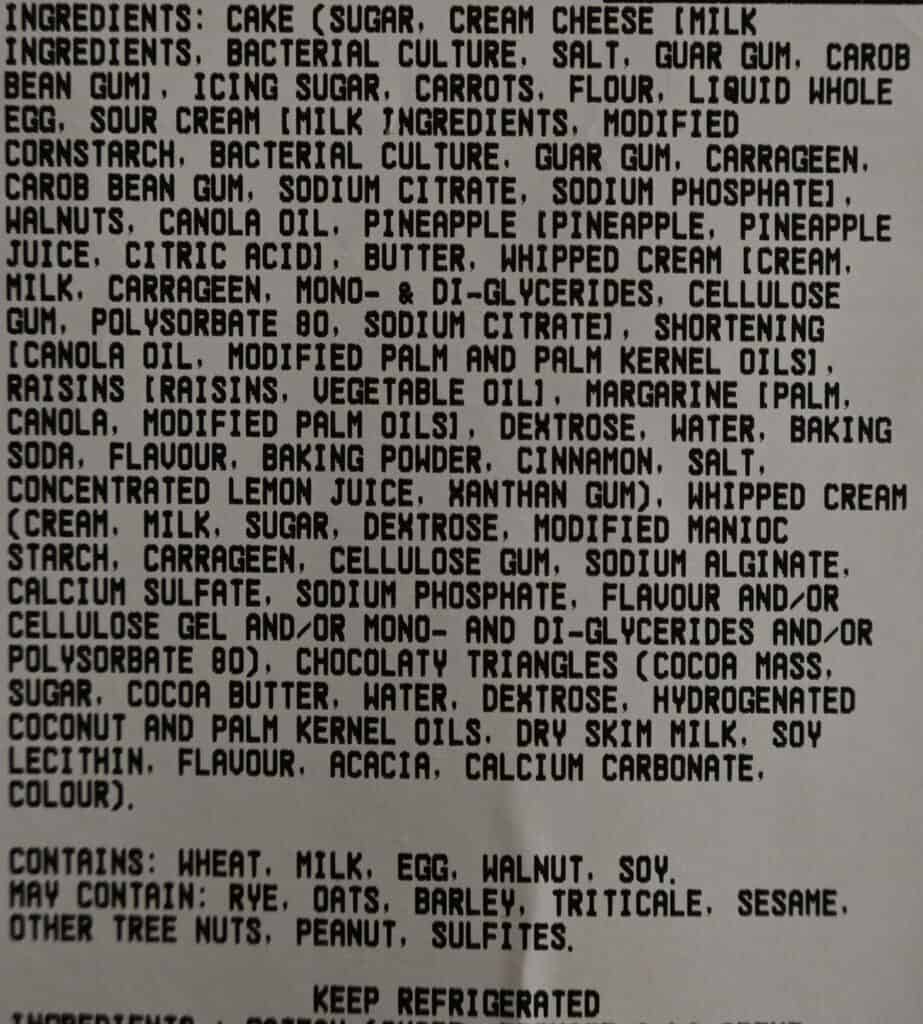 Nutrition
Calories
Sean decided to cut this huge cake into eight slices which is kind of absurd. 1/16th of the cake is 650 calories, 27 grams of fat, 210 mg of sodium, 55 grams of carbohydrates, two grams of fibre, 43 grams of sugar and six grams of protein. That means Sean's slices are about 1100 calories each.
Ingredients
I don't have much to say other than this is absolutely full of unhealthy ingredients but most cakes are! Enjoy a little slice and go for a walk.
Scoring
Taste: 8.5/10
Cost: 7/10
Convenience: 10/10
Nutrition: 0/10
Overall
Give it a try!
This cake from Costco is moist, delicious carrot cake with a cream cheese icing middle layer. If you're a carrot cake fan and enjoy nuts and raisins in your cake, try this!
Have you tried this cake from Costco? What did you think of it?
---
Please note that this review was not paid for or sponsored by any third party. This product was purchased by Costcuisine for the purpose of producing this review. The opinions in this review are strictly those of Costcuisine. Costcuisine is not affiliated with Costco or any of its suppliers. In the event that Costcuisine receives compensation for a post from the manufacturer of a product or some other third party, the arrangement will be clearly disclosed (including where the manufacturer of a product provides Costcuisine with a free sample of the product).