A traditional Italian holiday treat available at Costco!
Please note that this review was not paid for or sponsored by any third party. I purchased this product with my own money and the opinions in this review are strictly my own. I am not affiliated with Costco or any of its suppliers. I am just a fan of the company. I write these reviews to help my fellow shoppers.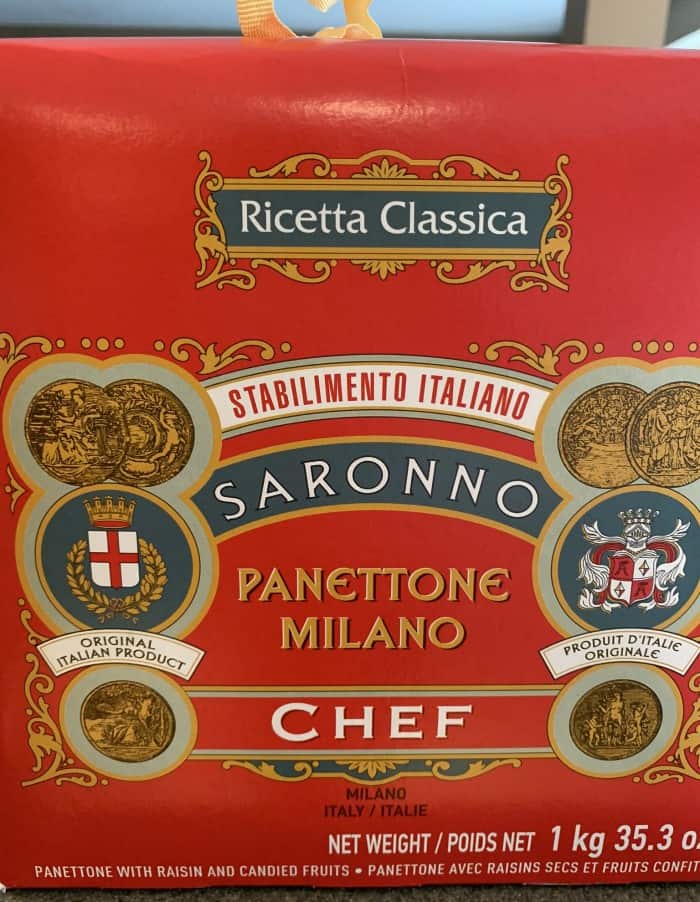 Panettone is an Italian, traditional sweet bread that originated in Milan, Italy and it's usually enjoyed during the Christmas season. There's all different kinds of Panettone but the classic/original version usually has raisins, lemon zest and candied orange.
I think the box is what attracted me to this Panettone from Costco. I couldn't really tell what I was buying but the box is so festive and unique looking among all the other products. Costco bought Panettone is a super convenient item to enjoy at home and an even more convenient gift. I feel like the attractive box is basically equivalent to wrapping paper. The Chiostro di Sarrono Panettone box is very easy to carry because it has a little tie handle on the top. Inside the box is the Panettone bread, it fits inside the box perfectly and is conveniently wrapped in a plastic bag. Usually when I go shopping at Costco alone, some of my items become a little mangled from having to maneuver them into the car and then inside the house but because of the box my Panettone survived completely unharmed! After I opened it I was a little unsure how to best store it once I had sliced into it to prevent it from drying out. I think the best thing would be to slice it up and freeze it.
Sean's first statement about the Panettone was "it's like a giant muffin". It actually does kind of look like a giant muffin. There's definitely no shortage of bread here. The Panettone from Costco cost $7.89 Canadian not on sale. I think that's completely reasonable. It's imported from Italy and it's also a ton of bread. We were able to give a some to both sets of our parents to enjoy. They don't really skimp on the raisins or candied fruit either for that cost.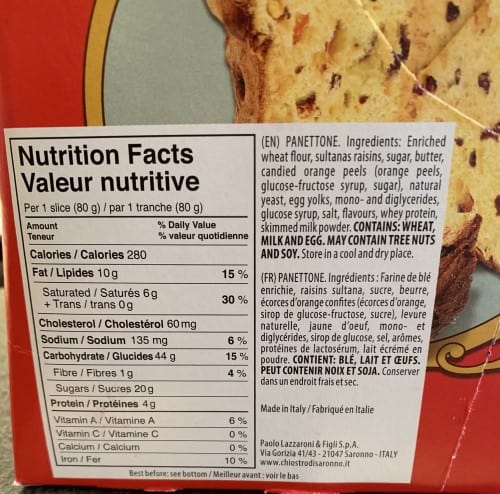 This is a very good sweet bread but I wasn't over the top in love with it, maybe if there was a little cinnamon, I'm obsessed with cinnamon. There's definitely a strong citrus taste in the bread. The outside texted of the bread is firm but not at all crusty, similar to the outside of brioche and then inside is a soft, fluffy, slightly dense, sweet, citrusy bread. There's delicious generously sized candied citrus and large Sultana raisins throughout the bread. This reminds me a little bit of Hot Crossed Buns except the flavor profile of the actual bread isn't cinnamon but orange/citrus. We tried the Panettone both plain and toasted and toasted is definitely the way to go in my opinion.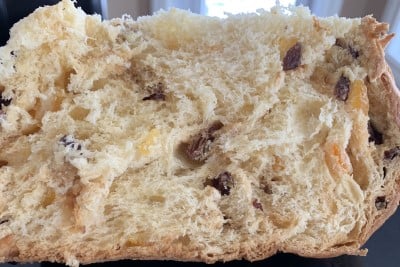 There's a lot of calories, sugar and fat in this bread. The worst part about that is that it's easy to eat a few slices of Panettone and not feel like you're eating something super heavy or indulgent. True story, Sean and I had it for breakfast and I asked him to calculate how many calories approximately were in the entire bread. He said roughly 3500. Okay… I looked over at the counter to see we'd consumed about a third of the loaf. Since I love butter, I'd also slathered some of that on. I proceeded to pack up the rest for our parents. To be honest, this is good but there's a lot of other things I'd rather eat for the same amount of calories, sugar and fat.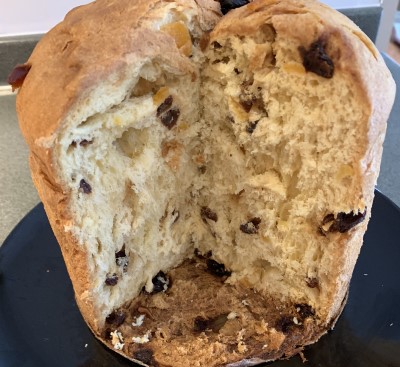 I could definitely see cutting this up for Christmas morning brunch and toasting it for something festive and different! It was a nice unique treat and I would definitely eat it again if it were served. I probably wouldn't purchase it for myself again. Sean and I are going to Italy in a few weeks so it will be interesting to try the Panettone there and see if it tastes any better than the Costco one.
Taste: 7.5/10
Cost: 9/10
Convenience: 9/10
Nutrition: 0/10
Have you had Panettone before? Do you prefer it toasted or plain?!