Are you starting to think about desserts for the holiday season?
Please note that this review was not paid for or sponsored by any third party. I purchased this product with my own money and the opinions in this review are strictly my own. I am not affiliated with Costco or any of its suppliers. I am just a fan of the company. I write these reviews to help my fellow shoppers. If you like my blog and want to show your appreciation, please follow me on Instagram or Facebook, or tell your friends to check out my blog!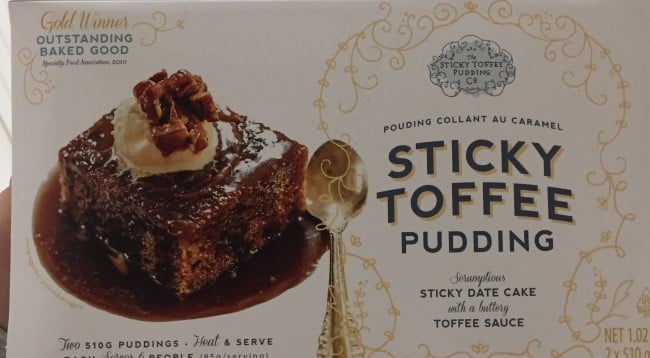 I'm one of those people that always gets sucked into the limited edition/seasonal desserts at Costco. I recently found this Sticky Toffee Pudding made by The Sticky Toffee Pudding Co. and I had to try it. The price wasn't even posted when I grabbed it off the shelf, but I figured it was probably delicious and worth whatever the price was!
Taste
The box for the Sticky Toffee Pudding describes it as, "scrumptious date cake with a buttery toffee sauce". Once I took it out of the oven, smelled it and cut it, I couldn't wait to sit down before trying it – it definitely looked as good as that description sounds. The first bite I had delivered – it tasted amazing. The cake is a sweet, extremely moist and dense date cake. The toffee sauce tastes sweet, quite salty and very buttery, so the Sticky Toffee Pudding has sweet and salty going on at the same time, and that's usually a good combination. However, I think I made a mistake when I scooped a bunch of the excess sauce from the tray onto the top of my cake, because after a few bites, I found my serving of Sticky Toffee Pudding too sweet and also too salty! This is without a doubt a very decadent and heavy dessert; despite the fact that I have a major sweet tooth, I actually couldn't finish the piece I cut for myself. I can't see eating this without something like whipped cream or vanilla ice cream to cut the sweetness. Anyway, in retrospect, I feel like a tiny sliver would have been enough for me. I have to warn those people out there who don't like very sweet, rich, heavy desserts that this might not be for them. Even my husband, who was easily able to eat about half the tray and absolutely loved it, mentioned that he found it tasted a little salty and quite rich (although obviously those weren't bad things to him).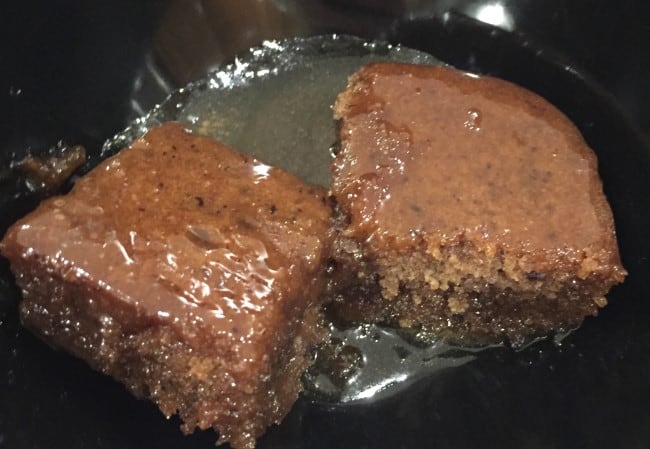 Cost
The Sticky Toffee Pudding comes in a pack with two trays of pudding for $18.99 Canadian. I have to admit that I was kind of shocked when this price came up on the screen at the register; it seemed quite high to me. The puddings aren't overly large or heavy; each rectangular tray weighs 510 grams. After trying the Sticky Toffee Pudding, I feel like $13.99 or $14.99 would be a more reasonable price. The package says that each pudding serves six people, but if you have dessert lovers in your house, I think four is probably a more accurate number.
Convenience
The Sticky Toffee Pudding is very easy to warm up – you can either microwave it or put it in the oven. I chose to warm mine in the oven. All I had to do was remove the plastic film on top and pop it into the oven on a baking sheet. When it was finished heating up, it cut nicely and came out of the tray easily. You can freeze the pudding or keep it in your fridge prior to making it. The package says it can be frozen for up to nine months.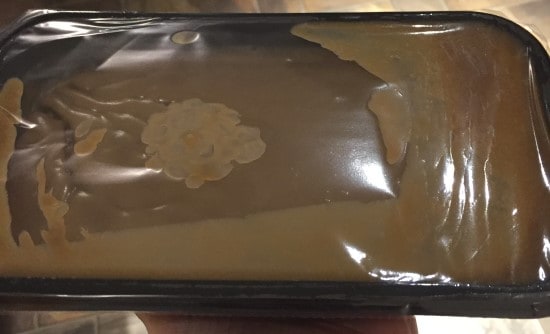 Nutrition
Nutritionally, if you eat one-sixth of the Sticky Toffee Pudding, you're looking at 190 calories, 10 grams of fat and 20 grams of sugar. In my opinion, that's not that bad for a dessert. By way of comparison, a medium pumpkin latte at Starbucks has about 380 calories, 14 grams of fat and 50 grams of sugar (I don't know why I chose that as my comparison; I guess it's another fall/winter comfort food?). With that being said, I can't see eating this without either ice cream or whipped cream, so that will obviously add calories and fat. Also, if you're like my husband and eat half the tray, you have to multiply all of those numbers by three and add the ice cream on top!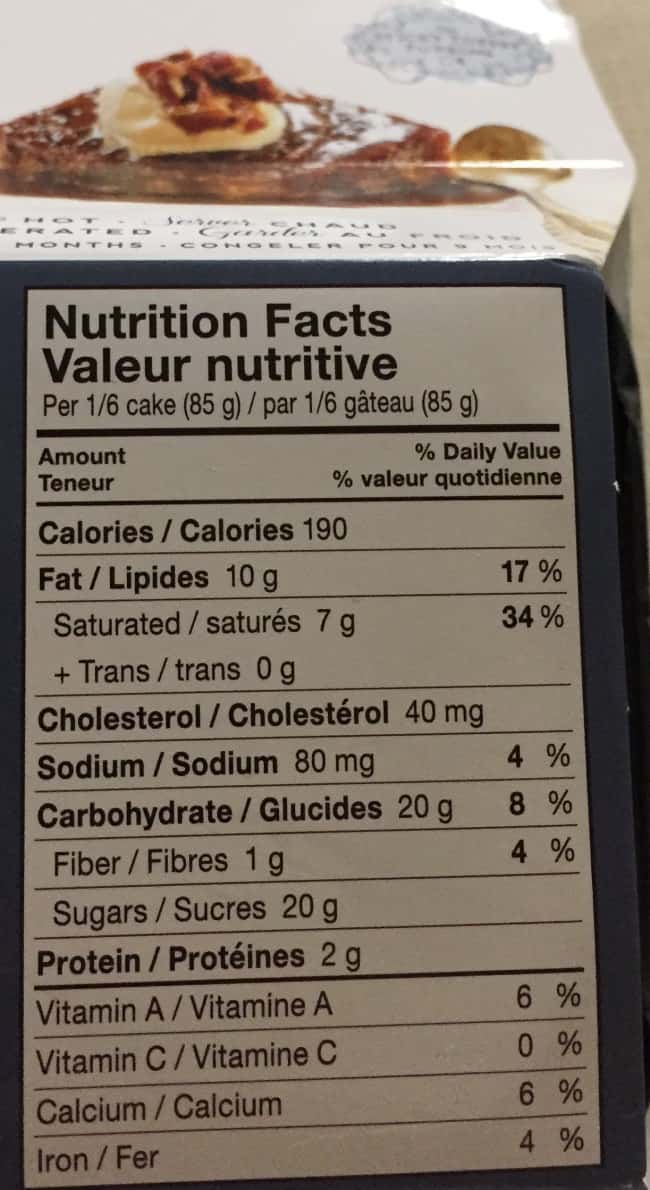 Due to the high price, this is definitely a splurge item for me. I probably won't repurchase it again this year, but if it shows up again next holiday season I could see buying it again (my husband might insist on it!). I feel like a lot of people would probably really enjoy this, and I have another tray of Sticky Toffee Pudding in my freezer that I'll likely save for when we have family or friends over so there are others to share the sweetness with.
Taste: 6/10
Cost: 4/10
Convenience: 9/10
Nutrition: 1/10
I'm curious to know if you've tried this. If not, would you?