Costco plant-based, organic, fava bean pasta that tastes almost identical to wheat pasta!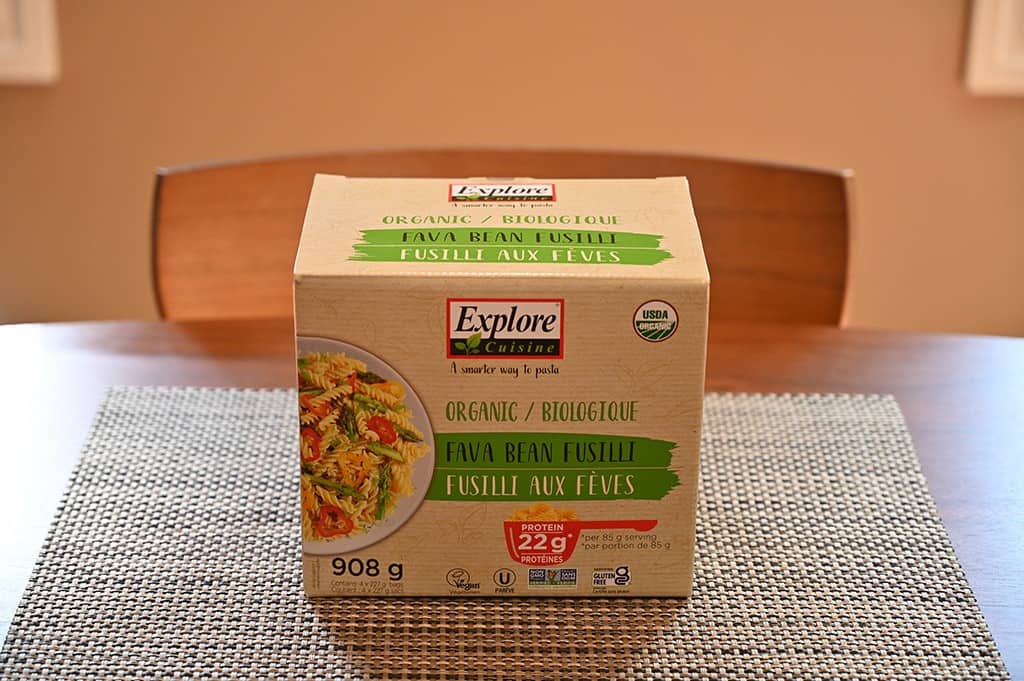 I'm a huge fan of pasta but I've been cutting back on wheat and gluten lately so I've been trying various gluten-free pastas. Today I'm reviewing the Explore Cuisine Organic Fava Bean Fusilli.
My favorite plant-based, high protein pasta from Costco is definitely the Pedon More Than Pasta Yellow Lentil Spaghetti. Another few vegan/plant-based favorite products of mine available at Costco currently are the Jojo's Guilt Free Chocolate, the Good Foods Plant Based Queso Style Dip and the Leanfit Organic Plant-Based Chocolate Protein Powder.
You can find the fava bean fusilli at Costco in the aisle with all the other pastas. The item number is 1512120.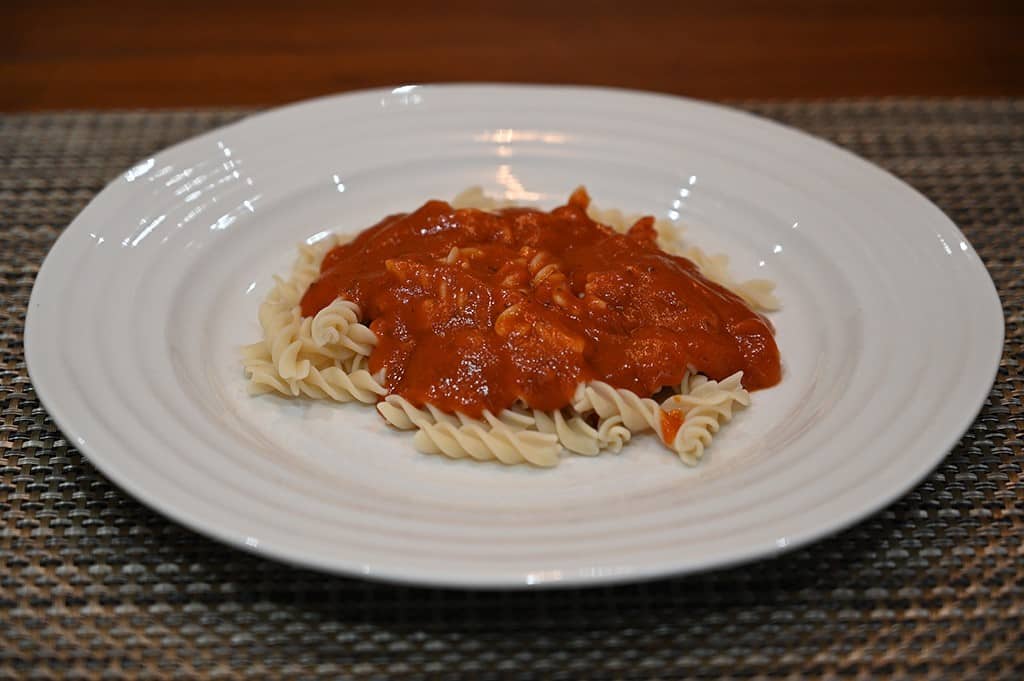 Taste
I've tried lentil pasta, chickpea pasta and now this fava bean pasta and I have to say this Costco Explore Cuisine Organic Fava Bean Fusilli tastes most similar to a regular white, wheat pasta. If you blindfolded me and served this to me with sauce along with regular wheat pasta I don't think I'd be able to tell the difference.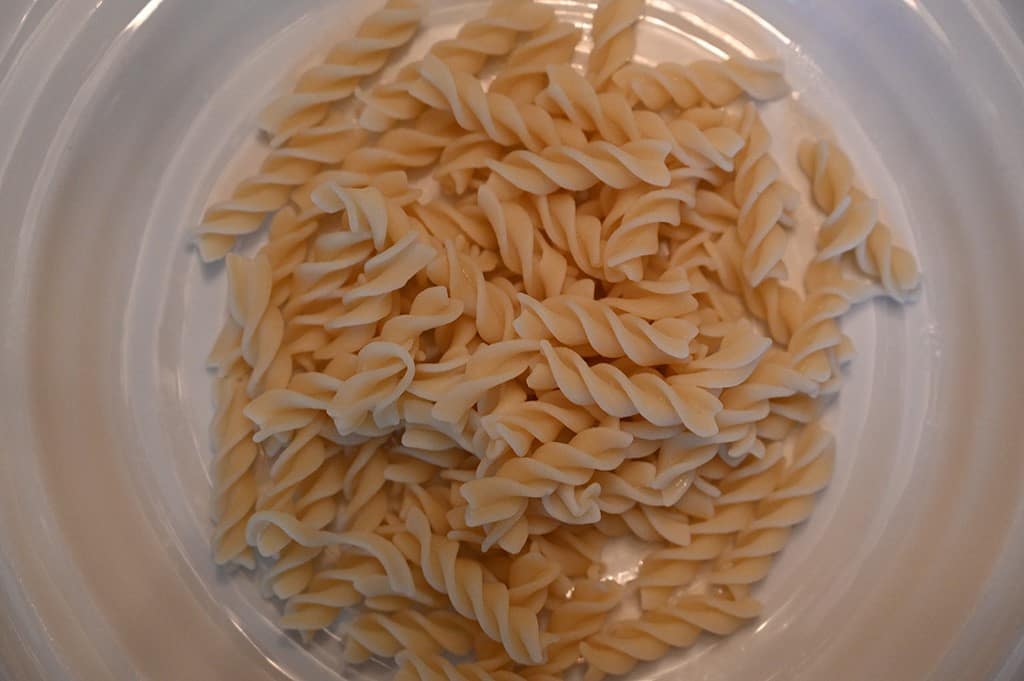 It does have the slightest bit of a funky smell but it doesn't taste like it smells, thank goodness. The fusilli differs from the yellow lentil spaghetti and chickpea pasta I've tried because it doesn't have the earthy, legume flavor like the others do, you really can't tell it's not wheat pasta.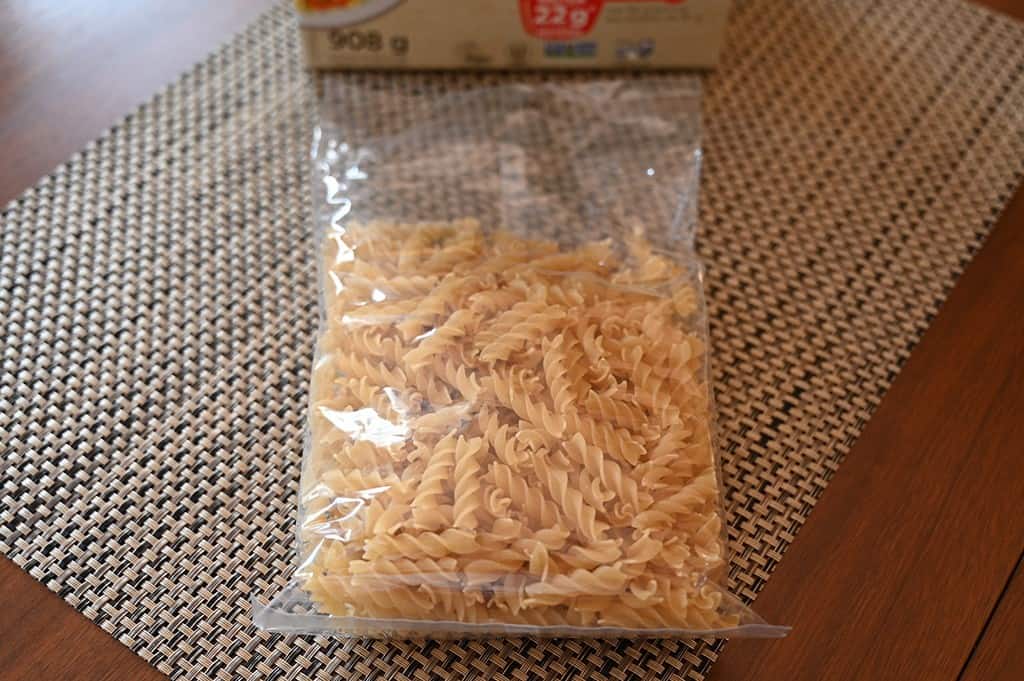 The pasta doesn't really have all that much flavor at all so it's versatile and could be easily combined with a variety of different sauces.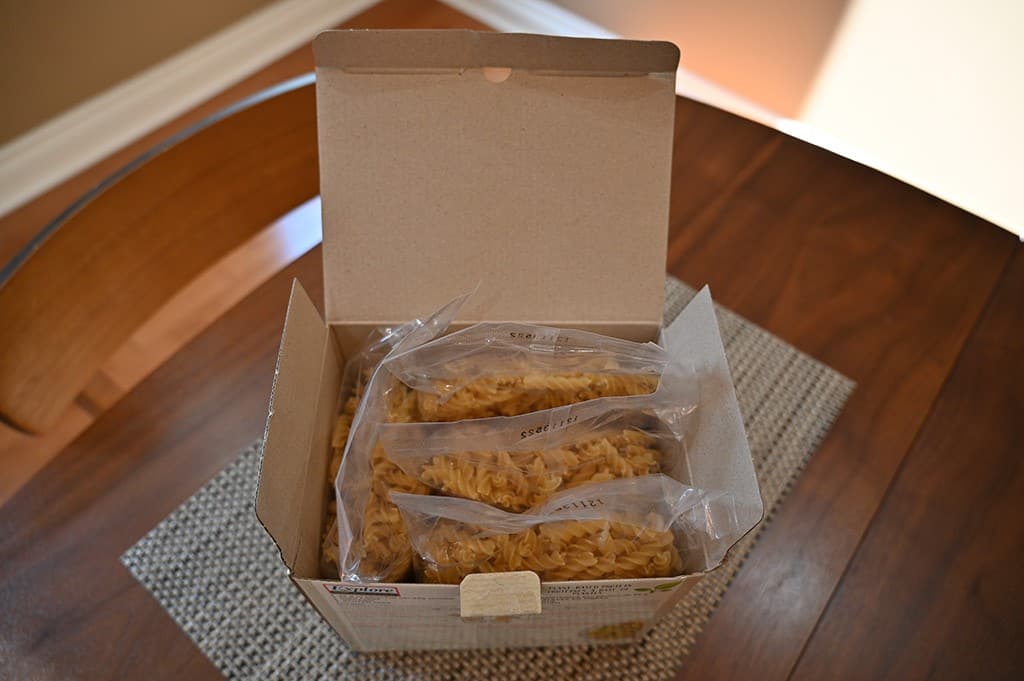 Cost
I paid $8.89 Canadian for the 908 gram box of fava bean fusilli. That includes four 227 grams of fusilli.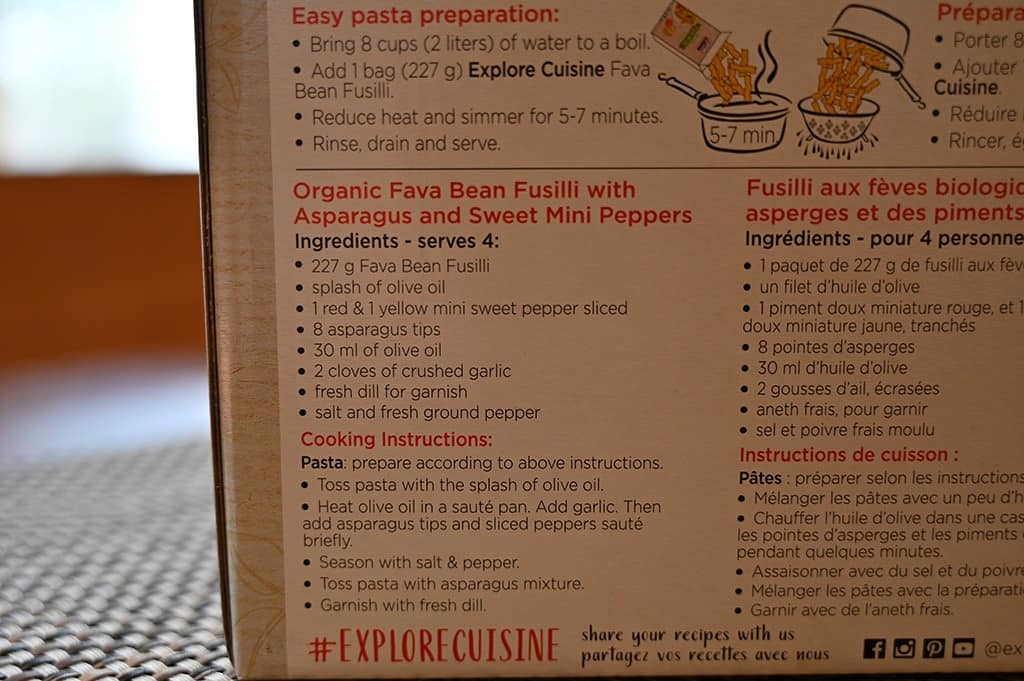 Convenience
The cooking instructions for this Costco plant-based pasta are listed on the box. You boil eight cups of water, add your bag of fusilli, reduce the heat and simmer for five to seven minutes.
I tried this with Rao's Marinara from Costco and some ground turkey and it was fantastic. I think it would also make an amazing cold pasta salad and also be delicious with pesto.
The best before date on by box of fusilli is about a year and a half from when I purchased the fusilli. I appreciate that the box comes with four smaller sized packages of pasta. One package is enough for two adults to enjoy for dinner with some for leftovers.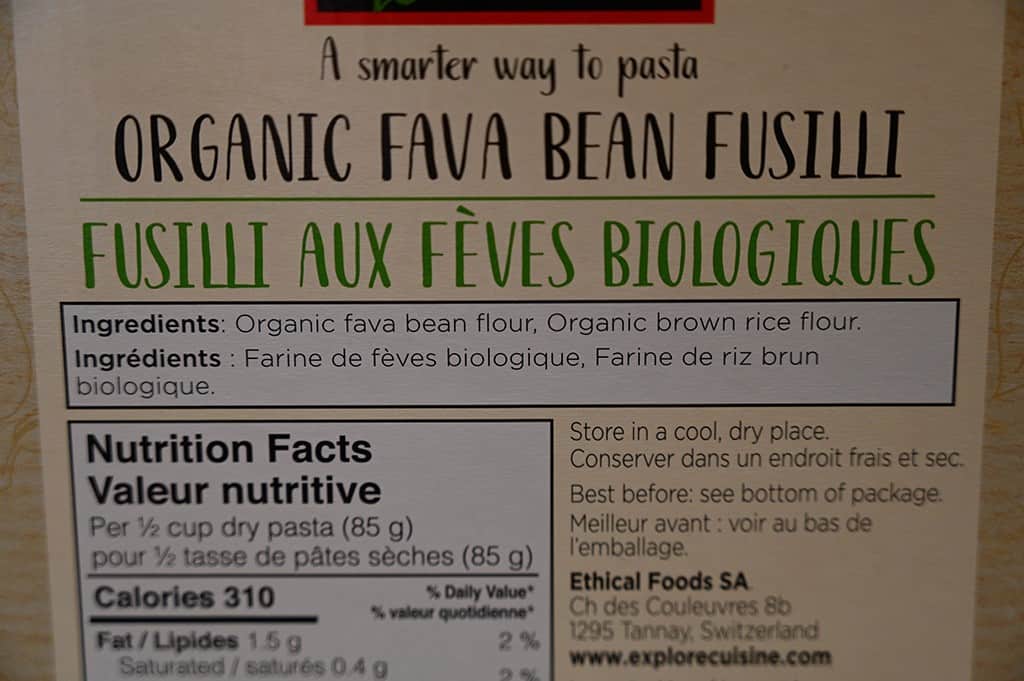 Nutrition
The ingredients list is short and sweet with only two ingredients! This fusilli is loaded with protein and fibre, it's low in sugar and fat but a bit high in calories and carbohydrates.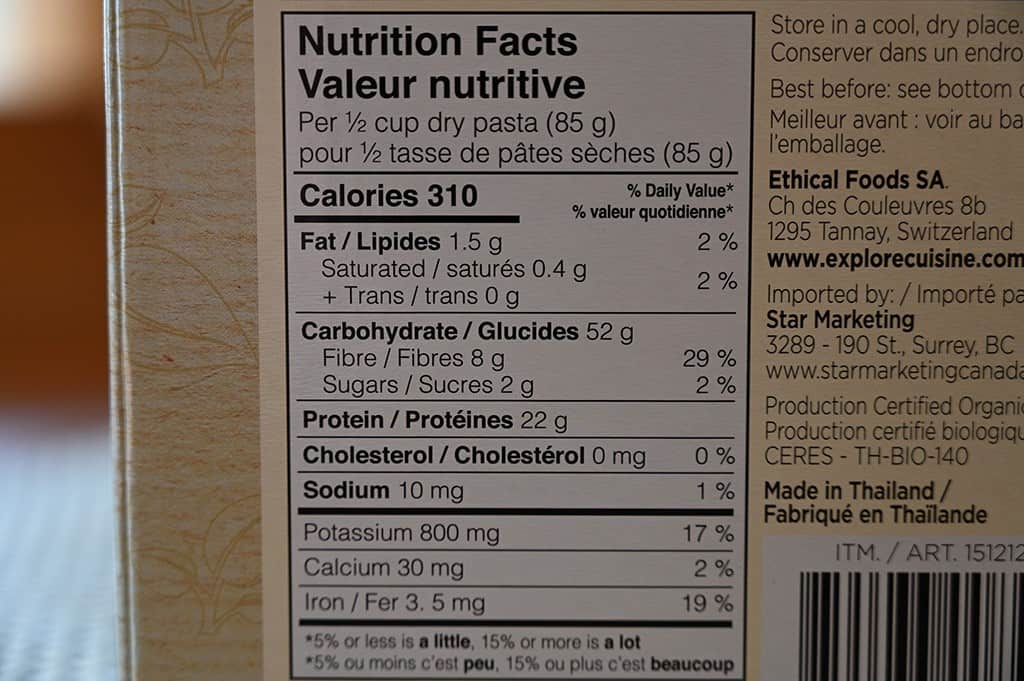 A 1/2 cup serving of dry pasta is 310 calories, one and a half grams of fat, 52 grams of carbohydrates, eight grams of fibre, two grams of sugar, 22 grams of protein and 10 mg of sodium. I could probably easily eat a cup of dry pasta for serving with a bunch of sauce on it so it's not the lowest calorie meal!
Scoring
Taste: 9/10
Cost: 9/10
Convenience: 9/10
Nutrition: 9/10
Overall
Give it a try!
If you're looking to try a plant-based pasta for the first time I would definitely recommend this one! I bet your family won't be able to tell the difference between this and regular wheat pasta!
Have you tried this? What did you think of it?
---
Please note that this review was not paid for or sponsored by any third party. This product was purchased by Costcuisine for the purpose of producing this review. The opinions in this review are strictly those of Costcuisine. Costcuisine is not affiliated with Costco or any of its suppliers. In the event that Costcuisine receives compensation for a post from the manufacturer of a product or some other third party, the arrangement will be clearly disclosed (including where the manufacturer of a product provides Costcuisine with a free sample of the product).