Nothing beats freshly cooked bacon, but bacon bits are versatile and convenient. I've tried some bacon crumbles that taste like chemicals and some that are very fatty, but I was fairly confident that Costco's Kirkland brand would make a good-quality version. Was I right? How good are the Kirkland Signature Bacon Crumbles from Costco?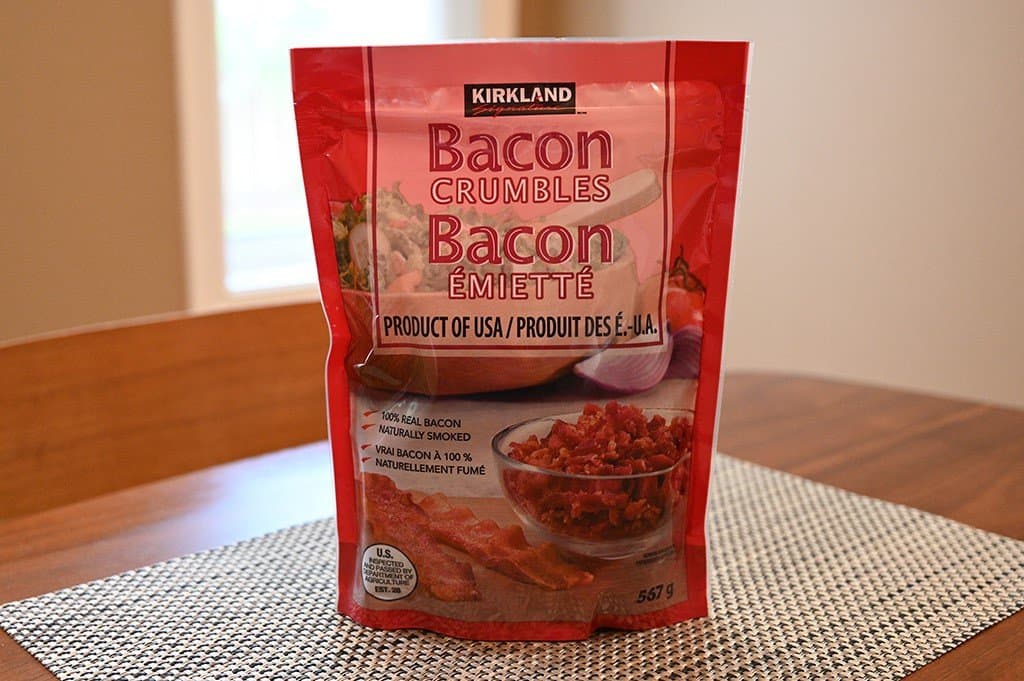 I wanted some bacon bits to go along with the Costco Naleway Perogies I reviewed yesterday, so I bought these Costco Kirkland Signature Bacon Crumbles!
Some Costco foods that you could add these bacon crumbles include the Costco Kirkland Signature Cheese Pizza, Costco Kirkland Signature Chicken Penne Alfredo, Costco The Keg Prime Rib Beef Burgers, Costco Eat Smart Sweet Kale Salad Kit and the Costco Johnny's Potato Cheddar Soup Mix.
Location in Store
You can find the bacon crumbles in the aisle with croutons, salad dressings, nuts and other condiments. The item number is 190316.
Taste
The Costco Kirkland Signature Bacon Crumbles taste like real-deal bacon and not like the fake, powdery, super crunchy bacon bits you get from some brands or restaurants. These bacon crumbles are actually made of real bacon. The crumbles found in the bag come in different shapes, sizes and textures, so you can tell they're produced from actual bacon.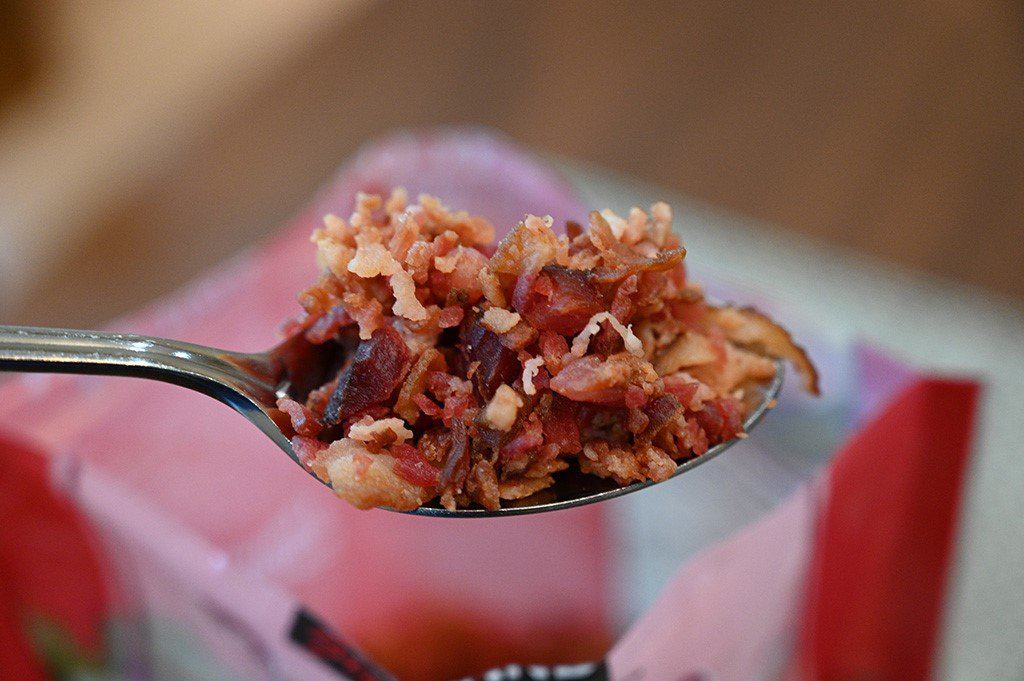 Some pieces are a little crunchier and some are a little bit more on the soft and fatty side. These bacon pieces taste fresh and aren't as greasy as other bacon bits I've had. They're a great way to add real bacon flavor to things like baked potatoes, eggs, etc.
Cost
The 567-gram bag of bacon crumbles costs $10.99 Canadian. This may not seem cheap, but it's a huge bag of bacon crumbles that will last quite a while!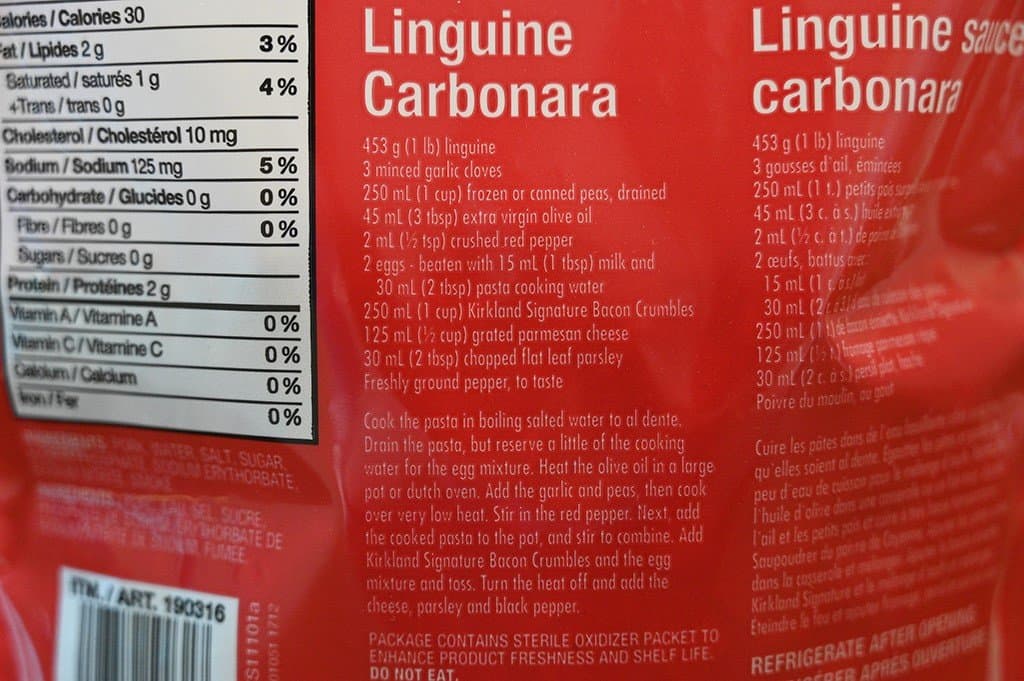 Convenience
The Costco bacon crumbles are extremely convenient! I love having a bag in my fridge. The best before date is about nine months from the date I purchased my bag, which is awesome because there's no way I could use this big bag very quickly. I also appreciate that the bag can be re-sealed after opening!
Make sure to refrigerate the bag after opening. You can add bacon crumbles to eggs, salads, potatoes, sandwiches, pasta, pizza or even on burgers instead of bacon strips. One method to reduce the grease of the bacon crumbles and crisp them up a bit is to heat the crumbles in a small frying pan for a few minutes before using them. I use this trick quite often.
Nutrition
Calories
One tablespoon of Kirkland Signature Bacon Crumbles contains 30 calories, two grams of fat, 125 milligrams of sodium, zero grams of carbohydrates, fibre and sugars and two grams of protein.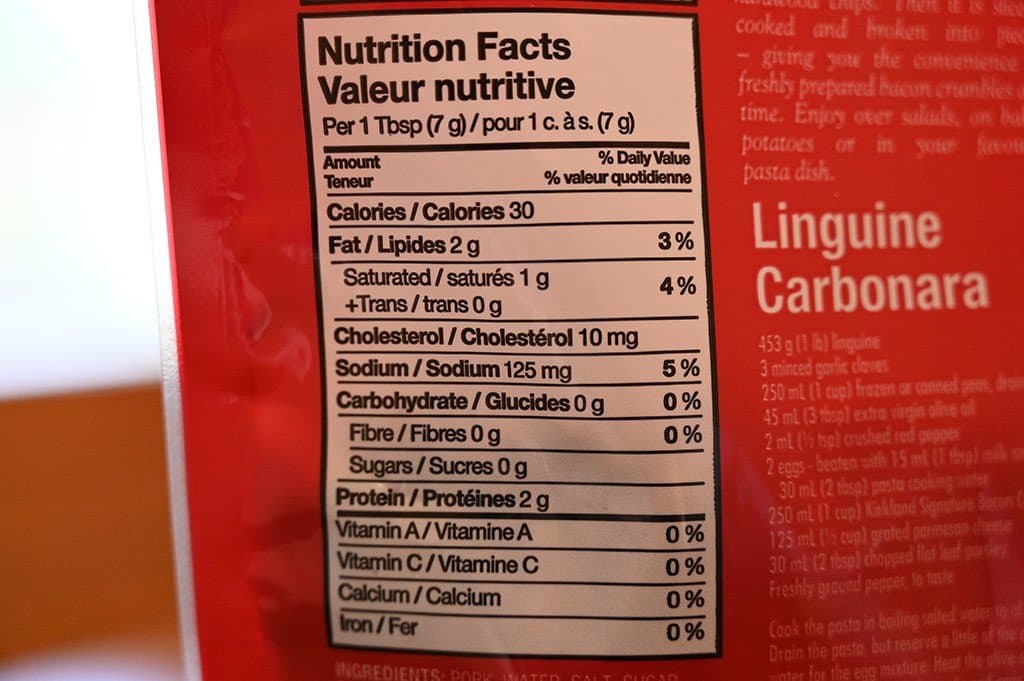 Ingredients
The ingredients list is not long and looks very typical for bacon crumbles: it's basically just pork and preservatives. You don't need a lot of bacon crumbles to flavor your dishes; just a tablespoon or two adds a nice bacon flavor.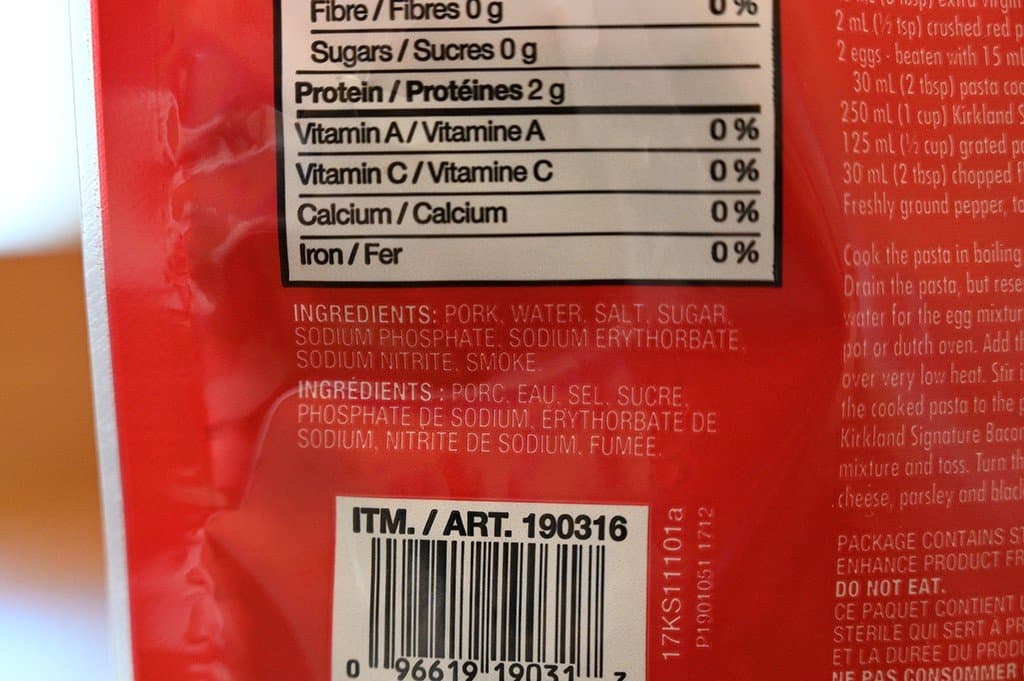 Scoring
Taste: 9/10
Cost: 7/10
Convenience: 10/10
Nutrition: 5/10
Overall
Must buy!
These Kirkland Bacon Crumbles are so convenient to have in your fridge! They're perfect for when you don't have time to cook fresh bacon, but want to use a little in whatever meal you're having.
Have you tried these bacon crumbles before? What do you think of them?
---
Please note that this review was not paid for or sponsored by any third party. This product was purchased by Costcuisine for the purpose of producing this review. The opinions in this review are strictly those of Costcuisine. Costcuisine is not affiliated with Costco or any of its suppliers. In the event that Costcuisine receives compensation for a post from the manufacturer of a product or some other third party, the arrangement will be clearly disclosed (including where the manufacturer of a product provides Costcuisine with a free sample of the product).