Costco has two different kinds of Kirkland Signature beef patties: the uncooked lean sirloin patties, and the uncooked lean ground beef patties. Which one is healthier? More flavorful? Cheaper? Today I'm covering everything you need to know about the Costco sirloin burgers!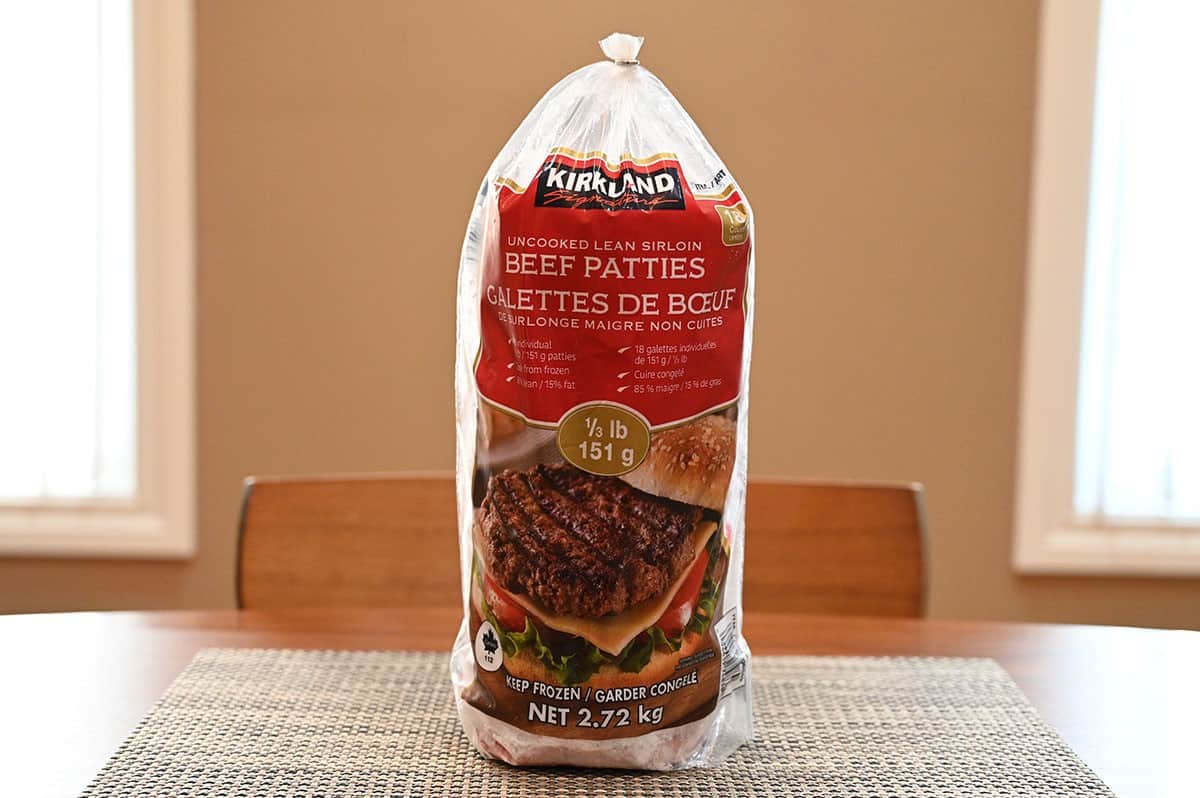 My favorite burgers in the world are my mom's homemade burgers. Unfortunately, neither my husband nor I make burgers from scratch, so these Costco Kirkland Signature Uncooked Lean Sirloin Beef Patties are our go-to hamburger patties when we barbecue burgers at home.
Other burgers from Costco are the Costco Kirkland Signature Lean Ground Beef Patties, Costco Beyond Meat Burgers, Costco Trident Wild Pacific Pink Salmon Burgers, Costco The Keg Prime Rib Beef Burgers and the Costco Kirkland Signature Chicken Burger Meal Kit.
Location in Store
You can find the frozen burgers at Costco in the freezer aisle, near the frozen chicken wings. The item number is 296549.
Taste
The sirloin beef burgers from Costco have one ingredient, sirloin beef. Yep, that's it. No salt, no fillers, no seasoning. The lack of fillers and seasonings isn't a problem in my opinion because the patties use high-quality sirloin beef. Another advantage of the simplicity of these burgers is that you can season them to your taste. I add a bit of seasoning and sometimes some barbecue sauce as well.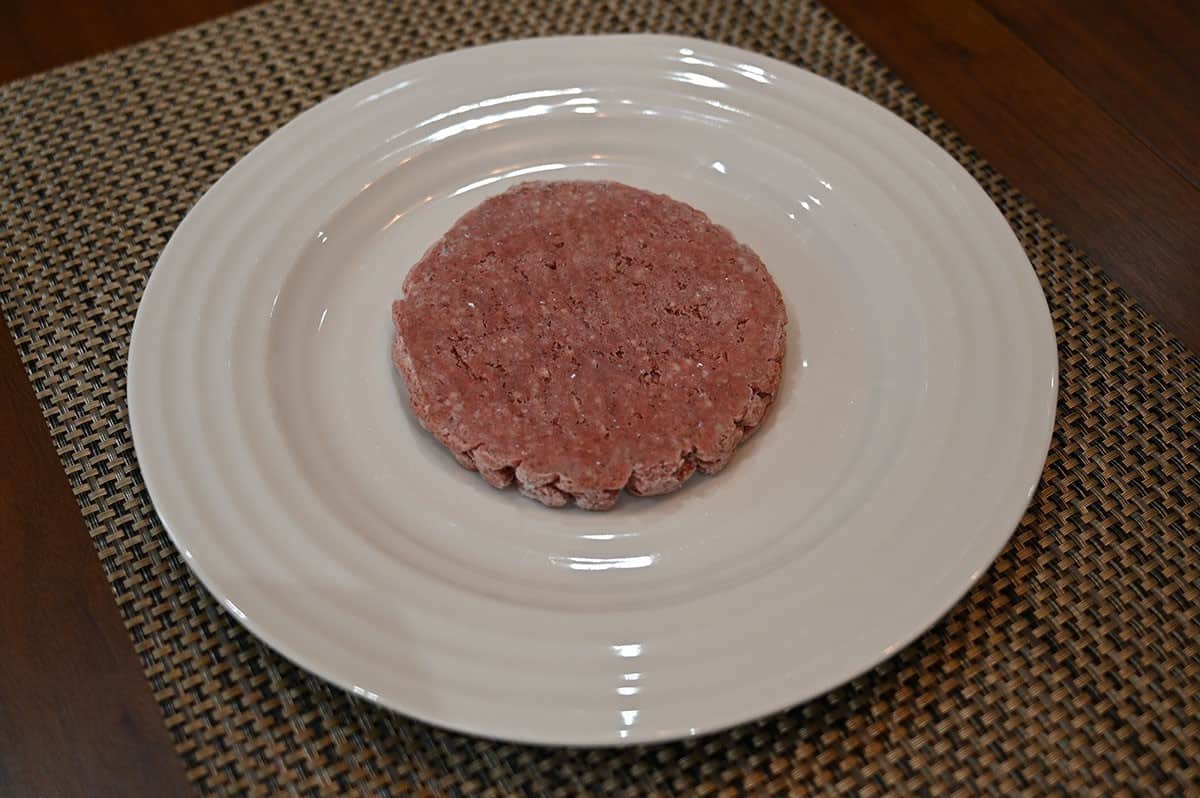 You probably do need to season these burgers, because they'll taste a bit bland if you don't. I don't taste a ton of fat in the Kirkland Signature Lean Sirloin Beef Patties, but there's enough in my opinion. I've never found them dry (unless it was from us overcooking them!). Finally, I don't think they contain as much gristle or random hard chunks as some other frozen burgers seem to. The meat is consistently good quality.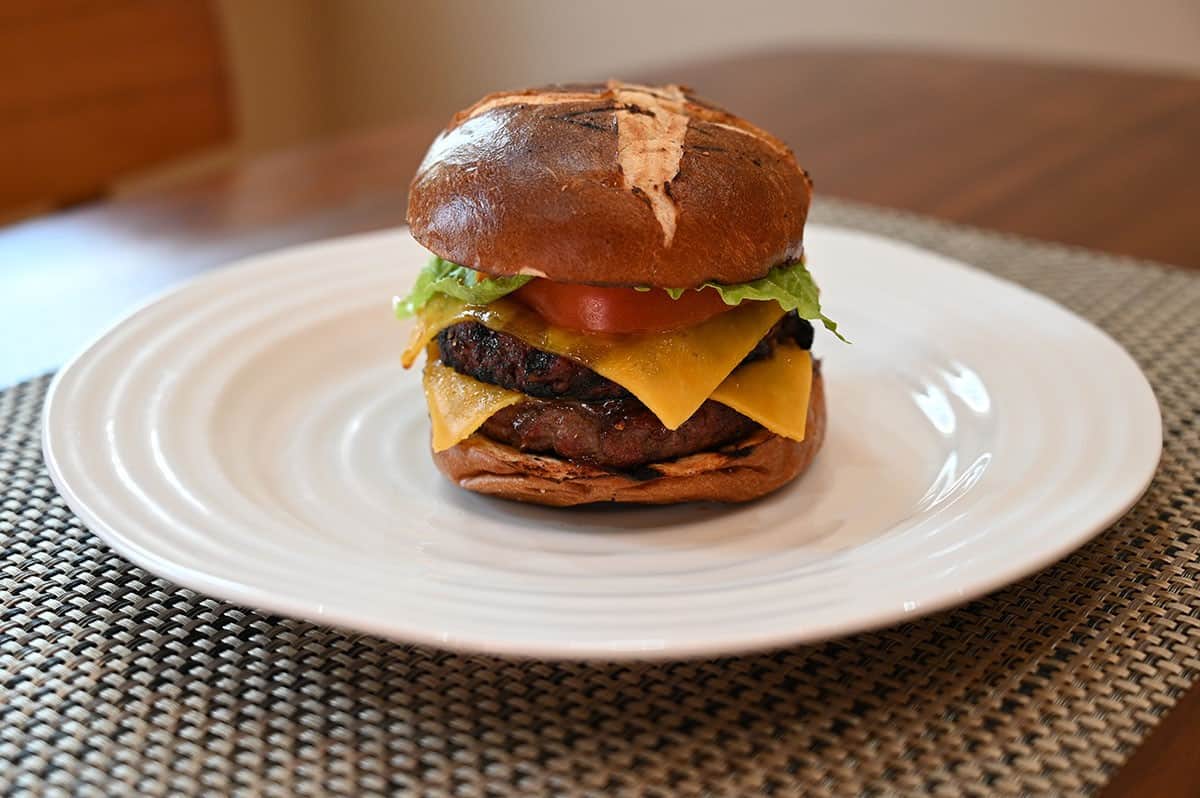 I've tried the Costco Kirkland Signature Lean Ground Beef Patties and I much prefer these lean sirloin patties. They're a little less flavorful out of the bag, but there's less gristle and fat for sure.
Cost
For $26.99, you get 18 Costco Kirkland Signature Lean Sirloin Beef Patties.
Convenience
The patties come in a bag and the patties are stacked one on top of the other with paper in between. If you want to just cook one burger for yourself, you totally can. Unfortunately, I have found the burgers can freeze together pretty badly sometimes. It can be hard to get the right number out, but careful yet forceful use of a butter knife usually gets the job done.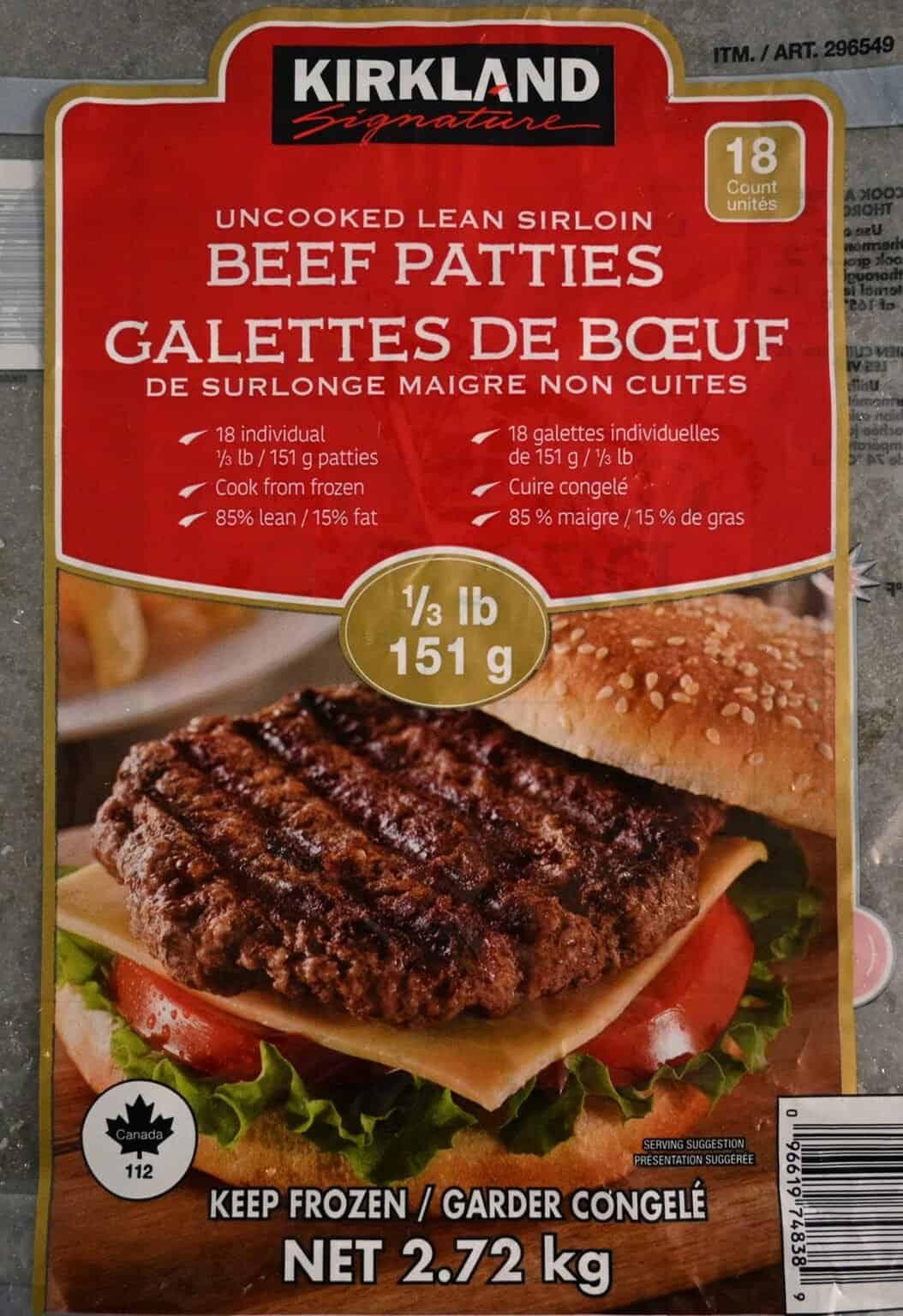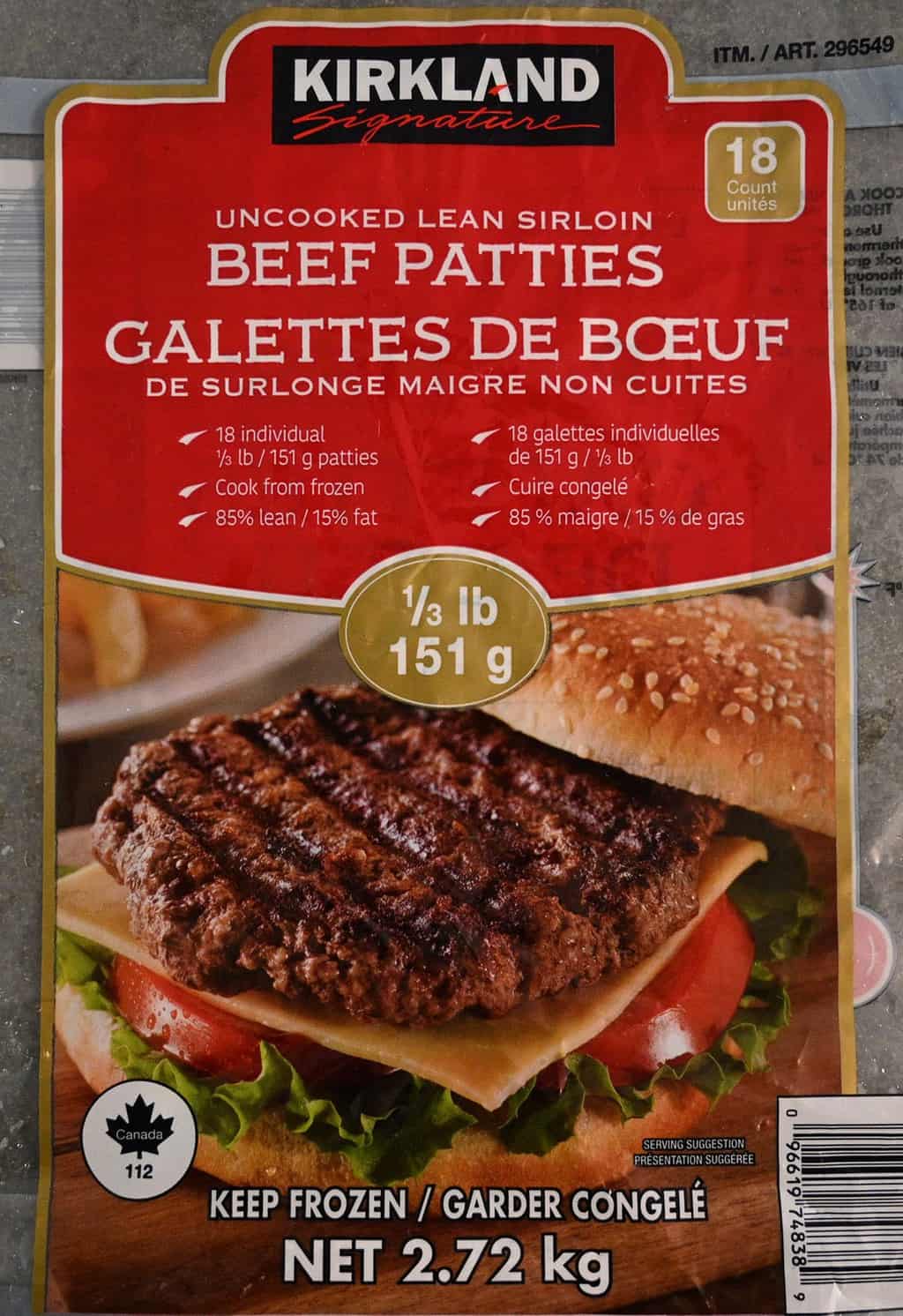 You have to season and cook these burgers as they don't come pre-seasoned or pre-cooked. With that being said, hamburgers aren't exactly the hardest food to cook! The burger patties need to be kept frozen and the best before date is about eight months from the date we purchased them. Another small negative is that the bag isn't resealable, so you'll need to tie off your bag or transfer your burgers to an airtight container before you put them back in your freezer.
Nutrition
Calories
Eating burgers every day is probably not the best thing for you nutritionally. One patty contains 320 calories, 22 grams of fat, three grams of carbohydrates, zero grams of fibre, zero grams of sugar and 26 grams of protein.
Ingredients
There's only one ingredient in these burgers: sirloin beef. For that reason, these burgers are a healthier choice than some store bought frozen burgers. One benefit of them being unseasoned is that you can easily control how much sodium is in your burger. You can also limit the calories a bit by choosing what you put on your burger. You can even use lettuce as a bun if you're super health-conscious! Personally, my favorite buns to use are the Costco Kirkland Signature Italian Ciabatta Buns. The fat may seem a little high, but any beef product usually has higher amounts of fat. Some of it cooks off when you barbecue the burgers (or so I tell myself).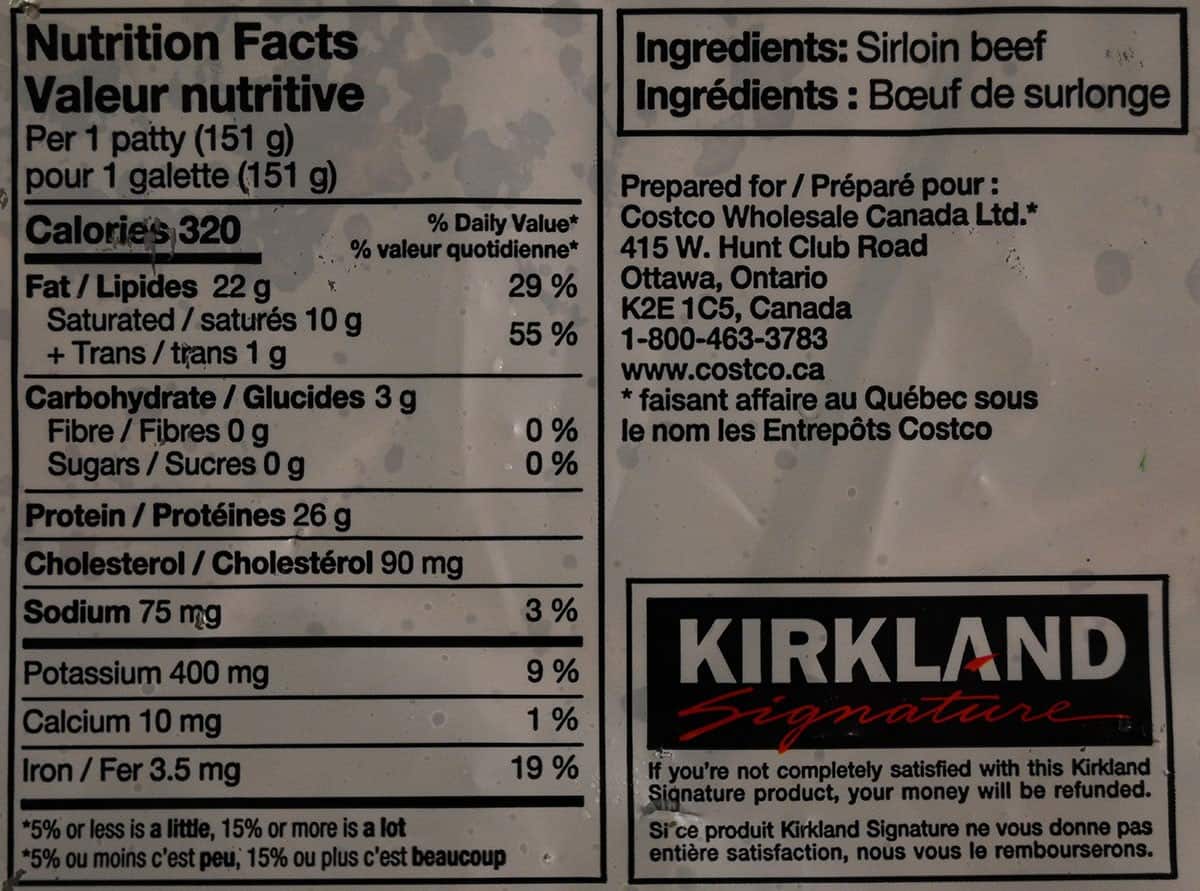 Scoring
Taste: 9/10
Cost: 8.5/10
Convenience: 4/10
Nutrition: 6/10
Overall
Must buy!
I think the Costco sirloin burgers are perfect to serve at a summer barbecue or to bring camping! Whenever I see them, I always think of summer and barbecue season. These burgers are in our freezer every summer and both my husband and I really enjoy them.
Do you have a favorite burger from Costco?
---
Please note that this review was not paid for or sponsored by any third party. This product was purchased by Costcuisine for the purpose of producing this review. The opinions in this review are strictly those of Costcuisine. Costcuisine is not affiliated with Costco or any of its suppliers. In the event that Costcuisine receives compensation for a post from the manufacturer of a product or some other third party, the arrangement will be clearly disclosed (including where the manufacturer of a product provides Costcuisine with a free sample of the product).