The Kirkland Signature Spiral Sliced Ham is a well-known Costco staple and is consistently one of the most popular reviews on this site. When I saw the Costco Kirkland Signature Applewood Smoked Master Carve Ham, I wondered how it would compare to its famous sibling. Is it as good as the Kirkland Signature Spiral Sliced Ham?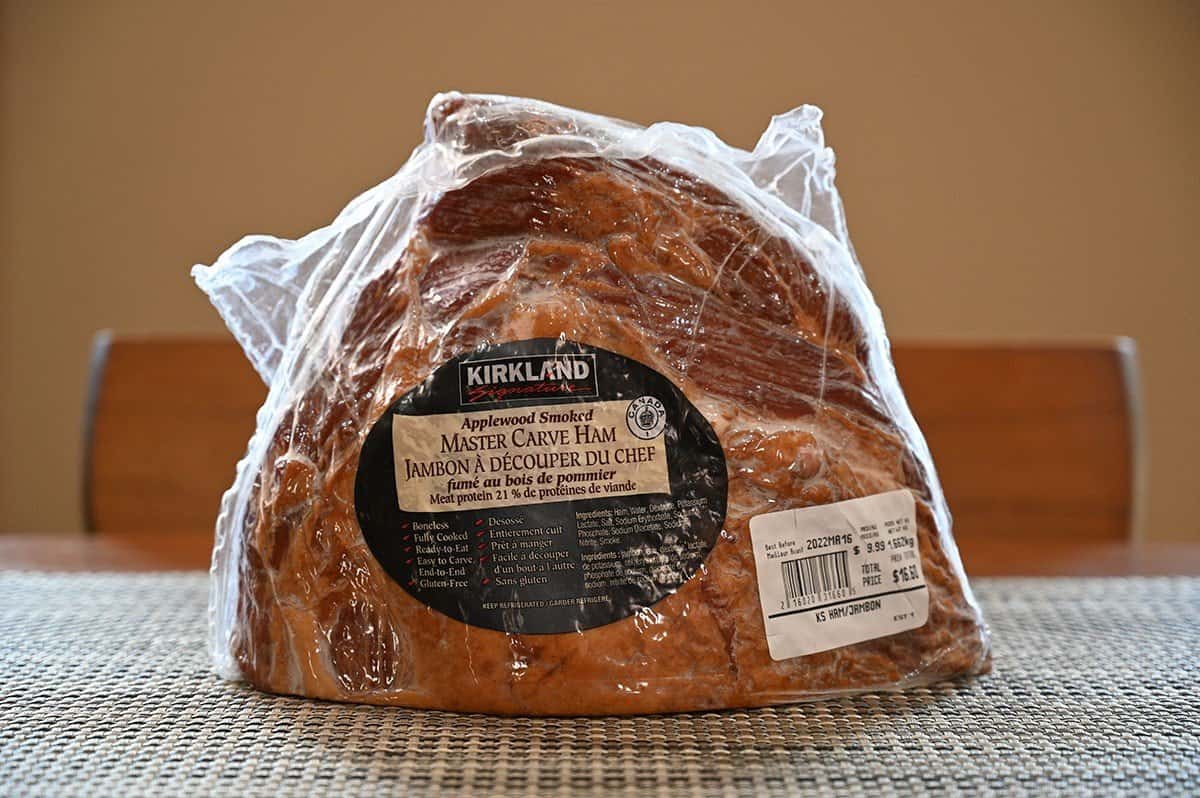 Today I'm reviewing the Costco Kirkland Signature Applewood Smoked Master Carve Ham. My husband actually pointed out this product to me and suggested we try it. We've had the spiral sliced ham from Costco and enjoy it so we don't explore other ham options from Costco, until now.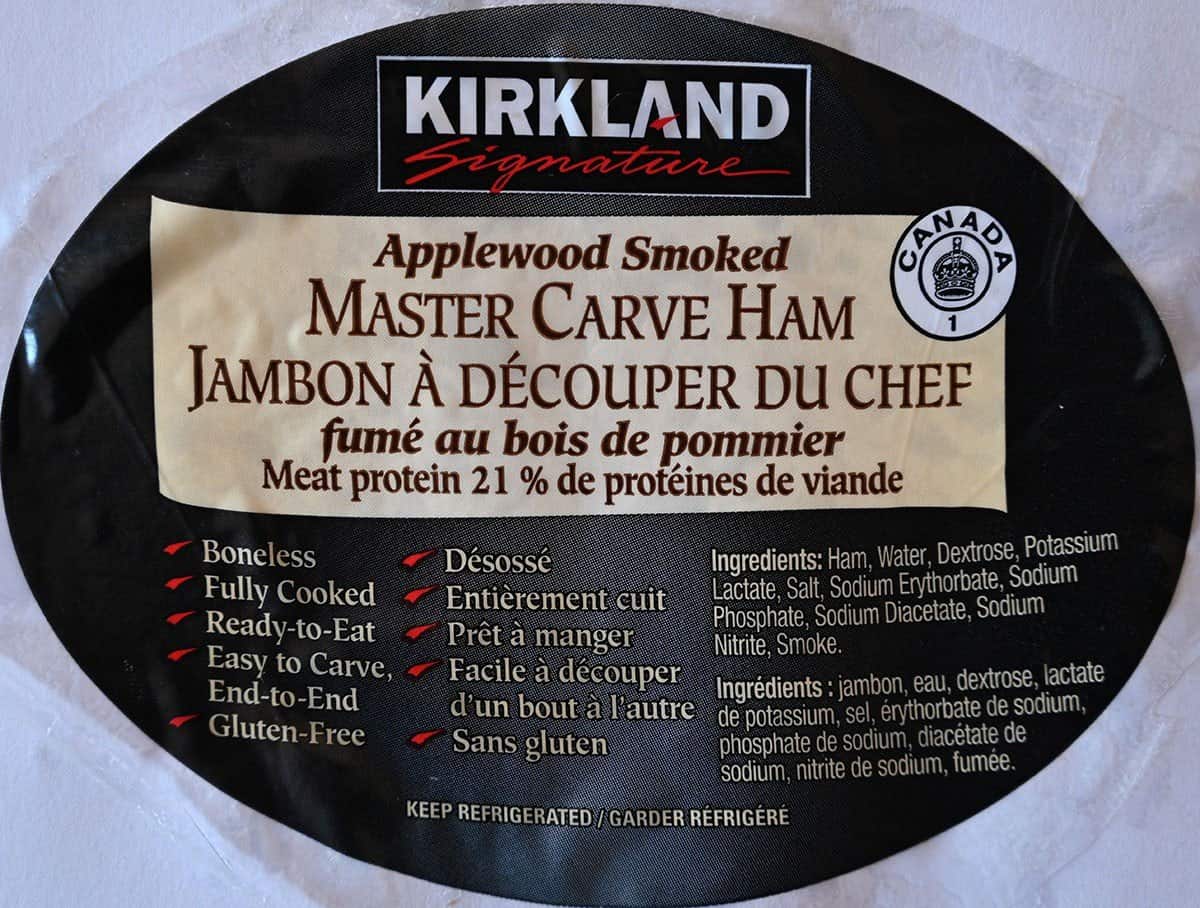 Other meat products from Costco are the Costco Schwartz's Smoked Meat, Costco Olympic Craft Meats Garlic Sausage, Costco Kirkland Signature Italian Style Beef Meatballs, Costco Kirkland Signature All Beef Wieners and the Costco 44th Street Beef Pot Roast.
Location in Store
You can find this in the refrigerated deli section at Costco, near the cold cuts and cheese. The item number is 16020.
Taste
The ham smells great! As soon as I opened the package, I noticed a strong, smoky smell that I really enjoy. The ham has minimal fat on it. There's barely any in the dish after baking it! Even though there isn't much fat on the ham, I don't find it dry at all. It's not super moist though. Nearly the entire ham is good-quality edible meat. The amount of gristle and fat is negligible.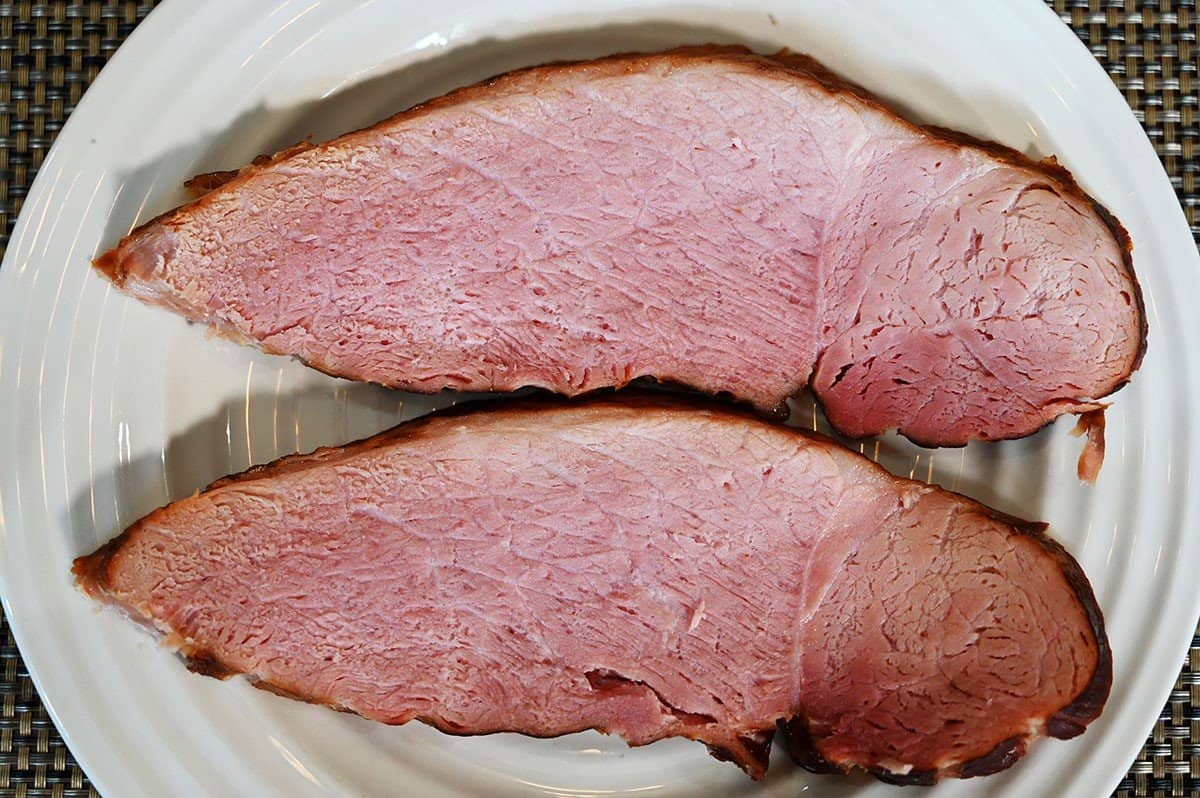 The flavor of the ham is excellent. I love the rich smokiness of the ham. It reminds me a bit of tasty bacon, but much less greasy. Even though I just baked my ham in the oven, you could have convinced me that it was cooked in a smoker or on a barbecue. It's super flavorful.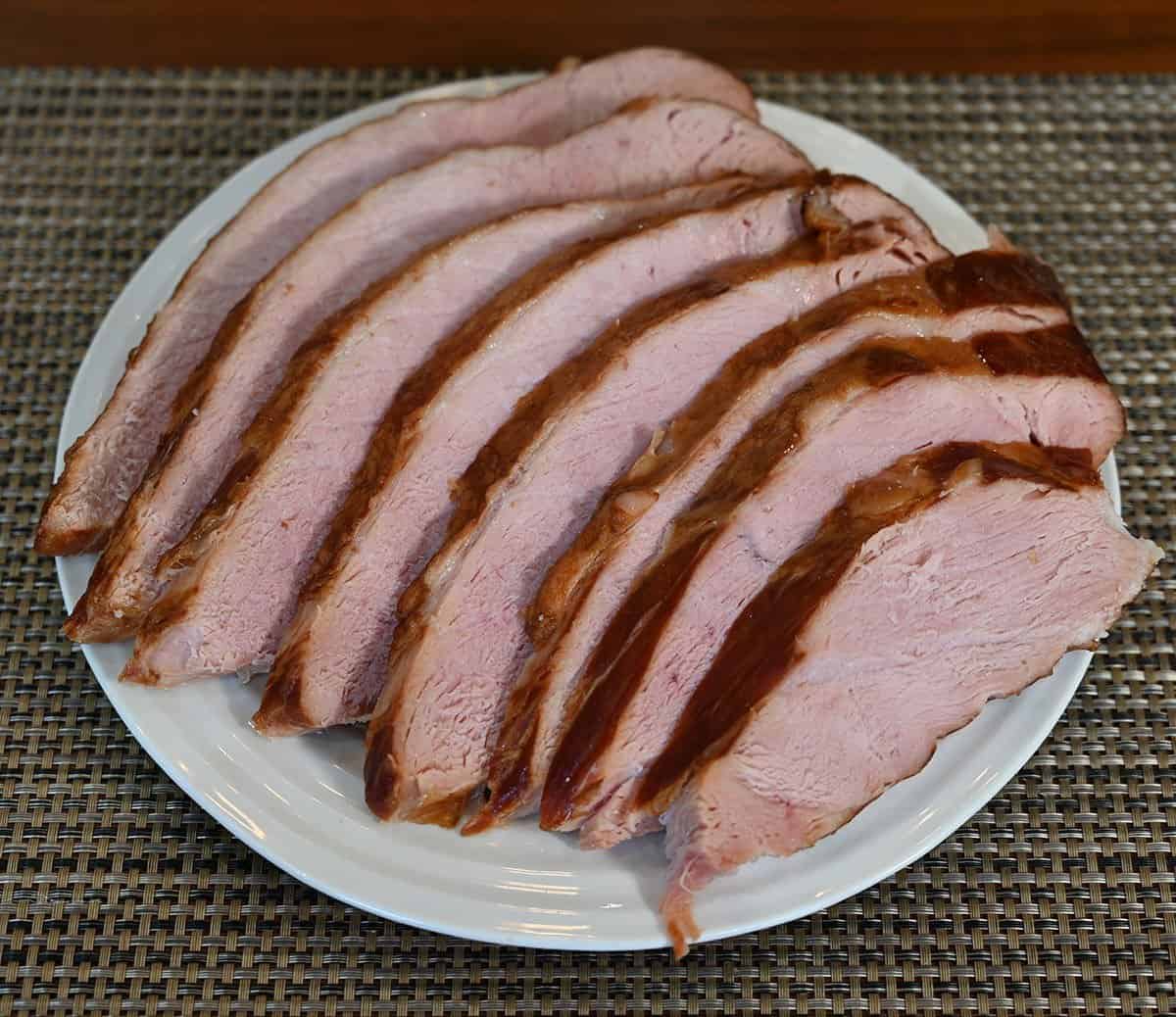 I'd have to do side-by-side taste test, but I think I like this ham better than the classic Kirkland Signature Spiral Sliced Ham. It's more flavorful and possibly less fatty than that ham, which I find delicious and not too fatty in the first place! I said this about that ham too, but I'm not normally a fan of ham and I think the Kirkland Signature Master Carve Ham is wonderful!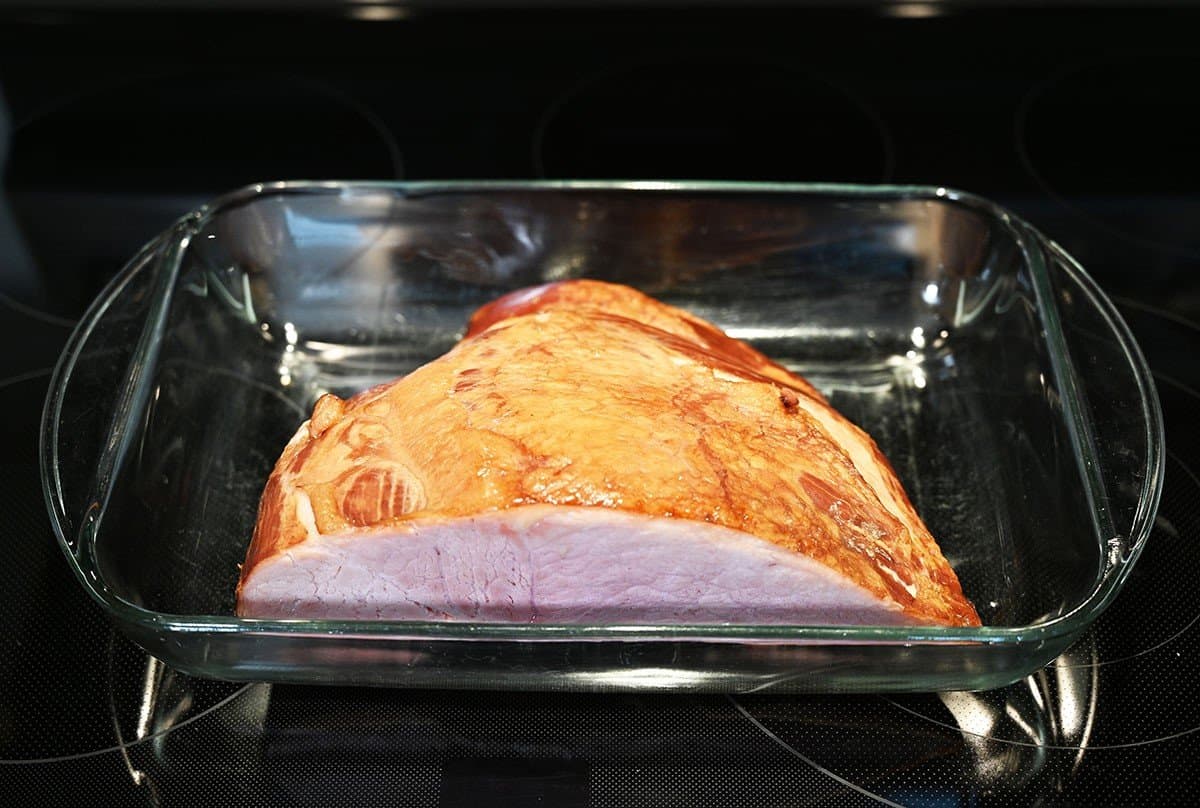 Cost
The cost is dependent on the weight of the ham you're buying, the ham I purchased is $16.60 Canadian.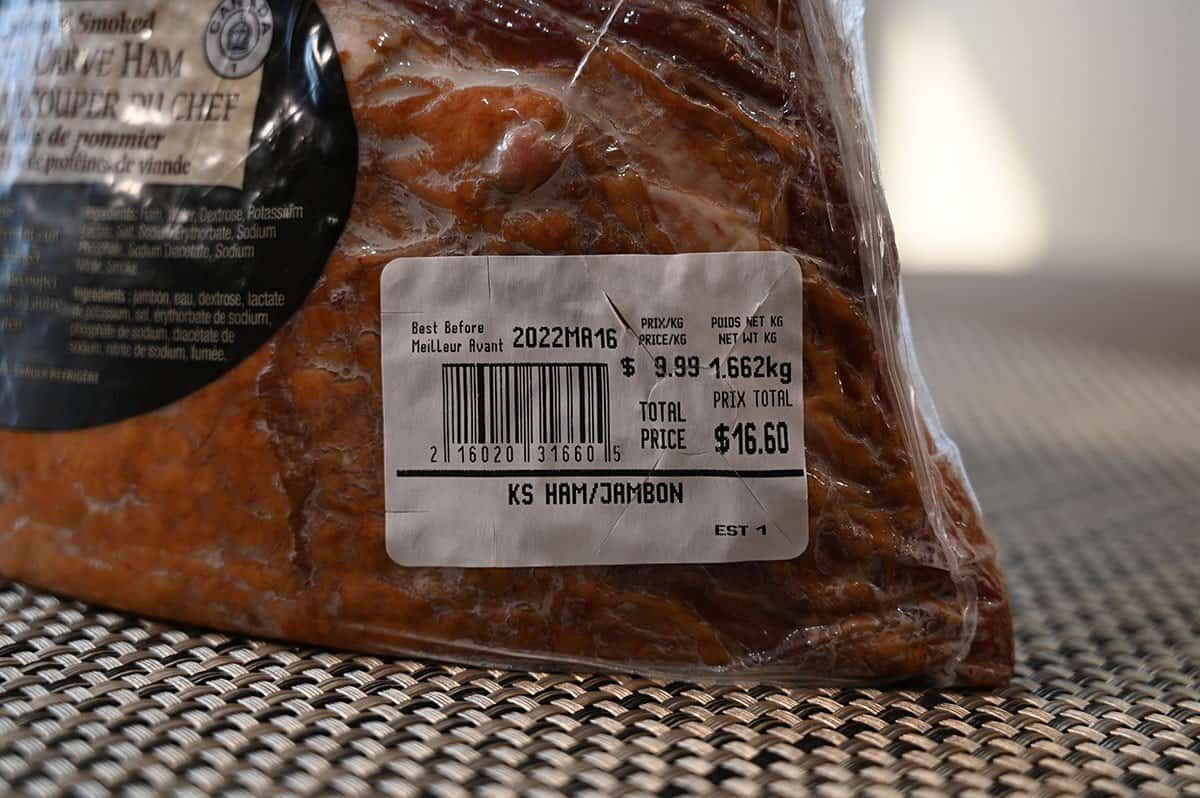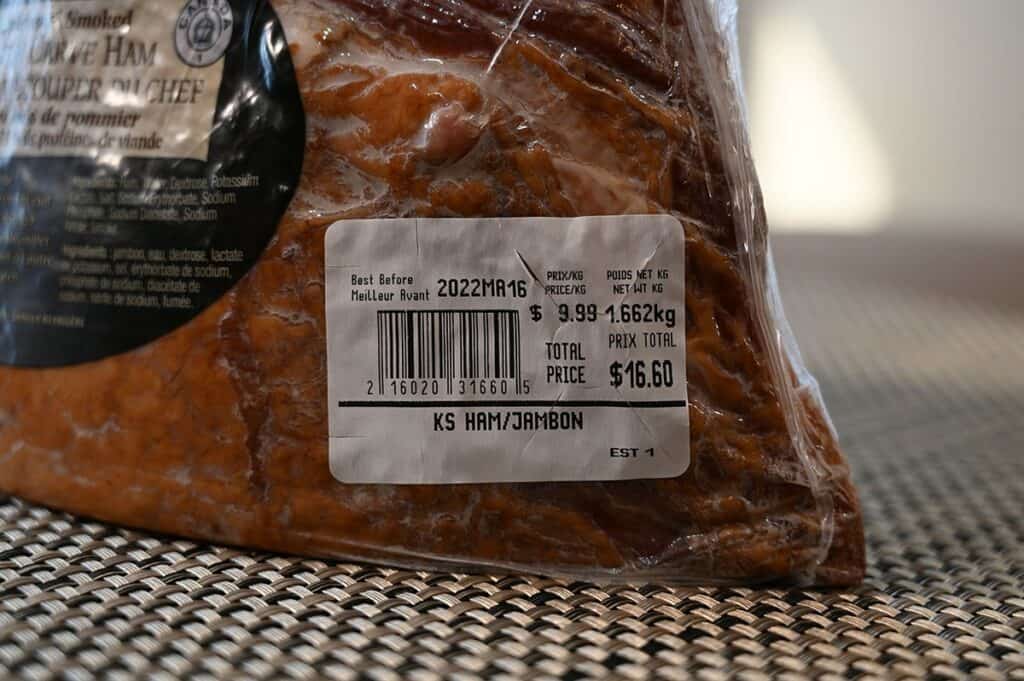 Convenience
This is extremely easy to bake! I used a glass baking dish and cooked the ham covered with aluminum foil for about an hour at 350 degrees Fahrenheit. I used my thermometer to check the internal temperature to ensure my ham was done!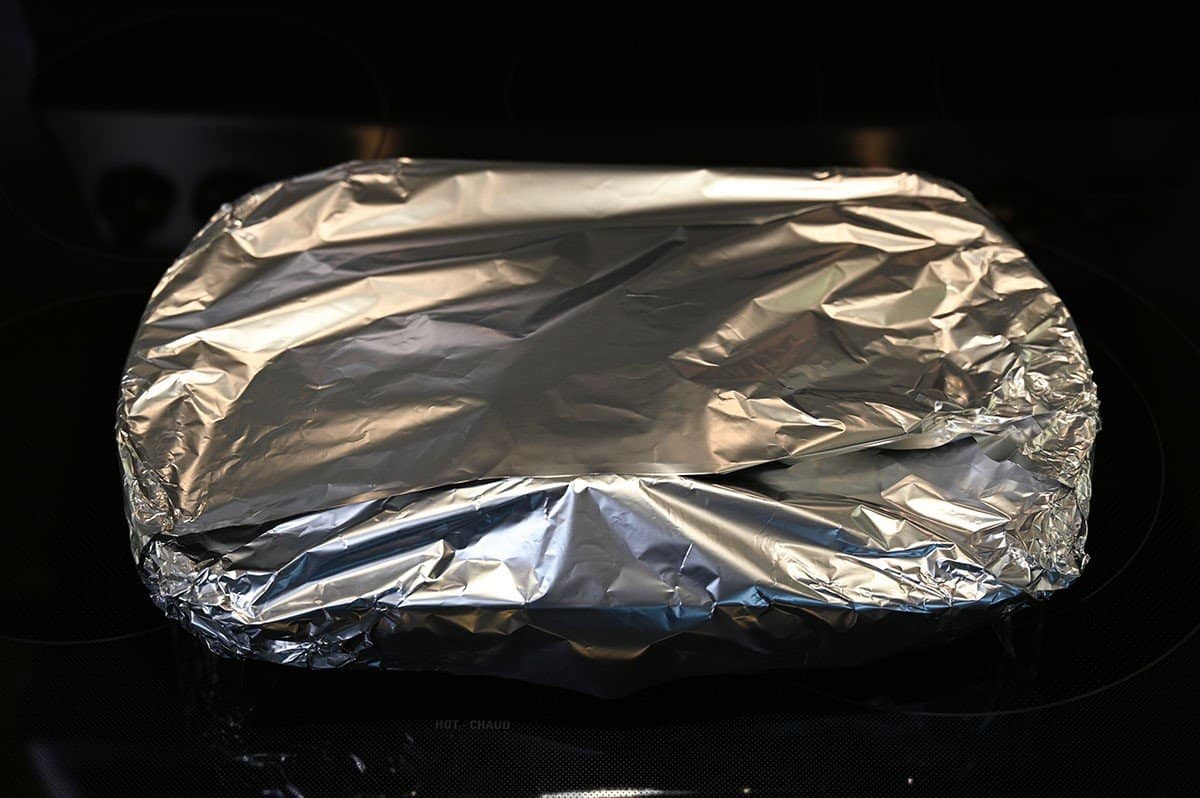 The ham comes fully cooked and is boneless as well is easy to slice! After baking the ham in the oven I was shocked at how little fat/grease was in the bottom of the baking dish.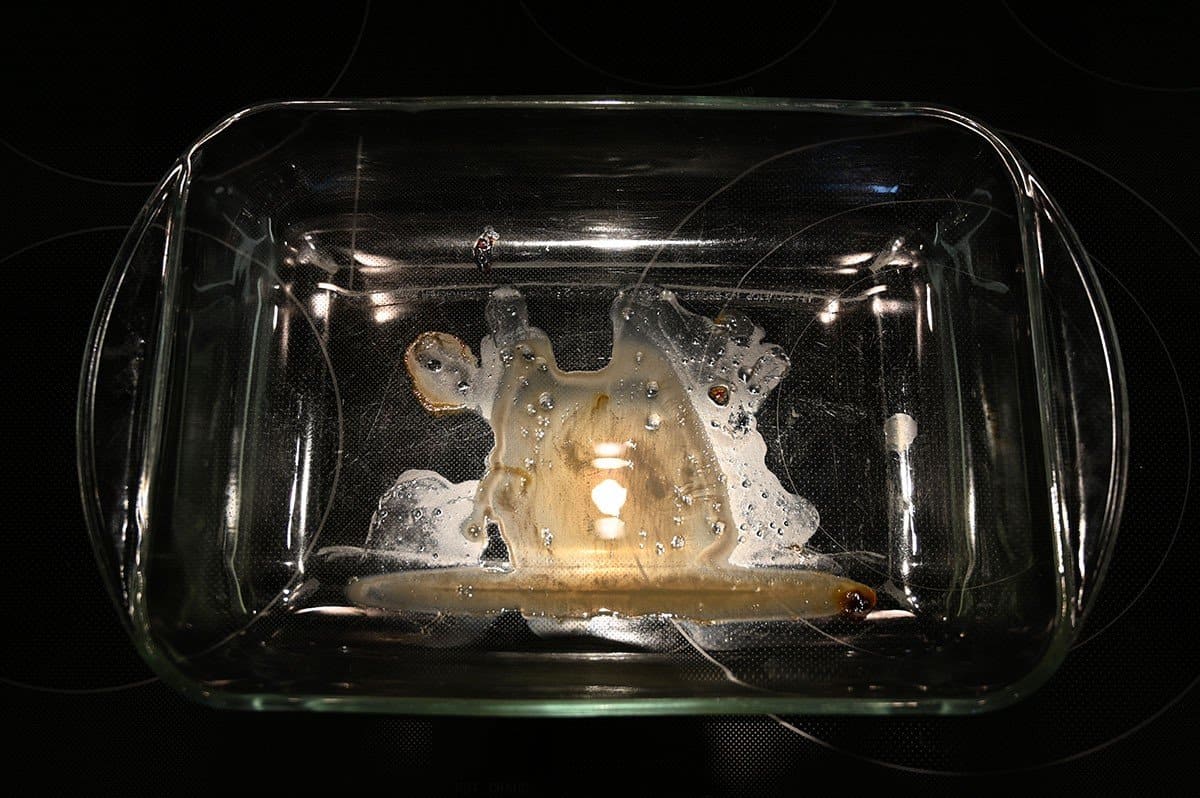 The Costco Kirkland Signature Applewood Smoked Master Carve ham is smaller than the spiral sliced ham but you still get a ton of ham! Enough for four adults to have dinner and lots of leftovers to make things like frittata, split pea soup, ham ala king. The ham pairs well with scalloped or mashed potatoes, a side of vegetables and a salad!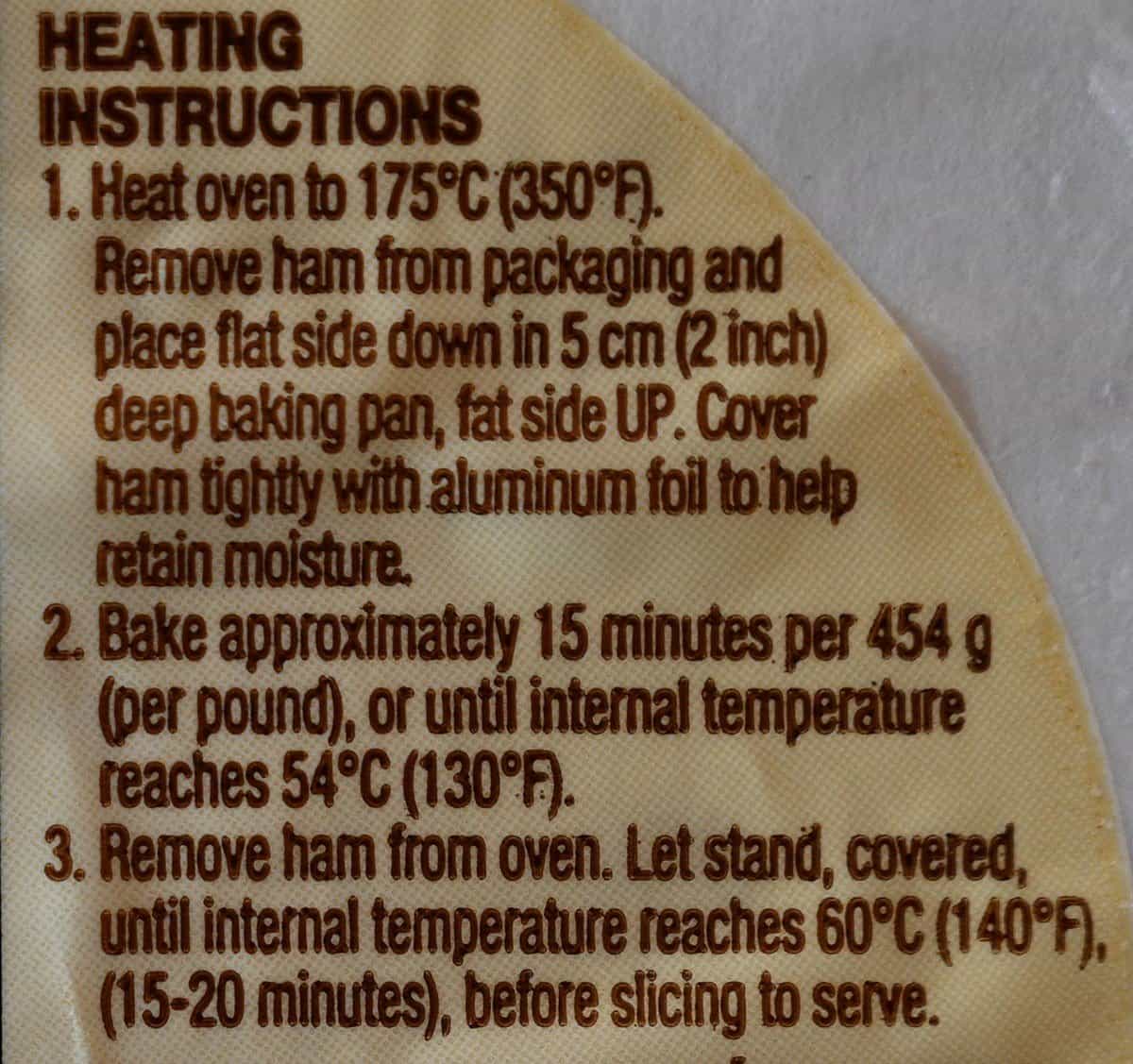 Once the ham is cooked, it needs to be used within three to five days including leftovers you may have. If you're not going to be able to finish it before five days I recommend freezing it.
The best before date on the ham is about two months from the date we purchased the ham and of course it needs to be kept refrigerated. If you're not going to use it by the best before date I would suggest freezing it.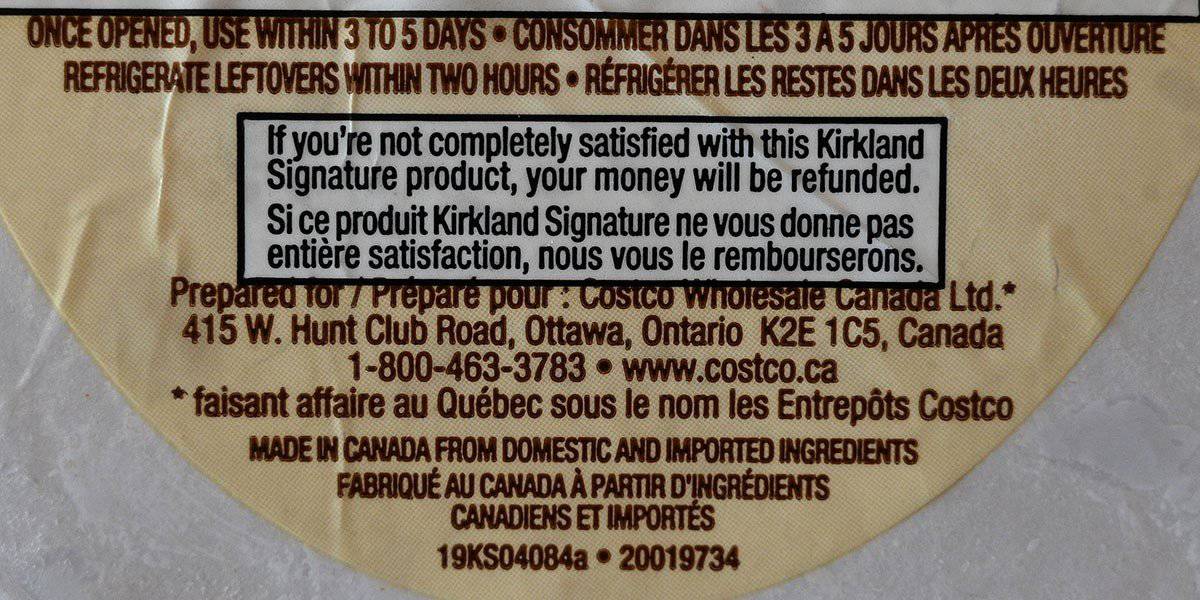 Nutrition
Calories
A 100 gram serving of ham is 150 calories, six grams of fat, 680 mg of sodium, three grams of carbohydrates, zero grams of fibre, three grams of sugar and 21 grams of protein. That's quite a bit of sodium is a small serving size so if you're watching your sodium intake you might want to eat just a small amount of ham!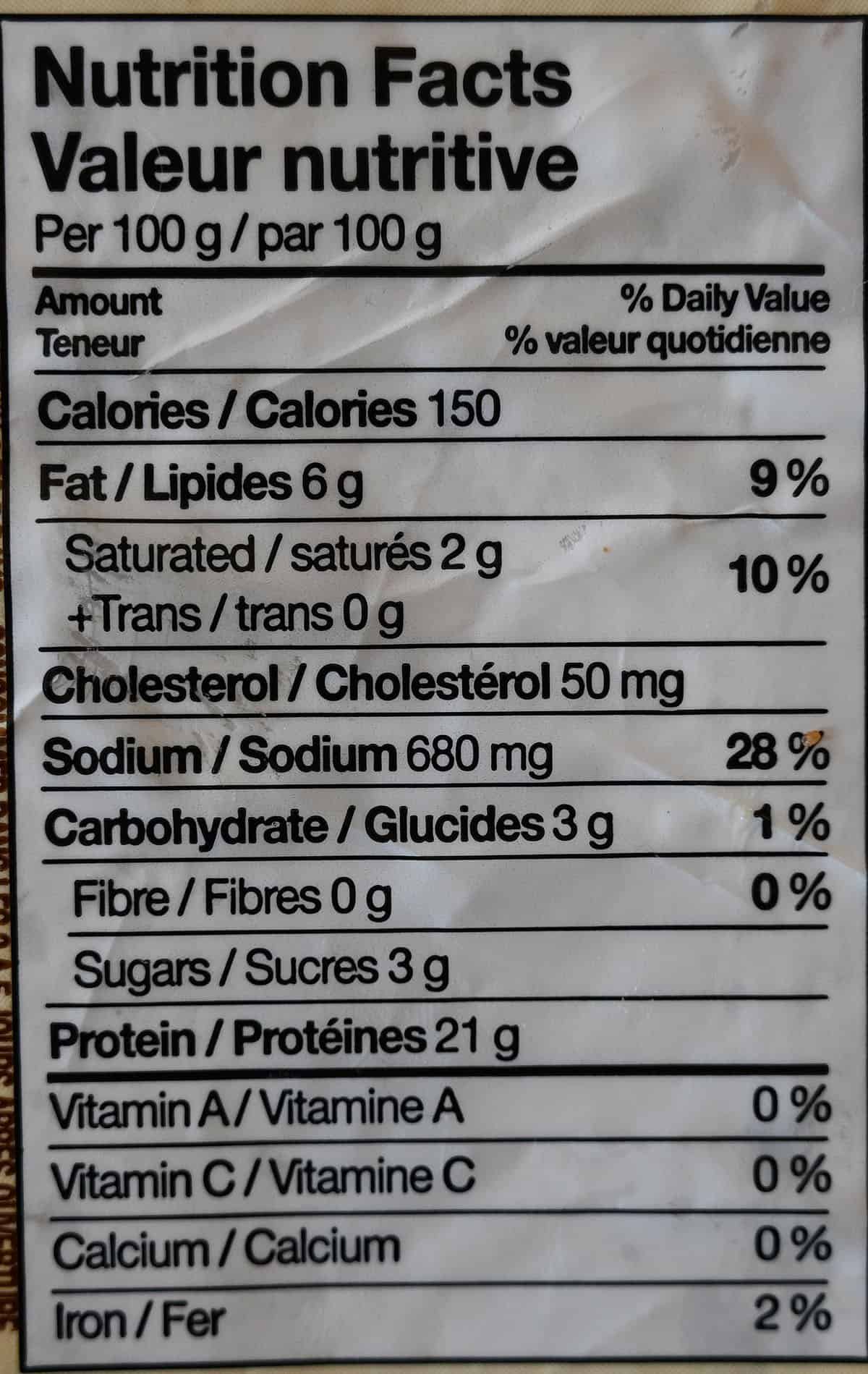 Ingredients
The ingredients are ham, simple sugar and preservatives used in cooked or cured meat. Ham itself is not the healthiest meat you can eat but it does have quite a bit of protein! This ham is also gluten-free which is great for any celiac Costco shoppers.

Scoring
Taste: 9.5/10
Cost: 9/10
Convenience: 9/10 (so easy to bake)
Nutrition: 4.5/10
Overall
Must buy!
I'd definitely buy it again, though it's much smaller than the Kirkland Signature Spiral Sliced Ham, so that's probably still the best bet for a larger gathering (more than about six people).
Have you tried this ham from Costco? What did you think of it?
---
Please note that this review was not paid for or sponsored by any third party. This product was purchased by Costcuisine for the purpose of producing this review. The opinions in this review are strictly those of Costcuisine. Costcuisine is not affiliated with Costco or any of its suppliers. In the event that Costcuisine receives compensation for a post from the manufacturer of a product or some other third party, the arrangement will be clearly disclosed (including where the manufacturer of a product provides Costcuisine with a free sample of the product).