The name "pound cake" originates from a recipe that called for a pound of each of its four main ingredients: butter, sugar, eggs, and flour. Costco is offering its own rendition of this timeless treat in the form of the Kirkland Signature Sour Cream Butter Pound Cake, incorporating sour cream into the mix. Sour cream tends to work well in cakes because it enhances the moisture level without diluting the batter, resulting in a moist yet dense texture. Has Costco done enough with these simple ingredients to make this Pound Cake worth buying, or it is too plain and boring?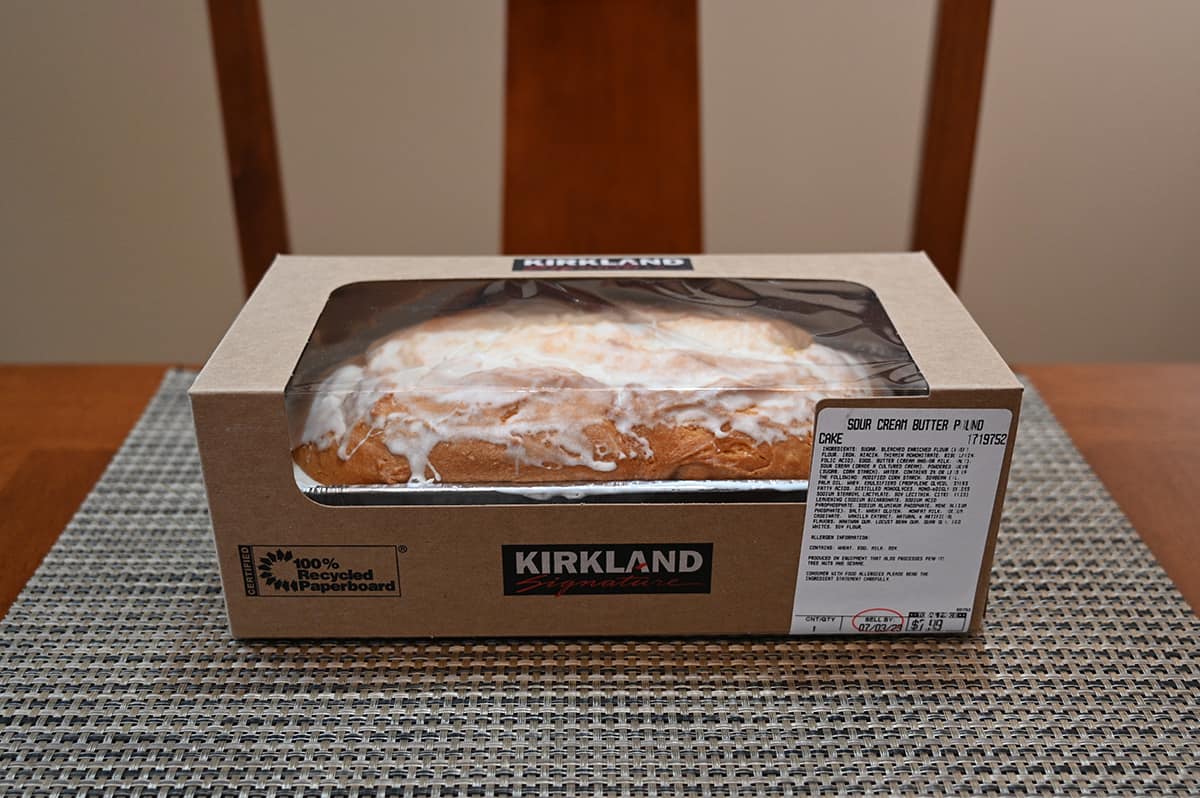 Other cakes from the Costco bakery are the Kirkland Signature Raspberry Cheesecake, Kirkland Signature Tuxedo Cake, Kirkland Signature Tiramisu Cake, Kirkland Signature Carrot Cheesecake, Kirkland Signature Pistachio Cake, Kirkland Signature Raspberry Lemonade Cake and the Kirkland Signature Lemon Poppy Seed Loaf.
Location in Store
This is located in the non-refrigerated bakery section at Costco. The item number is 1719752 and I bought it in Kalispell, Montana.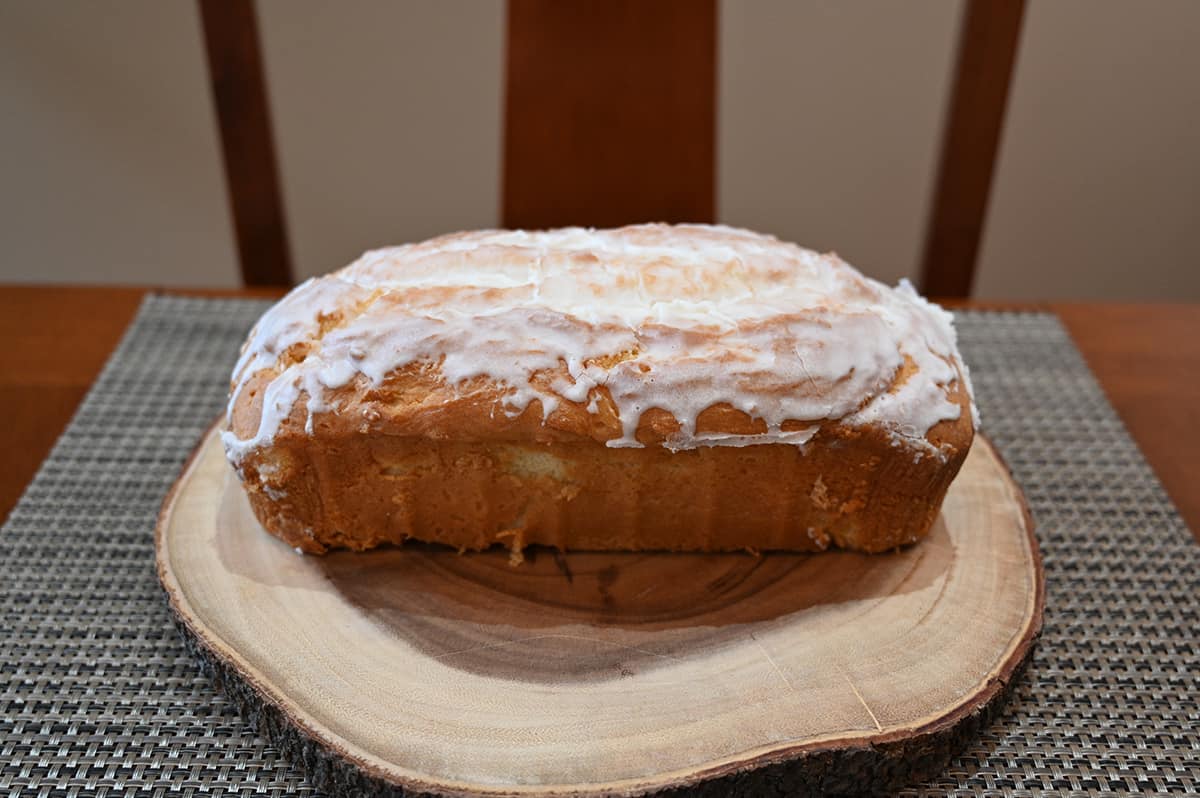 Taste
The cake itself is quite plain and a medium density; somewhat moist and somewhat light. It's spongy with a fine crumb and almost melts in your mouth. I don't know if you can call a cake smooth, but that's what crossed my mind as I was eating the cake. It doesn't have much texture.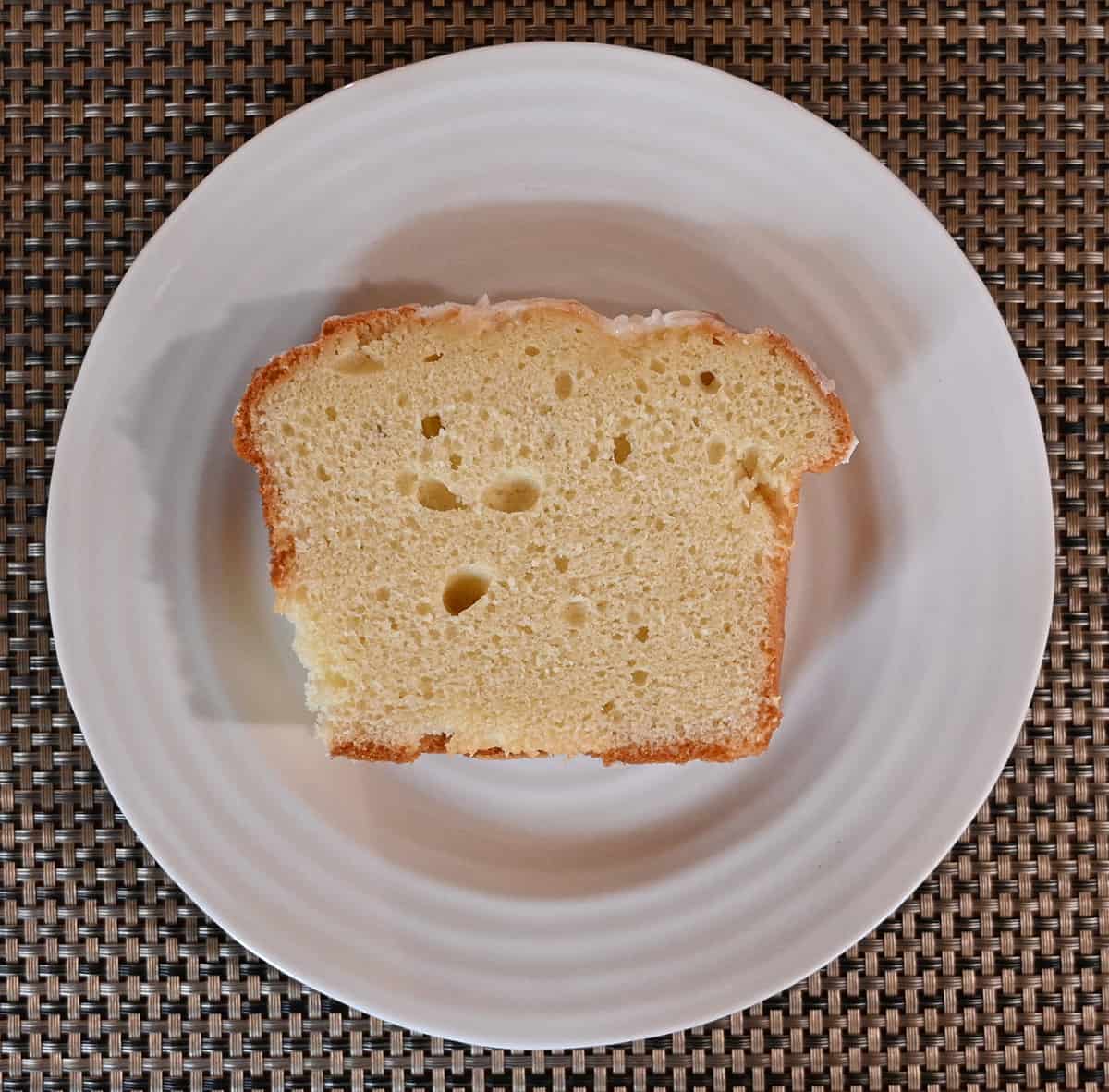 The icing on top mostly adds sweetness – it's pretty sweet! The entire cake is fairly moist despite the layer of icing being quite thin. The sour cream flavor isn't particularly noticeable, but it's there if you pay attention and look for it. You'll notice a slight hint of tang from the sour cream.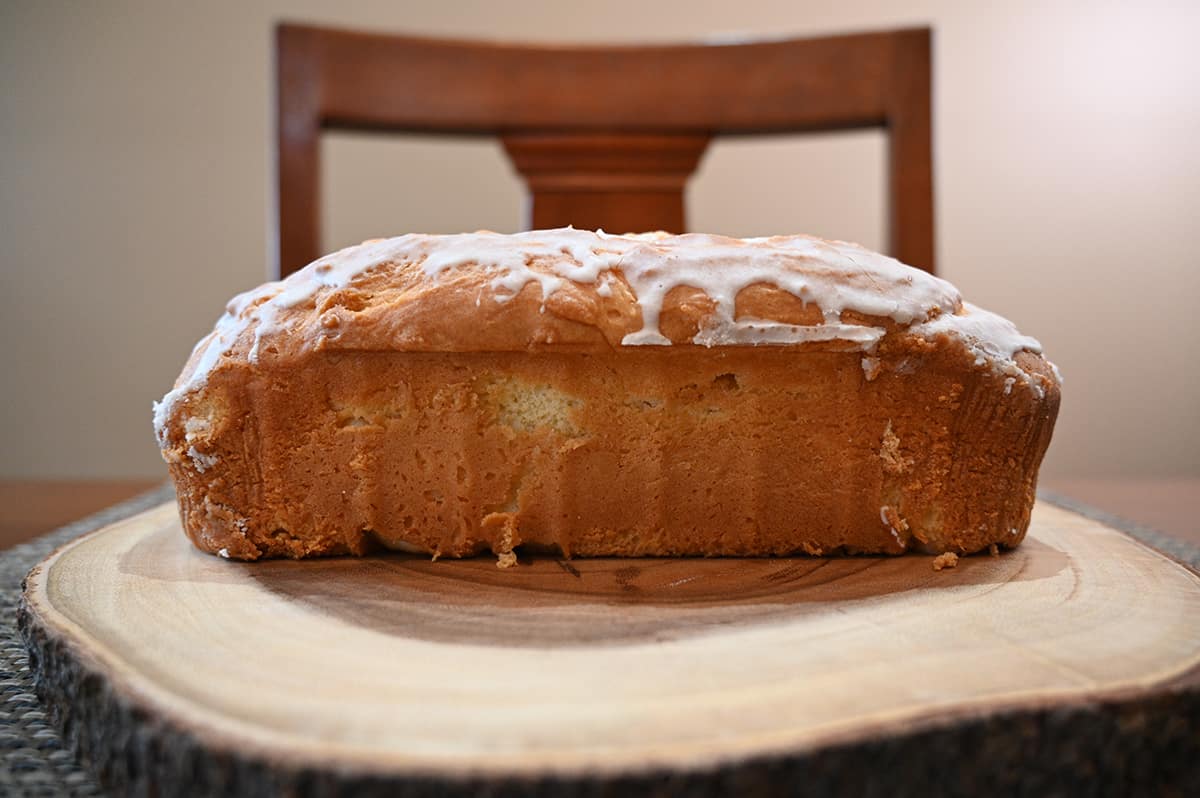 I'm not really sure what else to say about this Pound Cake or how to rate it. It's good, but very plain. I think it might be better if it were served with a berry compote or something to add a bit of flavor.
Cost
The cake costs $7.99 USD which isn't bad for such a heavy, huge cake. It's also pretty plain and not very fancy so I don't think I'd pay more than $7.99.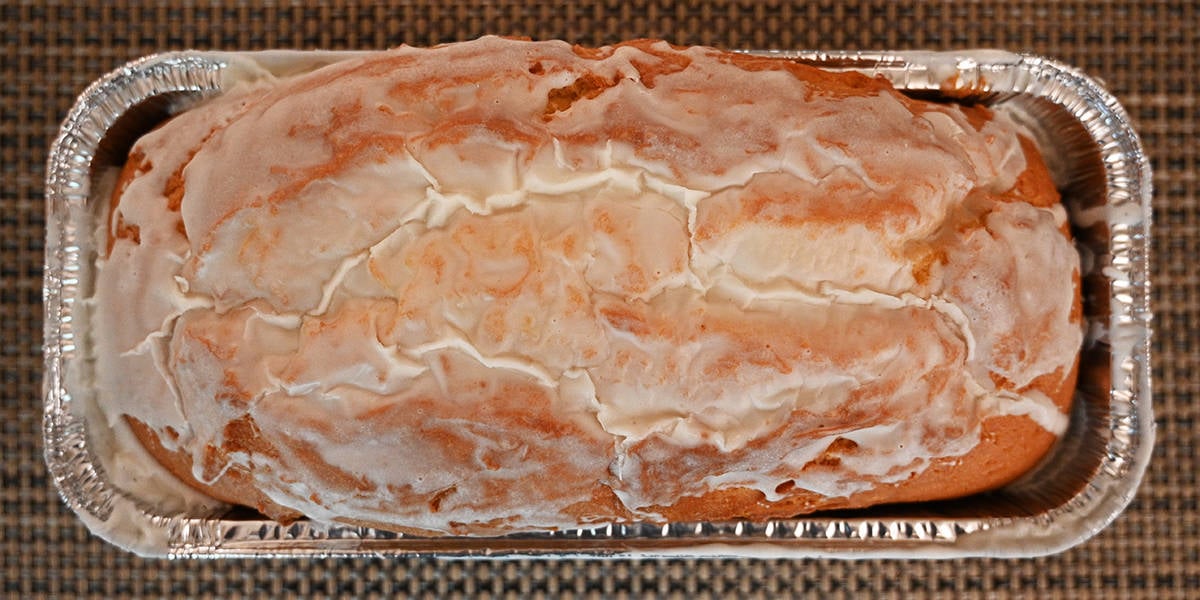 Convenience
The cake has a best-before date that's four days from the day it was purchased on. The cake doesn't need to be kept refrigerated despite containing sour cream but if you're not going to be eating it right away I'd probably slice it up and freeze it to maintain freshness.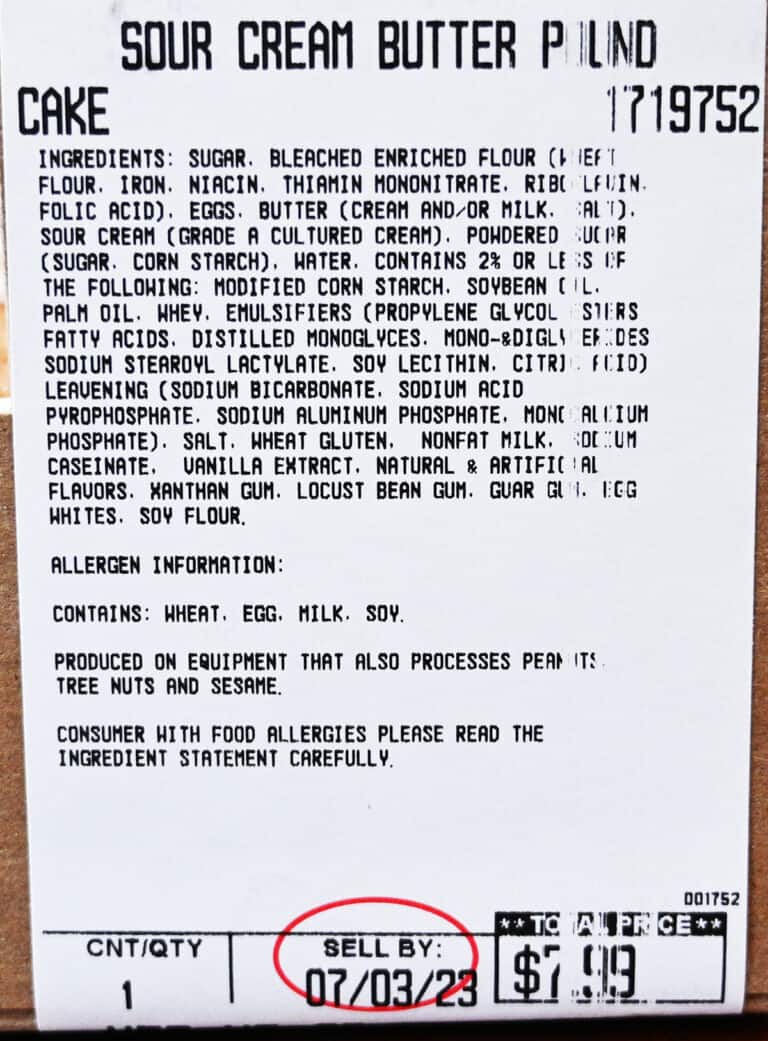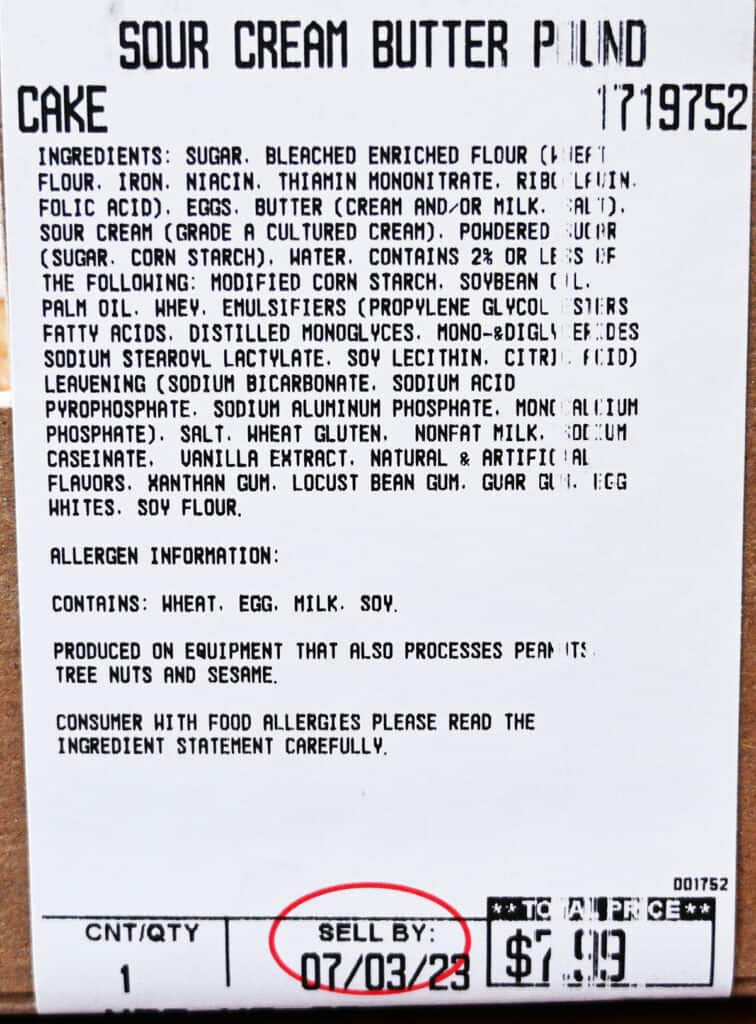 I think this cake is pretty boring on its own and it tastes like its lacking something so I'd recommend having it with a berry compote, strawberries and whipped cream, ice cream or grilled peaches.
Nutrition
Calories
There are 16 servings in the cake and one 120-gram serving contains 370 calories, 17 grams of fat, 210 milligrams of sodium, 51 grams of carbohydrates, one gram of fiber, 44 grams of sugar and six grams of protein. That's a lot of sugar and carbs, which isn't surprising.
Ingredients
Sugar is the first ingredient followed by flour, eggs, butter and sour cream which is what pound cake should have! If you make your own pound cake at home you probably wouldn't be adding a bunch of ingredients I don't love seeing like soybean oil, palm oil, artificial flavors and soy flour.
This is why baking at home is something I always prefer over store-bought baked goods. I like simple, whole ingredients and I don't think it's necessary to have all these other ones added.
The cake contains wheat, egg, milk and soy and may contain peanuts, tree nuts and sesame.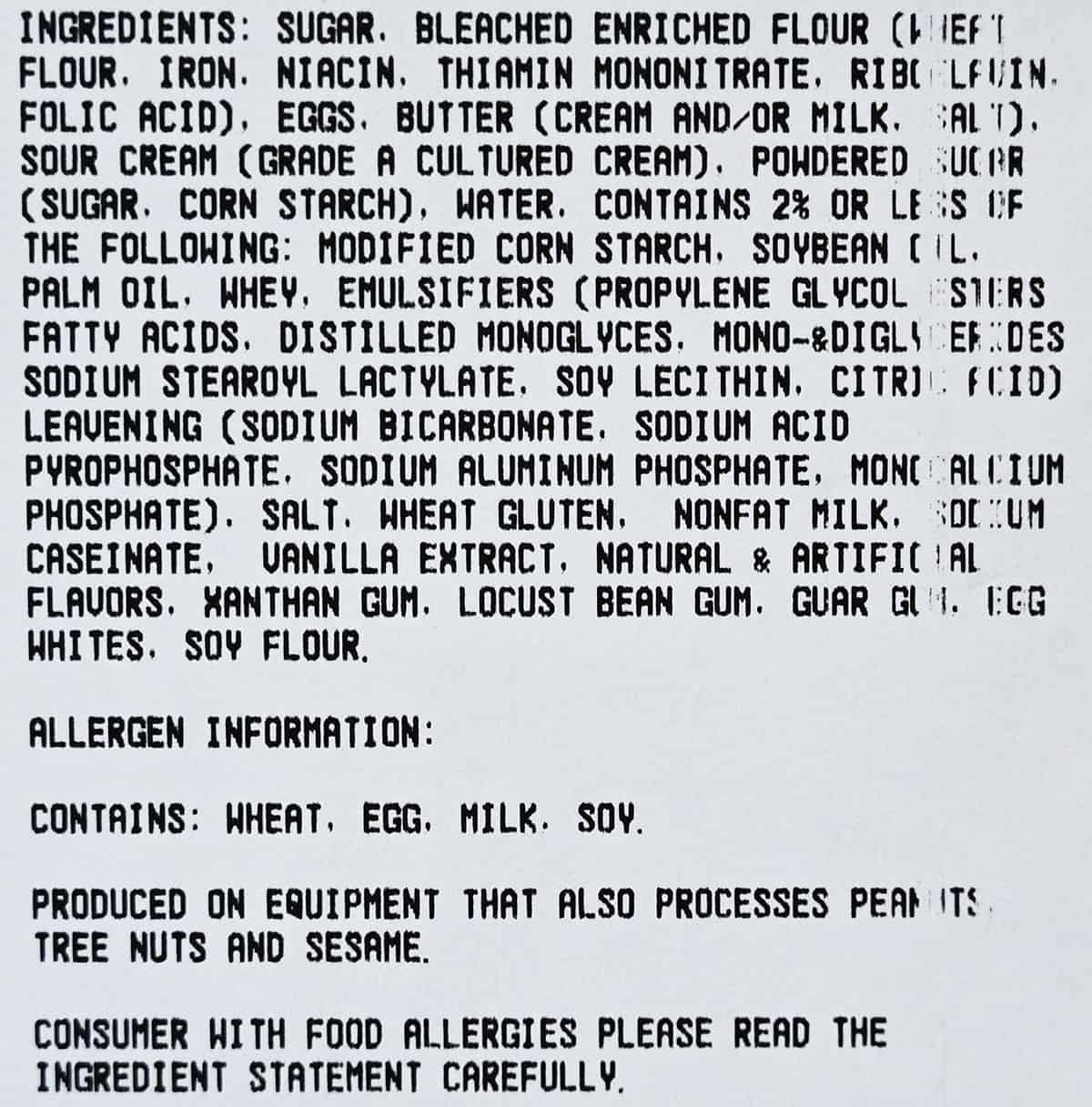 Scoring
Taste: 7/10 (It's good! Just a bit boring.)
Cost: 8/10
Convenience: 10/10
Nutrition: 0/10
Overall
Give it a try!
I personally wouldn't buy this again because I find it a bit lackluster but it's not bad or anything like that! The cake is moist and sweet and tasty, just a bit plain.
Have you tried this pound cake from Costco? What did you think of it?
---
Please note that this review was not paid for or sponsored by any third party. This product was purchased by Costcuisine for the purpose of producing this review. The opinions in this review are strictly those of Costcuisine. Costcuisine is not affiliated with Costco or any of its suppliers. In the event that Costcuisine receives compensation for a post from the manufacturer of a product or some other third party, the arrangement will be clearly disclosed (including where the manufacturer of a product provides Costcuisine with a free sample of the product).