One of the things that makes the Kirkland Signature brand so great is that you often get products that are produced by brands that are normally much more expensive at a great price. When I saw this Kirkland Signature Super Premium Vanilla Ice Cream, I immediately started wondering which ice cream brand makes it. With the words "Super Premium" in the title, I figured it must be a fancy one. As a self-proclaimed ice cream connoisseur, I was excited to figure out which manufacturer Costco uses for its ice cream and judge for myself whether it really is "Super Premium"!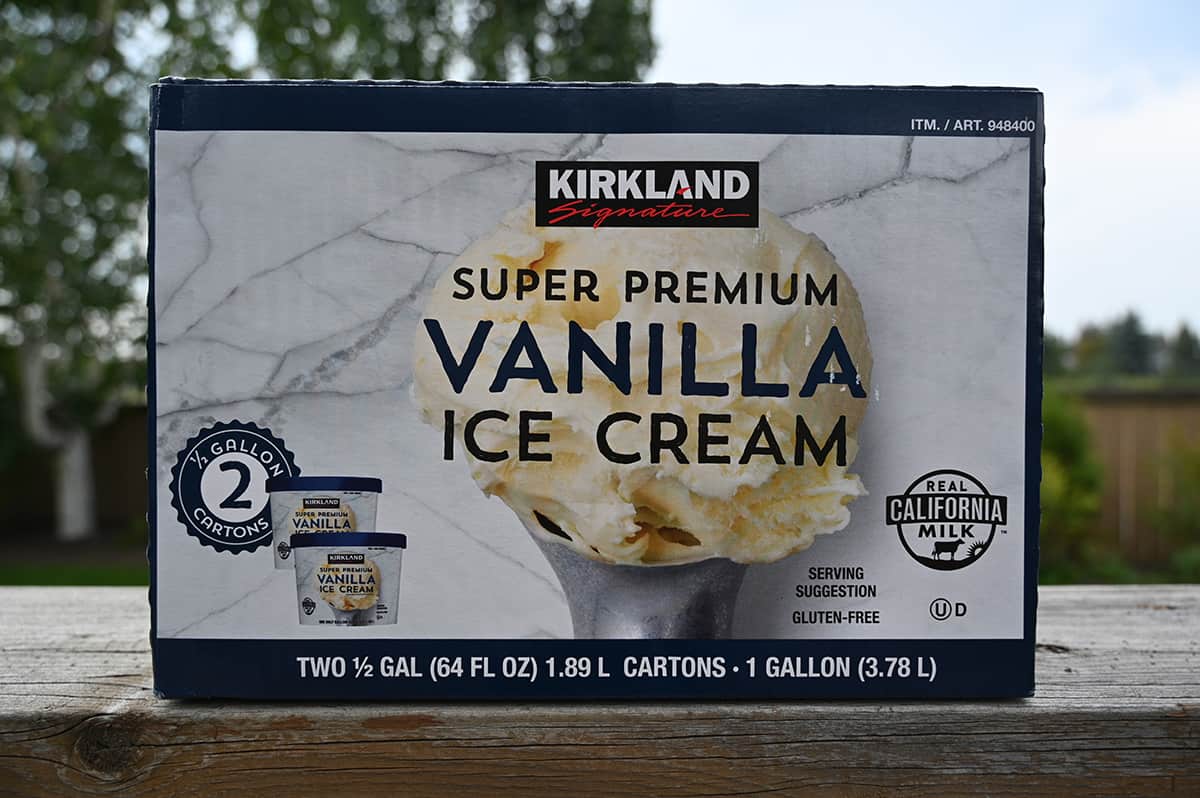 Other frozen treats from Costco are the Tru Fru Frozen Chocolate Covered Strawberries, Melona Bars, So Delicious Dairy-Free Dipped Salted Caramel Bars, Yasso Greek Yogurt Bars, Helados Mexico Ice Cream Bars, PhillySwirl Organic Swirl Stix, Shaomei Brown Sugar Boba Bars and the Kirkland Signature Vanilla Almond Ice Cream Bars.
Location in Store
The ice cream is located in the freezer section, near all the other frozen desserts and treats. The item number is 948400 and I bought this in the Kalispell, Montana Costco.
Taste
This ice cream is smooth, rich, creamy and sweet. Some cheaper ice creams can be a bit grainy, but that's certainly not the case here. The smoothness and creaminess are what you'd expect from a good ice cream.
The vanilla flavor is good, but I've had better. The best vanilla ice creams I've had have a stronger vanilla flavor and are a bit less sweet. We eat a lot of ice cream in our house, and this Kirkland Signature stuff is very good, not great.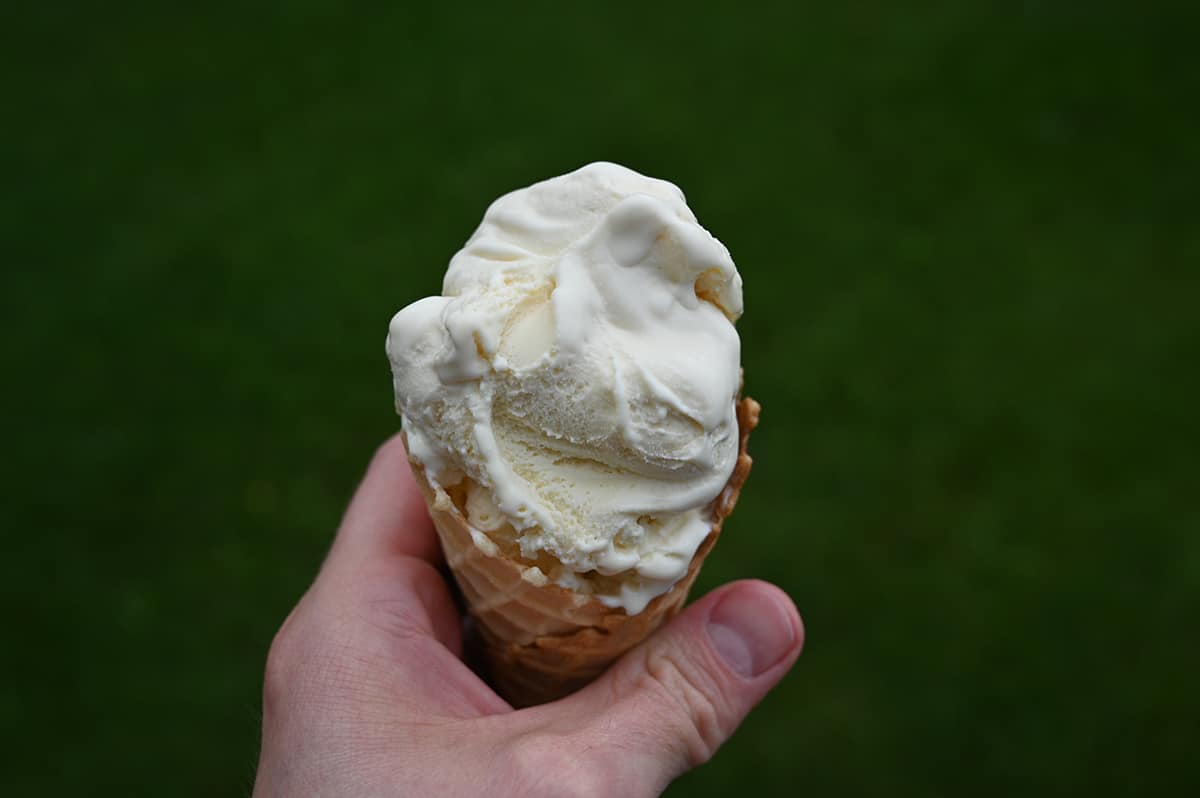 Maybe just premium and not super premium. There's absolutely nothing wrong with it, but it's not quite on the level of Häagen-Dazs or ice cream from a high-end ice cream shop.
With that said, those fancy ice creams don't usually come in big containers like this, so the Kirkland Signature Vanilla Ice Cream is a great choice for big gatherings.
I can't stop thinking about how it would be great if you were doing a sundae bar at a kid's birthday party or something. It's a big step up from the giant pails of cheap ice cream out there!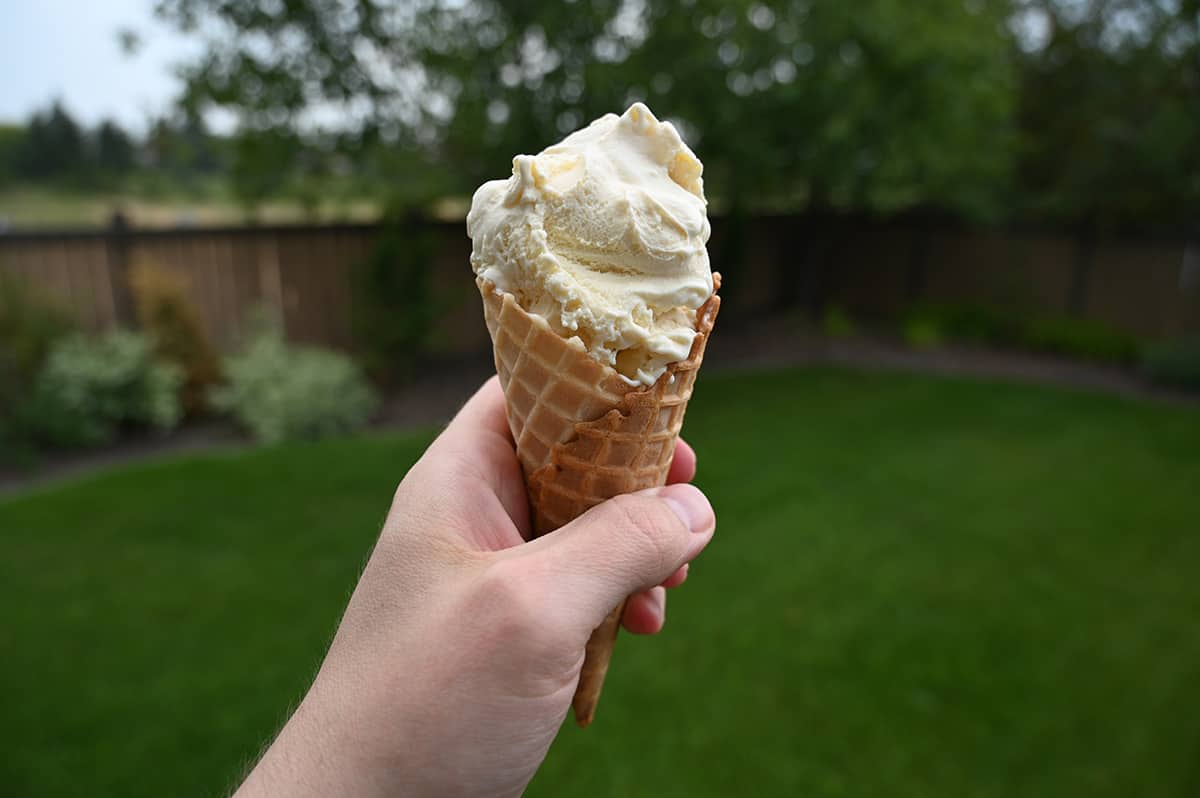 Who makes Costco's ice cream?
I'm a huge Häagen-Dazs fan and I was hoping that maybe this Kirkland Vanilla Ice Cream might be made by Häagen-Dazs. Although I did see some websites suggesting this might be the case, my taste buds told me otherwise.
This isn't Häagen-Dazs vanilla ice cream. Based on my research, it looks like the manufacturer is Humboldt Creamery. I haven't had Humboldt Creamery ice cream before, so I can't say for sure, but it appears they sell their own version of the Kirkland vanilla ice cream in a package that has some similarities (such as the "real California milk" label).
Cost
The box comes with two separate 1.89-liter cartons of ice cream and costs $14.99 USD. This isn't bad for two large containers of pretty delicious ice cream!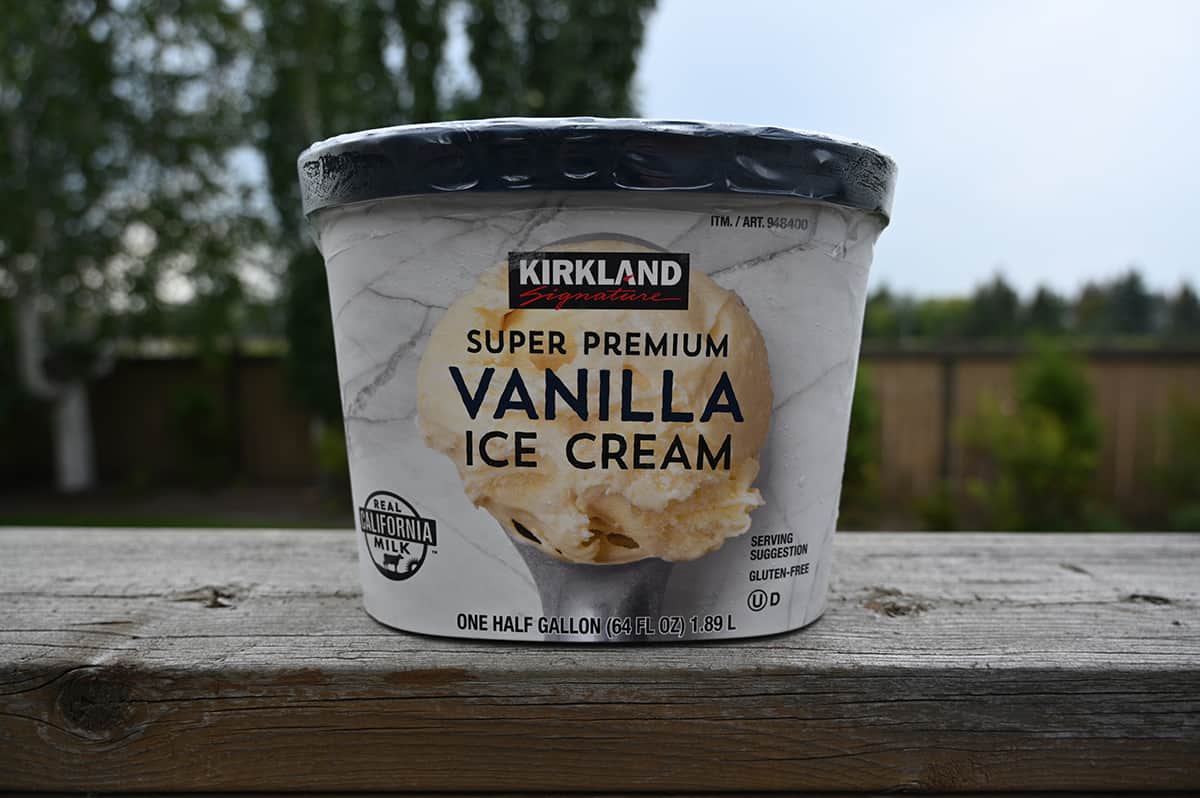 We buy containers of Häagen-Dazs (which is a bit better in my opinion) for $6.99 Canadian and they have less than 500 milliliters per container.
Convenience
At first glance, I thought this was just a big carton of ice cream, I didn't realize it had two separate sealed tubs of ice cream in the box. Costco does everything big so you're getting a gallon of ice cream in total in the box.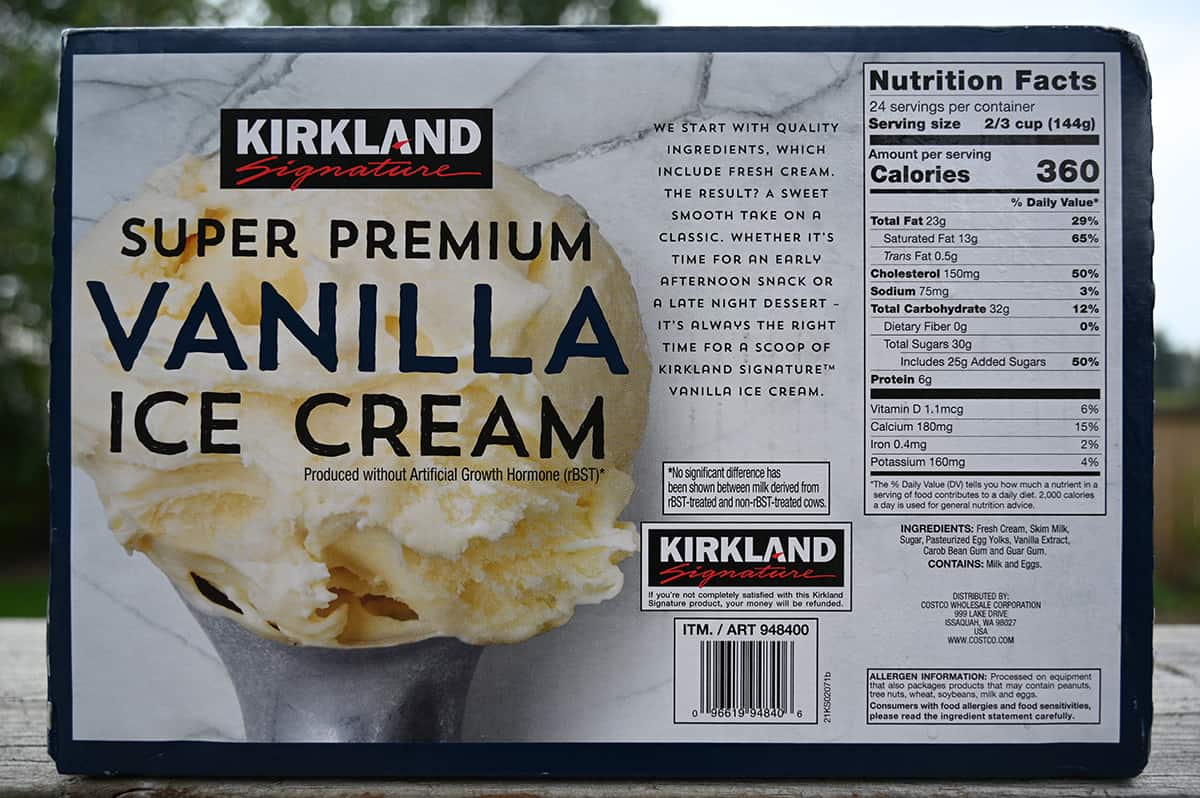 Obviously, the ice cream needs to be kept frozen and the best-before date is just less than 10 months from when I purchased it. This works well for ice cream cones, sundaes, homemade banana splits and milkshakes! It'd be great with pie or cake too. I personally love vanilla ice cream with fresh raspberries or strawberries.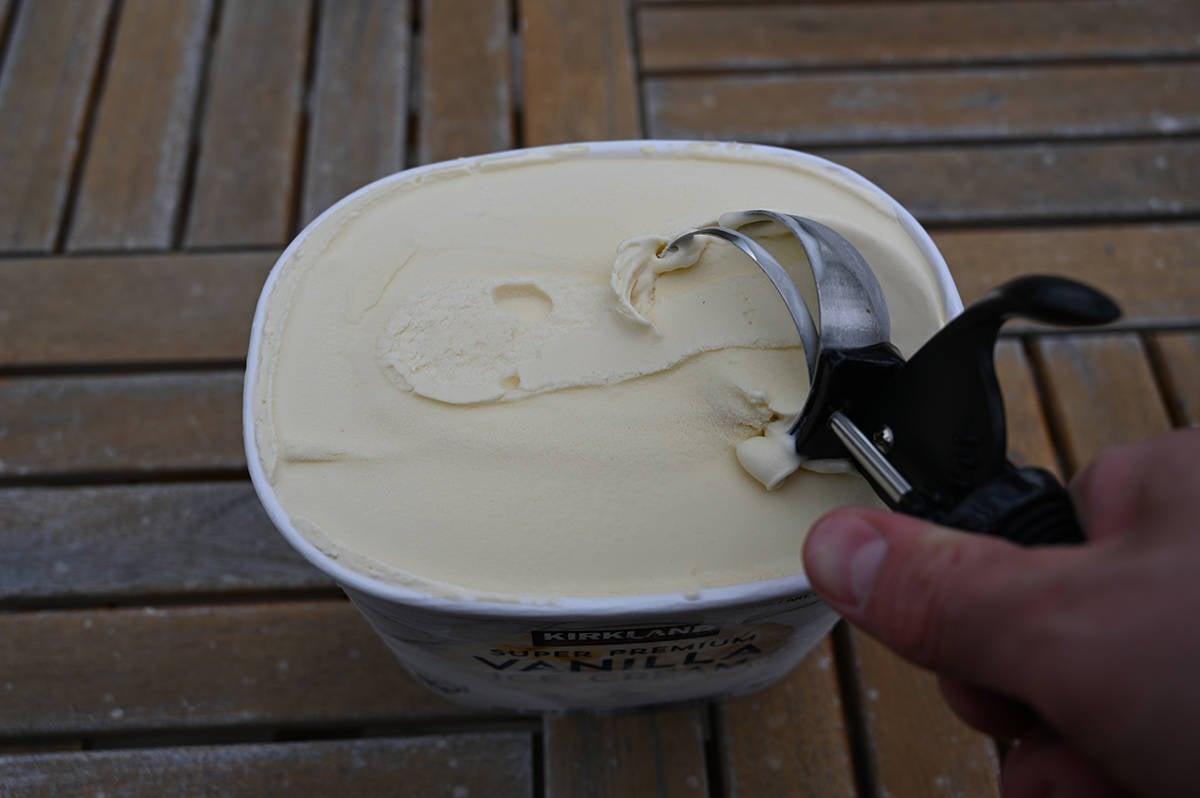 Nutrition
Calories
In a 2/3 cup serving there is 360 calories, 23 grams of fat, 75 milligrams of sodium, 32 grams of carbohydrates, zero grams of fiber, 30 grams of sugar and six grams of protein. Ice cream is high in calories, fat and sugar and definitely isn't healthy.
Despite it not being healthy it's our favorite weekend treat and we have a stockpile in our freezer.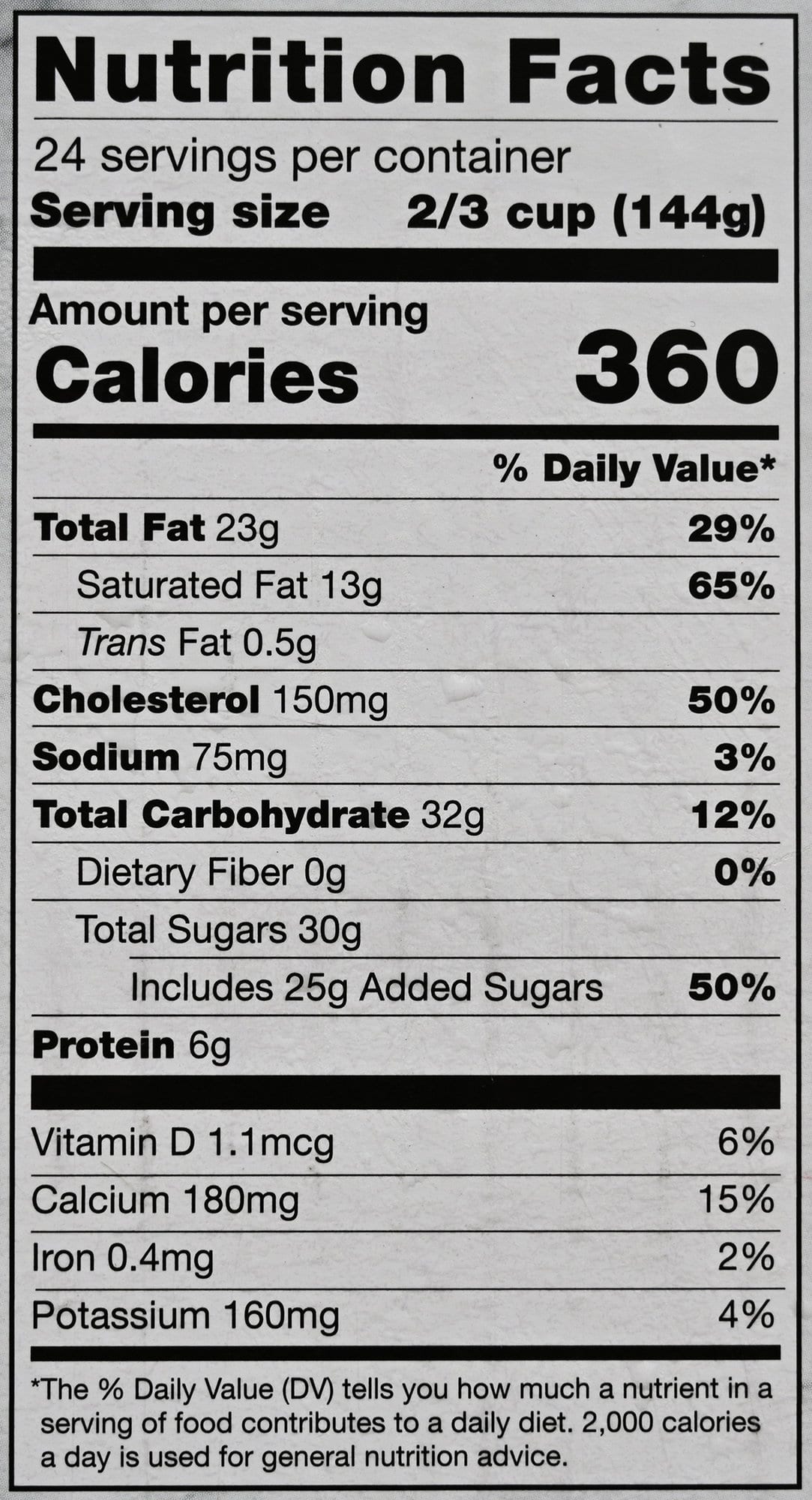 Ingredients
I actually love how short and sweet the ingredients list is. Guar gum acts as a thickener and carob bean acts as a stabilizer in ice cream. Otherwise, the ingredients are well-known to me and exactly what I'd expect to see!
This Kirkland Signature ice cream contains milk and eggs but no gluten!

Scoring
Taste: 8.5/10
Cost: 8/10
Convenience: 10/10
Nutrition: 0/10
Overall
Must buy!
For the cost, this is a very good vanilla ice cream. It's nice and creamy and very sweet! This is perfect for a large gathering or if you eat a lot of vanilla ice cream in your house!
Have you tried this Costco Kirkland Signature Super Premium Vanilla Ice Cream? What did you think of it?
---
Please note that this review was not paid for or sponsored by any third party. This product was purchased by Costcuisine for the purpose of producing this review. The opinions in this review are strictly those of Costcuisine. Costcuisine is not affiliated with Costco or any of its suppliers. In the event that Costcuisine receives compensation for a post from the manufacturer of a product or some other third party, the arrangement will be clearly disclosed (including where the manufacturer of a product provides Costcuisine with a free sample of the product).