You have to like salmon to enjoy this Costco smoked salmon dip!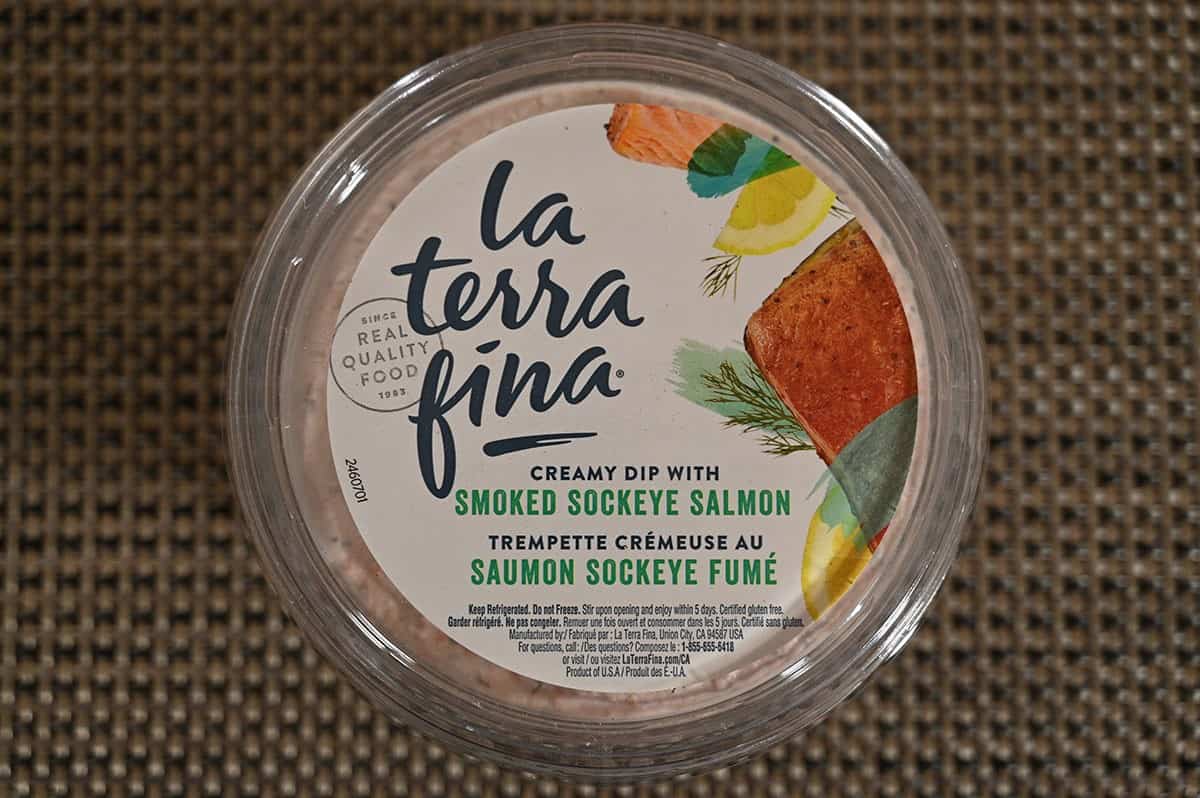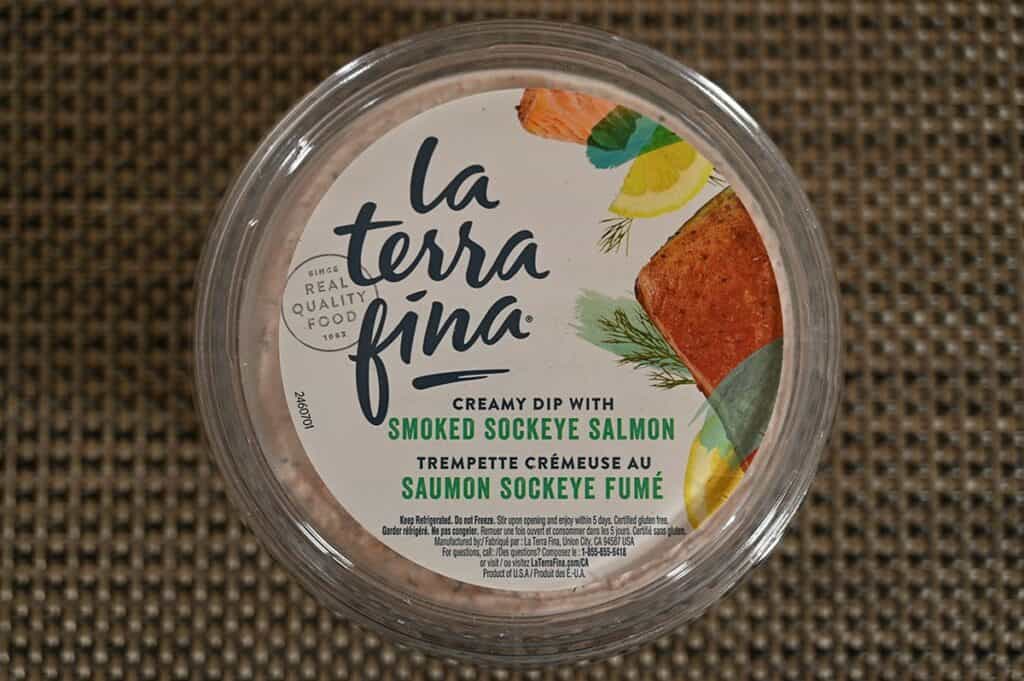 Today I'm reviewing the Costco La Terra Fina Smoked Sockeye Salmon dip. This has been at my Costco for as long as I can remember but my husband doesn't enjoy salmon so I've never picked it up. I thought it would be good to review around the holiday season as I could see people serving this as an appetizer on Christmas!
Some other dips from Costco I enjoy are the Good Foods Plant Based Queso Style Dip, La Terra Fina Queso Dip With Cheddar, Costco Wholly Guacamole Organic Minis and the Fontaine Sante Spinach Dip.
Location in Store
You can find the smoked salmon dip in the refrigerated deli section near all the other dips, the item number is 936919.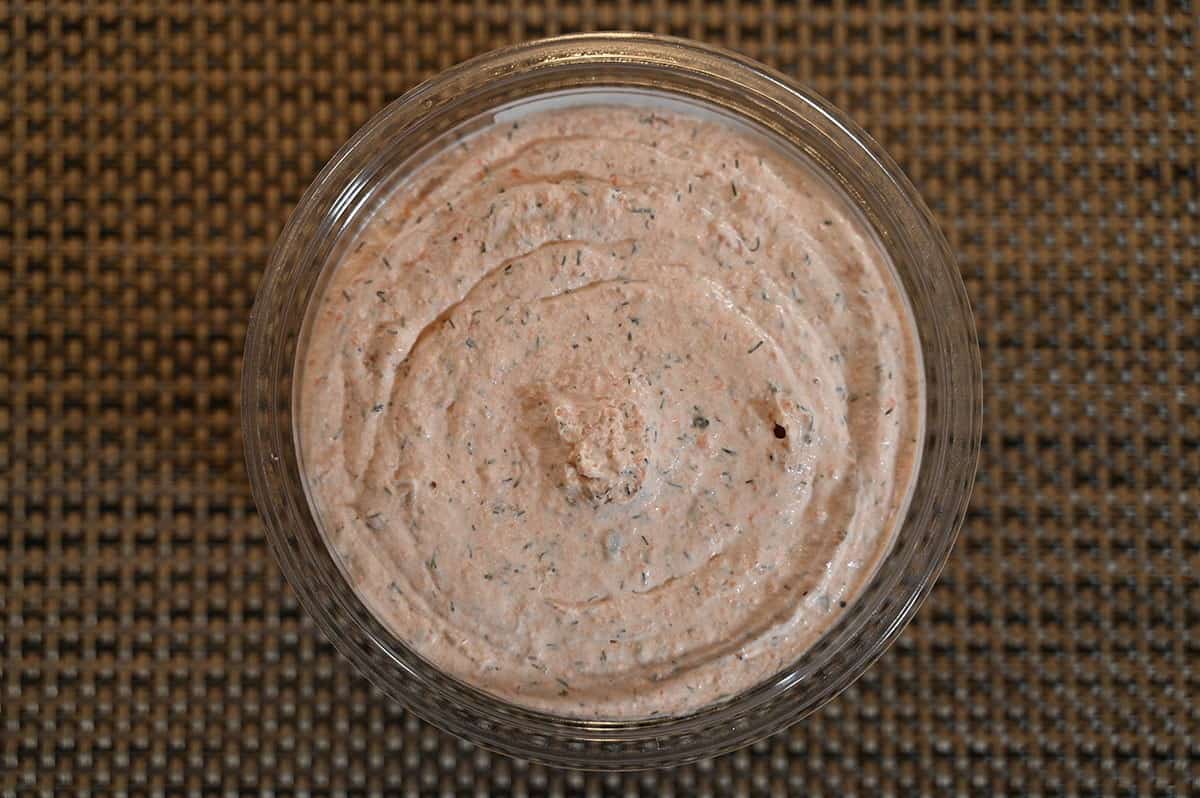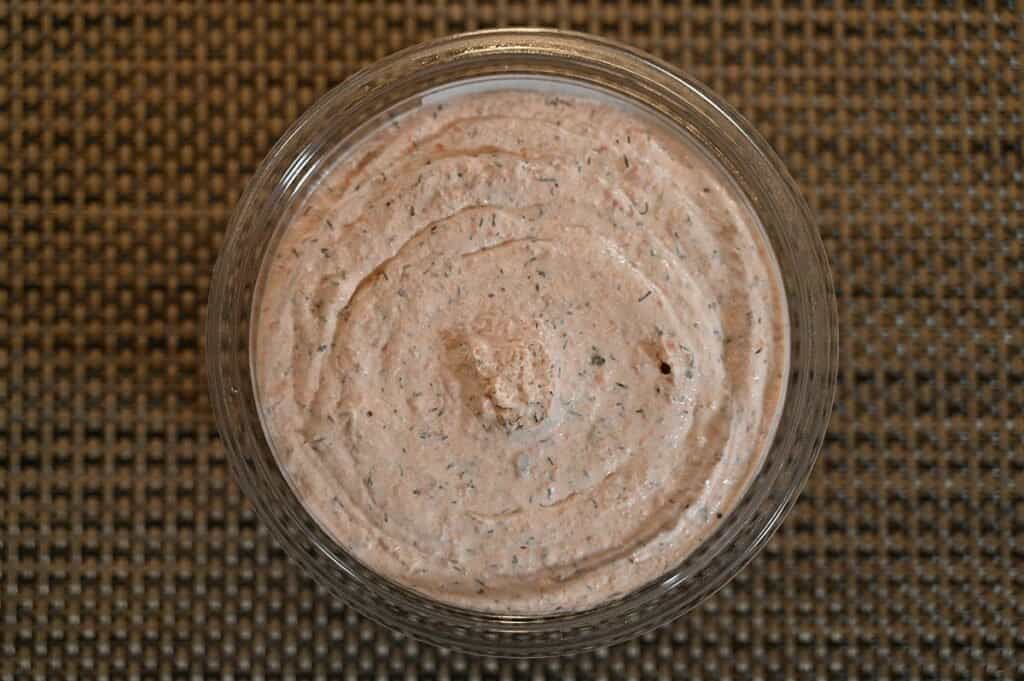 Taste
The first thing I'll say about this dip is you have to like salmon because the salmon flavor is pretty strong. It's not too fishy though, just slightly fishy and not overly smoky. The dip has a cream cheese base that's smooth and creamy.
The overall flavor is very good, a little on the salty side and it has a hint of sweetness coming from the pickle. There's also onion, celery, capers and lemon in the dip. As well as garlic. The garlic flavor isn't too pungent and the celery adds a nice bit of crunch.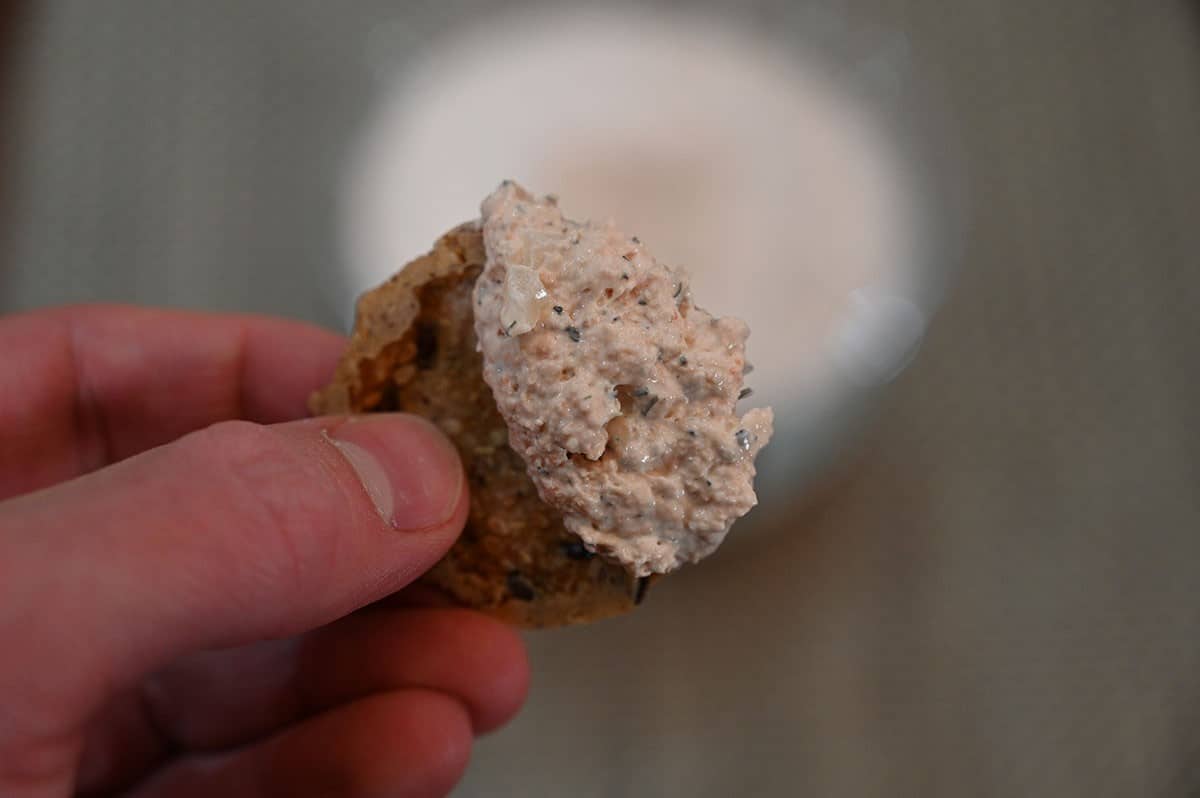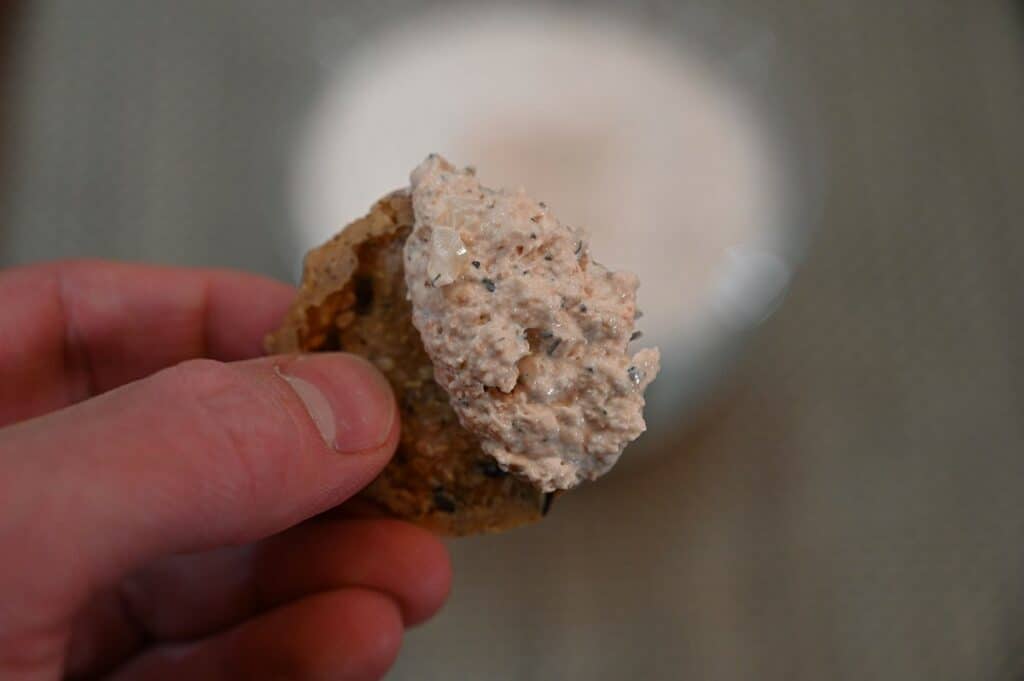 From the taste, there's no doubt this is a salmon dip and it's pretty good! Both myself and my parents enjoyed it on crackers.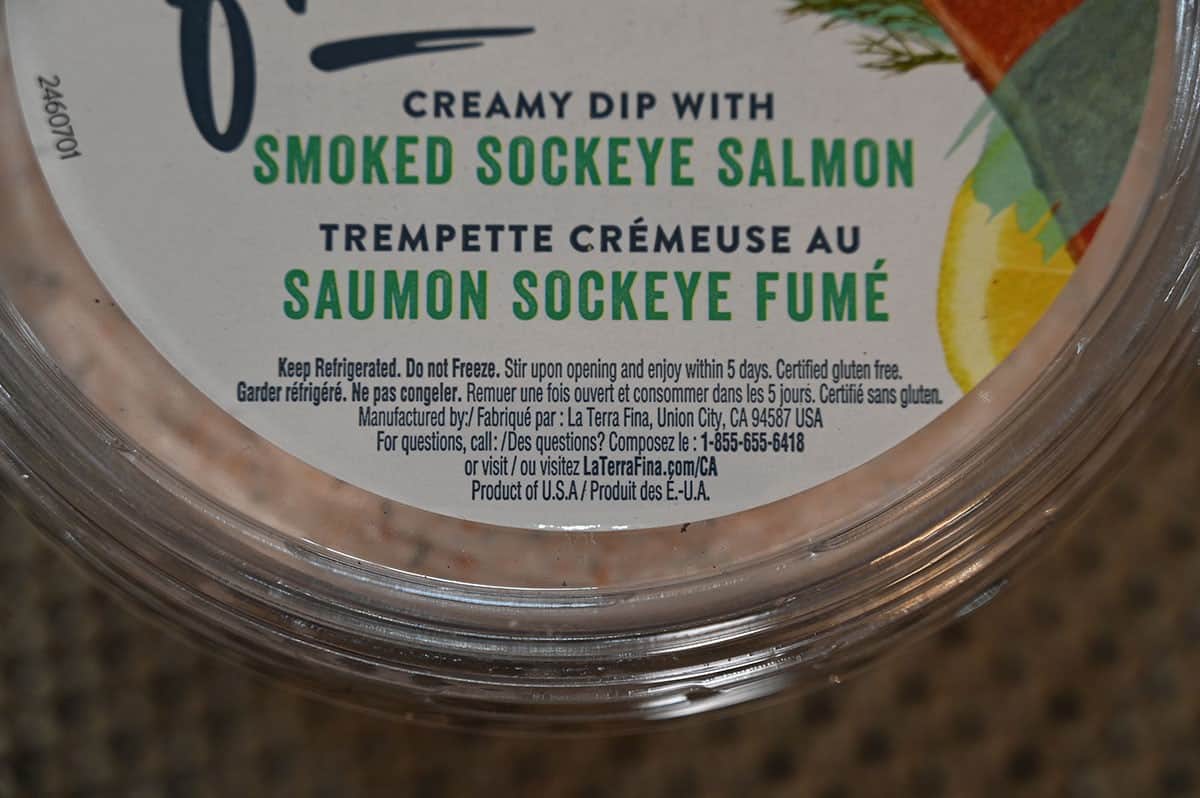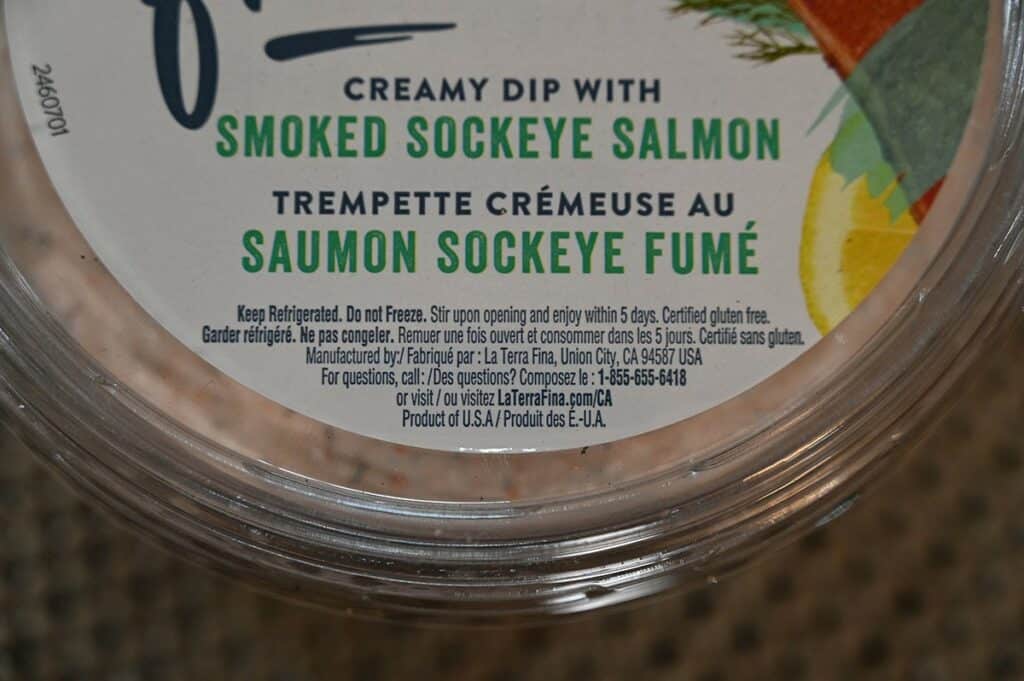 Cost
I paid $12,99 Canadian for the 680 gram dip. 680 grams of salmon dip is actually quite a bit so I don't feel like it's overpriced.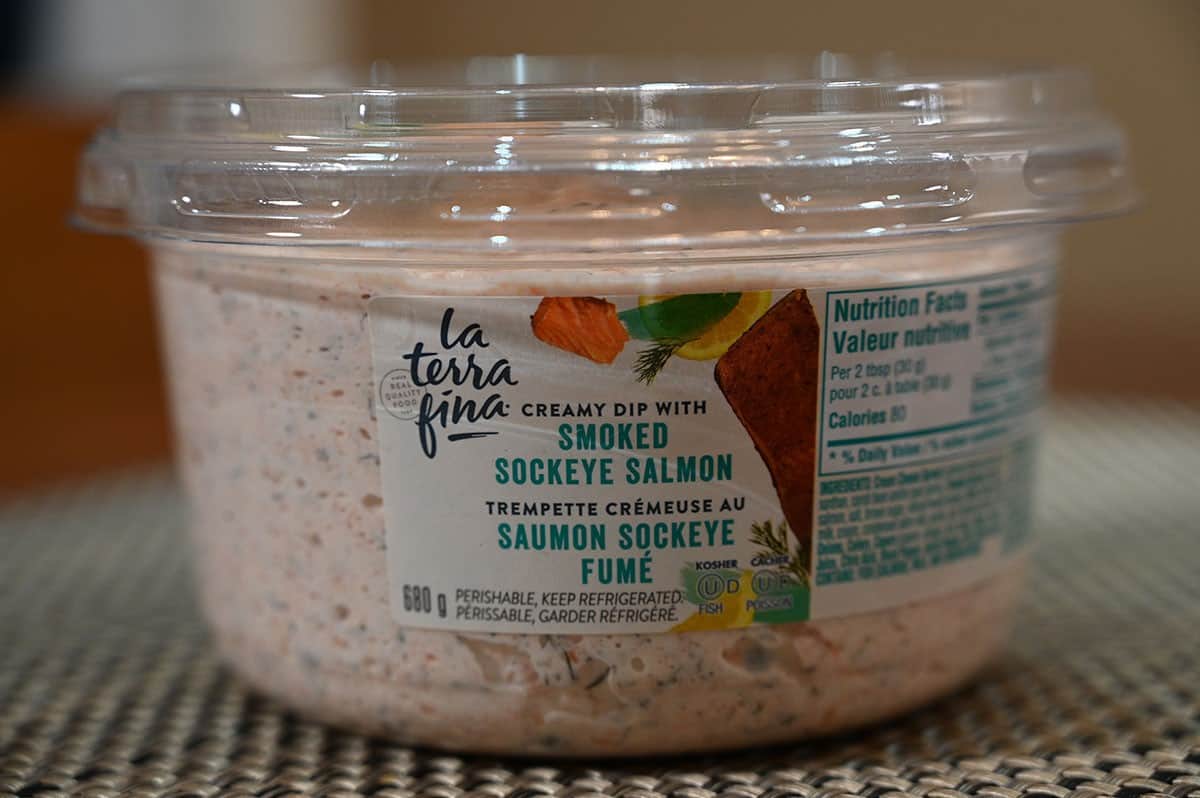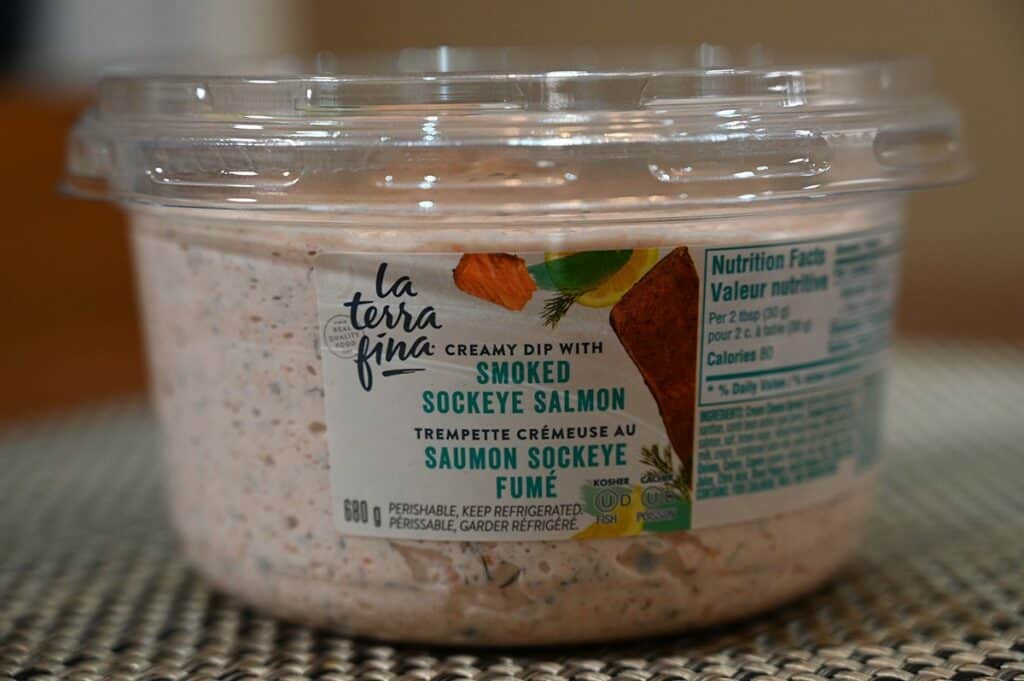 Convenience
One thing that's not very convenient is that once you open the massive tub of salmon dip the packaging recommends using it within five days as well as stirring it. That's a lot of dip to eat in five days! If I were hosting a party I wouldn't be concerned but when you have a small family, it's a lot of dip.
The dip needs to be kept refrigerated and the best before date listed on the package is thirteen days from the day I bought it. I also find that the lid is hard to reseal after opening the dip, it doesn't seal tightly and is very loose.
This dip is perfect for a Christmas Eve or holiday-party appetizer! There's many ways you could serve it, even for brunch! I ate mine with crackers but I think it would be good on baguette, vegetables, maybe even chips.


Nutrition
Calories
Two tablespoons is 80 calories, six grams of fat, 180 milligrams of sodium, two grams of carbohydrates, zero grams of fibre, one gram of sugar and three grams of protein.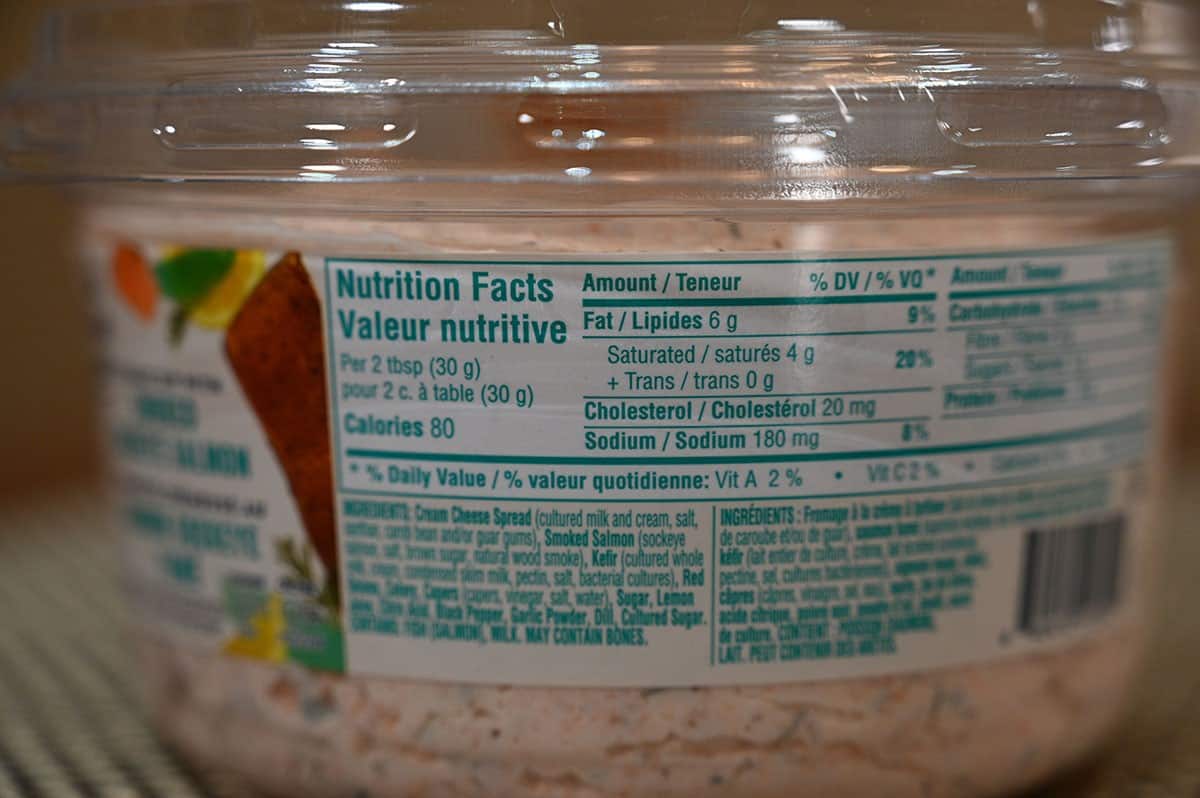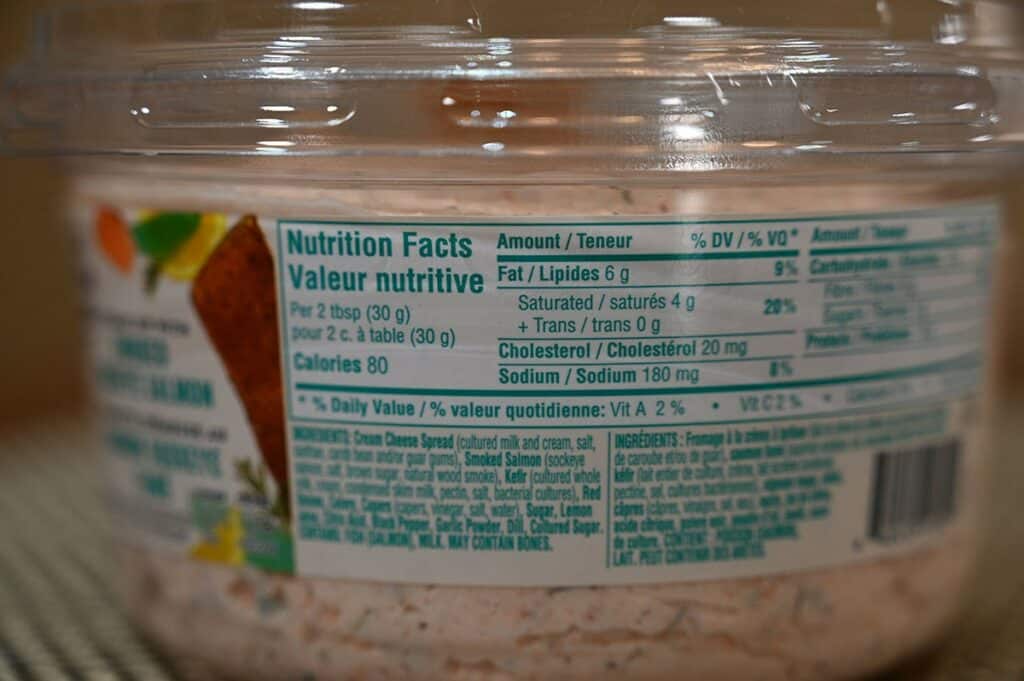 Ingredients
Also for my gluten-free readers, this is gluten-free and I think it's also keto-friendly! The ingredients list is cream cheese, smoked salmon, kefir, red pepper, celery, onion, capers, sugar, lemon black pepper, dill and cultured sugar.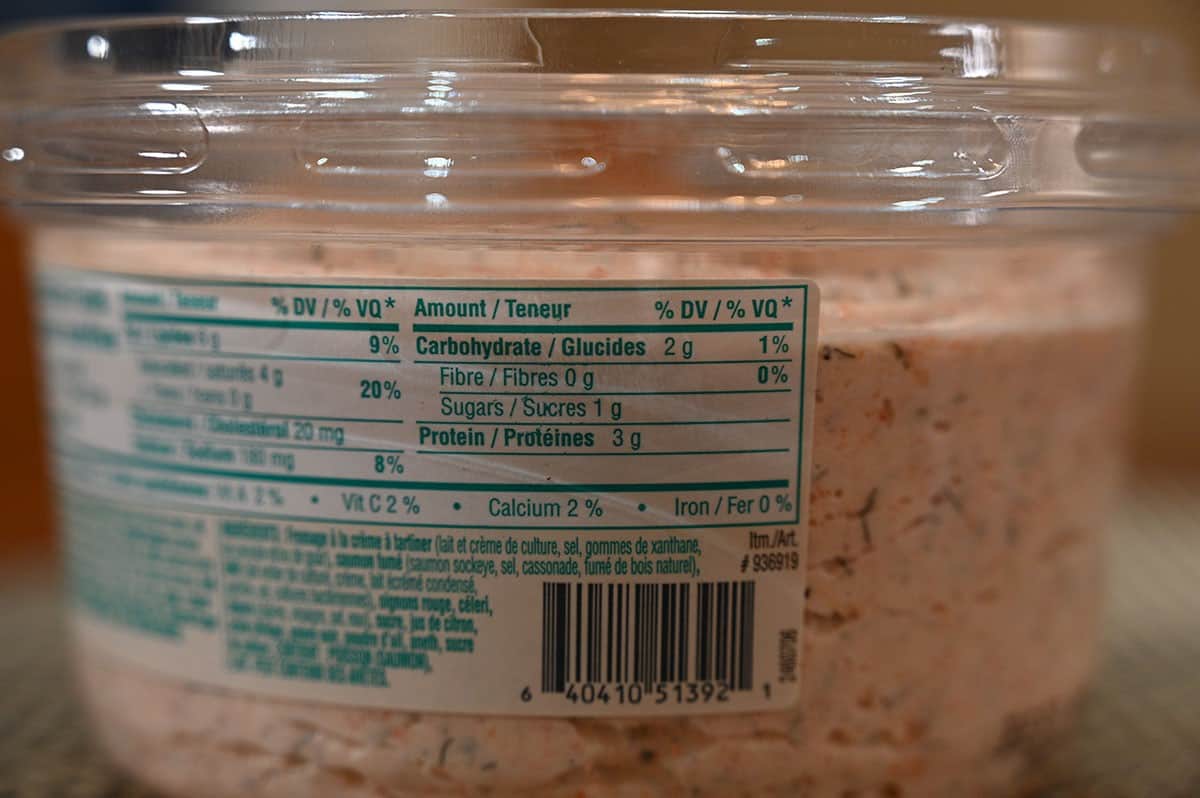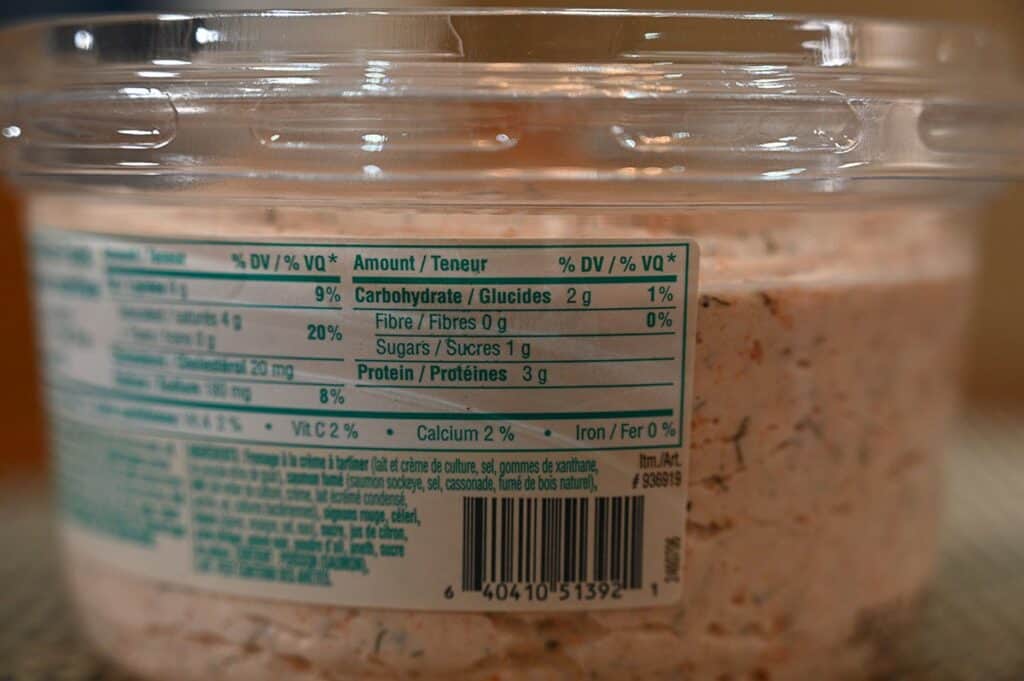 Scoring
Taste: 7/10
Cost: 8/10
Convenience: 9/10
Nutrition: 4/10
Overall
Give it a try!
If you know you like smoked salmon dip you might want to try the La Terra Fina Smoked Salmon Dip from Costco.
Have you tried this? What did you think?
---
Please note that this review was not paid for or sponsored by any third party. This product was purchased by Costcuisine for the purpose of producing this review. The opinions in this review are strictly those of Costcuisine. Costcuisine is not affiliated with Costco or any of its suppliers. In the event that Costcuisine receives compensation for a post from the manufacturer of a product or some other third party, the arrangement will be clearly disclosed (including where the manufacturer of a product provides Costcuisine with a free sample of the product).