Costco is carrying these heart-shaped macarons for Valentine's Day!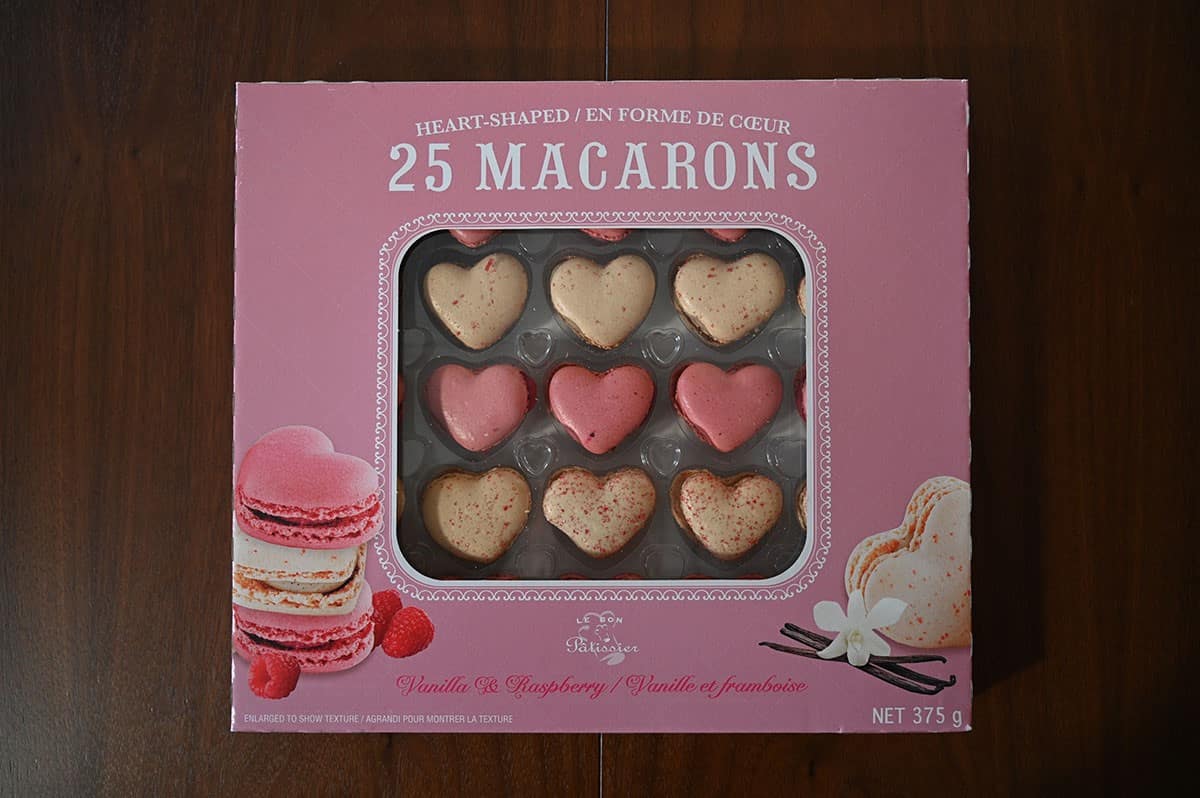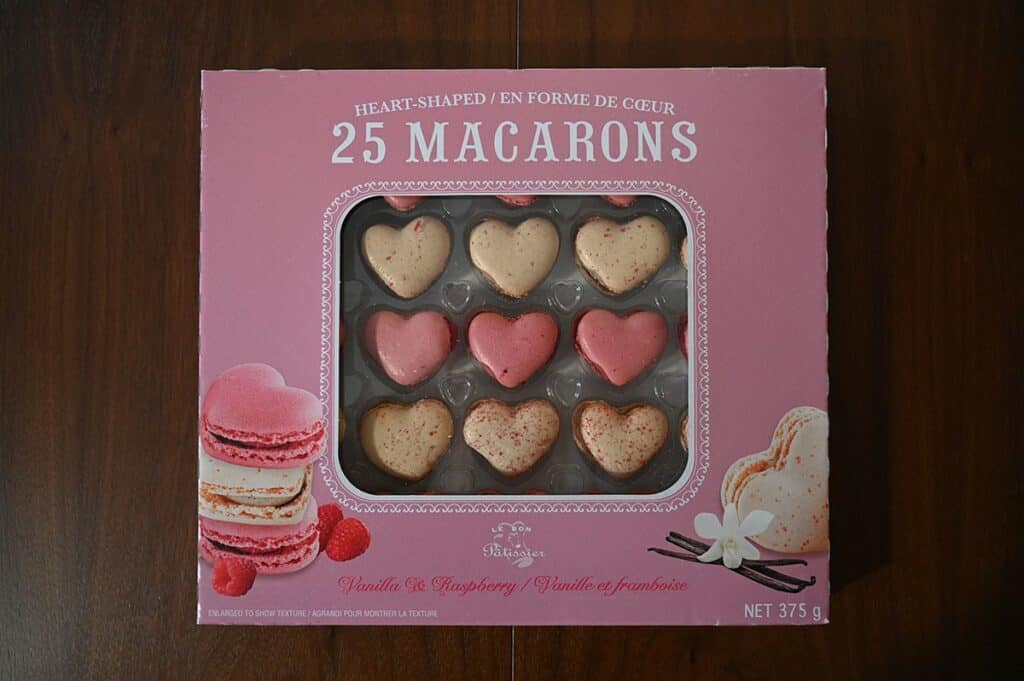 Valentine's Day is fast approaching and I found these Le Bon Patisserie Heart-Shaped Macarons during my shopping trip last week! Today I'm reviewing them for anyone curious to try them or thinking about picking them up.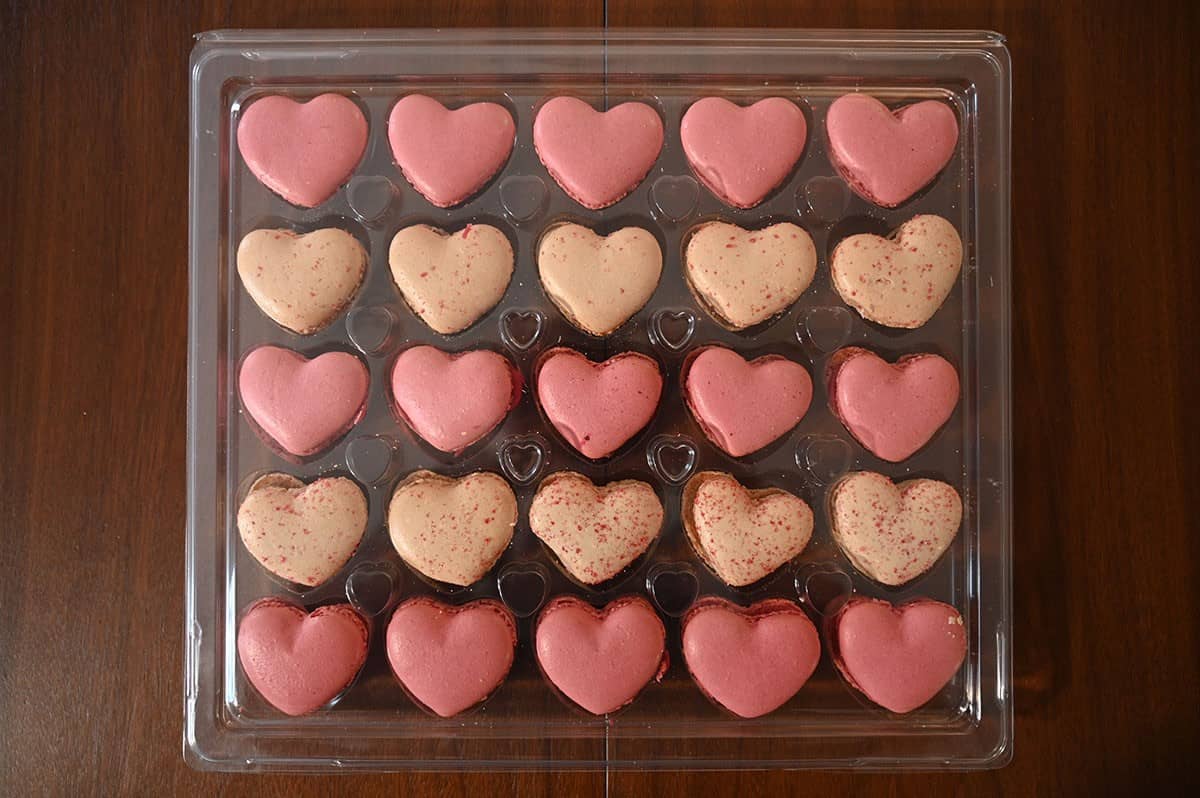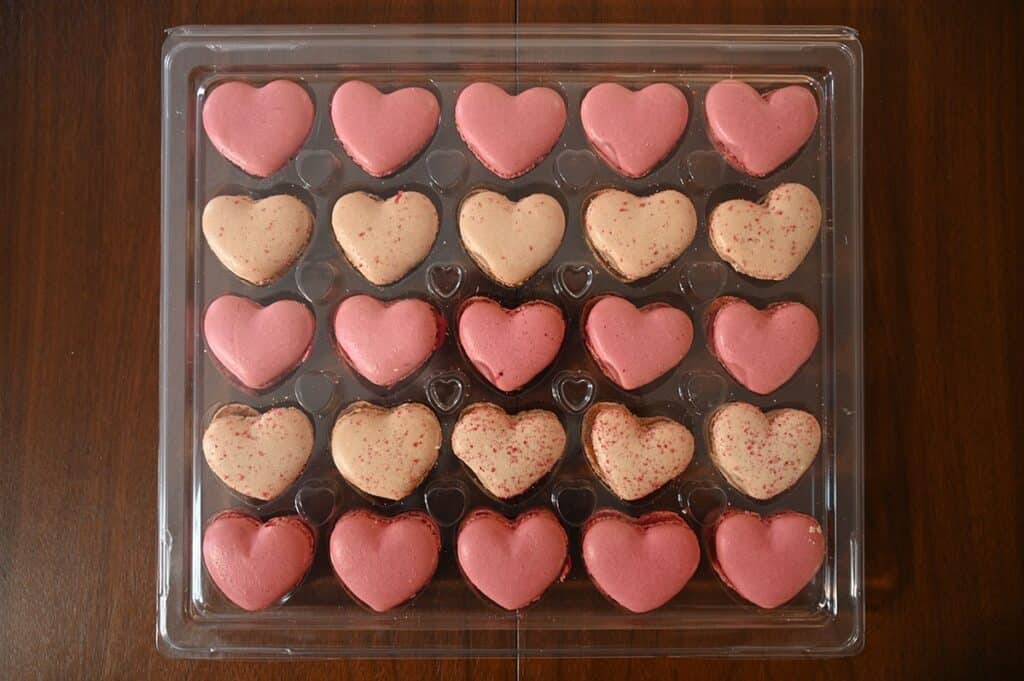 Costco carries another brand of macarons, the Tipiak French Macarons which people seem to enjoy. Last year during Valentine's Day Costco released a Kirkland Signature Raspberry White Chocolate Heart Cake that was really delicious so I recommend that cake if you see it,
Location in Store
The macarons are located in the refrigerated section at Costco near the other refrigerated desserts, deli meats, cheese and fresh pasta. The item number is 1478707.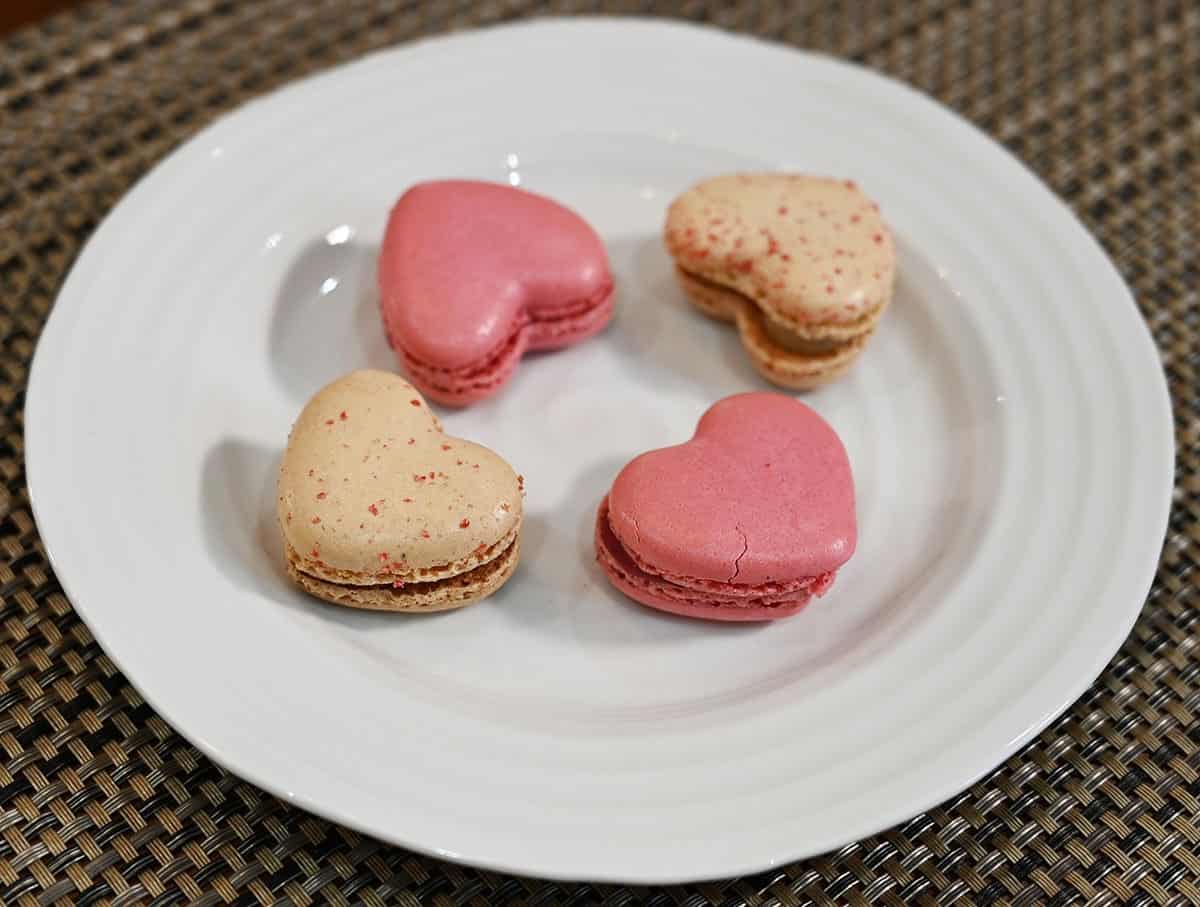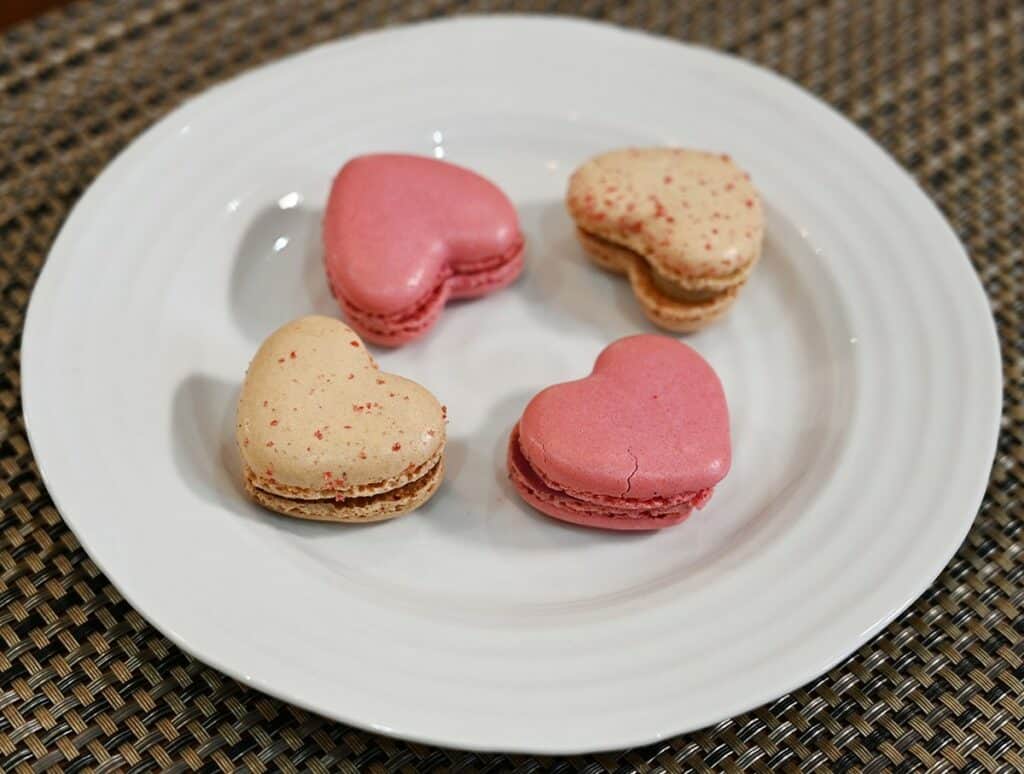 Taste
Both macarons have very light shells, but a lot of heavy, dense filling. The shells are more or less the way a good macaron shell should be – crispy on the outside and chewy.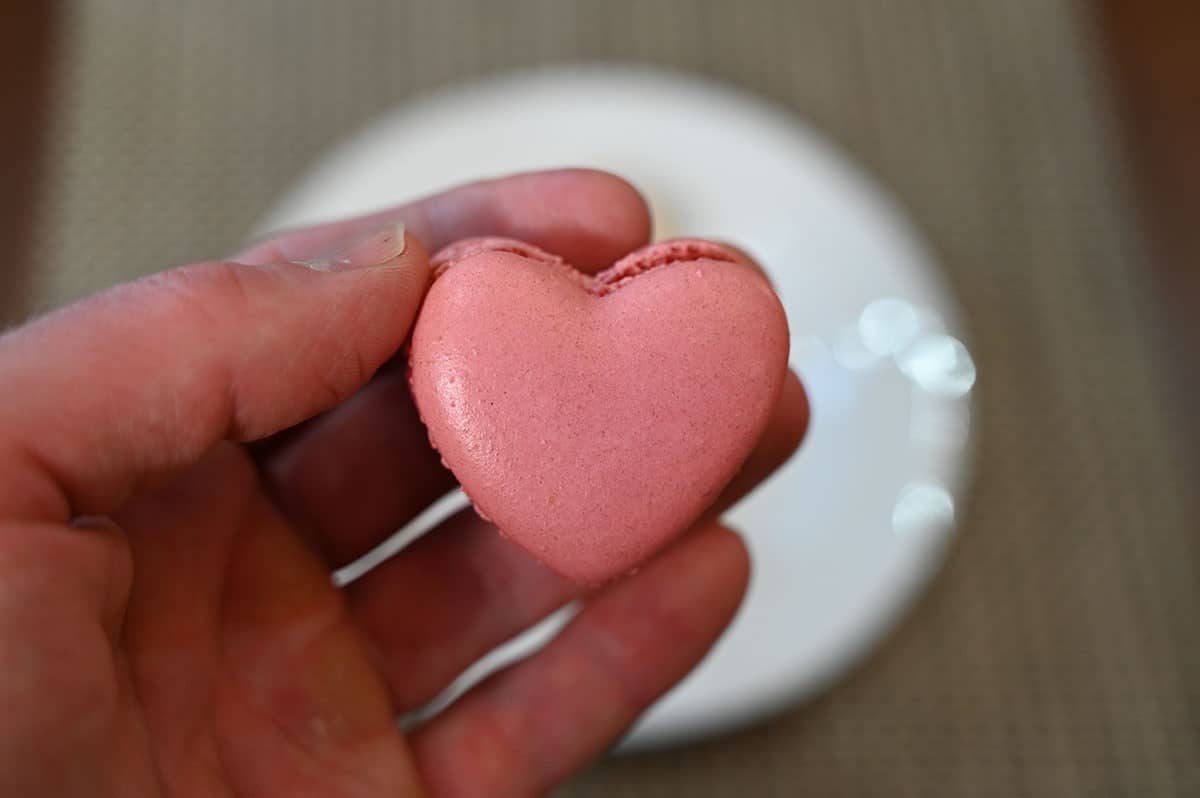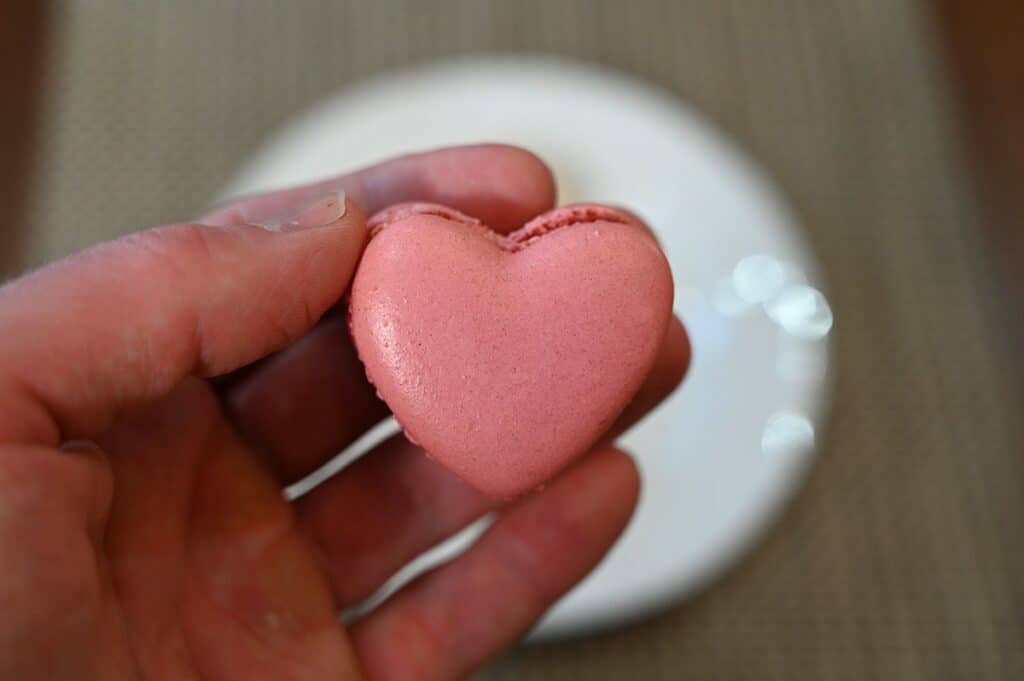 The shell of the raspberry macaron has a very mild raspberry flavor. The filling is extremely sweet and has a strong, very artificial raspberry flavor. When you have a bite of the raspberry macaron, you mostly notice the flavor of the filling. The texture of the filling seems more noticeable than it should too just because there's so much of it.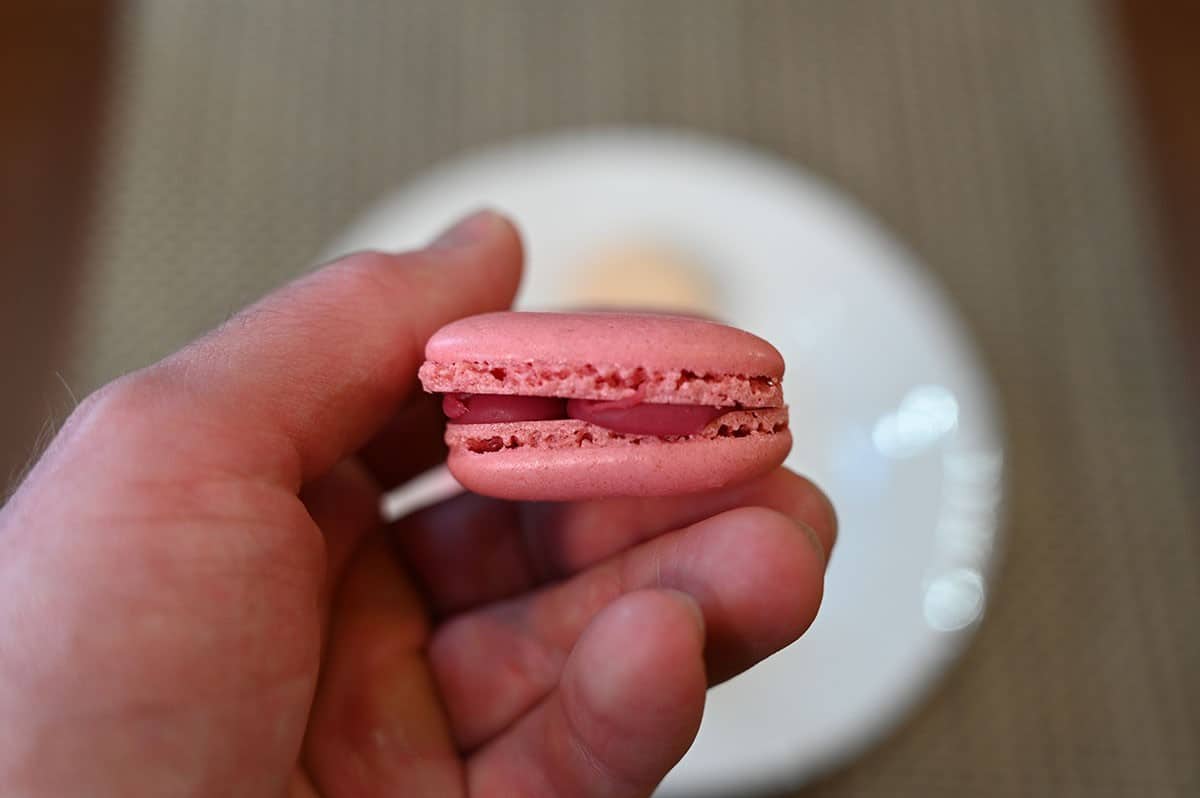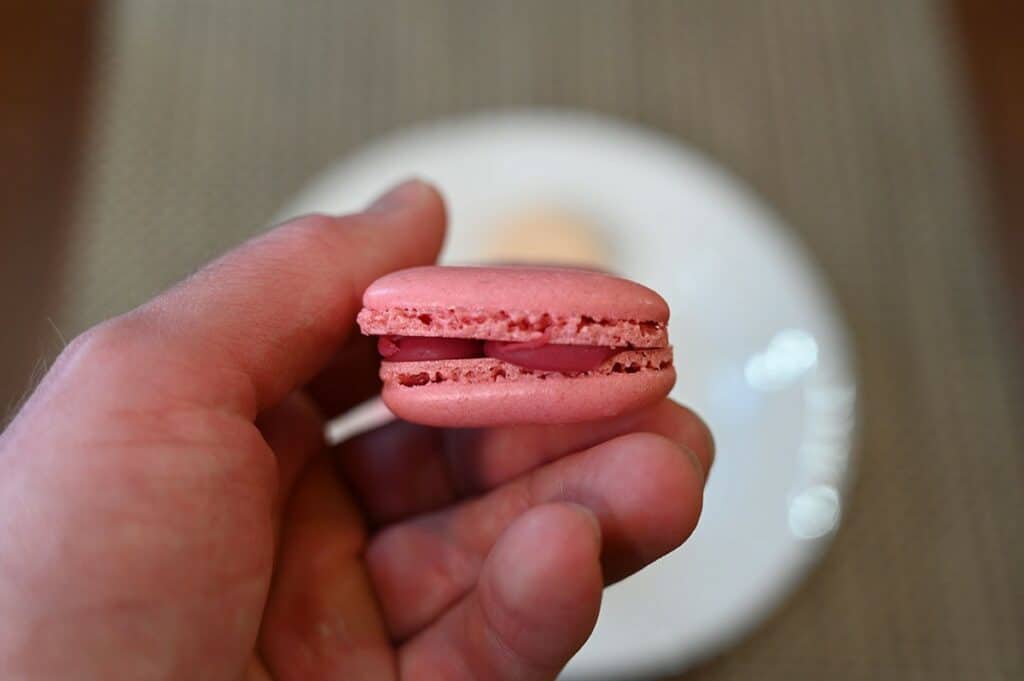 The shell of the vanilla macaron also has a pretty mild flavor. There are some red sugar crystals on the outside that add some sweetness and texture. Again, the flavor and texture of the filling dominate, but the vanilla filling isn't quite as sweet or artificial tasting as the raspberry filling. For that reason, I like the vanilla macarons a bit better, which surprised me as I'm a huge raspberry fan.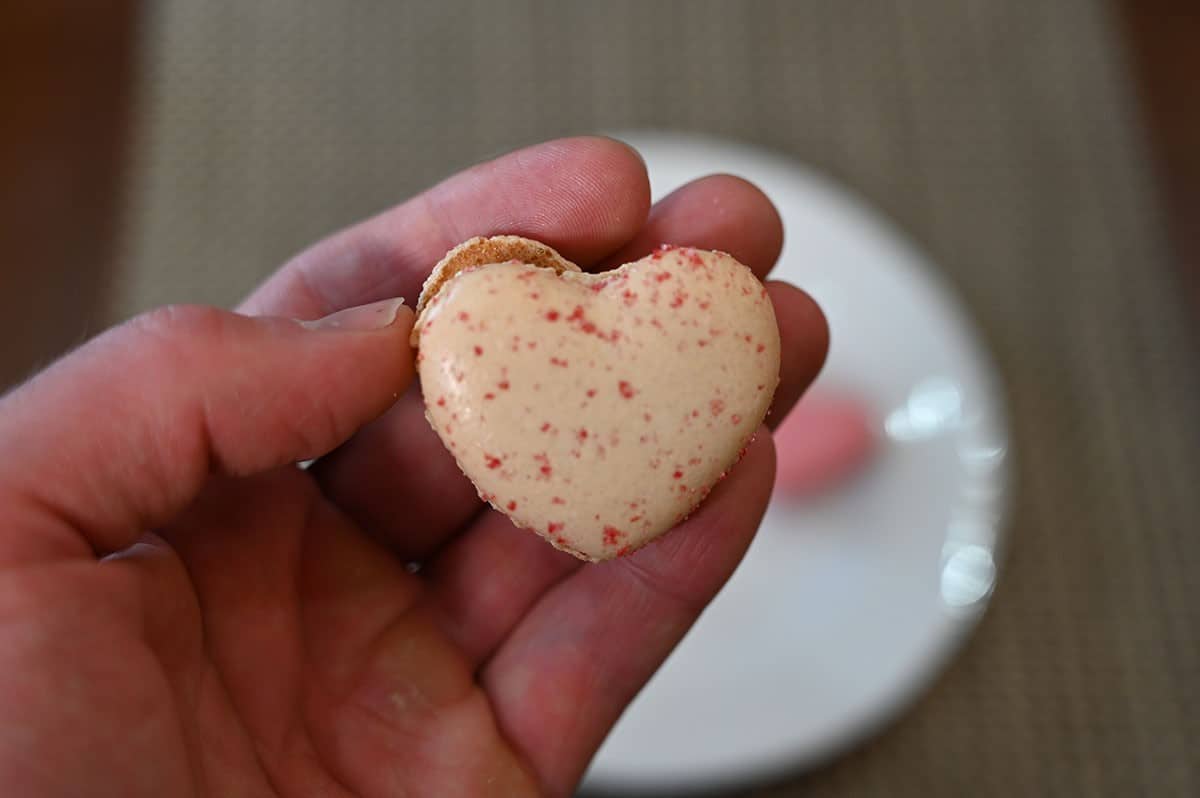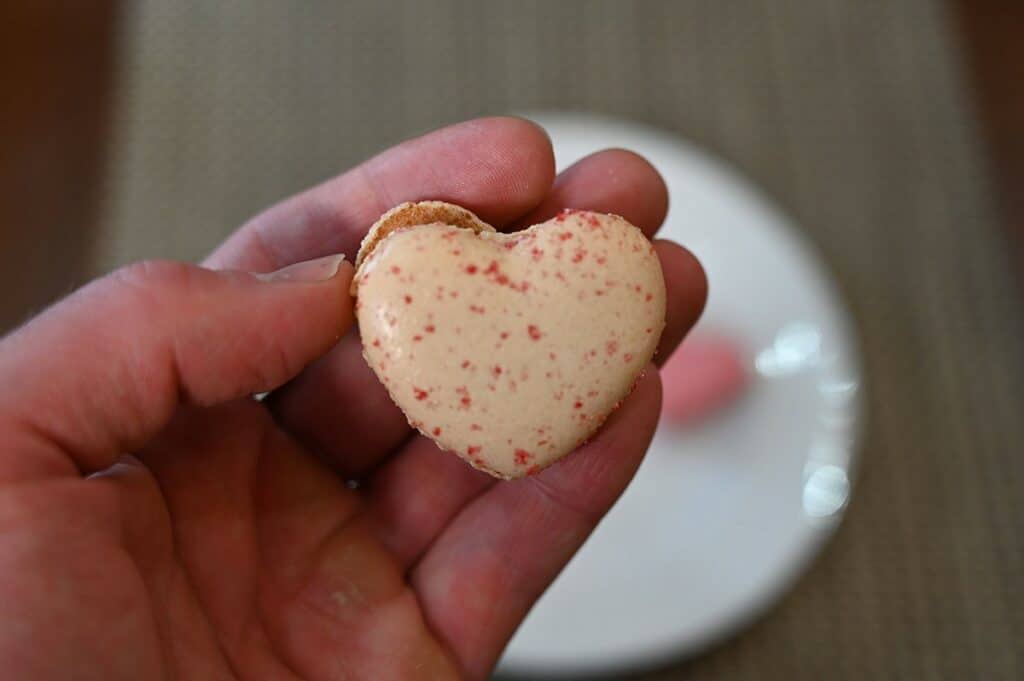 The Le Bon Patissier macarons aren't as good as the Tipiak macarons. The Tipiak macarons taste a lot closer to high-end bakery macarons to me, mainly because they have less filling and the filling in them generally seems to be better quality.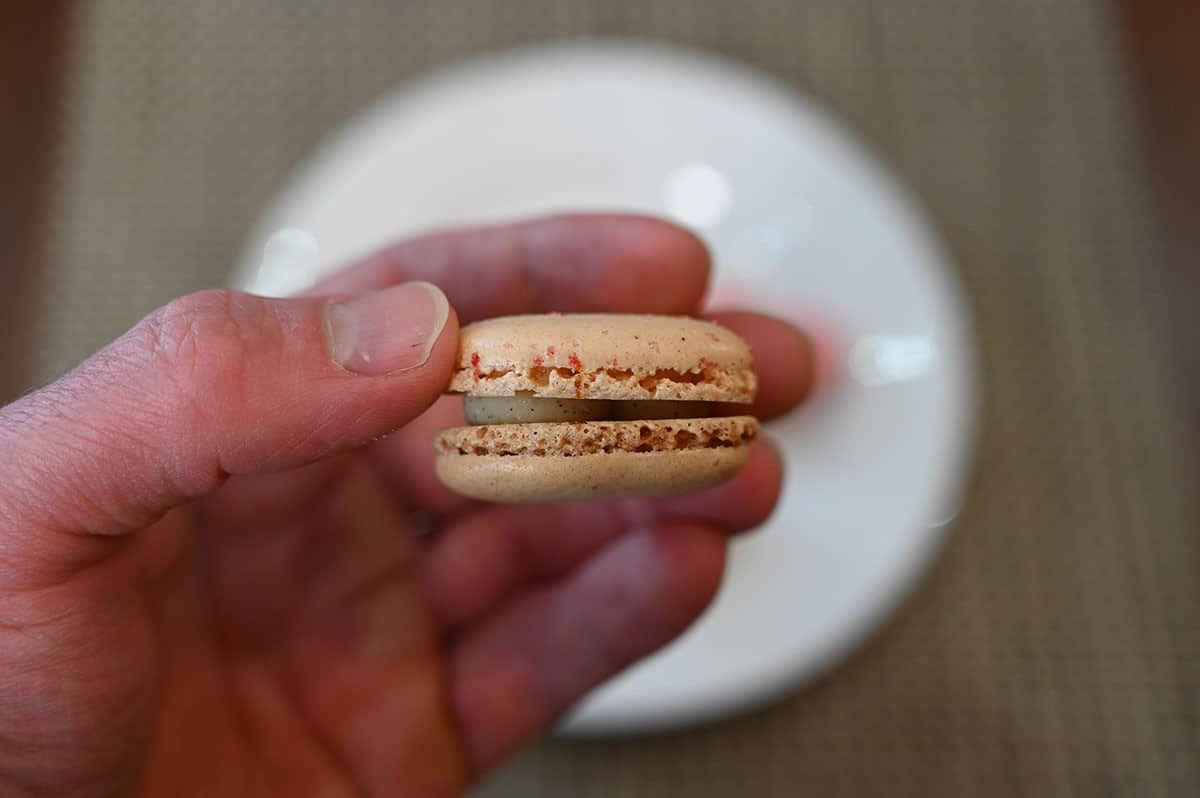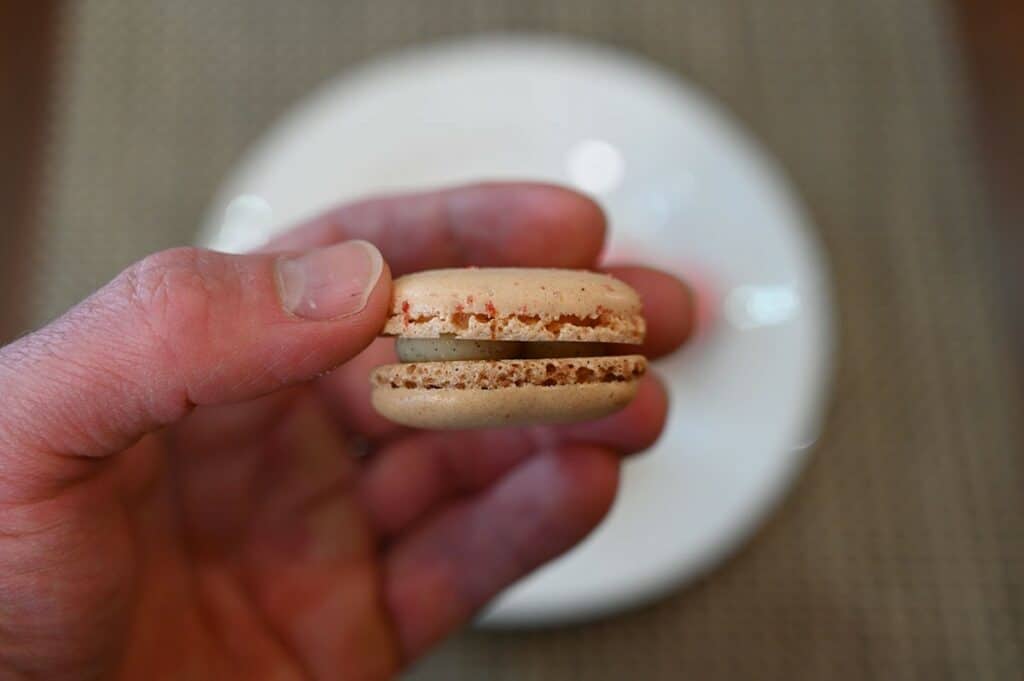 Cost
The box of 25 macarons costs $16.99 Canadian which is really reasonable! Macarons at our local bakery cost $2.25 per macaron.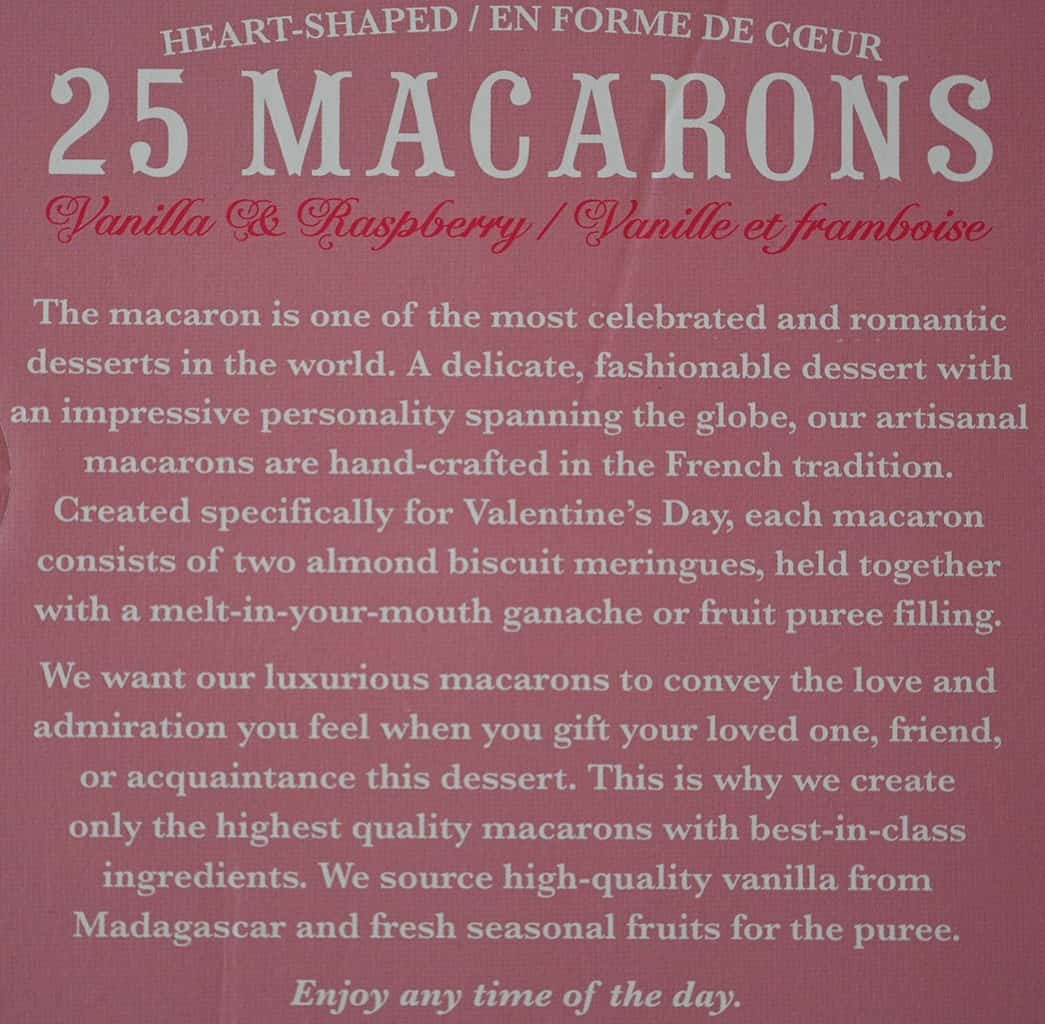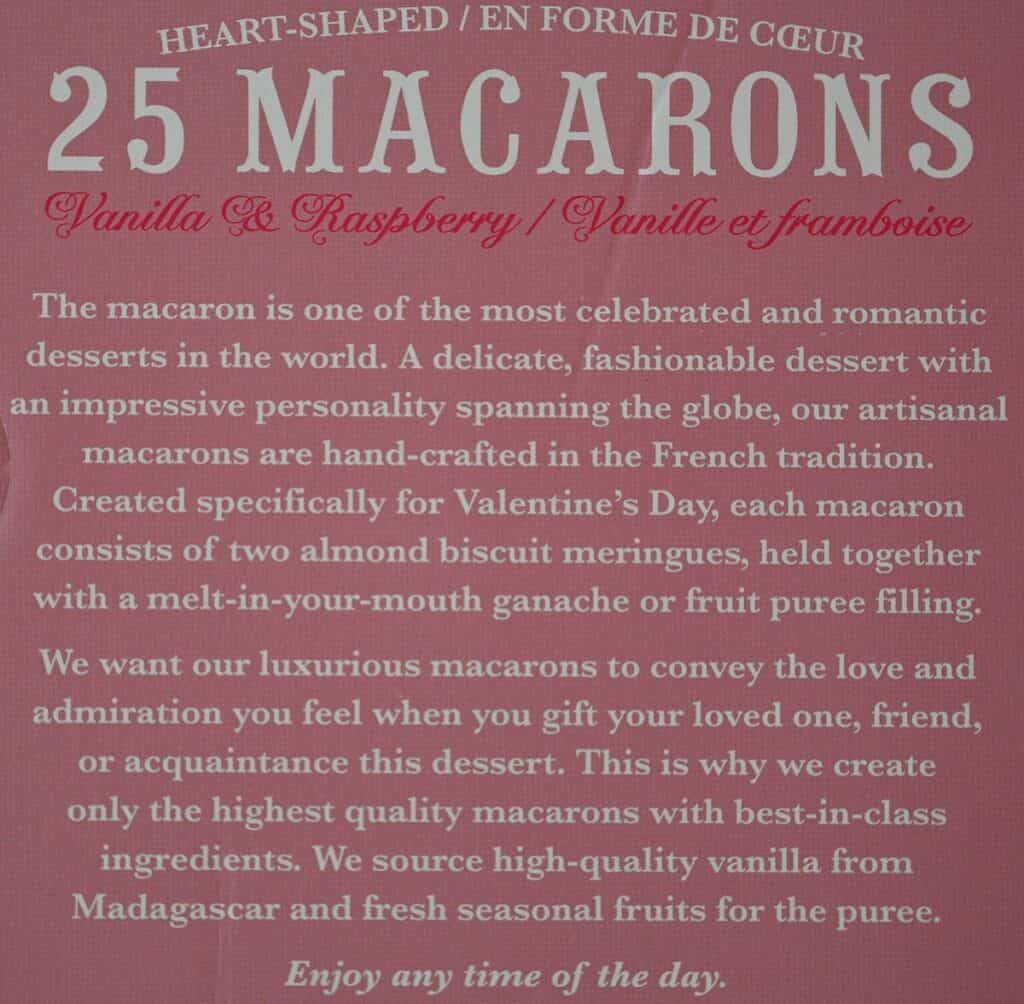 Convenience
The best before date listed on the macarons is just over three weeks from when I purchased them. They need to be kept refrigerated. I find they're best enjoyed shortly after opening the package as they can go a bit stale.
You get fifteen raspberry and ten vanilla macarons in the box and they're a product of Belgium. I think kids would find these really fun and they'd be great to bring to a school party or to work!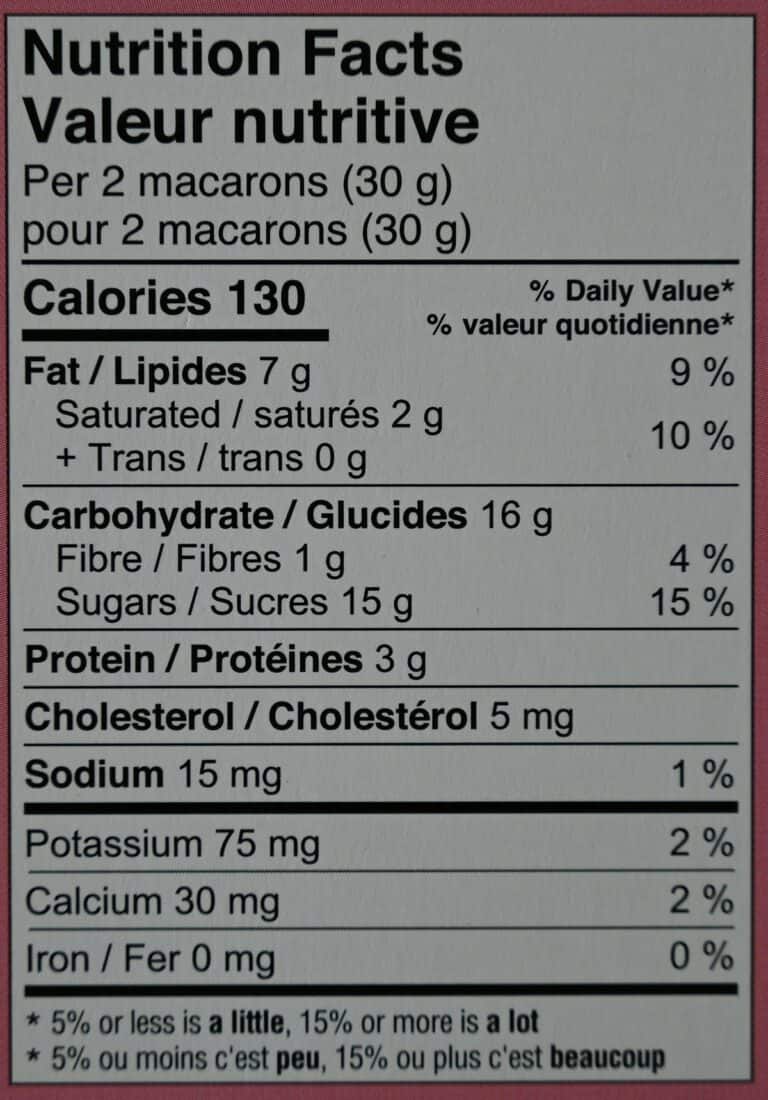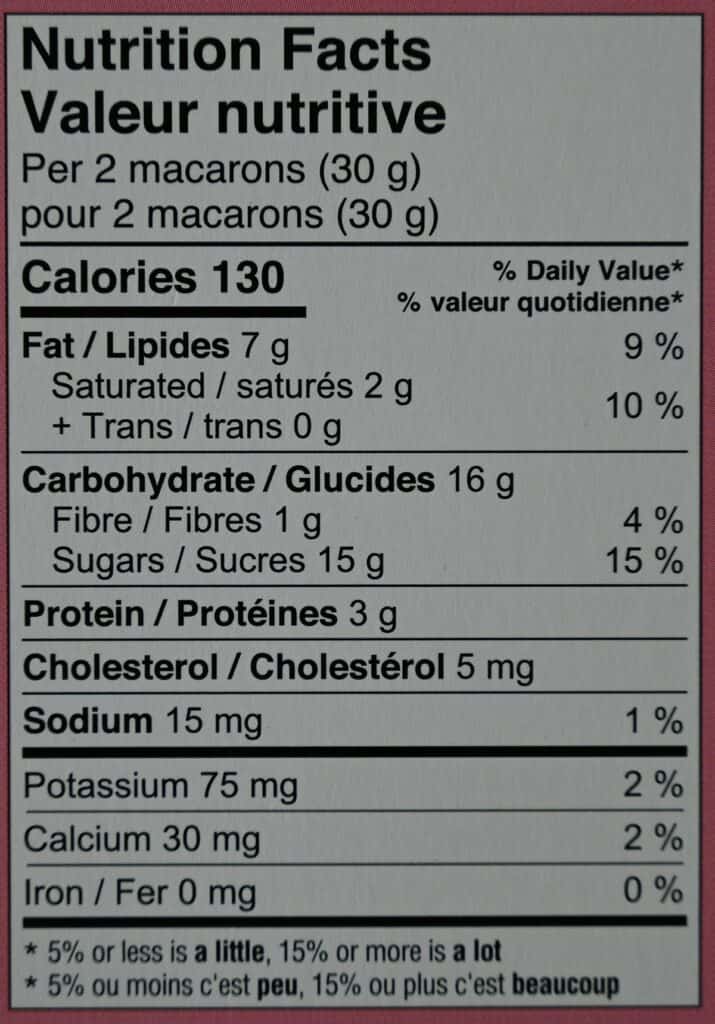 Nutrition
Calories
Two macarons contains 130 calories, seven grams of fat, 16 grams of carbohydrates, one gram of fibre, 15 grams of sugar, three grams of protein and 15 milligrams of sodium. 130 calories for two macarons is not bad but there's a decent amount of fat and sugar so if you're diabetic or watching your blood sugar levels try not to eat 20 in one sitting.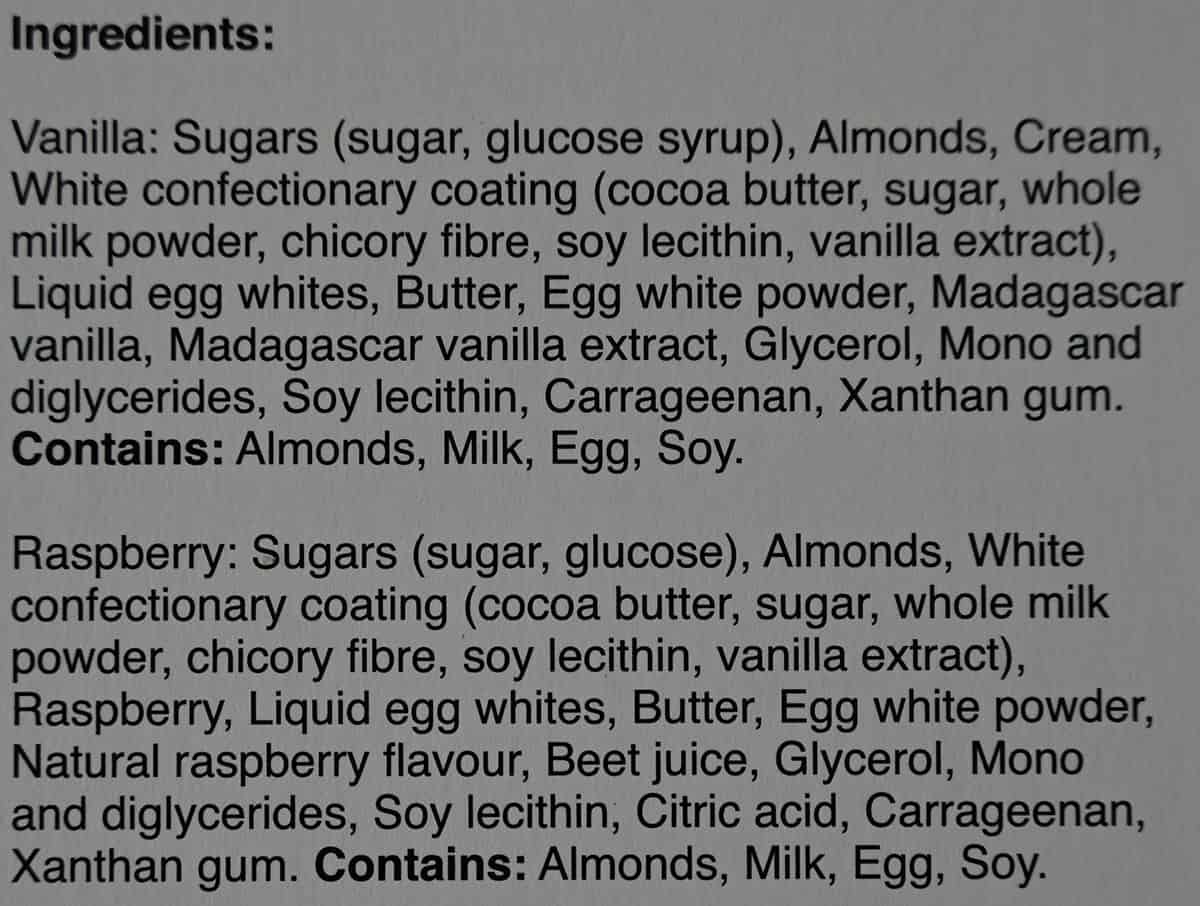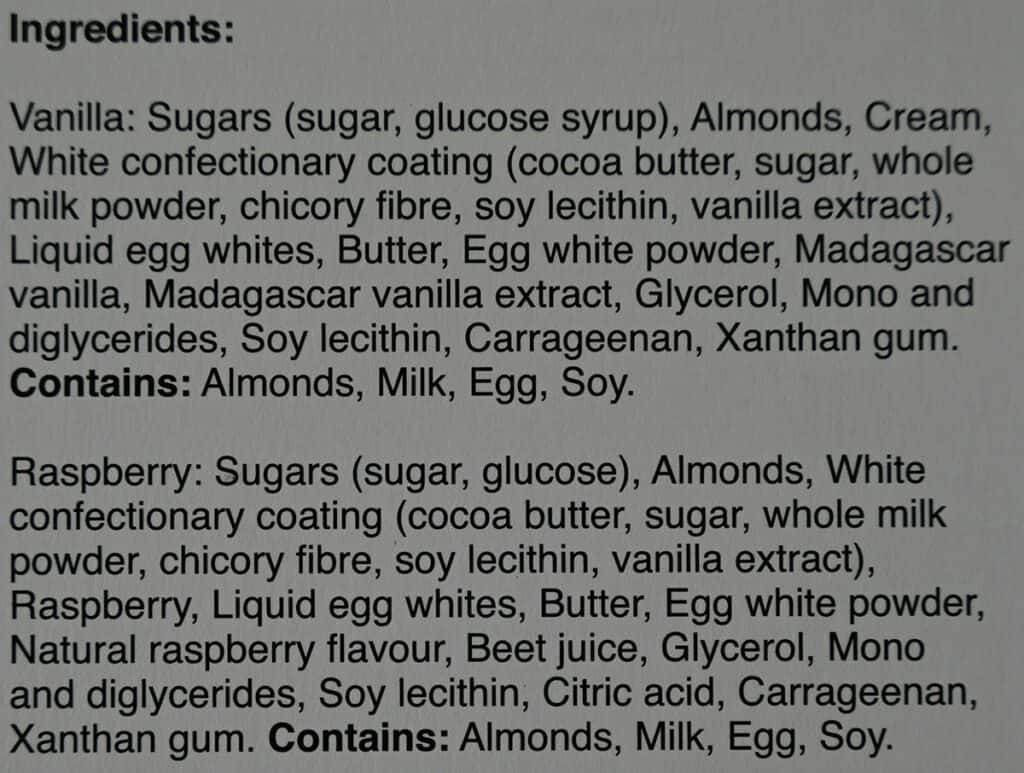 Ingredients
Also for my gluten-free readers, these are gluten-free because macarons are made with almond flour instead of wheat flour. The macarons are not dairy-free though. They contain almonds, milk, egg and soy.
I definitely wouldn't call these macarons healthy, they're full of sugar and have a few chemical/food additive sounding ingredients at the end of the ingredients list.
Scoring
Taste: 7/10
Cost: 8/10
Convenience: 10/10
Nutrition: 1/10
Overall
Give it a try!
These macarons are tasty enough if you just look at them as cookies and they're a fun treat to have around for Valentine's Day!
What do you think of macarons? Do you like them? Would you try this?
---
Please note that this review was not paid for or sponsored by any third party. This product was purchased by Costcuisine for the purpose of producing this review. The opinions in this review are strictly those of Costcuisine. Costcuisine is not affiliated with Costco or any of its suppliers. In the event that Costcuisine receives compensation for a post from the manufacturer of a product or some other third party, the arrangement will be clearly disclosed (including where the manufacturer of a product provides Costcuisine with a free sample of the product).