Wagyu are Japanese cattle that produce beef known for its great marbling, which makes the meat more tender, moist and flavorful. Those all seem like great attributes for beef jerky to have, so this Snake River Farms American Wagyu Beef Jerky must be pretty good, right? Is it affordable though? Read on to find out!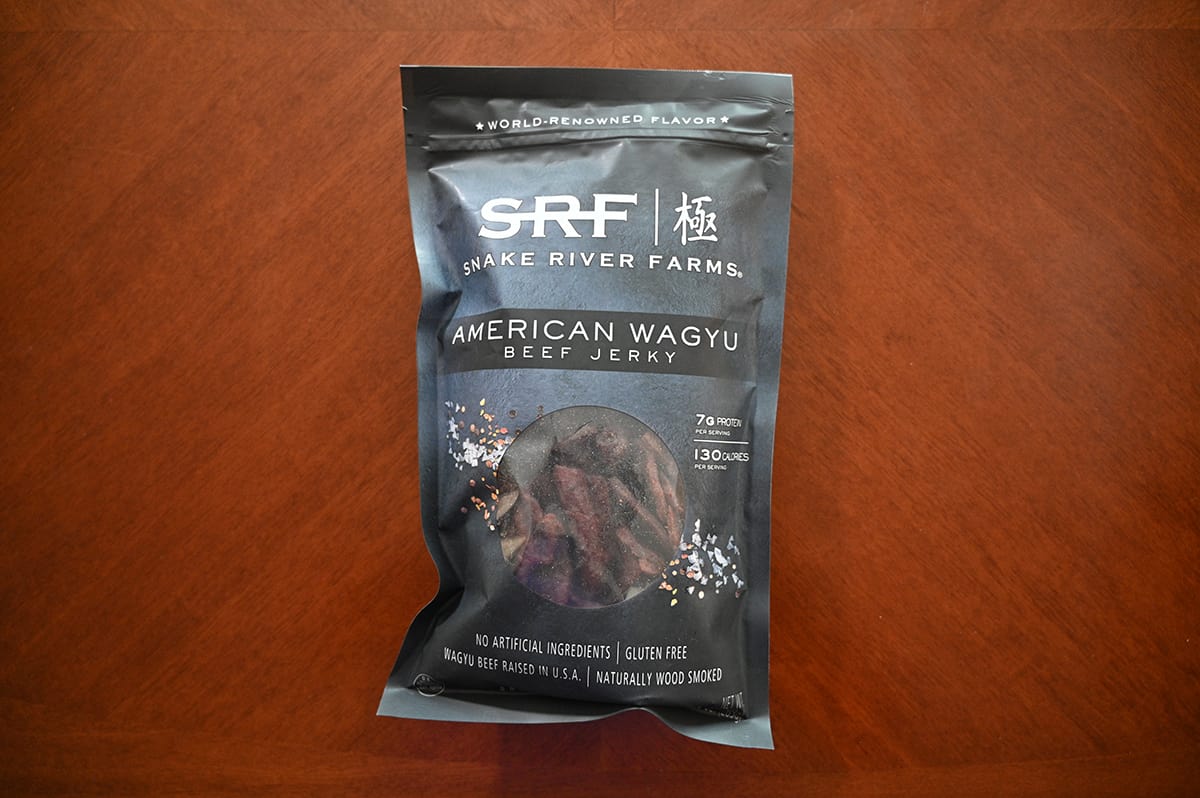 Other meaty products from Costco are the Golden Island Korean Barbecue Pork Jerky, Kirkland Signature Turkey Jerky, Kirkland Signature Steak Strips, Kirkland Signature Bacon Crumbles, 4505 Chicharrones Fried Pork Rinds and the Kirkland Signature Fully Cooked Bacon.
Location in Store
I bought these in Kalispell, Montana Costco and the item number is 1465173. The jerky is located in the snack section at Costco near all the other jerky, candy and nuts.
Taste
The first thing I noticed is that my beef jerky seemed pretty fresh despite the fact that I didn't open my bag until over three months after I bought it. The pieces were slightly moist/sticky to the touch (in a good way). The jerky was moist and tender (tender for beef jerky; it had a nice amount of chewiness).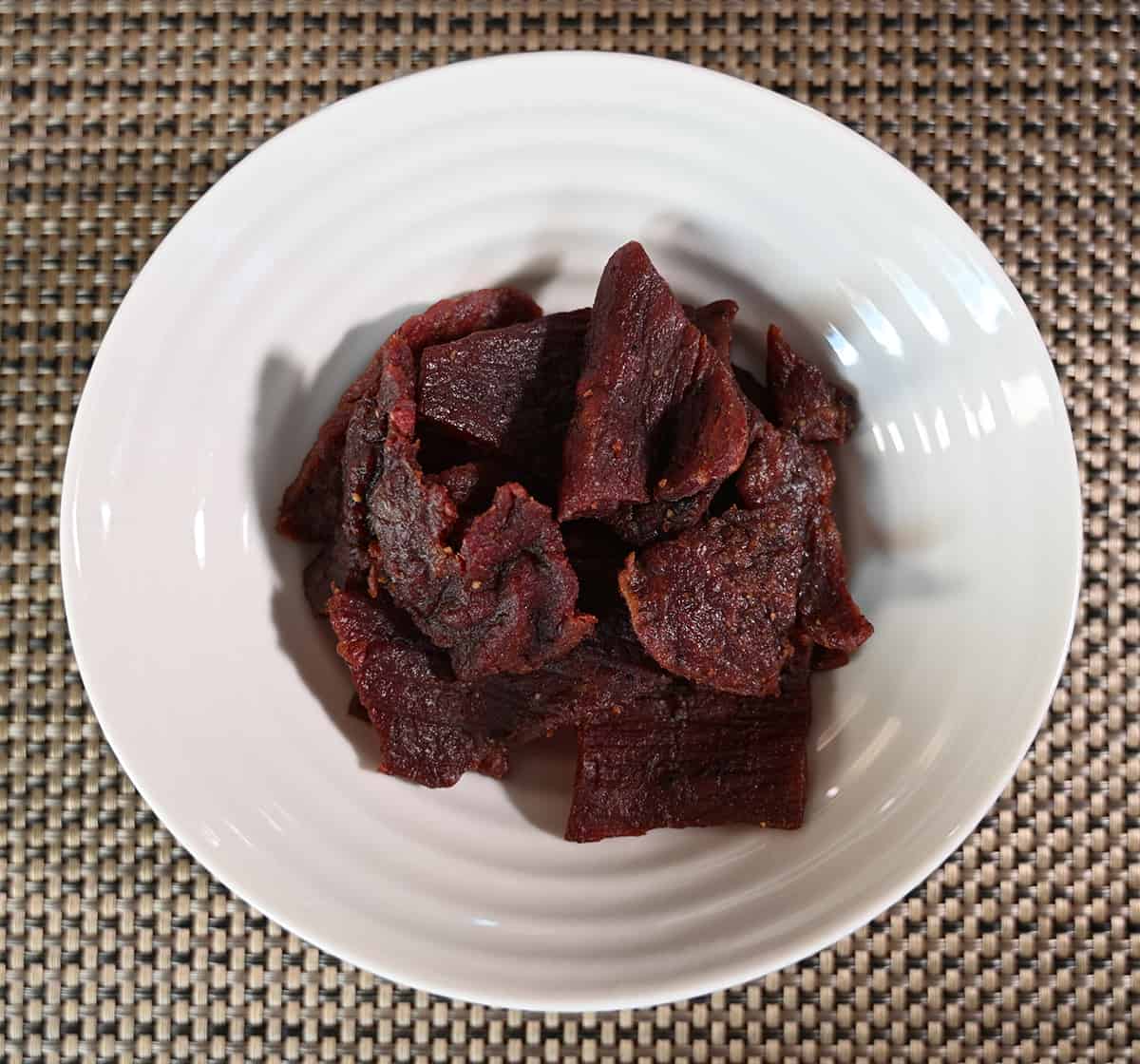 I'm terms of flavor, I found the beef jerky to be a mix of salty, sweet and smoky. The order of the flavors describes their strength. The saltiness stood out the most, but I liked the balance of flavors. I think they'll appeal to anyone who enjoys beef jerky, though some might find it a bit too salty. The jerky also has a bit of heat that snuck up on me a bit. I didn't really notice it until I'd had a few pieces. It was enjoyable though.
The size of the pieces varied from fairly big pieces (bigger than bite-size) to tiny little bits, but the quality of the meat seemed really good. I ate quite a few pieces (mostly smaller ones) and only got one or two pieces that were a little gristly and they weren't too bad.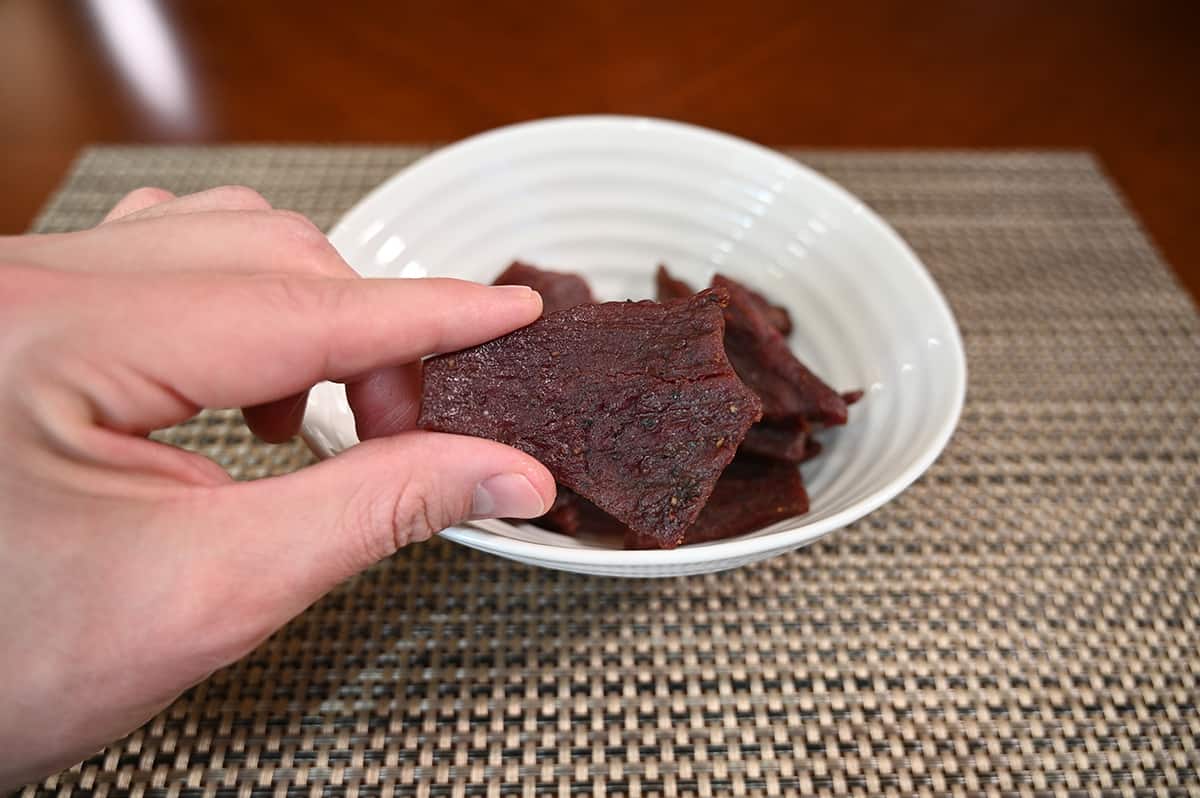 I really like beef jerky, but it's expensive and I'm not a big snacker, so I don't eat it that often. With that being said, I really enjoyed the Snake River Farms American Wagyu Beef Jerky. I found myself pretty addicted as I was tasting it to write notes. I ate a lot more than I planned to! It tastes like a premium beef jerky to me.
Cost
I got the 283-gram bag on sale for $9.99 USD and the regular price is $14.99 USD.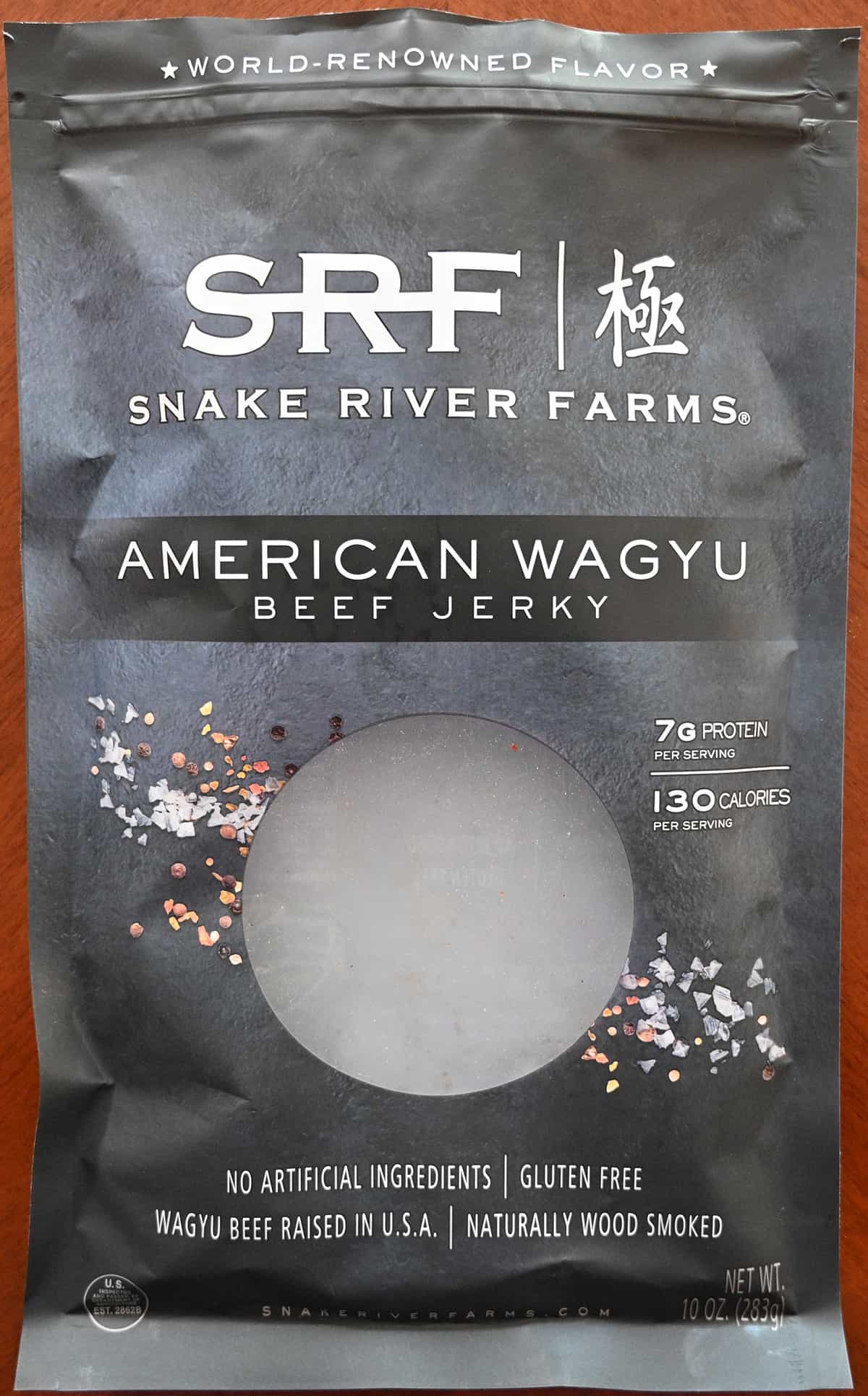 Convenience
The bag reseals and has a best-before date that's 11 months from when we purchased it. The bag recommends consuming or refrigerating the jerky within three days of opening it.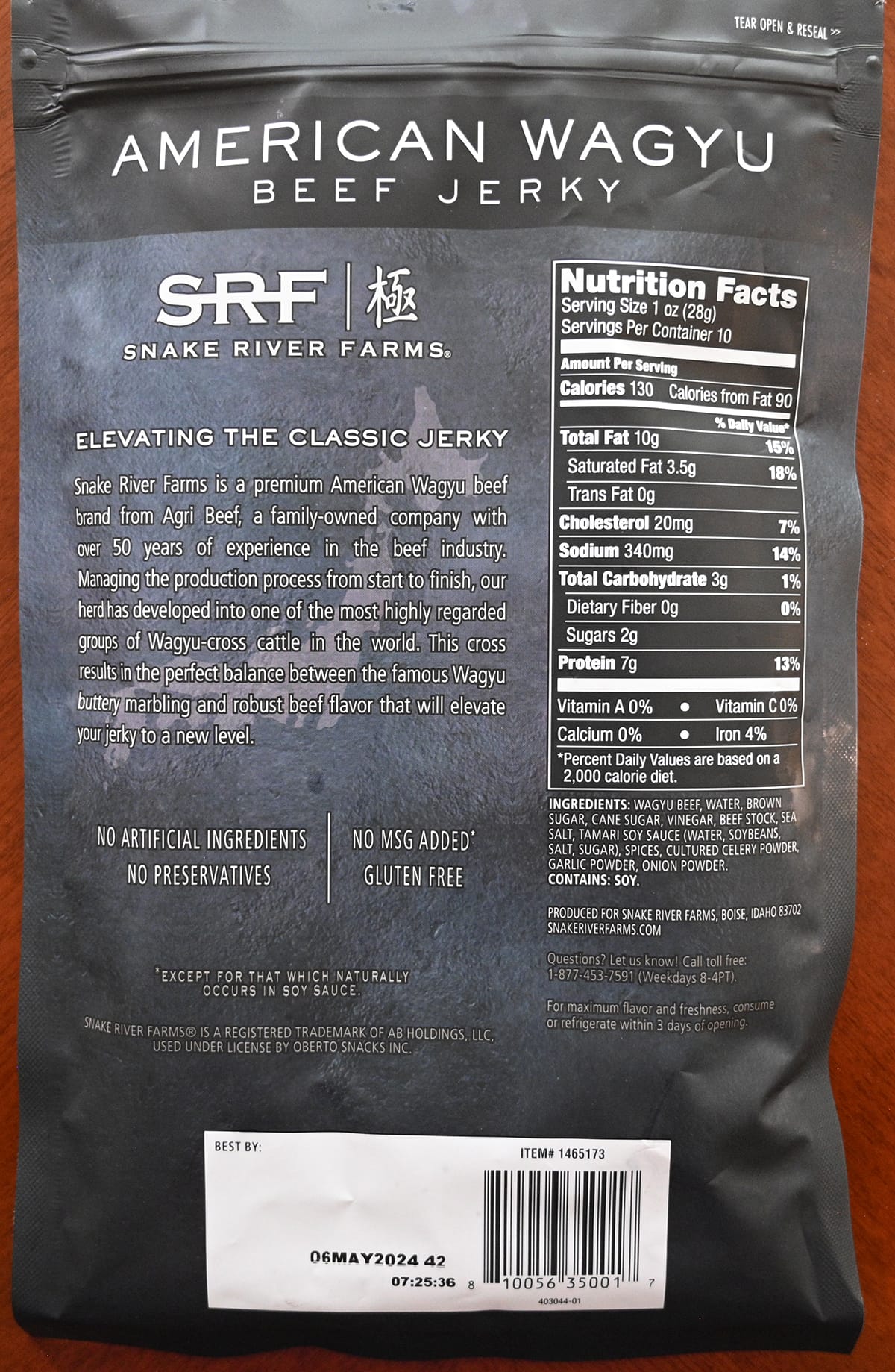 Jerky is a lower-carb snack so it's great for people who are diabetic or following a keto diet. This can be brought camping, on a road trip or just kept at home!
Nutrition
Calories
A 28-gram serving contains 130 calories, 10 grams of fat, 340 milligrams of sodium, three grams of carbohydrates, zero grams of fiber, seven grams of protein and two grams of sugar.
That's a ton of sodium, fat and calories for not that big of a serving size! If you're watching your sodium due to medical concerns jerky is something to steer clear of.
Ingredients
The ingredients list is pretty short and sweet with Wagyu beef being the first ingredient listed. and some seasonings and spices are the other ingredients. This isn't sugar-free so individuals on keto may not want to indulge in it. Although soy sauce is listed as an ingredient it's gluten-free.
The jerky contains beef and soy.

Scoring
Taste: 8.5/10
Cost: 7/10
Convenience: 10/10
Nutrition: 2/10 (Low carb and has some protein but not exactly healthy).
Overall
Give it a try!
If you like jerky I think you'd enjoy this Wagyu beef jerky from Costco! I'm not the biggest snacker but I enjoyed trying it.
Have you tried the Snake River Farms Wagyu Beef Jerky? What did you think of it? Are you a jerky fan in general? Leave a comment below!
---
Please note that this review was not paid for or sponsored by any third party. This product was purchased by Costcuisine for the purpose of producing this review. The opinions in this review are strictly those of Costcuisine. Costcuisine is not affiliated with Costco or any of its suppliers. In the event that Costcuisine receives compensation for a post from the manufacturer of a product or some other third party, the arrangement will be clearly disclosed (including where the manufacturer of a product provides Costcuisine with a free sample of the product).