I'm not a big pork rind person. To be honest, I'm not sure if I've ever had them before. I was curious to try these 4505 Chicharrones Pork Rinds, but I'll admit that I went in with low expectations because I don't find the idea of fried, packaged pork skin all that appealing. Read on to find out if they were able to convert me into a pork rind fan!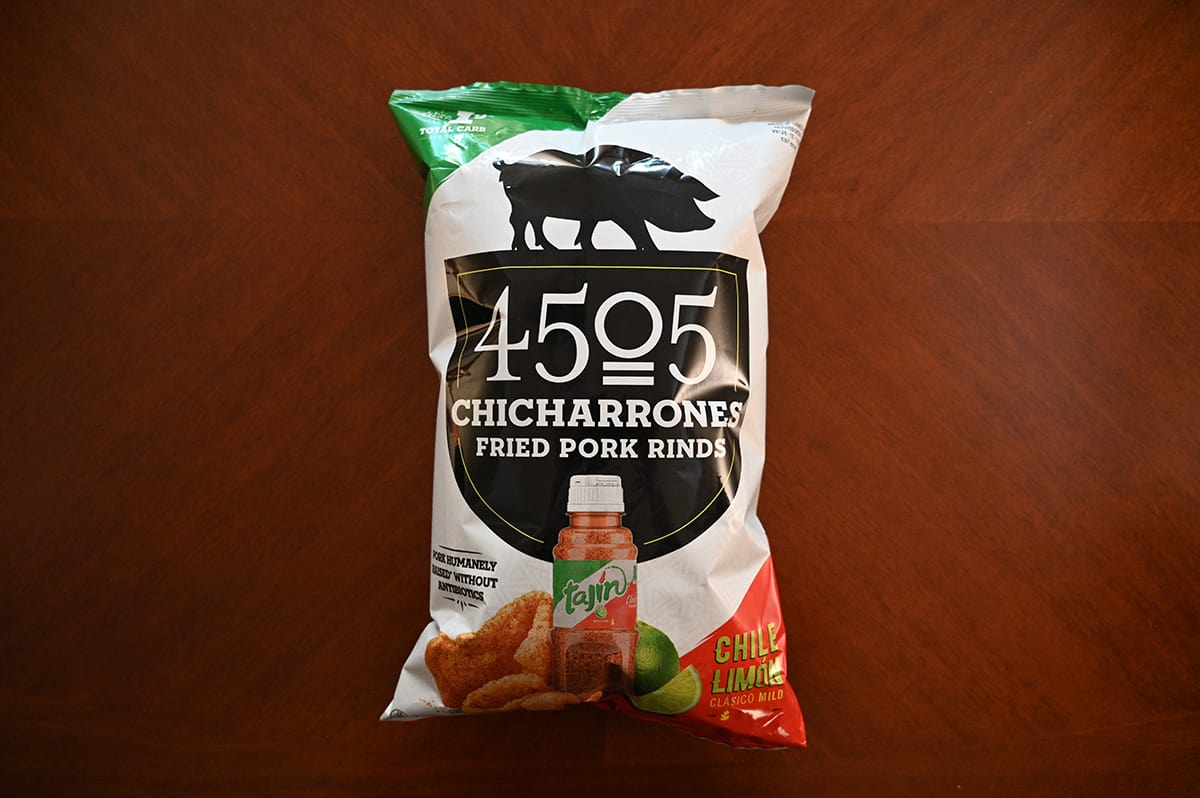 If fried pork rinds don't sound appealing to you either, Costco carries many other delicious snacks. Like the Hoody's Peanut Butter Chocolate Mix, Edward Marc Snappers, Innofoods Garden Crsip Crackers, Delicious Snacks Sweet Maui Onion Kettle Chips, Miss Vicky's Spicy Dill Pickle Chips, Parm Crisps Snack Mix, Cretor's Chicago Mix Popcorn, Savanna Orchard's Country Club Nut Mix and the Kirkland Signature Kettle Brand Potato Chips.
Location in Store
I bought these at the Kalispell, Montana Costco. They were located in the snack section near all the other chips, jerky and candy. The item number is 1645625.
Taste
The first thing I noticed is that the pork rinds are super light. They're like rice puffs or popcorn or something. Another thing I noticed was that the sizes and shapes of the pork rinds vary a lot more than most other similar snack foods like chips and stuff.
I imagine this has to do with how they're made. The texture also varies a lot from piece to piece; most of the pork rinds had a good crunch and kind of melted away as I ate them, but some were much harder and even had chunks that were nearly inedible. I was a little bit worried about my teeth after one bite in particular!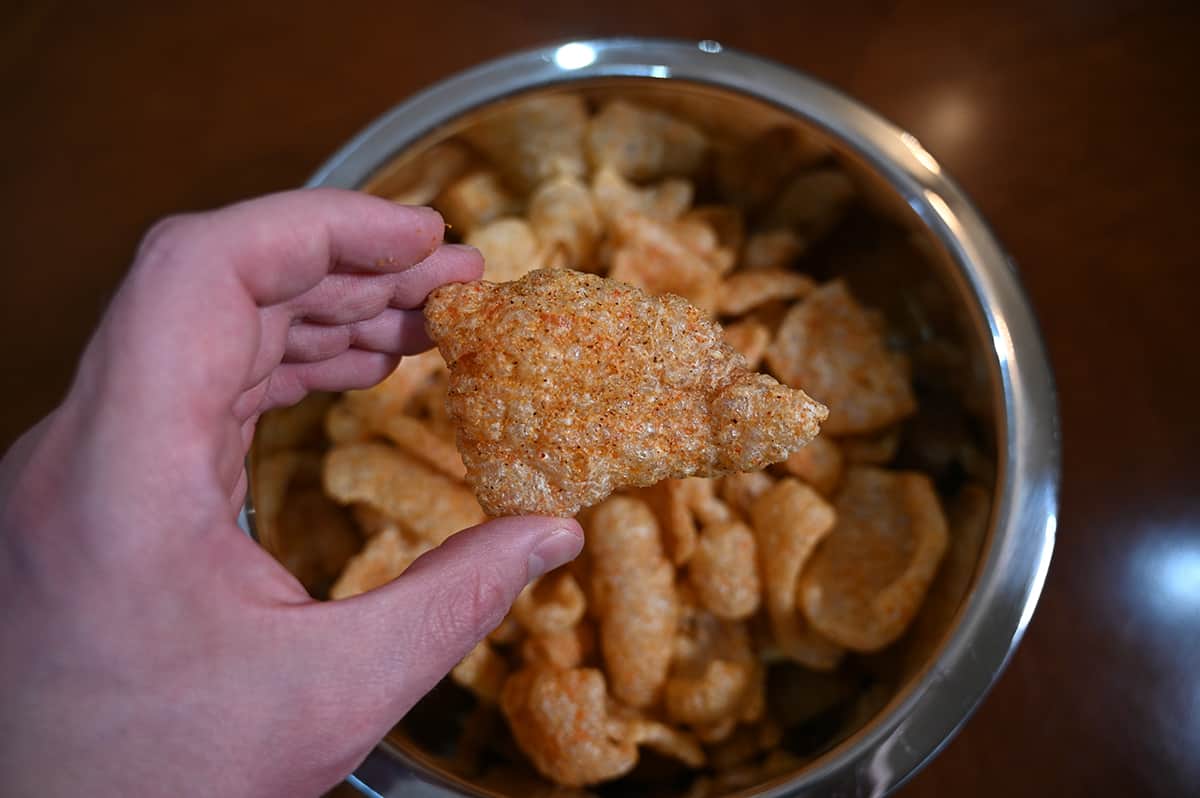 Although the chili lime seasoning is pretty strong, you can definitely tell the these pork rinds are made from pork. Depending on the piece, you might notice only a mild bacon-like flavor or a very strong one. As you might expect, they taste more like super crispy bacon. They're not overly greasy though. I would compare them to a tortilla chip or something as far as the level of greasiness goes. There's some there, but less than most potato chips.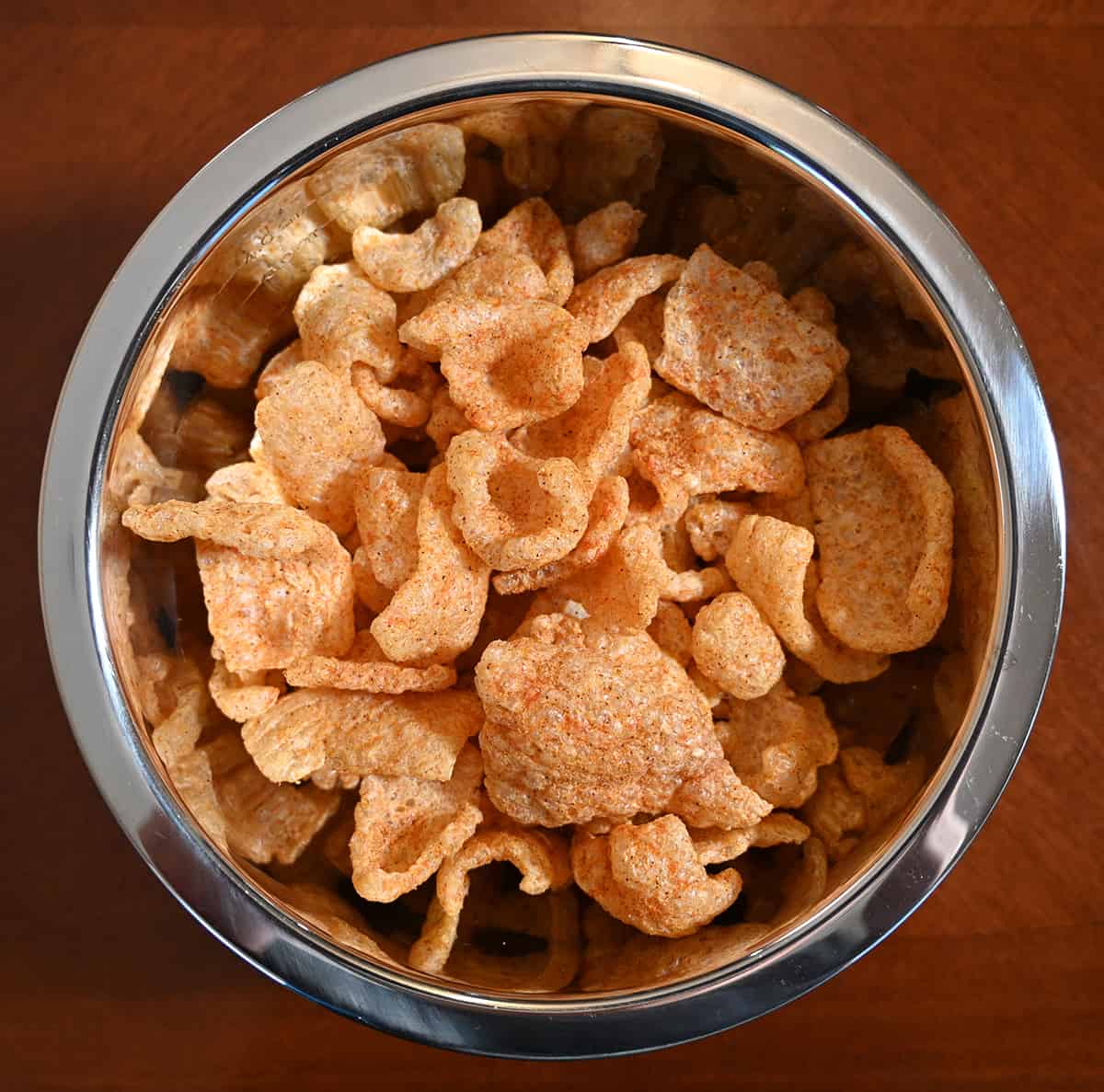 I didn't love the chili lime seasoning. Somehow, I found both the heat and the sweetness a bit overdone. I like spicy foods, so they definitely weren't too spicy for me, but it just wasn't very enjoyable. That may be partly because I just don't like the pork rinds very much though.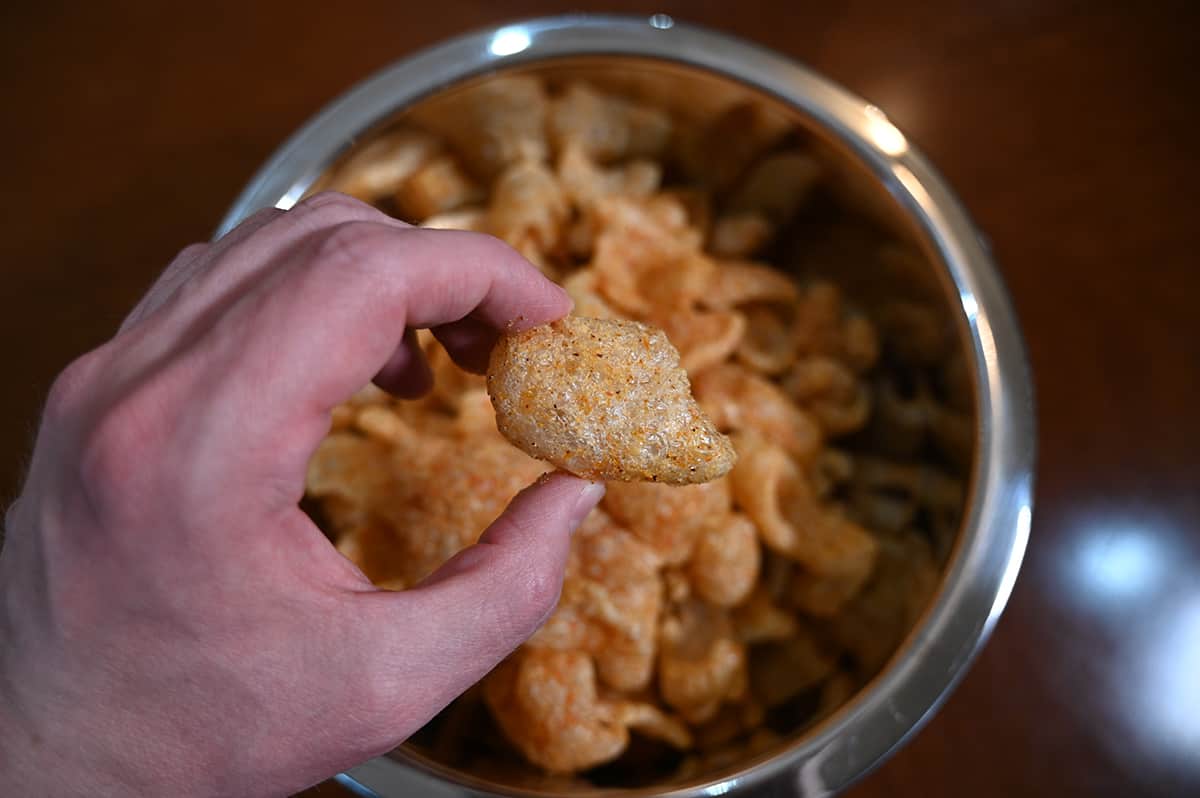 I might not be the best person to review these pork rinds, because I don't know what a good one should taste like. I don't like these ones though. They're pretty different from any other salty snack food I've had, so I guess I can see how some people might enjoy them (especially since they're super low in carbs and gluten-free).
Cost
The bag costs $6.79 USD at Costco for the 198.5-gram bag. I think that's really reasonable after comparing some prices online.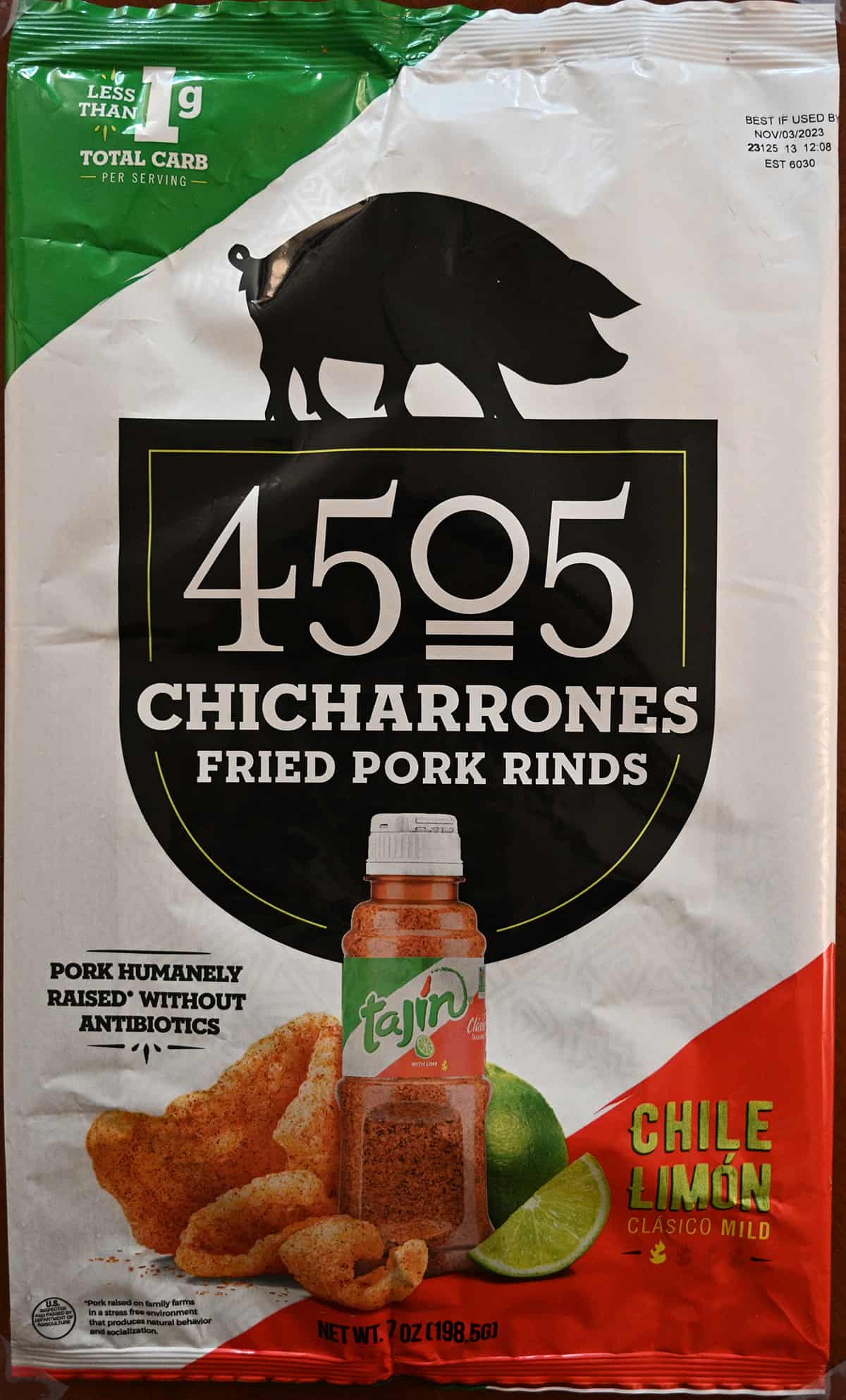 Convenience
Chicharrones can be made from various kinds of meat but these particular ones are made from fried pork skin. The bag has an expiry date that's about five months from when I purchased them but I can't see myself wanting to keep an open bag of these hanging around for long.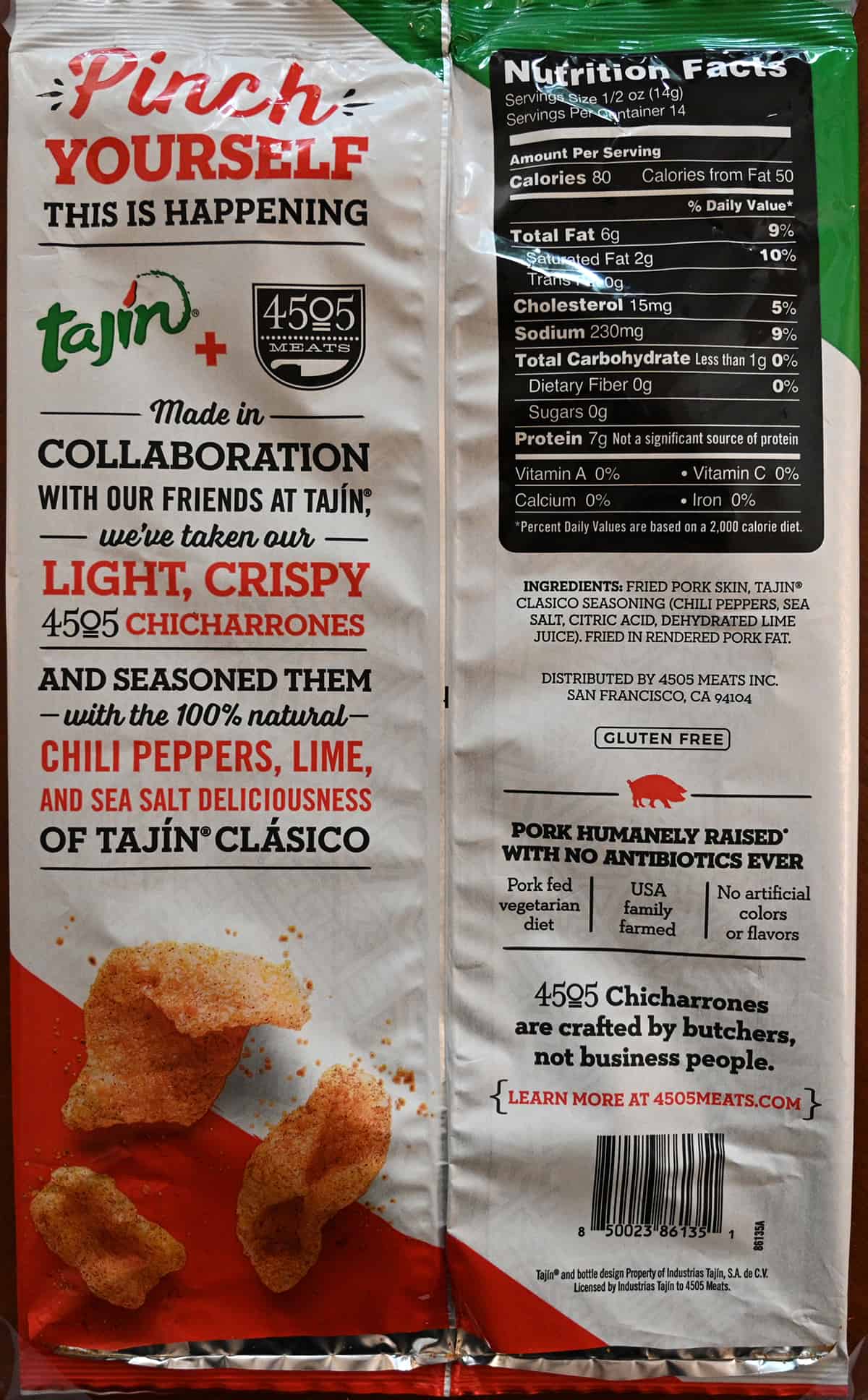 I think these appeal to people on a low-carb or paleo diet. Individuals on a keto diet may try to replace potato chips with these. Also if you grew up eating fried pork rinds or chicharrones you're probably more inclined to buy them.
Nutrition
Calories
A 14-gram serving contains 80 calories, six grams of fat, 230 milligrams of sodium, less than a gram of carbohydrates, zero grams of fiber, zero grams of sugar and seven grams of protein. That's a really small serving size for quite a few calories, fat and sodium.
If you're watching your sodium intake you really don't want to be eating very many of these.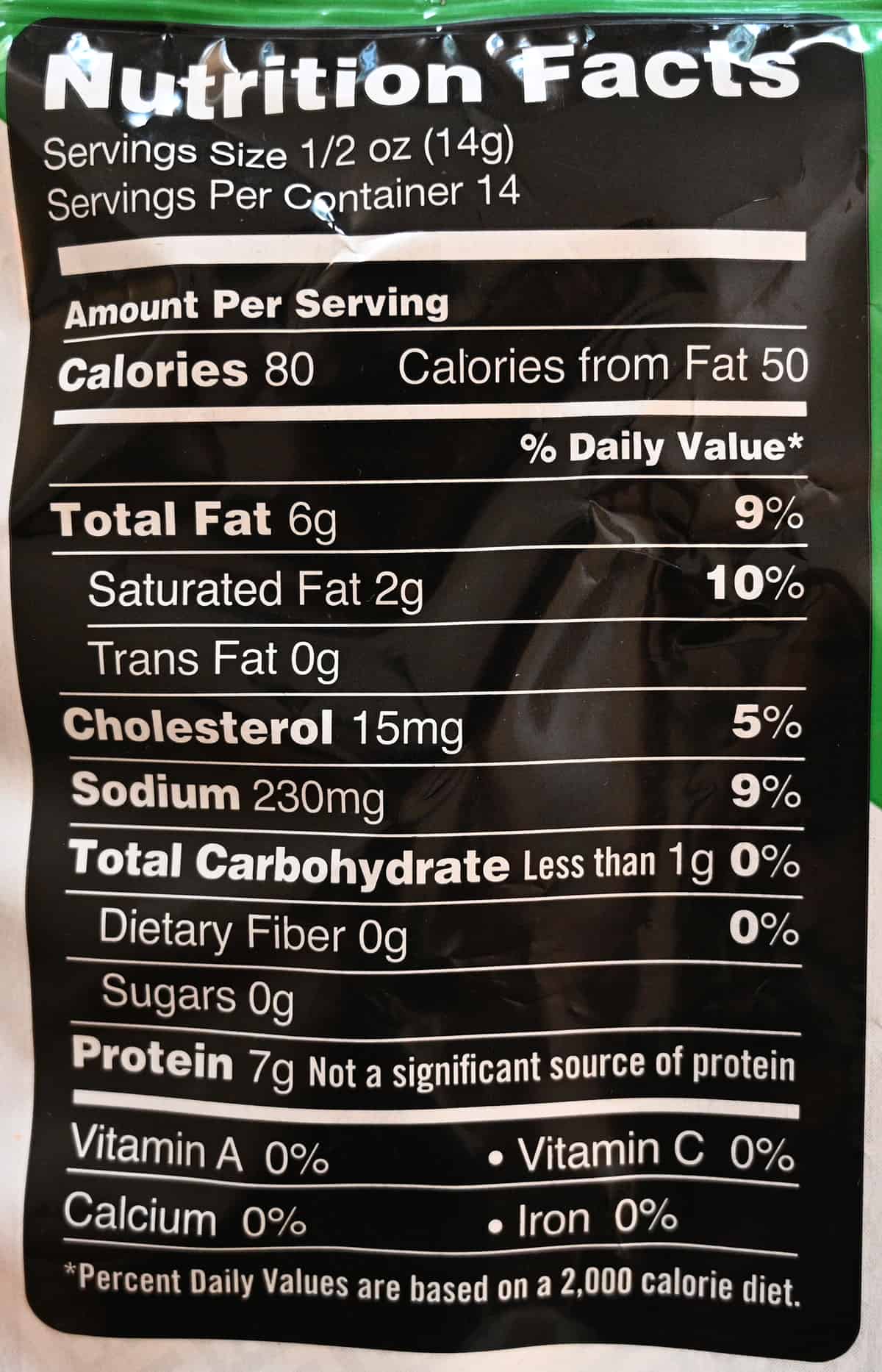 Ingredients
The ingredients list is short and sweet with only fried pork skin and seasonings being the main ingredients. The pork is humanely raised in the USA without the use of antibiotics. It's fed a vegetarian diet and there are no artificial colors or preservatives.

Scoring
Taste: 5/10
Cost: 8/10
Convenience: 10/10
Nutrition: 2/10 (Low carb yes but not healthy).
Overall
Give it a try!
Although these aren't my cup of tea I think a lot of individuals on a low-carb, grain-free diet would really enjoy them.
Have you tried the 4505 Chicharrones? What did you think of them? Leave a comment below!
---
Please note that this review was not paid for or sponsored by any third party. This product was purchased by Costcuisine for the purpose of producing this review. The opinions in this review are strictly those of Costcuisine. Costcuisine is not affiliated with Costco or any of its suppliers. In the event that Costcuisine receives compensation for a post from the manufacturer of a product or some other third party, the arrangement will be clearly disclosed (including where the manufacturer of a product provides Costcuisine with a free sample of the product).