Have you ever eaten a Reese's Peanut Butter Cup and thought it would be even better if it was a bit more salty? If so, I have the perfect snack for you! This Hoody's Peanut Butter Chocolate Mix takes the classic pairing of peanut butter and chocolate and adds some extra saltiness in the form of pretzels and peanuts. Spoiler alert – it's just as delicious and addictive as it sounds!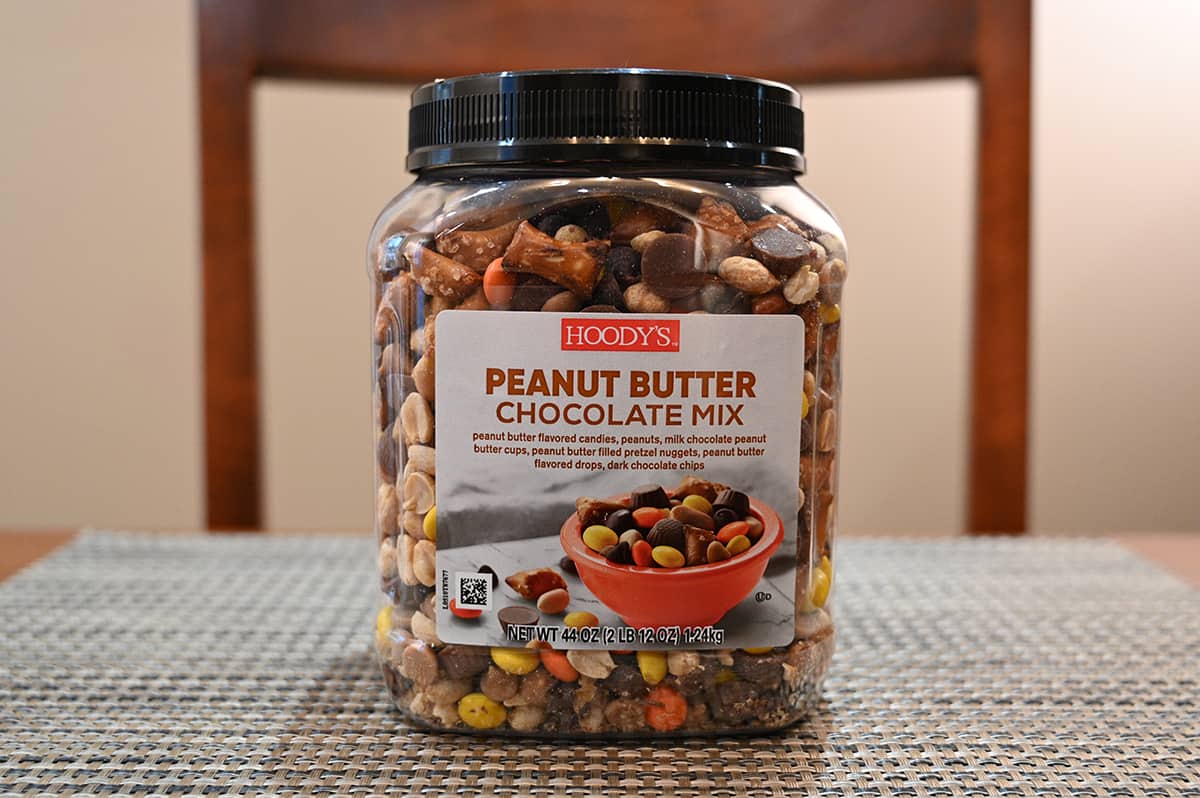 If peanut butter isn't your thing you may be interested in some other snacks from Costco. Such as the Parm Crisps Snack Mix, Savanna Orchards Country Club Nut Mix, Kirkland Signature Snacking Pecans, Kirkland Signature Butter Toffee Cashews, Creative Snacks Co. Pretzels, Kirkland Signature Trail Mix, Kirkland Signature Premium Quality Whole Mixed Nuts or the Kirkland Signature Nut and Seed Brittle.
Location in Store
I bought the mix at the Kalispell, Montana Costco and the item number is 1548202. It's located near the front of the store in the snack section near all the other nuts and chocolates.
Taste
I like peanut butter but I wasn't expecting to love this snack mix as much as I do. This mix is really addictive and it's hard to stop eating it once you start. Some flavors in the mix are similar to a lot of chocolate and peanut butter treats like Reese's (there are mini peanut butter cups and candies that resemble Reese's pieces).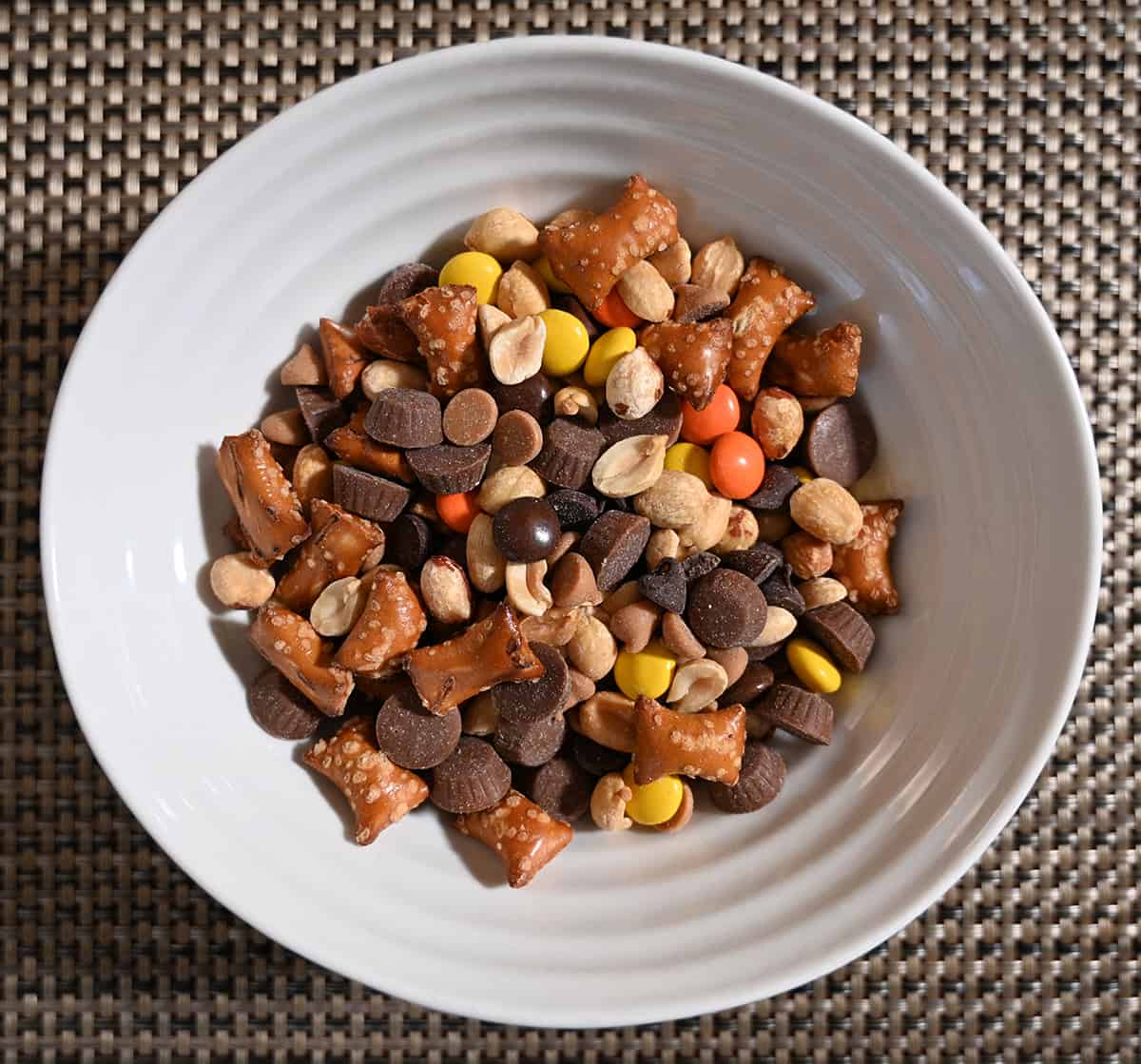 In the mix there are peanut butter flavored candies, peanuts, milk chocolate peanut butter cups, peanut butter filled pretzel nuggets, peanut butter flavored drops and dark chocolate chips. The peanut butter flavored drops are essentially just peanut butter chips. My favorites are the mini peanut butter cups and the peanut butter filled pretzels.
The candies and cups taste just like Reese's. The peanut butter filled pretzels combine salty, crunchy pretzels with a peanut butter filling, my only complaint is that I wish there was more filling. They're not really loaded with peanut butter.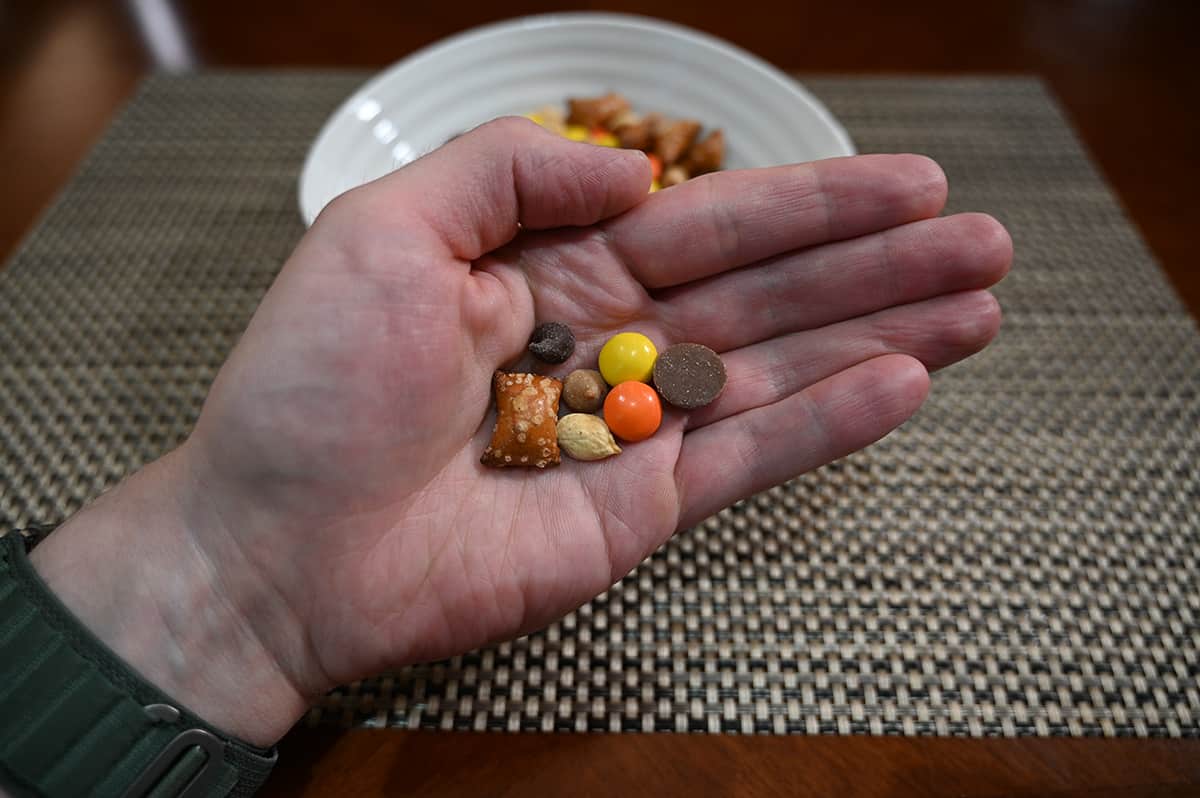 All of the textures and flavors go really well together to make a perfect movie or afternoon snack. I wouldn't have this with a cocktail because it's too sweet and more like a dessert even though it has pretzels and peanuts.
Cost
The two-pound 12-ounce container of mix costs $10.49 USD at Costco which is a pretty typical price for a snack like this.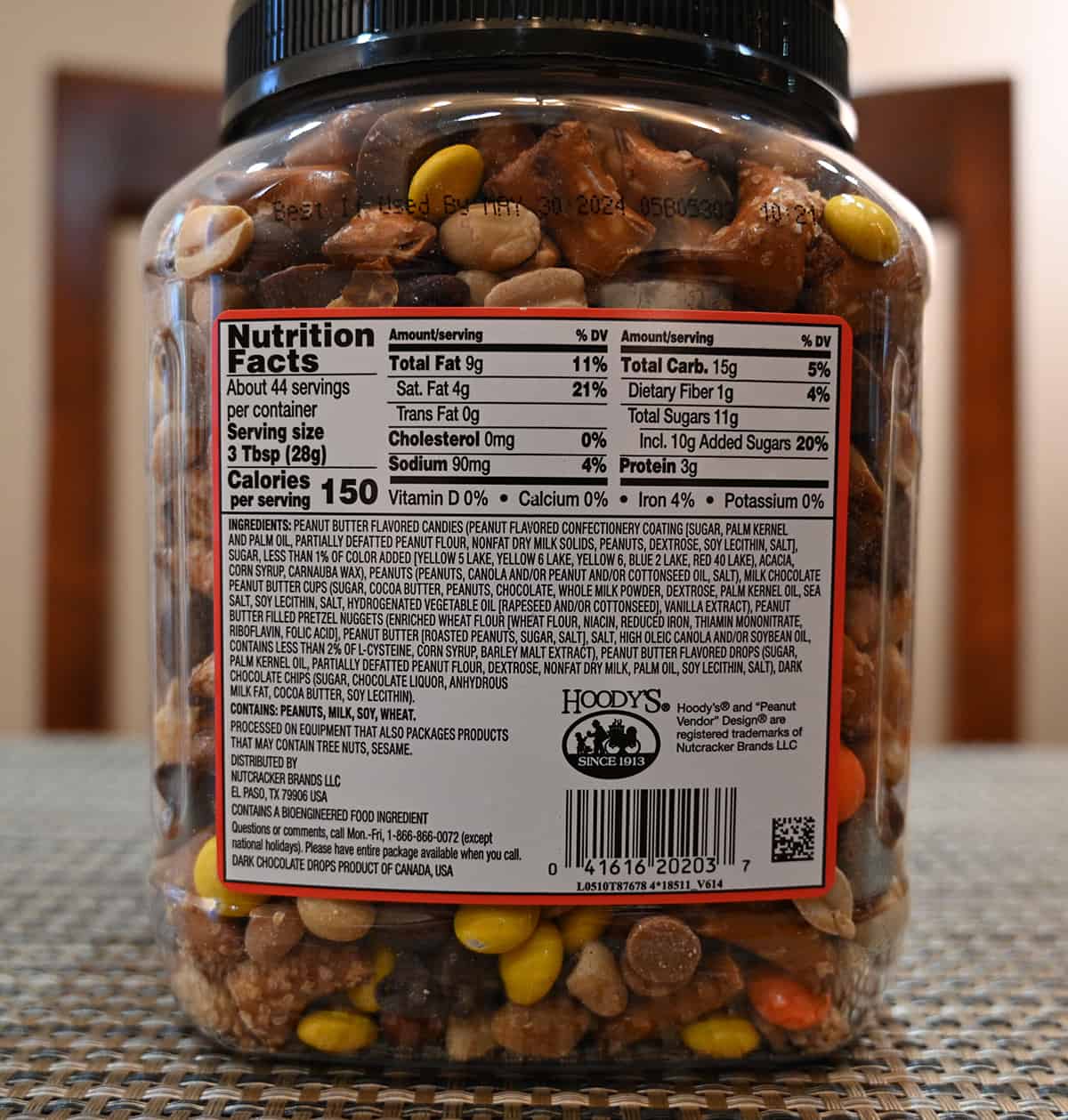 Convenience
The mix comes in a plastic tub with a plastic screwtop lid. The best-before date listed on the mix is about 11 months from when we purchased it. I think kids would absolutely love this mix as well as any adults who love peanuts and peanut butter!
To avoid the chocolate melting I would make sure to store it in a cool, dry place. Especially in the heat of summer!
Nutrition
Calories
I knew this wasn't going to be low in calories or fat which isn't great considering how addictive this stuff is. Three tablespoons or a 28-gram serving contains 150 calories, nine grams of fat, 90 milligrams of sodium, 15 grams of carbohydrates, 11 grams of sugar and three grams of protein.


Three tablespoons is really not that much, it's about a large handful so it's really easy to eat a lot of calories, fat and sugar without even realizing it.
Ingredients
The mix contains major allergens like peanuts, milk, soy and wheat and has lots of unhealthy ingredients. Some ingredients I don't love seeing are palm oil, corn syrup, sugar, hydrogenated vegetable oil and soybean oil.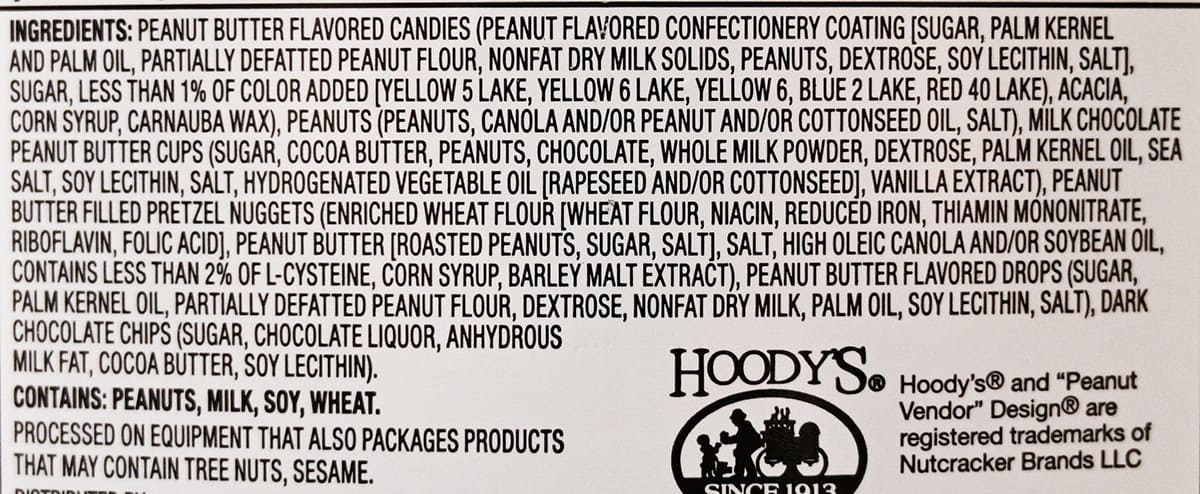 The package states the mix contains bioengineered food ingredients.
Scoring
Taste: 9/10
Cost: 8.5/10
Convenience: 10/10
Nutrition: 0/10
Overall
Must buy if you like peanuts/peanut butter!
Yes, this mix isn't healthy but it's really delicious and nice to have as a treat! I think anyone who likes peanut butter or peanuts will love this.
If you've tried the Hoody's Peanut Butter Chocolate Mix from Costco, what did you think of them? Leave a comment below!
---
Please note that this review was not paid for or sponsored by any third party. This product was purchased by Costcuisine for the purpose of producing this review. The opinions in this review are strictly those of Costcuisine. Costcuisine is not affiliated with Costco or any of its suppliers. In the event that Costcuisine receives compensation for a post from the manufacturer of a product or some other third party, the arrangement will be clearly disclosed (including where the manufacturer of a product provides Costcuisine with a free sample of the product).