Pretzels are a great snack on their own, but they're also a popular choice for the salty part of lots of salty and sweet combinations. Costco has offered a few of these over the years – I've personally reviewed the Creative Snacks Co. White Chocolate Peppermint Pretzel Crisps and the Snappers Dark Chocolate Sea Salt Caramel Pretzel Clusters. I know from past experience that pretzels pair perfectly with chocolate, but I wasn't sure how they'd work with the different flavors of these yogurt-covered pretzels. I had to find out!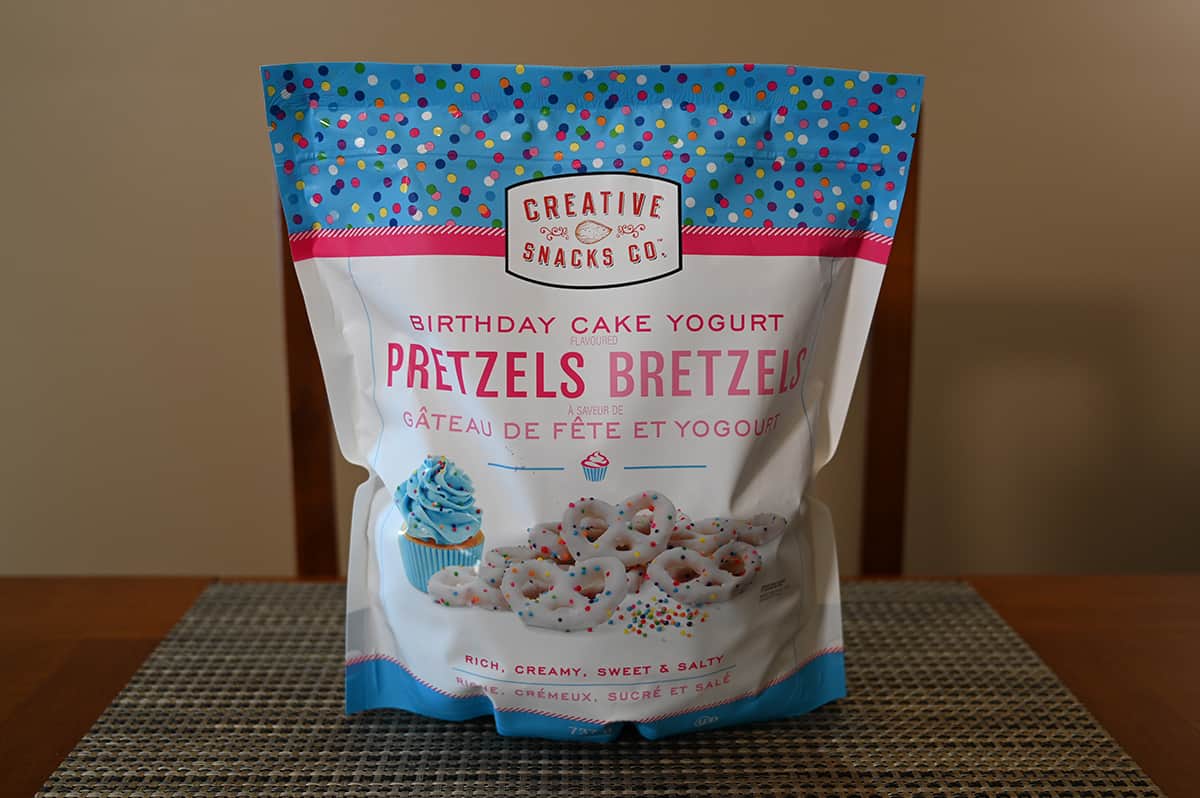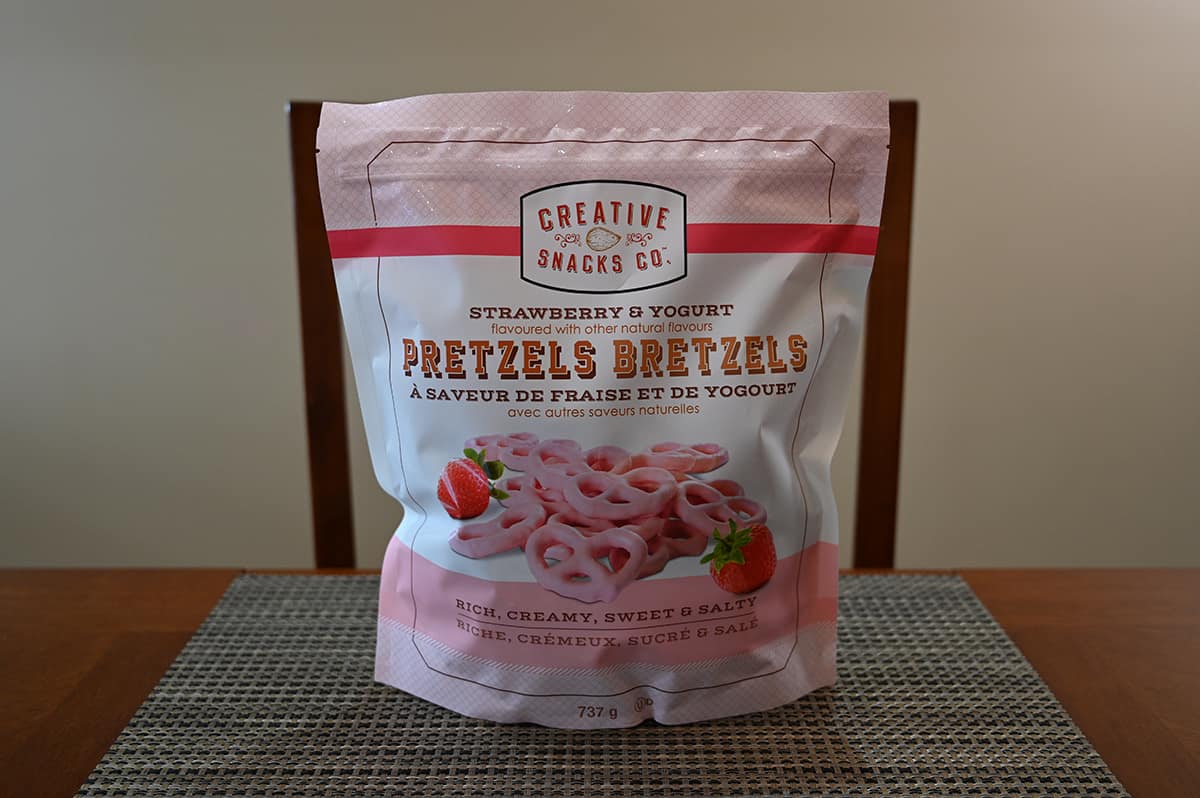 Location in Store
Other sweet and salty foods from Costco are the Kirkland Signature Butter Toffee Cashews, Angie's Boom Chicka Pop Sweet & Salty Kettle Corn, Savanna Orchards Gourmet Honey Roasted Nuts, Kirkland Signature Honey Roasted Macadamia Nuts, Kewpie Deep Roasted Sesame Marinade & Dressing, RX Bars and the Kirkland Signature Cheese Fruit and Nut Packs. The Kirkland Signature Peanut Butter Pretzels are another interesting pretzel-based snack, but they're more of a salty and salty combination!
Location in Store
These are located in the snack section near the front of the store, by the beef jerky, granola bars and candy. The item number for the strawberry pretzels is 1595597. The item number for the birthday cake pretzels is 1718034.
Taste
Strawberry & Yogurt Pretzels
These pretzels are an addictive mix of salty and sweet and soft and crunchy! They're pretty much what I expected, and I mean that in a good way. The outer coating is fairly soft, creamy and has a nice amount of sweetness. The strawberry flavor is good, though a bit artificial.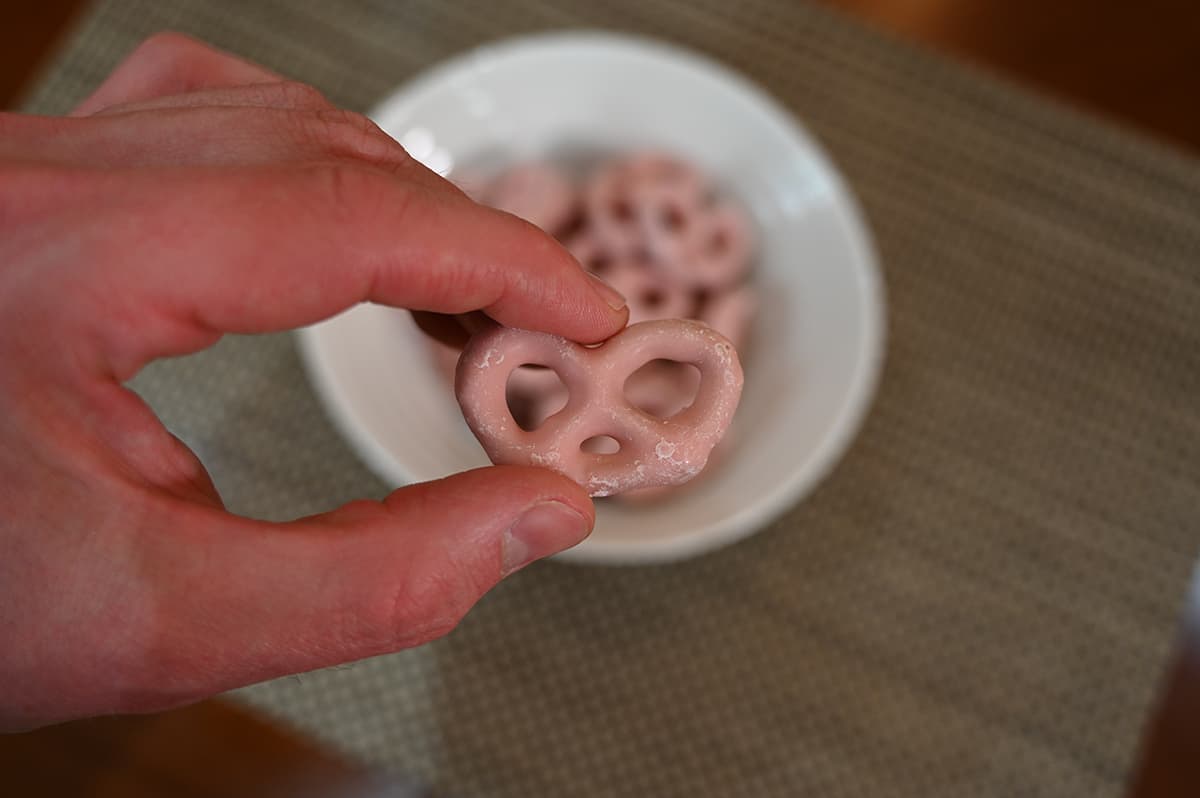 The pretzel inside is pretty typical; the most impressive part to me is that the pretzels somehow stay pretty crunchy despite the generous amount of strawberry yogurt coating.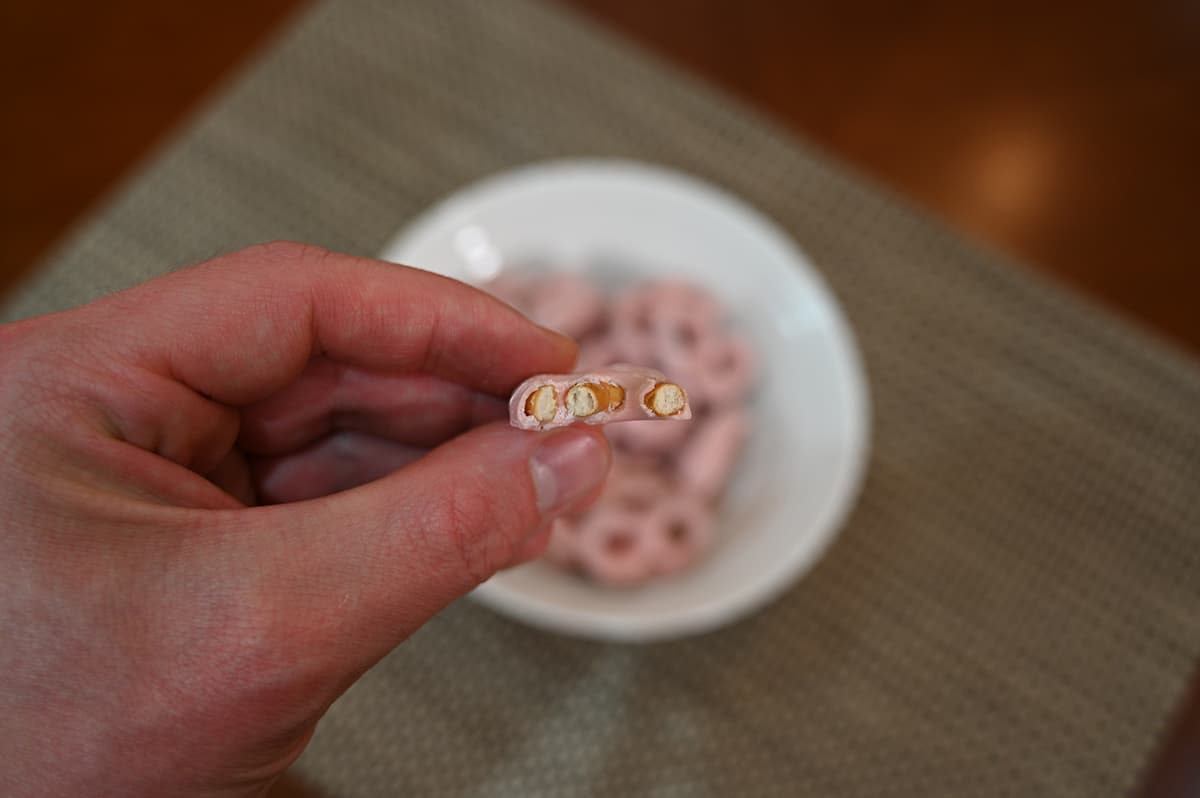 Even though the pretzels have an excellent combination of salty and sweet flavors, they're definitely more of a sweet snack than a salty one. I can see eating them for dessert, but probably wouldn't want to have them with a glass of wine on my deck in the summer.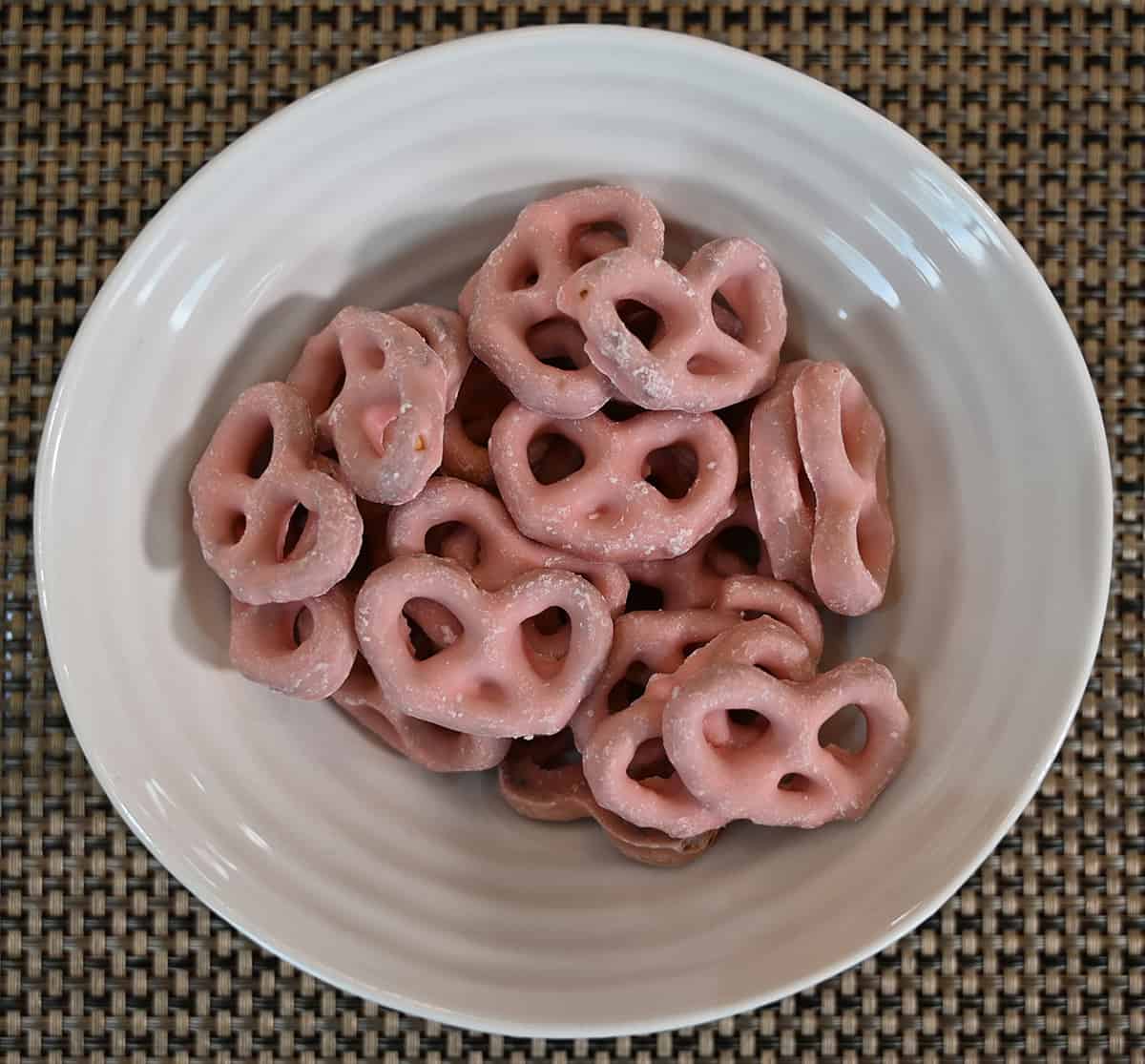 Birthday Cake Yogurt Pretzels
The birthday cake flavor is good. It's not a flavor I would think to pair with a salty pretzel, but it works. As with the strawberry ones, they're not overly sweet, which I like. The sprinkles add a bit of extra crunchiness.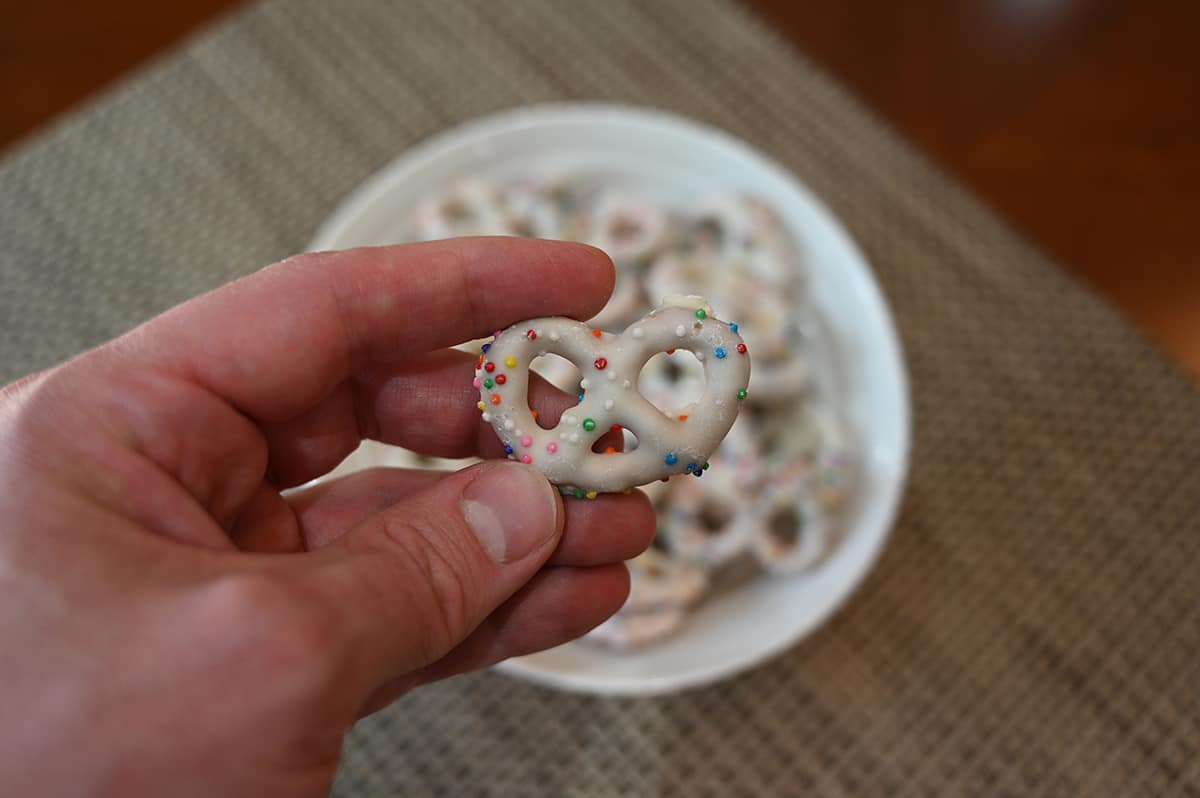 Other than the flavor the birthday cake and strawberry yogurt pretzels are the same.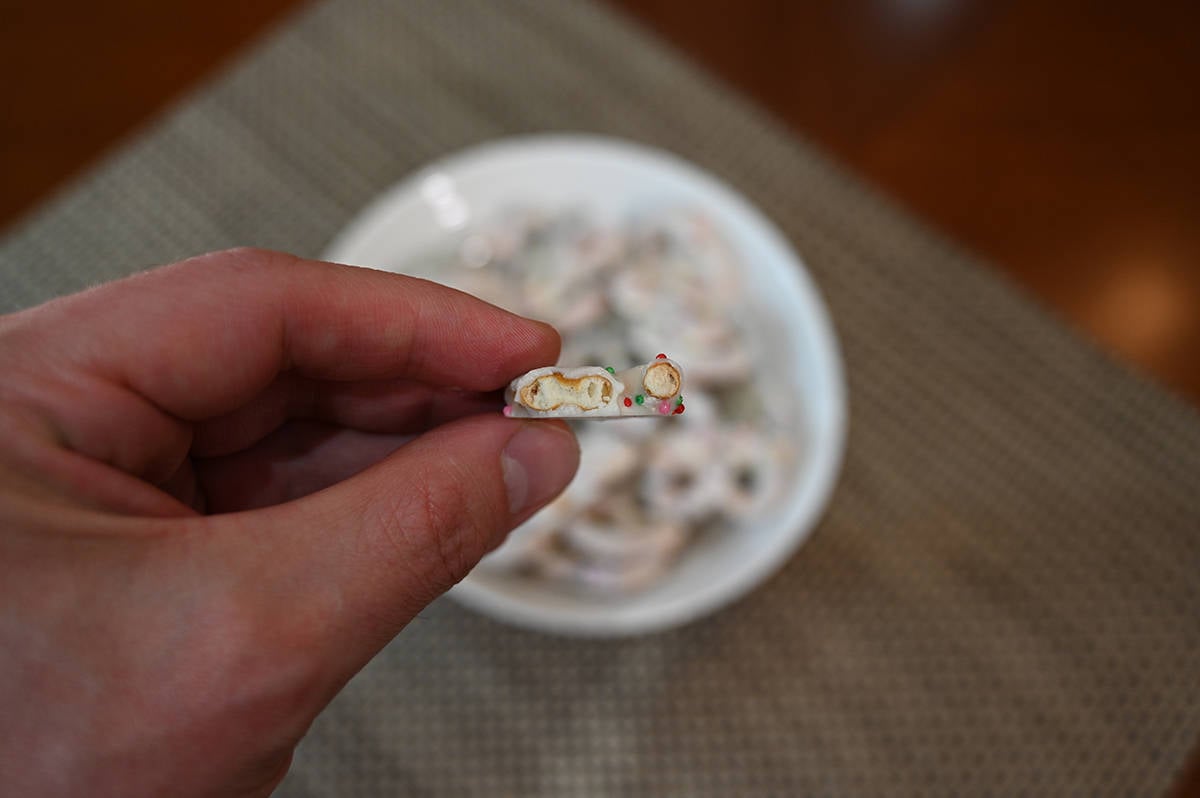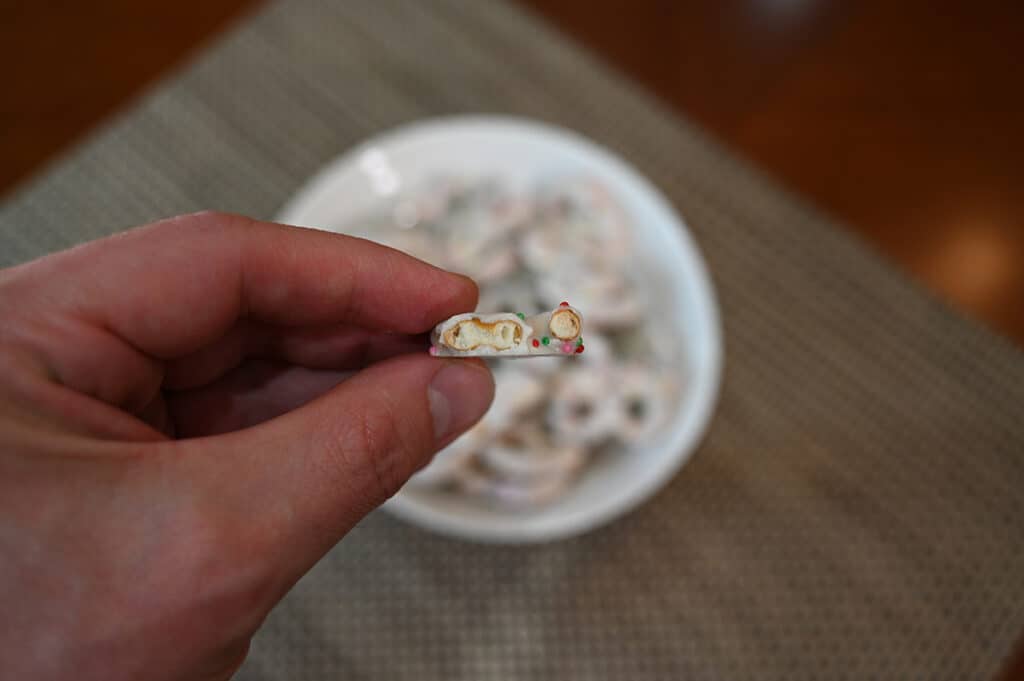 Cost
Both flavors come in a 737-gram bag and cost $10.99 Canadian at Costco, which isn't the cheapest but isn't outrageously expensive. The price is similar to other snacks like this at Costco.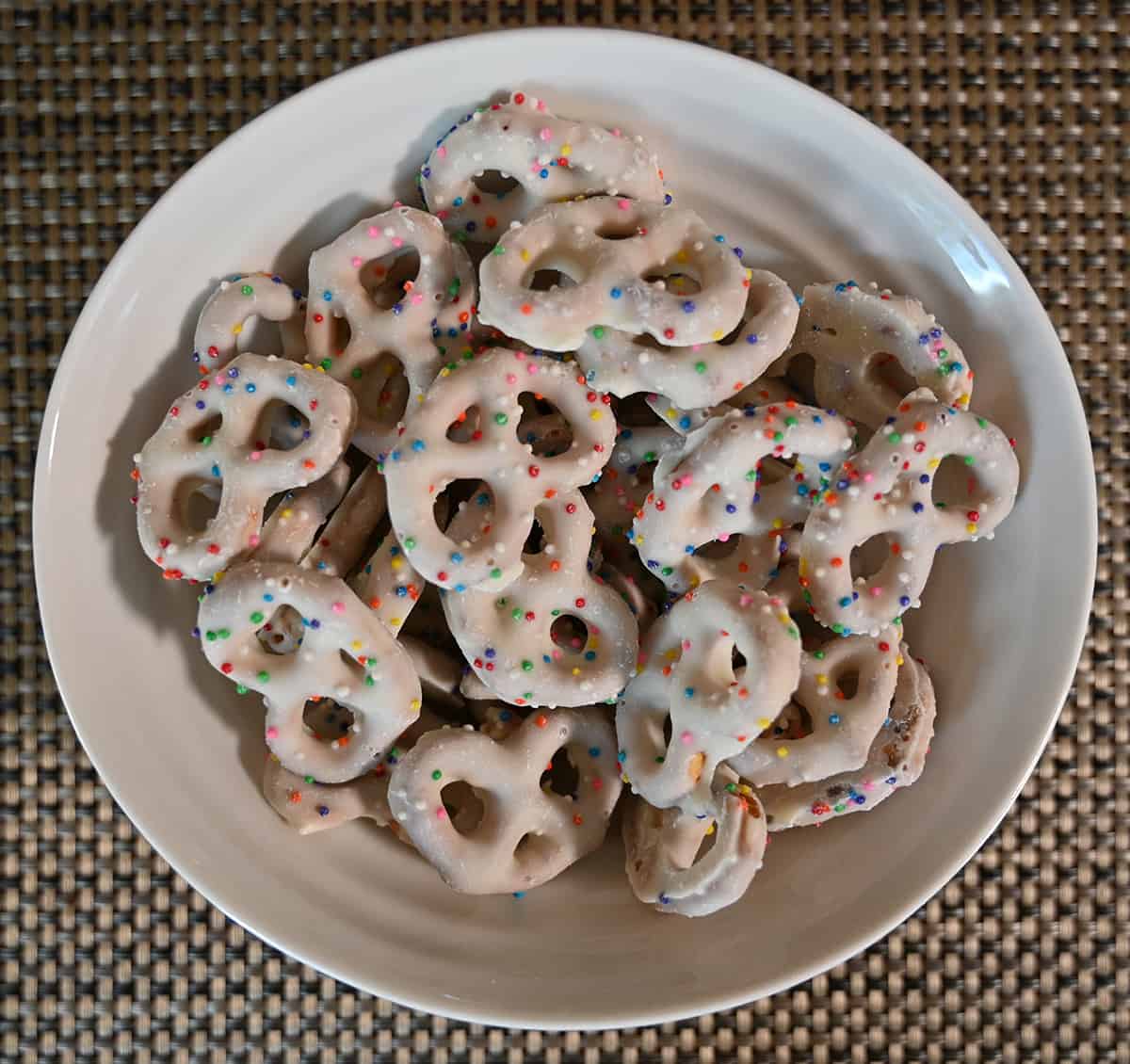 Convenience
Both bags are resealable which I appreciate because it helps keep the pretzels fresh! The best-before date is around six months from when I purchased both kids of pretzels. I think kids would absolutely love bringing these to school as a snack or having them as a treat on family movie night.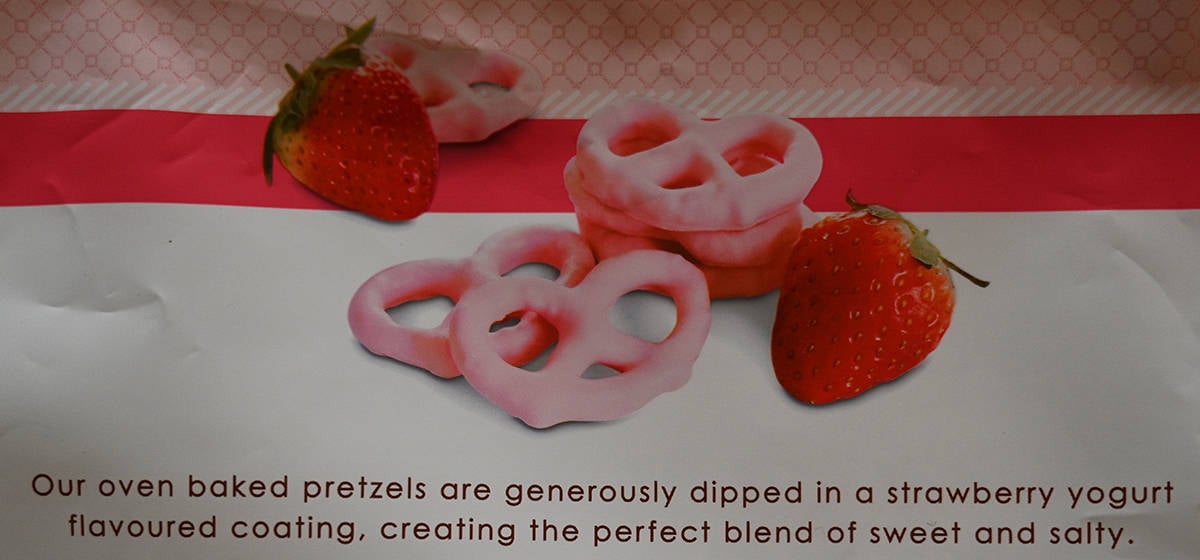 One thing I'll point out is that the pretzels were all pretty intact in the bag and not crushed. The bag also recommends storing the pretzels in a cool, dry place.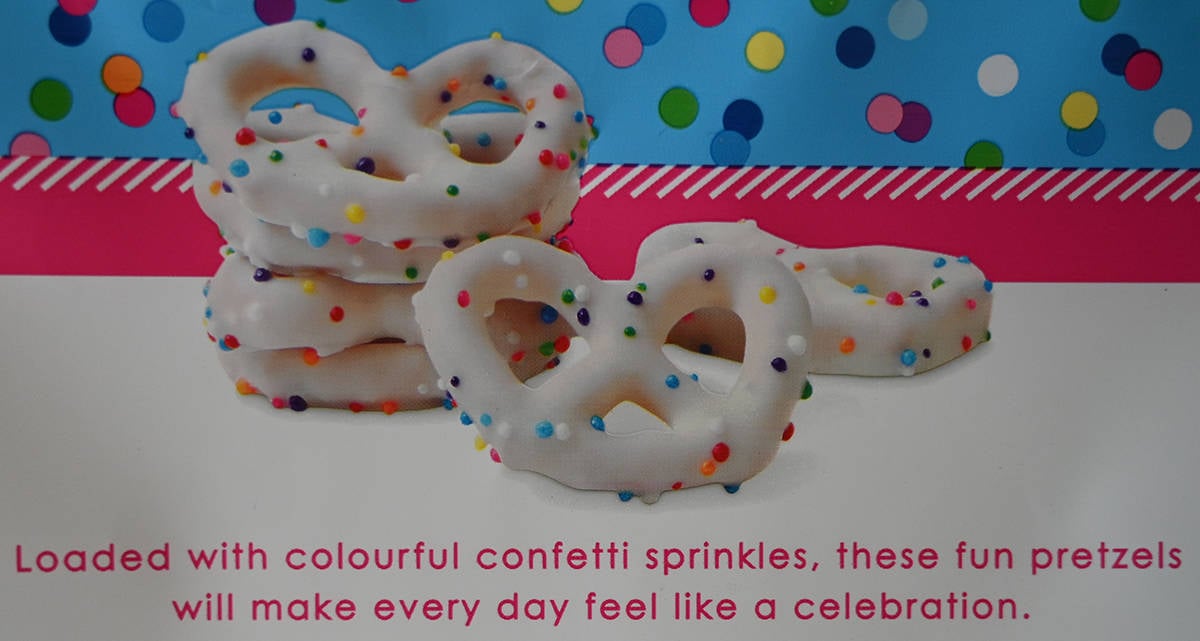 Nutrition
Calories
Strawberry & Yogurt Pretzels
10 pretzels contain 240 calories, nine grams of fat, 37 grams of carbohydrates, one gram of fibre, 23 grams of sugar, two grams of protein and 160 milligrams of sodium. It's really easy to eat way more than 10 pretzels so in my opinion the calories, fat, carbs and sugar are pretty high.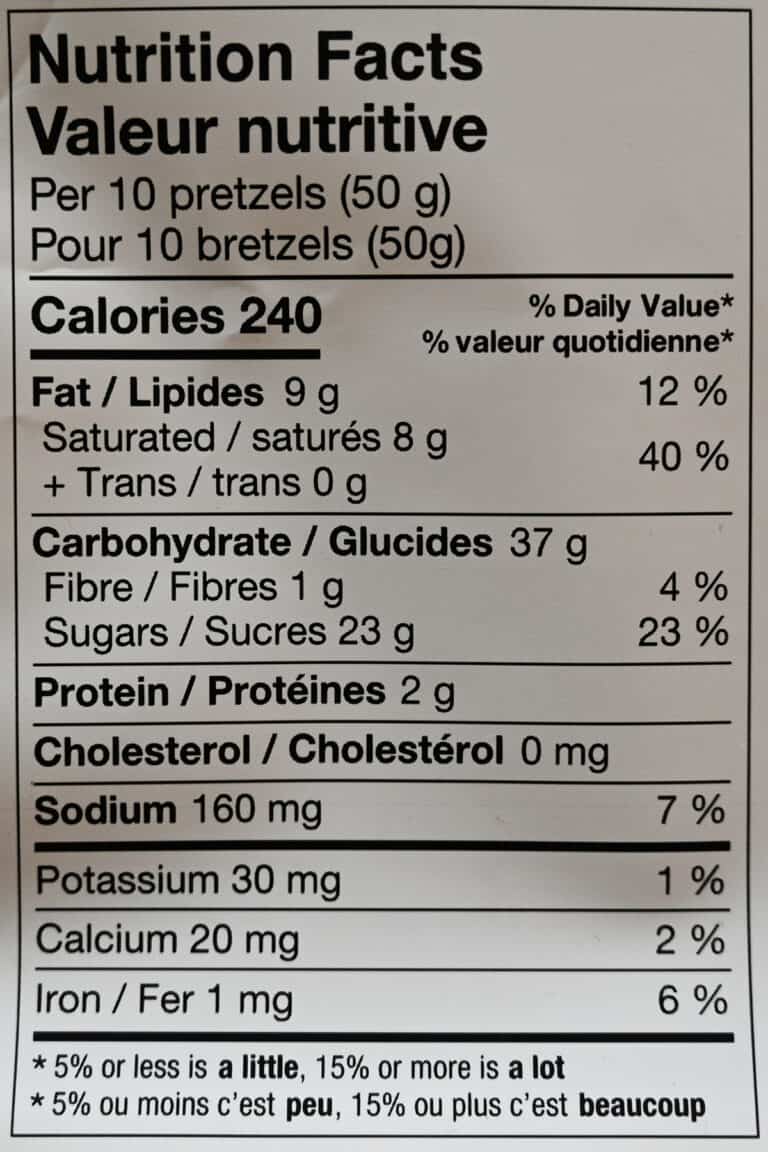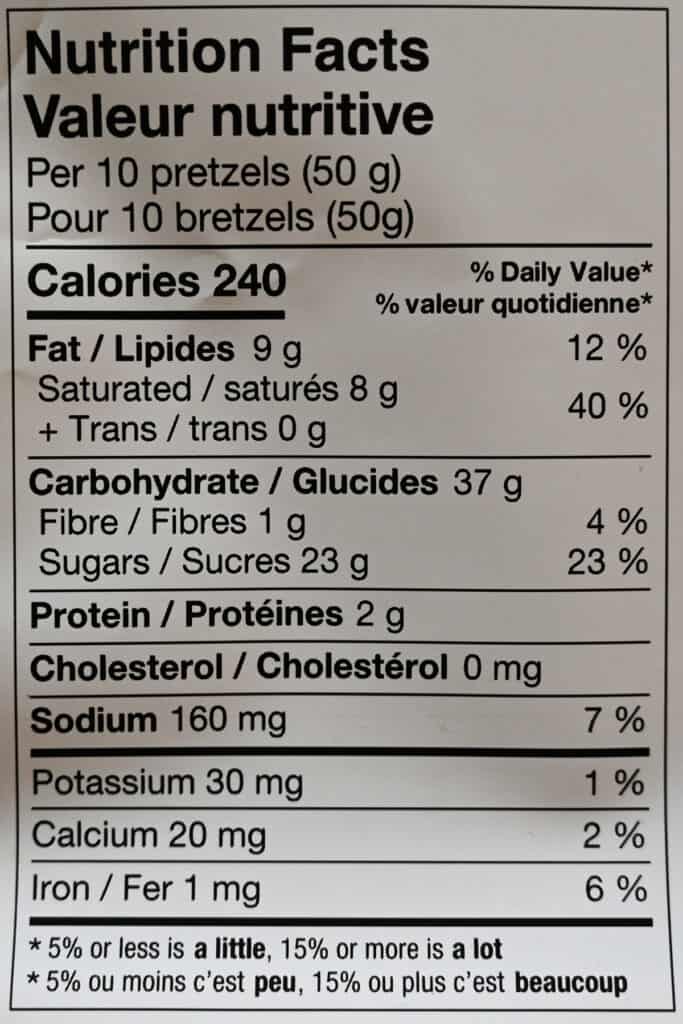 Birthday Cake Yogurt Pretzels
10 pretzels contain 230 calories, eight grams of fat, 39 grams of carbohydrates, zero grams of fibre, 25 grams of sugar, two grams of protein and 140 milligrams of sodium.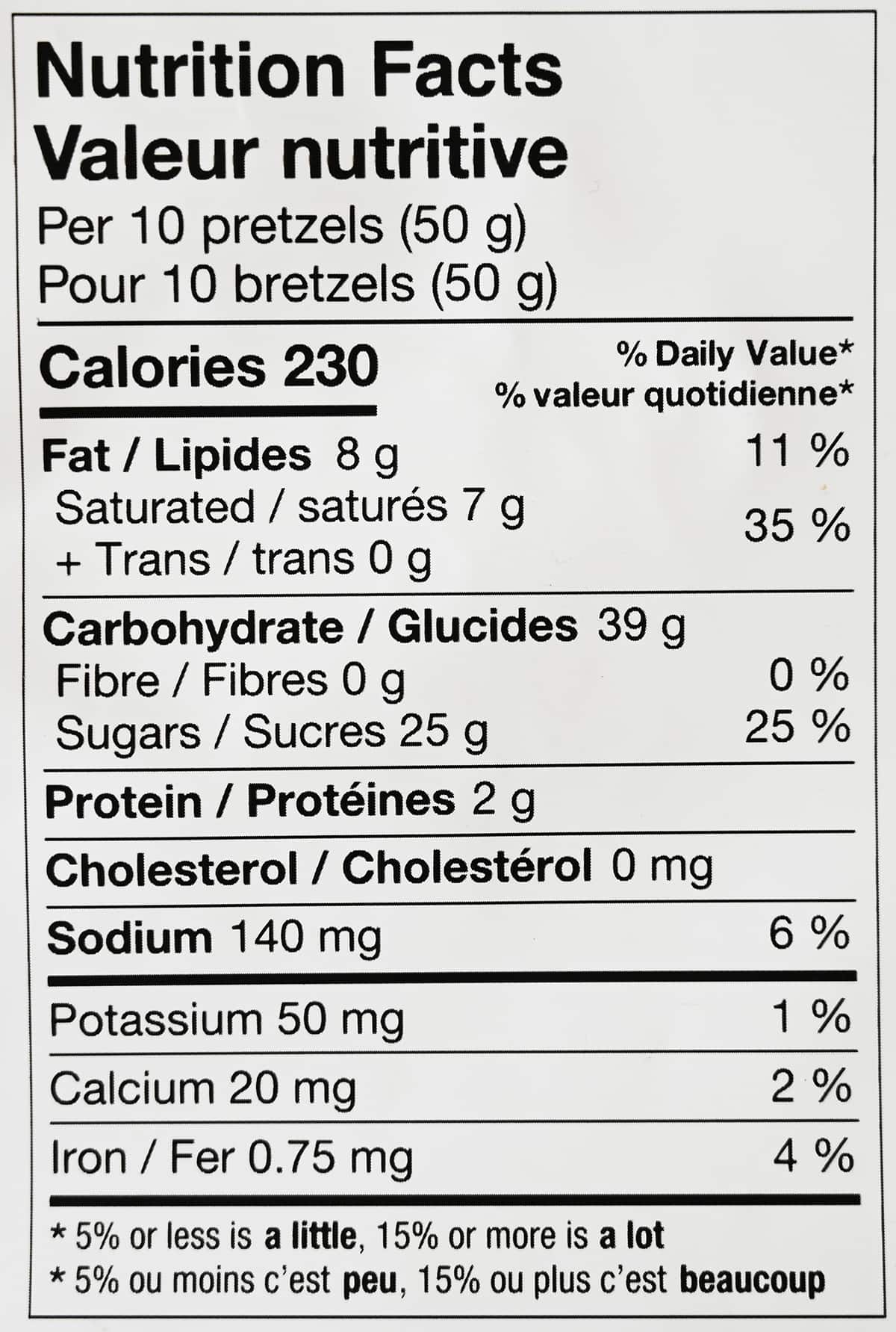 Ingredients
There's nothing nutritious about both of these flavored pretzels from Costco. I don't think there's really even any real strawberry in the coating. I give the ingredients a big thumbs down due to sugar being the first ingredient and the palm oil, soybean and canola oil listed.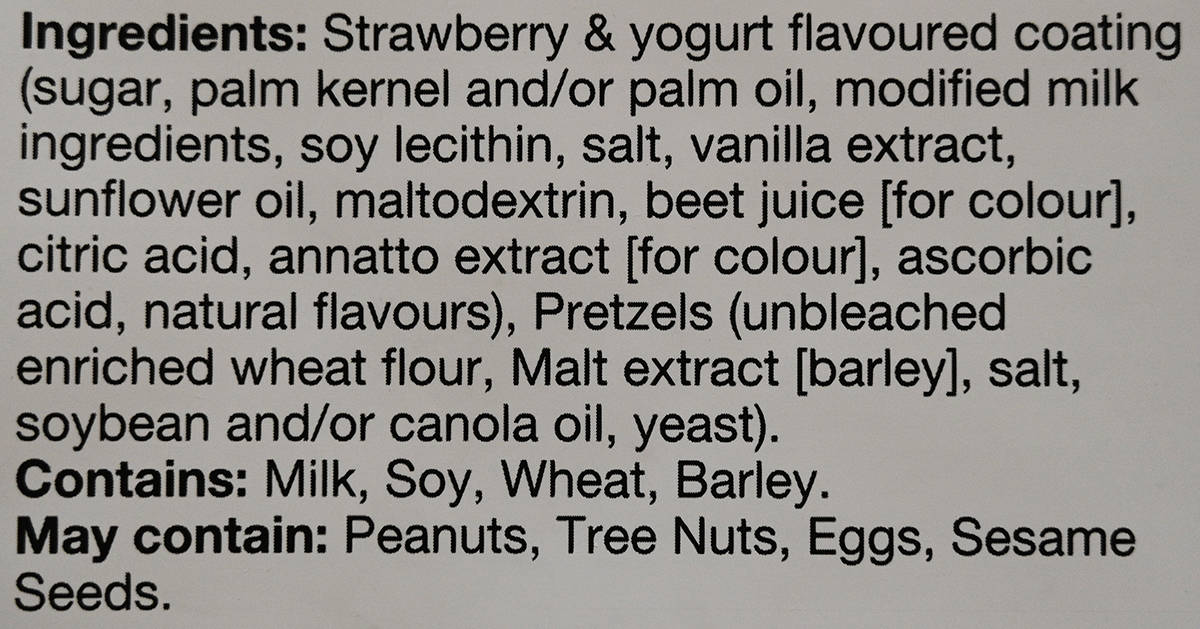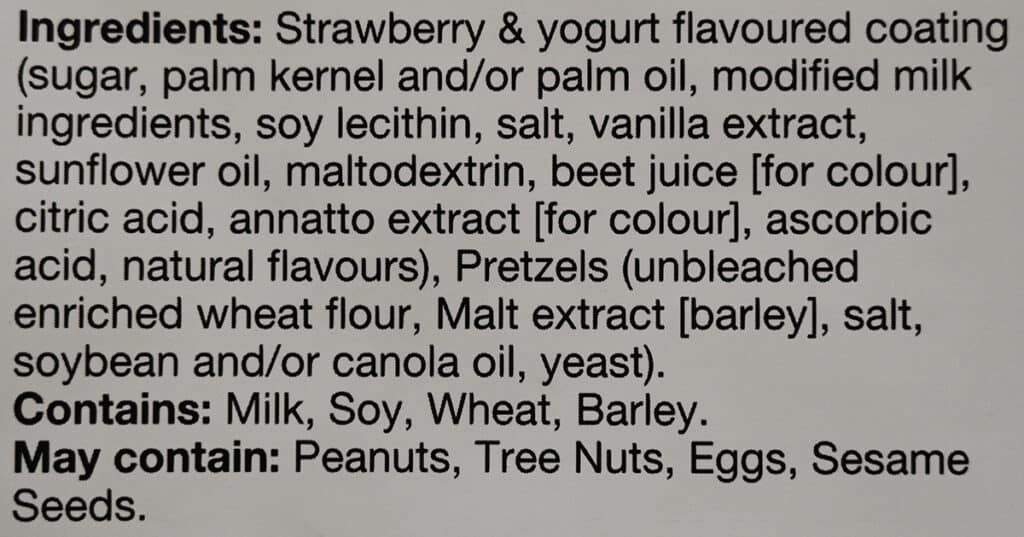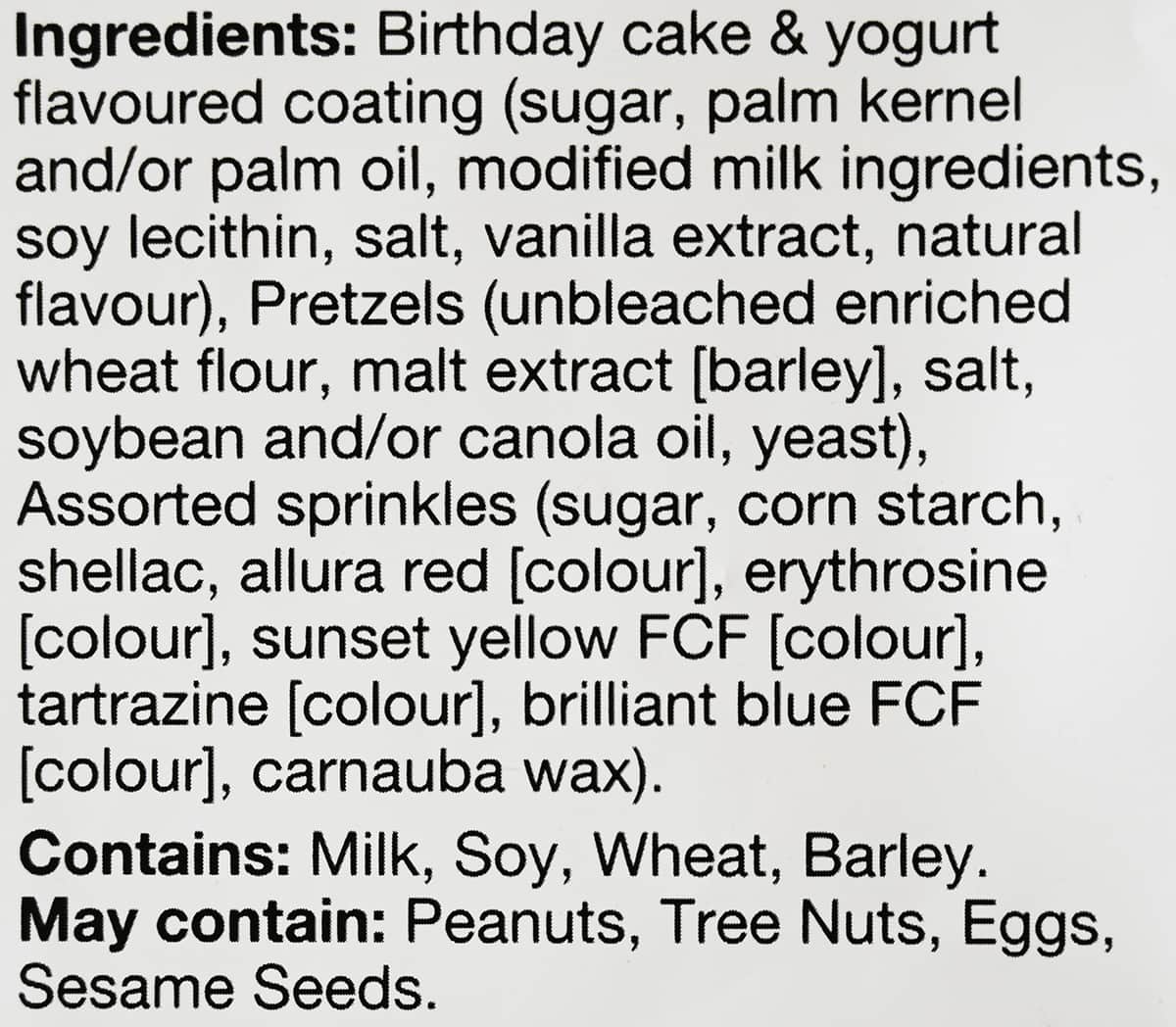 Scoring
Taste: 8/10 for both flavors.
Cost: 7/10
Convenience: 10/10
Nutrition: 0/10
Overall
Must buy!
The salty, sweet flavor combination and crunchy texture is delicious and it's hard to stop eating these once you start.
Have you tried these strawberry or birthday cake yogurt-covered pretzels? What did you think of them?
---
Please note that this review was not paid for or sponsored by any third party. This product was purchased by Costcuisine for the purpose of producing this review. The opinions in this review are strictly those of Costcuisine. Costcuisine is not affiliated with Costco or any of its suppliers. In the event that Costcuisine receives compensation for a post from the manufacturer of a product or some other third party, the arrangement will be clearly disclosed (including where the manufacturer of a product provides Costcuisine with a free sample of the product).