Are you looking for the best-tasting store-bought potato salad? My local Costco carries only one kind of potato salad, the Stonemill Kitchens Homestyle Red Potato Salad. It can be difficult to find a commercially prepared potato salad that's not disappointing but I find Costco generally carries high-quality products. Is this Stonemill Kitchens potato salad one of the best grocery store potato salads?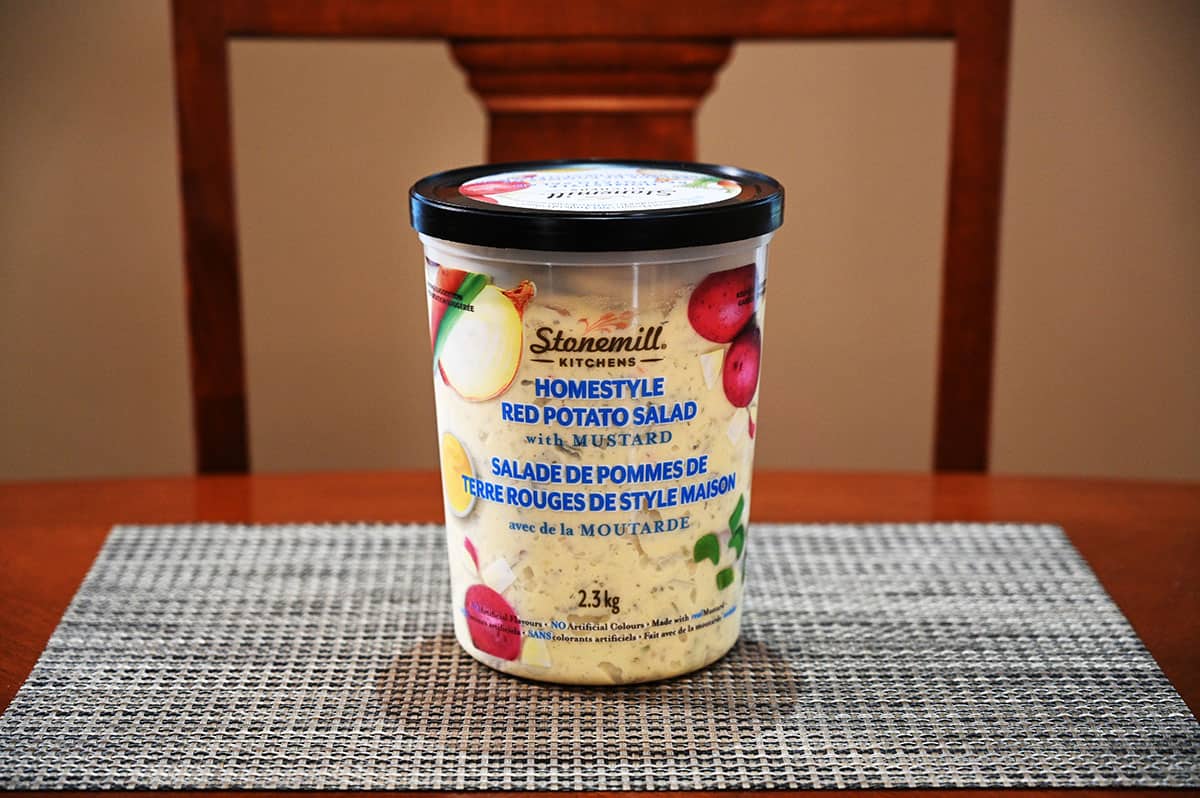 I don't eat a ton of potato salad, it's not my favorite and my husband doesn't love it either. I tend to enjoy it most during the summer months with barbecue food. Recently, we were having barbecued ribs so I decided to pick up this Costco Stonemill Homestyle Red Potato Salad to serve as a side.
Other salads I love from Costco are the Costco Kirkland Signature Quinoa Salad, Costco Eat Smart Sweet Kale Salad Kit, Costco Taylor Farms Dill Pickle Salad and the Costco Taylor Farms Asian Cashew Chopped Salad. I dearly miss the Costco Kirkland Signature Mediterranean Pasta Salad that they used to have in the pre-made meal section.
Location in Store
You can find this in the deli section near the cold-cut meats, cheeses and dips. The item number is 427798.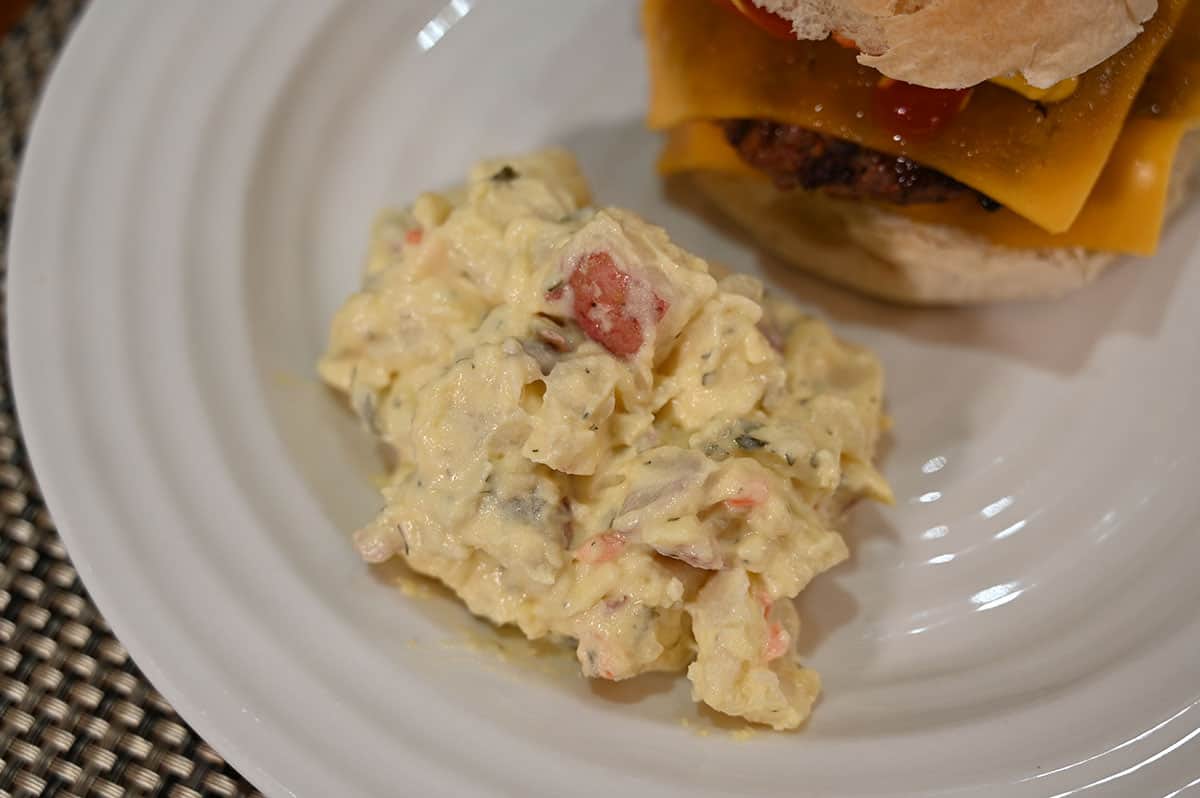 Taste
I've had a lot of mediocre store-bought potato salad before. Let's face it, store-bought potato salad is never nearly as good as homemade. However, the Costco Stonemill Kitchens Homestyle Red Potato Salad is probably one of the tastiest store-bought potato salads I've had and my husband agrees.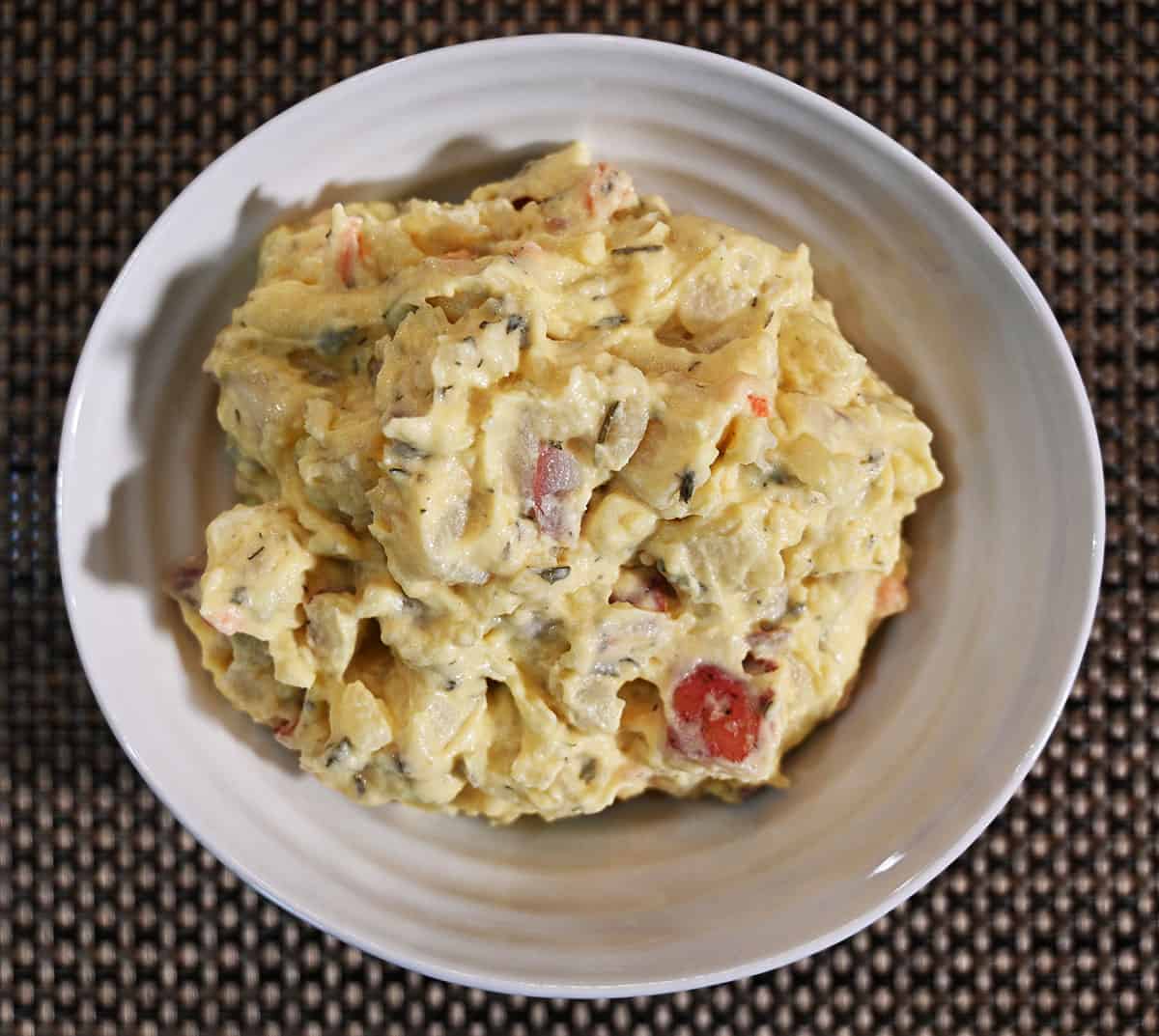 The potato salad is creamy and filled with big chunks of potatoes, the potatoes are cooked well but aren't mushy, they have a nice firmness to them. The paprika, mustard, turmeric and dill add depth of flavor to the potato salad. The mustard flavor is very noticeable which I like.
There are a few chunks of celery and pickles throughout the potato salad that add a bit of a crunchy texture. You can taste the sweetness of the pickles as well as there's some added sugar that adds a noticeably sweet aftertaste. I definitely notice this potato salad as being on the sweeter side.
Nothing compares to my mom's homemade potato salad but this is pretty good. The distinguishing factor that makes this potato salad better than other grocery store potato salads I've had is the huge chunks of perfectly cooked potatoes. One thing I don't love is how much mayonnaise there is, that's one of the reasons I don't love potato salad. I find all potato salad too saucy and drenched in mayonnaise.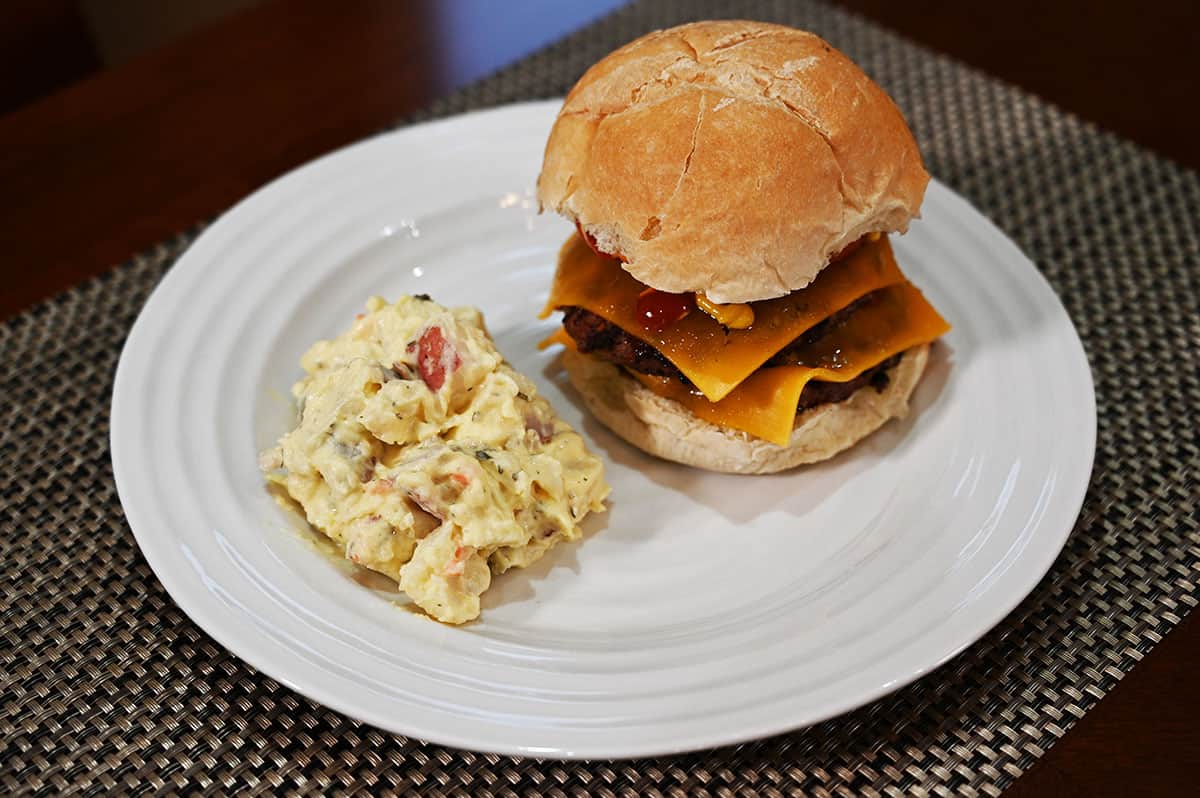 I asked my husband's opinion on this potato salad and he said "I really like the flavor. It's creamy, but not too heavy. The seasoning is mild but really nice. I never really liked potato salad before I tried this one, and I can honestly say I'm a fan of it".
Cost
The 2.30 killigram tub of Stonemill Kitchens Red Potato Salad cost $8.99 Canadian at Costco. This is quite a bit of potato salad for such a low price!
Convenience
It's much easier to purchase potato salad than to make your own. The potato salad has a best before date of about three weeks from the purchase date and needs to be kept refrigerated.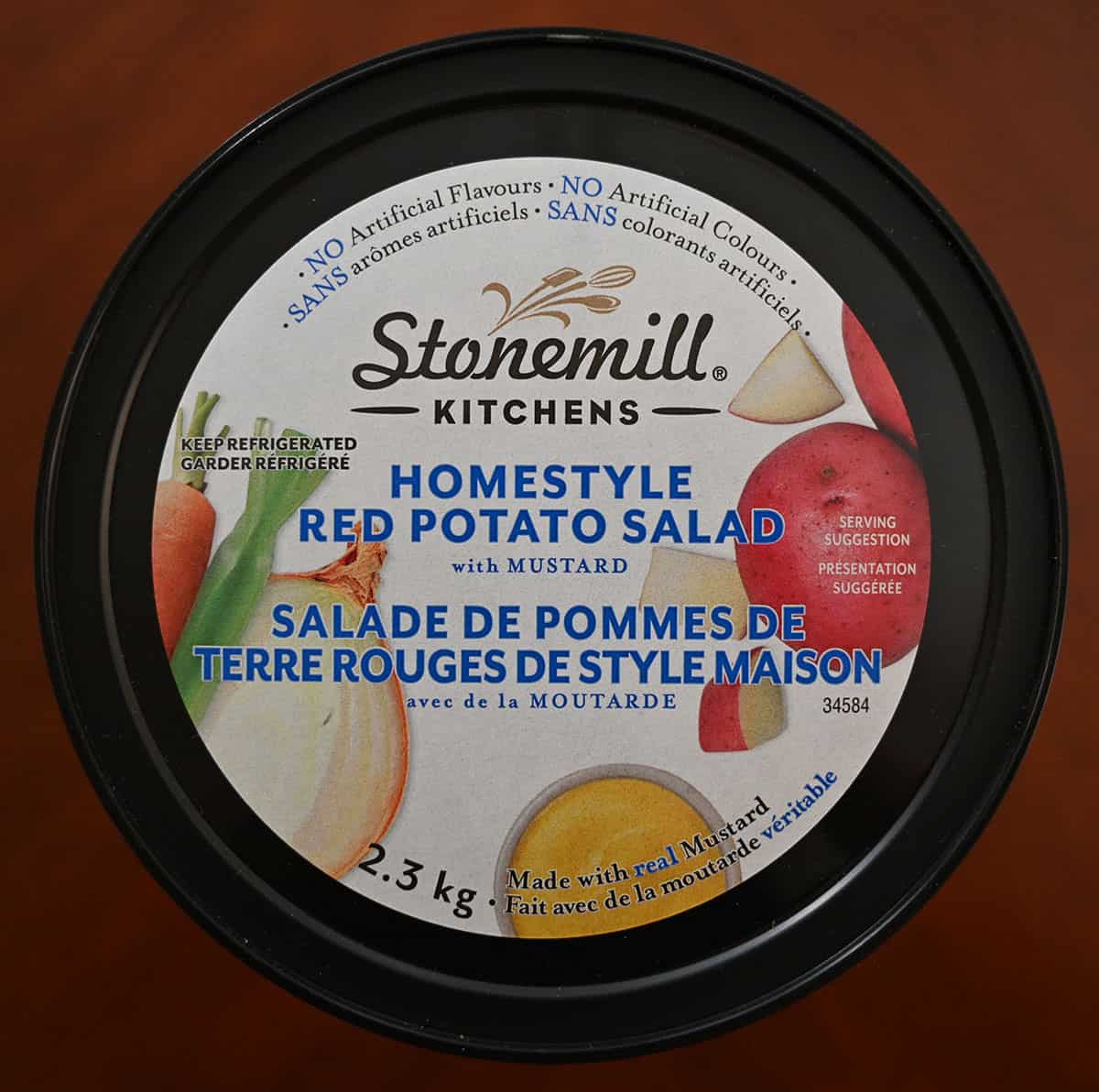 Potato salad is a great side dish, lunch or snack! I know my parents like to have it when it's hot outside so they don't have to turn on the oven. This Costco potato salad is great to bring camping or to a potluck or serve at a barbecue because of the large size.
Nutrition
Calories
I probably ate like 500 calories worth of potato salad last weekend. Oh well! ½ cup of Stonemill Kitchens Red Potato Salad is 240 calories, 13 grams of fat, 28 grams of carbohydrates, two grams of protein, seven grams of sugar, two grams of fibre and 620 milligrams of sodium.
That's quite a bit of calories, fat and sodium for only half a cup! I probably ate like 500 calories worth of potato salad last weekend.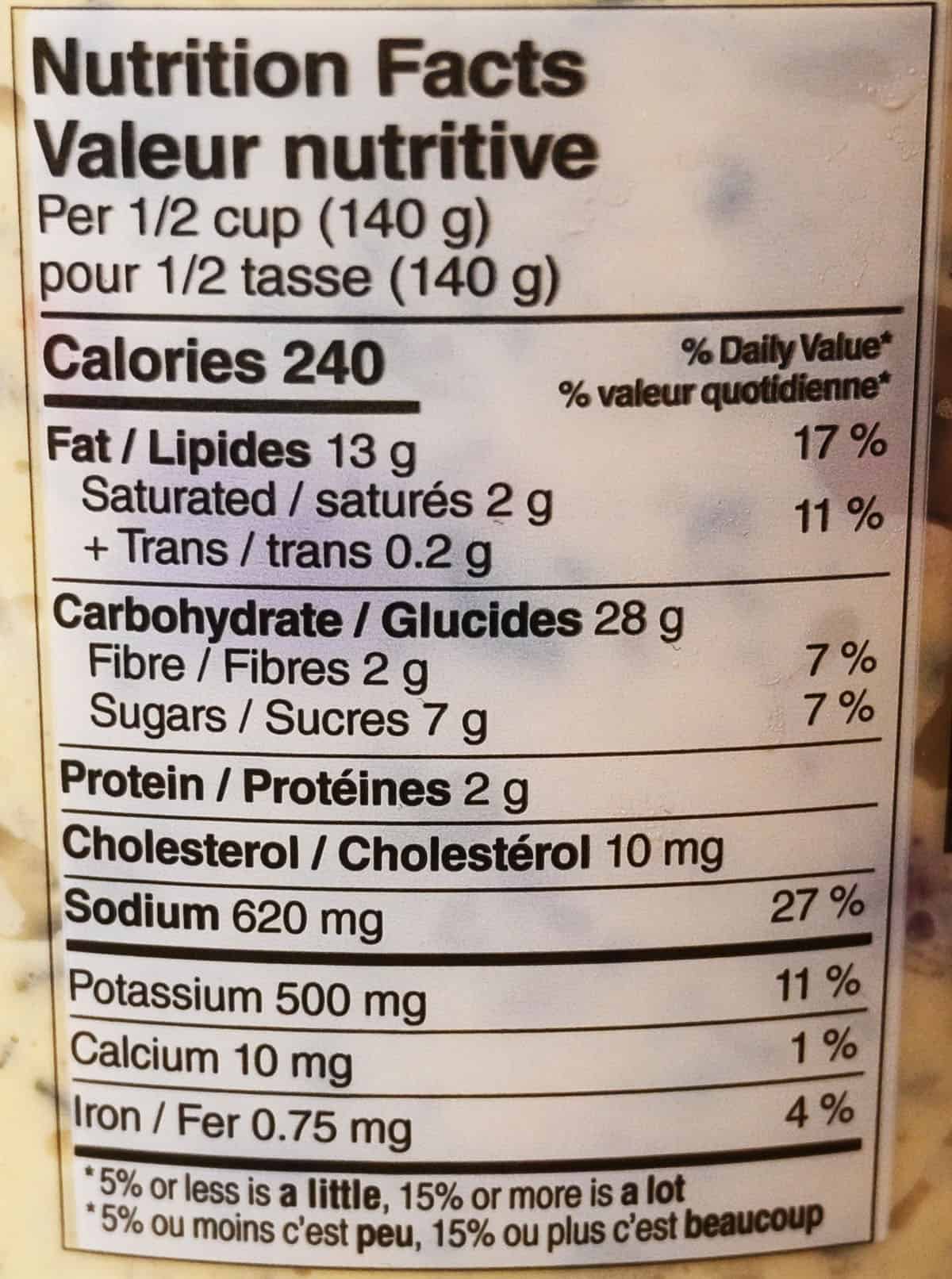 Ingredients
The ingredients list has pretty much everything you expect to see in a store-bought potato salad. Definitely not as healthy as homemade potato salad. Homemade potato salad is made with a few, simple ingredients. It also doesn't last for three weeks because there aren't a bunch of preservatives added.

Scoring
Taste: 8.5/10
Cost: 9/10
Convenience: 10/10
Nutrition: 2/10
Overall
Give it a try!
If you're hosting a summer barbecue, family reunion or get-together and don't have time to make homemade potato salad from scratch, I recommend Stonemill Kitchens Red Potato Salad from Costco. I think it's the best store-bought potato salad I've tried!
Have you tried this potato salad from Costco? What do you think of it?
---
Please note that this review was not paid for or sponsored by any third party. This product was purchased by Costcuisine for the purpose of producing this review. The opinions in this review are strictly those of Costcuisine. Costcuisine is not affiliated with Costco or any of its suppliers. In the event that Costcuisine receives compensation for a post from the manufacturer of a product or some other third party, the arrangement will be clearly disclosed (including where the manufacturer of a product provides Costcuisine with a free sample of the product).