Cornbread and cranberries are two things that I enjoy, so when I saw Vicky's Kitchen Cornbread Cranberry Stuffing with Turkey Italian Sausage at Costco, I was intrigued. Not only did the flavors sound delicious, it also seemed like a premium pre-made stuffing – much fancier than the more common boxed stuffings I've seen and tried in the past. Can this pre-made stuffing save you some time while elevating your next turkey dinner?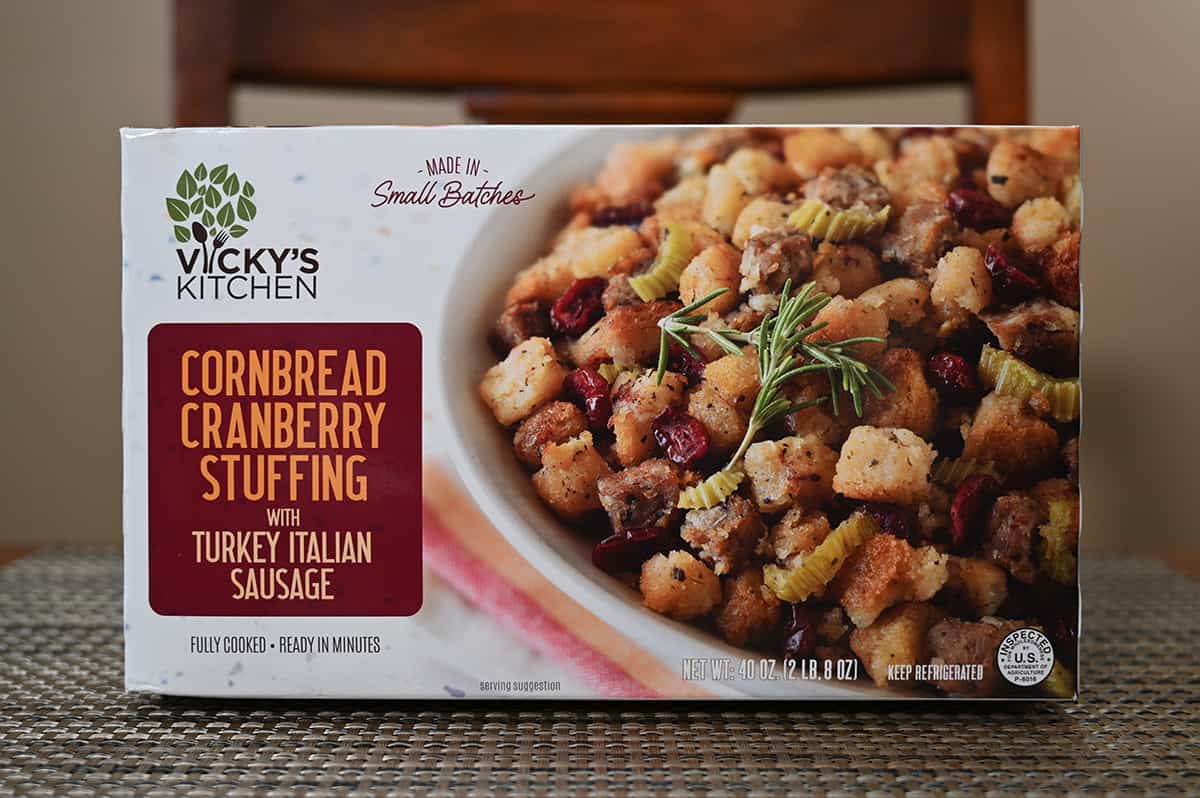 Curious about other Thanksgiving/Christmas dinner items from Costco? Check out the reviews for the Vicky's Kitchen Roast Turkey Breast, Kirkland Signature Turkey Breast, Kirkland Signature Spiral Sliced Ham, Kirkland Signature Master Carve Ham, Kevin's Turkey Gravy, Reser's Main St. Bistro Scalloped Potatoes and the Kirkland Signature Pumpkin Pie.
Location in Store
This is located in the refrigerated deli section at Costco and I bought it in Kalispell, Montana. The item number is 907563.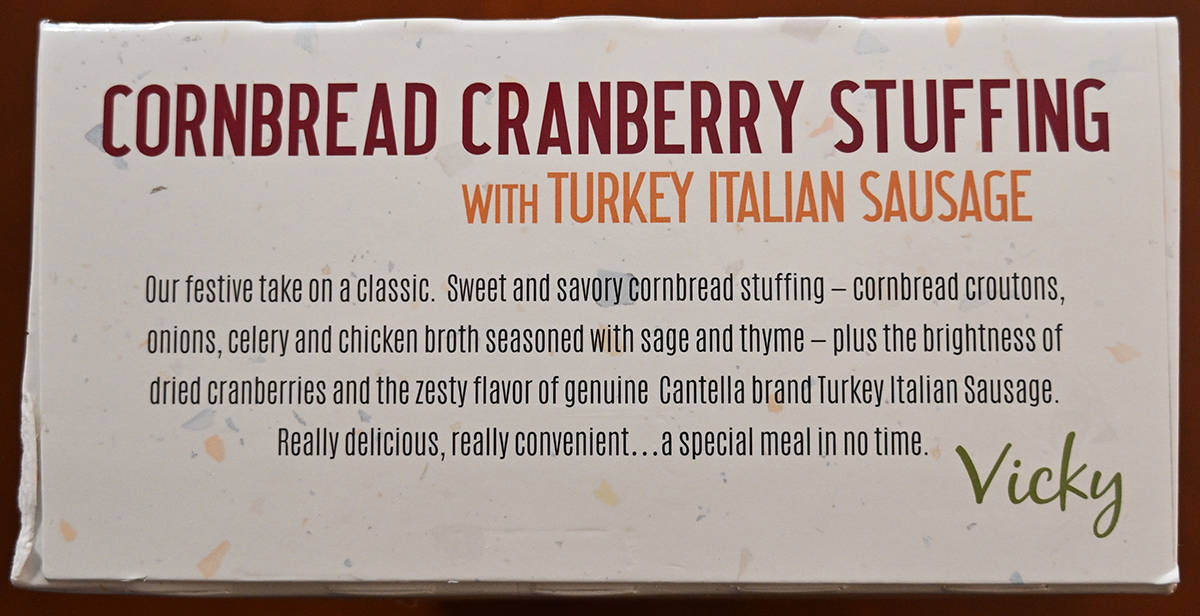 Taste
The Cornbread Cranberry Stuffing is tasty with strong flavors. I'm fairly sure the main flavor I was tasting was the fennel seeds and thyme. The chunks of sausage are noticeable visually and by taste. They're fairly tasty and add a touch of heat to the stuffing. I do think they have made it a tiny bit heavy/greasy though, I like a lighter stuffing.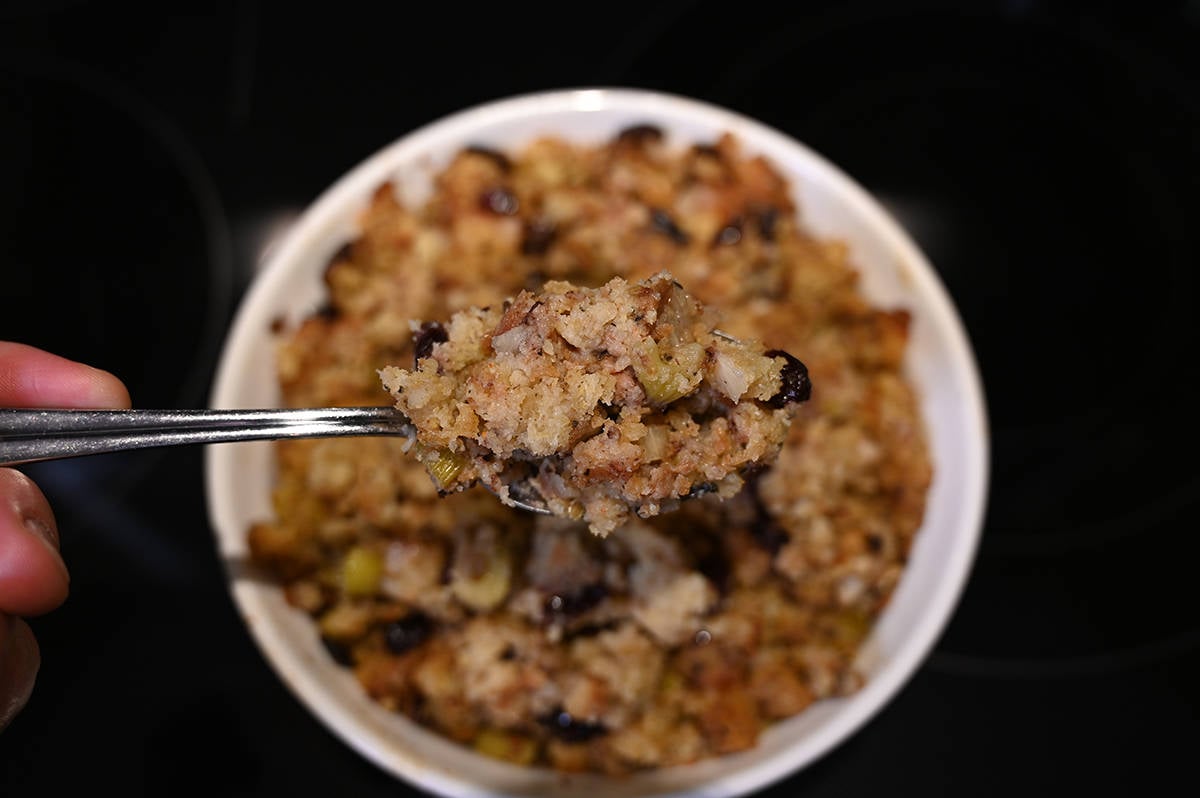 There are quite a few cranberries in the stuffing and they taste pretty much like what you'd expect – a bit sweet and a bit tart. I thought maybe the fact that the stuffing uses cornbread croutons would give it a unique flavor, but I honestly don't think I would've known it didn't just use regular croutons if I hadn't read the package.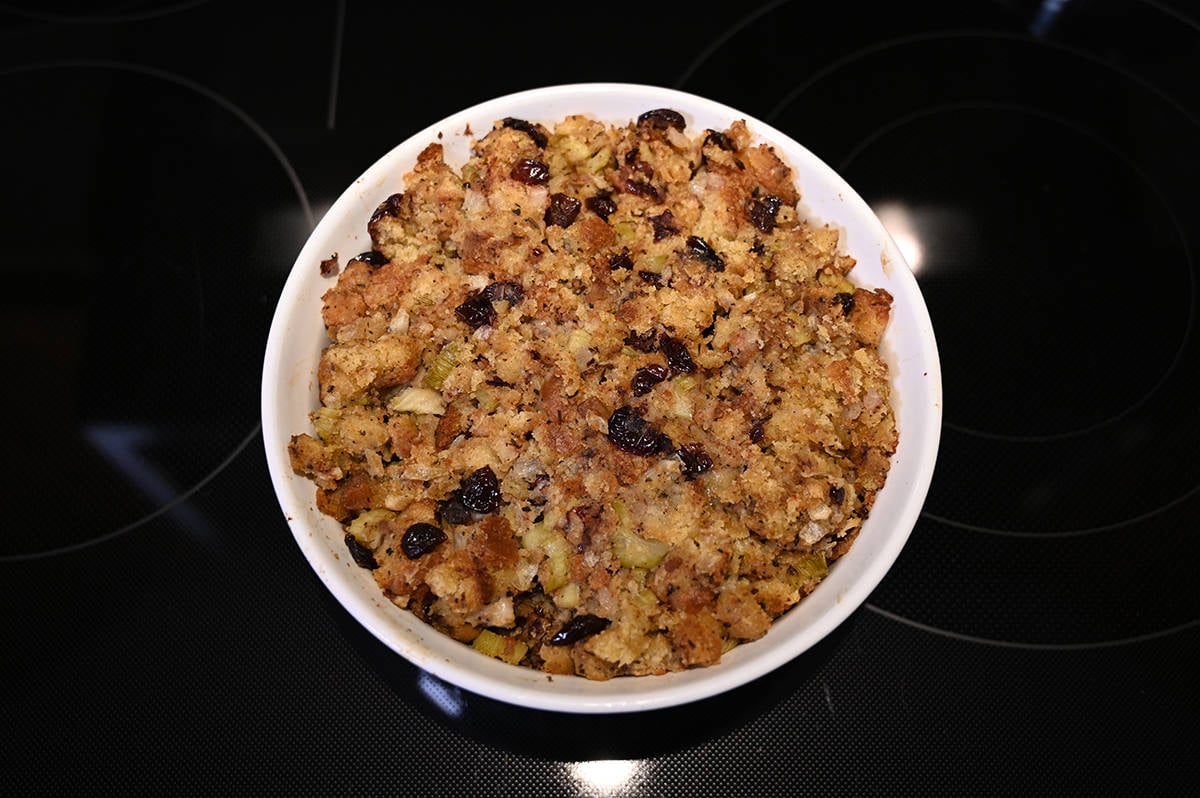 I found the stuffing to be somewhat overly bready/soggy, but I did enjoy the crispness of the stuff on top. Next time I might try making it in a bigger but more shallow dish to crisp it up more throughout and make it less soggy.
I wondered if the stuffing might be the same as the stuff in the Vicky's Kitchen Roast Turkey Breast, but it's not. The flavor is quite different. They have some different seasonings and the one in the turkey breast uses turkey maple sausage instead of turkey Italian sausage.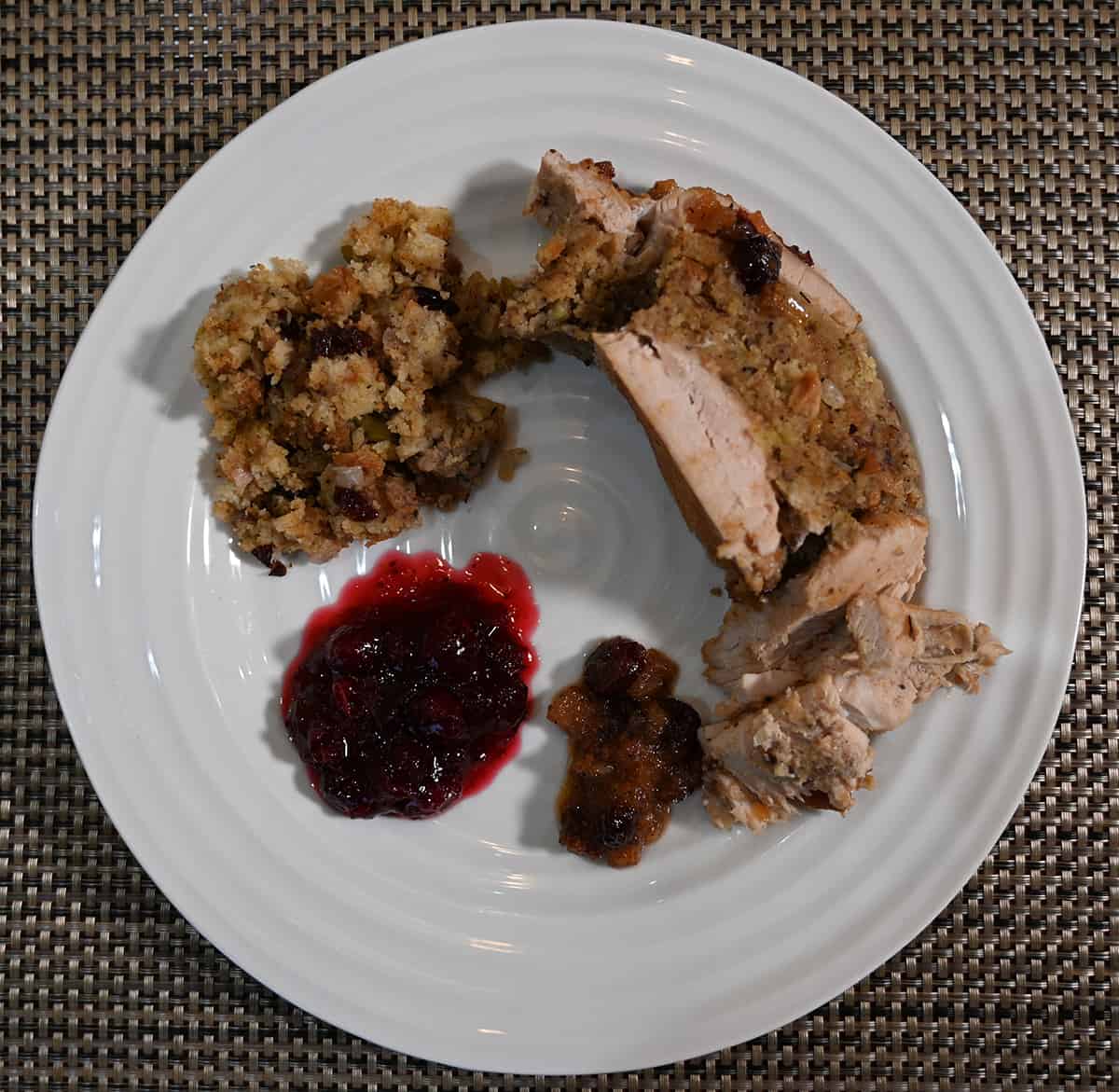 Cost
The stuffing costs $13.99 USD which isn't cheap, it's a lot more than boxed stuffing and I don't find it that amazing. Stuffing is pretty cheap to make so you're definitely paying for convenience.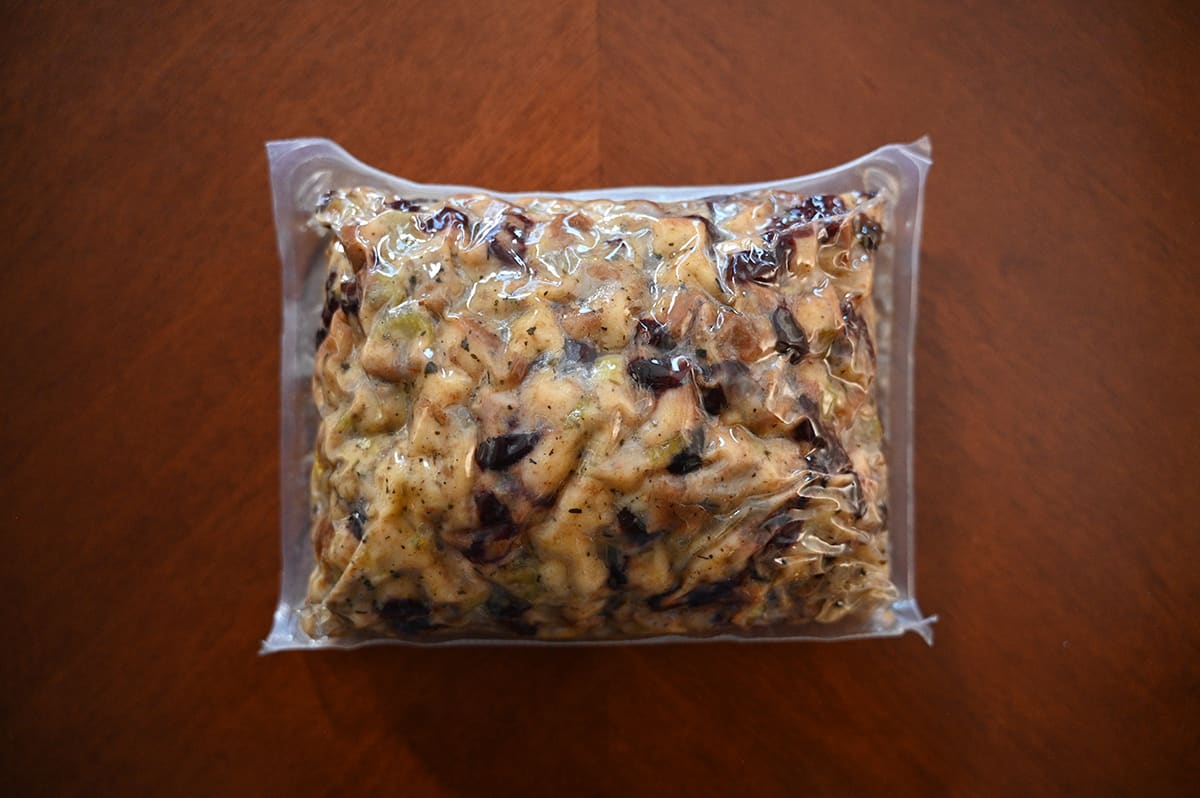 Convenience
I baked my stuffing in the oven for 20 minutes while covered, then another 15 minutes uncovered. It turned out pretty well; I liked the crispness of the stuffing on top. This is already fully cooked and can be heated in the microwave, in the oven or a combination of microwave and the oven.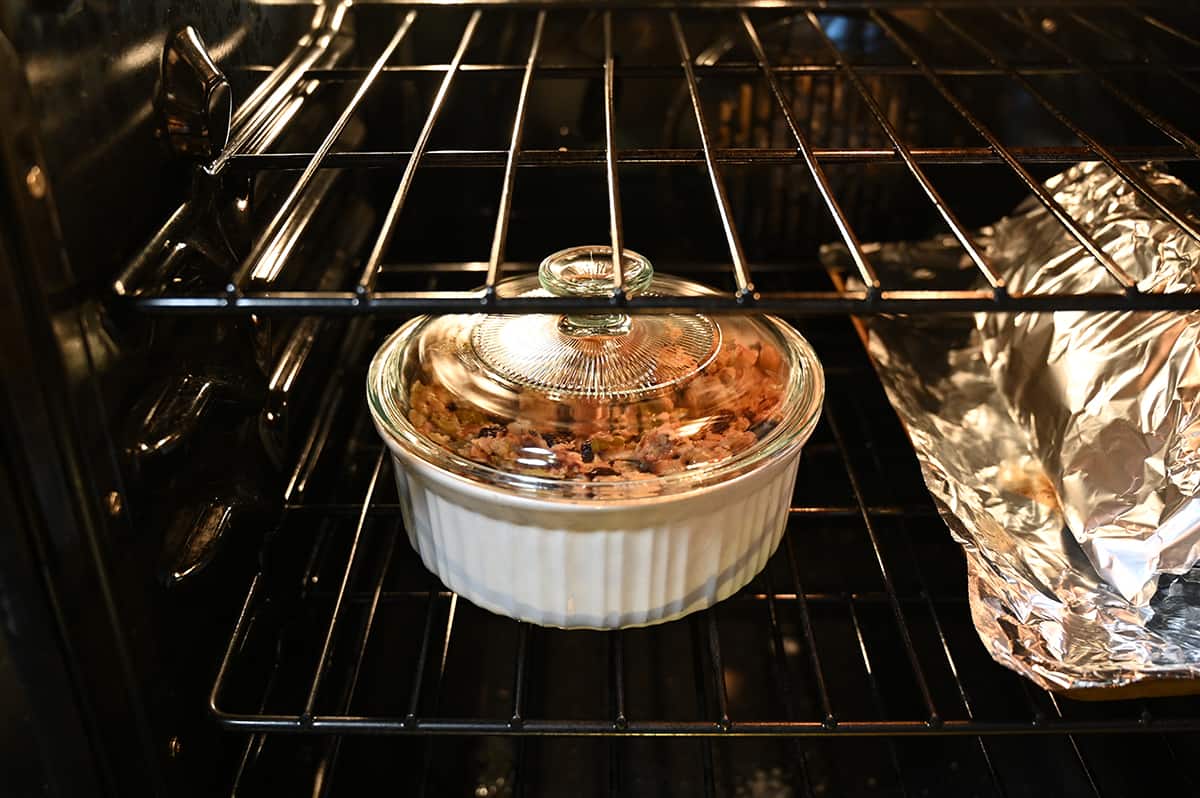 The stuffing needs to be kept refrigerated and comes in a vacuum-sealed pouch. The best-before date is just over three weeks from when I purchased it.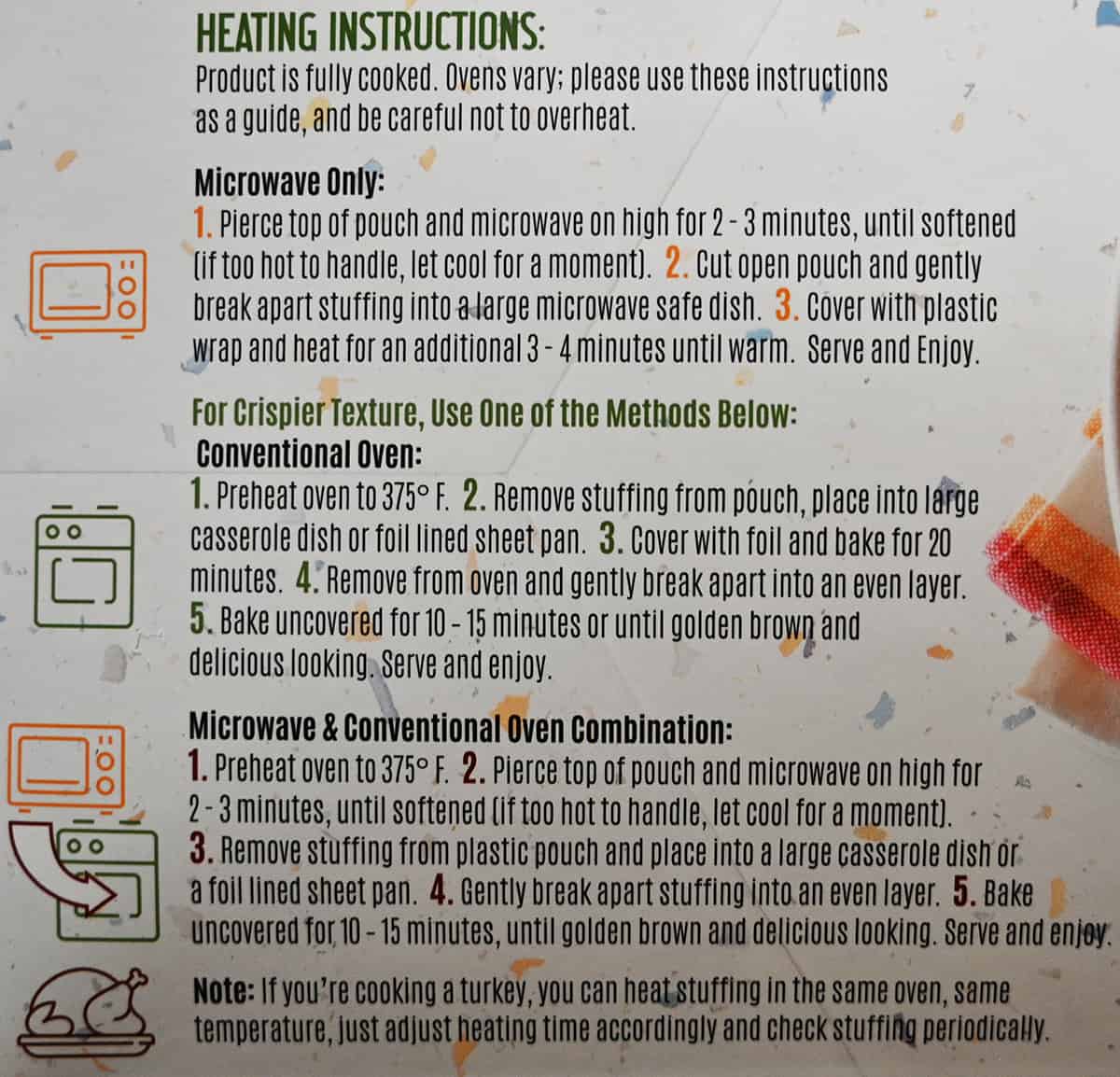 This is great if you're deep-frying a turkey and can't stuff it or cooking a turkey breast and want some stuffing as a side. I think boxed stuffing doesn't taste much different and isn't much harder to make so if you don't want to make stuffing, maybe save a few dollars and just buy boxed.
Nutrition
Calories
One cup of stuffing contains 310 calories, 16 grams of fat, 420 milligrams of sodium, 34 grams of carbohydrates, two grams of fiber, nine grams of sugar and nine grams of protein.
That's a lot of calories and fat but I think a lot of people probably eat a bit less than a cup of stuffing. I eat about half of a cup of stuffing when I have a plate full of other things like turkey, mashed potatoes, vegetables etc.
Plus Christmas and Thanksgiving is also a time when calories and fat shouldn't be the main concern, enjoying time with family and good food is the priority!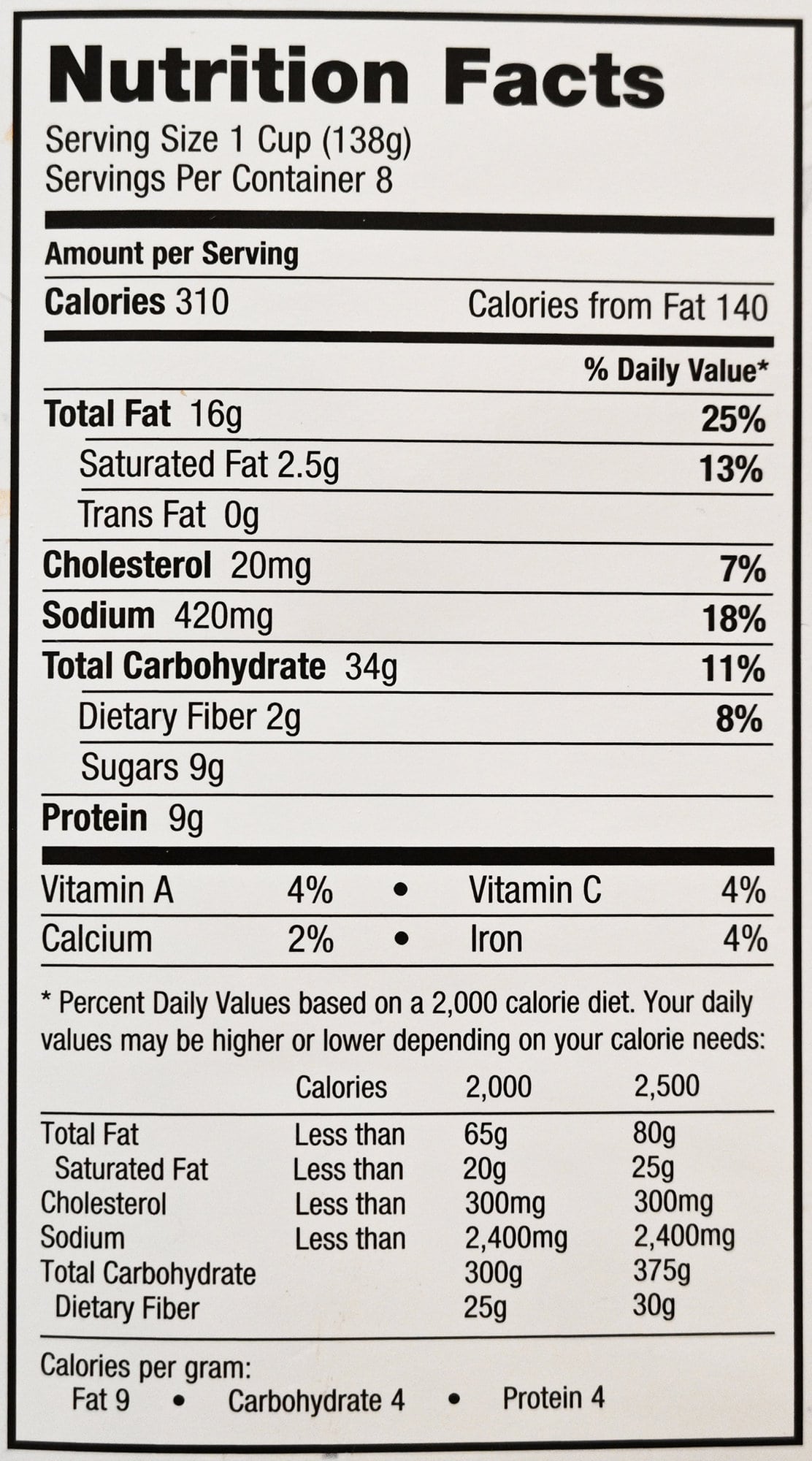 Ingredients
The ingredients list is pretty simple with a lot of ingredients you'd use to make stuffing at home. I don't love that cane sugar is listed because I wouldn't use that at home but I do appreciate that there's olive oil instead of palm or canola oil.
The stuffing contains wheat but is dairy-free.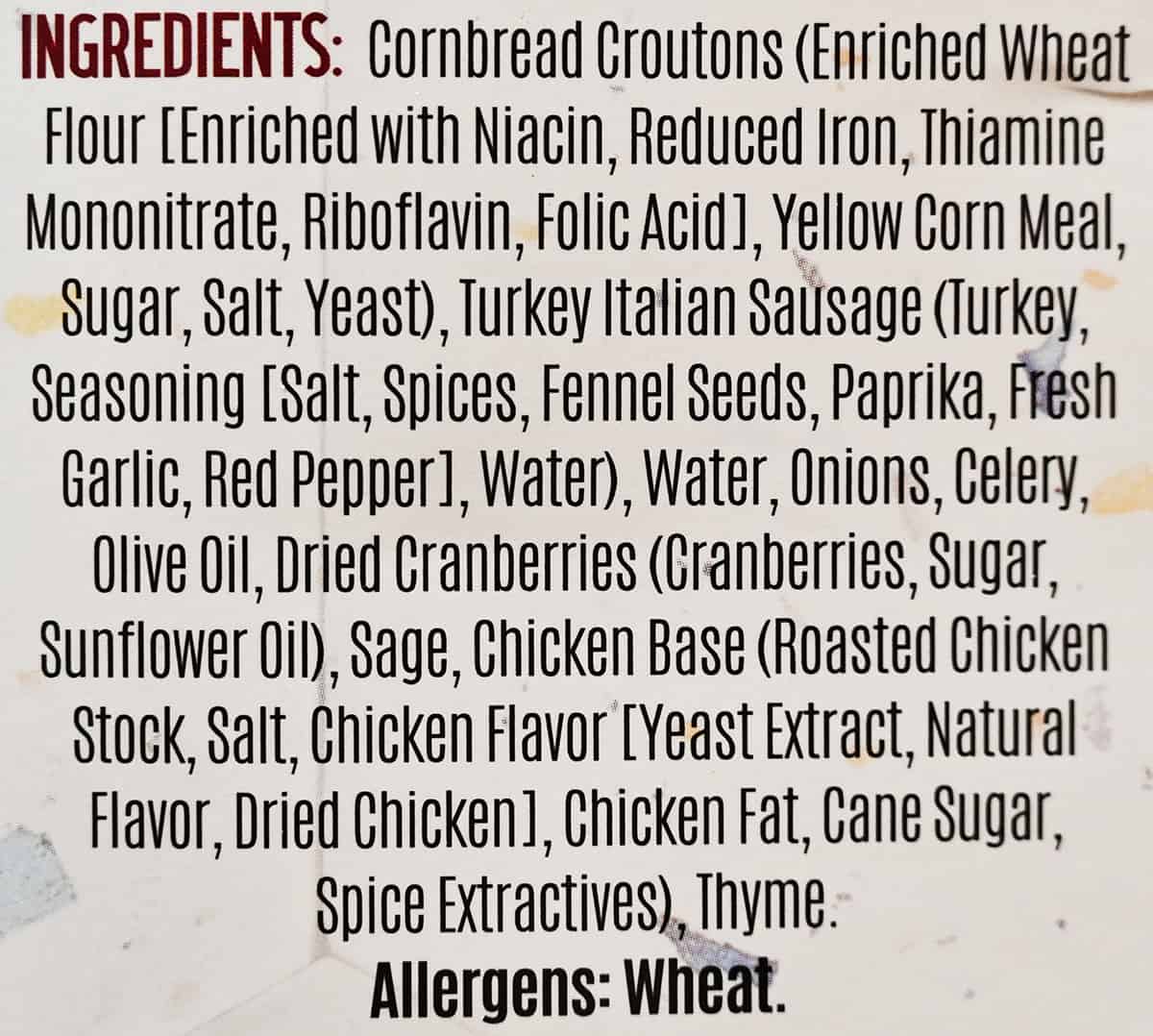 Scoring
Taste: 5/10
Cost: 5/10
Convenience: 10/10
Nutrition: 3/10
Overall
Walk on by!
Obviously, homemade stuffing is the best, but I'm disappointed to say I think I like cheap, boxed stuffing better than this Vicky's Kitchen Cornbread Cranberry Stuffing.
Have you tried the Costco Vicky's Kitchen Cornbread Cranberry Stuffing with Turkey Italian Sausage? What did you think of it?
---
Please note that this review was not paid for or sponsored by any third party. This product was purchased by Costcuisine for the purpose of producing this review. The opinions in this review are strictly those of Costcuisine. Costcuisine is not affiliated with Costco or any of its suppliers. In the event that Costcuisine receives compensation for a post from the manufacturer of a product or some other third party, the arrangement will be clearly disclosed (including where the manufacturer of a product provides Costcuisine with a free sample of the product).