I have to admit, scalloped potatoes aren't my favorite. I'll take mashed potatoes, baked potatoes, oven-roasted potatoes or fries over scalloped potatoes any day. I don't hate them, but for some reason, they're just not overly appealing to me. I say this so you'll understand that these Reser's Main St. Bistro Baked Scalloped Potatoes from Costco weren't going to have an easy time winning me over! Were they good enough to impress this scalloped potato skeptic?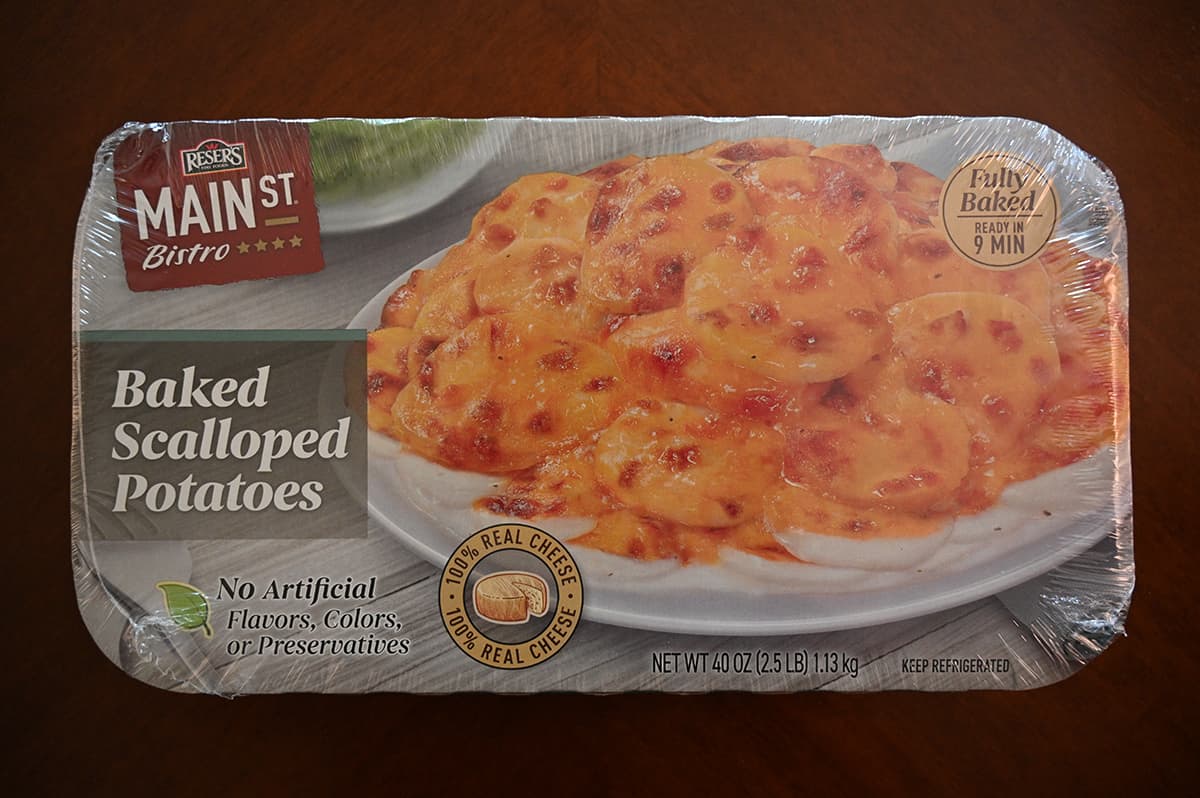 Other convenient side dishes from Costco are the Kirkland Signature Mac and Cheese, Johnny's Au Gratin Potatoes, Kirkland Signature Quinoa Salad, Bibigo Vegetable Fried Rice, Naleway Potato and White Cheddar Perogies, Ajinomoto Yakitori Chicken with Japanese Style Fried Rice, Ajinomoto Vegetable Yakisoba and the Stonemill Kitchens Homestyle Red Potato Salad.
Location in Store
These scalloped potatoes were located in the refrigerated deli section near the Kirkland Signature Beef Pot Roast and the Cuisine Solutions Sliced Grass-fed Beef Sirloin. The item number is 1658964 and I bought them in Kalispell, Montana but I just saw them at my Costco here in Edmonton!

Taste
I'll admit it – I'm not a huge fan of scalloped potatoes, even homemade ones. They're alright, but they're not my favorite. For that reason, I wasn't overly excited to try these ones. I ended up being pleasantly surprised though!
The potatoes are very creamy, but mild in flavor. They're more creamy than cheesy if that makes sense.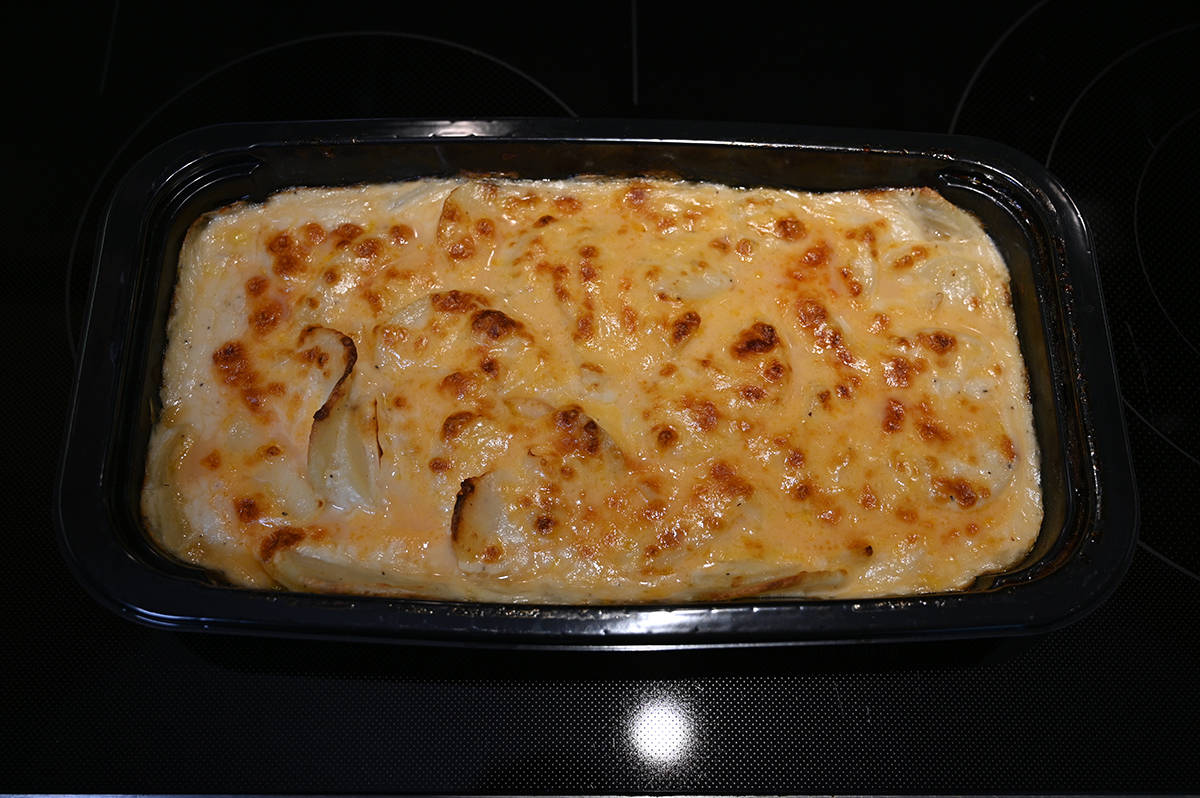 I saw parmesan and romano cheese on the ingredients list and was worried the potatoes would have a strong cheese flavor that I wouldn't like, but they don't. There aren't any standout flavors in the seasoning either.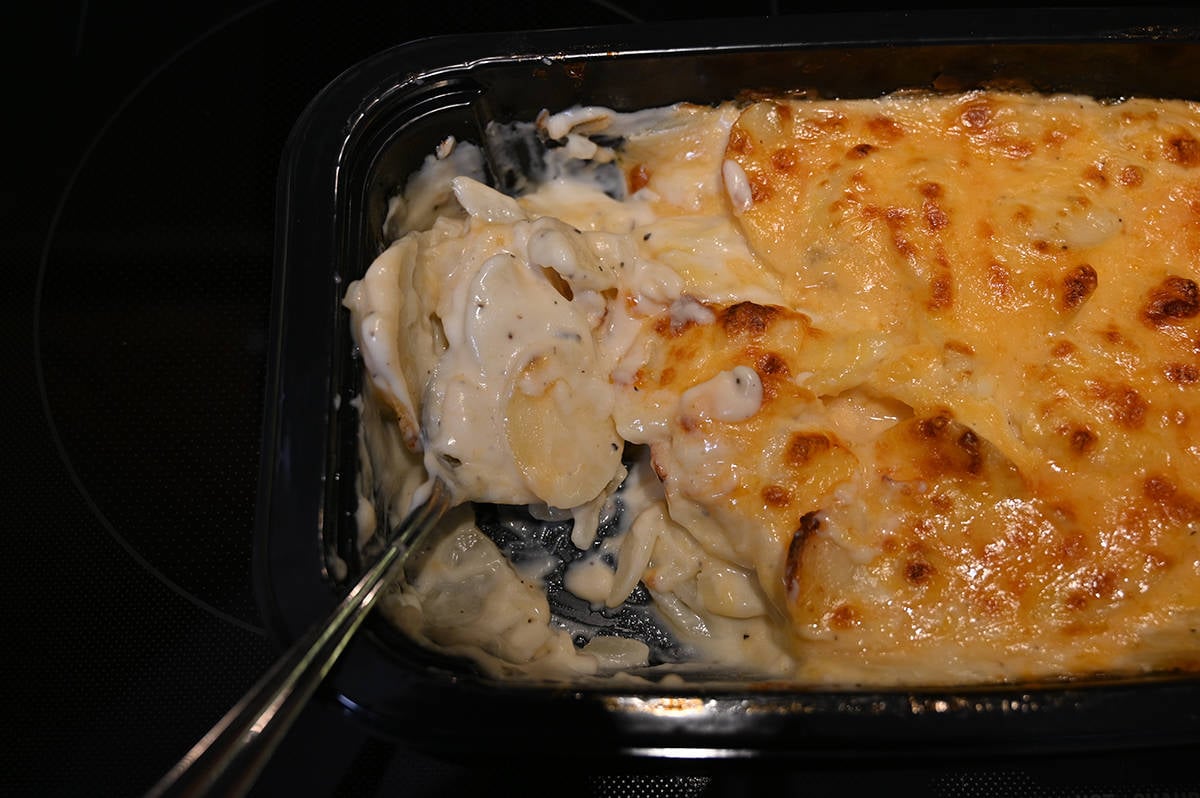 As far as texture goes, the potatoes are mostly soft and smooth (but see my comment below on the cooking time). The cheddar cheese on top has a small amount of texture to it, but not much. Unfortunately, the box clearly says not to broil them or that might be an option for crisping them up on top.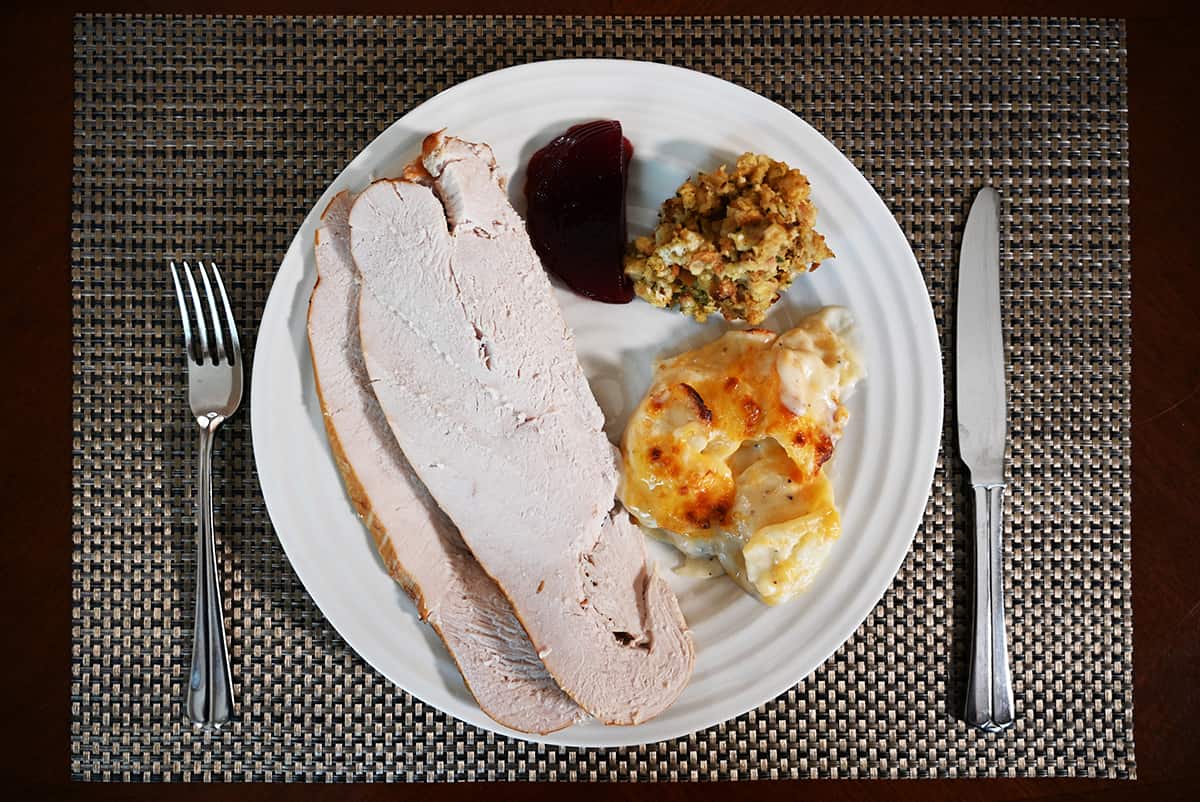 My biggest complaint about the potatoes is that I cooked them for 25 minutes (the high end of the recommended cooking time) at 350 degrees Fahrenheit and my potatoes were still a tiny bit crunchy. They weren't crunchy enough to stop me from enjoying them, but they were crunchier than scalloped potatoes should be. I'd bake them a little longer next time.
These scalloped potatoes are heavy and creamy, but I actually enjoyed them a lot. If they can win over a scalloped potato skeptic like me, I suspect most people will enjoy them. Just make sure they're cooked to your liking!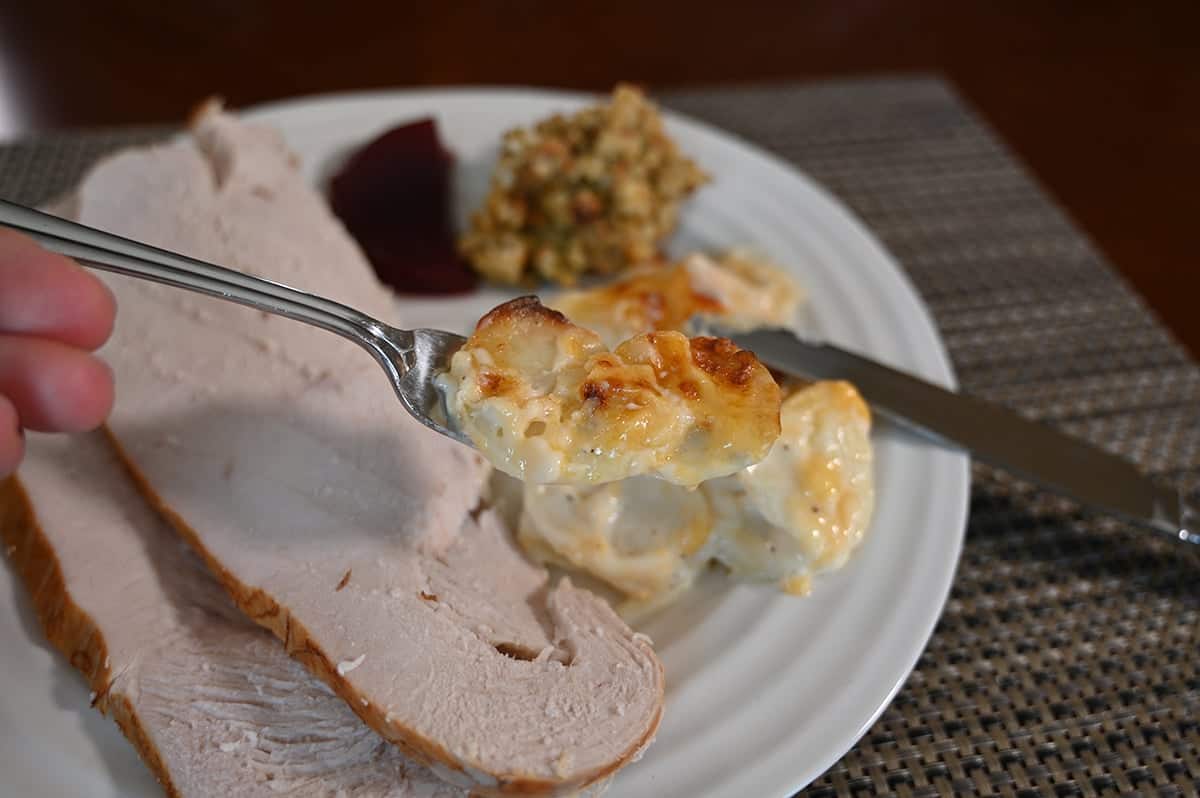 Cost
The two-and-a-half pound or 1.13 kilogram tray costs $7.79 USD and $10.89 Canadian.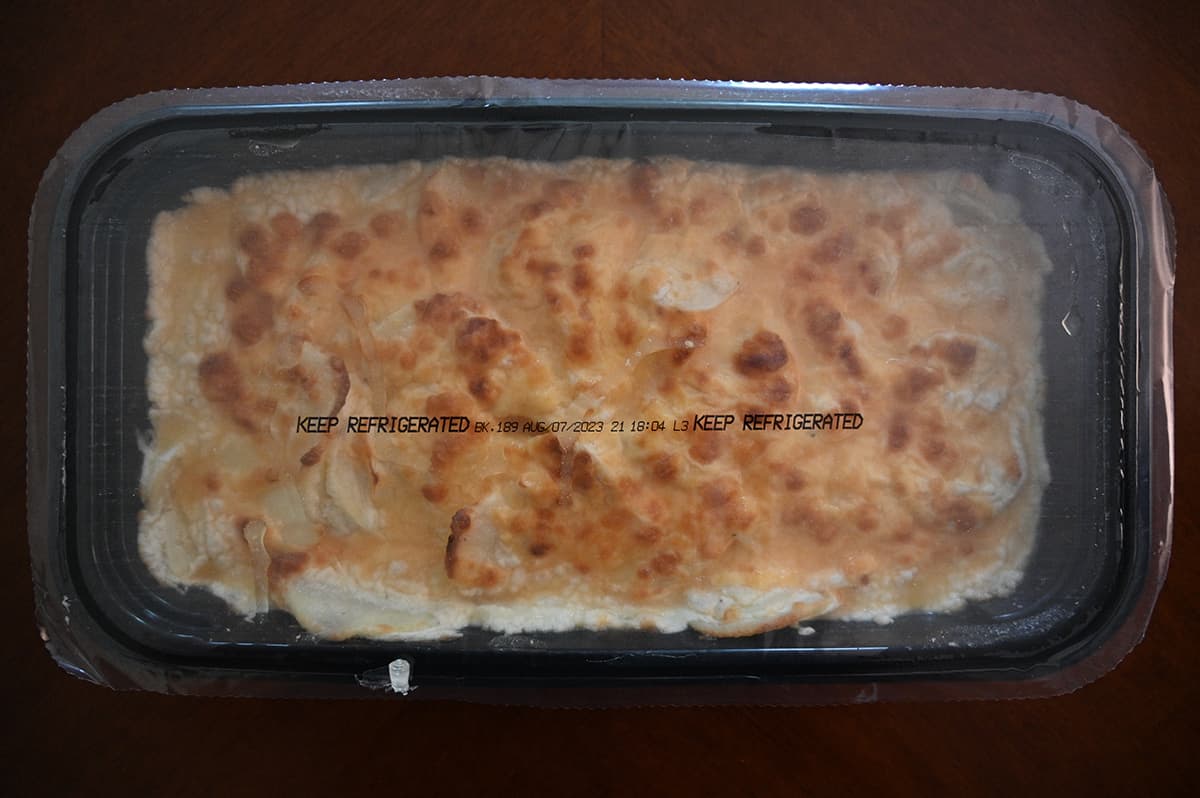 Convenience
The scalloped potatoes can either be microwaved or baked in the oven, I decided to bake mine in the oven because it's not any more work than microwaving them. I baked my potatoes for 25 minutes at 350 degrees Fahrenheit and found they were still a tad bit crunchy.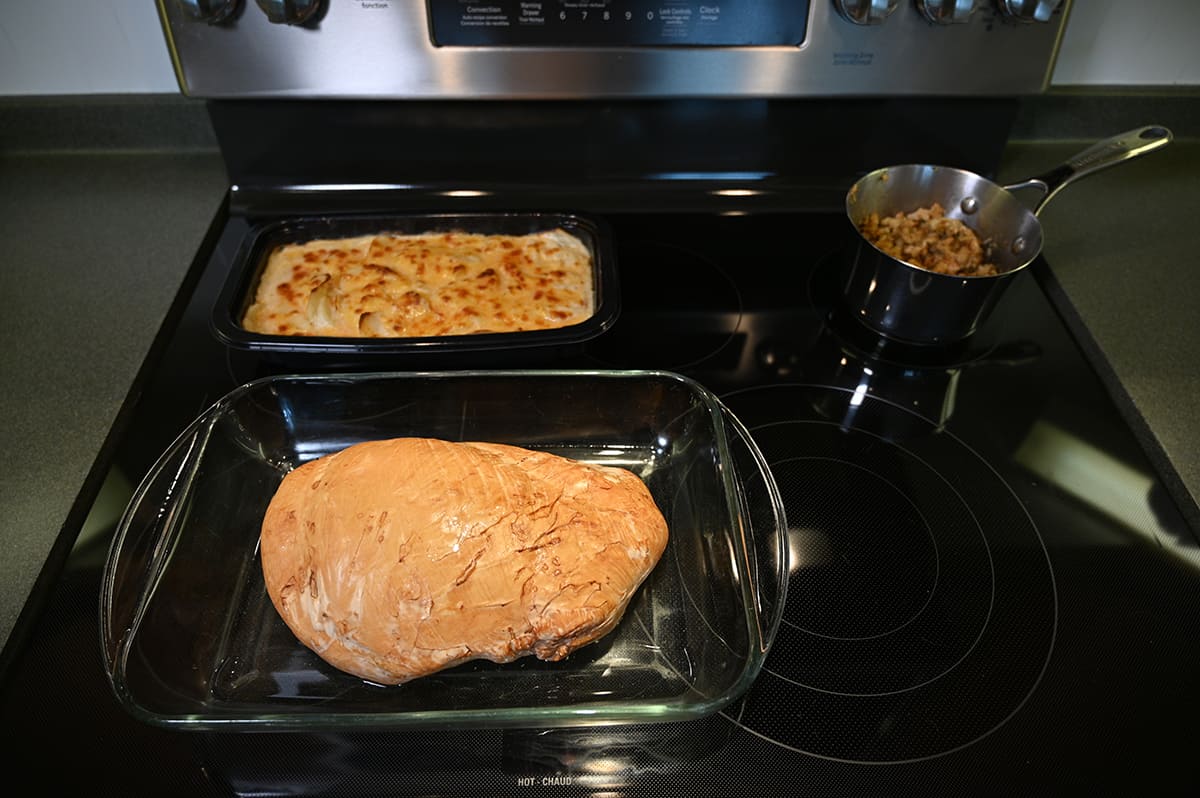 They're fully prepared so all you need to do is heat them and serve! I served the potatoes with turkey, stuffing and cranberry sauce.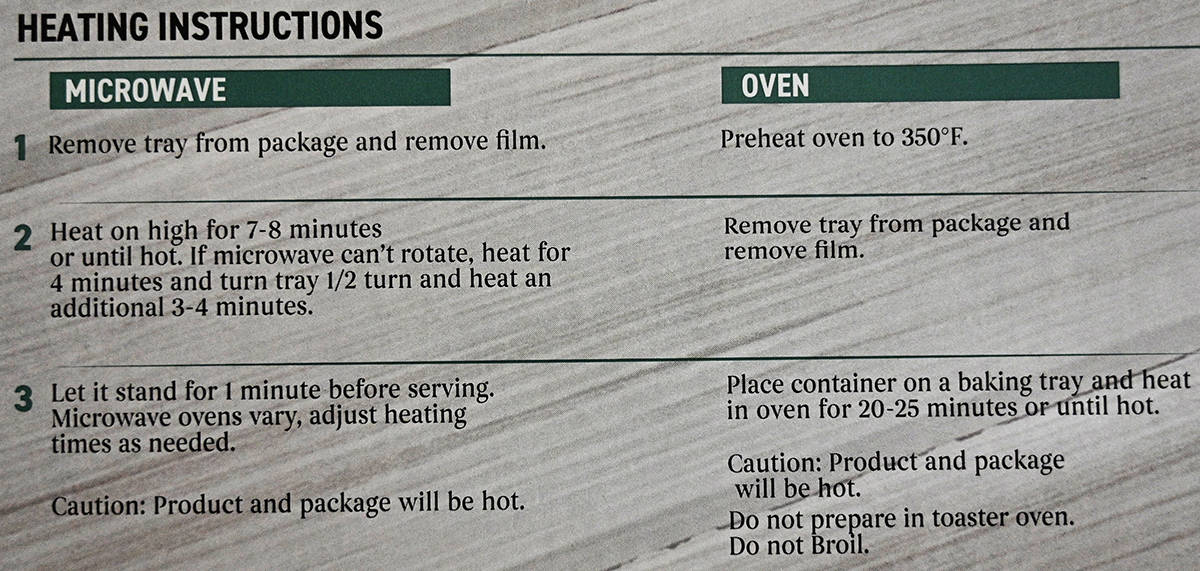 The scalloped potatoes need to be kept refrigerated and the best-before-date is about five weeks from when I purchased them. These go well with ham, turkey, meatloaf, chicken or any other kind of meat.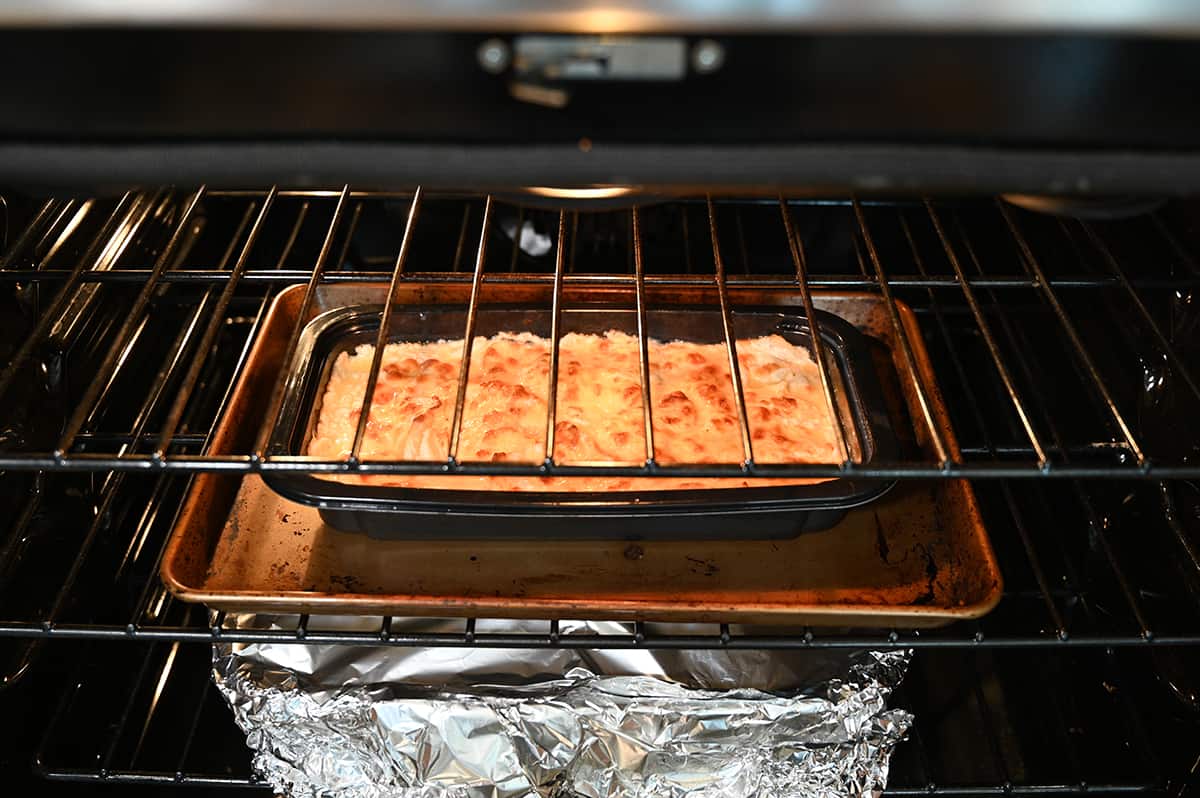 Nutrition
Calories
Scalloped potatoes are not a low-calorie food! A 1/2 cup serving contains 230 calories, 15 grams of fat, 470 milligrams of sodium, 20 grams of carbohydrates, two grams of fibre, two grams of sugar and seven grams of protein.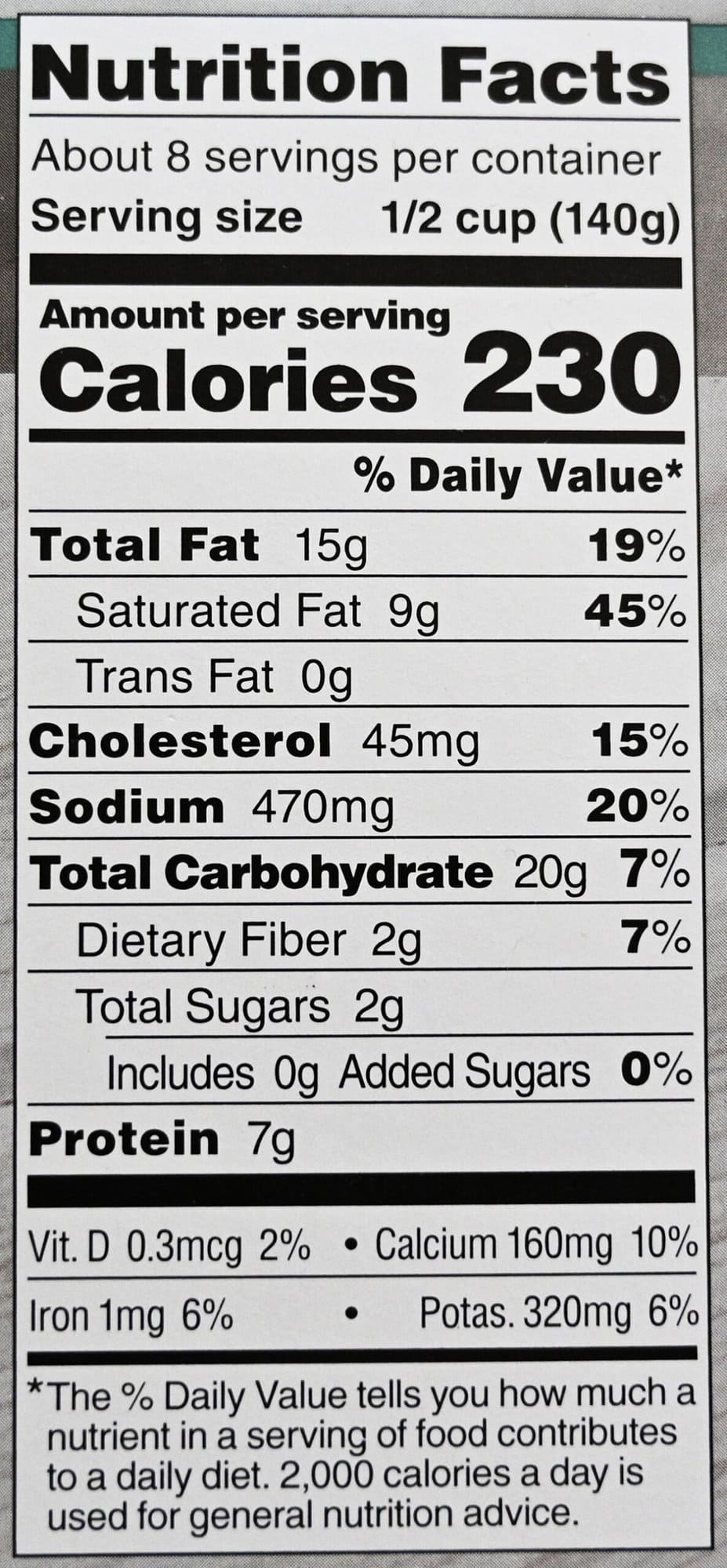 Ingredients
The ingredients list is pretty typical for store-bought prepared scalloped potatoes. There's a lot of calorie-dense ingredients listed like whole milk, cheese, sour cream, heavy cream and butter.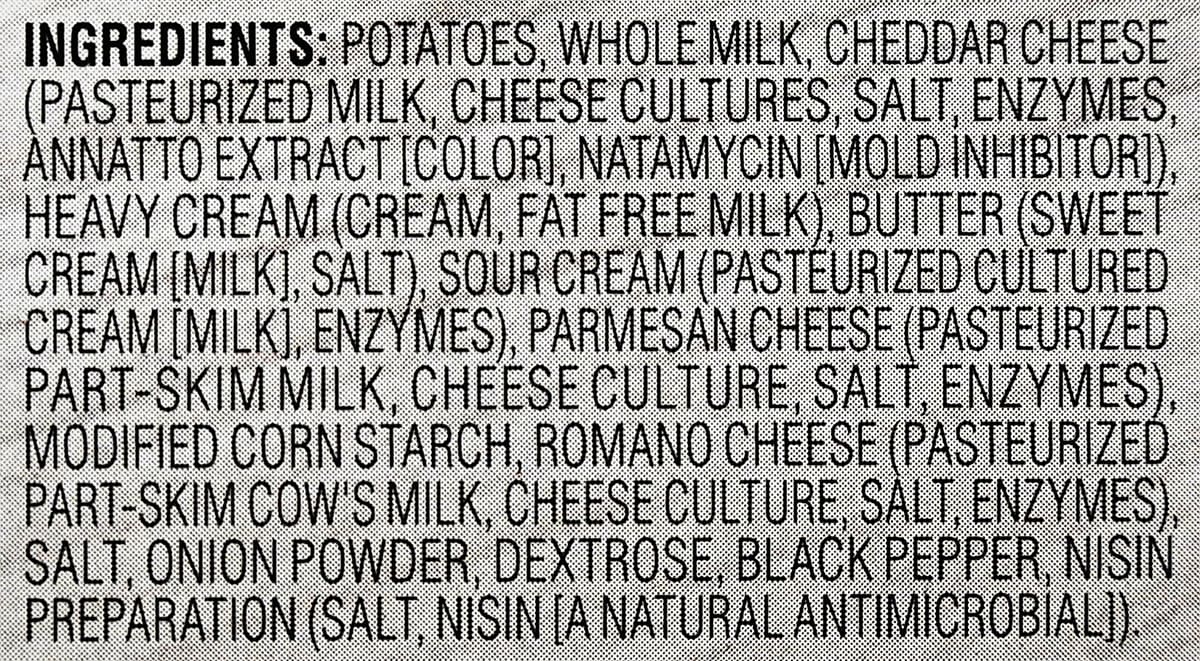 Scoring
Taste: 8/10
Cost: 9/10
Convenience: 9.5/10
Nutrition: 0/10
Overall
Give it a try!
These scalloped potatoes are not only tasty, they're also extremely convenient! That makes them perfect as a side dish!
Have you tried the Costco Reser's Main St. Bistro Scalloped Potatoes? Did you like them?
---
Please note that this review was not paid for or sponsored by any third party. This product was purchased by Costcuisine for the purpose of producing this review. The opinions in this review are strictly those of Costcuisine. Costcuisine is not affiliated with Costco or any of its suppliers. In the event that Costcuisine receives compensation for a post from the manufacturer of a product or some other third party, the arrangement will be clearly disclosed (including where the manufacturer of a product provides Costcuisine with a free sample of the product).