Costco sells an impressive selection of Asian-style food, mainly in the frozen section. Most of the different options are both tasty and convenient – perfect for making a meal at home that's nearly as good and as easy as takeout! This Bibigo Vegetable Fried Rice showed up in my local warehouse recently and I had to find out if it could make the cut to become one of my regular purchases to keep on hand for evenings when I decide to make an Asian takeout-style meal for dinner!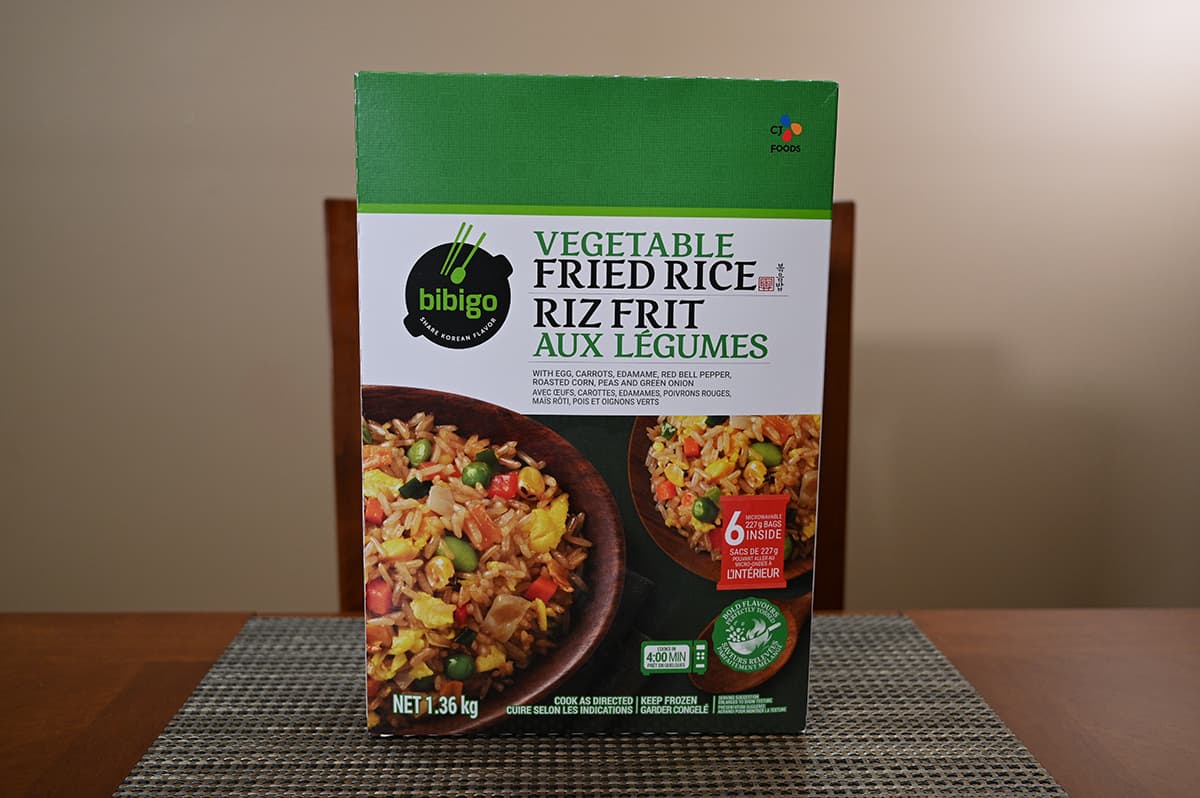 Costco carries a variety of Bibigo products and every time I see a new one at my local Costco, I pick it up to review and try. I find I usually really enjoy Bibigo products so today I'm reviewing the Costco Bibigo Vegetable Fried Rice.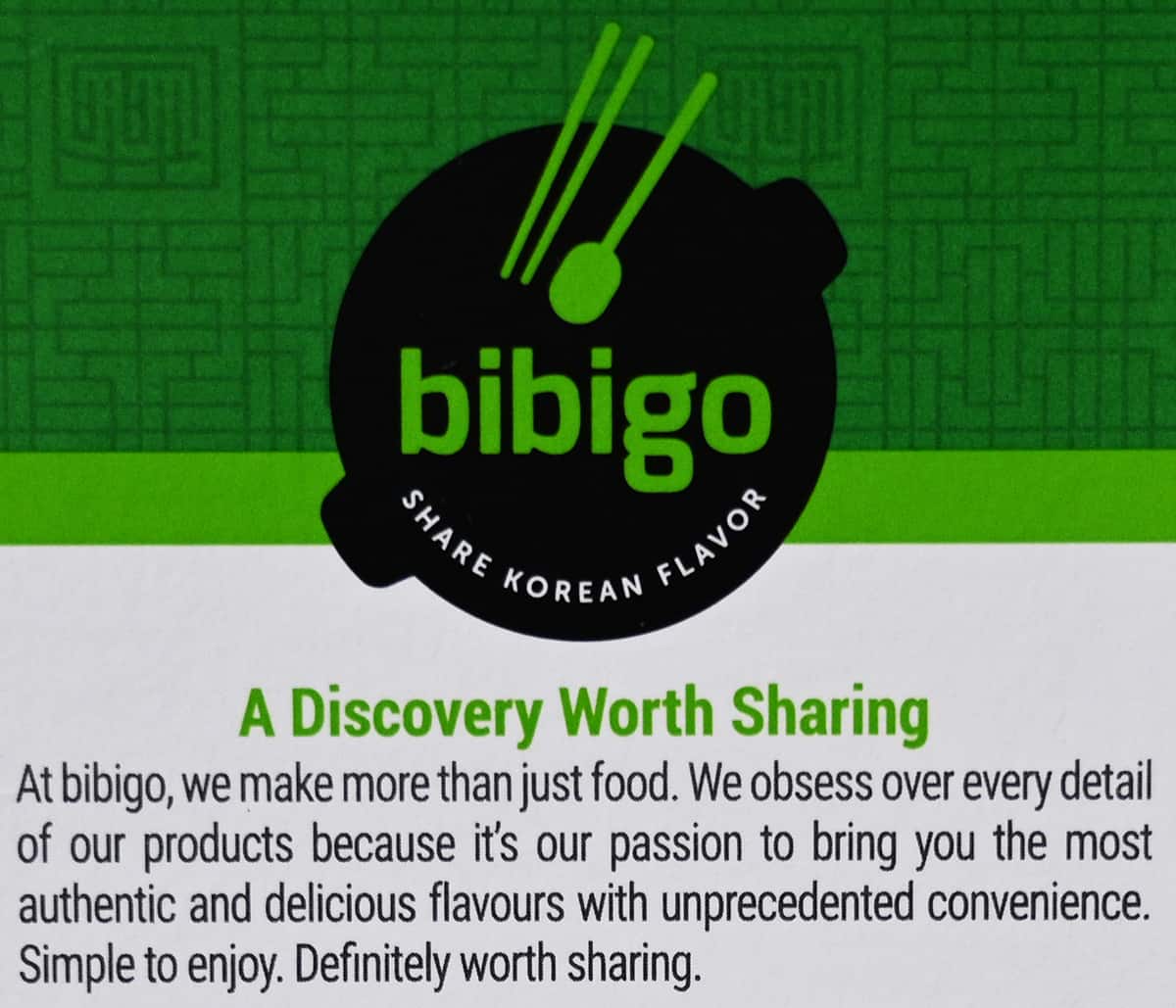 Other Bibigo products from Costco are the Bibigo Beef Bulgogi Mandu, Bibigo Japchae Crispy Potstickers, Bibigo Steamed Dumplings and the Bibigo Chicken and Cilantro Wontons. Similar products to this vegetable fried rice from Costco are the Ajinomoto Vegetable Yakisoba and the Ajinomoto Yakitori Chicken with Japanese-Style Fried Rice.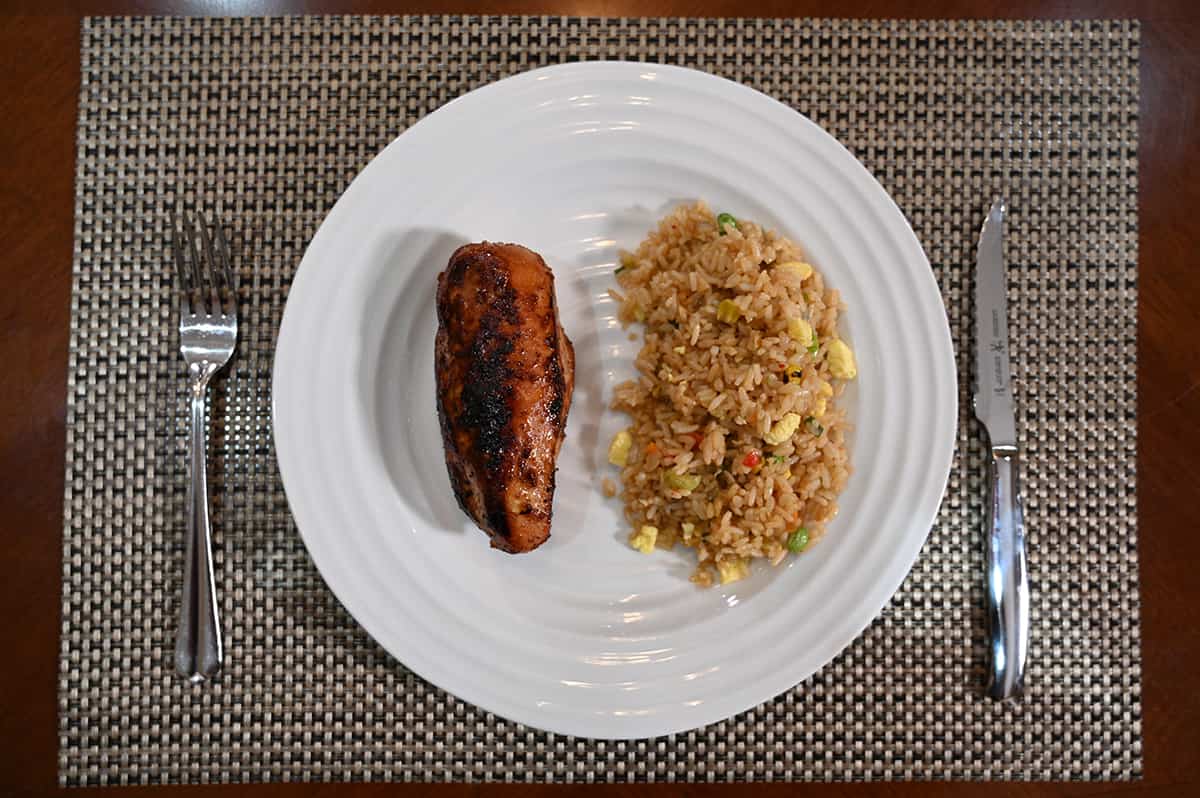 Location in Store
This product can be found in the freezer section near all the other frozen Asian-style appetizers and entrees The item number is 1674983.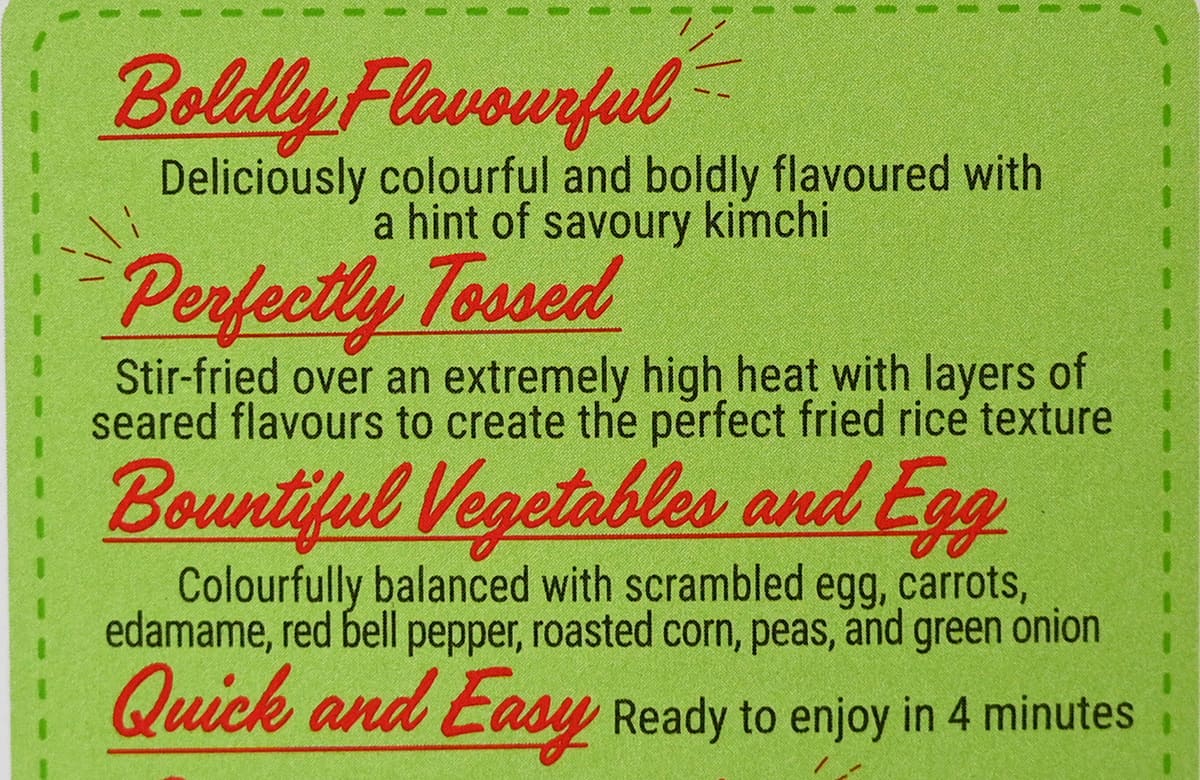 Taste
The vegetable fried rice has cabbage, onion, kimchi, scrambled egg, carrots, edamame, red bell pepper, roasted corn, peas and green onion. Although it has a lot of different kinds of vegetables, that doesn't mean it actually has a lot of vegetables! I actually wish there were more vegetables, it's really rice-heavy.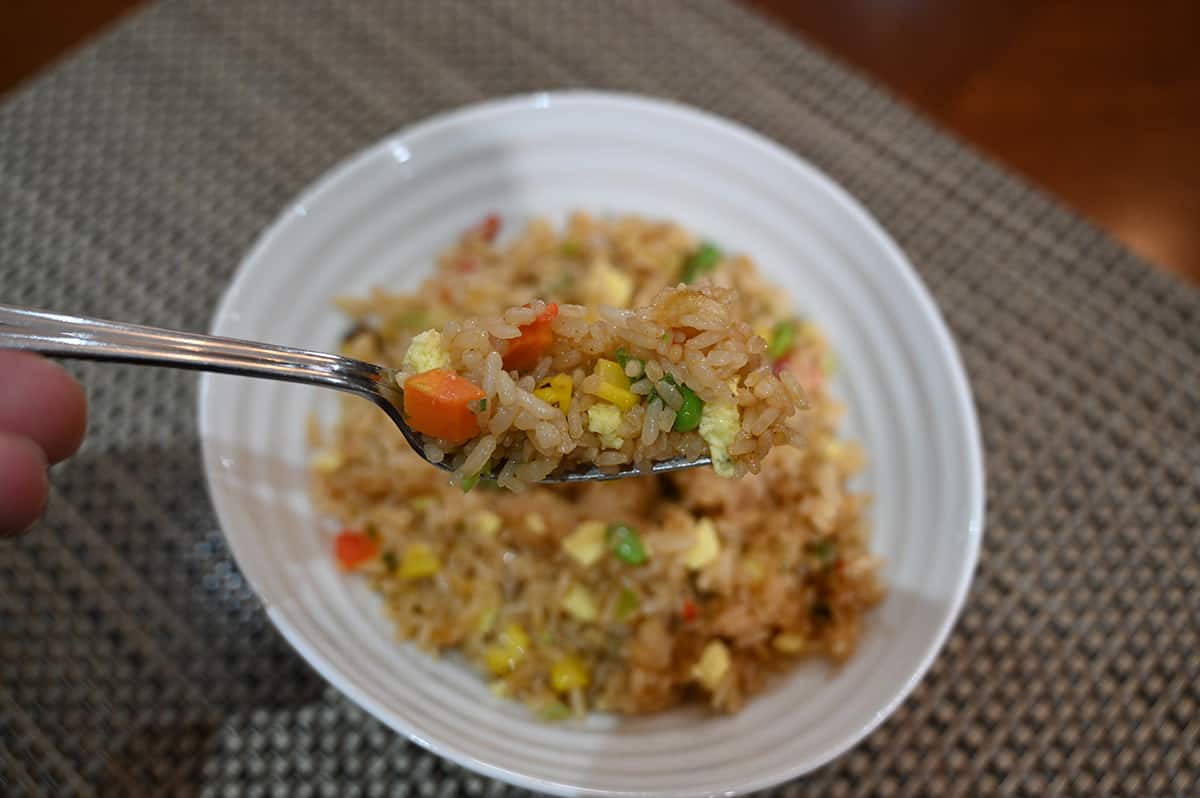 It turned out well after heating it in the microwave. The rice and vegetables aren't soggy or soft at all and the texture of the rice is chewy, Sean liked the chewy texture but I think it tastes just a tad undercooked. The flavor is slightly spicy and I find I can really taste the kimchi, it's very noticeable!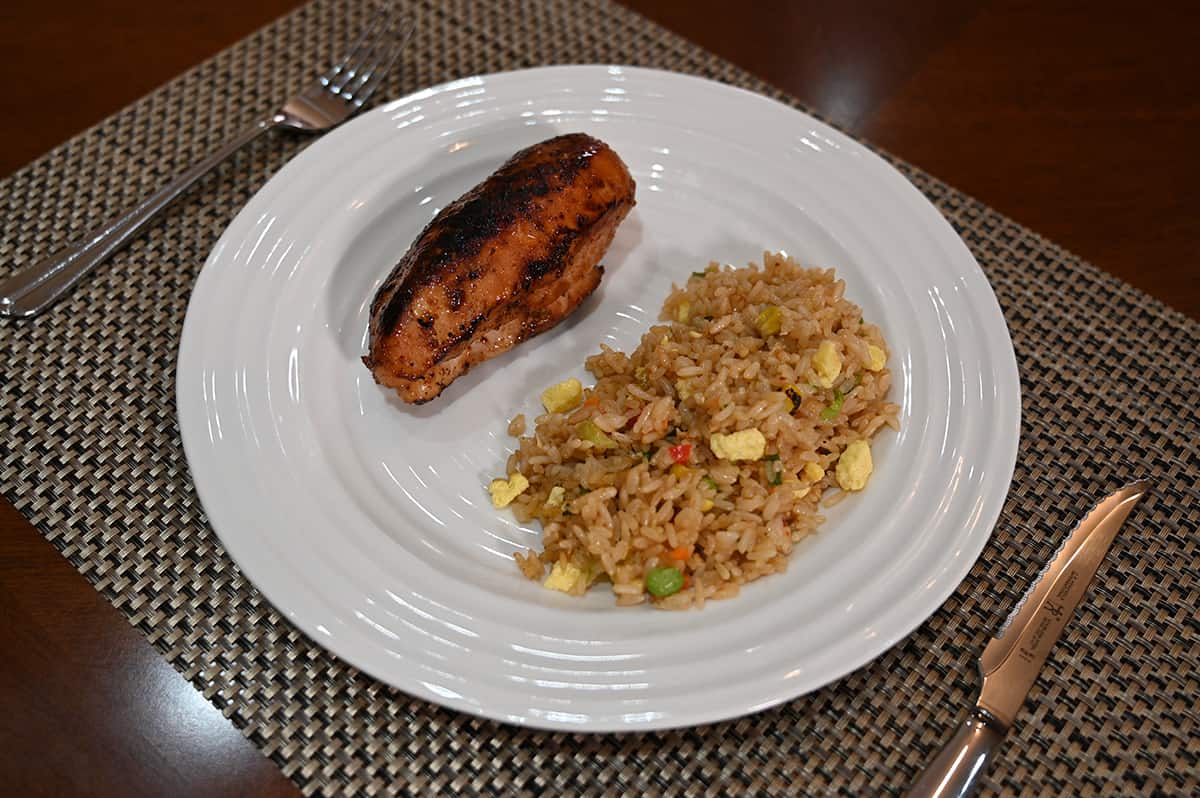 The fried rice is salty, seasoned well and is overall decent tasting but not as amazing as I thought it would be, I'm a bit disappointed. Kimchi isn't my favorite thing to eat so that may be why I don't love this.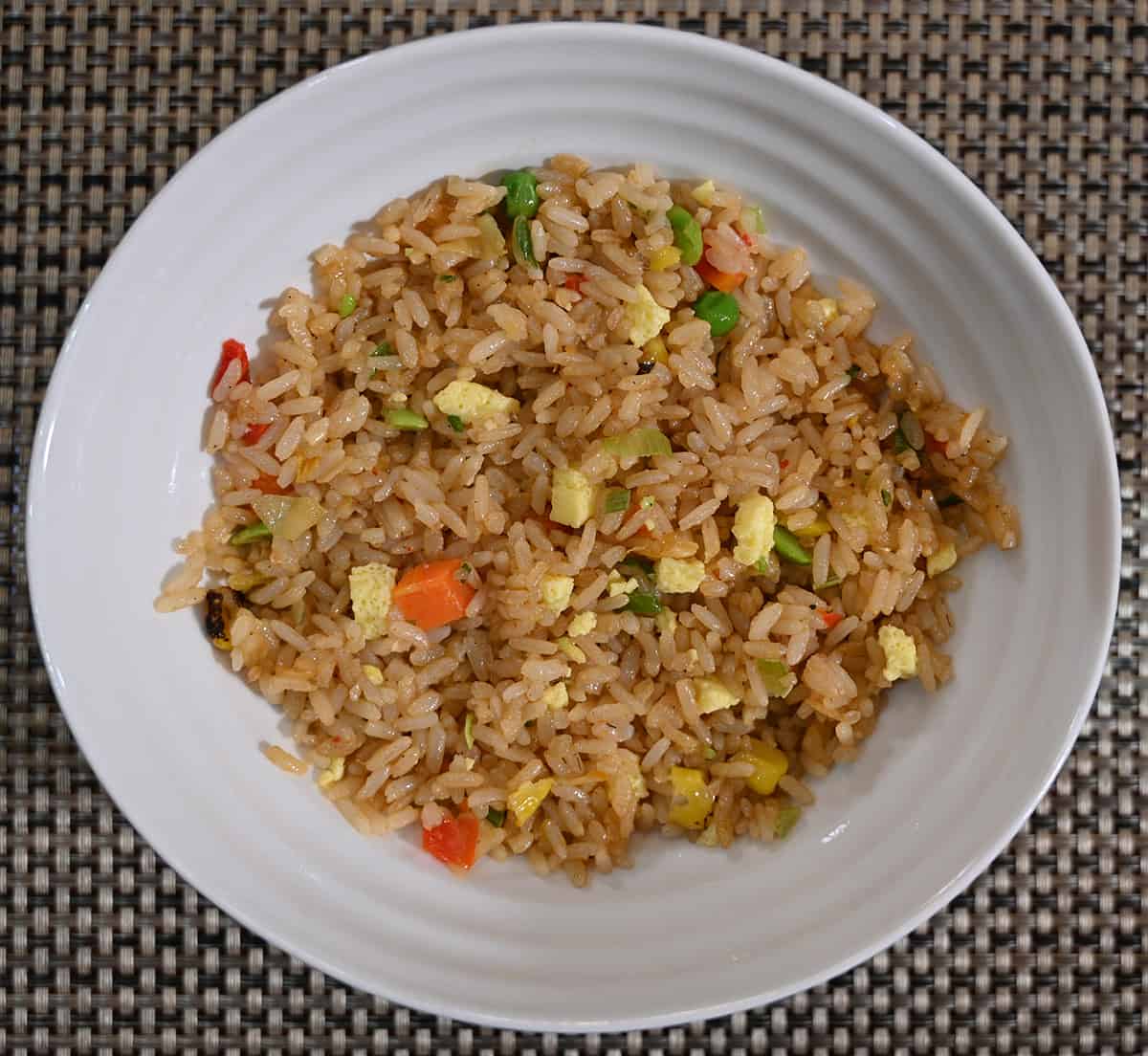 Cost
The 1.36-kilogram box costs $16.99 Canadian and contains six 227-gram bags inside.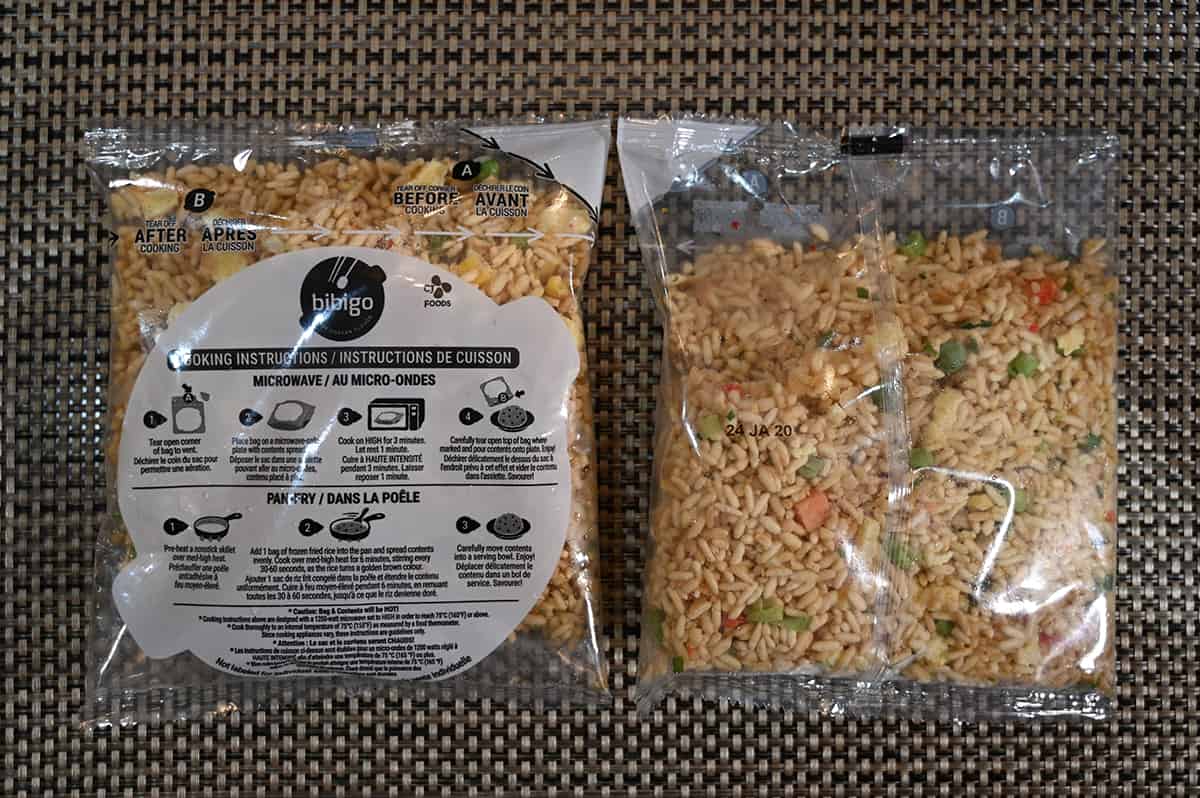 Convenience
The vegetable fried rice needs to be kept frozen and the best-before date listed on the box is a year from when we purchased it. The box comes with six bags of rice that can be microwaved or pan-fried.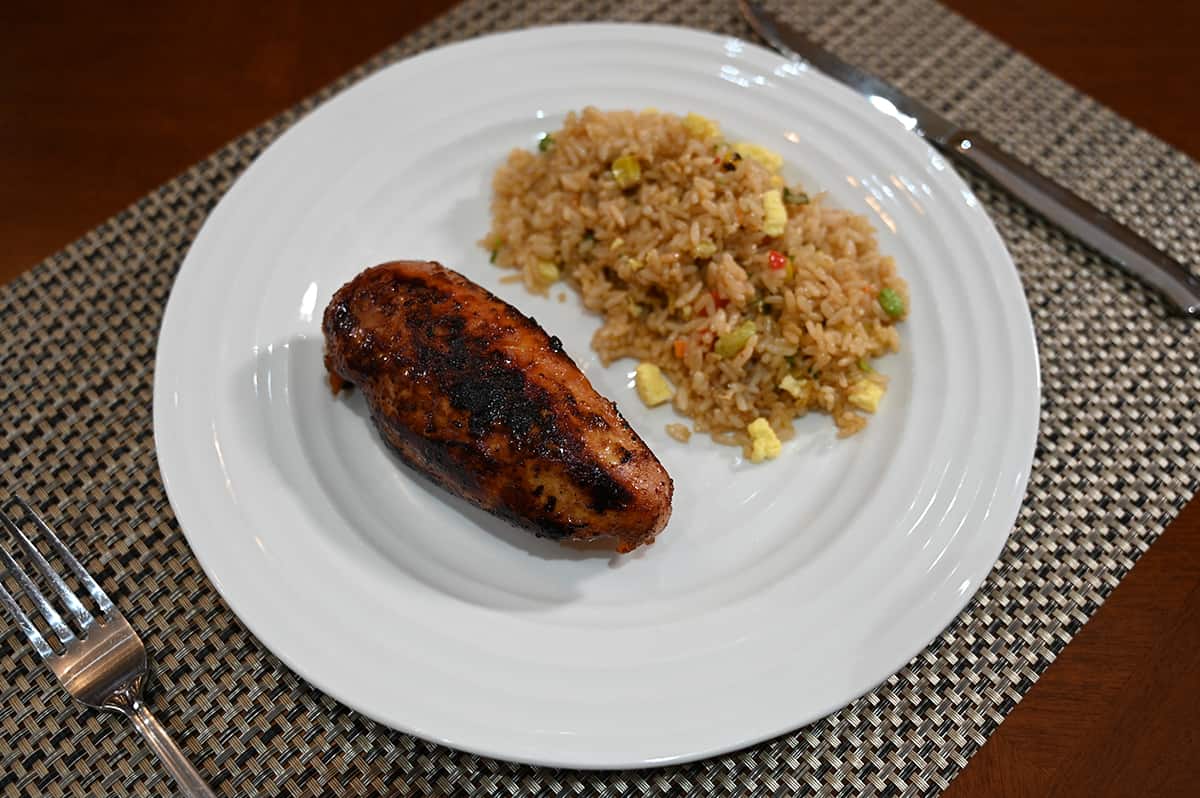 We heated the rice using the microwave method and it was very simple. You simply cut a corner off of the bag, place it on a microwave-safe plate and heat it on high for three minutes. Let the bag rest for one minute before serving the rice.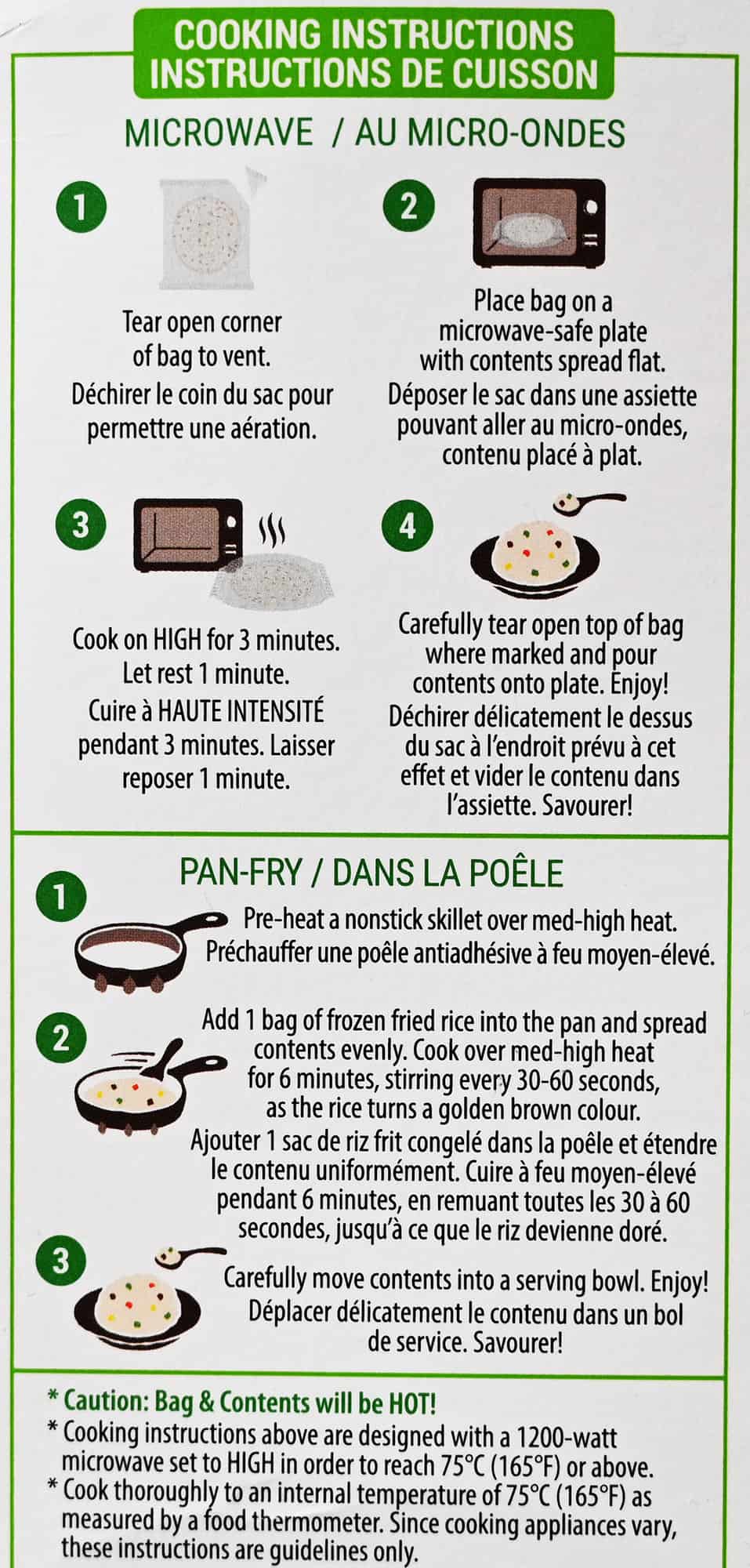 To pan fry the rice pre-heat a skillet over medium-high heat, add the rice and cook for six minutes, stirring the rice every 30 to 60 seconds. I personally like to have extra protein so I would eat this with some chicken or pork and have it as a side for dinner. It might make a good lunch or snack for some people on its own!
Nutrition
Calories
One bag contains 330 calories, eight grams of fat, 53 grams of carbohydrates, two grams of fibre, four grams of sugar, eight grams of protein and 890 milligrams of sodium. That's quite a bit of sodium and not that much protein! The calories and fat are pretty much what I expected them to be.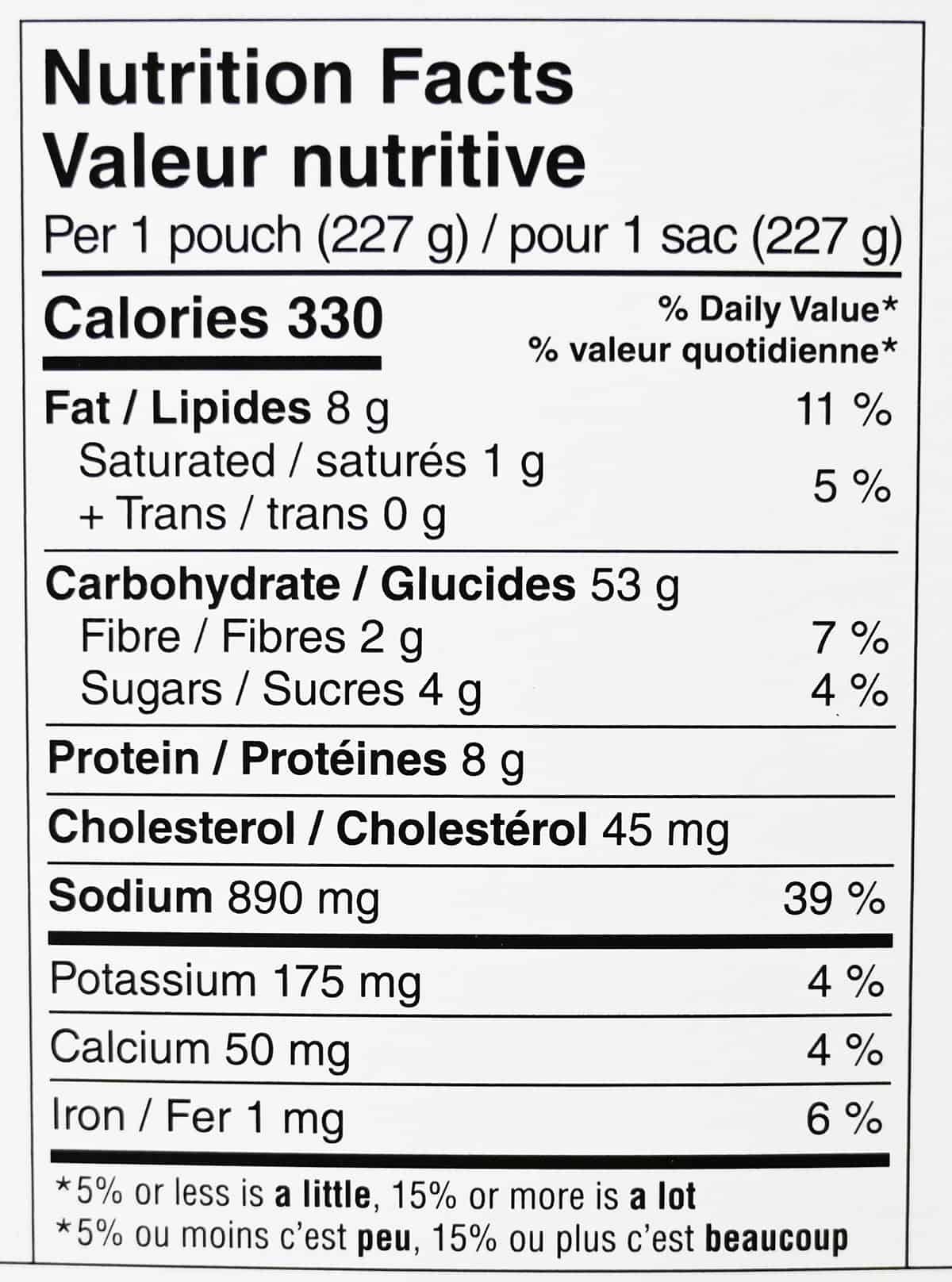 Ingredients
The ingredients list looks like it has everything you'd expect to find in vegetable fried rice. The rice contains wheat, soy, barley, egg and sesame so if a lot of major allergens! There isn't any dairy. Also if you're vegan this is a no-go because it contains the scrambled egg.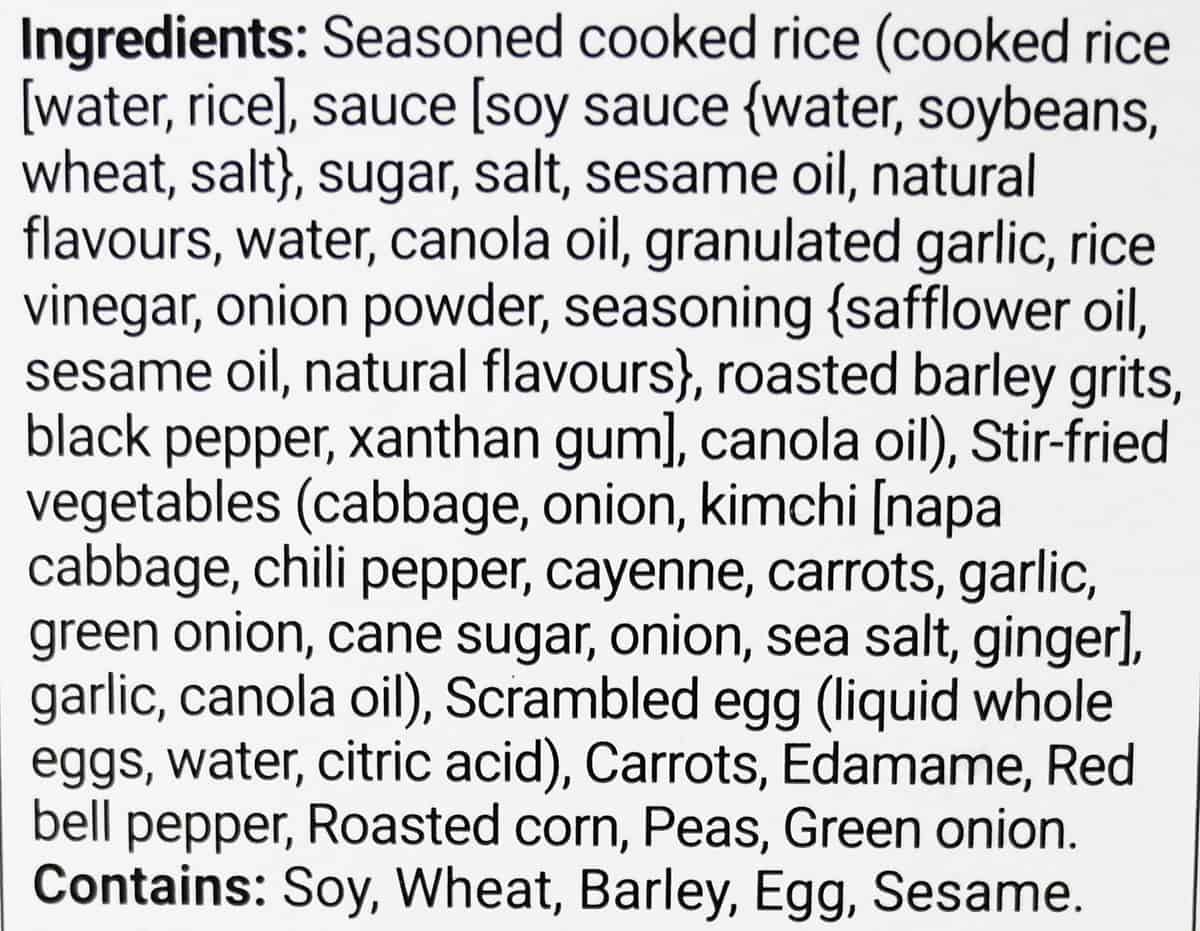 Scoring
Taste: 7/10
Cost: 7.5/10
Convenience: 10/10
Nutrition: 2/10
Overall
Give them a try.
My husband liked these more than I did, he liked the chewy texture of the rice and the flavor of the kimchi. I didn't mind the Bibigo Vegetable Fried Rice from Costco but it's not my favorite.
Have you tried this? What do you think of it?
---
Please note that this review was not paid for or sponsored by any third party. This product was purchased by Costcuisine for the purpose of producing this review. The opinions in this review are strictly those of Costcuisine. Costcuisine is not affiliated with Costco or any of its suppliers. In the event that Costcuisine receives compensation for a post from the manufacturer of a product or some other third party, the arrangement will be clearly disclosed (including where the manufacturer of a product provides Costcuisine with a free sample of the product).